How I style my hair to get messy waves…is what many of you wanted to know 🙂
Ever since I cut my hair short, I've received quite a few requests to share how I style my hair. This is as good as it gets because you guys do not want to wait lol
While I always curl my hair the same way, it does not always turn out the same. It depends what products I'm using (mainly shampoo and conditioner are what changes frequently and those alone make a huge difference for my hair). With that said – technique is always the same. Results not so much…but close enough.
Update: I've updated the products I use and have repurchased. While I do try new products all the time, I always end up going back to my true and tried ones. I should do an updated hair post as SO much has changed since I wrote this in 2018 – I've been more conscious about taking better care of my hair…but until then I did update this post with my favorite hair products)
—————————————————–
Many of you asked me what type of hair cut I got.
I asked for a straight blunt cut. She softened the ends a little (I think this might be called a soft blunt cut or a parallel-under-cut). It may appear that I have random layers, like the ones in the back of my head that are waving at us (as seen in the pic above). Those short layers are NOT on purpose. Unfortunately, one thing that really gave me breakage big time are spiral hair ties. When you hair is already compromised thanks to bleaching and it's dry and fragile, the last thing you need is your pony hair held by plastic. I never had this type of breakage until I started using those plastic spiral hair ties. They did not work for me and to the trash they went!
Products I Use
I'm always trying new Shampoos and Conditioners. My FAVORITE Ouai detox shampoo is a must-have, specially if you use dry shampoo.
I have repurchased Oribe Gold Lust Shampoo and Conditioner (I don't use it every time I wash my hair. When I do, my hair feels soft and healthy).
After washing I wrap my hair in a cotton tee or tank (less harsh than a towel) just for a few min and then use Bauble and Bumble Thickening Full From Volume Mousse which I've repurchased many times. It works wonders on thin hair (a little goes a long way. don't use too much or your hair will feel icky). Another one I love and have repurchased over the years is Aveda Thickening Tonic (update: year 2022 ((can't believe it has been 4 years since the original post)) – the Aveda thickening tonic is what I've been using for the last six months or so and am repurchasing again).
Next I use a little bit of Alterna Caviar CC cream 10-in-1 Complete Correction. Update: I repurchased Moroccan Oil and have been using it regularly. Alterna is great but I haven't repurchased. Instead I'm using up products I already have but the oil is an old favorite (I love it way more than Olaplex Bonding oil). Ouai hair oil is also good too but the smell is stronger, more like a perfume.
Since I have semi curly/wavy hair I straighten by "bangs" and also the ends.
Last year I decided to splurge on the T3 whirl trio and while it is pricey it is amazing. No regrets.
Since I cut my hair short I pretty much just use the 1 inch barrel.
1. Separate the hair for easier curling. Hold the wand upside down and wrap the hair around leaving ends out, about 1-2 inches. Leaving the ends uncurled is the key. Make sure the hair is spaced out on the barrel as seen in the picture below. Curl all the hair.
2. Let the curls/waves set, don't touch them for a few minutes.
Next, run your fingers through to loosen the waves, starting at the roots…this will give it a slightly messy look (also shake up the roots a little).
3. Next I spray with magic – Oribe Dry Texturizing Spray. That's what makes my thin hair look thicker and adds amazing texture and volume (I only use this when my hair is on the shorter side, like it is currently) . Without it I can't achieve the look you usually see…the messy curls. It is $$ (I originally bought a travel size spray to make sure I like it). No other texturizing spray works as good, for me, as this one.
Lift up sections of your hair with your fingers and spray underneath (I usually tilt my hair to the side 🙂 Spray more if needed. Lift the roots with your fingers for a slight messy look.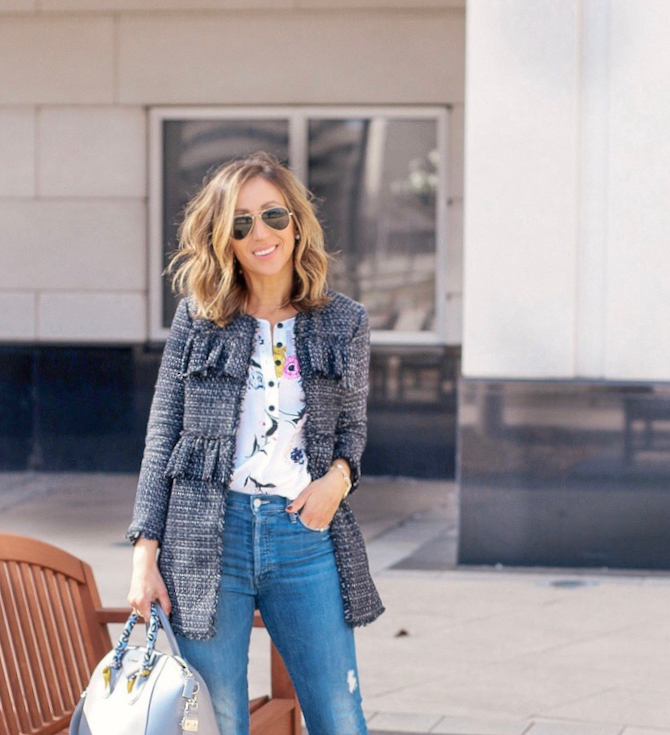 Basically there are two important steps: Leave the ends out when you curl (a couple of inches), run your fingers through and spray with the magic texturizing spray. That's really it. Super easy!
Update: Since my hair is longer right now, I follow the same curling process including straightening my ends with a straightening iron (mainly because my hair is naturally curly/wavy and the ends curl more now).
Keep in mind that everyone's hair is different. What works for my hair, might not work for yours. Trial and error peeps. 😉
If you don't achieve the look you're going for the first time don't give up. Practice makes perfect 😉
p.s. if you're looking to go shorter, definitely check out @anhcotran on Instagram. Amazing shorter hair inspiration. I discovered him after I cut my hair. He's amazing!
"Invest in your hair. It's the crown you wear every day" (This applies to products to keep your hair healthy 😉