New year, new fresh blog.
I'm so excited for this change which I've been wanting to do for over a year, switch from Blogger to WordPress. Big shoutout to Pipdig for their fast work and help. They have been so great to work with (I've worked with them in the past too). Highly recommend them if you need even just a new Theme for your blog.
I would love and appreciate if you could take a minute to let me know how you like the new layout.
Is it user friendly? Is something missing?
There are a couple of small things I'm adjusting but all-in-all this is it you guys. I'm already super excited even though I need to learn how to use WordPress to it's fullest (at least I figured out how to post. I think. Hope this first post goes well haha).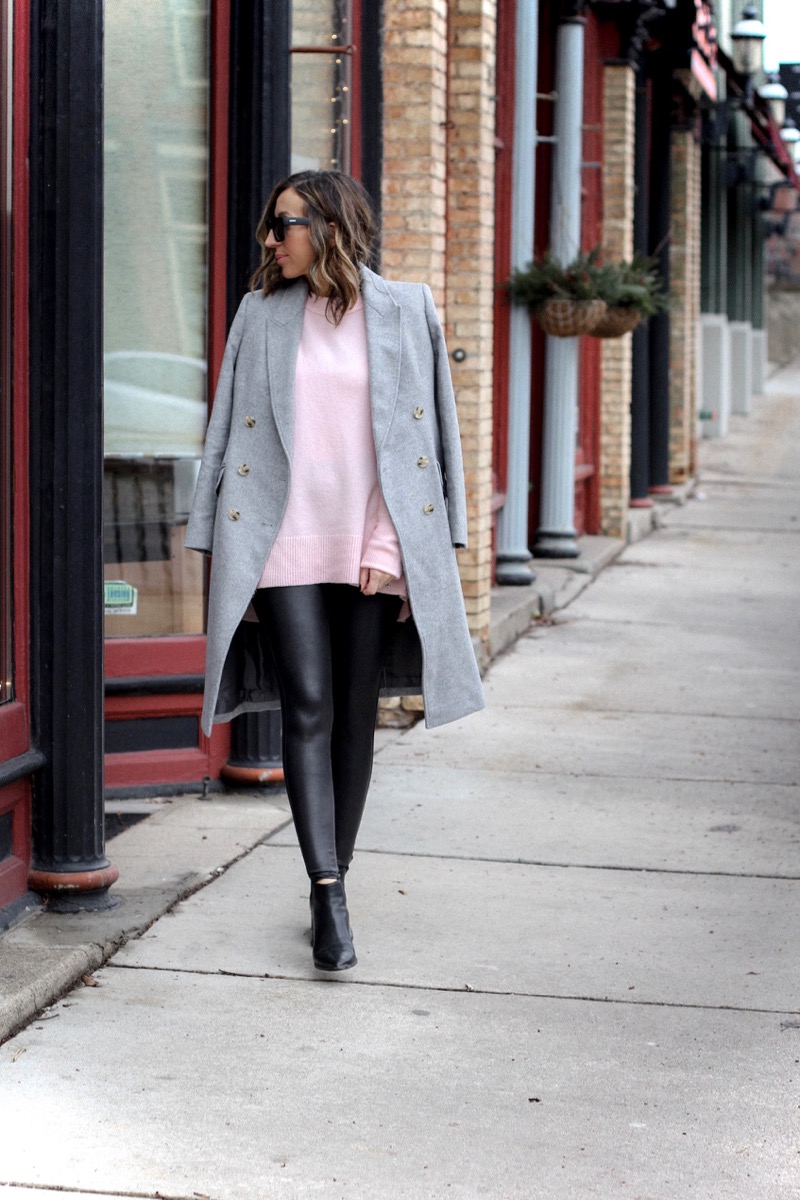 As much as I've been wanting these faux leather leggings, I'm not convinced they're for me. I love the look. They look a bit shinier on the pictures than in real life.
They're quite slimming…and they make me look a tad skinner than I'd like to (not noticeable in pictures).
Actually my sister agrees too as she couldn't stop laughing when she saw them on me. She was trying to take pictures as she was hysterically laughing. You should have seen those pictures lol So I gave her a few minutes to calm down…
Here is also a look with Hunter boots since I had them in the car.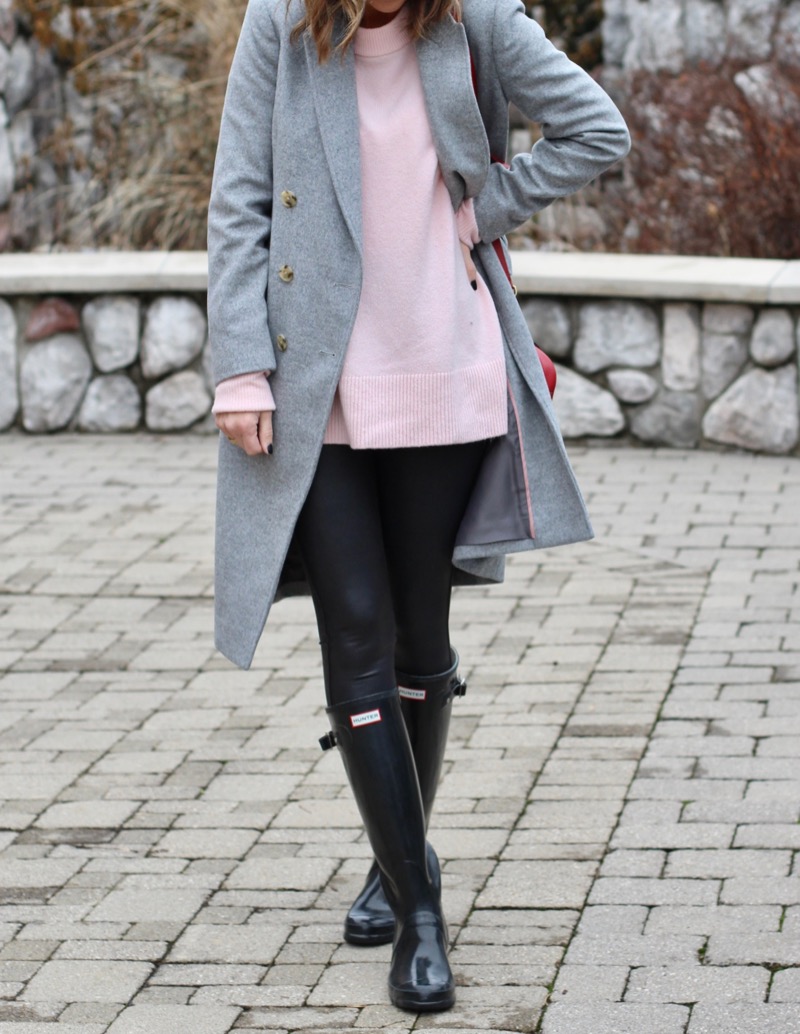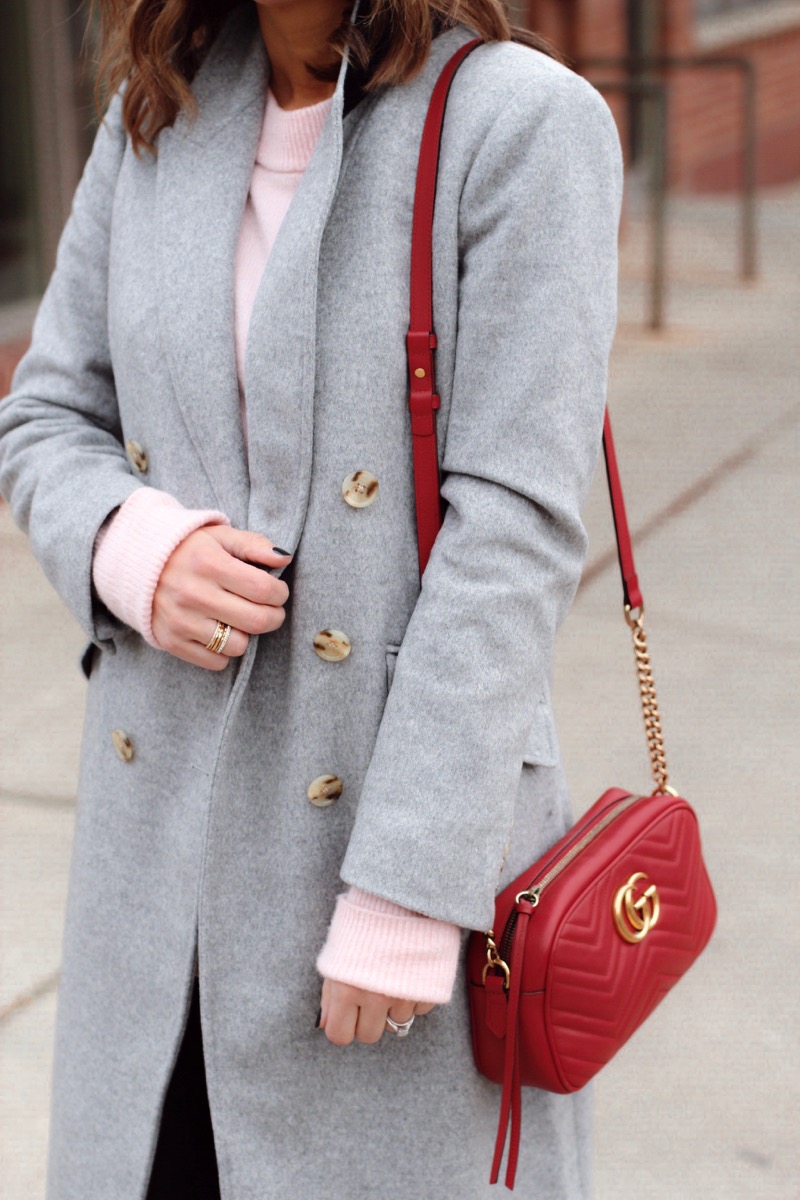 This coat is sold out in most sizes but I'm not overly impressed with it to be honest. It's a lot thinner than expected and for the price I didn't think it was worth it (I got it at 40% off even though it got reduced further on J.Crew's site. I got mine from Nordstrom and they couldn't not adjust the price because my size was sold out at J.Crew). It's a pretty coat though. I think a nicer coat can be found for the price.
Yes, I'm wearing different sunglasses lol. The black ones have been "borrowed" by my sister for almost a year now. They're super nice and the price is reasonable. This is the second pair I got as I lost a pair to the ocean in Mexico last February. And now I lost this pair to my sister! She let me 'borrow' them for the pictures. How nice of her, right!?!
My fave ever will be my Ray-Ban aviators.
Coat: J.Crew | Faux Leather Leggings – also here | Lou & Grey Sweater (in xs) – only $30 now | Marc Fisher booties (still one of my faves) | Bag – new on wishlist, love! | Quay sunglasses
As always, thank you for reading!