Happy Friday!
Haven't had a chance to take outfits outdoors, but since you guys seem to like these mirror outfits better anyway I'll be sharing a few.
Also, LOFT is having 50% off select items. All pieces from this post are on sale.
Ann Taylor is also having 50% off select items – love this classic white button down (wardrobe essential), one of my fave skirts (as seen in this post), these dark wash jeans, these chic booties (tts).
I've said SO many times that I'm going to be better about taking daily outfit pics… Still working on that but I've improved haha.
H&M Sweater in XS | H&M Skirt | Sam Edelman booties (last year) – this years version (which I like better), another similar option | Necklace
This is the coat I wore with the outfit above. The coat is from last year and unfortunately no longer available. There is a similar shorter version and this one.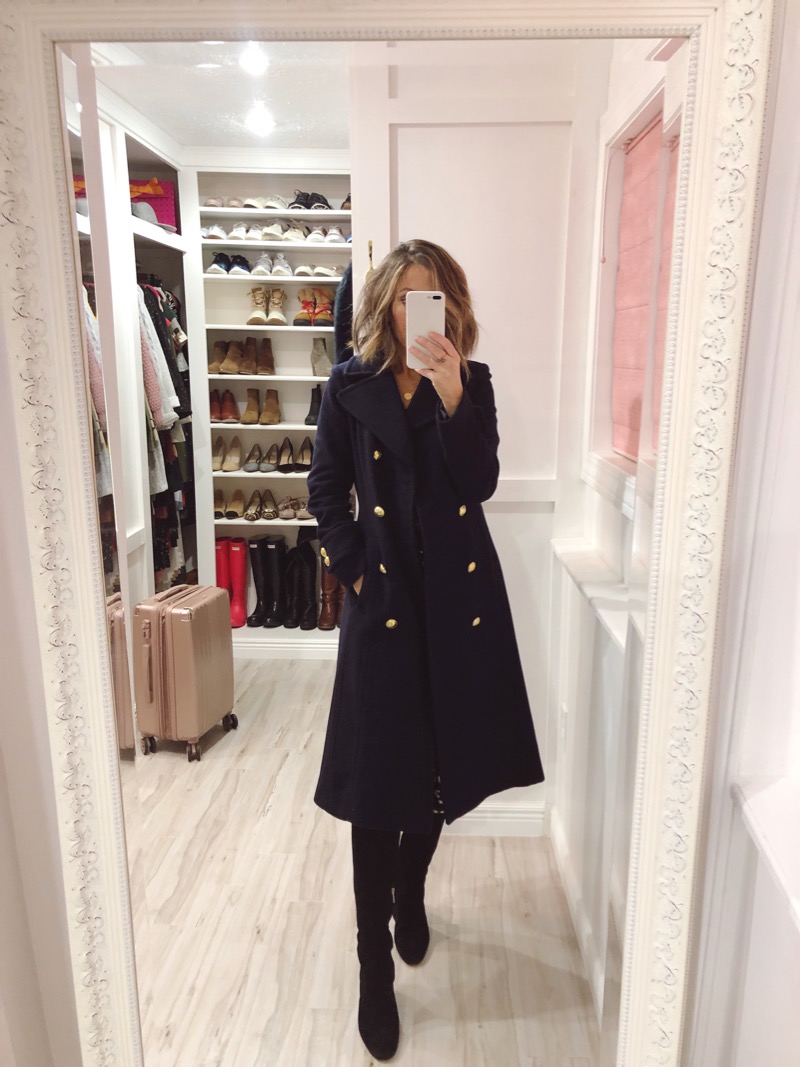 The carry-on suitcase in the background… it's me not going anywhere haha. The poor thing just gets showed all over my closet.
This amazing teddy coat is finally on sale. It is super warm and well made (which justifies the price when winter lasts way too long where you live). I'm wearing size 36 which fits like 0/2.
And the fab buckle booties are on sale (I sadly paid the full price but that was months ago. Wasn't willing to take a chance and let my size sell out. Oh well). They run tts and are comfy. The buckles are adjustable if you have wider or narrower feet. And oh-so-chic!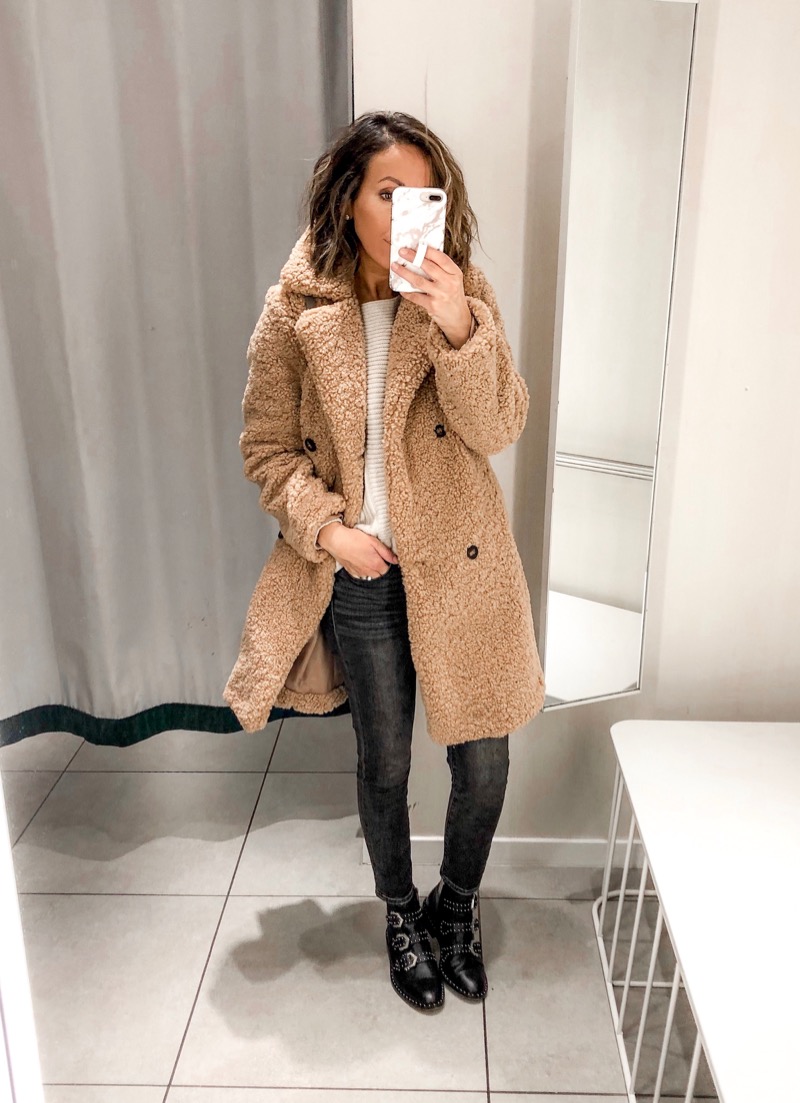 Teddy Coat – on sale! | Booties – on sale. tts | Jeans (sold out) – similar | Sweater (old) – great options here and here
A few pieces have been in a slightly heavier rotation than usual. These Levi's jeans…which I can wear only when I'm not bloated..which means half of the day lol I'm trying to cut down on foods that make me look like I'm 4-5 months prego (no joke) but that's another post in itself.
Another H&M Sweater I absolutely love! And it's only $20! It was sold out but it's fully restocked again. I got size Small even though XS would have been just fine as it is already a relaxed fit . You can stick to your sizes in this one, unless you want it a bit more oversized. It looks pricier than it is.
H&M Sweater | Levi's Jeans (I sized up) | Super old booties – similar options here and here, really like these
I've been so in love with this sweater…even though I didn't purchase it the first time I tried it on (that was me trying not to buy more sweaters). Sometimes you just know that certain pieces you'll wear a lot. And that's how I felt about this sweater. I still think H&M has the best sweaters for the price. I love that many are a slightly oversized/relaxed fit (which are my absolute favorite type of sweaters). And I've worn this one quite a bit already.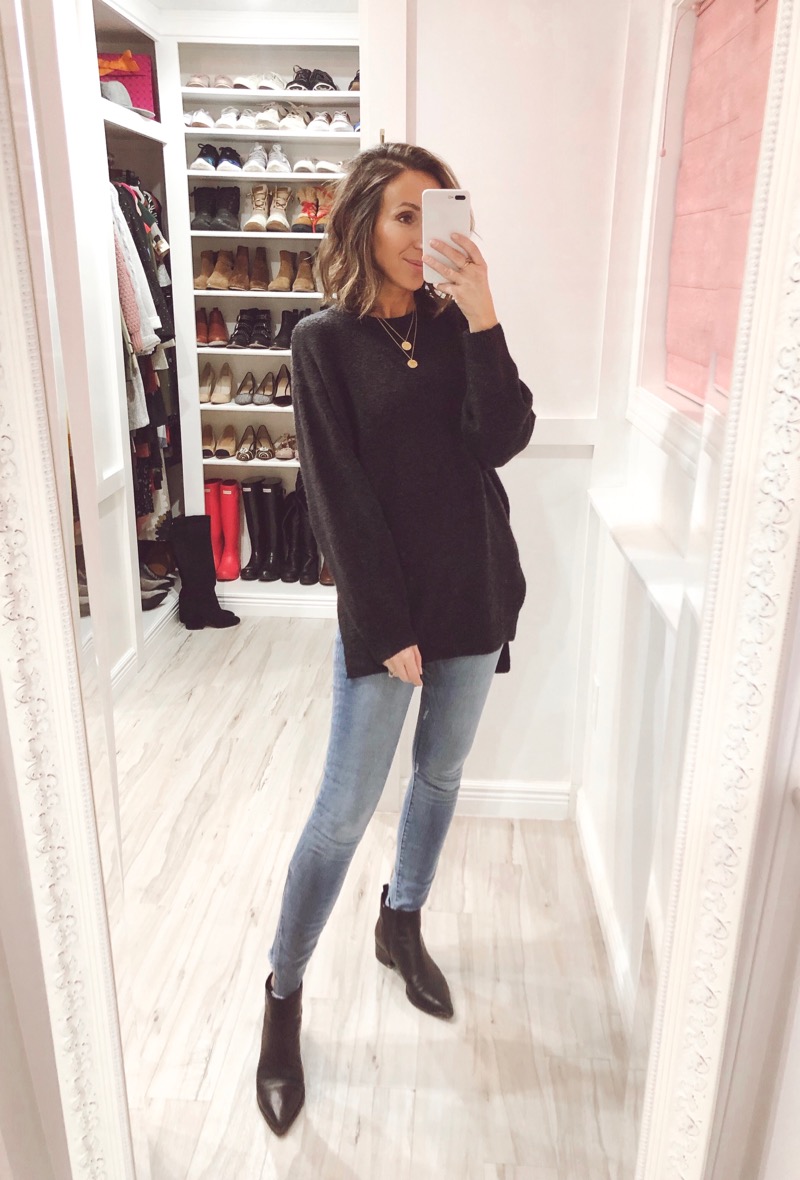 H&M Sweater (in xs) | Frame jeans (old) – similar styles here and here – on sale! | Marc Fisher Booties – here too
I got this skirt and sweater for my sister but had to try it on (both a size too big for me but not very noticeable, right?!)
I'm off to finish painting the bathroom…which is almost done you guys (I've shared snippets on my IG stories in the last 3 weeks). I'm quite excited about a wall of shiplap, which was my hubby's suggestion…it's look so good. Now I want shiplap everywhere haha.
As always, thank you for reading!
Have a great weekend!