Sharing some pieces I recently purchased. Some are keepers, some are not. Also, there are some great sales happening….
J.Crew – (some picks in this post)
Ann Taylor – up to $125 off your purchase (fitting room try-ons, this and this floral dress – both outfits on sale)
LOFT – 60% off select styles (latest fitting room try-ons)
Old Navy – 35% off your order, 50% off outwear today only. I have this jacket and love it (such a good price). More picks – this denim jacket, this classic blazer, this anorak, this packable quilted jacket (great affordable alternative to this one).
I recently shared this lace dress in a recent 'weekend sales' blog post. It is on sale right now. I ordered size 0 and 2 since their sizing can be off. They sent me size 2 and 4. Good thing size 2 fits perfectly (ended up giving my sis size 4, not sure if she's keeping it). I want to say it runs a tad small…but the fact that size 4 fits my sis, I want to say it's tts…but (=size 0 would be been way too tight on me (confused about sizing yet?! lol). It's a beautiful dress that works for so many occasion. It looked great with a blazer for a more modest look. It comes in two other colors. Midi Lace Dress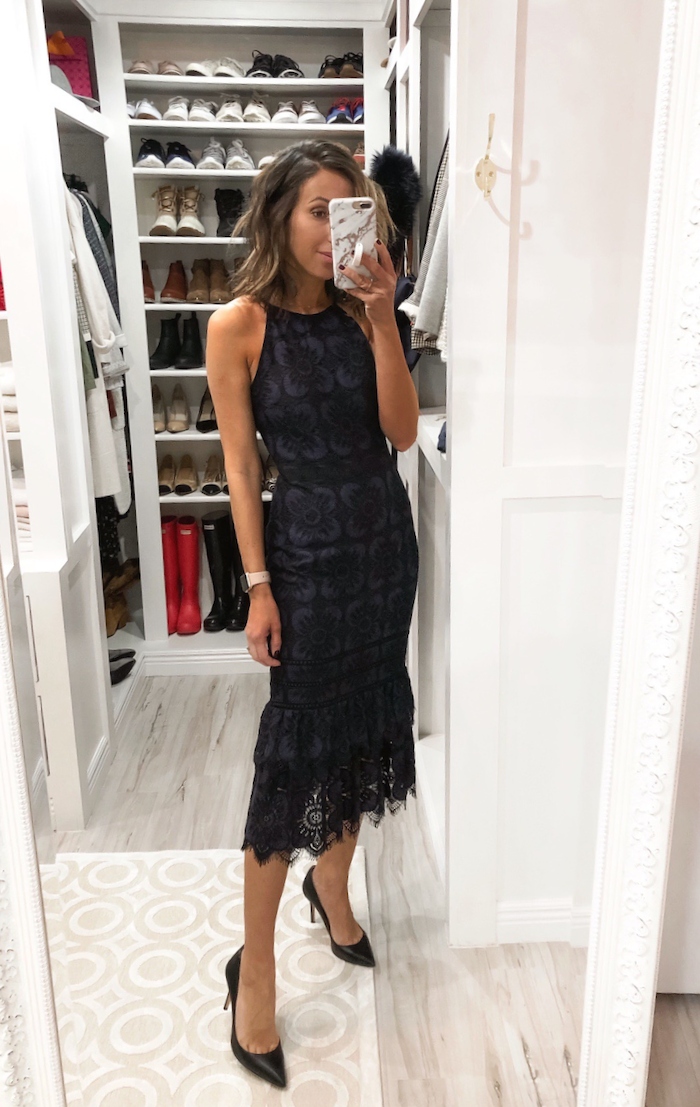 These black pumps are one of my faves. They also come in a smaller heel.
I recently placed an order from J.Crew Factory. Everything is 60% off right now (better sale than I got). You'll see everything I ordered below… leopard flats being my favorite. I also got these blue light glasses. Didn't really care what they look like on as long as they do what they're supposed to lol. And the price is great.
Also, I should have taken the next two pictures in my office as I'm blending too much with my closet lol
I ordered this short sleeve tee in stripes and black, both in xs and they fit tts, not too tight not too loose. Great tees that look just a tad more elegant due to the slight boat-neck. I'm keeping the black one as I have more striped tees than I'd like to admit. Striped Tee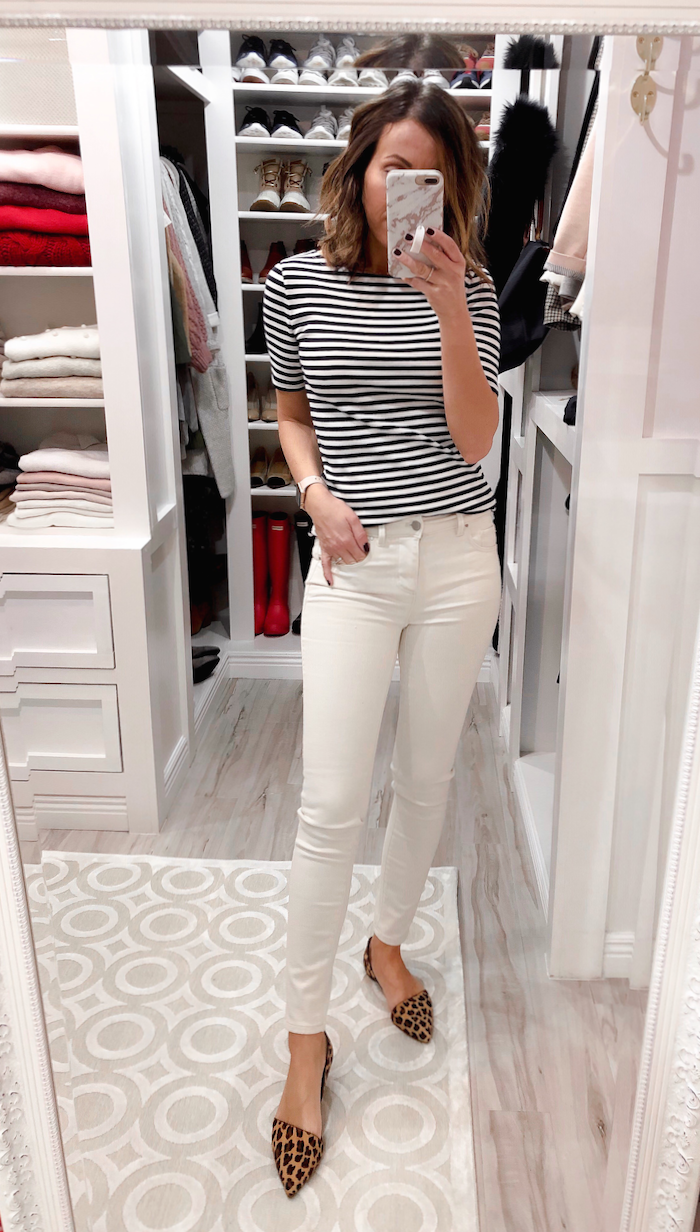 I ordered the leopard flats in my usual size and they seem to fit great. I haven't worn them outside yet, so it's hard to tell how comfortable they are for a prolonged wear. They get great reviews so I'll be keeping these.
Here is one way I'd wear the flats and tees, for a fun print mix. My cardigan is old from Madewell (one of my faves) but this cardigan is very similar…color, length, slits on both side and a lot cheaper lol This one is also another similar option for $35
Jeans are from Ann Taylor (mine are from two years ago) but I'm happy to say that this color, Ecru, is back this year.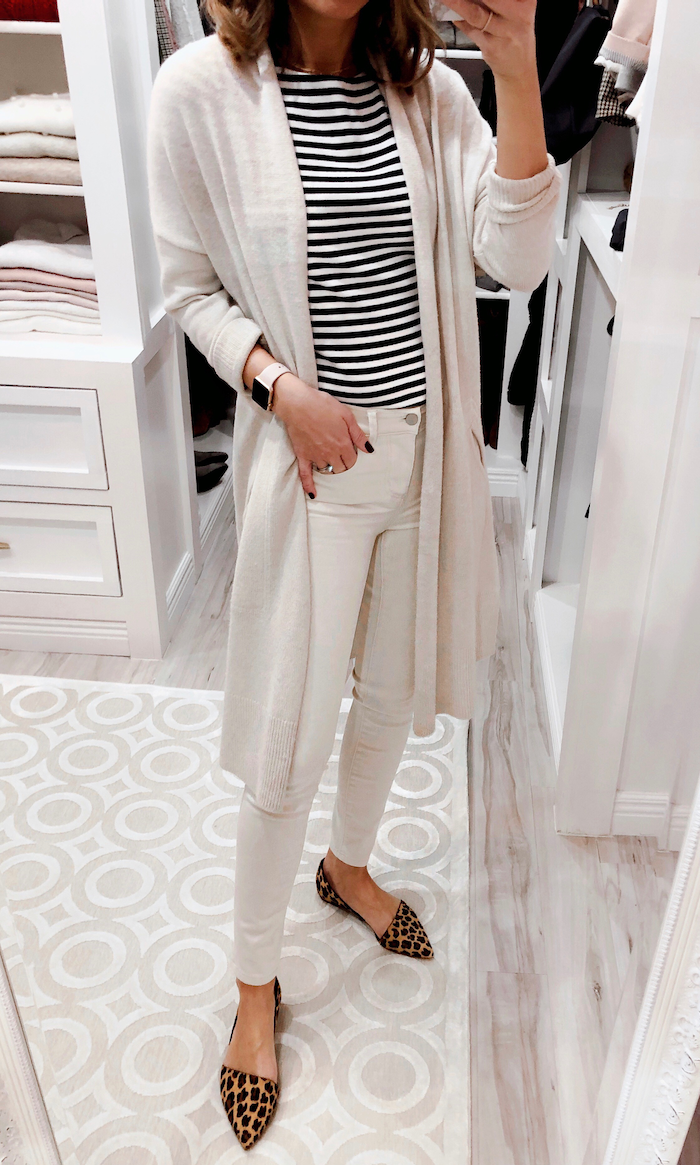 I've been on the hunt for a really good black leather belt. I orderer the one below and this one (forgot to take a picture). Love both and still don't know which one to keep. I like the gold on this one I'm wearing better. The other one is kinda in between gold and silver. Still nice. But then I also like this one. Which of the three belts is your favorite?
Black tee
I was so excited about this cardigan but ended up a little disappointed. Mainly because I was hoping it would be a little longer. But because it a true wrap sweater it might look awkward if it was longer. Otherwise it's a nice cardigan. Just not what I was thinking it would be. Wearing xs below.
These high-waisted jeans are soft and very comfortable. They fit tts. While they're high-waisted, they're not uncomfortable like some can be. There is stretch in the waist which I find so necessary with high-waisted jeans lol High-waisted Jeans tts
My leather jacket is a couple of years old but it is still available and on sale (I'm wearing size 0/2) The price is amazing for a leather jacket. It took me a long time to find the perfect leather jacket – one that looks great, fits great and it's not $$$. And I can't recommend this one enough. It comes in Petites as well.
Scallop Cami – tts for me (if you're bustier you might have to size up). The straps are adjustable. The cardigan is from Old Navy
So in love with these Loafer Slides. They come in more colors and run tts.
I don't buy a ton of shoes (but yes, I do own many that I have accumulated over years), but what I buy I want to love and wear for a long time. I'm so excited about the ones below, warmer weather can't come soon enough.
Cap Toe Small Heel shoes, Leopard Flats, Ecru Loafers Slides (c/o Ann Taylor)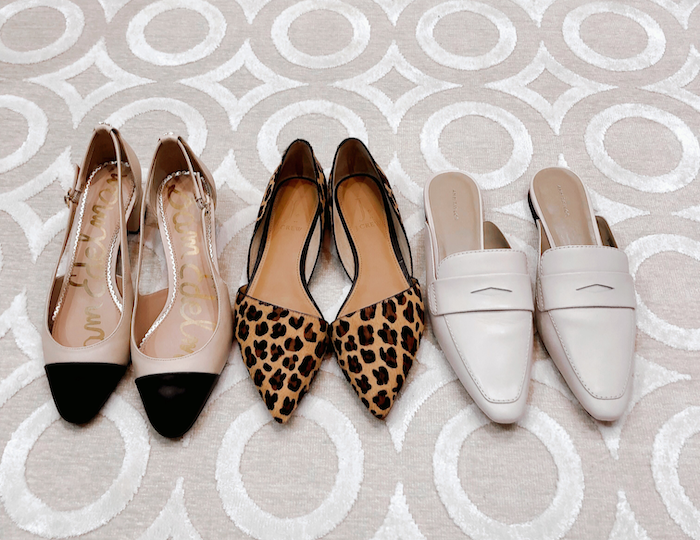 You can also see all my fitting room snapshots in one spot now…. on top of the page there are categories and hover over "Outfits" then select Fitting room snapshots. Hope this makes it easier to find them 🙂
As always, thank you for reading! xo