Happy 2nd day of Spring! 🙂
Sharing some pieces I'm currently loving and a few fitting room try-ons. I have some of the pieces below, like the $10 tote which is actually quite nice for being so affordable (it's not slouchy, but not really stiff either).
I also couldn't resist the polka dot flats (they're giving me Sezane vibes). They would look sooo cute with white jeans. I hope they'll fit and most importantly – Comfortable! Spring arrivals always get me in trouble lol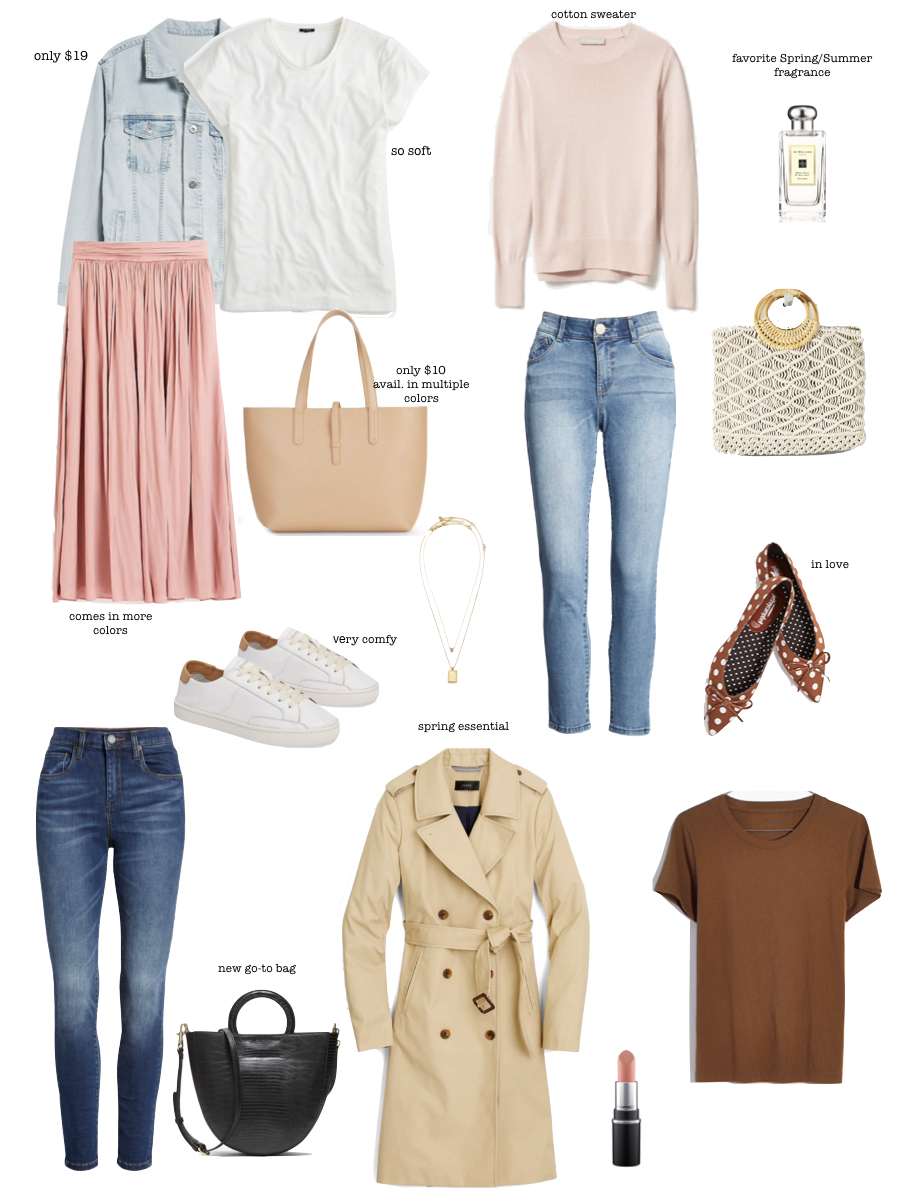 Denim Jacket (comes in white and medium wash) | White Tee (so soft. new fave) | Maxi Skirt (I got size 2) | Tote only $10 – comes in more colors. Love it for the price! | Soludos Sneakers (very comfortable) | Necklace set | Cotton Sweater – comes in more colors | Light Wash Jeans | Jo Malone | Woven Tote | Polka Dot flats (couldn't resist) | Jeans | Black Bag (love the shape, comes in white and red. Kinda like Zara quality bag) | Trench Coat – also love this one for $79 | Mac Lipstick | Crewneck Tee
---
I'm loving so much stuff from J.Crew right now. Not cool…for my bank account lol One thing I've been trying to be extra good about this year is "will I wear this a lot". It's so easy to keep buying cute items that you might wear only a few times. But 'a few times' it's not enough. Like the skirt…it made me wonder how much wear will I get out of it…and what color to get. All four colors are so pretty.
I wanted to try on the skirts for you guys so you can see what they look like with heels or sneakers. And the skirt looks so cute with lace-up wedge espadrilles (I have these).
I feel like the outfit below is what I should have worn yesterday…if only it wasn't rainy and cold. Denim jackets are my favorite for Spring but instead I wore a rain anorak (no complaints because I'm still obsessed with it).
I got these two skirts almost two weeks ago in both colors because I couldn't decided which one I liked better. So I figured if I see them in person that should help me decide (If they were cheaper I'd keep both). I've decided to keep the pink one. Navy is really nice too. See my dilemma haha
Which color do YOU like the best? Let me know in the comments below.
I ordered size 0 in the pink one and size 2 in the green one. While they both fit since they sit high on the waist, I like size 2 better…just more room to breath. So I had to re-order the pink one in size 2. But how good does it look with sneakers!? Love! And both skirts are 30% off until tomorrow, 3/22.
Skirt – 30% off + extra 10% off (20% off for cardholders) | Short sleeve Tee – LOVE. so soft, highly recommend. tts | Denim Jacket | Sneakers tts
Really love it with a white tee too. You can pair a ton of different sneakers with this skirt – like Superga or Golden Goose…if you want to spend a small fortune 😉 (hey, if it's in your budget go for it lol)
Heels are from Ann Taylor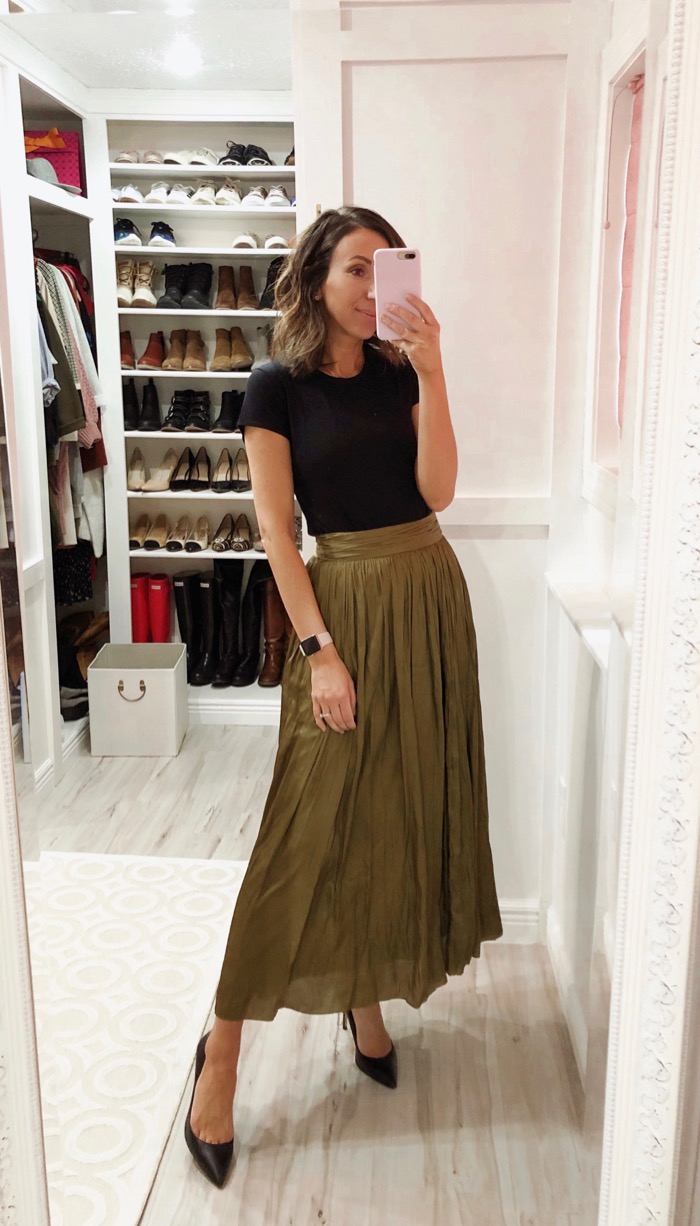 J.Crew – 40% off your purchase w/code POPUP ends (extra 20% off cardholders w/code CARDLOVE. Try putting this code first if you get the error that you can't combine the promo codes. It worked for me)
A few fitting room snapshots (I posted these last week on my LTK). My loafers below...
Love this midi eyelet wrap dress and it comes in multiple colors. I'm wearing size 0 below and it fits me tts
same dress in navy
Wide leg pants – tts – avail. in more colors

The only reason I didn't buy these jeans below that day is (they fit so good) is because I had a pair of COH jeans coming in the mail that same day (and they didn't work out, too small). So I ordered these jeans below. they fit tts. I also ordered these too.
I've been eyeing this cardigan for so long. It comes in ton of colors but I decided to go with black as I don't have a really nice black cardigan. I got xs.
Same jeans as above with the basic tank which comes in ton of colors (in xs below).
Same cardigan as the lilac one above but I got this black one. It would look SO cute belted too. Which I'm planning on styling that way soon.
I think I tried this skirt in size 2, can't quite remember, sorry. It comes in Tall and Petite too.
As always, thank you for reading!