Hello!
I got some fitting room snapshots for you all and with those come amazing sales!
Update 6/11: Ann Taylor – extra 60% off sale styles (extra 15% off for card holders each Tuesday in June)
Let's get to the good stuff….
I have the same sandals on in all Ann Taylor try-on pics below – these Scalloped Sandals tts – great neutral sandals that pair with everything.
Floral jumpsuit in size 2 – which fit great on the bottom but was roomy on top for me. I basically need a 0 on top and 2 on bottom lo l It's so pretty tough. Size 0 was not avail. in store for more to compare.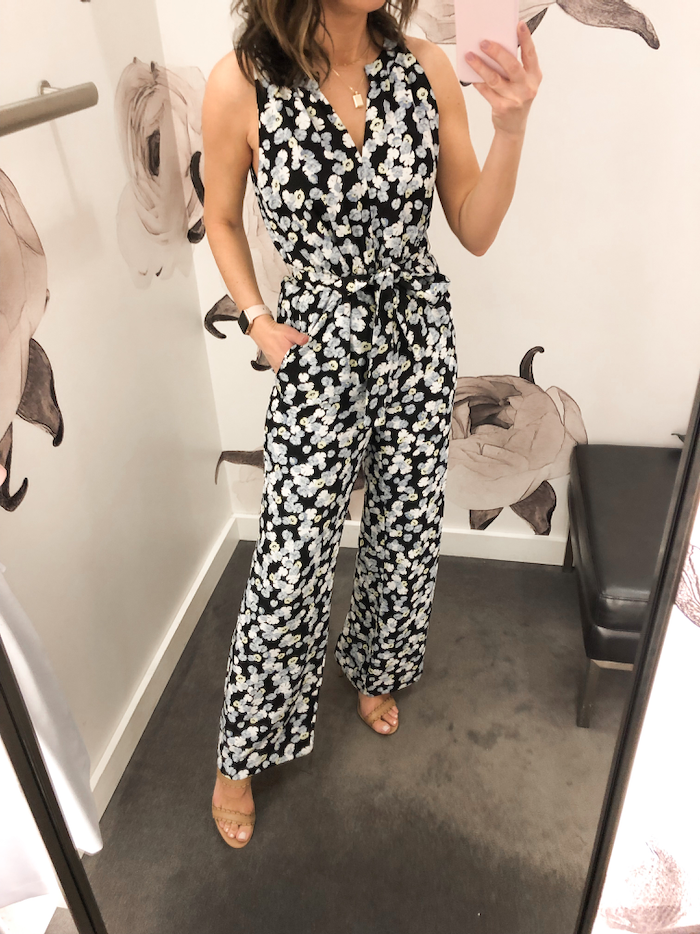 I almost didn't try this dress on as it looked kinda blah on the hanger. Clearly I was wrong as this dress is beautiful (it reminds me of this one from last year that sold out fast). I tried my usual size in this style, size 0, and it fits tts. I wish it was a tad longer, like the last years version (I'm 5'6 for ref). But still gorgeous! Tierd Flutter Sleeve Dress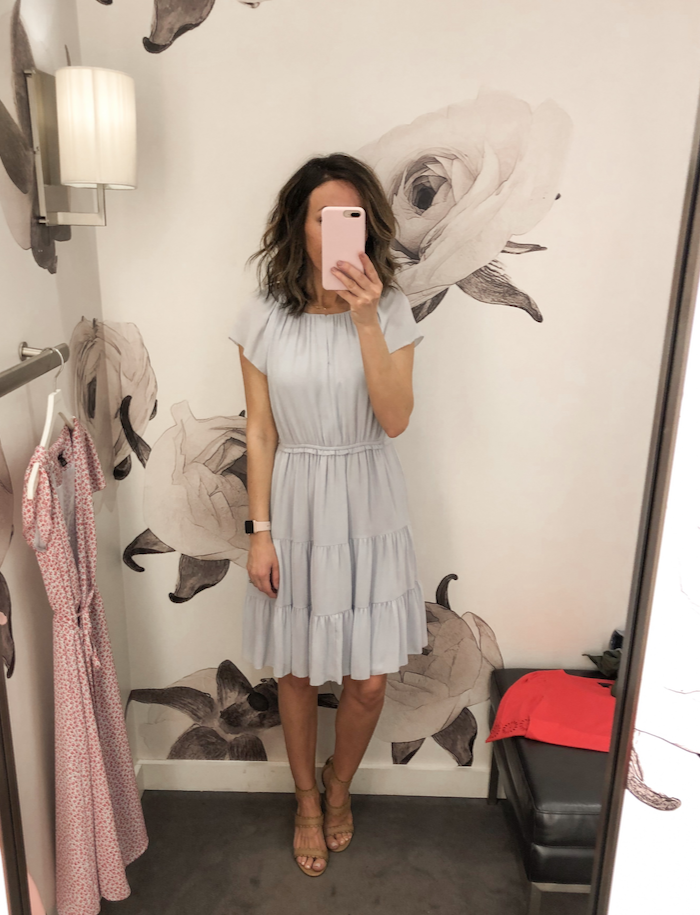 This floral shift dress is sooo adorable. It's a tad short for me but it did fit true to size.
When I saw this floral wrap dress online I didn't know what to think. I LOVE this style! It was cute but believe me when I say it is a LOT cuter in person. It's light, feminine and a true wrap dress. Wearing size 0 and it fits me tts.
different view as I could not get a good enough picture of this pretty dress.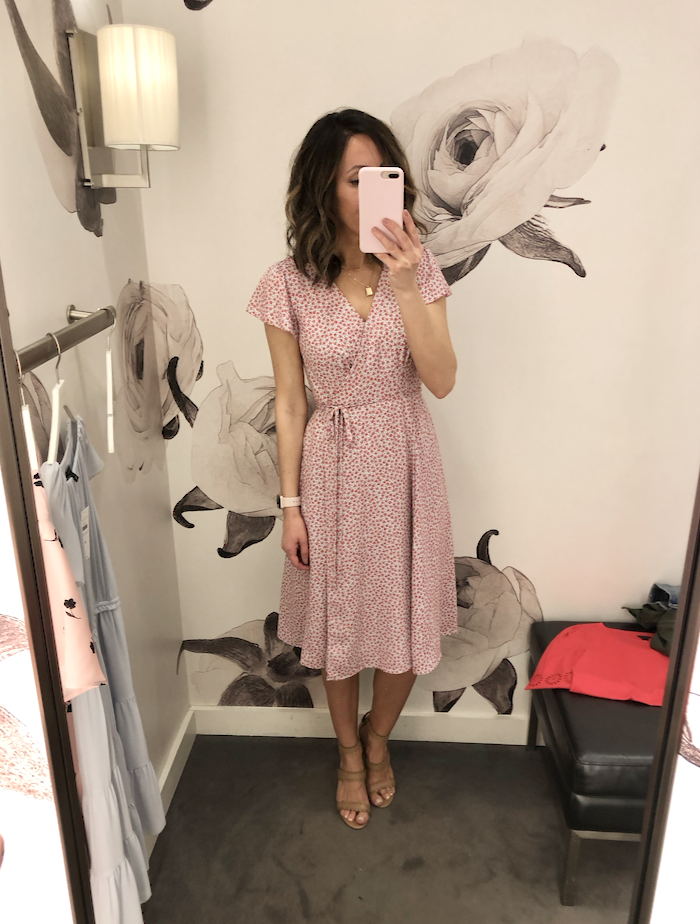 I love the ruffle details on this pretty dress. Wearing size 2 below. It comes in black as well. And also in Tall I'm wearing Regular below but keeping my eye on this one in Tall. So pretty. Sheath Dress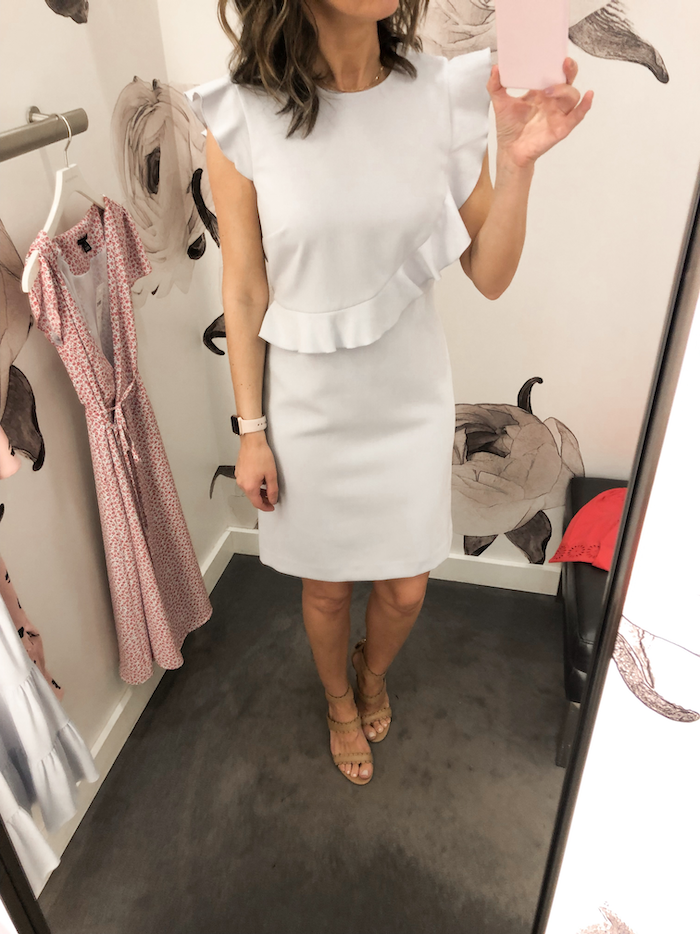 Floral Halter Dress in size 0 tts. So pretty!
The print on this gorgeous skirt is same as the wrap dress a couple of pics above. Wearing size 2 below and it fits tts. I really liked this short sleeve textured sweater which looks great with skirts too and not even tucked in (I usually like my tops tucked in for a more polished look) but this one is just thick enough where it sits nicely over skirts (kinda folded under and it stays put). Wearing xs below and it fit me tts. Skirt | Stitched Sweater Tee – love this one!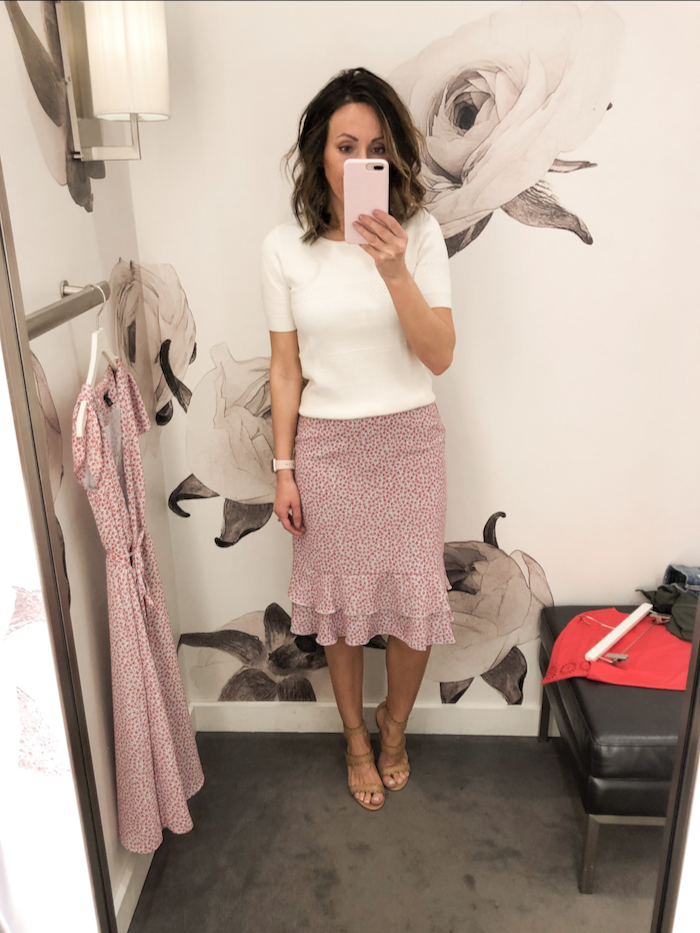 I love how nice this skirt looks with this red eyelet sleeve top too.Wearing xs below. tts.
Tried this top in size 0. The top part was fine but the bottom part was a tad tight for a peplum top, at least on me. Skirt is in size 2 and it's high-waisted (it has a tad extra room for me in the waist) Peplum Top | Gingham skirt
Same style top as above but in size 2. It was roomier on top but perfect on the bottom part. This style didn't work for me unfortunately. Piped Tweed Peplum Top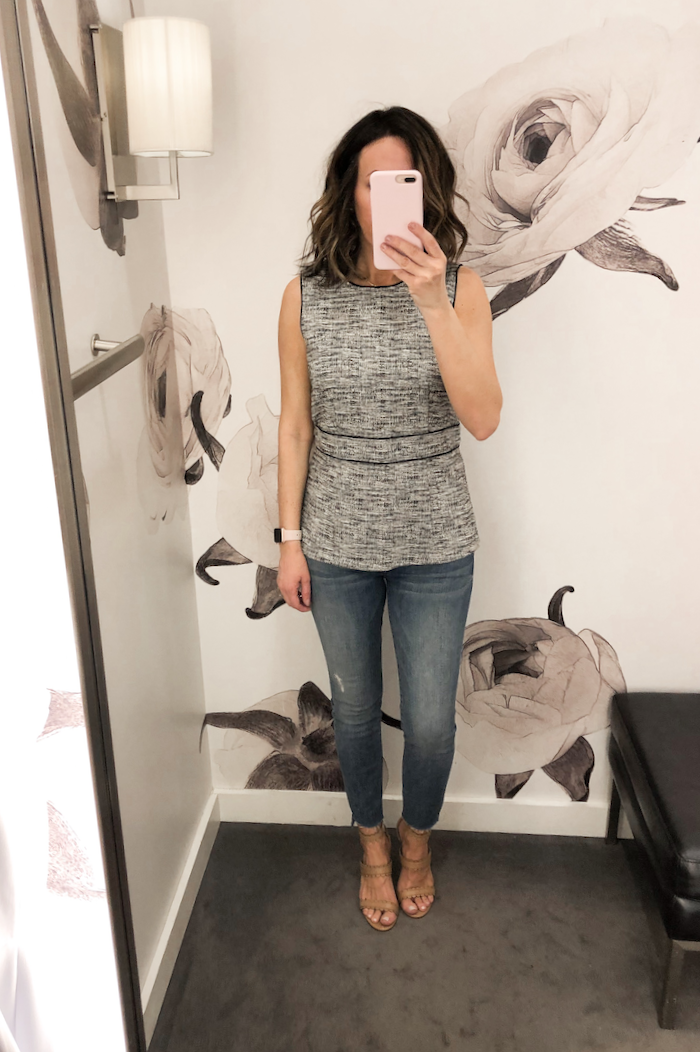 This top was very light and felt really nice on. It also comes in black and red. Checked Knot Front Top in xs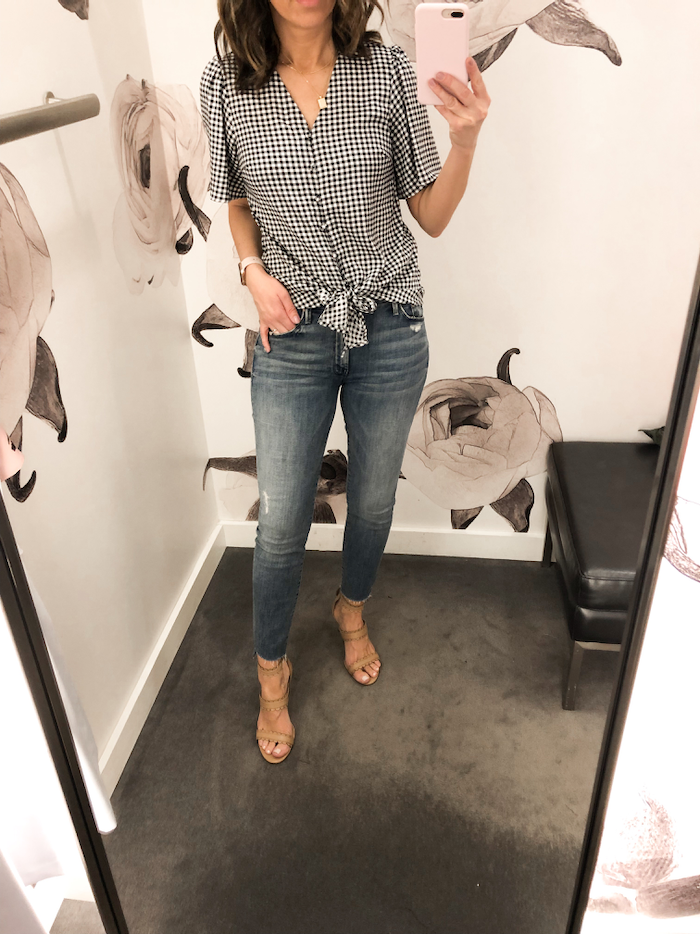 You might have seen this ribbed sweater in another color in this post (along a few other AT pieces). The lighter colors I liked tucked into skirts or with high-waisted jeans but not so much otherwise. But Black is more forgiving and therefore is my favorite one lol (just ordered this black one)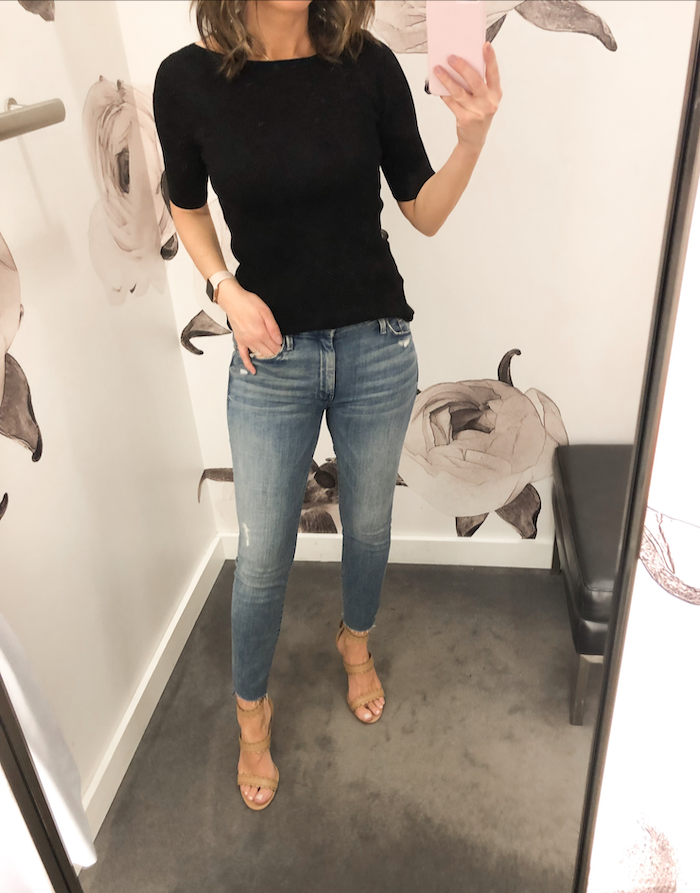 Cute, springy top…borderline low-cut (I pulled it up just a tad). Wearing xs below. Jersey floral top
This sweater jacket/coatigan was quite nice. I kinda felt chic in it lol. Fits tts.
I'm so in love with these pearl slides . They run tts. Warm weather needs to hurry!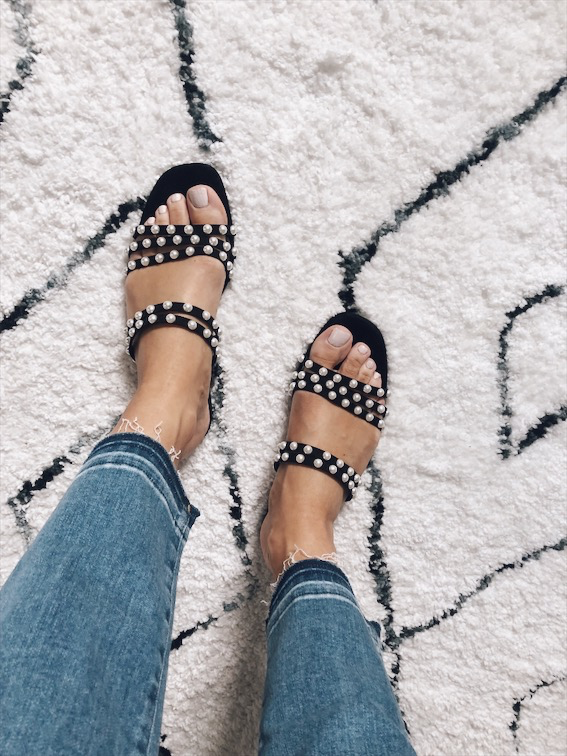 There is also this heel version which is just as pretty. Since I mostly wear flats, I keep the flat version.
Another gorgeous pair of slides. LOVE these. They also run tts (so you can these slides and the pearl ones for less than $35 each with the stackable code)
These Wrap Sandals are great if you like a smaller heel. They seem very comfortable. I have a pair that's similar enough so I didn't keep these.
Some fave shoes (I think pretty much all AT shoes are fab)
I already shared the following three pictures the other day, but adding them here too for easier access 🙂 Love this floral skirt, runs tts. Ribbed sweater same as the black one a few pics above. tts.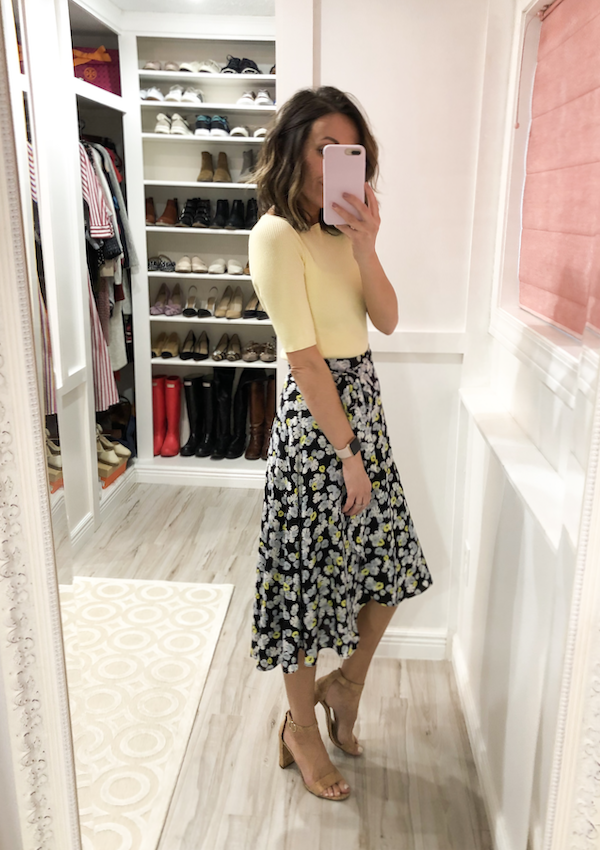 Floral skirt in size 0, tts.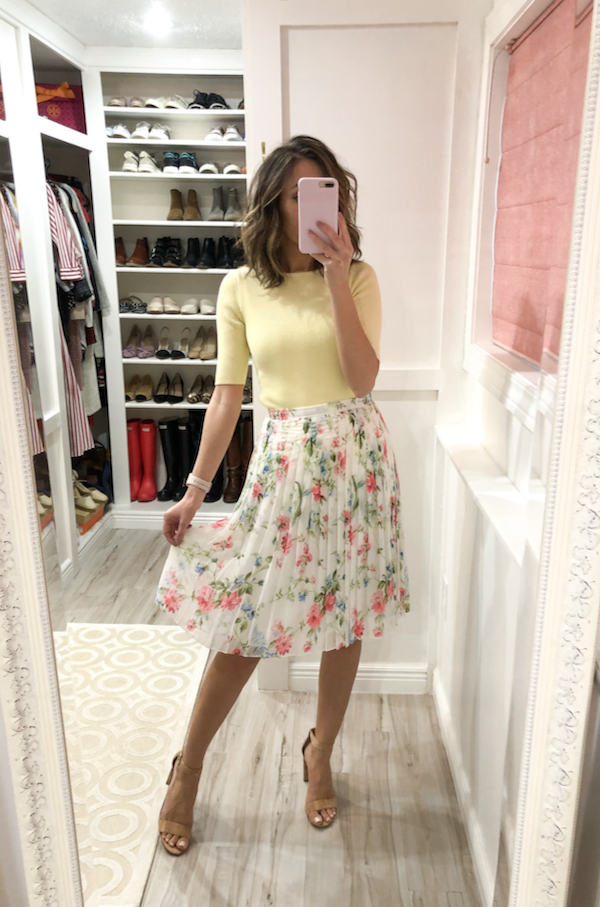 Another favorite floral skirt tts. (wearing size 0) Lace yoke top in xs (a tad roomy)
---
LOFT – 40% off your purchase w/code LOVEMOM ends 5/12
I didn't try on too much stuff at LOFT as I didn't see to much I really liked this time around.
I really wanted this jumpsuit to work. The fit was kinda odd on me (but it gets great reviews). As most jumpsuits for me, it was a tad short in torso but it as very snug around hips in size 0, might need 2 (for reference widest part of my hips is 39.5″). It had a bit extra fabric on top, mainly around the mid section (you can't really tell in pics). It just didn't work out for my body type. Sad as I love it.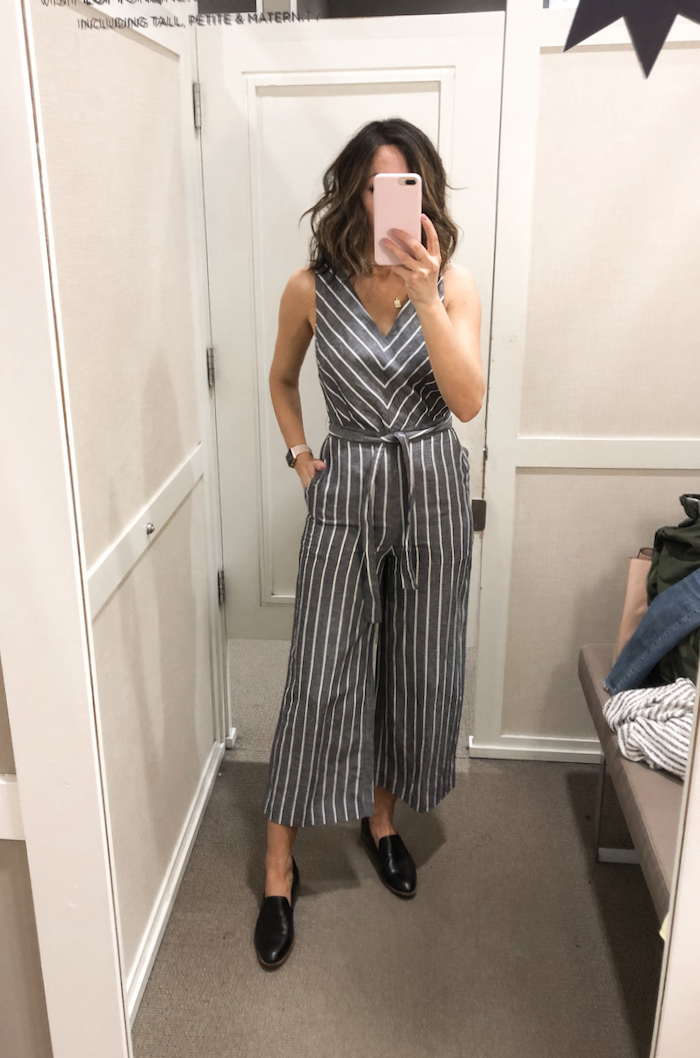 Pretty nice top with waist tie. Which can also be easily removed. Wearing xs below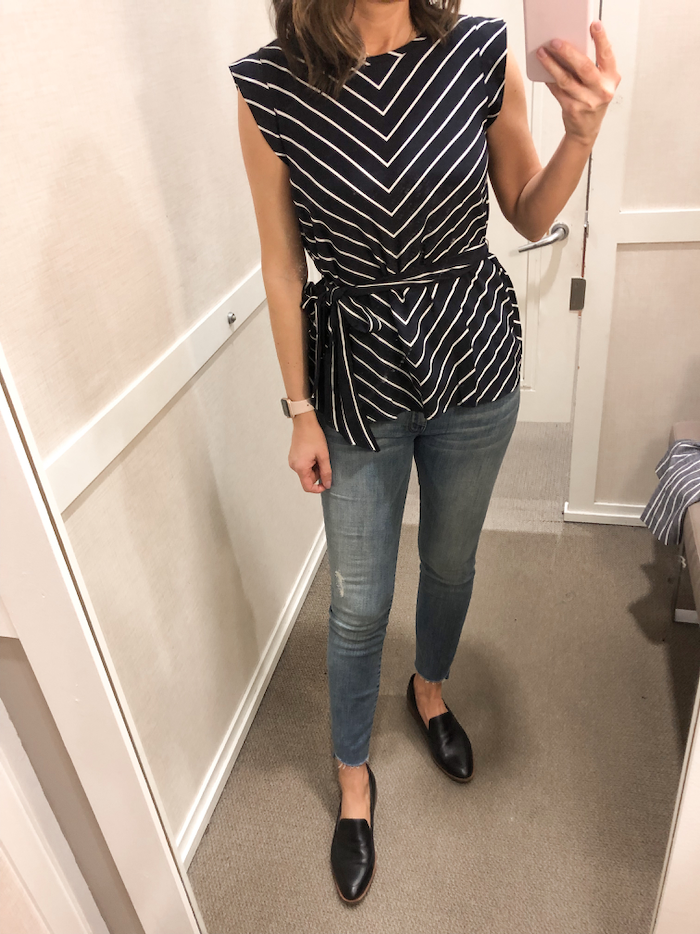 Here I go again with 'why are LOFT dresses so short' lol But seriously, why?! Granted, there are quite a few longer dresses this time around. So they're improving in that department.
This lace dress so was pretty and it fit nicely but….SHORT! (all these were shorter in person than on the pictures). However, it does come in Tall but it still would not give me the desired length. So cute though!
Lace dress in size 0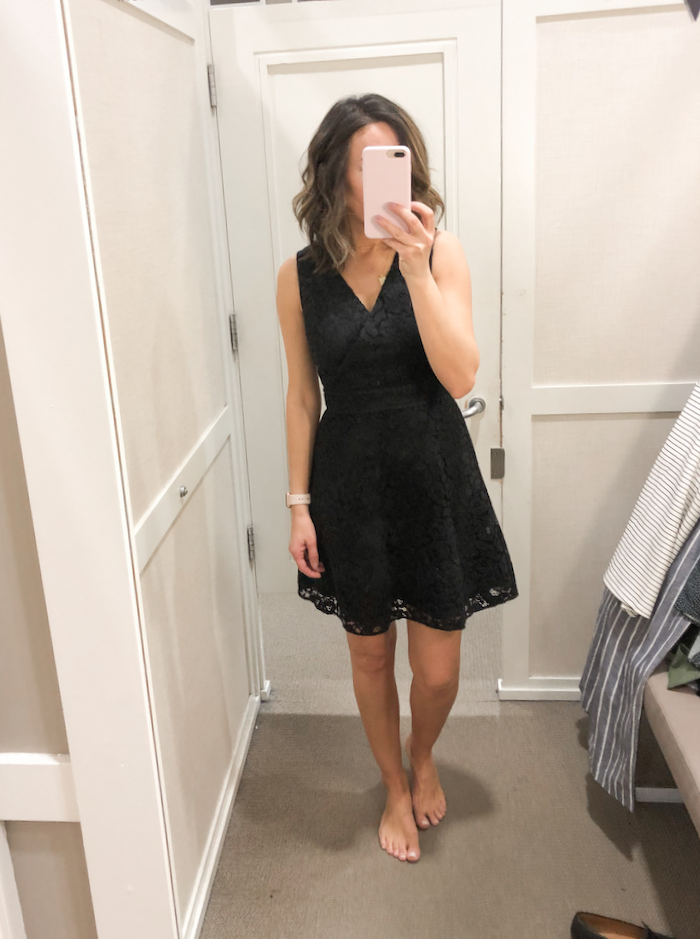 I was really hoping this dotted dress would come in Tall as it is so light, soft and nice. Tried on sizes 2 and it fit me tts. Said it doesn't came on Tall.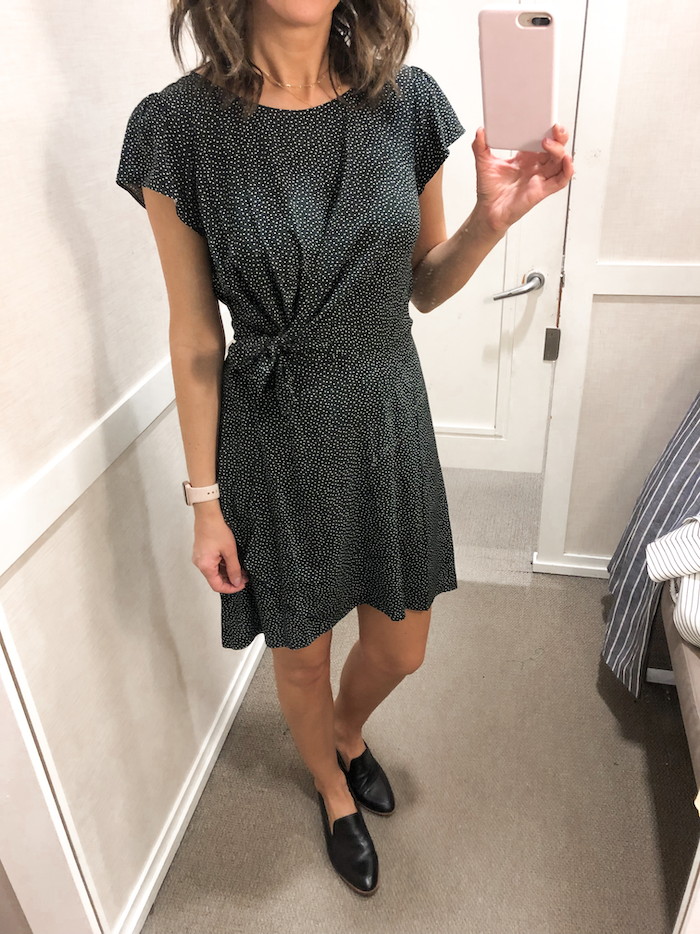 Wearing size 2 below and it fit me tts. Really nice dress but too short for me (again, shorter than it looks in this pic). Stripe Flare Dress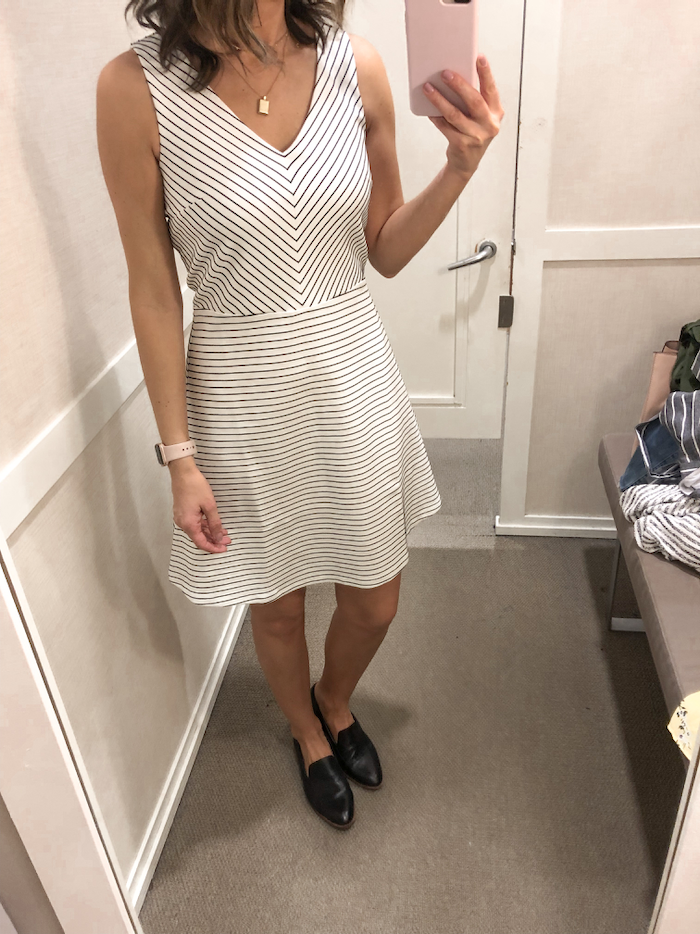 At least there was one dress that wasn't short! Cute, bright little number. Fit tts. Selling Fast. Ruffle Flounce Dress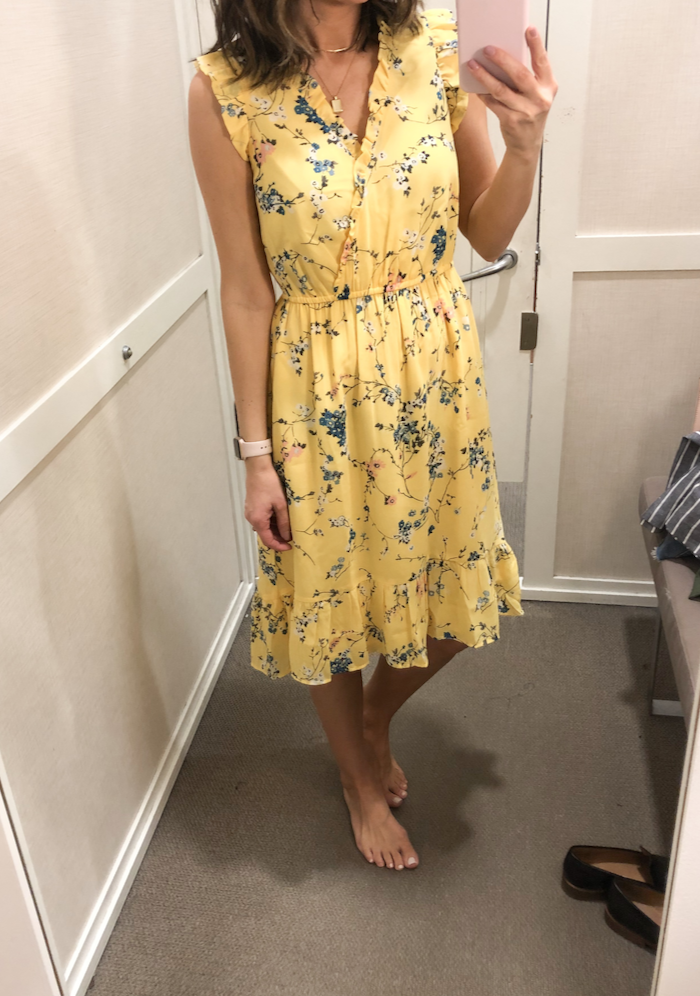 This floral dress – so pretty (tts)! The slit is quite high but that can be easily stitched up. I think the dress would be a tad sheer in the sun though as it is not lined. For that reason I returned it 🙁
Major fan of this pocket button down dress which I got last year but in size 2 because 0 sold out too fast. I decided that size 2 is just fine (even though a tad roomy on top, but nothing that bothers me). This year it is available in Tall which I wish I had!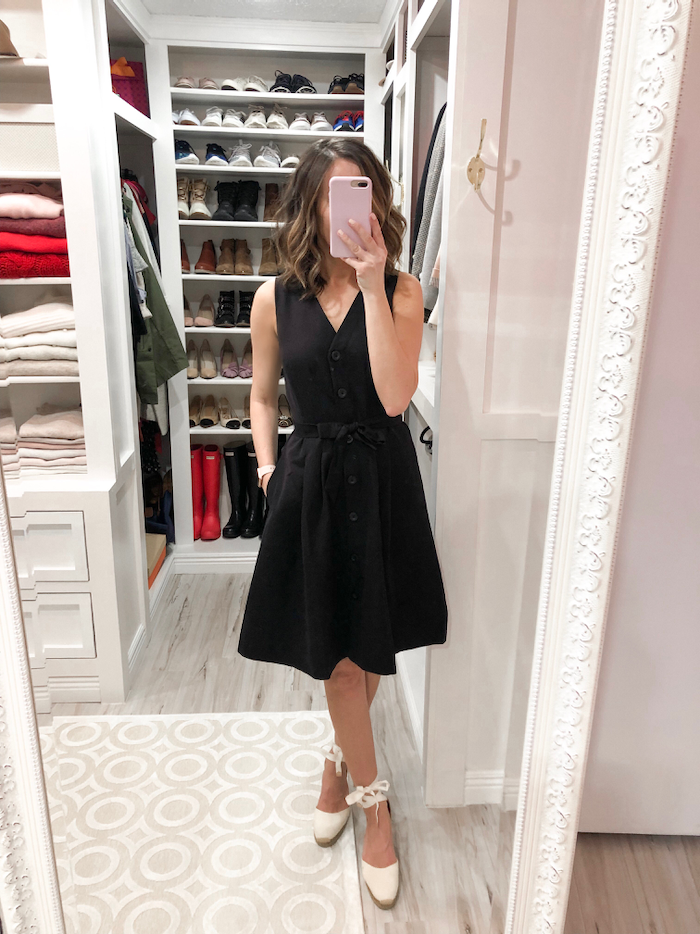 Great basic top that's easily dressed up or down (not seeing this color). Also in navy below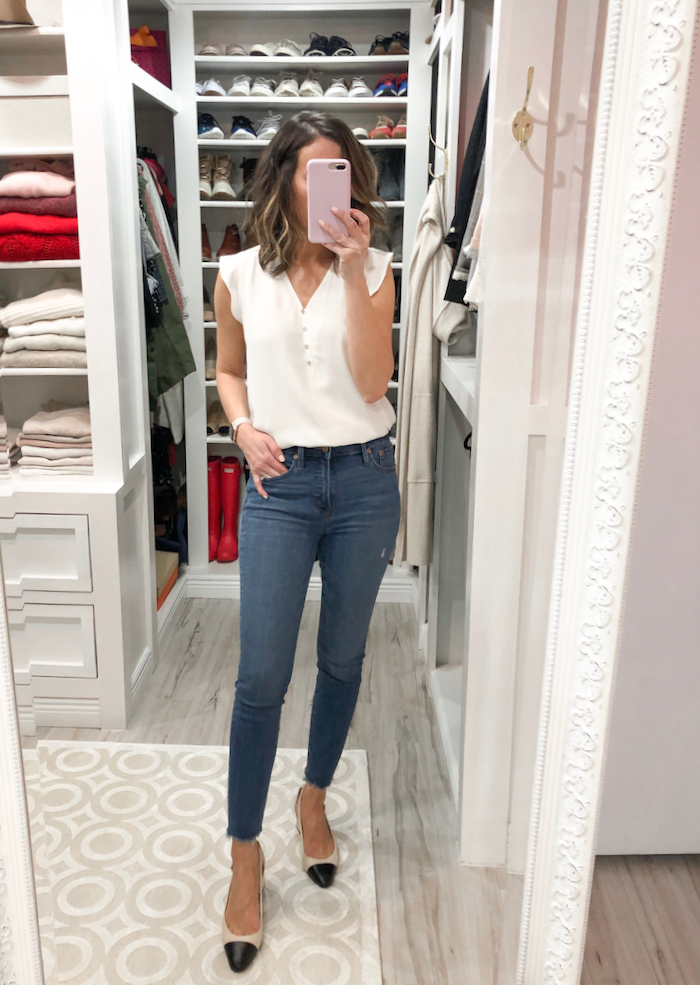 I decided to just keep it in navy (in xs) as I had one that was somewhat similar to the white-ish one.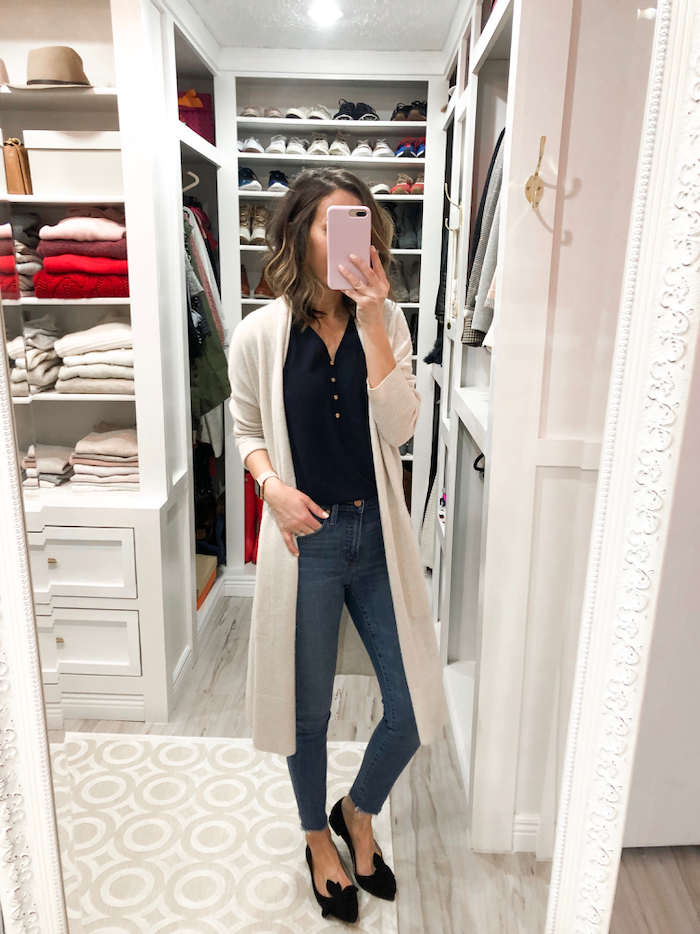 Dotted sleeveless top in xs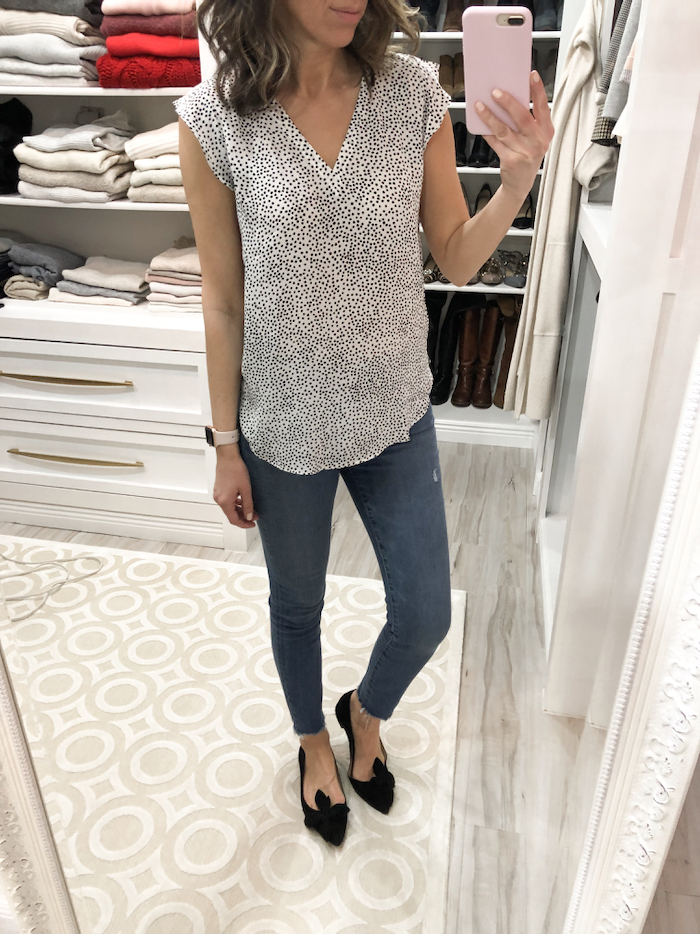 Snake skin cami in xs tts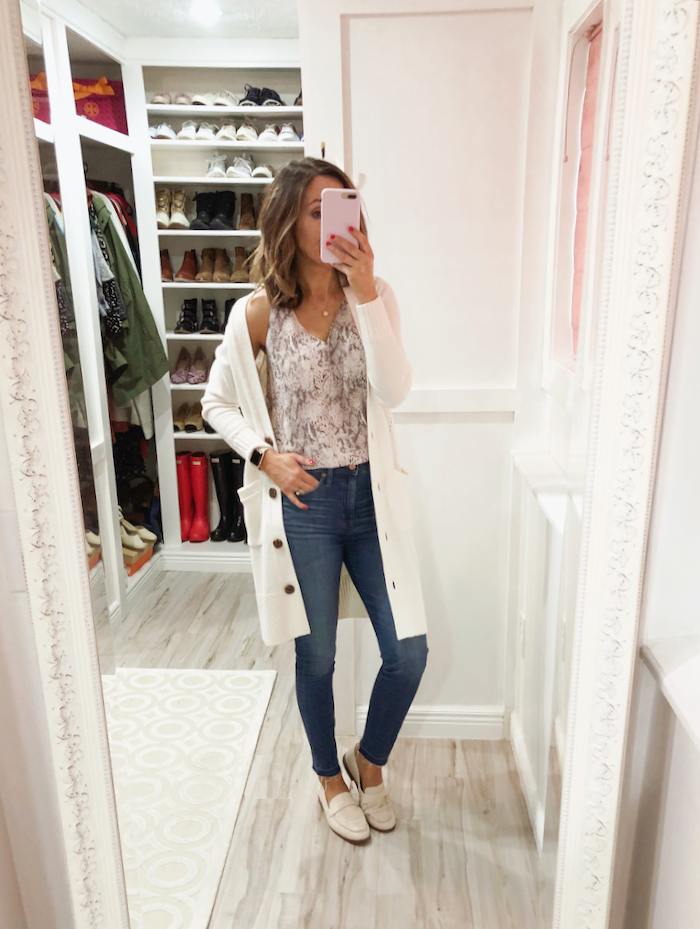 Let me know in the comments below if you have any questions!
A big thank you to those who shop via my links, I truly appreciate it! You make this blog possible! xo