Happy Tuesday!
Today I'm partnering again with Walmart on their We Dress America campaign (as always, all opinions expressed are my own).
I found so many pretty  warm weather pieces $35 (most under $20).  I already ordered the white tank below. The shoulder detail is such a nice touch for an otherwise plain tank.  Also, a while back I ordered the leopard block heel mules (100% vegan) and they seem very comfy (tts. Been testing them around the house. All shoes get tested around the house first haha).  I think I need this dress (#5) too, it looks SO comfy and I'm already picturing it with sneakers and a denim jacket. Or just slides once it gets hot.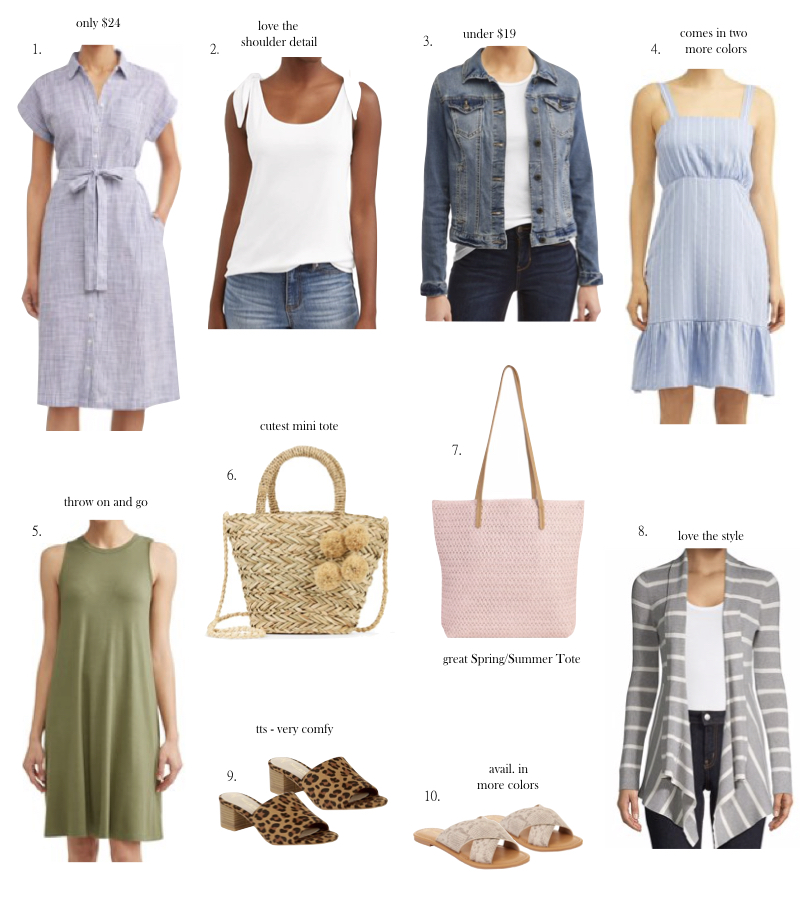 1  |  2  |  3  |  4  |  5  |  6  |  7  |  8 – avail. in more colors   |  9  |  10
Walmart has been killing it lately with so many stylish and affordable styles. A lot of items qualify for 2-day free shipping (which always gets major points in my book). And rest gets free shipping with orders over $35.
While this is not fashion related, I have to share (too good not too).  I've been wanting a gallery wall in the dinning room (one wall is just bare and boring) but as you might already know, frames are not cheap (especially when you don't know 100% what you want lol).   I found these frames – only $14 for a set of 3 you guys!  I saw them in store, where they are sold individually, but getting the set of 3 online was a better deal. Now I just have to decide which pictures to print. I might order 3 more, will see.   And another thing I did not know is that Drew Barrymore has a home-line at Walmart (I did know about the beauty line).  Did you guys know?  Maybe because my local Walmart doesn't carry any of it, so I never see it in store.   But love, love, love this flower print (in white frame) and this set (obsessed). I've been trying to decide for a month where to put them lol
As always, thank you for reading!
Thank you to Walmart for partnering on this post!