Happy almost Friday!
The weather has been so yucky lately that I haven't had any desire to take any outfit pictures outdoors.  One of the reasons being that a lot of the same pieces have been in rotation thanks to the current weather situation. Like this sweater blazer/coatigan, favorite loafers, this anorak when it rains (I got xs and it's a generous xs). This one is the new version.   I've really been loving these and these jeans which are only $45 right now (both tts for me).
Sharing some J.Crew Factory and LOFT fitting room snapshots.  Check out my previous J.Crew Factory Fitting room snaps here.
Ann Taylor – you can find my latest Ann Taylor try-ons here (some LOFT ones too).
First up – J.Crew Factory – everything 50% off + extra 20% off.
I really liked this print button down. XS was not available, tried small below. I actually love the button downs to be a bit looser as, I personally, love how it looks when tucked in.
 Printed button down top
Untucked below might look a bit frumpy, so xs might be better in this case for me, but since I prefer my shirts tucked in, small would be fine.
Loved this faux wrap top but low cut for me. Tried xs below, fits tts. Comes in more colors. 
Tried size 2 in this skirt and it was too big in the waist. I would need size 0 in this style since it sits high on the waist. So cute though. Comes in polka dots as well. And the one below is a fine leopard print.  Pleated Skirt
The smallest size available in store was size 6 but I still had to try it on. Holding it in the back, like the skirt above, so you can get an idea what it really looks like…if it was my sizes hah.  Comes in black and red as well.  Gets great reviews.  Pleated Skirt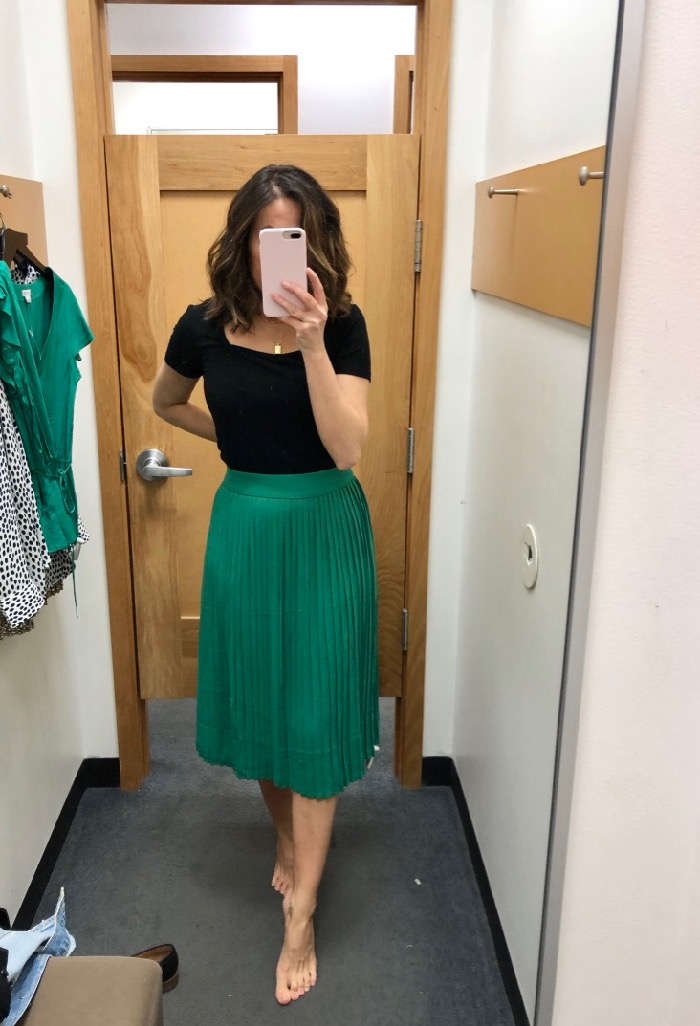 I wish I had tried these on in store. They actually look very comfortable and this is the type of wedge I could wear…the "Flatform" type but there is still height difference between the front and back. Suede Scalloped Flatform Espadrilles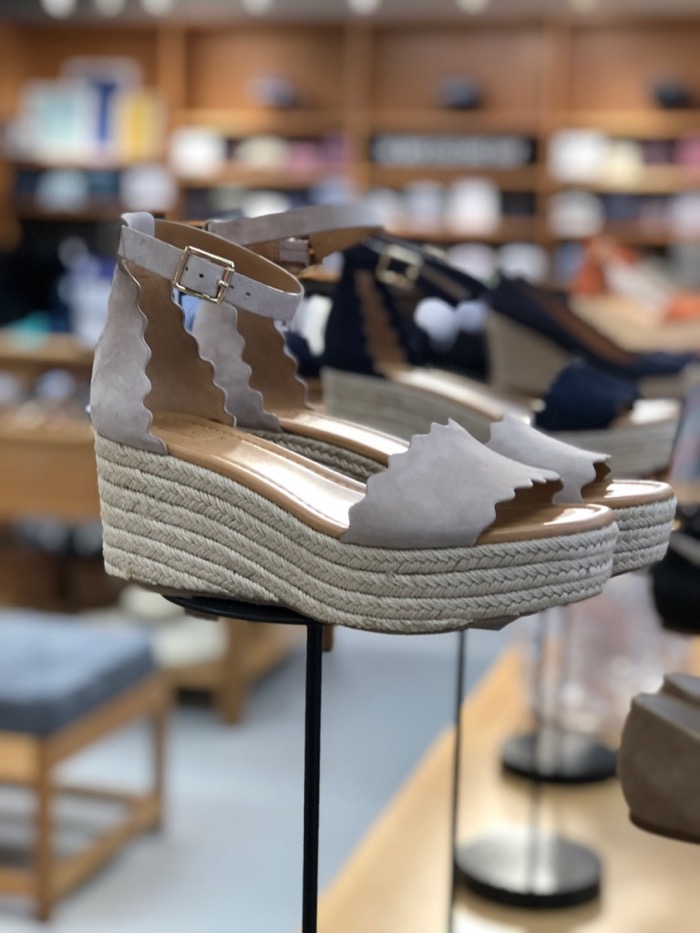 Love these low heel sandals.  I have these in similar style (no cut-outs), and while I haven't worn them outdoors yet, I did around the house and they seem very comfy. This is the type of heel I can run around during summer and be (cute) and comfortable 😉
---
LOFT – 40% off w/code FRESHPICKS  (exclusions apply)
First of, excuse the pink bra lol.  This dolman sleeve button down is super light and semi-sheer but it gets great reviews. Wearing xs below.  Dolman Sleeve button down shirt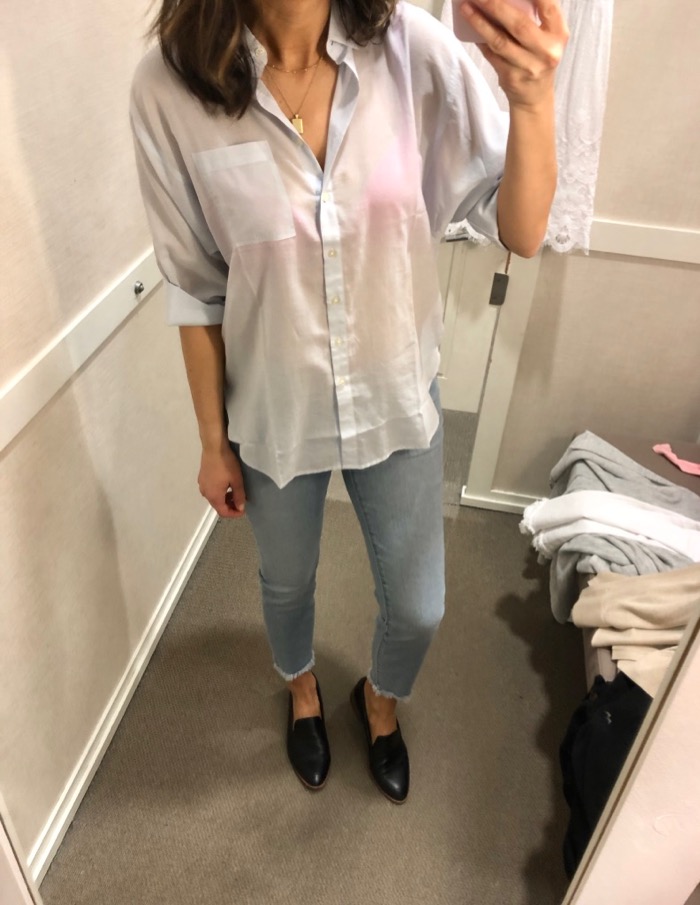 I quite liked the color of this top (prettier in person, not bright).  Tried xs below and it fits tts.
Button shirt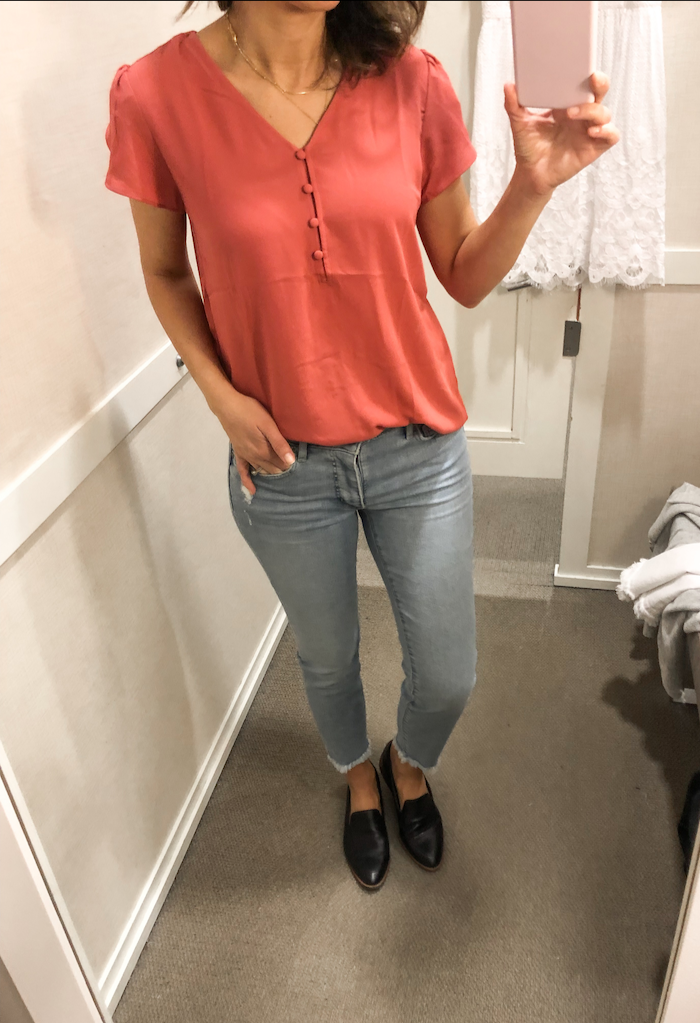 This picture below might show the color better.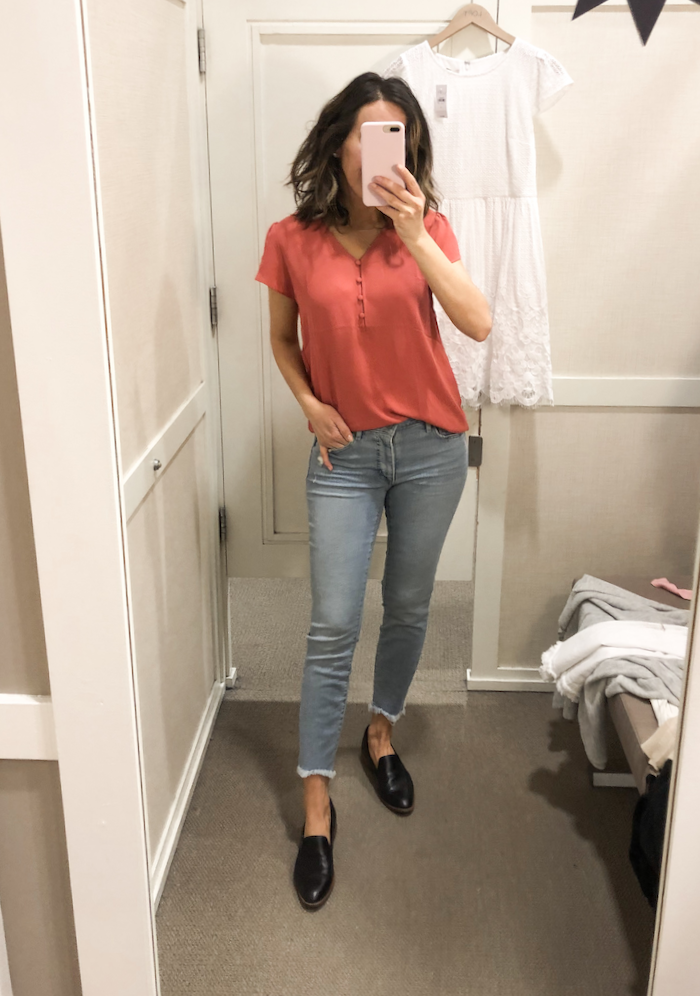 This top is definitely prettier in person. Easy dressed up or down, great Spring and Summer piece but you can wear it year-around under blazers or cardigans.  Runs tts.
I believe I've tried these white jeans before but this time I'm wearing them in my size but in 'curvy'.  In most cases I have to go down once size if I try curvy jeans, and that's the reason why these didn't fit well. They fit quite bad actually.  I would need 25 curvy or my regular 26 size.  They get great reviews.
Dandelion Stripe Ruffle Top in xs   |   Jeans
I have the last years version of this sweater. It's a great Spring piece – light and comfy. Wearing xs and it's a relaxed fit.     Loved these raw hem light wash jeans |  Striped Sweater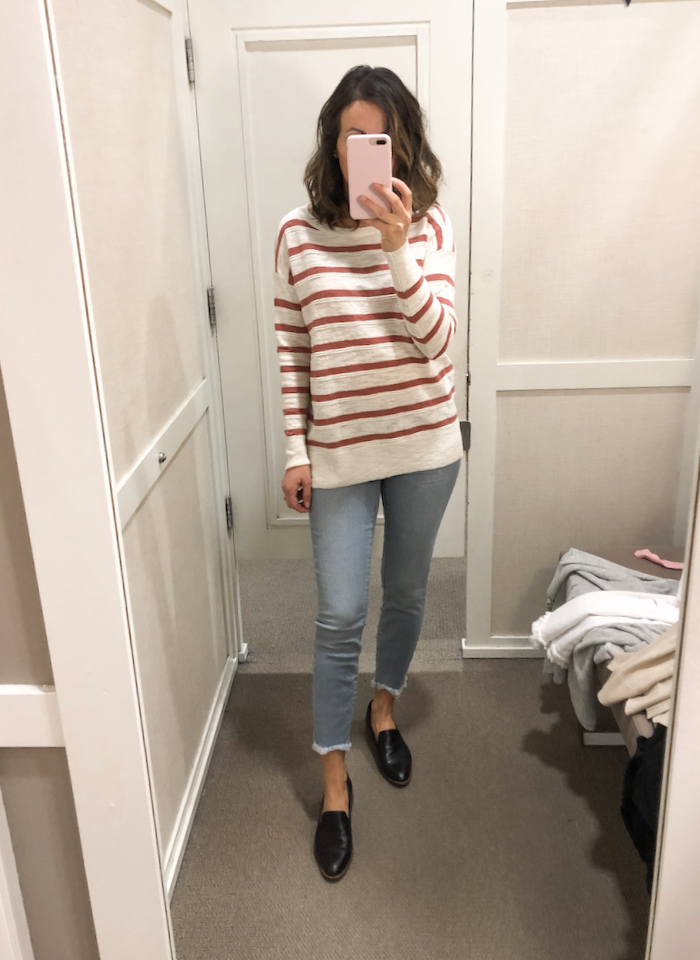 Comes in the pretty light blue stripes too. 
Really liked this skirt –  it's light, has pockets and it's good length. Easy to throw on. Not quite maxi (I'm 5'6″).  I tried xs and the elastic waist was a tad big since I want it to sit on the smallest part of my waist. I ended up ordering xxs for that reason (Update: I received this skirt in xxs and it's definitely a better fit on the waist. It also comes in a blush pink (reminds me of this J.Crew skirt I got).  Ribbed tee – nice basic  |  Pull on Maxi Skirt 
Another adorable skirt. Love the dainty dots and the length. This one is great for year-around. One of my favorite outfits for hot summer months is skirts like this one, a tee or tank top and slides.  This dot skirt is currently only left in a few sizes.  tts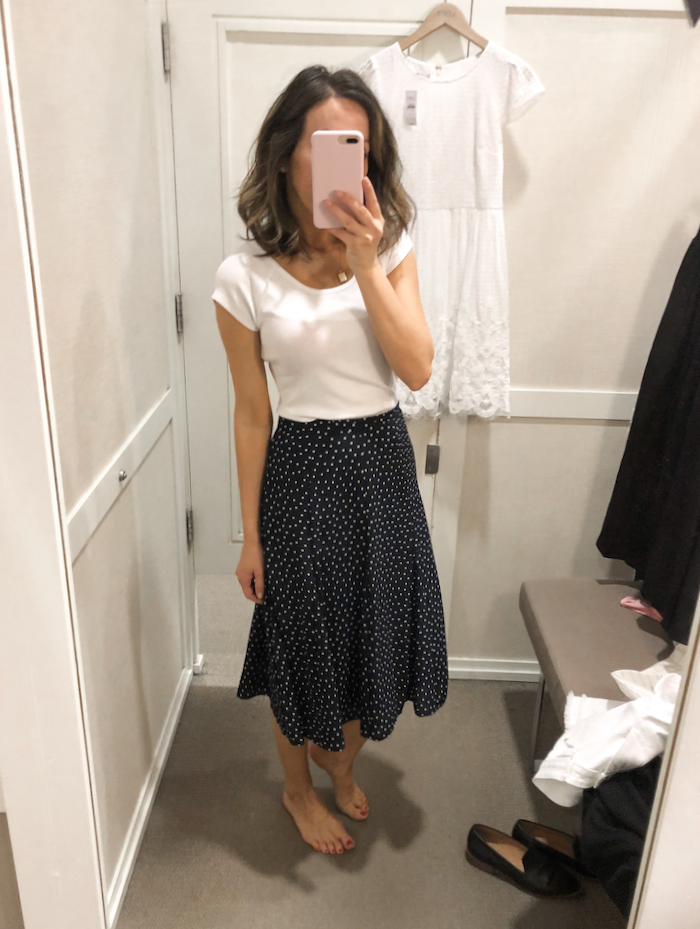 I find that a lot of shirt dresses are a bit roomier but once you tie them at the waist they looks fine (my opinion). Loved that this one is lined. Short for me unfortunately  (way shorter than it looks on the picture).   Sleeveless Shirt Dress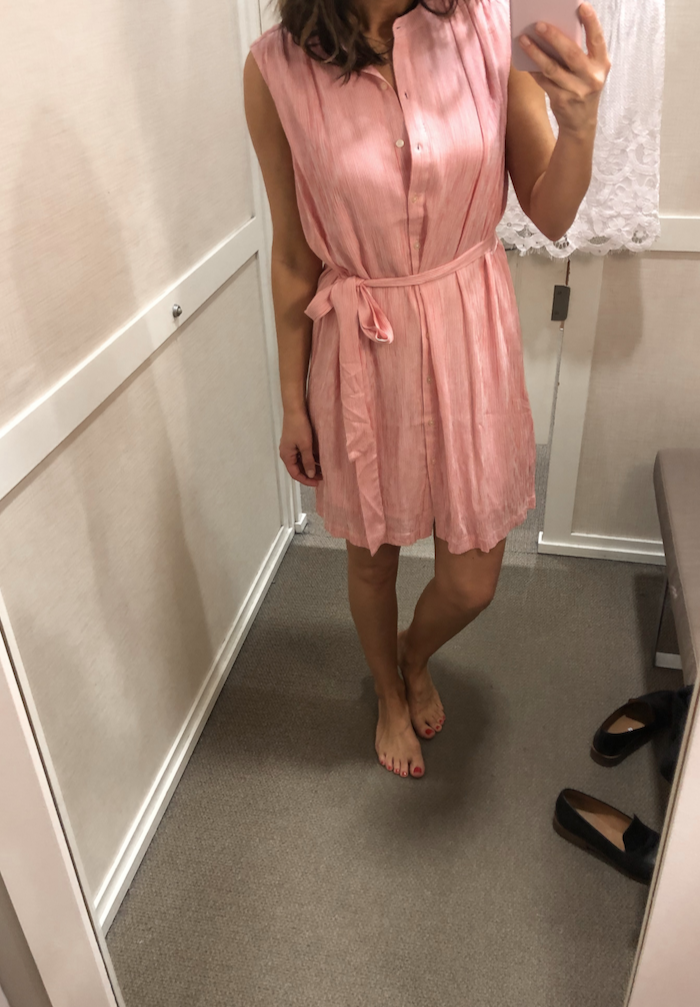 Another cute dress but short (shocker). I tried my usual sizes and it fit tts. Lace dress
Striped Blazer in size 0 
I'm not seeing this super light long cardigan online…  but wearing xs below.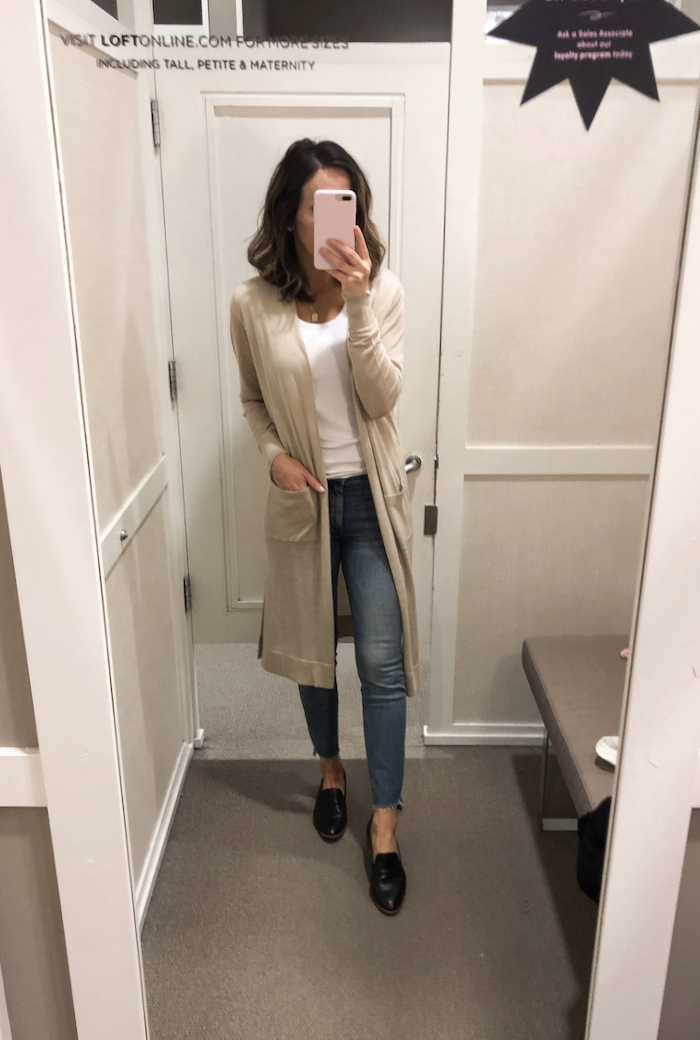 This light weight knit poncho looked cute so I tried it on!  It's very light and sheer.