Hello again!
I wasn't planning on having a second blog post today but since Ann Taylor is having a great promo I thought I'd share some new arrivals with you all. I was on a time crunch, now and when I took the pics, so I won't go much into details of each item but will let you know the sizing. If you have questions about any of the pieces below, please let me know in the comments below.
This dress was one of my favorite pieces. It is so comfortable and just drapes nicely. It works for so many different occasions. TTS Floral halter top dress in xs
This eyelet dress was not avail. in sizes 0 so I tired ties 2 which is a tad big. It also comes in black.
Tried this striped sheath dress in size 0 and it was a tad tight around hips. The bottom part is wrap style and could potentially expose quite a bit leg when you sit. Just FYI 😉
I really liked this leaves tie waist skirt! Tried sizes 2 and it fit tts. This short sleeve top is in size xs and it's a nice relaxed fit.
Another cute top with this skirt. It was borderline low cut (it's the same top as the one linked but now sure if it just looked lighter online or it's a completely different color). Also this top would look so cute with any of the skirts I tried on. Also love this top.
This pretty pleated skirt was not avail. in o, tried size 2 and it didn't sit high on the waist (which is what I prefer). The ruffle sleeve top was my fave top. Requires a smooth nude bra. Loved it!
This striped tiered skirt one was another one of favorite pieces. Love skirts like this one because you can thrown on a plain tee or tank and wear as an everyday skirt or dress is up with a nicer top and heels. Tried size 2 and fits tts for me. Same top as above.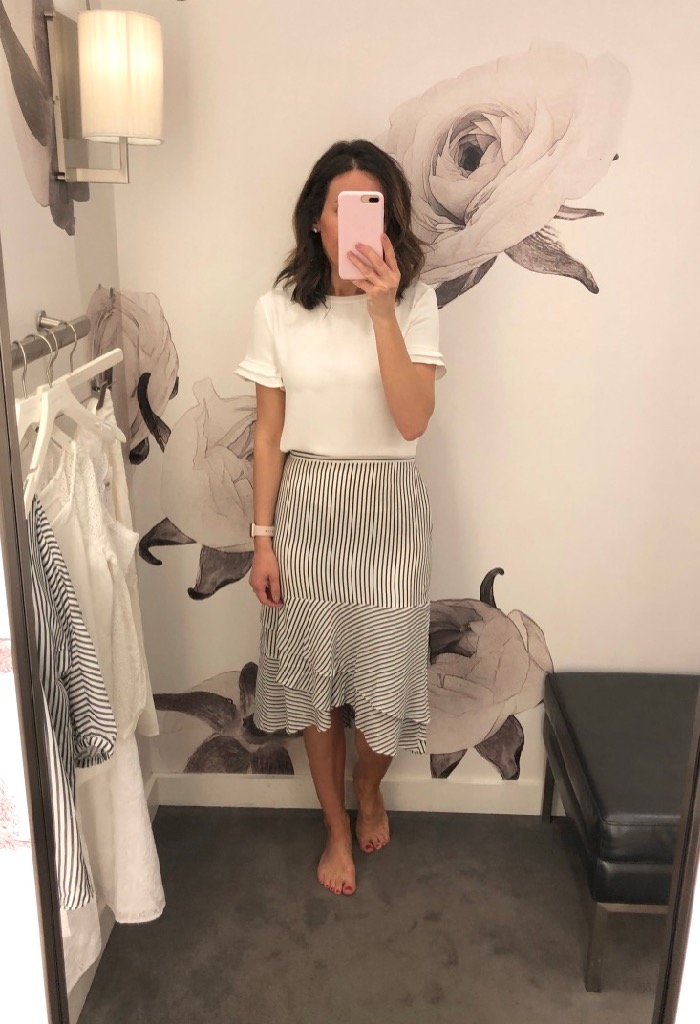 This side button A-line skirt was so cute! I tried size 0 because in A line skirts I can usually sizes down. The Ribbed V-Neck sweater is in size Small below. Buttons on xs might have pulled too much (not 100% sure as they didn't have xs for me to try on). But I like the look of the ribbed sweater tucked into skirts.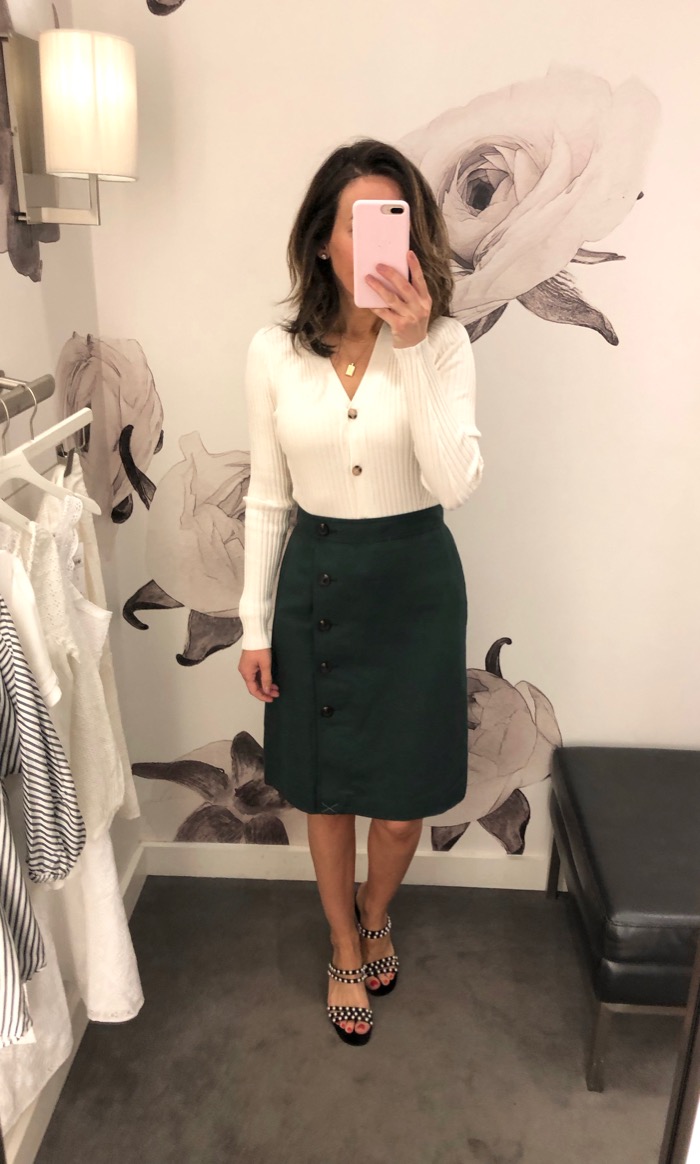 Wouldn't necessarily pair these two pieces together. Both would be prettier with paired something else. Both run tts. Eyelet top | Floral Jacquard Skirt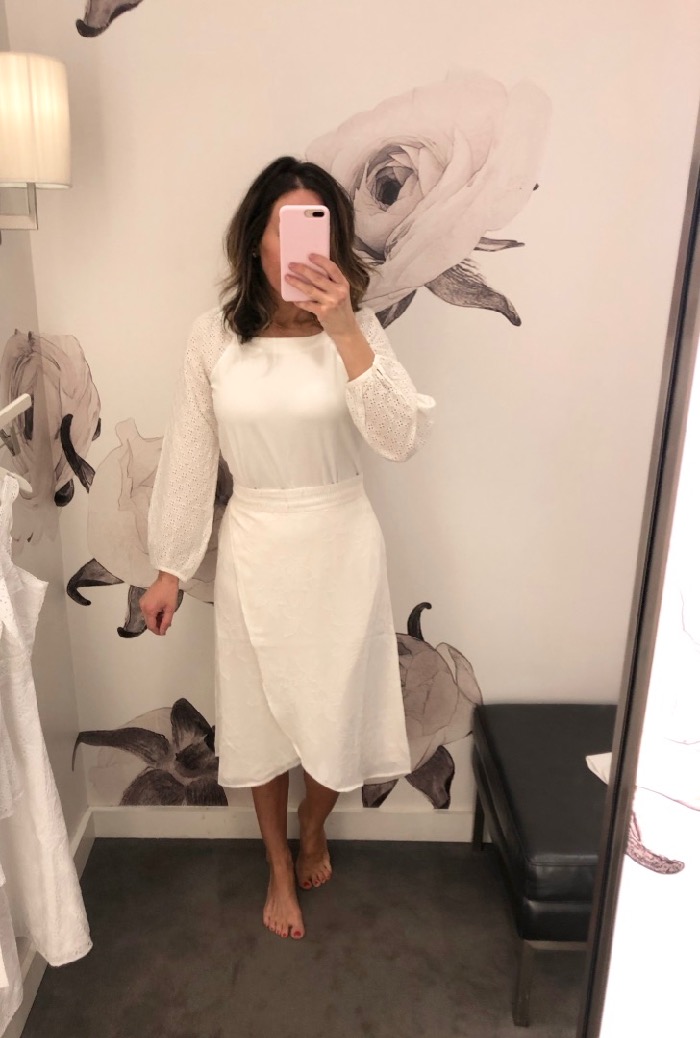 Same skirt as above with this pretty Sleeveless sweater shell (in xs). Below this pic I paired with with black jeans.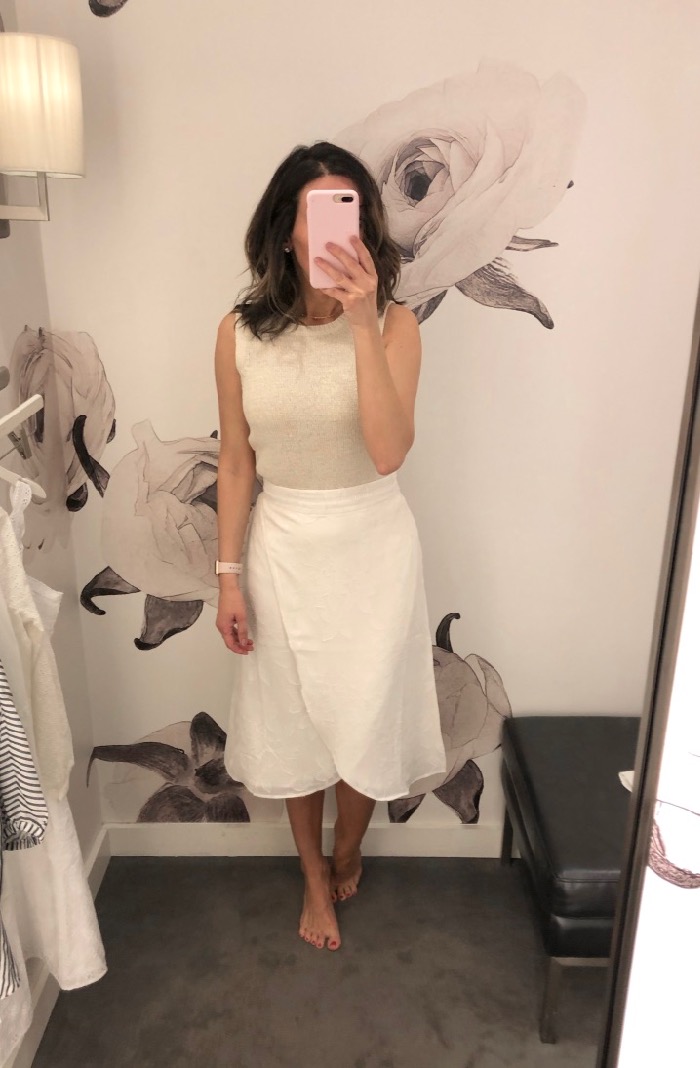 It's on the longer side but I liked the front tucked in for a more polished look.
This white eyelet top was so adorable. Excuse the bad bow lol Wearing xs below. tts
Striped dolman button down – nice and light. Nothing special but still kinda nice. Wearing xs below.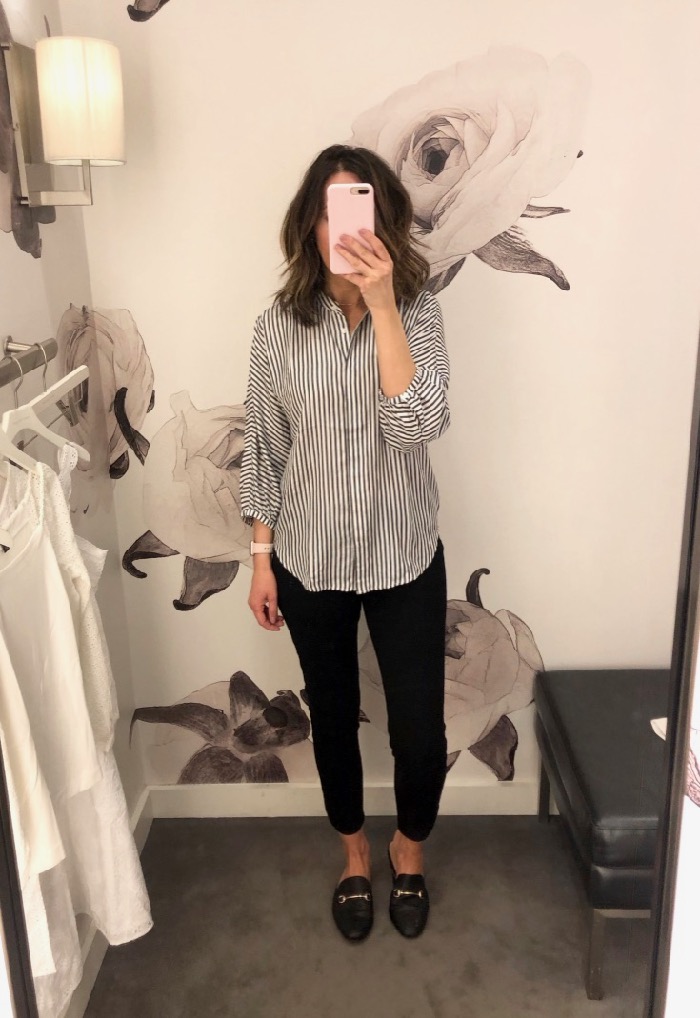 Loved the camel color of this light summer poncho. Which you could wear into early fall with a long sleeve tee or sweater.
Let me know if you have any questions!