Happy Friday!
Made a 'quick stop' at LOFT to check out some new arrivals since everything is on sale.
Current promo – 40% – 50% off
Below are more of my picks
I was pleasantly surprised how many nice pieces they had this time…and when I say "nice pieces" I'm talking about ones that I kinda want in my closet! There are so many beautiful dresses right now too (don't remember the last time they had so many beautiful dresses at once).
A lot of items were not available in my size, sadly. But I'll share at the end of the post my top picks that I didn't get to try in my size but that are too pretty not to check out.
I absolutely loved this dress below. To me it does not look like a typical LOFT dress but rather a pricier one (something I'd find at Shopbop and drool over because it's too expensive). I tried my usual size, xs and the top par was roomy. I wouldn't say I was swimming in it (I'd prefer a bit less fabric, more fitted but not tight). I know that's the style of this specific dress. Another thing…while it is lined I still felt like the lining was not thick enough…it would be find but I don't know if it would be see-through at all in the sun. I did end up ordering the dress but I sized down to xxs (update: xxs was way too small on top. The fabric was digging into my skin under arm/armpits. Surprised how much smaller the xxs is on top vs xs. I returned the xxs).
I did finally get this Woven Straw Tote. Haven't I seen it in person, I might have resisted. It's the perfect size (looks kinda big in the picture but it's not that big). My wedge espadrilles are these (love the lower wedge). More sizes and colors here(I'm 8.5 and got size 39)
This dress was another favorite, so so pretty in person. The skirt part is what makes it so beautiful. Pleats flow and drape perfectly. It's a beautiful dress. The smallest size in store available was 4 but I had to try it on. I definitely need size 0 (update: I ordered size 0 as seen in this post. tts.) This dress also looks a lot nicer than most LOFT dresses IMO. Pleated Dress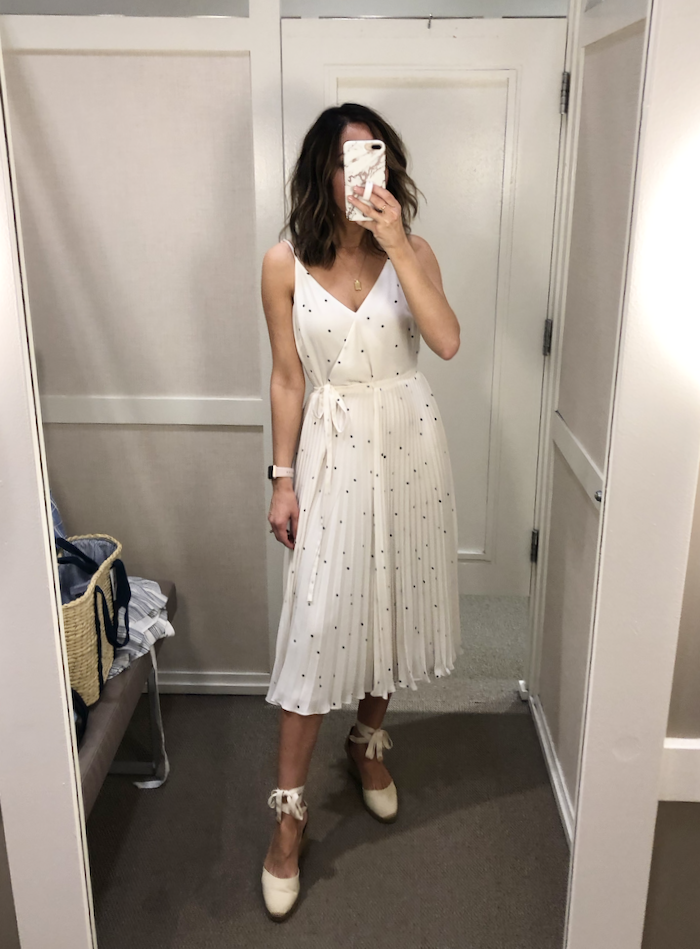 This dress was also not available in my size, wearing size 2 below and it's too big on top. Very cute everyday dress. Would look so cute with a denim jacket over it (almost all dresses do hah). Striped Button down dress
Another cute dress and they did have my size. It's fully lined. Floral Button Down dress in xs tts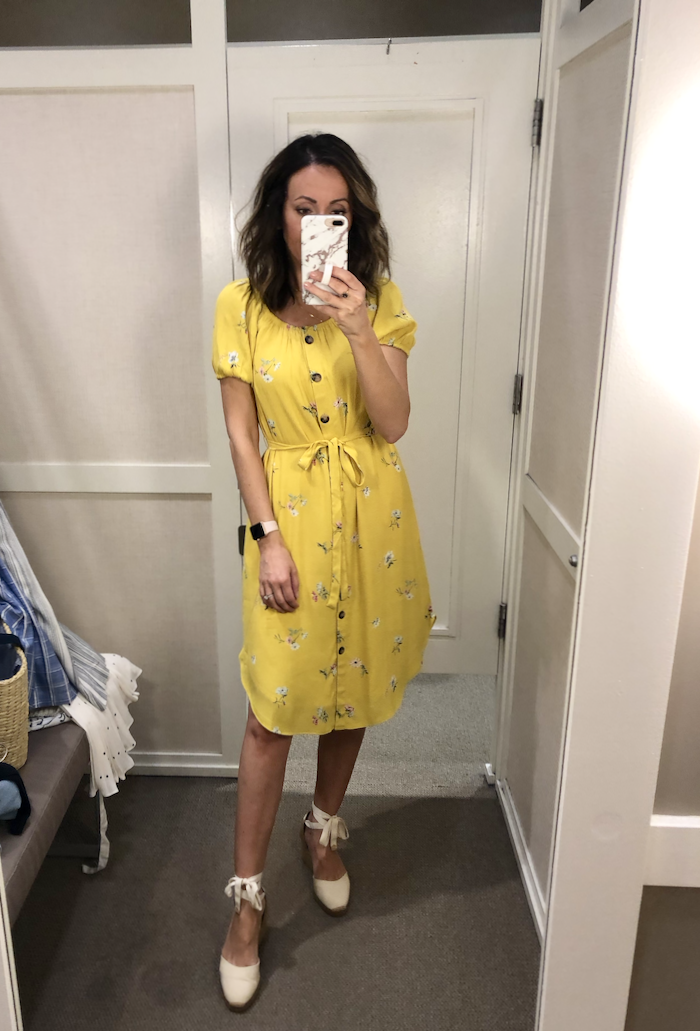 Last years version of this skirt is the one I wore like a couple of times a week (there is also this one, left in a few sizes) Easy to throw on with a tee or tank and look put together. XS was not available, tried Small which was too big (these look better when they sit high on the waist rather low…kinda on hip bone. And that's what the Small was like. I did adjust it a bit for the picture). The tank below is one of my favorites from LOFT. I have two, black and stripe one but might need white as well. Great basic for summer. Skirt | Tank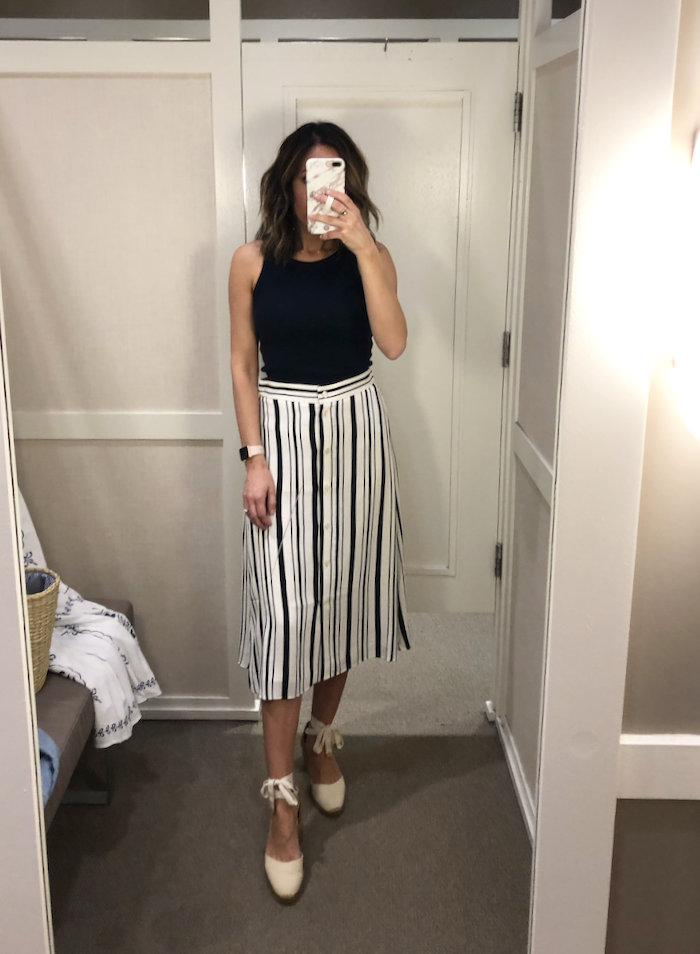 Adore this flora button skirt. I tried xs below and it fits tts. Part of the back is elastic. It's almost a tad big in the waist because of the elastic back but not big enough where it was falling down. It stayed on my waist. It's quite thin and not lined. I did get just because I really like it…even though I'm not thrilled with the fabric. (update: I did end up wearing a slip underneath) . Floral-button-skirt | Tank in xs (one of my faves)
Loved, loved these wide leg pants! They're soft and fit great (they also come in navy). I tried xs below and they fit me tts. They're not high or low waisted, just perfect. I might "need" these. These would look great for the office with flats or heels but also amazing with slides or sneakers for more causal times (the more I talk about them the more I want them lol). Wide Leg Pants | Tank
I love sleeveless sweaters but a lot of times they tend to be too thick, making them hard to wear when it's hot out. Not this one. It's fairly light and fits well. I did end up getting it in xs (which I'm wearing below). Pants/Sleeveless sweater in xs
These are the type of pants that you need when you want to be comfortable but also look cute! They can be easily dressed up or down. Wearing xs below and they fit tts. Pants | Ribbed V-Neck sweater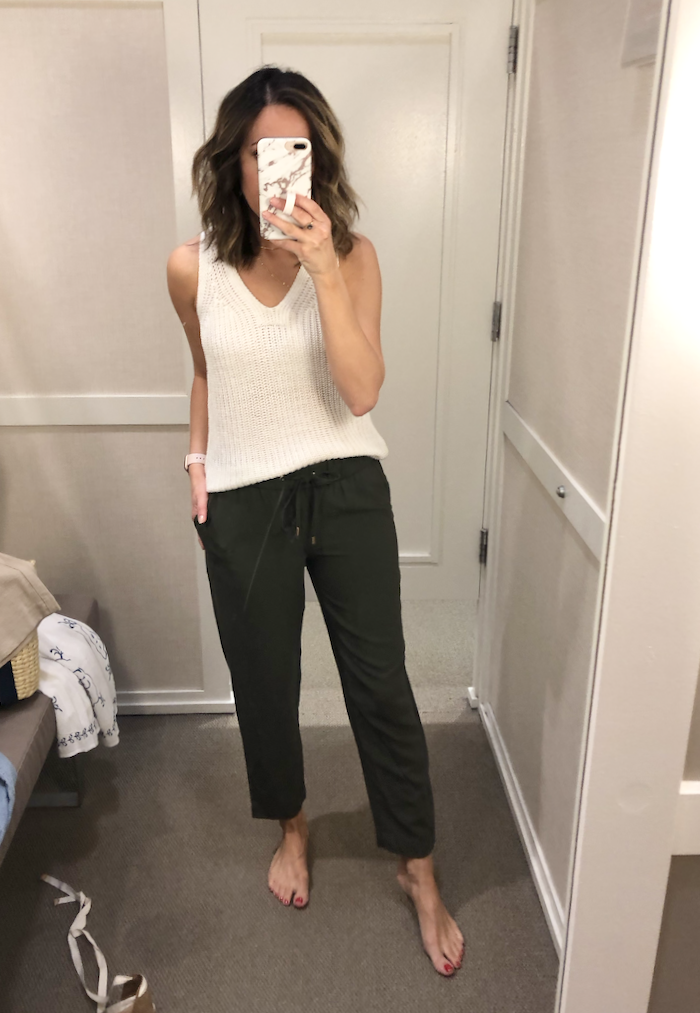 Striped halter top in xs. Cute, nothing amazing. Jeans in my usual size 26. These felt quite stretchy. Not sure if they would stretch out much. I do love the wash though.
Had to try this utility jacket on even though I don't need one (I have 3 or 4. Totally unnecessary). Wearing xs below and it fits tts.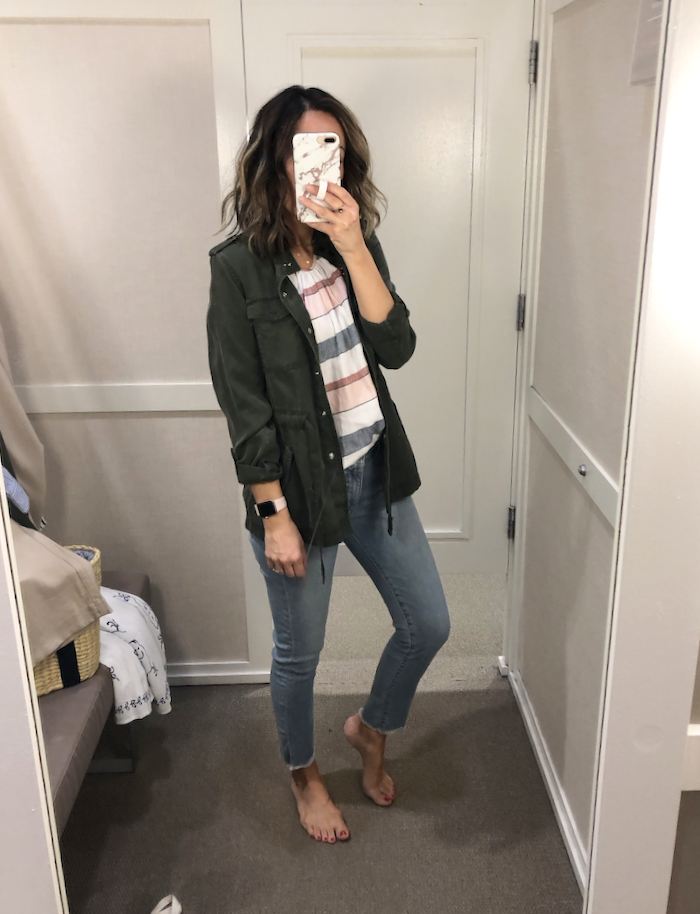 While I really do have a lot of striped button downs (and most are white/blue) this one was totally different than other one I own (hah!). It's 99% cotton, light, and perfect for this time of the year. I almost didn't get it but told myself if I don't wear it within one week I'll return it (most likely won't be returned lol). It's a classic, timeless shirt so I think it will get a lot of wear. Wearing xs below. Button down
How adorable is this top?! I have a similar version from last year and this one reminded me I need to wear it. So cute. Wearing xs below and this style is roomy but not in a bad way IMO. Trim Flutter Tank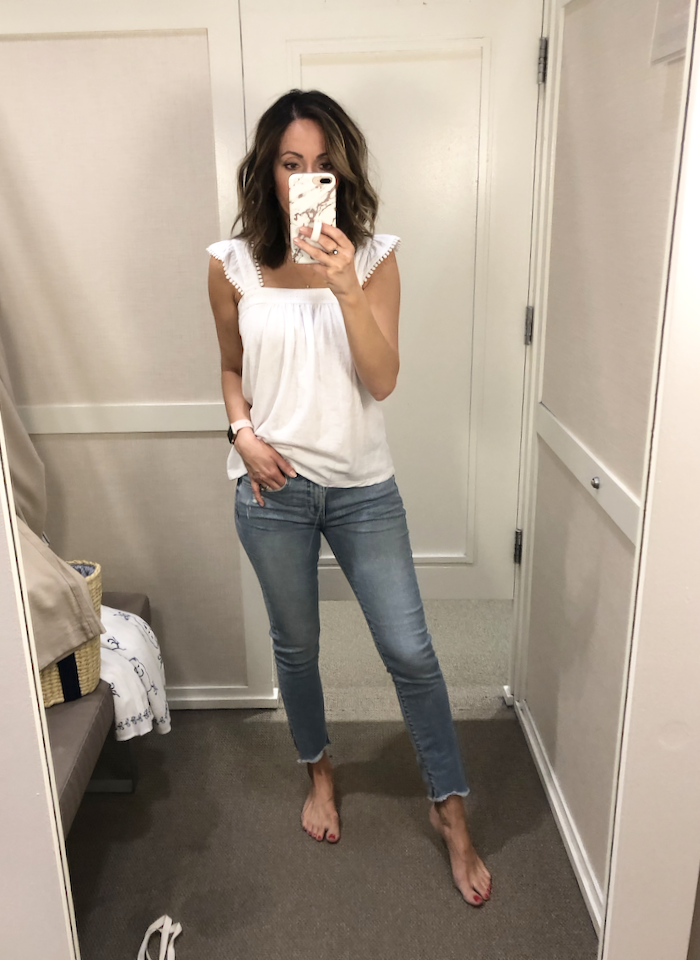 The only item I tried on that I thought it was meh. Not bad but it wasn't exciting for me. I did love the details and the back has buttons but perhaps it was the sleeves I'm not wild about (personal preference) Wearing xs below. Striped Eyelet Button Back Blouse
A few more gorgeous dresses (I think I might need this one)
Have a great weekend!