Happy almost Friday!
Made a quick trip to Ann Taylor and LOFT to check out some new arrivals and they didn't disappoint! Quite a few beautiful pieces!
And FYI – I've been under the impression that many of you think that I buy all these pieces I try on at the store… No, I definitely don't. I take pictures of everything I try on and share with you ladies but I don't buy everything. That would be a tad excessive 😉
Here are some of my favorites from the latest arrivals. The minute I saw this dress I fell in love, I was just waiting for a sale (hadn't had a chance to go in and try a few things I like)
Ann Taylor 40% off your full price purchase (exclusions apply) and up to 70% off sale styles.
This is the skirt I fell in love the minute I saw it online. I was just nervous that it might not drape the way I like but it actually did! I love, love, love it (it's prettier in person). Since I like A-line skirt styles to sit high on the waist, size 0 always fits the best. That's what I ended up getting. And then this cami – how did I not see these before?!?! I'm pretty much aware of all pieces at Ann Taylor lol but missed this one. I love that it's square neck since most are V-neck. This one was on sale + extra 50% off. Great alone during hot summer months and perfect under cardigans and blazers. XS fit me tts. Button-front Skirt in size 0 | Square neck Cami in xs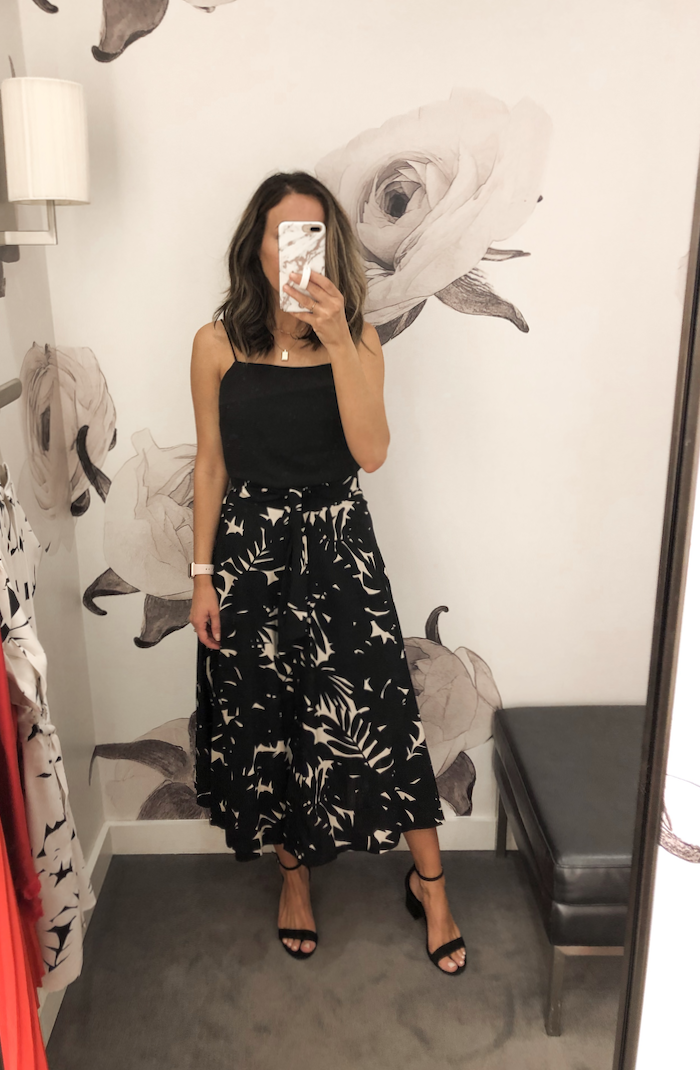 The SA asked if I saw the matching top, which I didn't because I was too excited about the skirt. First I thought…hmmm matching top…could be great, could be blah. But I ended up really liking it as it looks like I'm wearing a belted dress below. Since both can be mixed and matched with other pieces, I think I'll get a lot of wear out of both. Wearing my usual size in tops (XS) and it's tts Button Top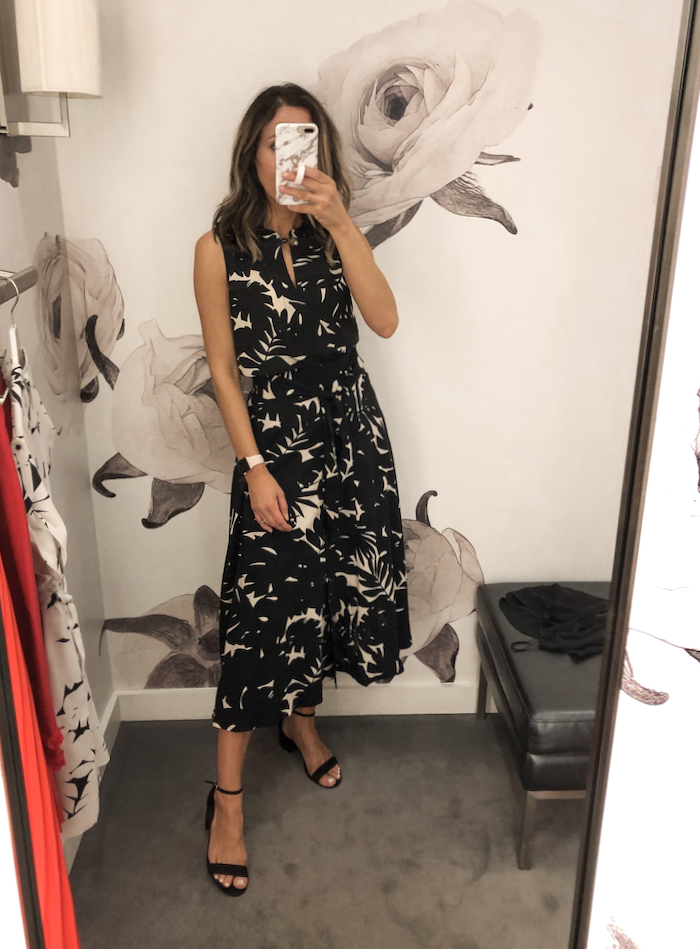 Another skirt I fell in love with. It's like a orange-ish/red color, so beautiful. It's maxi but it's not overly long (I'm 5'6″). It comes in Petites as well. I have a midi skirt in this exact color (not pleated but full skirt) so I'm trying to justify this one. It's maxi, it's pleated and it's gorgeous…tell me I need it haha Wearing 0 below, tts.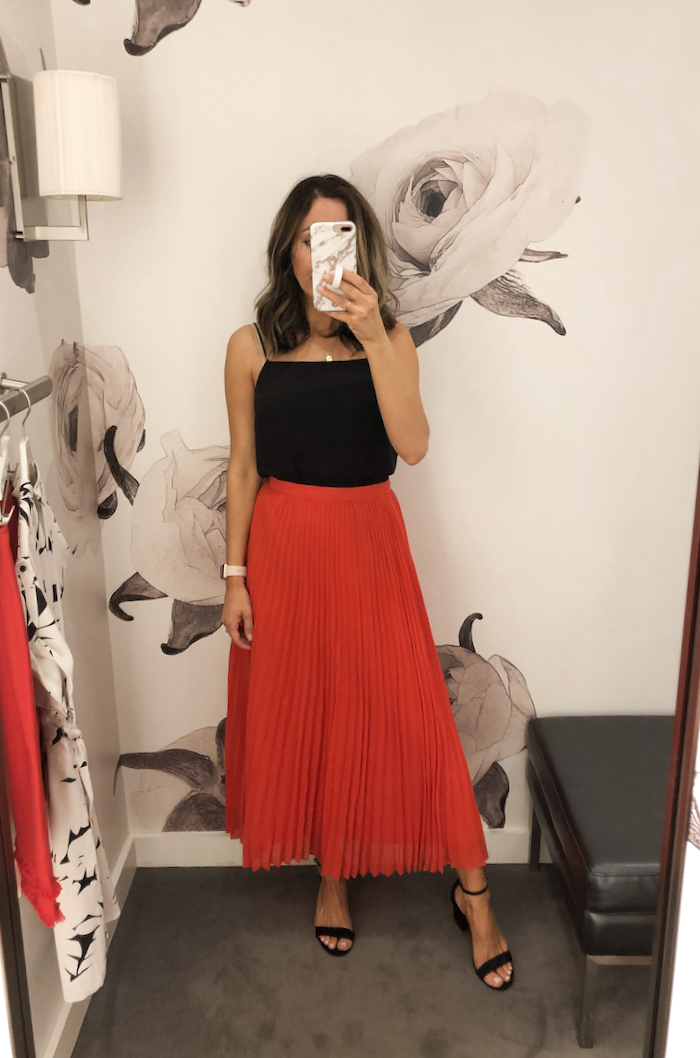 Love the little fringe details on this pretty red skirt. Wearing size 4 below, fits nice, not tight at all. It does not sit high on the waist, I would need size 2 for that but then it would be tight on the hip/butt area…not the appropriate kind tight (personal preference). So size 4 fit great. Also loved this top, wearing xs below, comes in 2 more colors.
Absolutely loved this dress! I tried size 2 below and it actually fit fine. It's a roomy dress but look great belted or unbelted (as seen on the model on AT site). I think size 0 might have been a tad tight around arm pits as size 2 fit just right. Tulip Dress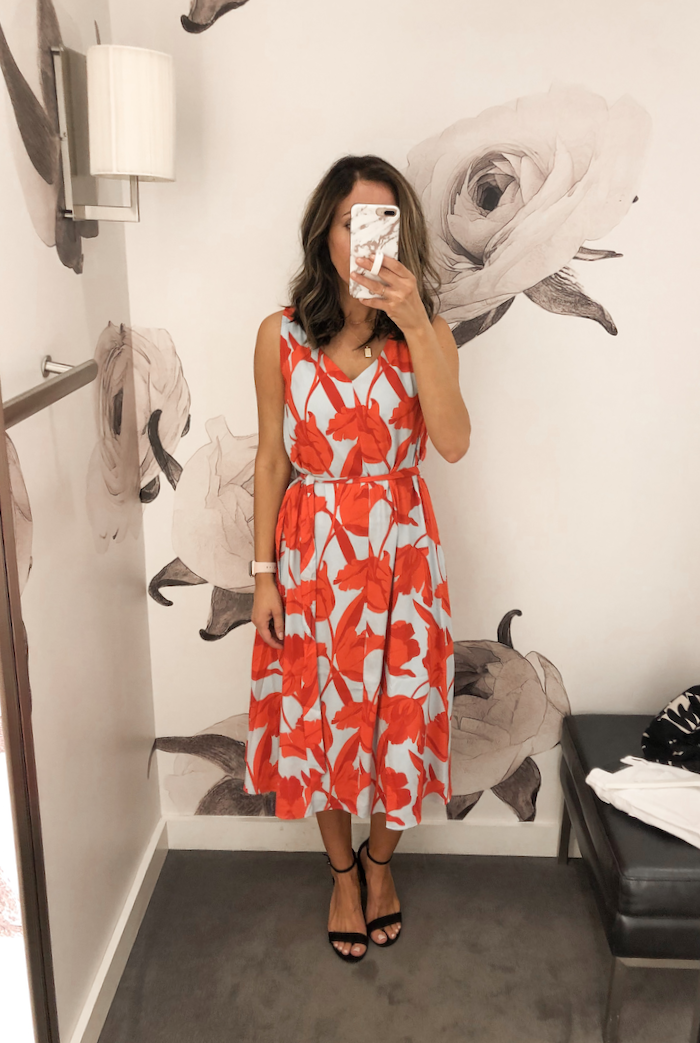 Even though I knew this dress was going to be just a tad short for me I had to try it as it is SO pretty!!!! Major chic! Belted Shirt Dress in xs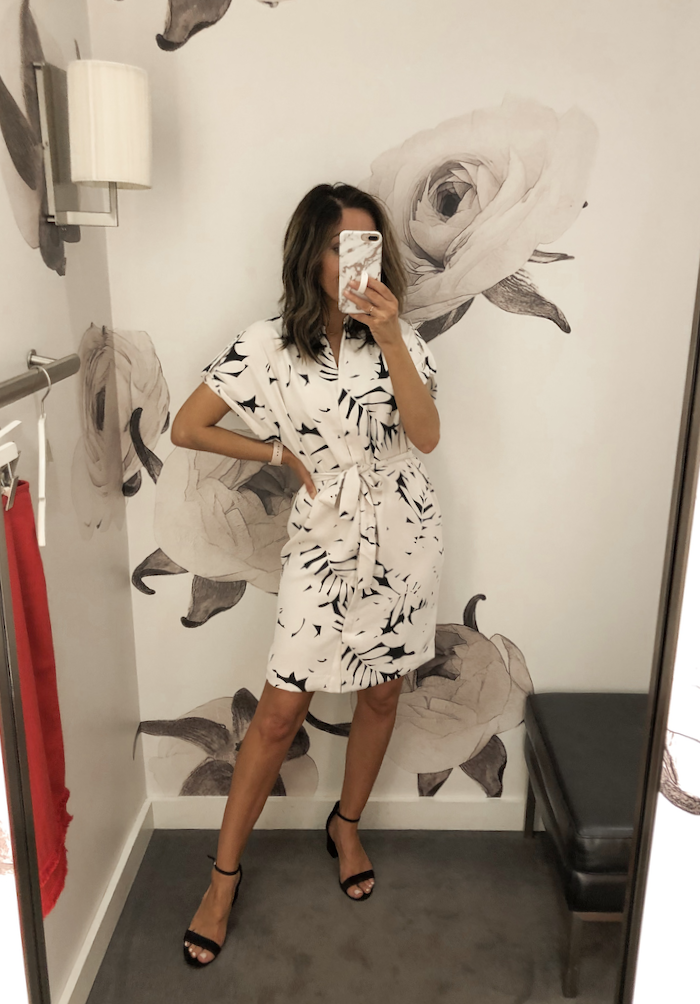 Looks cute unbelted too
---
LOFT – 60% off Summer Styles and 40% off almost everything else w/code HBDUSA
Finally got to try on this ribbed cami! Love! Great to throw on with just about any bottoms. Wearing xs, tts. These stripe wide leg pants were so cute and comfy, prefect for summer. I tried xs below, tts.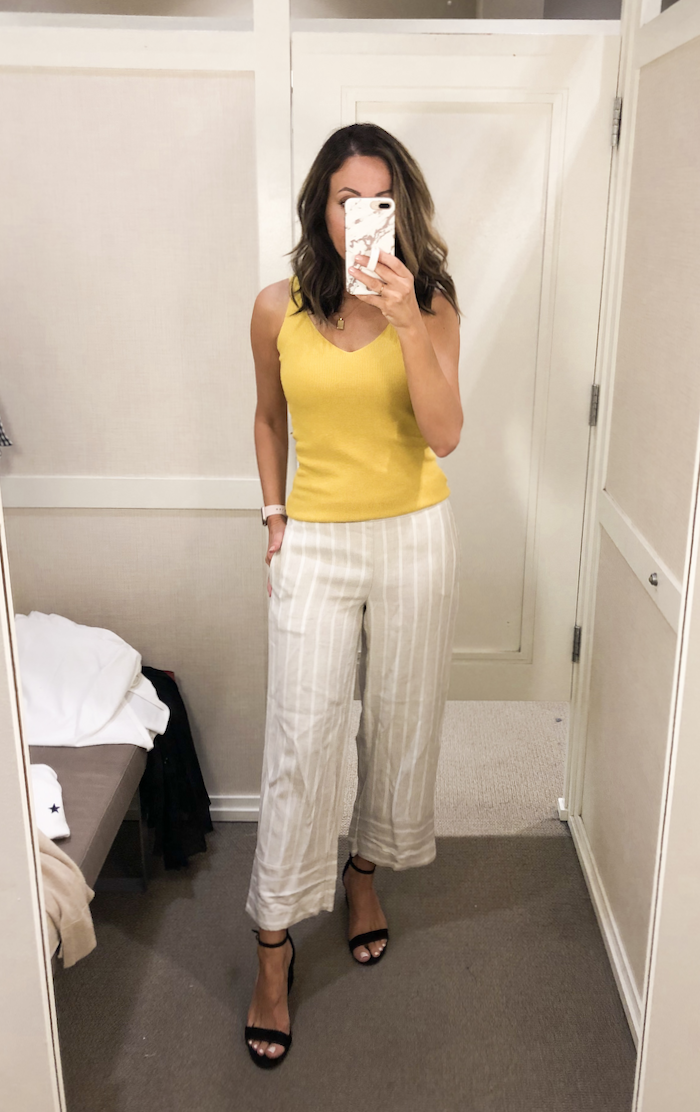 Same cami as above, just in stripes. I ended up getting it in black. These white wide leg pants were nice and light, great for summer. Definitely good nude undies are needed. Wearing xs below, tts.
Gingham Wrap top in xs tts | Jeans – they didn't have my size so I tried a size down in curvy. They're not thin, pretty ok. I think my regular size, in regular styles, would have fit better.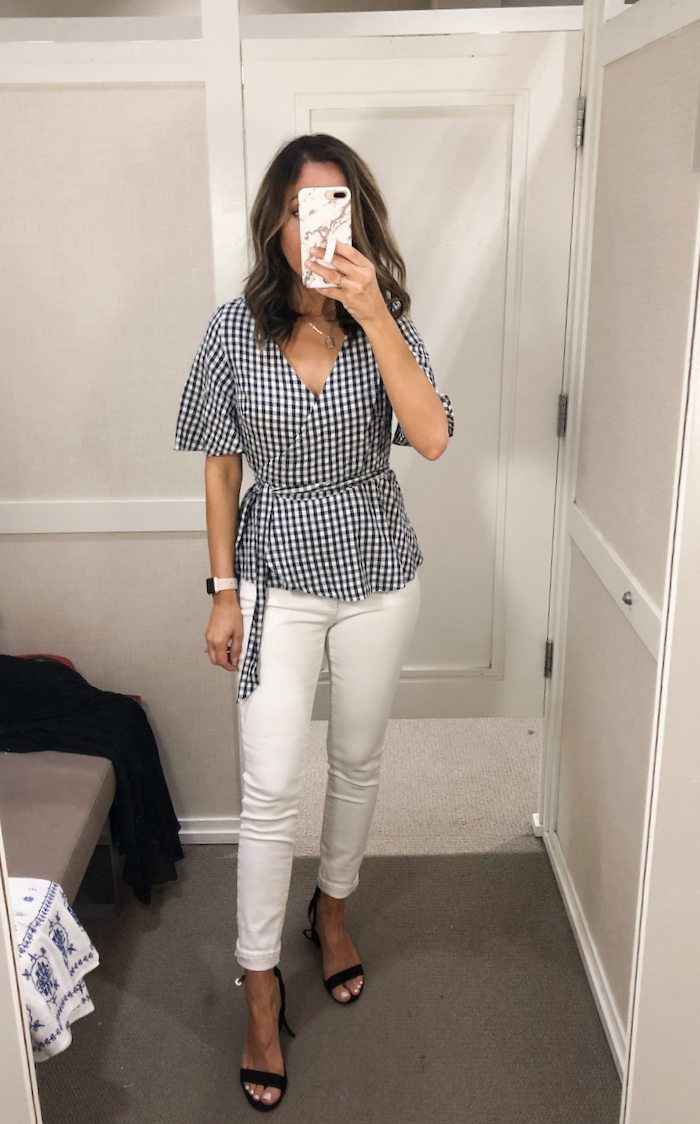 Button front striped sweater tank – cute top. Fits tts.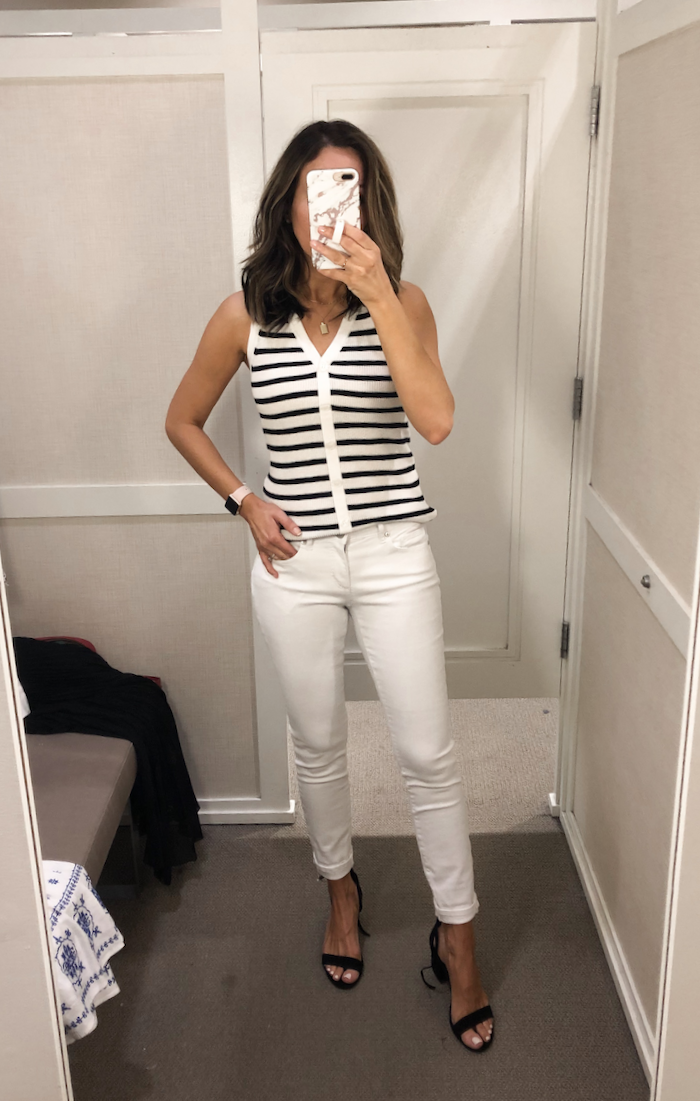 This top was so cute. It is on the boxier side but I think it drapes nicely. Embroidered top in xs
This leopard print cap sleeve blouse is so chic! Wearing xs below, fit tts.
This is the prefect summer cardigan – it's so light! I almost got it but remembered I have one that's pretty much identical. But I did end up getting it in a different color, ancient gold, because it's perfect when you need just something for a tiny bit of warmth. And the 'ancient gold' color is not mustard…it's more of a olive gold (very pretty). And I love the length, so chic! Wearing xs below, fit tts. Cardigan | Cami tts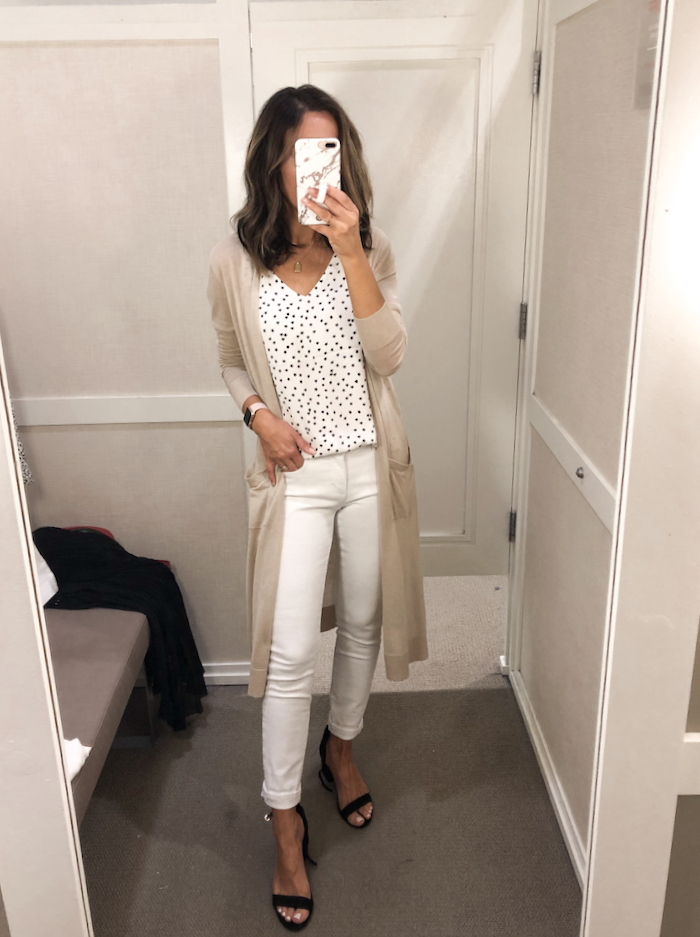 Had to try this short sleeve star sweatshirt since it's kinda adorable. Wearing xs below, fit tts, but if I got it I would have sized up to small for a more relaxed fit. Size up if you want a looser fit.
Happy Shopping 🙂