Happy Sunday!
I'm nursing a cold today…on a gorgeous sunny day!! #aintnobodygottimeforthat
Hope you're enjoying your weekend so far!
On a nicer note, a lot of great sales happening today and I'll share a few of my faves along some fitting room snapshots where everything I tried on is 40% off today and online only.
You also might have seen an overland of promotions on IG about the LKT day – which is sales exclusive to the LikeToKnow.IT app (a few stores are participating in this sale). I personally don't think the sales are that great because I've seen better sales from stores that are participating in this sale. But that's just me! Maybe if you really need something NOW and can't wait, I guess a discount is better that none. But I like to wait as most of the time there isn't something I need NOW.
Like today's fitting room snapshots – the pieces I tried on were 30% off in store that day but since I didn't really need to have anything, I thought I'd wait for 40% off. And look – there is a 40% off sale haha. Justifies it a bit more getting a few new pieces 😉
I'm loving so much stuff from J.Crew right now – so many pretty pieces! To me they have some of the prettiest pieces right now overall. And a lot of beautiful dresses! I'll give you my review on each dress I tried on, but there are also some helpful reviews online.
This beautiful 100% organic cotton dress was my favorite piece. I fell immediately in love, despite somewhat odd sizing (nothing that was a deal breaker). The top part looked kinda wide so I decided to try both xs and xxs. Below is xxs which looks like it fits perfectly, but it was way too tight around the waist, eyelet belt part made it kinda hard to breath…it just didn't feel comfortable at all. Below this pic is xs… (My slides – super comfy. ).
The dress below is xs which was a little roomy on top. It was gaping a little around armpits but it felt much better on, very comfortable. A lot of reviewers said pretty much the same thing about sizing, it's a bit off but I'm not swimming in it (it also depends how busty you are). Because this dress is so so so beautiful I decided to get it in xs. It also comes in a pretty olive color.
I've been eyeing this dress online since it arrived. I'm such a big fan of midi dresses. I tried size 0 below and it fit me tts. It's on sale + extra 40% off – such a great deal. J.Crew is really good about steaming their clothes so I don't know why they missed this one, really odd. But it's pretty nonetheless. Sleeveless Dress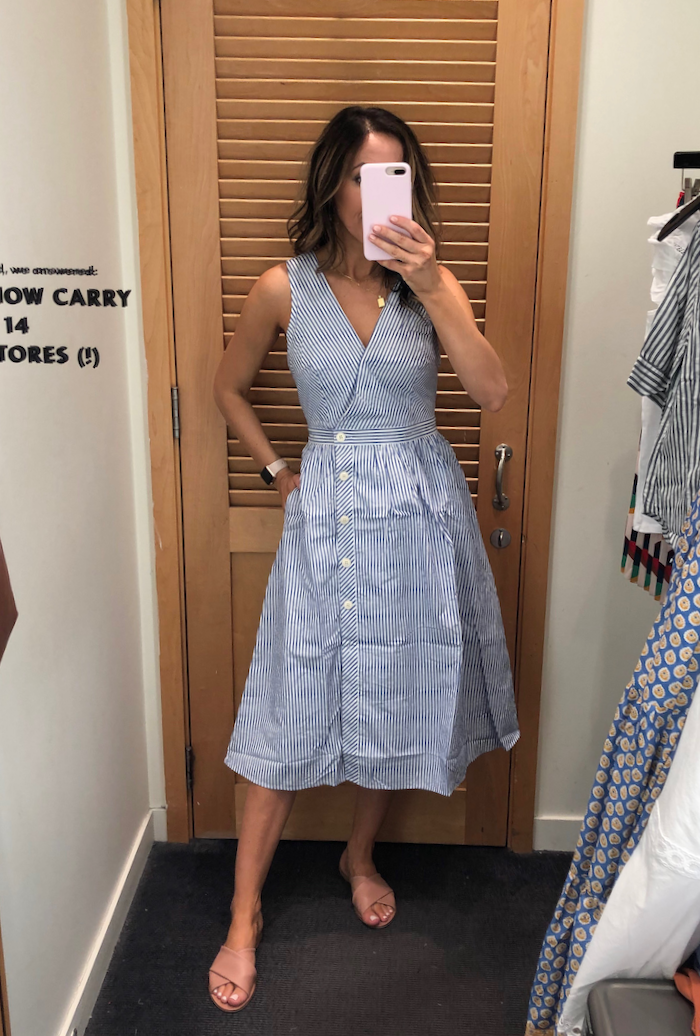 This dress….ah..I still can't get over how beautiful this print is. When I looked at it I knew it was going to be way to low cut but I had to try it on anyway. It also looked really wide on top so I grabbed xxs which I actually couldn't zip up all the way hah. So xs would have been fine but unfortunately it's too low cut for me. I wish they'd raised the V part up just a bit…so upset about this. I'm still not over this almost a week later haha. Tried Maxi Dress
This pull on linen skirt is a great summer staple. Easy to throw on, comfy, it has pockets and its linen. Tried xs below and it runs tts. I loved the subtle ruffle details on this ribbed tank – great touch. TTS Comes in more colors.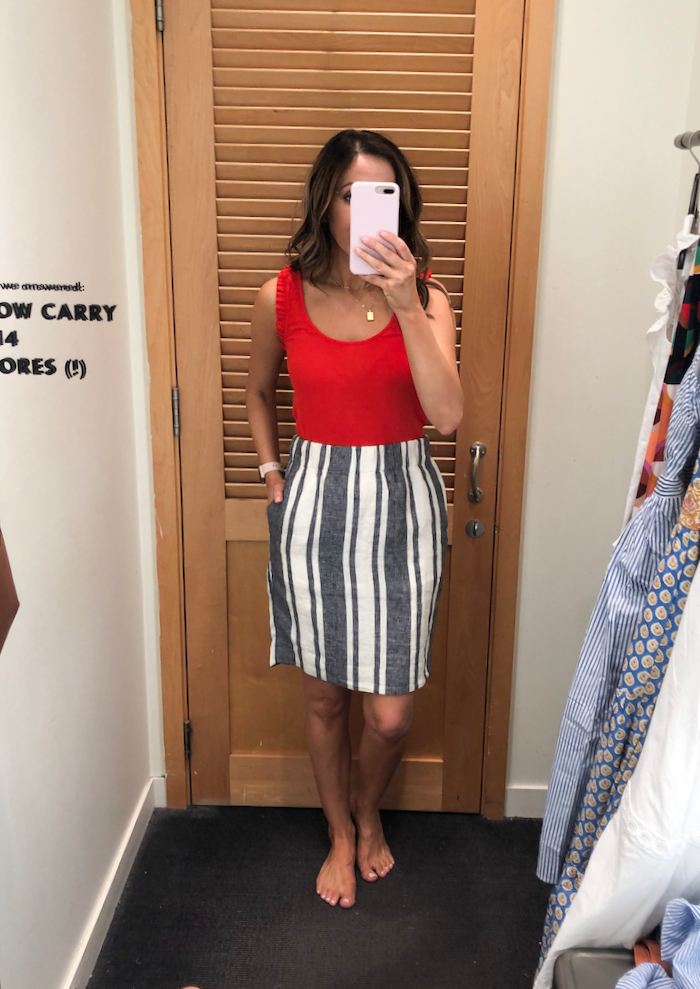 Loved this ruffle top – it comes in 3 more colors. Easily dressed up or down and pairs with pretty much any buttons. Wearing xs below, tts.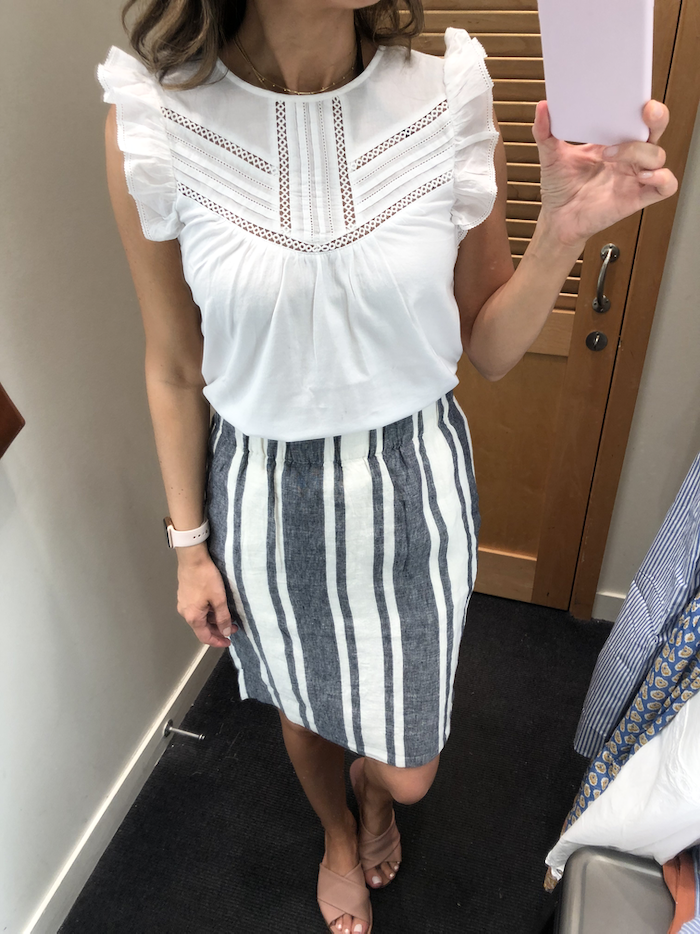 Had to try this pretty skirt on – it runs tts. Pleated Midi skirt in Art deco Print – excluded from sale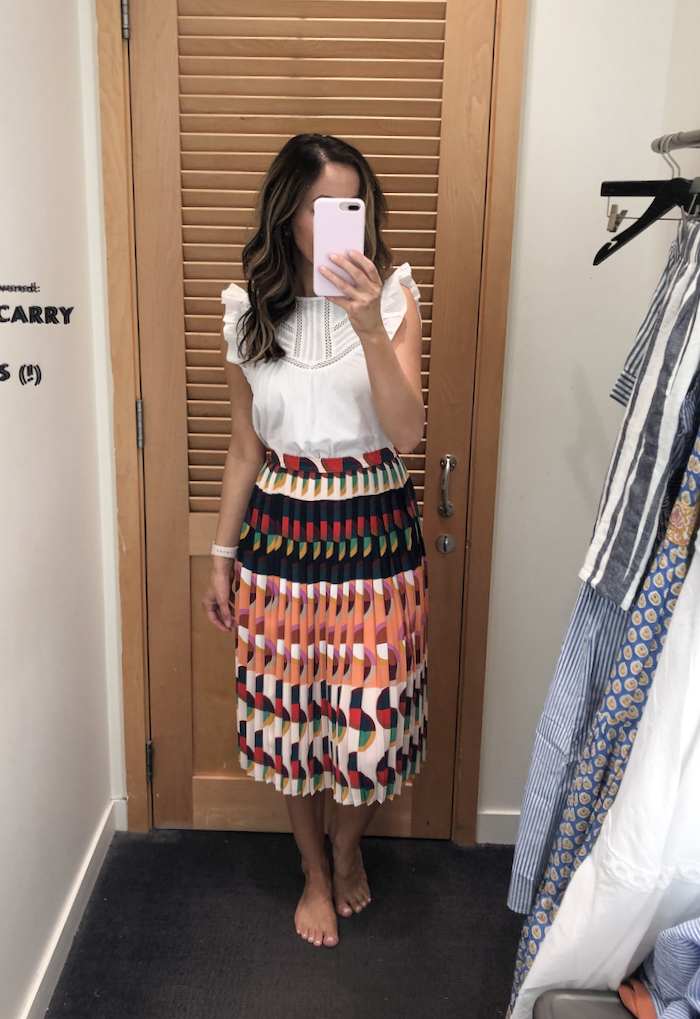 This year I'm so into short sleeve button downs. This one looked really roomy in xs so I grabbed xxs, which I'm wearing below. While I don't mind it roomy, this Madewell one I got is major oversized so I thought one that's not as roomy would be a nice change. Now that I look at it, I'm thinking I want it roomier (might order xs). So it just depends on how you would want it to fit, I think you can't go wrong either way. I kept missing it when I was looking for it online…let's just say it looks way better in person. Short sleeve button down.
And I'm still crazy in love with these pants. I've been wearing them multiple times a week.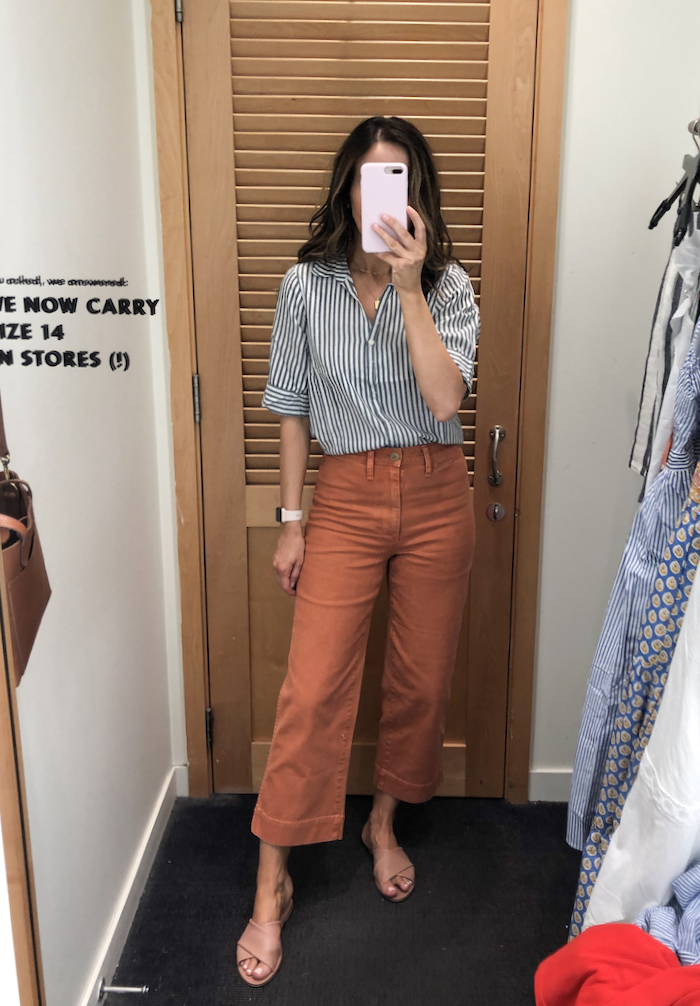 More pretty pieces on sale:
Enjoy your weekend!