Happy 1st day of summer!
Sunshine in the forecast today, which seems very appropriate (considering all the rain we've had lately. With a sunny day here and there).
Sharing a few summer pieces I recently purchased with my thoughts on each.
Pleasantly surprised how nice this top is. The ruffle details are just right, not over the top. I took my usual size xs and it fits tts. Easily dressed up or down!
I decided to size down in these jeans as the last pair I tried from this brand had a lot of stretch. But this pair actually doesn't have that much stretch so I should have gotten size 2. I was able to wiggle them on though. I do love the wash, the length, the back pockets are spaced nicely apart (so important haha). The only thing that's not working out for me is….they're not high-waisted. And I love my high-waisted jeans. That's only downside for me, but love how they look on. Keeping the top and not the jeans.
Top in xs | Jeans | Sandals
In today's partnership with Walmart, I'll share a few pieces I got and at the end of the post a few more nice and affordable summer pieces. The prices are great and quality on a lot of the items has been quite nice (like 100% cotton dresses! Yes please! ) As always, I'm going to give you my honest opinion about each piece.
Didn't know what to expect with this dress as the top part looked roomy. I tried it on and it turns out it fits perfectly. Apparently I'm not as small on top as I might think. The fabric is nice with just the right amount of thickens. It is 100% cotton which is amazing! The dress is selling out fast, and for good reason, but if you don't see your size now it doesn't mean it won't get restocked (some pieces I own and sold out have been restocked, so there is hope 😉 I'd definitely recommend this one. Wearing size Small.
Dress in size Small | Sandals tts | Tote
Same dress as above just in multi color stripes. This one is 80% cotton and 20% rayon. This dress is also in size small but it's a lot bigger on top than the one above. The top of this one fits more like a Medium for me. Not sure why such a big difference, unless I got a dud. I thought about having my mom take it in at the sides a bit (easy fix) because the dress is really nice. But turns out my sister loves this one and wants it.
Dress | these wedges would look fab too with this dress
Another pretty dress that turned out to be better than excepted (the reason I say this a lot it's because when I order something I tend to form expectations how the items might be. When pieces are really affordable we tend think they won't be as great. But time and time again, I know I've been proven wrong, doesn't matter what brand it might be. Hence me saying 'pleasantly surprised/better than expected"). I got this dress below in xs and the fit is tts. It has arm holes so it stays put (always very helpful). It is also lined, has pockets and it's flattering. It comes in white and yellow as well. Would be a perfect vacation dress.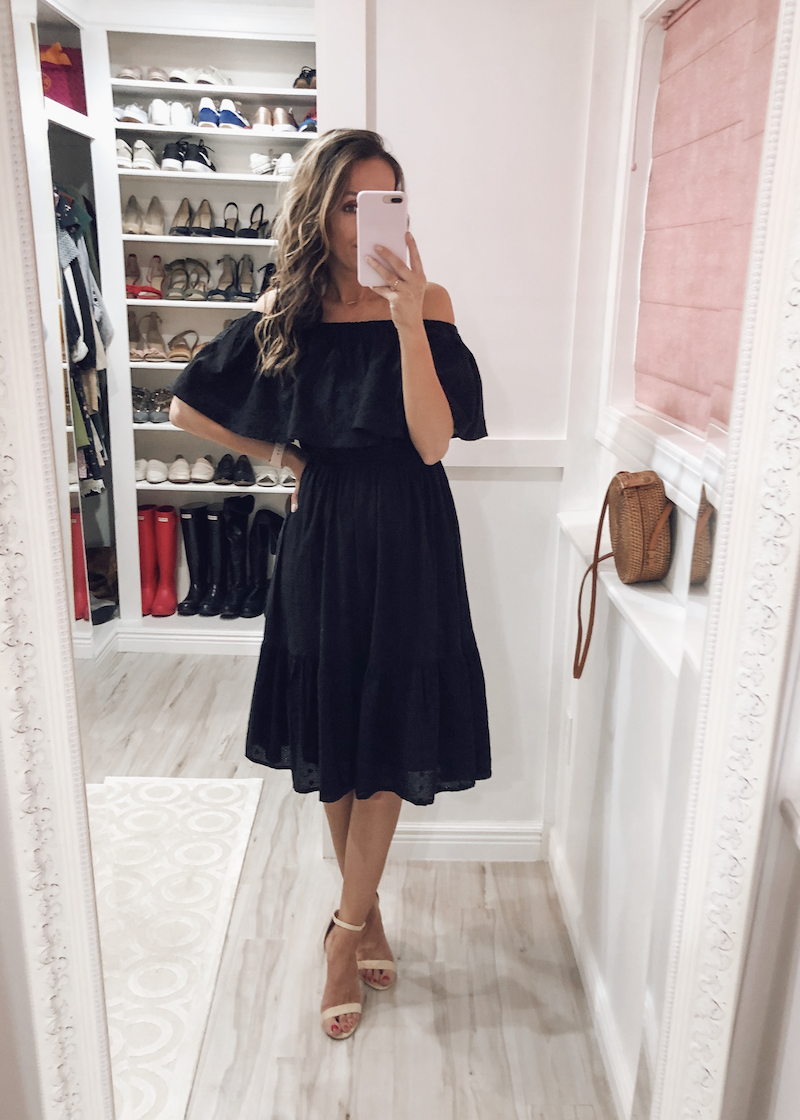 You might have seen this tee in white in this post (which is size small). This gray one is size xs and I do prefer this style a bit looser. My sister already put it out there that she likes this tee so she's getting the white one and I'll be keeping this one. The jeggins are in size 2 and while I don't mind some jeggings I didn't like like these on me one of the reasons being I like the fabric to be just a tad thicker. However, they're a way better alternative to leggings. Bottoms | Tee
Have a great weekend!
Thank you to Walmart for partnering on this post!