Happy Tuesday!
Today we got a break from rain and once again I just want to be outside to enjoy the sun. Not going to happen much today, but I think pup and I will have to squeeze in a quick walk. As I'm looking out of the window, it looks like it's snowing…the cottonwood is crazy right now.
Also, sharing one amazing sale event at the end of this post…one you don't want to miss.
You might remember this cap sleeve button down from this post. It's super light, borderline sheer but not quite and it's affordable. It's a great cheaper alternative to the amazing one I shared in the latest these fitting room snapshots. As I've mentioned before, I've been on the hunt for a really good cap sleeve button down for a while (timeless piece). There are a lot of options out there, it just depends what type of fabric and fit you prefer. I did try a few of them and wish I could try more. I came across another cap sleeve style that caught my eye (love the striped one too). I like that it doesn't have side slits and the length seems great to just wear over pants and skirts. It's not that awkward in between length. So that one looks like a good one as well (and this just reminds me how much stuff I always love from Wilfred Free).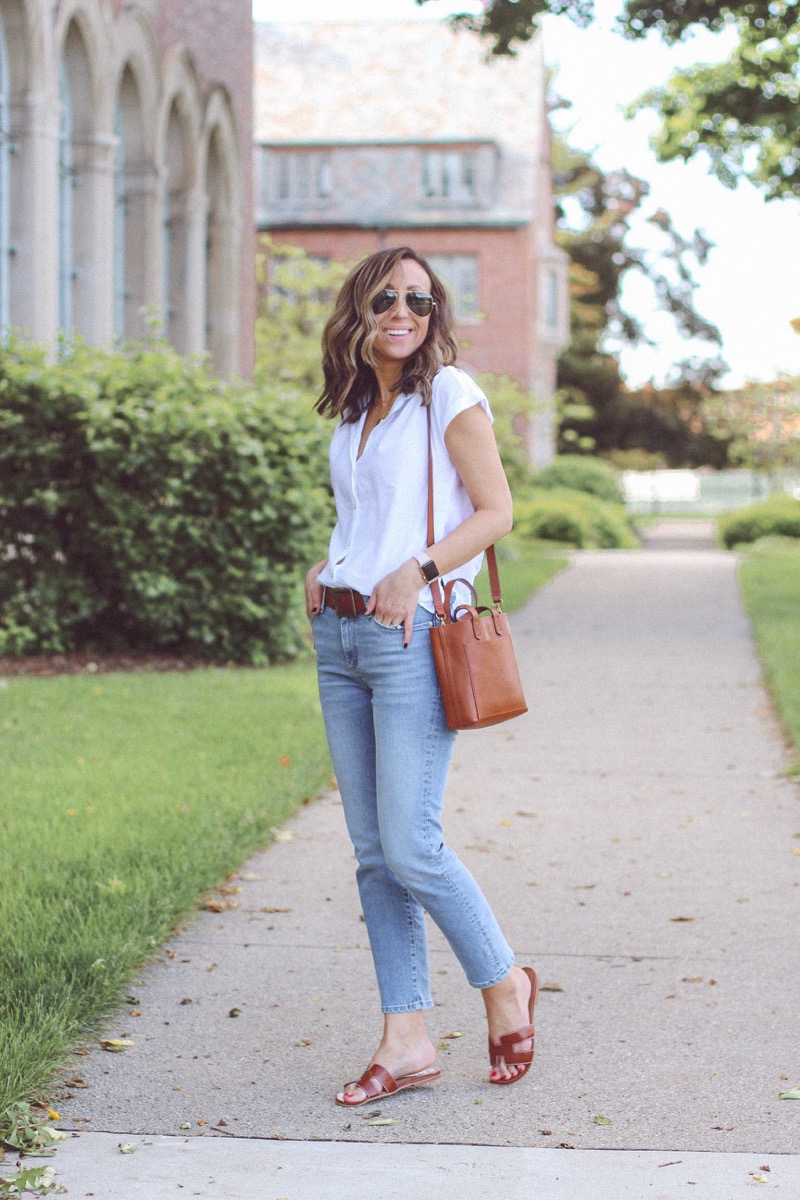 I prefer most of my tops tucked in a bit, either front tuck or full tuck. My only complaint about this one is that it's not easy to tuck in as it has side slits and it's not long enough. Scroll below this pic to see what I'm talking about…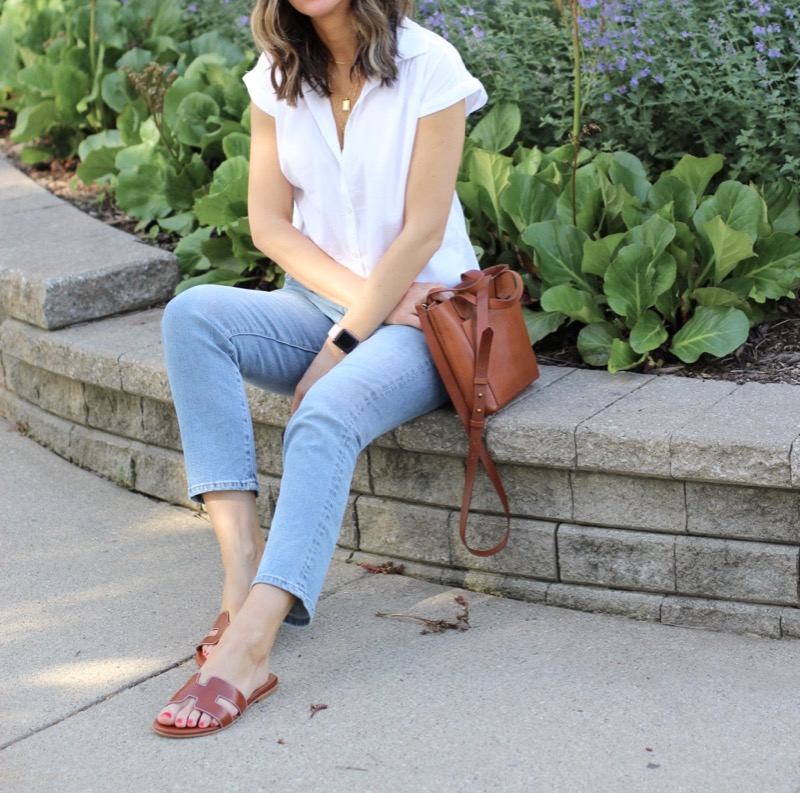 as you can see in this pic below…I tucked in the front, sort of, and the back is not tucked in. But when I try to tuck it in, the slit just makes is awkward. It's not a deal breaker of course, as the button down is pretty nice and the price is great.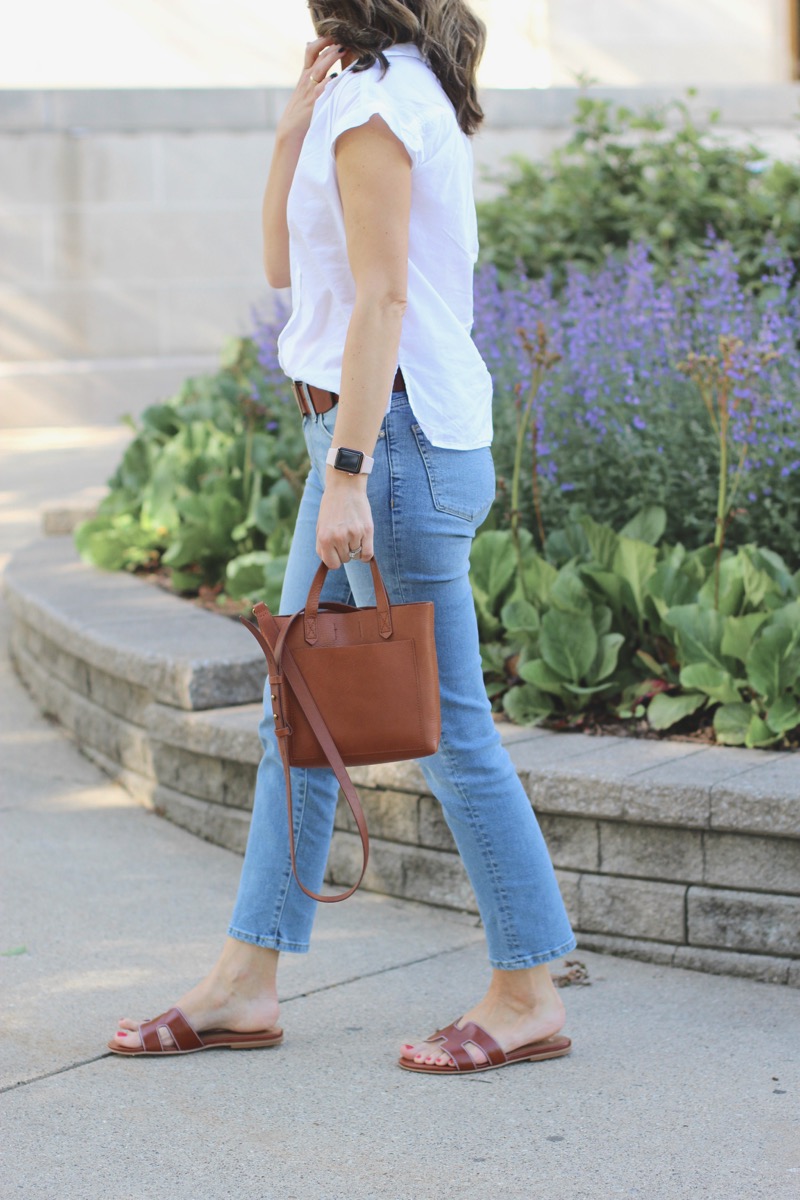 I also mentioned these slides in yesterday's blog post, but in case you missed it – they're the best Hermes dupes I've seen, from a legit brand. They run 1/2 size small, they're narrow at first but do give them a chance as they will stretch out (actually the narrow part is the same issue with Hermes ones…a ton of reviews I read and watched on youtube said that they're awful at first, too narrow, but stretch out. Which makes me feel better because these are a lot cheaper). They just got restocked again, but they do sell out super fast.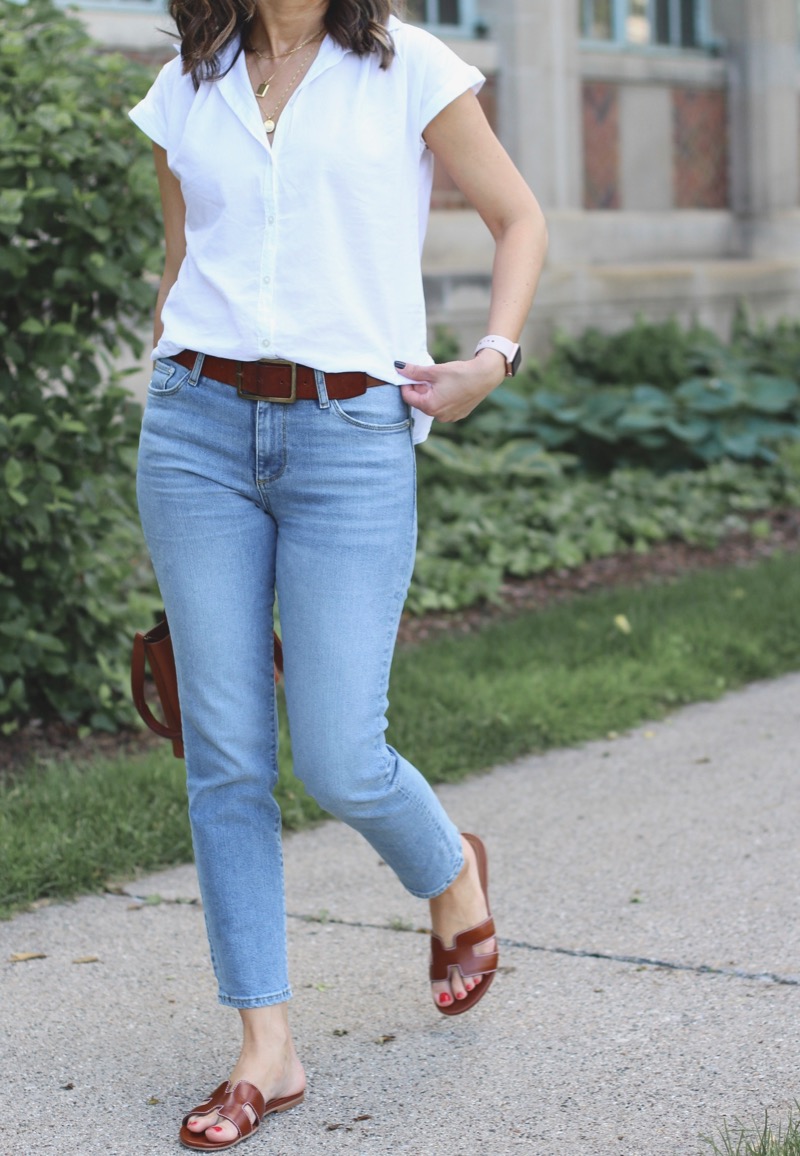 The straight leg jeans are from Mango and I'm wearing size 4 (usually 26 in jeans). I've been LOVING straight leg jeans lately (maybe because I finally found a couple of pairs that fit great). They're kinda mom-jeans but not quite. They're not as high-waisted as most mom-jeans.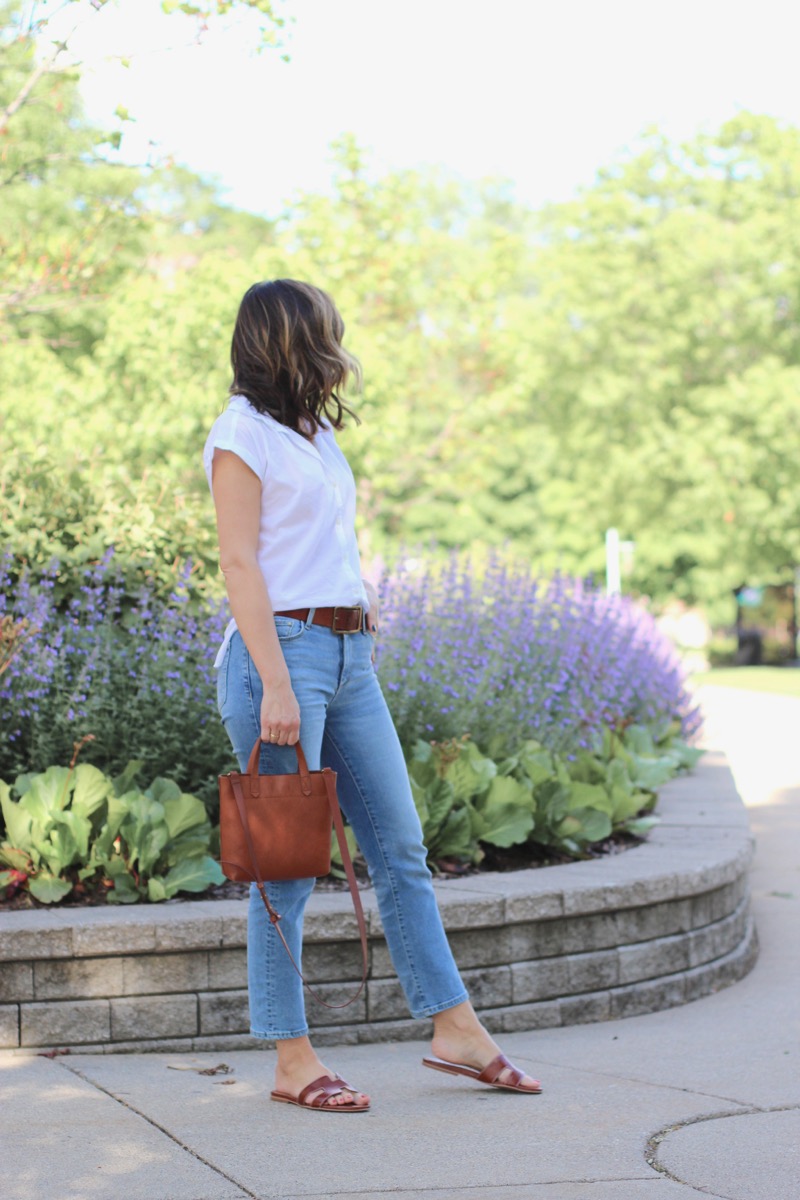 I still get questions about my necklaces and these are the ones I wear pretty much every single day. They're from two different sets (total of 5 necklaces) that I mix and match. They're this set and this set which is on sale + extra 20% off w/code ENJOY20.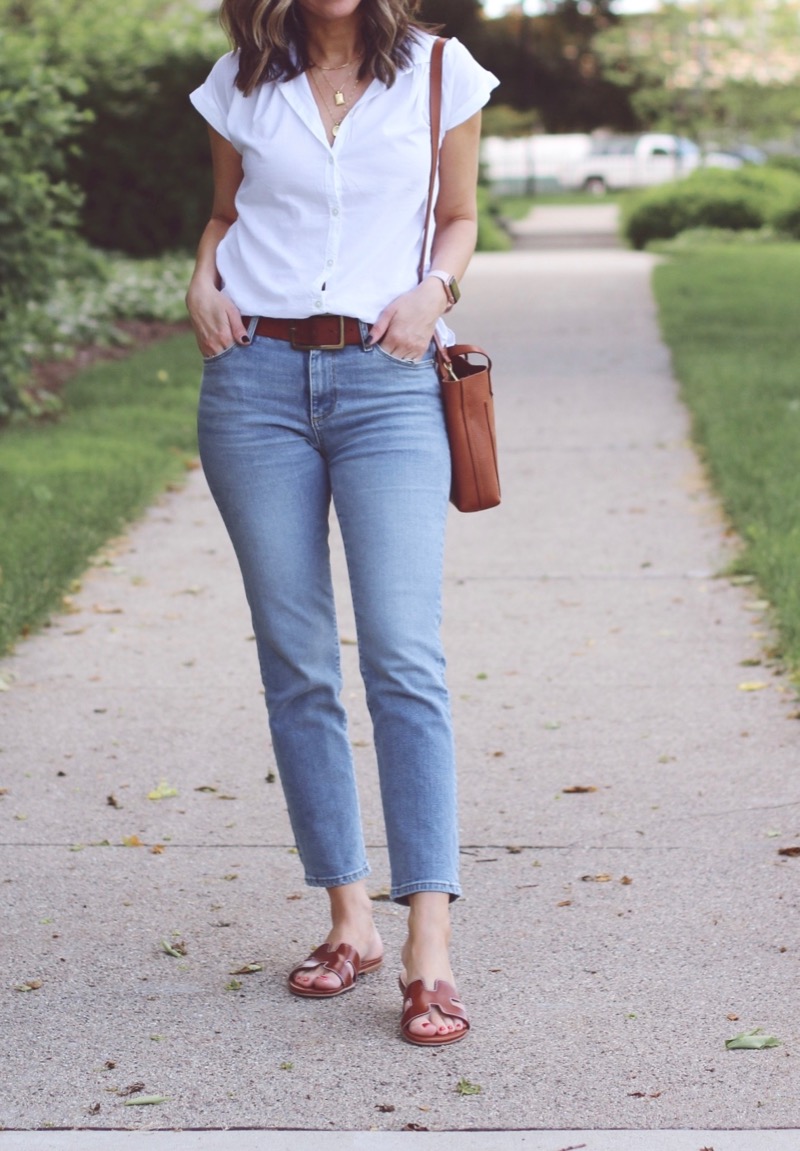 Can you guys believe this brown belt if from 2004??? I got in at H&M in Germany. I love that I haven't gotten rid of it, and most likely won't. It's leather and it has held up great.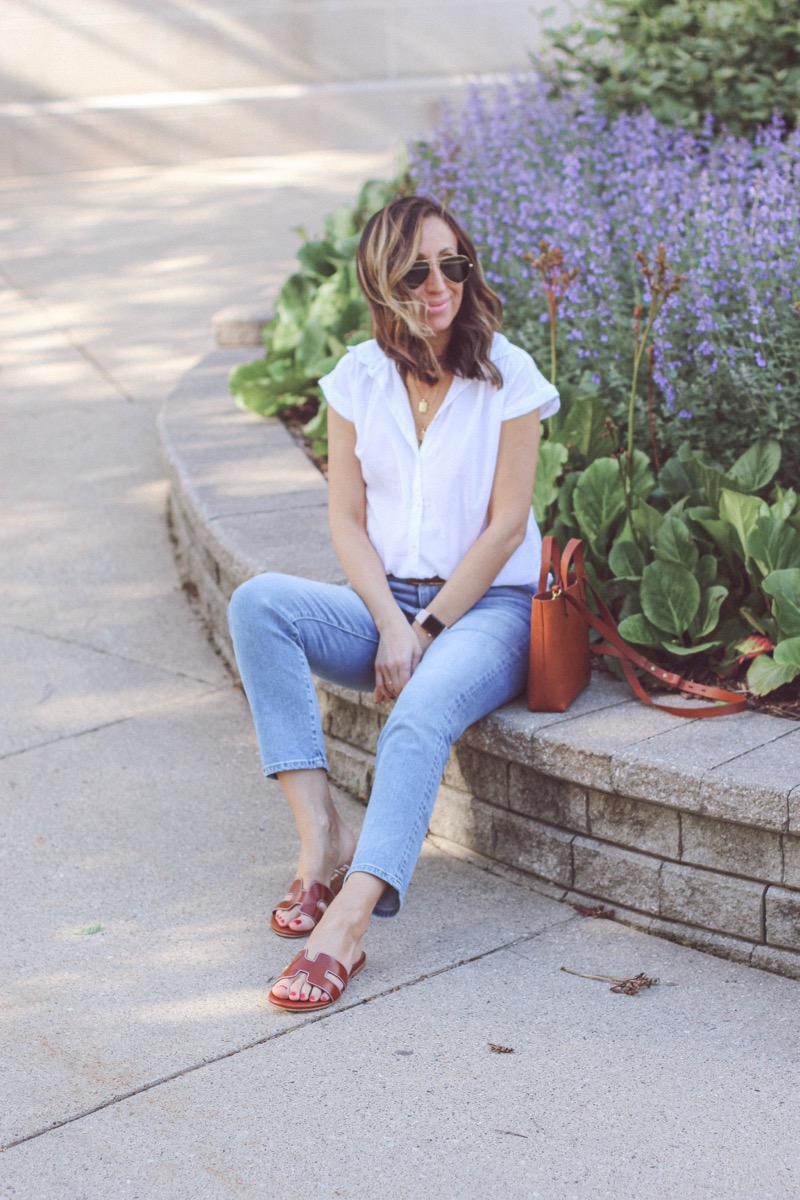 Cap Sleeve Button down in xs – another affordable option here | Straight leg Jeans | Brown Slides go 1/2 up – another great option on sale! | Small Leather Tote – similar style for less | Necklaces – mix and matched from this and this set | Belt from 2004! – similar
One major sales event that's happening right now – Everlane's Choose What You Pay. I'm a huge fan of Everlane for so many reasons. I looked at this sale yesterday and wanted a couple of pieces except I clearly should have NOT waited as some are already sold out in my size/color I wanted! But these jeans are still available in my size, so I ordered those. Here are a few most amazing picks:
As always, thank you for reading! xo