As promised, here are some fitting room snapshots! Not a ton, but I did't want to overwhelm myself or you guys! No need for that!
The words I've seen SO many use "High Sell Out Risk" make me cringe! I just feel like unnecessary pressure is being created. Guys, don't feel pressured to buy anything just because it might sell out. If it sells out so what…it definitely doesn't mean it was an amazing item (like the leopard cardigan below…. It's cute but nothing special about it, yet the hype worked). The store I went to had a ton off them left….they were not a popular item at this Nordstrom.
I actually haven't decided if I'm going to share my home top picks. I thought I would but now I leaning towards no…because I don't want to overshare.
Let's move on…
I only got two sweaters. The one below and I ordered this one in ivory/oatmeal. If I don't end up loving it, it will go back to me, H&M has the best sweaters and the prices are on point! Hard to compete). I'll share at the end of the post everything I purchased.
This sweater below reminded me of a H&M sweater I loved (see, H&M again lol) nice but pretty itchy. This one below is not itchy at all, it's nice and soft…it felt nice on. Wearing xs below, just roomy enough! I wasn't planning on getting it but I do love it so I ended up ordering it. I can see it being in heavy rotation come cooler weather.
These jeans...Loved, loved them. They're so flattering and the color is amazing, a really nice wash. I just wish they were not ripped on the knee. Definitely sad about that. They run tts. I didn't get any jeans as I have way more than I should already.
Quite a few booties this time but a lot of the ones I liked were higher heel that I want or too $$. I prefer lower heel booties for everyday wear and comfort. I did love these but not the price tag. I wasn't planing on getting any as I do love the booties I already own, but I caved last minute and got these. I do have plenty time to decide if I want to keep them or not. But I did like the lower heel a lot and they just look so chic. Suede Booties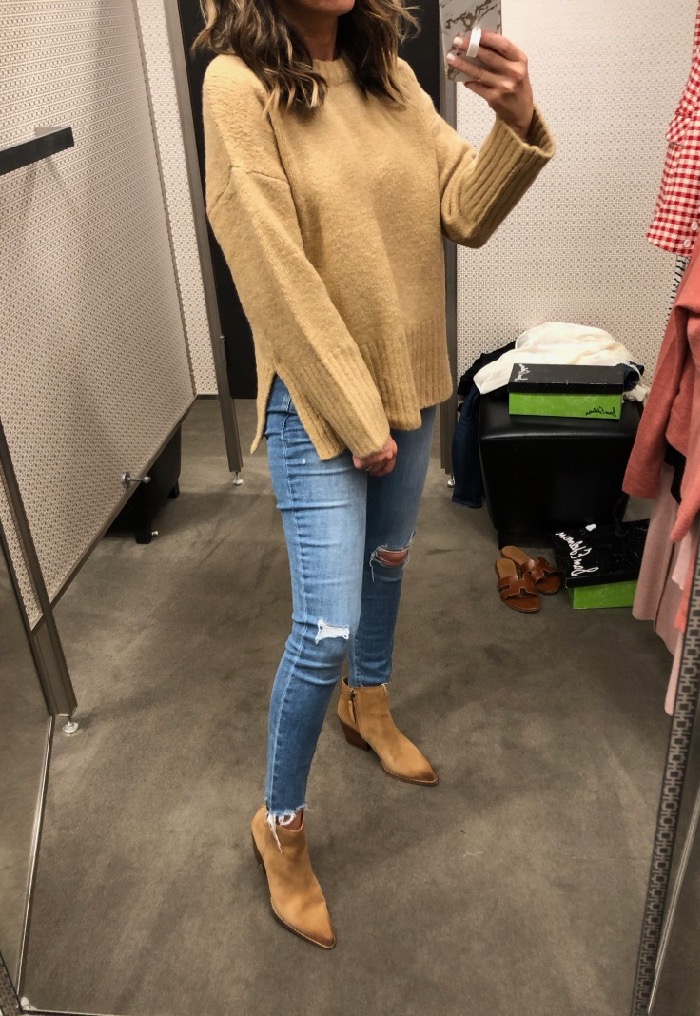 This ribbed tee was on my list (it's only $18.90). I was glad to see it in store for sizing ref. as ribbed tops tend to runs smaller/tight. I'm wearing Medium below…I didn't want it super tight. Love it!
This is another ribbed top (sweater). I wanted to see which one I would like better and both are nice but I ended up getting the one above. I might get this one below in Ivory as it is a great piece that goes with just about everything. Very versatile. Ribbed Sweater in XS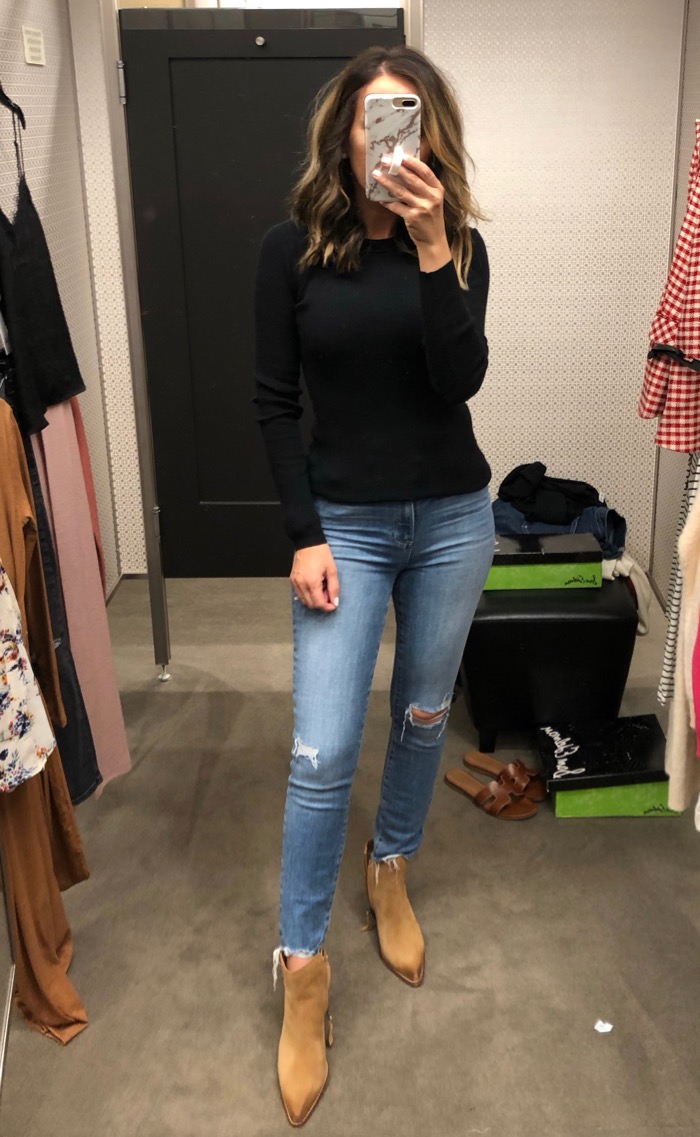 The picture does this blazer 0 justice! It caught my eye and they only had a few left, glad one of them was in my size (US4). I totally agree with the SA that said it looks like a Veronica Beard blazer for a fraction of the price. It's sooo nice and different. Hubby liked it too (shocker haha). Check Blazer | Flats tts (loved these)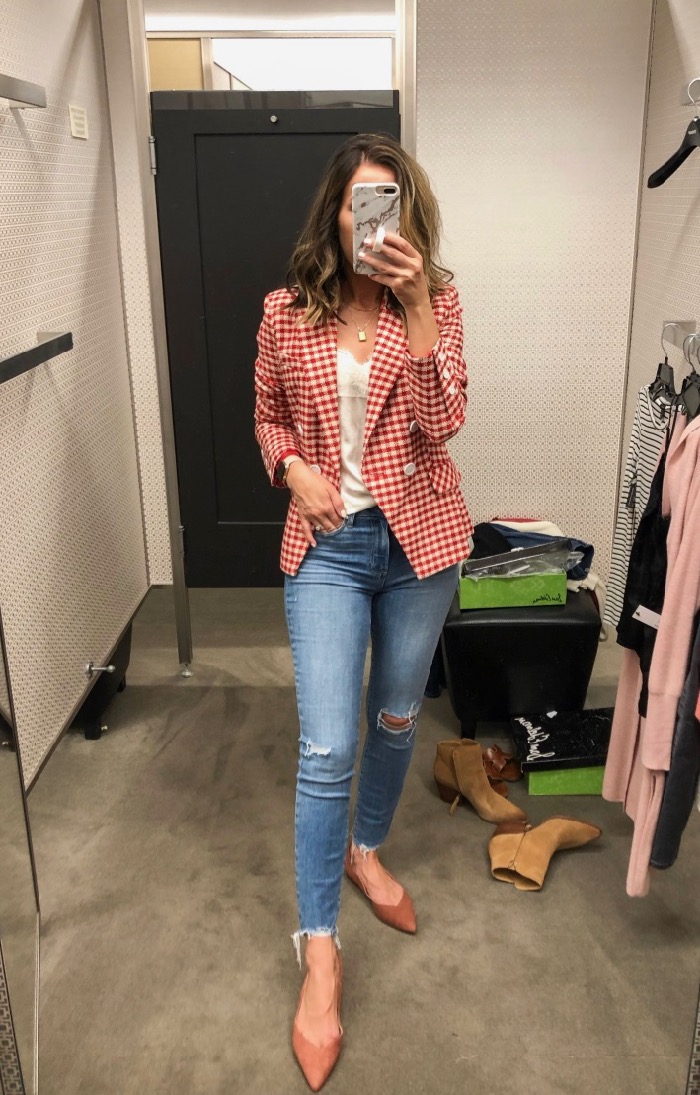 I really liked this sweater – it felt nice on and it comes in more colors (this one is Pink Compact. Prettier in person. I'm wearing Small below). I was debating about getting this one but really didn't want to go overboard with spending. It's a great sweater that would pair nicely with skirts as it's is long super long. Crewneck sweater in Small
Tried this sweater below in Medium and it was pretty big. XS and Small were already sold out. Stick to your size if you like it. I have plenty cable knit sweater, this one was no for me.
Decide to throw in some color 😉 Cute crew neck sweater, felt nice (didn't get it). Wearing xs below.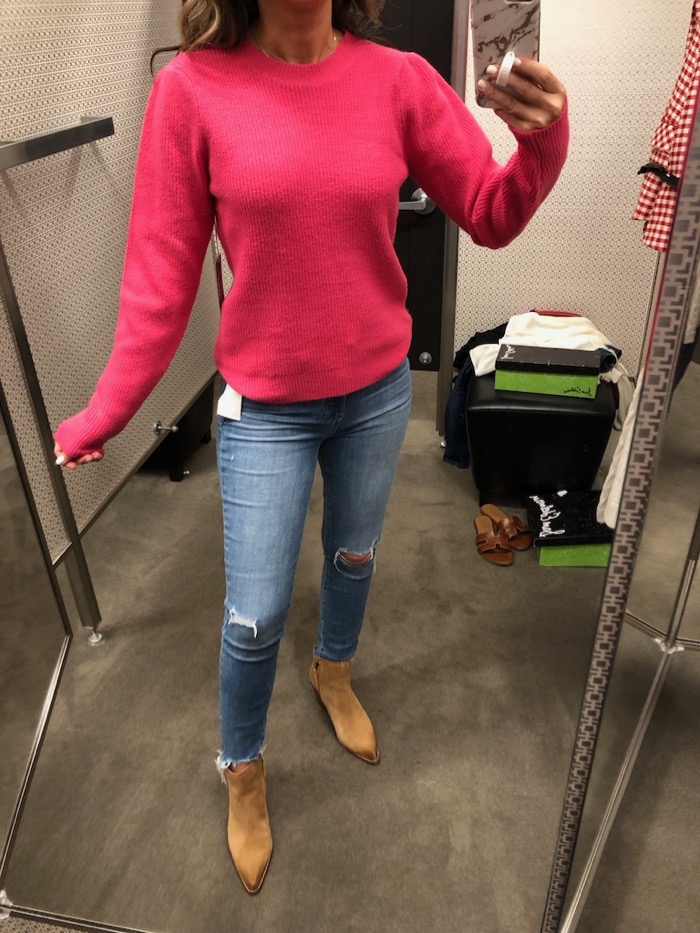 From all the cardigans I tried on this was was my favorite. It comes in multiple colors and runs tts. It's the same one I linked in the roundup earlier, just different color. If you need a cardigan, this one nice.
Cardigan in xs
This tee was pretty soft but I'm not seeing this exact one online. I'll look again and will link it if I find it. I would have gotten if I didn't have a pretty much identical one. Great basic on it's own or for layering. Wearing xs below.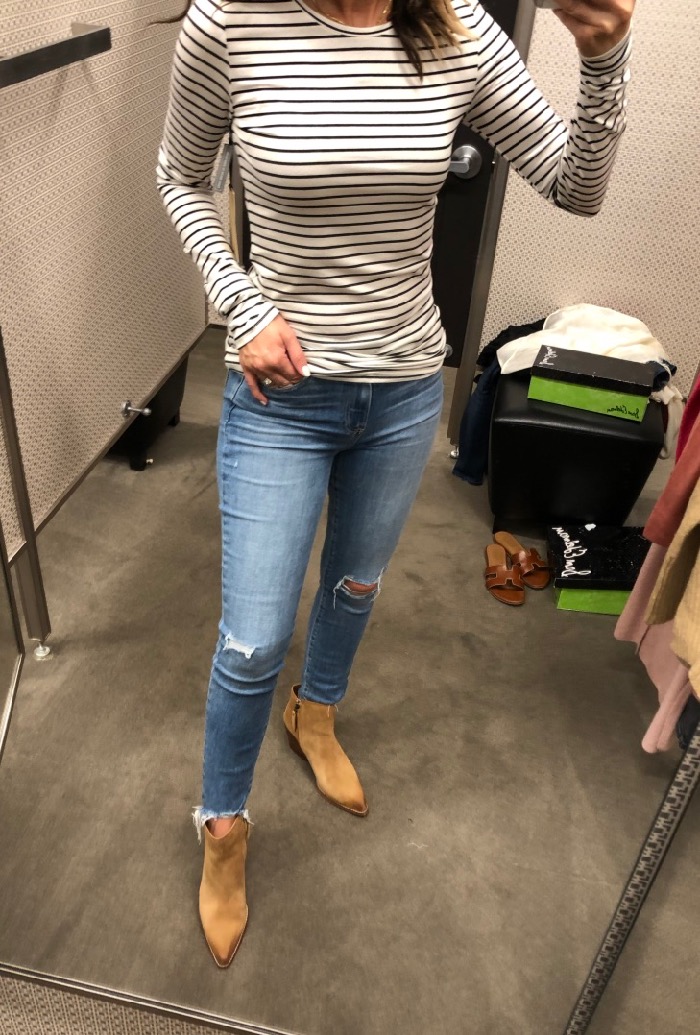 This cami was one of the things I wanted and was glad to see my size (xs). If you don't like the lace part, there is also this option. This cardigan was very soft and fluffy, kinda like a cheaper version of the Barefoot Dreams one that everyone loves. Wearing xs below.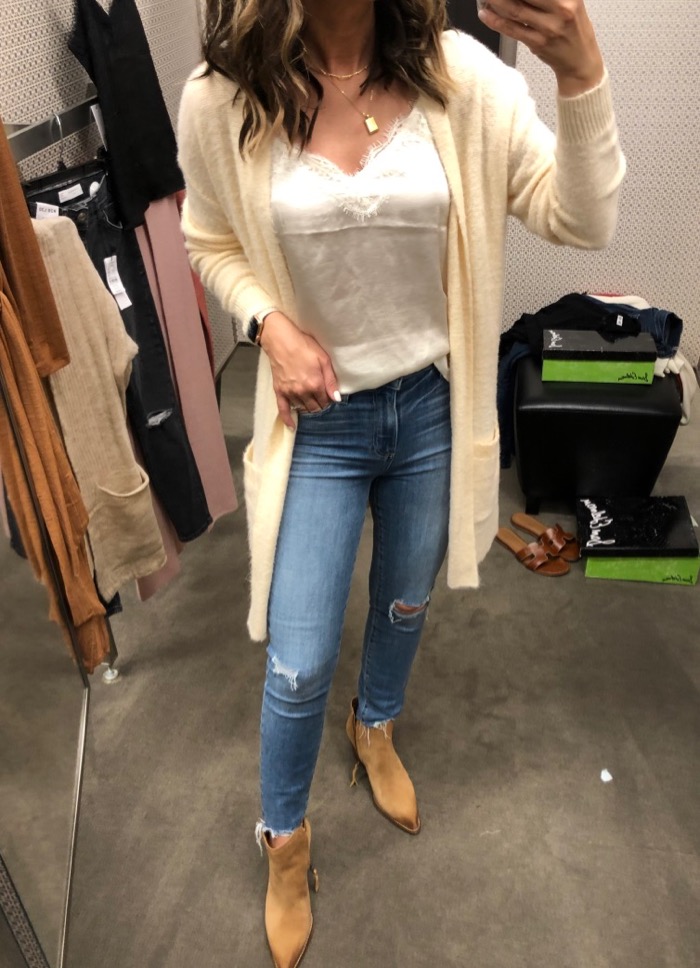 While I like oversized cardigans I really didn't care for this one.
Had to try this cardigan that everyone seems obsessed with! While it is somewhat cute, it's nothing special and it just wasn't for me. I saw a lady try it on and she made a funny face…she didn't like it (she said she saw in on a blogger lol). She saw me holding one and she asked me about it…I told her I haven't tried it yet. This one is definitely overhyped yet I think it's already sold out. Same cami as the ivory one above. I didn't get the black one as I already have two of them (not this brand).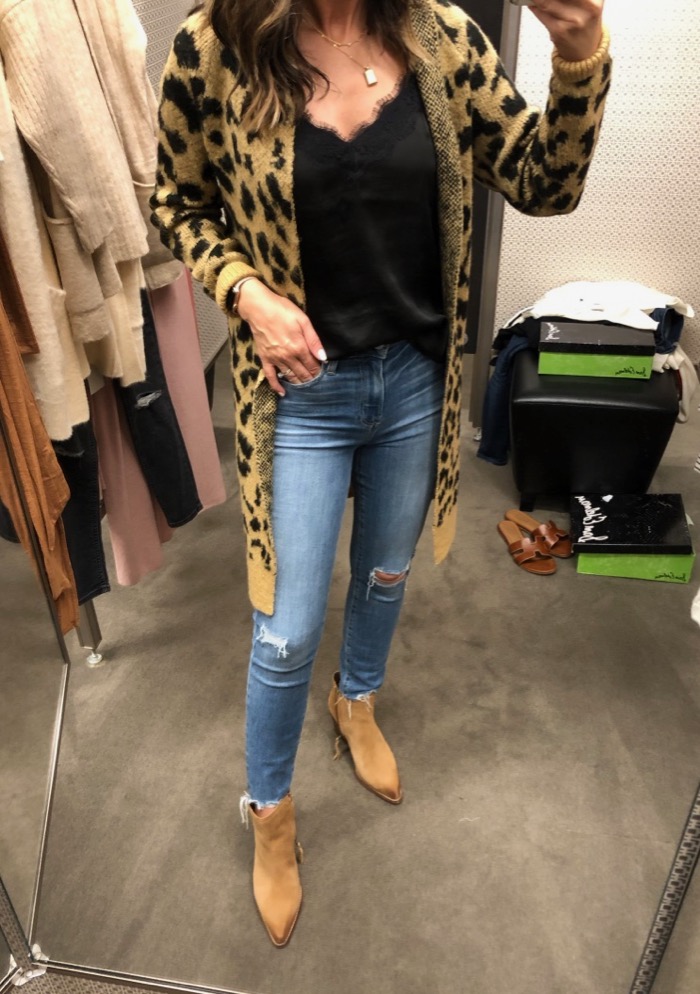 Saw this dress and had to try it on. Kinda cute but the slit goes up to my butt cheek. No! And this dress calls for spanx (at least for me). I'm sure this one will look amazing on someone.
I liked these except the heel (personal preference). They might be already sold out… Weird!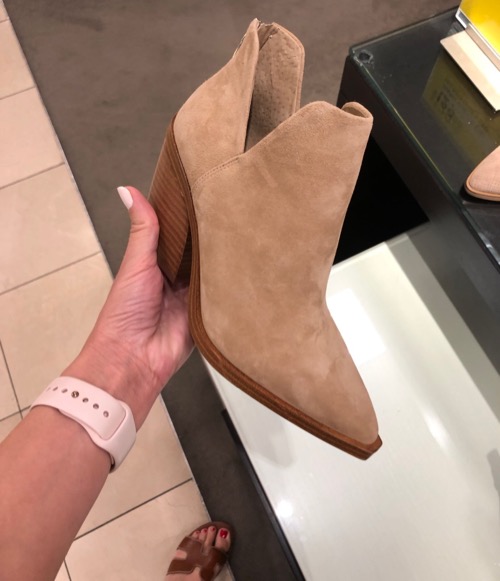 Liked these booties much better. Lower heel = more comfort. These are the ones I'm wearing in the pictures above. TTS.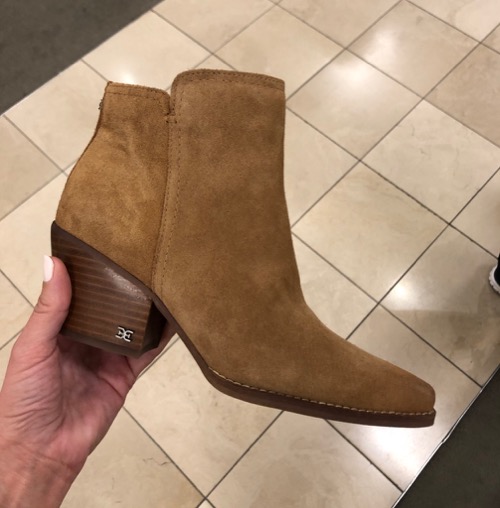 These are the boots I was thinking about getting. They look really really nice! But realistically, I most likely wouldn't wear them until November. And it's only July. I decided to pass.
Knee High Boots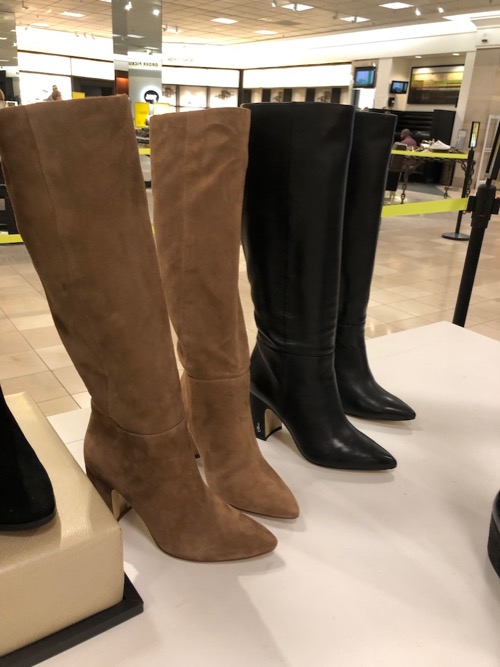 I really liked these flats. Favorite ones are the leopard ones and rose wood suede (same as the ones I have in a few pictures above). They seem comfortable. tts I have way too many flats right now so I didn't get these. Very cute though if you're in the market for Flats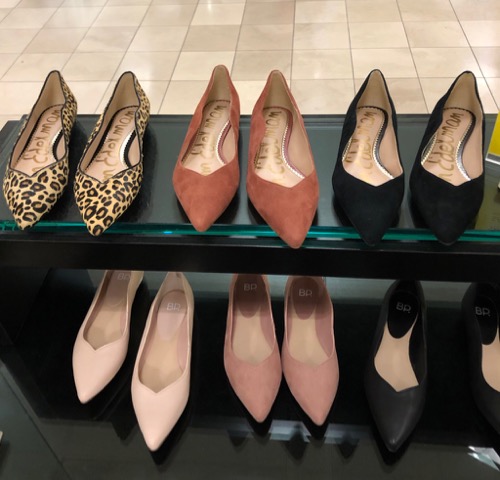 I also have to point out about these $11 tees. They looked short and boxy (and I don't mind boxy) but these just didn't look or feel nice. Let me just say that Target ones (and even walmart one I got) are way nicer quality and style. And cheaper! That's just me! Who knows, maybe you might love them. There is better out there though.
IF you need Pajamas this one is SOOOO soft and yummy! I almost got these, but I have so many pj's and I usually don't like sleeping in them (strangely enough I feel too constricted lol. But these ones are so soft I did wonder if perhaps they wouldn't bother me?!?!! UPDATE: Last night I went to bed and was freezing lol…and while I have a ton of pj's I secretly wished I had these. I almost believe 99.9% they wouldn't annoy me like the other one I own. I quickly picked up my phone and ordered them….while I decided to stay in bed and slightly freeze and not get up and put pj's just to warm up ((the bedroom must be freezing during night and I usually warm up…at some point)) I don't even remember if I ordered navy or black. Quite frankly I didn't care, I just wanted these uber-soft pj's. Getting picky in my old age. But that's how it should be. Don't even settle for uncomfortable pj's. hehe Now I'll have to get rid off a few of my old pj's. The end!). 😉
Here is what I got:
That's it!