It's been a while since I've been to any store (shopping online in my sweats while eating popcorn is so much more appealing). I wanted to check out some new arrivals in person, especially Banana Republic which blew me away with the new arrivals….they haven't have this much cute stuff at once in a while.
And my slides are these (I sized up 1/2 size).
Loved all three pieces below. I tried size 2 in the blazer and liked the fit – not too tight not too loose (I think I have tried this one before now that I think about it…). Love this one too, so chic. The cami is in xs, fit tts. Jeans – love, love! Great wash, soft and flattering…and they get great reviews. Tts.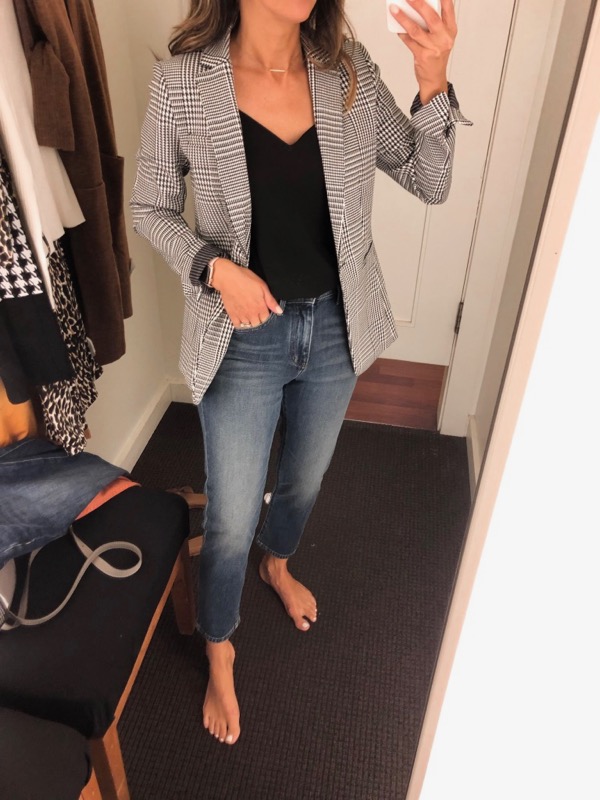 Blazer in size 2 | Cami in xs | Skinny Jeans tts
In love with this cardigan and the color. XS fit great. Really wanted this one to come home with me, but after ordering the one from J.Crew (mentioned it in yesterdays post), I decided not to get this one. Even though this color is perfect for Fall. Wouldn't say it's worth the original price though, but definitely something to get on sale. Also loved these jeans, great wash and while they're high-waisted they were not uncomfortable. There seemed to be a nice amount of stretch but it sucks you in at the same time. Tts.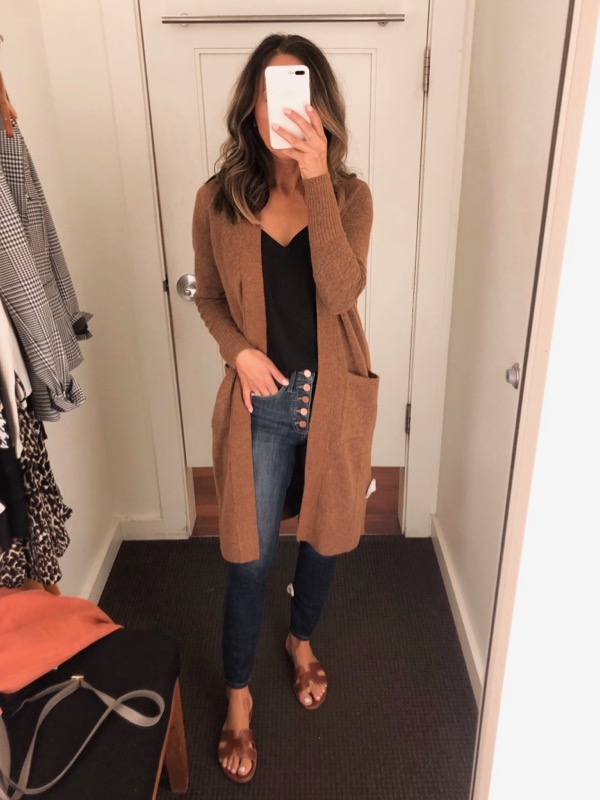 Cardigan | Jeans tts | Cami
Below is a better look at the cami, great basic to wear under cardigan, blazers or jackets.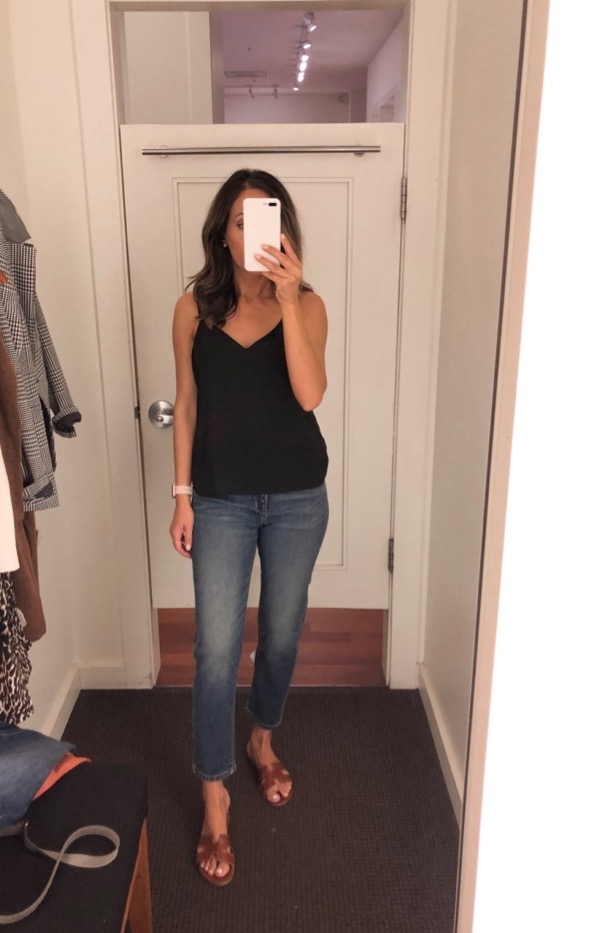 Cami | Jeans
Loved the style of this dress! It comes in leopard print as well, which is not part of the current sale. I'd love this one in a solid color. TTS. If you have wide shoulders you might have to size up. I did have to undue the button on the sleeve in order for my hand fit through.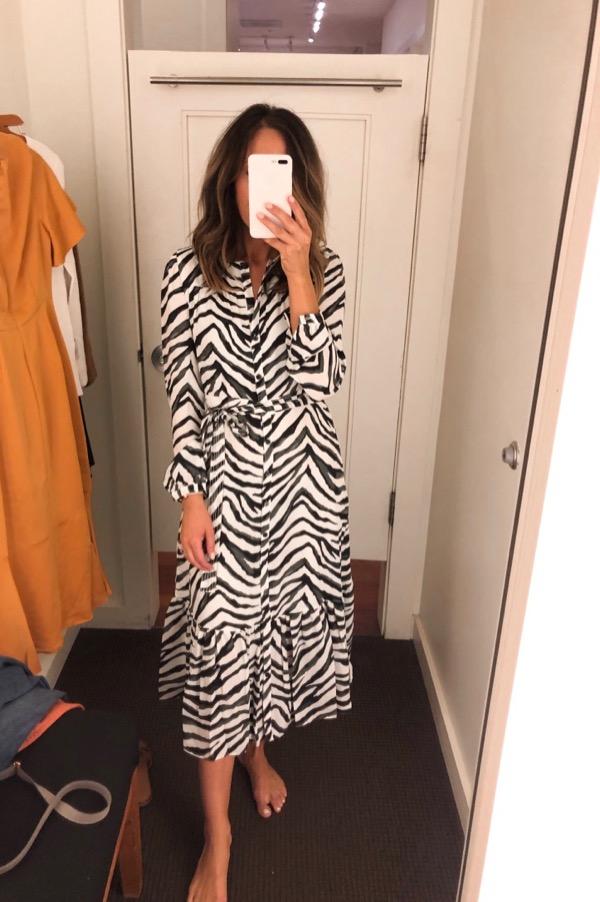 Zebra Print Midi Dress
Another pretty dress and it comes in a pretty pink and black (they didn't have those colors in store). The color below is not very flattering on me, would love it in a different color (pink in selling out fast)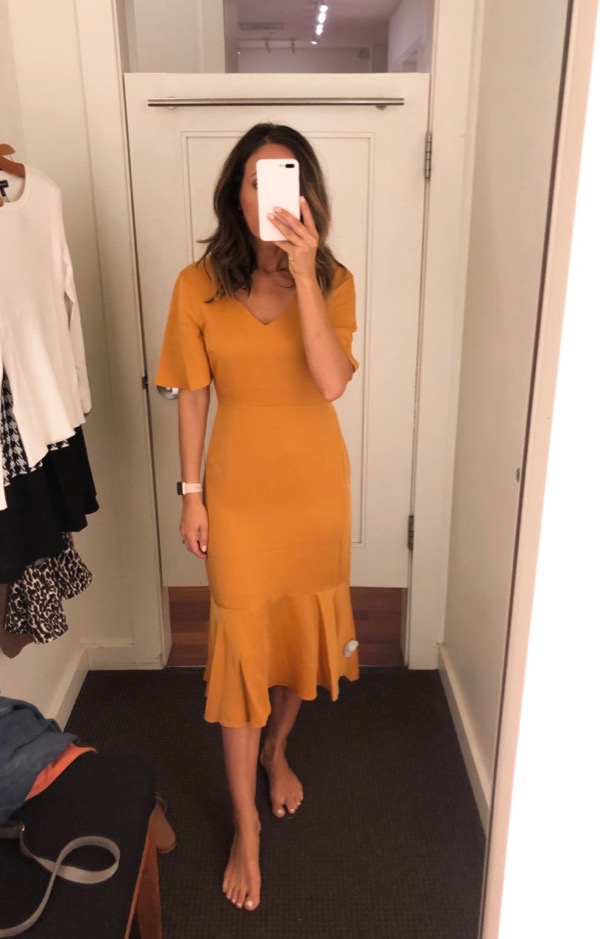 Flutter Sleeve Midi Dress tts
Pretty wrap dress (true wrap not faux). Feels great, drapes nicely and it's tts. Comes in more prints and solid colors.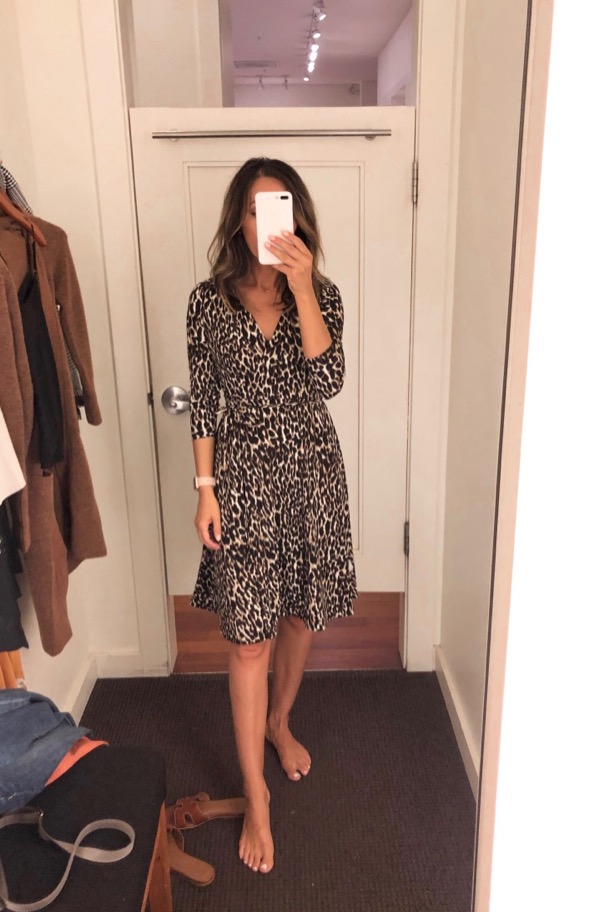 Leopard Print Wrap Dress
Sweater skirt – quite liked this one. I tried size small and while it fits fine, I think I'd like xs better so it can sit on the smaller part of my waist and small is a tad big for that. Fan of this ribbed sweater, goes with everything.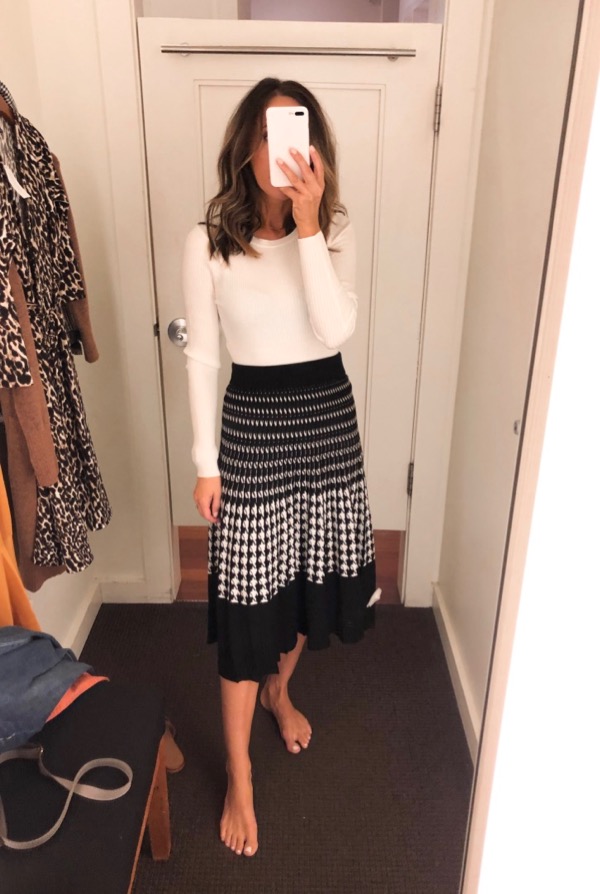 Houndstooth pleated sweater skirt | Ribbed Sweater tts comes in more colors
A few more gorgeous pieces that I didn't see in store…
---
Ann Taylor – 40% off full priced styles + extra 10% off tops and sweaters, extra 50% off sale styles
I usually like to go up one size in ribbed sweaters, but small was sold out and the Medium below was a tad big for the style (I tucked it in more in the back so it doesn't look too loose, but I wouldn't get Medium in this one). Super cute though. Skirt is much prettier in person. Wearing size 2 below.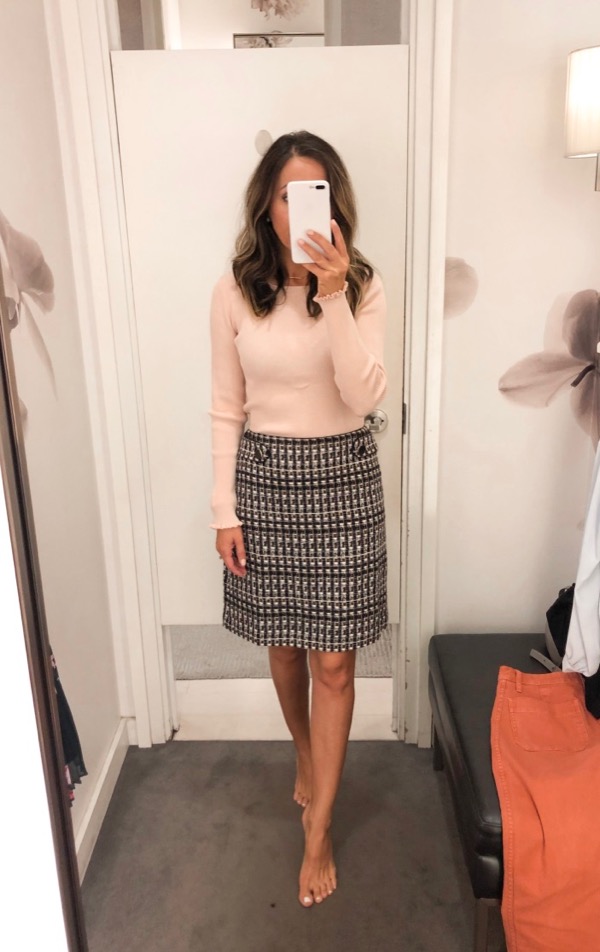 Sweater | Tweed Skirt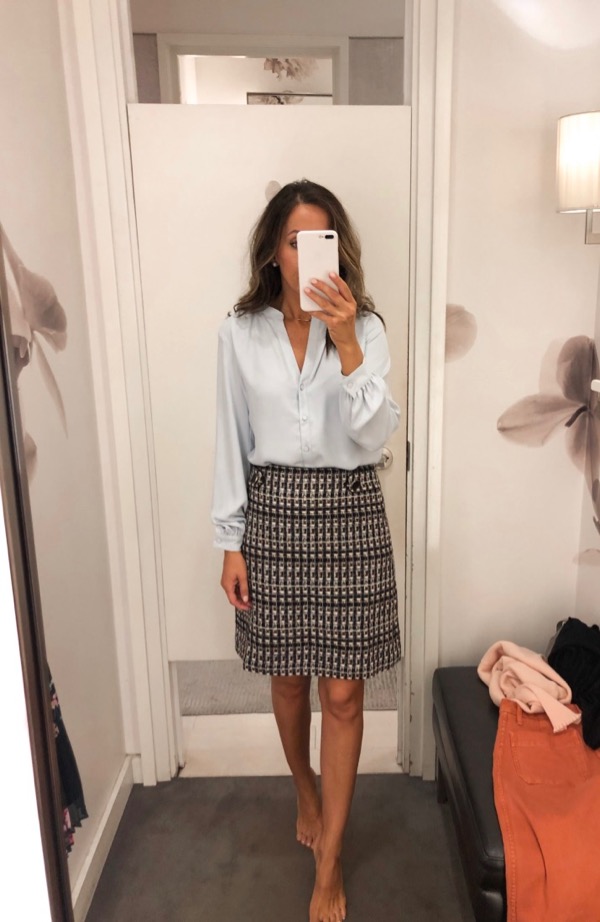 Blouse wearing xs | Tweed Skirt
Love this color. I have this skirt in mustard color from last year. My size was not available, tried size 4 and it was just a tad big. Such a pretty color though.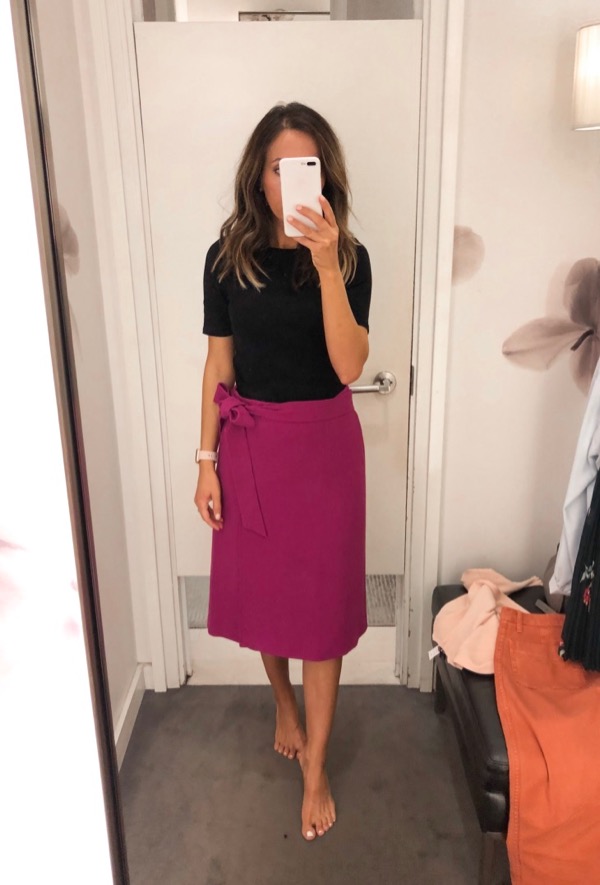 Tie Waist skirt | Tee from J.Crew Factory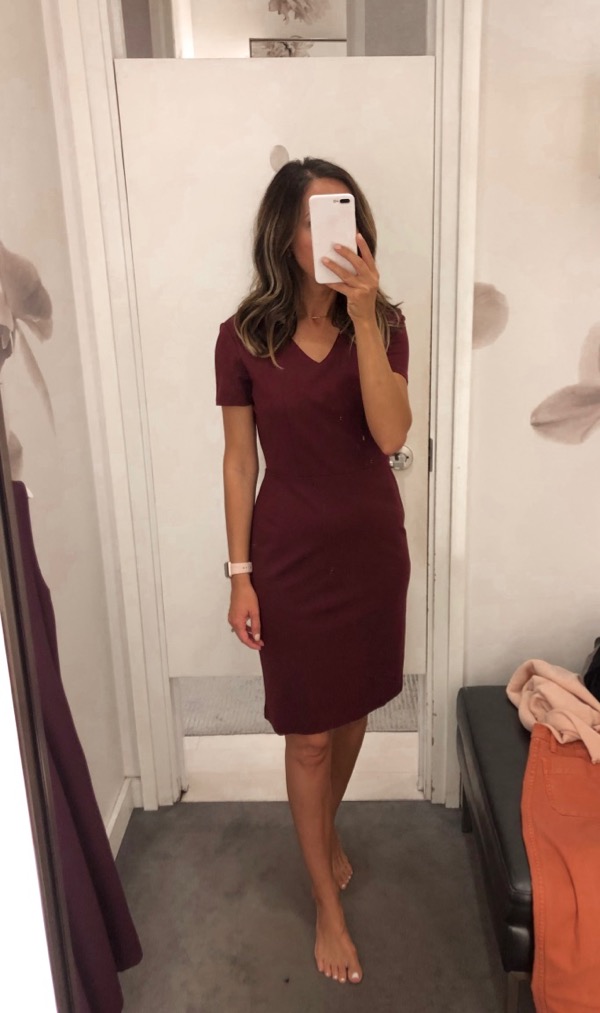 Cap sleeve dress in size 2
Tried size 2 in this dress..it felt comfy, maybe just a tiny bit roomy. 0 was not available in store for me to compare the two sizes.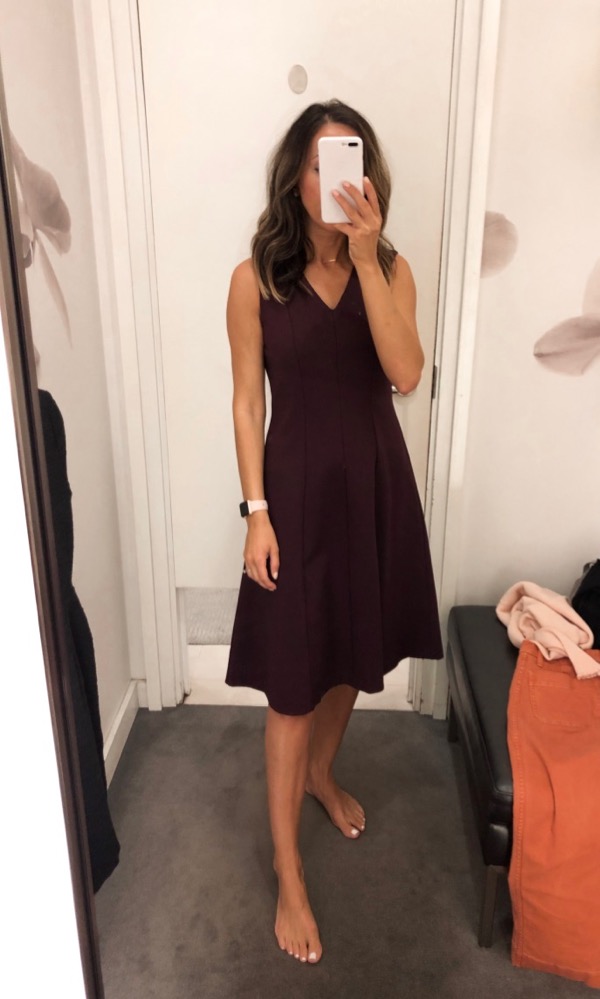 Seamed Ponte Flare Dress in size 2
Loved the button details on this dress. There is a slit below the last button. Size 2 fit great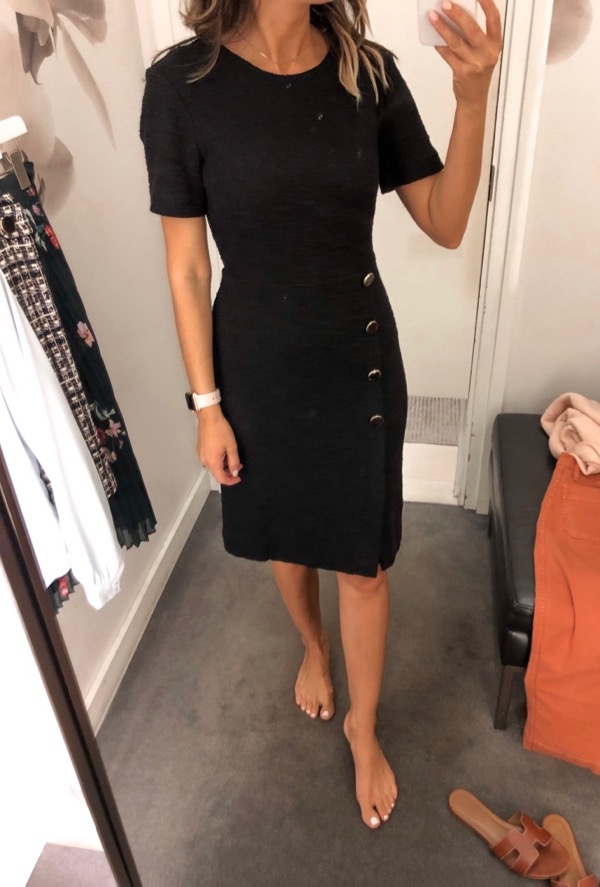 Textured button trim dress in size 2
Almost got these pants…almost. Still trying to decide how much I'll wear them. They would look so cute with a pair if booties like these for Fall. I love the color and they seem very comfy. Wearing size 2 below and they fit well.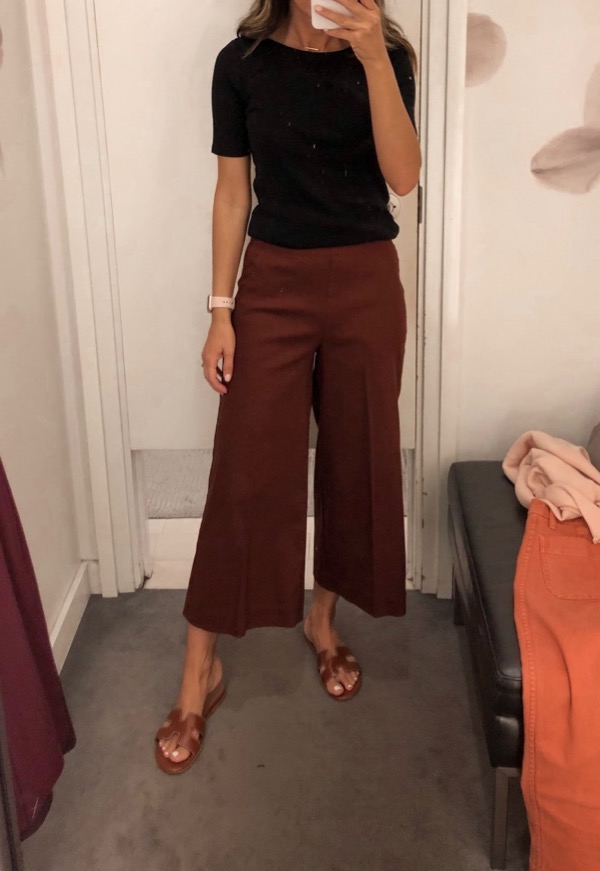 Wide leg pants in size 2 | Tee
---
LOFT — 40% – 50% off
Finally saw these jeans in my size. Loved the exposed buttons. I almost got the Banana Republic ones, as for me personally they felt a little nicer on (a bit softer too) and I liked the wash a tad better…. but these LOFT ones fit my body better. That's the only reason I got these over the BR ones. A ton of stores carry similar style with the exposed buttons, so go with the one that fit your body the best.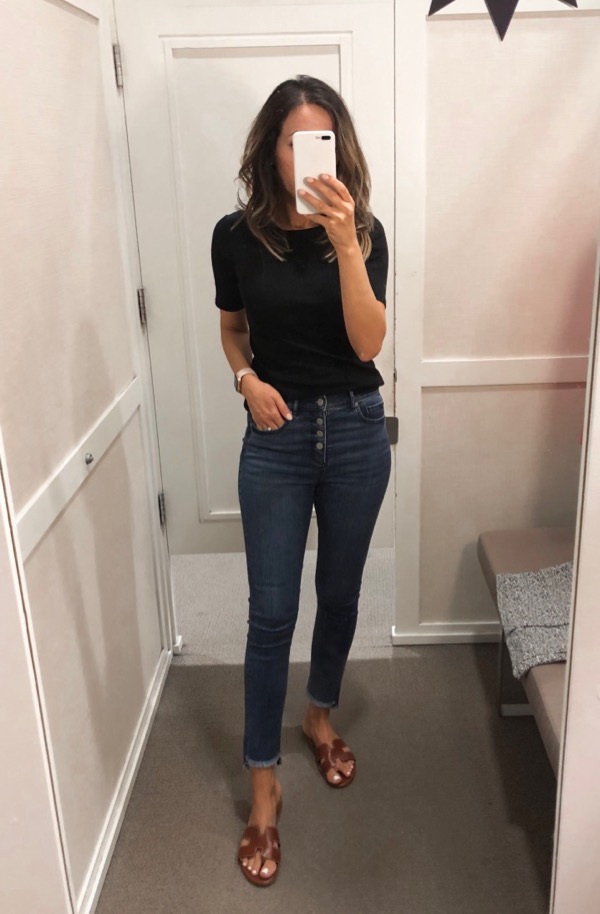 Jeans tts | Boatneck tee tts
This turtleneck poncho sweater kept selling out last year. I never got it but I'm loving this color. I almost got it this time but I'm just not ready to buy a turtleneck in August. If you don't want to miss out on it get it. Or wait if you don't mind missing out (that's me 😉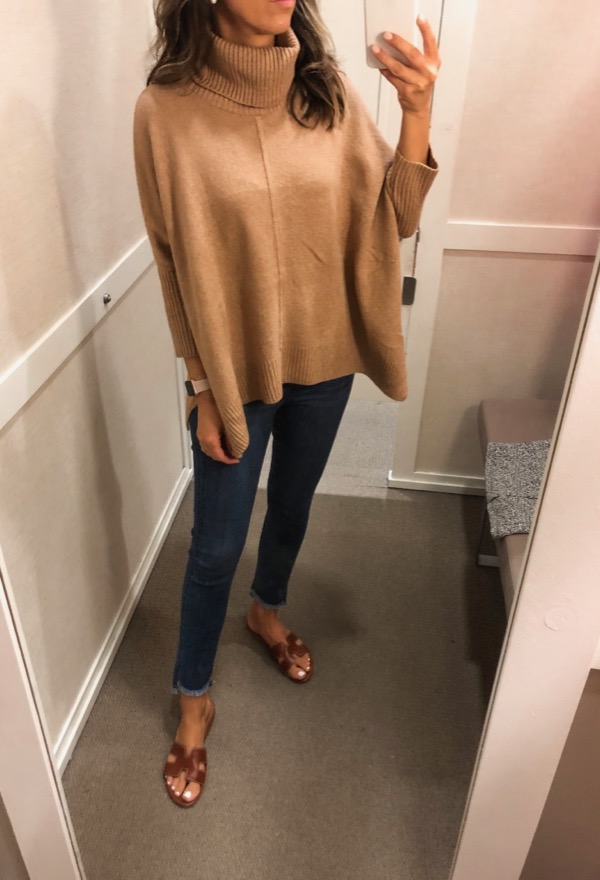 Turtleneck Poncho Sweater
Glad to see that this sweater poncho is back this year, and it more colors. I got this one last year in a lighter color but I would have loved this color instead (which they didn't have last year). Almost got it but decided against it as I don't need two of the same with just slight color variation (but still would prefer this color). Maybe I'll keep my eye on the one above instead even though I favor this one just a bit more. But you can't go wrong with either one. Wearing xs. It's a poncho sweater so expect it to be very roomy.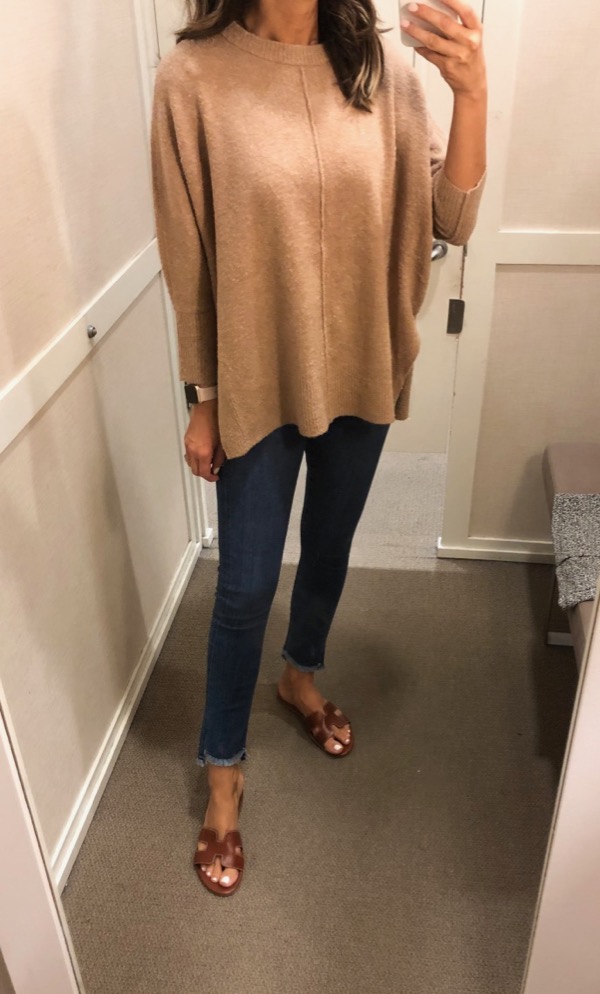 Poncho Sweater
Basic sweater with a nice touch to the sleeves. Comes in more colors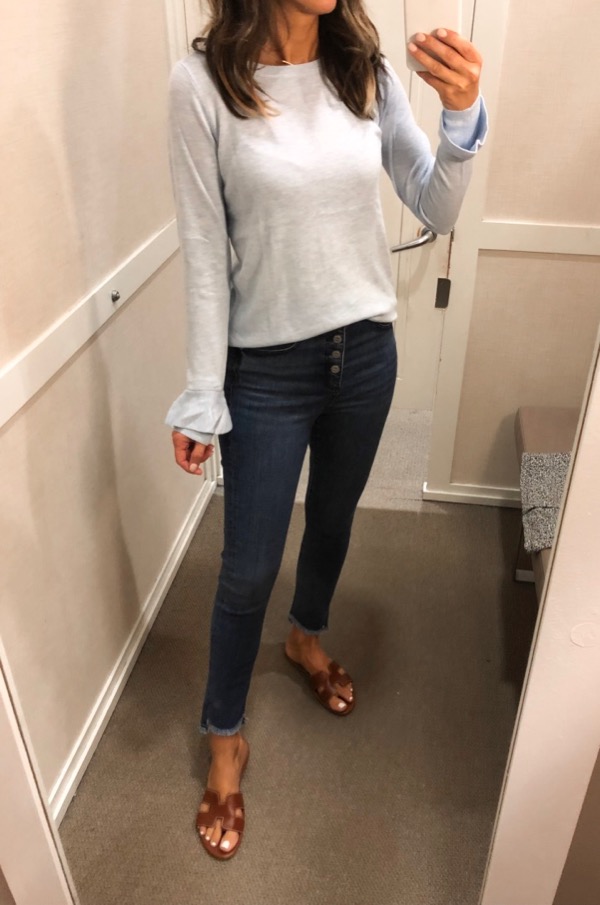 Ruffle Cuff Sweater in xx
This dress was prettier in person with a very small leopard print. Very comfy with the right amount of stretch. TTS.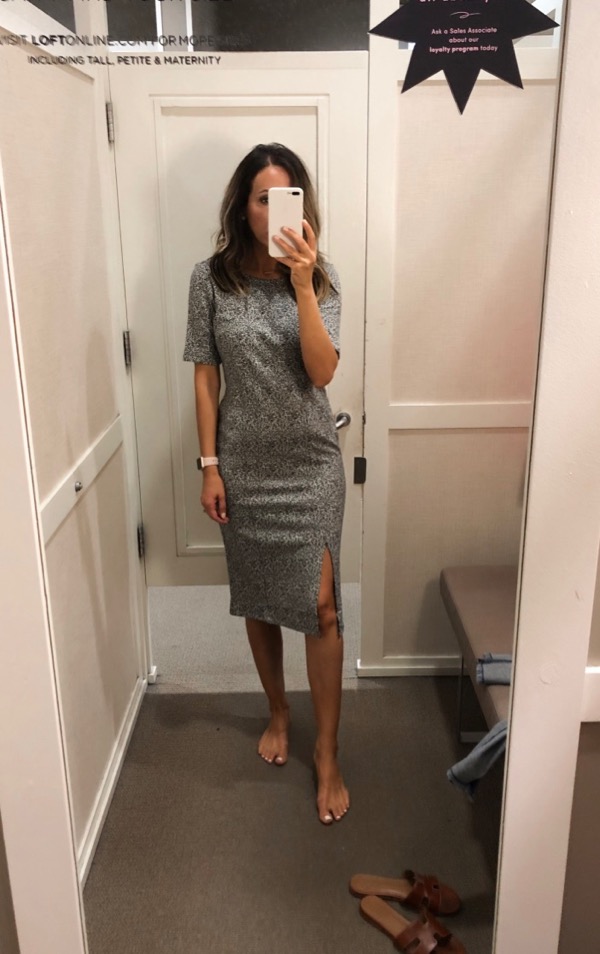 Leopard Jacquard Midi Dress in size 0
Subtle leopard print dress that can transition nicely between seasons. Wearing size 2 below and liked the fit. It was just roomy enough to be comfy but not in a bad way.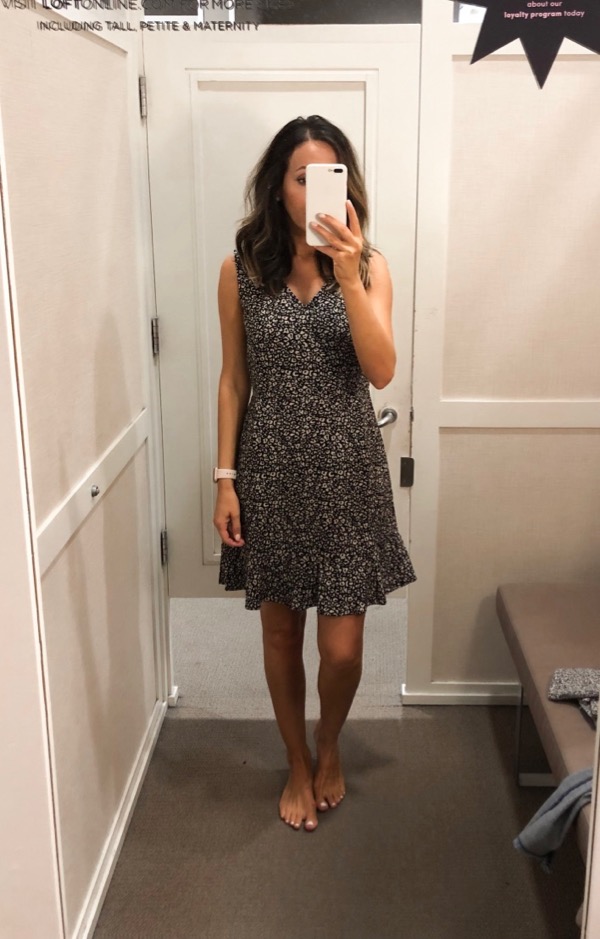 Leopard Print Flounce Dress in size 2
Which pieces are your favorite?