Well hello there! It's been a while!
I'm still trying to process how suddenly the month of August is here!?!?!
I was thinking earlier how Banana Republic is a hit or miss for me, but that's actually the case with most stores. This time around they had some great pieces but I didn't try on too much. Didn't want to get too tempted and have too many pieces come home with me 😉 But everything is on sale right now!
Another place that surprised me, again, is Target. SO many great pieces and I think for most of the part the quality is pretty great for the price (every retailer has some duds). Before I start, my slides in most of the pictures below are these slides in Rose (the leather is amazingly soft).
Let's move on to the good stuff…
I loved this soft knit dress. It was on the thin knit side (maybe a little to thin?). I love that it works for all seasons with right styling. I tried small below as I didn't want to it be super tight and I really liked the fit of the Small. It was a tad overpriced for what it is, IMO, not worth the full price. Knit Dress in S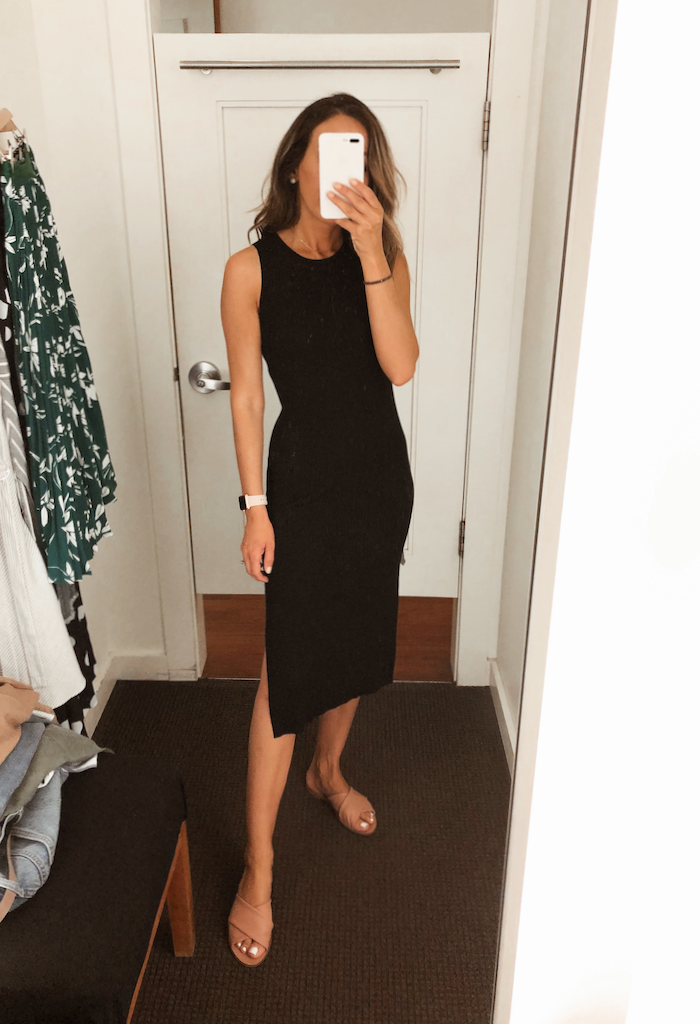 I didn't think I was going to like this dress very much but I really liked it quite a bit (it looks better in person). Loved the style and fit, it's a classic and timeless little number. I tried size 2 below and it fit great. It was 40% off that day and even with that discount I thought it was a tad high.
Stripe Linen-Cotton shirt dress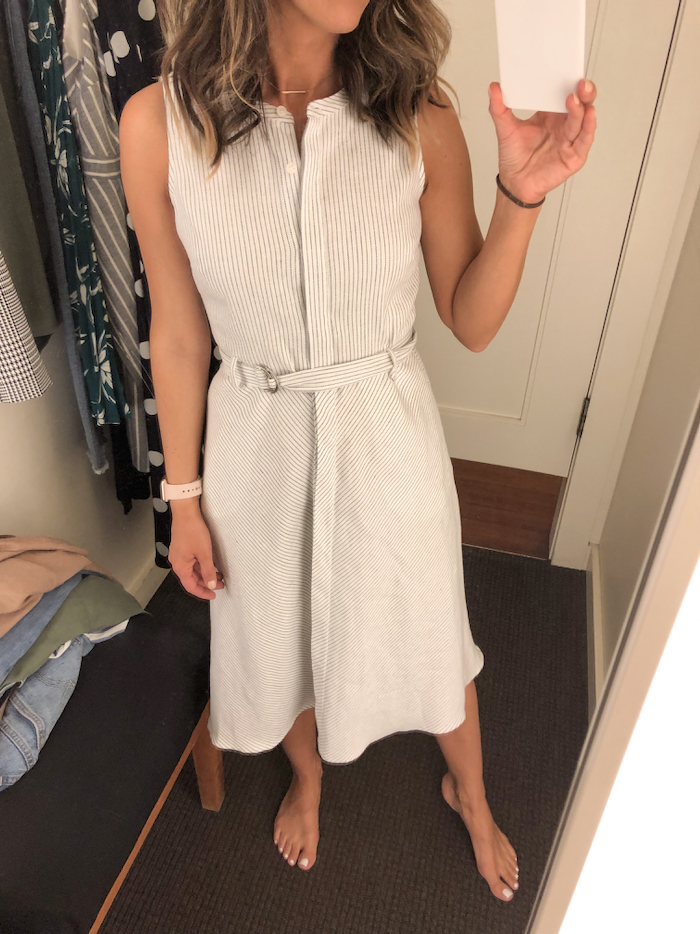 Really liked this dress too. I tried size 2 below and the top was a tad roomy but not so roomy for it to be a deal breaker. The skirt part was perfect. Size 0 would have been too tight around hips and very likely perfect on top. I don't see this color online but there are two other colors. This color was on sale in store. Striped Sheath dress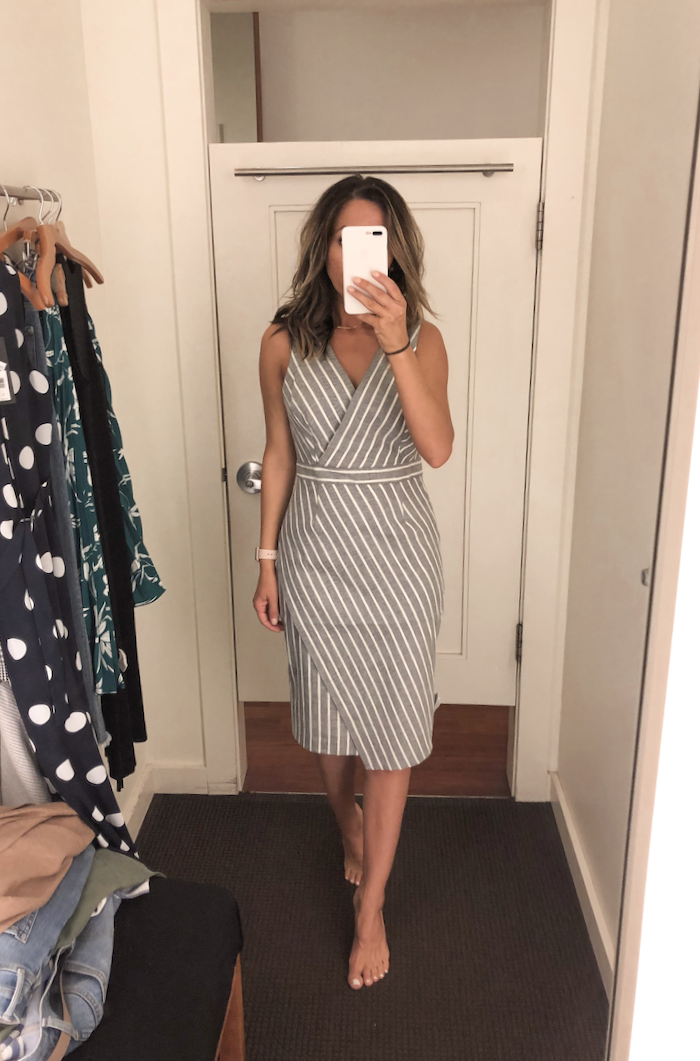 Okey, so these joggers are really the reason I stopped at Banana Republic. One of my friends had them on the other day with this top in winter white (I've mentioned in a previous post how much I love this top and have it in 2 colors) and she paired it with nude wedges. The joggers looked so amazing on her, the entire outfit actually looked amazing, and I had to ask her where she got them (the has amazing style. Totally should be a blogger). I haven't noticed them at BR before and I was glad they still had them. They're really nice, the fabric doesn't feel cheap. They don't have much stretch to them, which is not a bad thing. They're easily dressed up or down. Fabric is nicer than most joggers. Totally recommend these! Wearing xs below, tts for me.
Merino V-neck Sweater in Small | Joggers in xs
I'm always drawn towards v-neck sweaters. This was is light-weight and feels very nice. Comes in more colors. Wearing Small as the xs looked tiny (I like my sweaters looser).
Loved the fit of these jeans. Thought they were quite cropped but then realized they were in Petite (I'd prefer regular in these for length). I would have tried them on in regular but I wish they were high-rise. These are mid-rise. Not bad, but I just like my mid section sucked in more lol.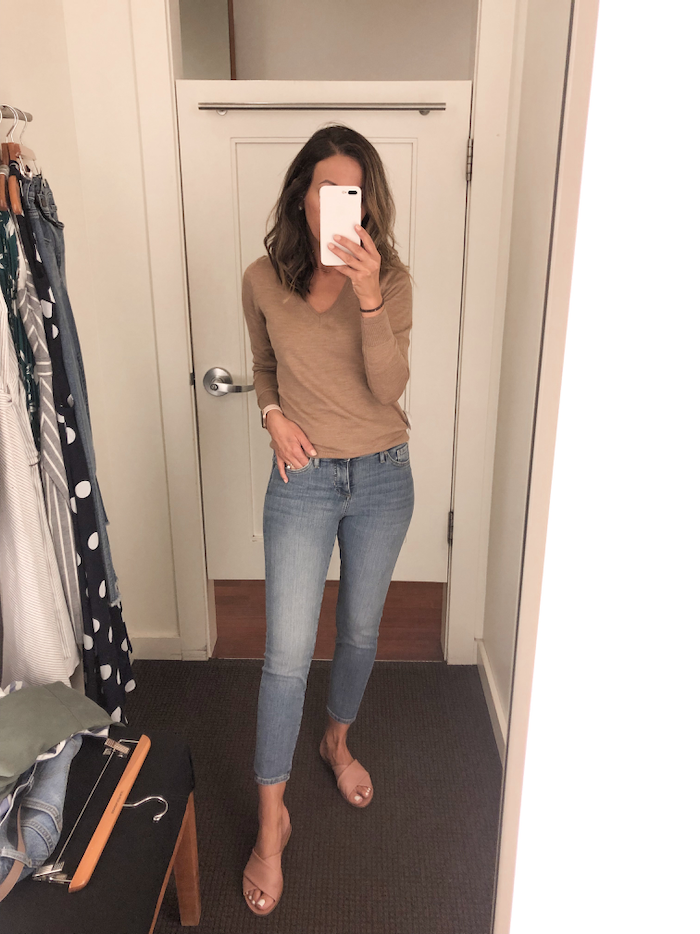 Jeans
Another pair of jeans I loved. These were high-waisted, slight stretch to them, straight leg and I'm such a fan of raw hem. I almost got these but I have SO many jeans and I'm now allowed to buy new ones util I get rid of at least 5 pair for now (jeans are my thing, and I'm always trying new styles and brands).
High-rise straight leg jeans tts
This blazer….omg…so good! My store only had a few sizes left and smallest size available was 4, which surprisingly wasn't too big but I think size 2 would have been perfect. Great weight to it, well made. Can almost work as a light jacket for Fall. So much nicer in person than the pictures online.
Blazer | Dress
---
A few try-on pieces from Target
Loved the color of this cotton-linen jumpsuit. Wearing xs below and it fit tts. I found it to be a tad itchy though…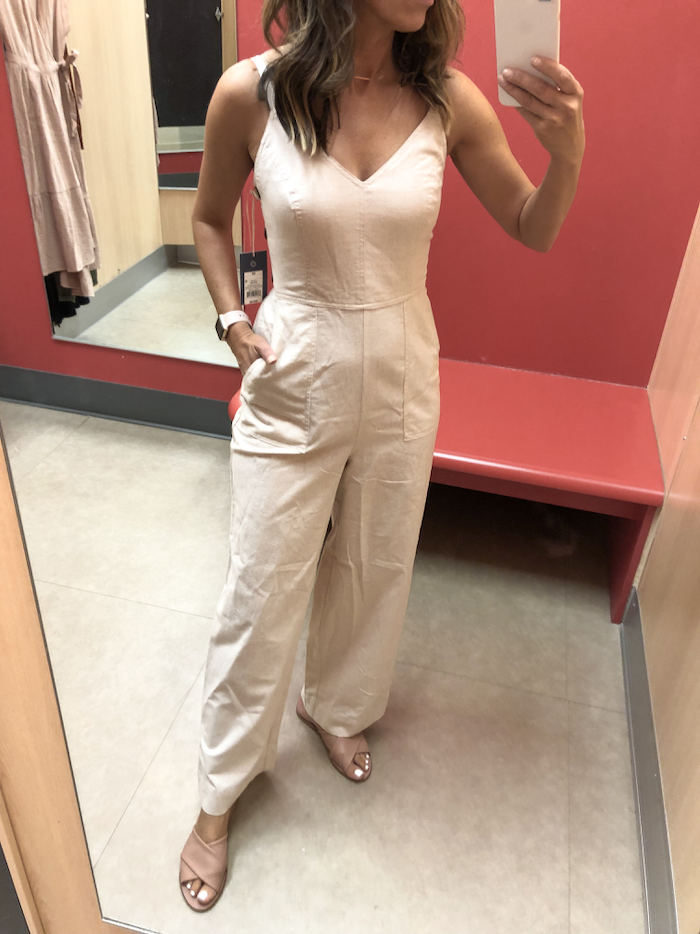 LOVE this maxi dress and it came home with me (wore it today as see on my Instagram) . I tried xs below and it not tight, it falls nicely. The arm hole is just a tad low/big… exposure of side boob possible but with the right bra it's fine (it also depends on the size of your girls too). Love it, especially for the price. So comfortable.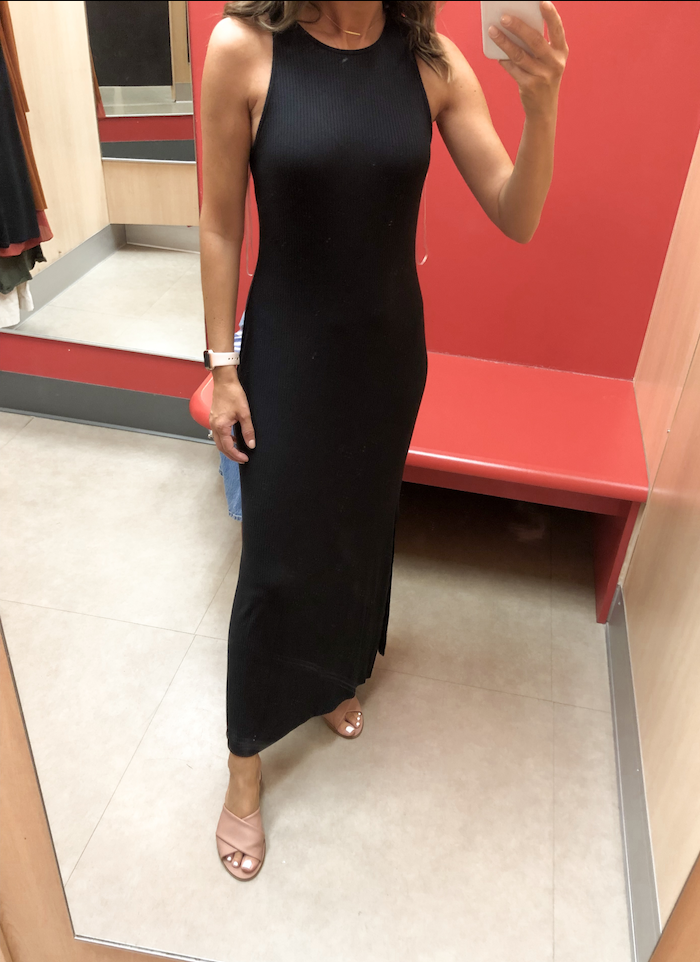 Love this rust color cardigan, great color for Fall! Wearing xs below, tts. It comes in 2 more colors. It's on the thinner side, reminds me of this LOFT cardigan a lot (as seen in this post. It's on major sale).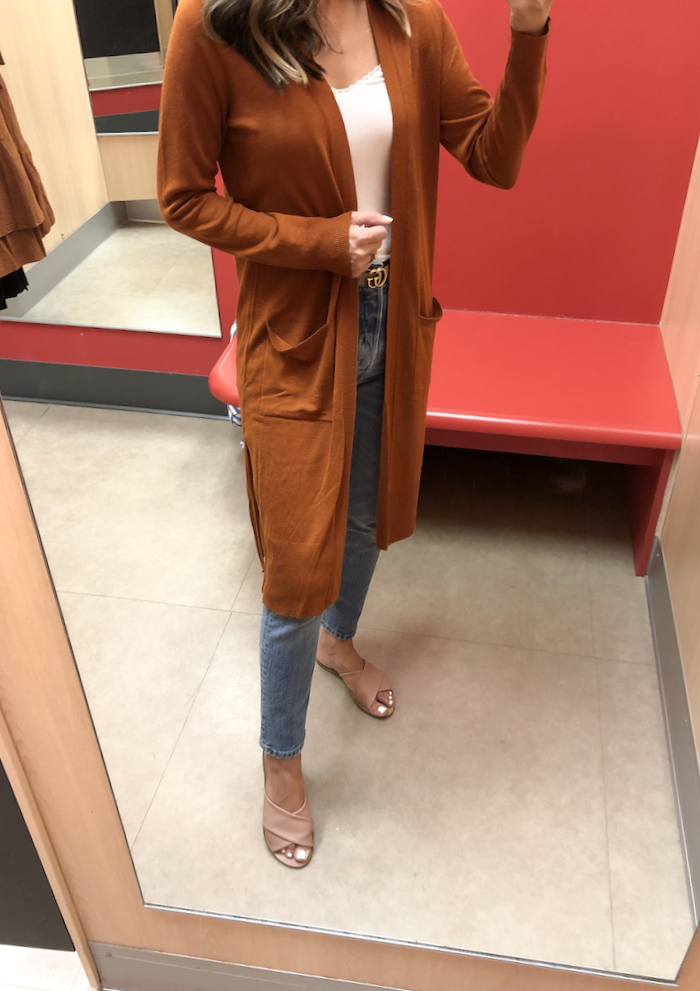 I tried as few more pieces at Target, but I'm not seeing them online yet. I'll share once they pop up online.
---
And a few pieces from H&M…
Slides in the pictures below are these amazing Hermes dupes (they're real leather). Go up 1/2 size. They stretch out after a few wears and are comfortable for all day wear.
This tee…SO good! I got the other color a while back and really wanted this one too (it's only $8 and it's organic cotton and it's from their Conscious collection. Not sure how is it so cheap!). My husband made a comment how nice the fabric felt when he was folding laundry (yes, he helps fold laundry). I got size Small in both colors as xs looked tiny. Almost wonder if I should have purchased Medium in one of the colors!?!!! But seriously love both colors so much!
Tee | Jeans 0n major sale | Slides – go up 1/2 size) (so comfy after short break in time)
Another great tee, and almost sold out! I'm telling you guys, H&M is underrated. A lot of their pieces are quality pieces and they're very affordable! Stripe Tee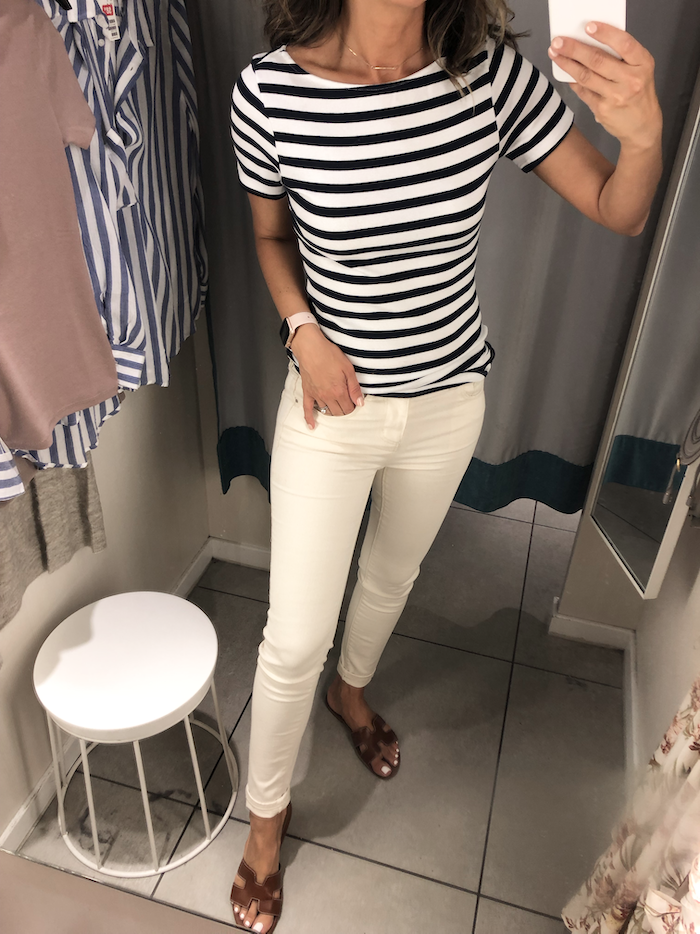 I'm a huge fan of scoop neck tees. This is one is 95% cotton (comes in 2 more colors). It's on the shorter side so it would work great with high-rise jeans/slacks and skirts. Great under blazers and cardigans too.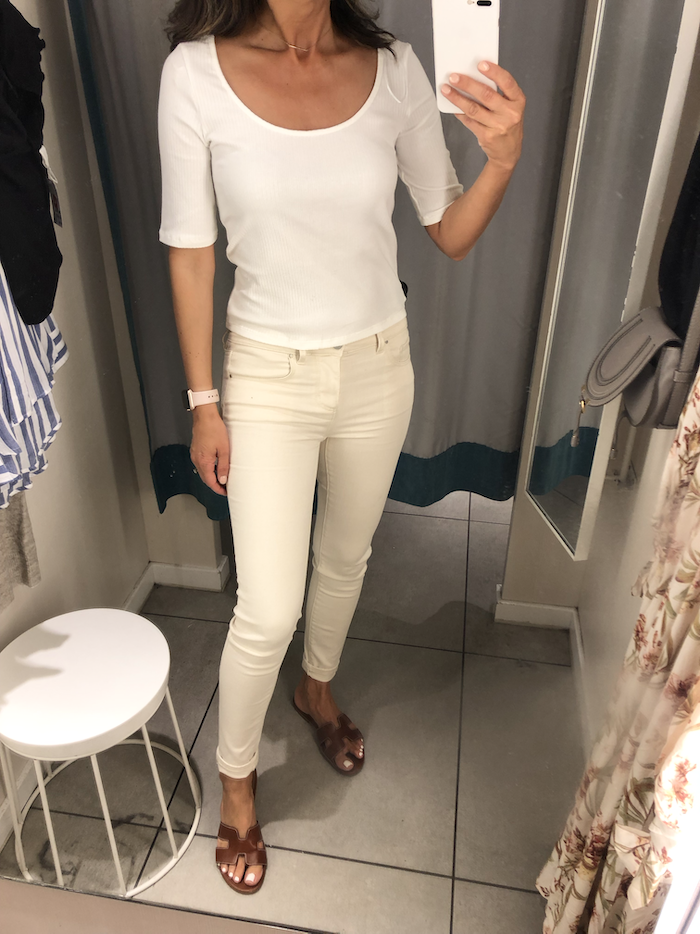 I feel like I should be in Tuscany or Provence with this dress haha. I love it, but I'm not sure I love it on me. I did get it, but I'm still undecided how I feel about it. I love the dress itself. Don't love it 100% on me.
I already talked about this cardigan in this post. I have a different color from last year and it's so good for only $20. I almost got this color too but last minute decided to leave it back as I have to many cardigans that are too similar. Last year this cardigan kept selling out and it won't be long before it's sold out again.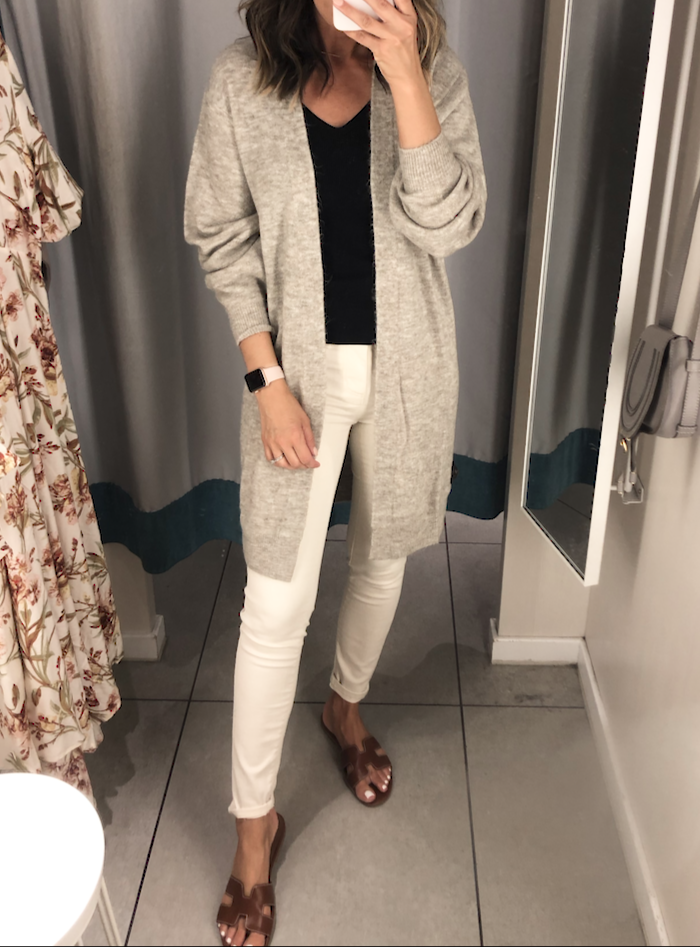 If you have any questions about any pieces, please leave me a comment below!
A ton of retailers are running sales, including some amazing end of season sales, and there are some great ones!
Ann Taylor – up to extra 70% off sale styles
LOFT – 40% off full priced purchase. Extra 50% off sale styles.
Banana Republic – up to 75% off original price – I also got this dress in size 0 but somehow forgot to take a pic. It's $17 cheeper online than in store (I need a price adjustment). Extra 10% off w/BR card w/code BRCARD.
Mango – extra 10% off sale styles w/code EXTRA10 (so much good stuff on sale). I got these boots in, what shows online as 8.5 but they're size 39 which is 8. And they are a tad small. Might have to return for a bigger size. They have a ton of Fall pieces on sale, which are so good. I also got this trench coat now only $60. I got size small bu they sent me Medium! Mango has free shipping and free returns, makes shopping online so much easier.
Thank you for reading! xo