I've talked about this "sweater blazer" below earlier this year, but in case you missed it…it's amazing! I've gotten so much wear out of it (it comes in more colors). It's 40% off until 8/29. I saw this longer version and love it. I'm on the fence between that one and this one from Mango (leaning towards the Mango once because of the lighter color…but I think I might have ordered it in Spring and either they sent me the wrong size or it was super oversized…can't remember. Might ordered both and just keep whichever one fits better). It's one of those pieces that I'll wear for many years. It will be part of my Fall wardrobe capsule. Pieces like these get most wear in my closet year after year.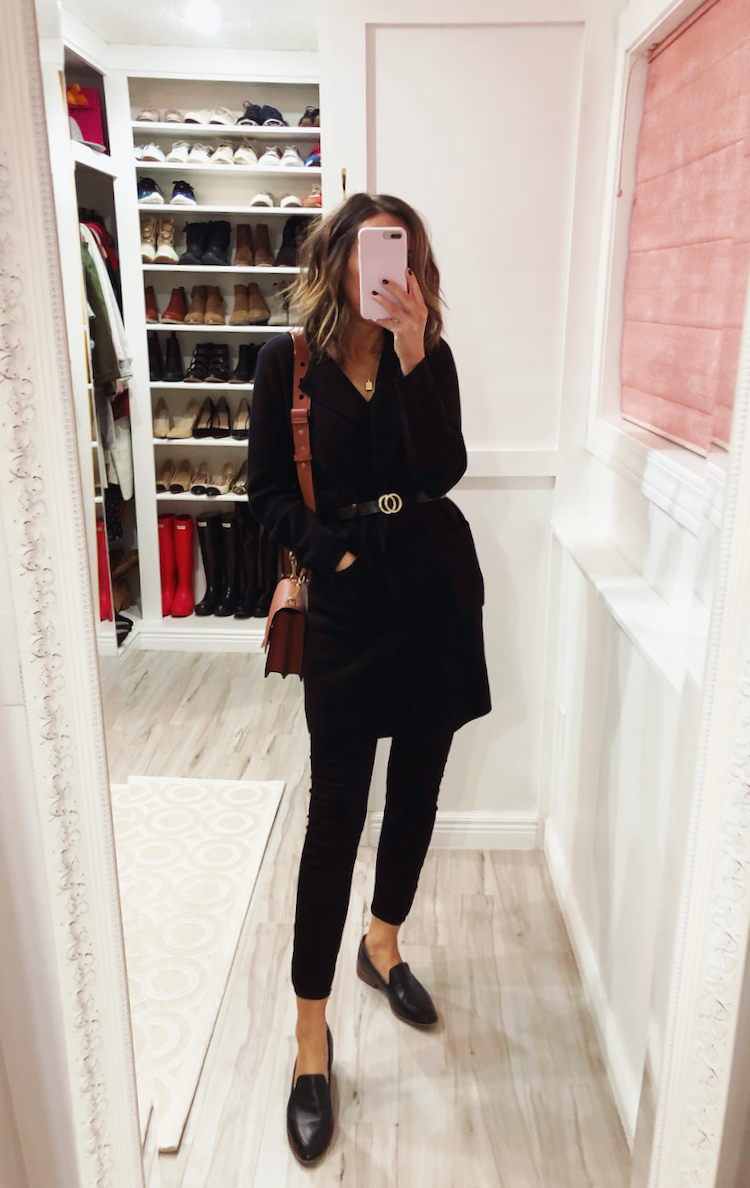 Jeans – same style for less (pay attention so sizing) | Loafers (faves, need breaking in unless you have narrow feet) | Belt only $10 (I have it in 2 colors, it's great for the price) | Bag (old) love this one and this one (same one as mine in a different color and texture)
Below are all three lengths and all currently on sale…
Another way I wore it..
Sweater Blazer/Cardigan | Cami (I'm size 4 in H&M cami's) | Jeans (no longer avail) love these, great color | Pumps (Ann Taylor, no longer avail) love these for Fall | Bag no longer avail.
Also love it paired with sneakers (J.Crew calls it sweater blazer. But I think this one is more of sweater blazer. It's more like a nice cardigan to me). Whatever it's called, it's fab. And you can style it with just about anything. And on a different note, I found almost an identical style of jeans to these Levi's (which sold out last year I think and I haven't been able to find this exact style). Linking them below.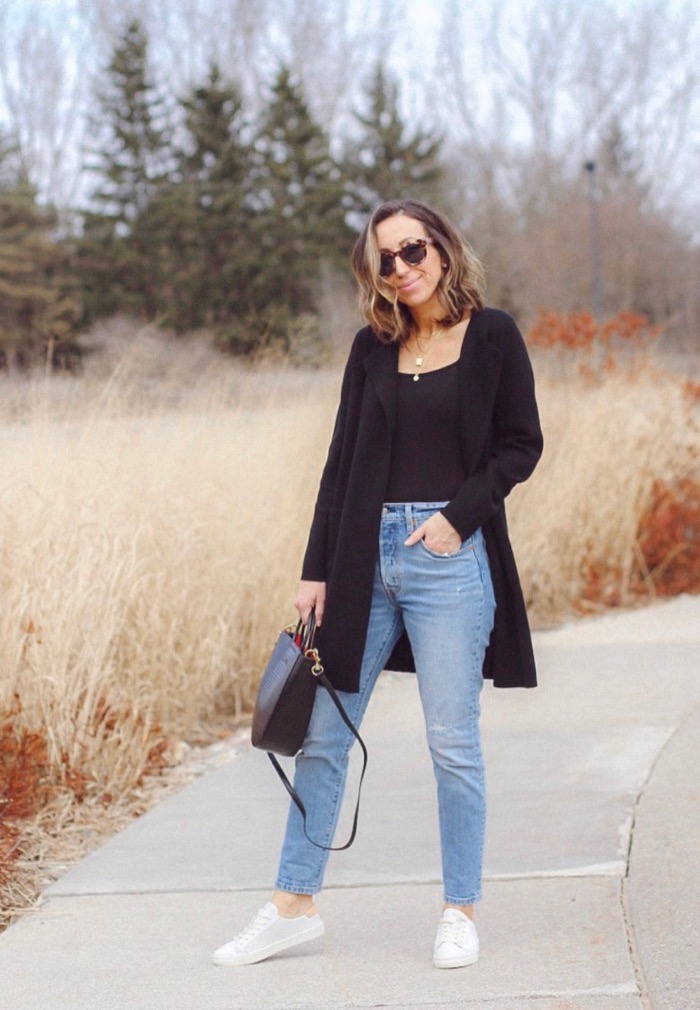 Cardigan | Jeans (old) – almost identical style | Soludos sneakers | Bag (no longer available)
You might also remember this sweater blazer below…another great closet staple that's easily dressed up or down. And it's on sale right now. I have this one in another color. I got size xs in both colors. On a different note…I keep going back and forth on selling this bag… I love it so much but I don't reach much for it because I don't carry much stuff in my bags (key fob, card holder, phone, chapstick, lipstick and gum). Send me a message if you're interested in purchasing it. It's in new-like condition, no scratches or anything (well, a tiny scratch on the strap which is not even visible. Other than that, it's perfect). This leather doesn't scratch easily, unlike some of the other ones, which will keep it in great condition for years.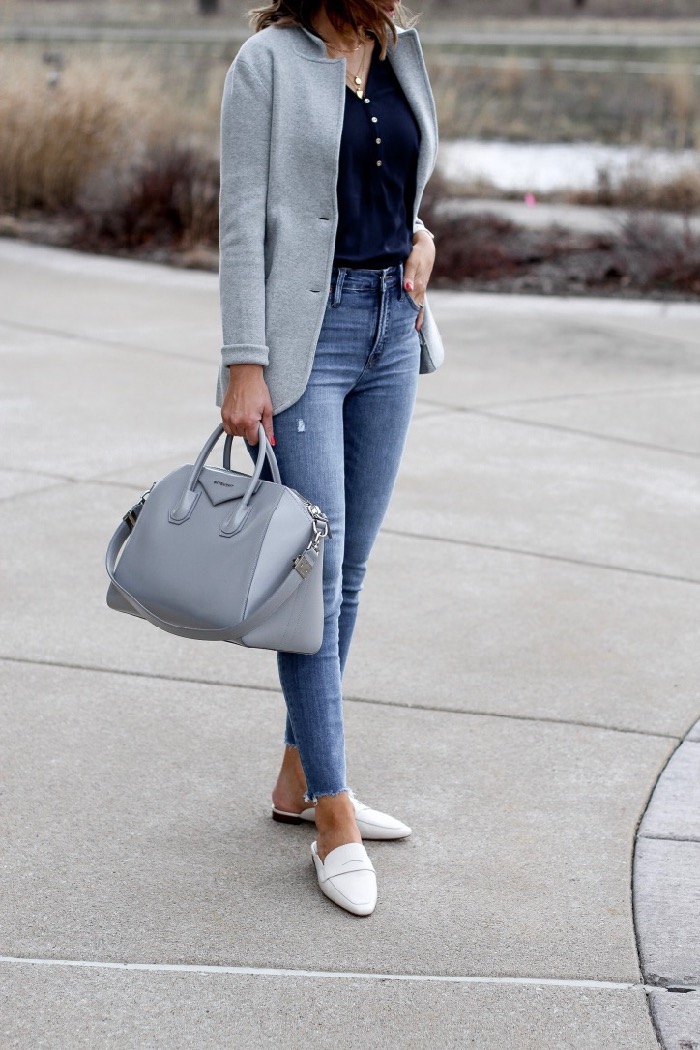 Sweater Blazer | J.Crew Skinny Jeans (old) – great alternative, another great option (both on sale right now) | Top (old LOFT) | Mules (old via Ann Taylor) – great options here and here (love these) |
Here is another option…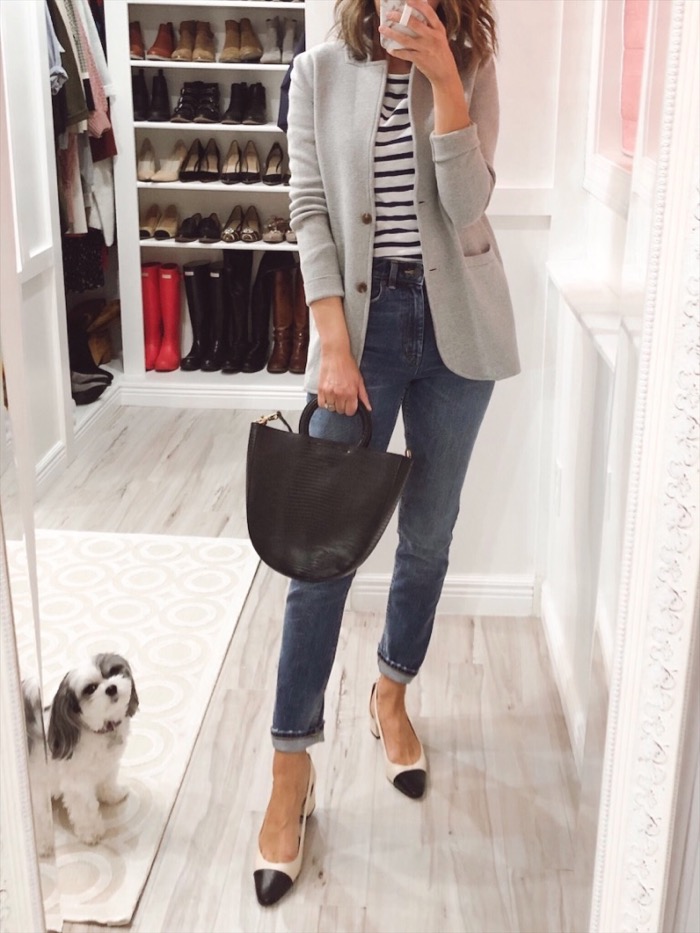 Blazer | Tee | Shoes | Jeans (can't remember) love these
Current Sales: J.Crew 40% off (exclusions apply)
Ann Taylor (haven't had time to go try stuff on but these would be my picks. Love the pleated skirt, gorgeous plum color) I recently got these pumps and love them. 40% off + extra 10% off sweaters and tops