Hope everyone enjoyed their weekend!
I have had some fitting room snapshots sitting on my phone cameral roll for over two weeks now and added a few more thought-out that time. Not a lot from any of the stores, as I just tried on pieces that truly appealed to me and those were few.
I've been wanting this utility jacket for so long. So long! Love everything about it – the color, style, fit, large pockets. I tried xs and it fits tts. However, if I wanted to wear a pretty thick sweater with it, it would be snug in arms. But with tees and light sweaters it's fine. I need to part with my other utility jackets before I'm allowed to get this one! Update: – I got the jacket in xs and it feels tighter in the upper arms than the jacket I tried on below, which was also xs (mainly when I just want to lift my arms…which there is no need for that usually hah). If I was going to wear it with thin sweaters or tees I'd keep the xs but I think I want to wear it with chunky sweaters so I might go up to Small (Still trying to decide what to do. Most likely ordering Small to try before I return the xs).
Below are my favorite shoes from Madewell (you guys know how much I love my loafers and the black chelsea booties. Both need breaking in a tiny bit, unless you have narrow feet)
Few more pretty picks (I have both set of necklaces and love them)-
Jeans – I recently ordered the jeans but since I was passing the store I wanted to try them to make sure they fit. hah. They run tts. Love me a good pair of high-waisted jeans. Update: I got them in the mail and wore them two days in a row. LOVE them! They got better with each hour of wear!
Utility Jacket in xs | Jeans tts | Tee in xs | Slides
I can't seen to stay away from these tees. They're very light and comfy and come in quite a few colors. I take xs in these. The jeans below are in boyfriend cut but I sized down as they looked quite roomy and I love the fitted fit more. Even reviews say these run big and sizing down they no longer look like boyfriend fit. But the denim is just soft enough and comfortable. Love these too.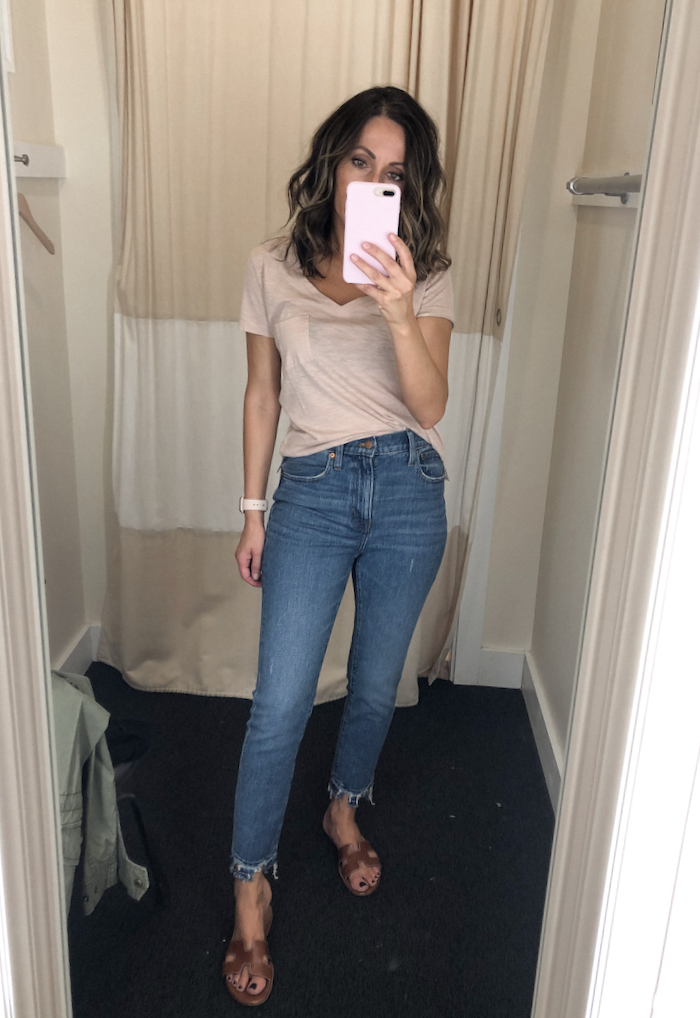 Tee in xs | Boyfriend Jeans in size down | Slides
This sweater caught my eye immediately. The details on balloon sleeves are so pretty. Tried on xs and fit tts.
Bubble Pullover Sweater in xs | Jeans tts
I loved these soft ribbed tops so much but for some reason I didn't love them on me. The sleeves are so nice and feminine but I just wasn't feeling the tops. I tried both in xs and they fit tts. Comes in olive and black too. My jeans below are these tts.
Brushed Rib Pleat-sleeve Top in xs
---
A few from J.Crew Factory…
This sweater jacket below is the Factory version of my favorite sweater jacket (as seen in this post). I didn't even know the Factory came out with these until I stumbled upon them in store. These seem to be nicely made as well. I tried xs below and it fits tts. I almost got this color but talked myself out of it since I recently got this cardigan (as seen styled in this post) that I love, love, love! Sweater Jacket | Jeans (old) similar | Sneakers tts
I have two very similar blazers to this one from 8 yrs ago or more, and still love them and wear them. Just an example of a timeless piece. While it is very similar to mine it's not the same. But I once again had to talk myself out of getting this one haha Not same but way too similar. Blazer tts
This coat reminds me more of a very thick cardigan than a coat. It's great for Fall or Spring but not Winter (maybe southern winters). It's not lined. But it's very comfortable. I'm a fan of this one for sure. If you need a light coat, I'd recommend this one. Easily dressed up or down, and comes in two more colors. Wearing size 0 below, fit tts. It comes in two more colors. Wool-coat tts
This color looked so pretty in person. It's a great wardrobe basic that pairs with everything and this one comes in a ton of colors. I think I tried Small below as I didn't want it to be tight. Sweater
---
And just a few from H&M…
I think I already shared just this blazer in one of my more recent posts, but here it is again in case you missed it. Love it!!! In blazers I'm US4 at H&M. I think once you find out your size in tops and bottoms at H&M once, their sizing tends to be pretty consistent. Blazer | Jeans tts | Slides | Bag no longer avail. – love this one
I told you ladies before that H&M has the best selection of affordable sweaters. I loved the color of this one and tried it on in xs. I didn't love it on me unfortunately, or at least not that day haha. Wearing xs below, it comes in more colors and it's only $20. Dolman sleeve sweater
While this skirt is sold out online, I have seen a few in stores still…recently too (the pics are from about 2 weeks ago). I absolutely love the way it looks…no wonder it sold out. It's a chic skirt and only $40 but looks a lot more $$. The boatneck tee is a classic and came home with me to replace one that is a size too small. Wearing size Small below. only $13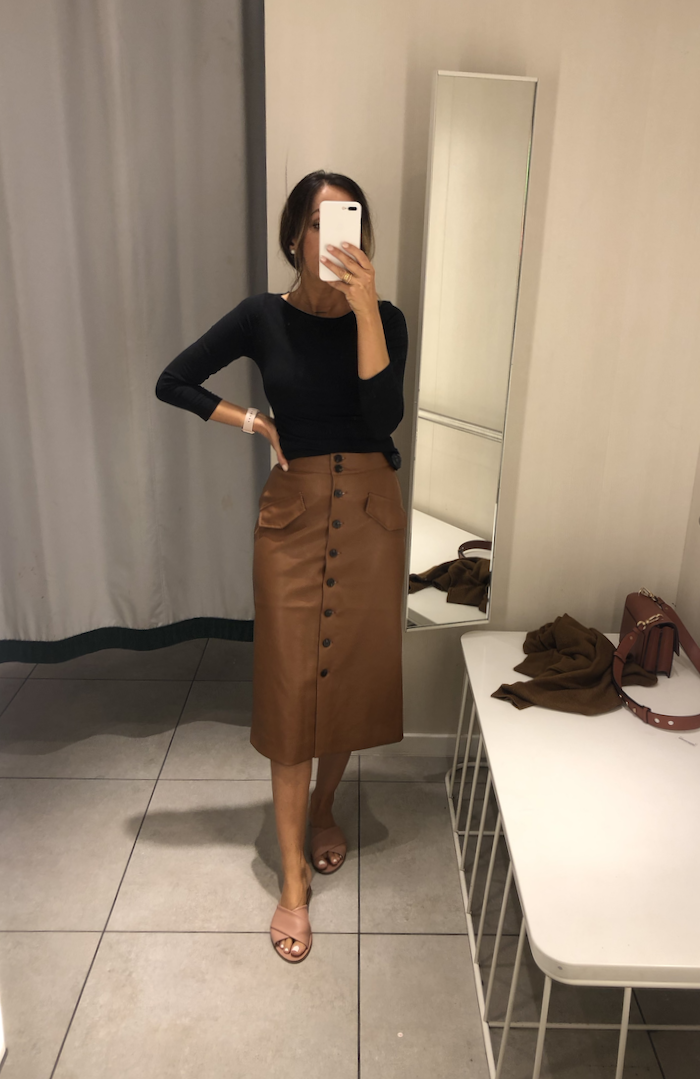 Also, LOFT 50% off Fall Favorites ends tonight! My picks – this plaid blazer, cap sleeve top (I have this in xs), luxe knit shirttail sweater, maxi dress, straight leg jeans.
Ann Taylor – 40% off + extra 10% off ends tonight 9/16. My picks – classic trench coat (wardrobe must-have), plaid ankle pants, floral pleated dress (I have older version in floral and just black), Mila pumps (Have the in black) and smaller heel version too (comfy heel), I also have these.
Banana Republic – 40% off + extra 20% off (extra 10% off with BR/Old Navy or Gap Card w/code BRCARD) – fitting room snapshots
Hope you enjoyed these fitting room snapshots and find something you love!