LOFT is running a great promo online only – 50% off + Free Shipping. Ends 10/2 3am EST
Before I start, my jeans are Levi's Wedgie tts and loafers are a few years old but found similar ones here and here.
Really liked this soft striped sweater. Depending on sweater style, I like to go up one size for a more relaxed fit (unless it it already oversized). This one felt cozy so on (might order it as it is cheaper online). Tried on size Small below. Striped Sweater
Another super cute and cozy sweater. I tried size XS below. Color-block Sweater in xs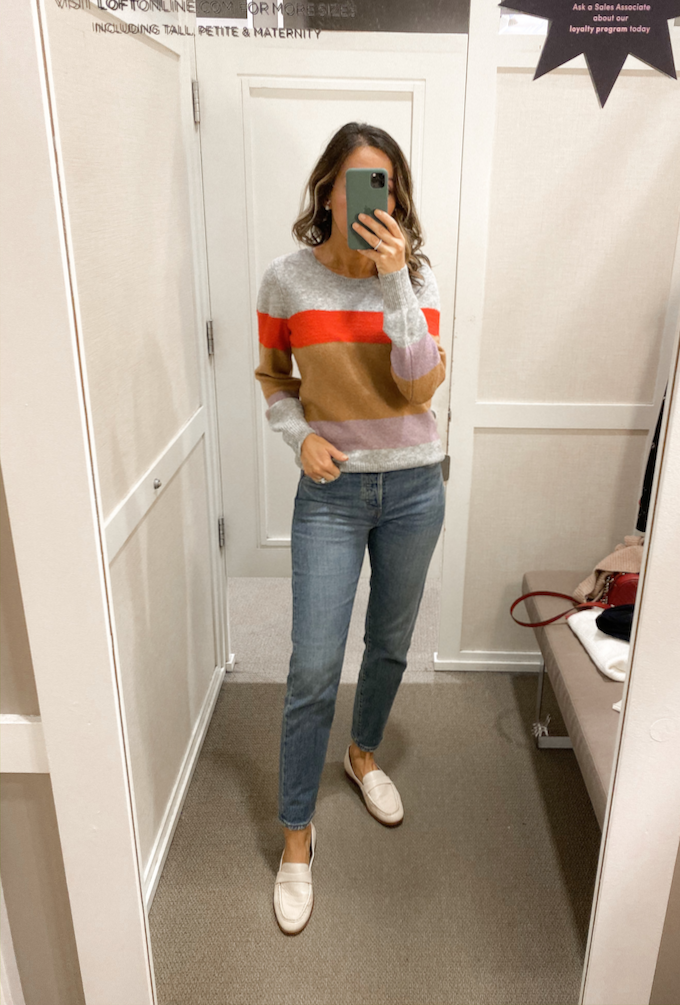 Hello dirty mirror! I'm a sucker for a nice basic but not so basic tee. While I already have one that's pretty similar to this one (and wear it a ton), I really liked the button details on this one. This is the only thing I purchased at the store (the promo is 40% off in store and my local LOFT never honors the online promo. I think they're the only store I shop at that doesn't…for some odd reason). Ribbed button tee (comes in more colors)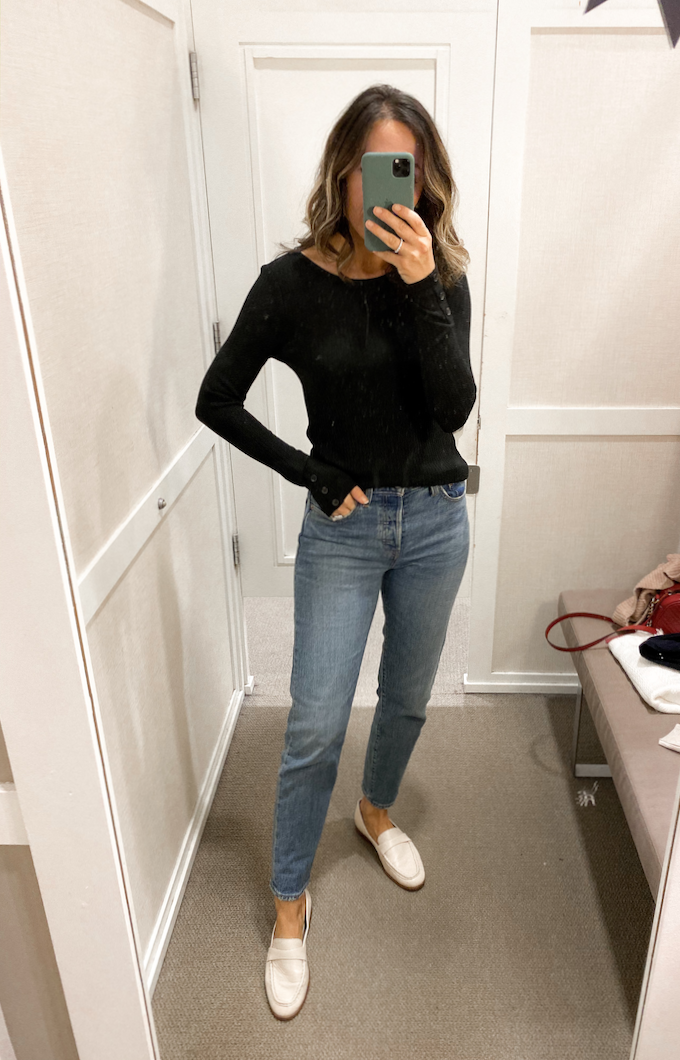 This cowl neck sweater was a tad itchy for me, didn't like the way it felt. I also wasn't crazy about the cowl neck on this one. Tried xs below, tts. Comes in 2 more colors. Sweater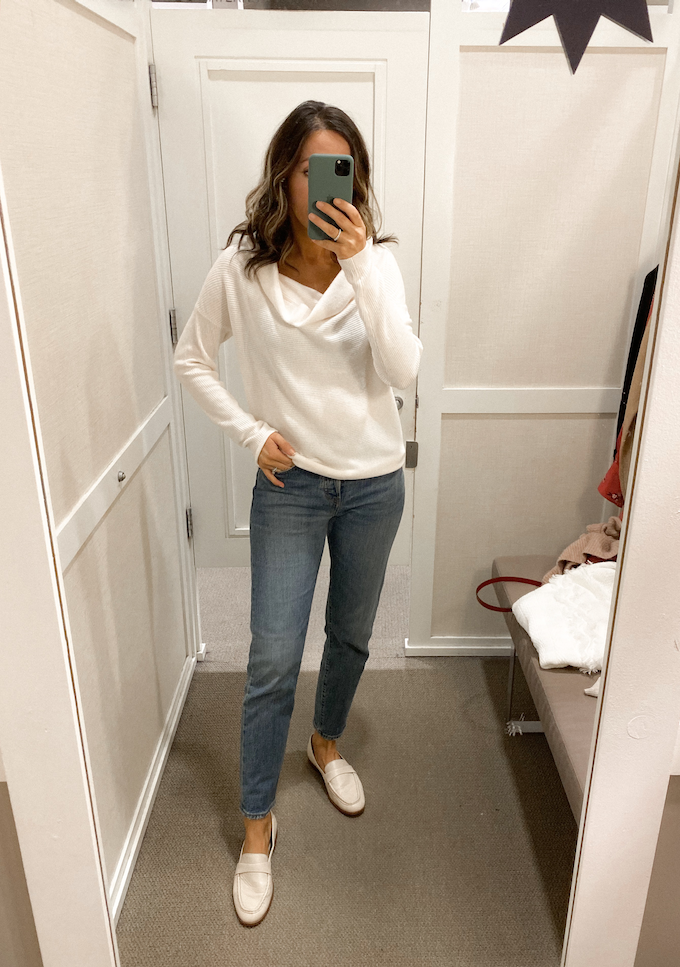 Cute fringe details but I wasn't feeling this sweater on me. Wearing xs below, fits tts. Could have used a tad more room in sleeves because the sweater doesn't have much stretch to it.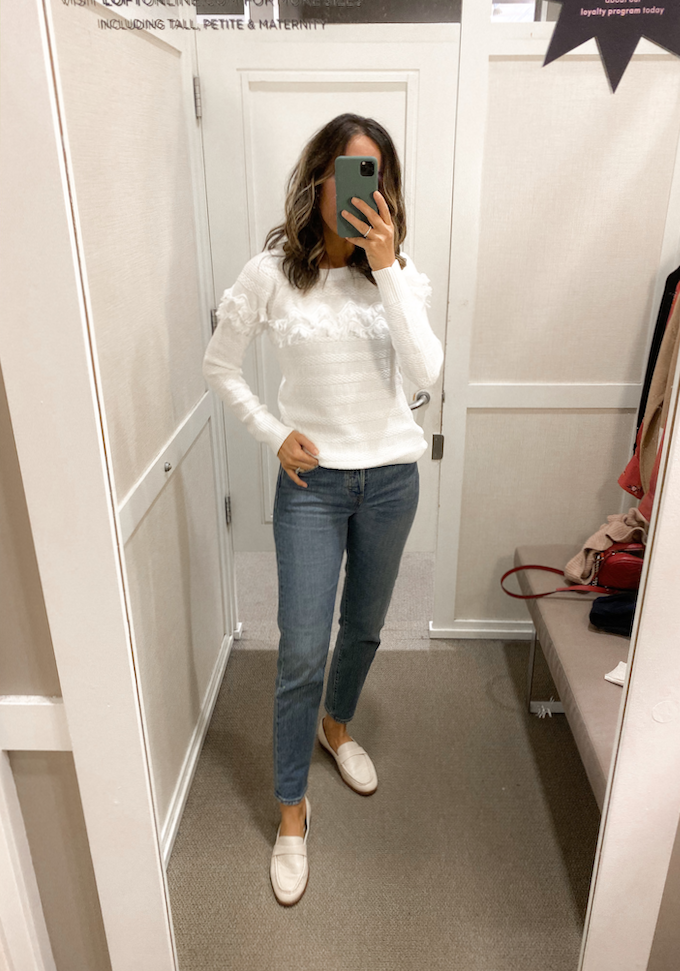 I have this cardigan in the solid camel, but love the white stripes too. Wearing xs below, fits tts. Cardigan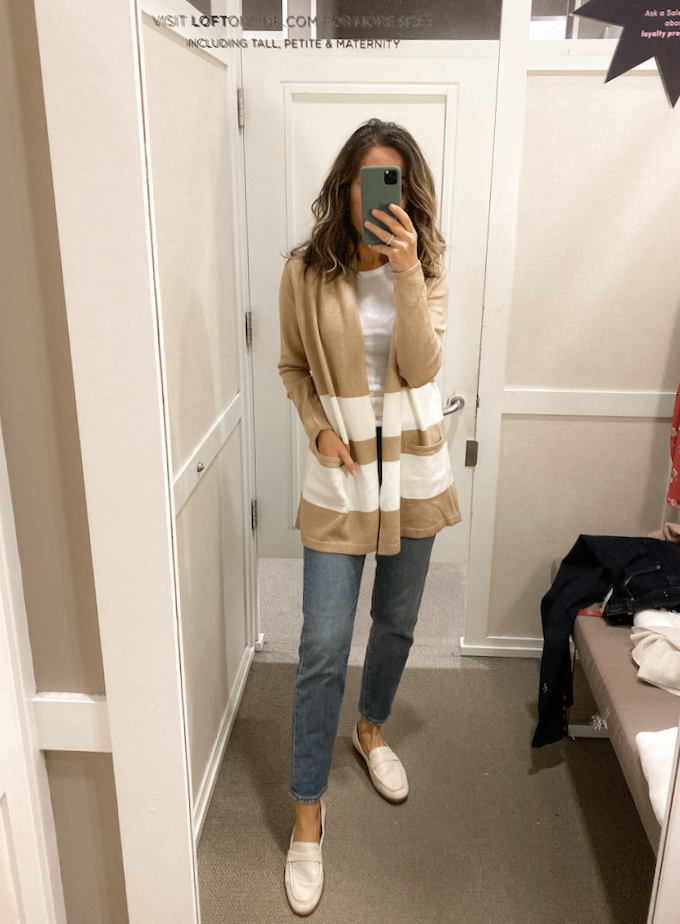 Not sure how I grabbed size XL (I thought I grabbed Small as xs was sold out). This long cardigan reminds me of my Madewell cardigan that I got 2 years ago and it's still one of my faves (so similar). One reviewer said it's really thin but I wonder if she was confusing it with this one that IS super thin. Long Cardigan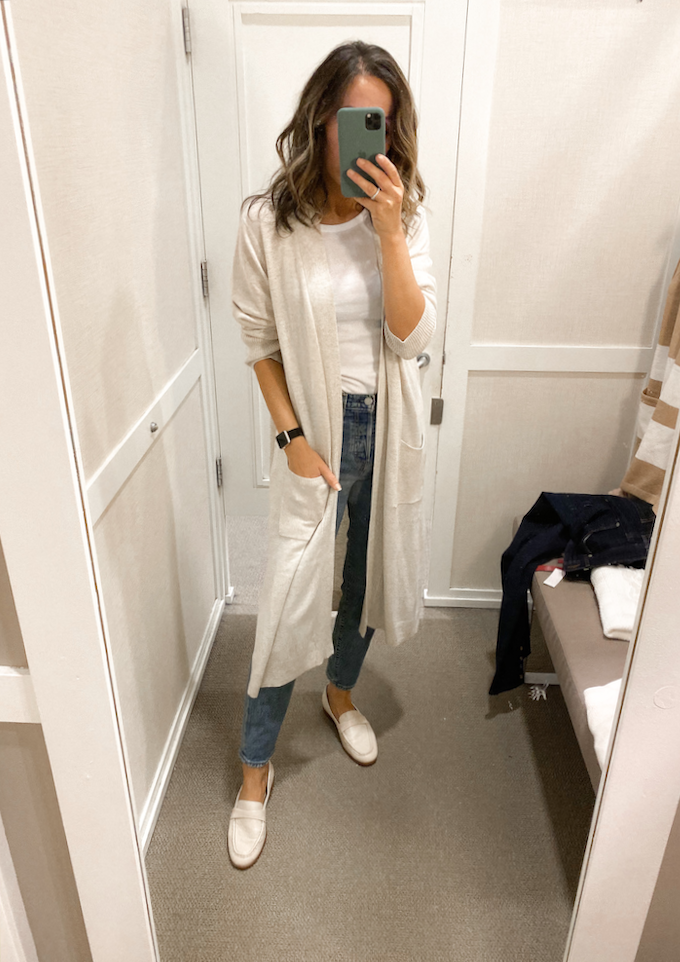 Pretty color for Fall. If you like wearing your tops over your jeans or leggings, this blouse is great. Wearing xs below, fits tts. Tunic blouse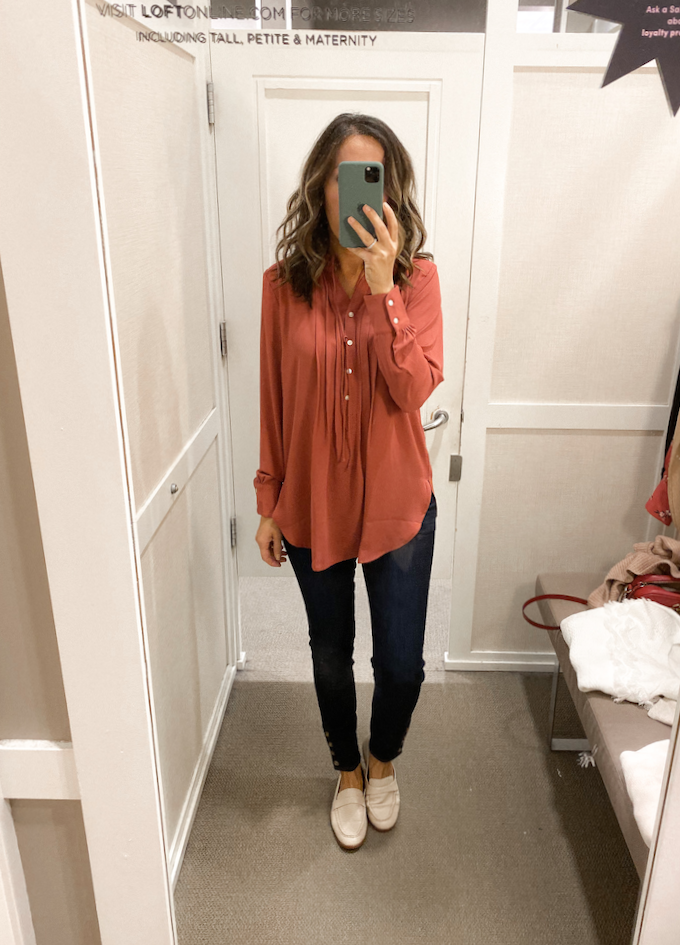 This blouse was also pretty. Long enough to wear over leggings too. I prefer mine tucked in most of the time but below this pic is how long it is untucked. Tie neck tunic in xs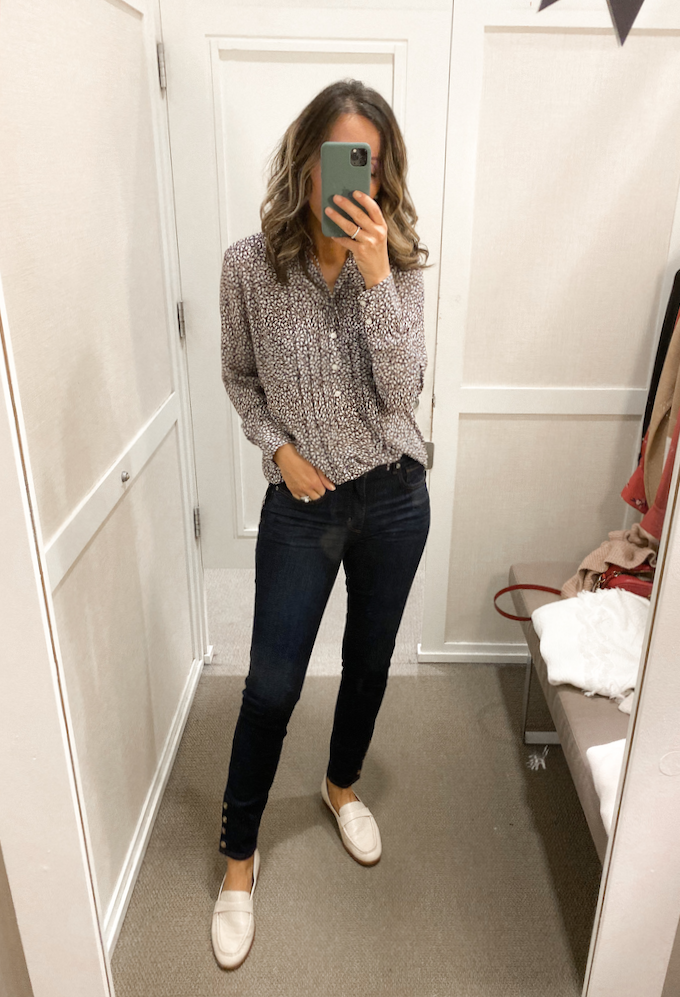 Untucked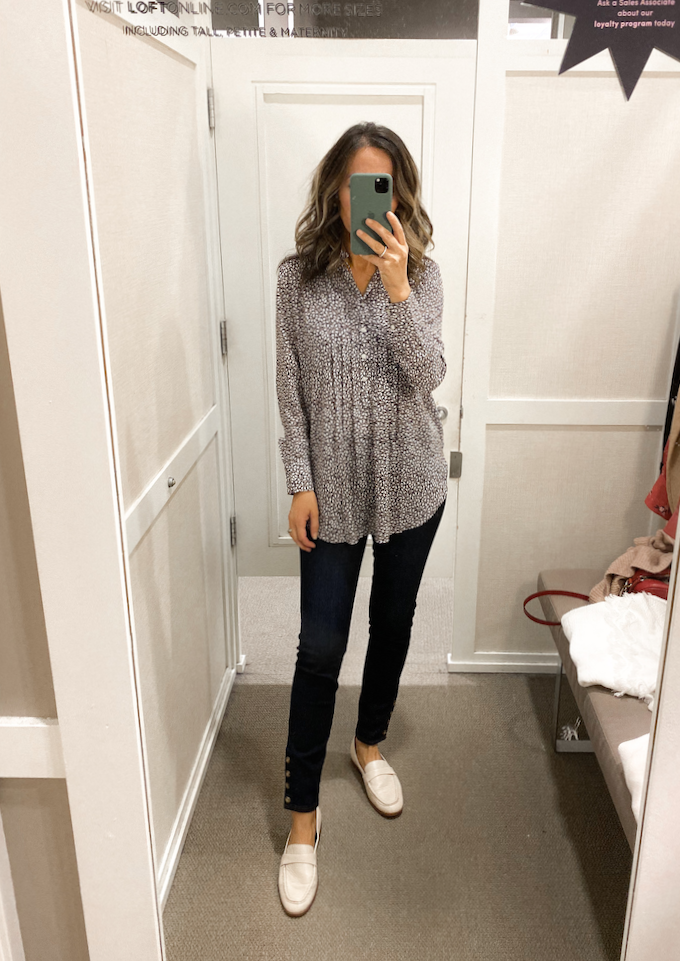 Another blouse that is prettier in person. Cuffs were just a tad tight. Tried on xs below, fits tts. Floral Blouse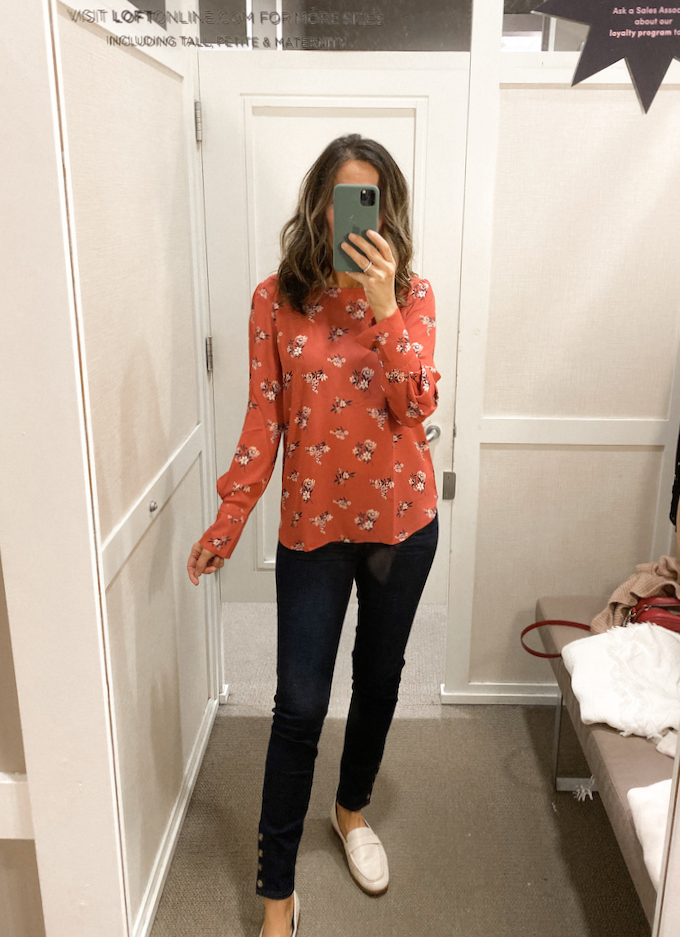 This blouse was much prettier in person. Tried on xs, fit tts. Floral Blouse
Below are a few more of my picks (didn't see them in store)
Have a great day!