I've been sitting on this for a month and finally decided to finish it up and share. You might have already seen these pieces months ago in my Style Staples Shop but also most of these on me styled many times.
A lot of the pieces below are the exact pieces I own, which I've acquired over years, and a few other ones are similar to mine. They're the key pieces in my wardrobe (some work for all seasons and hence get a ton of wear). A few, like the bags, have been on my wishlist for quite a while.
These are all classic, functional pieces you can wear for years. You should not skimp on quality on key pieces in your wardrobe. They should be durable and well made to last you for years and years.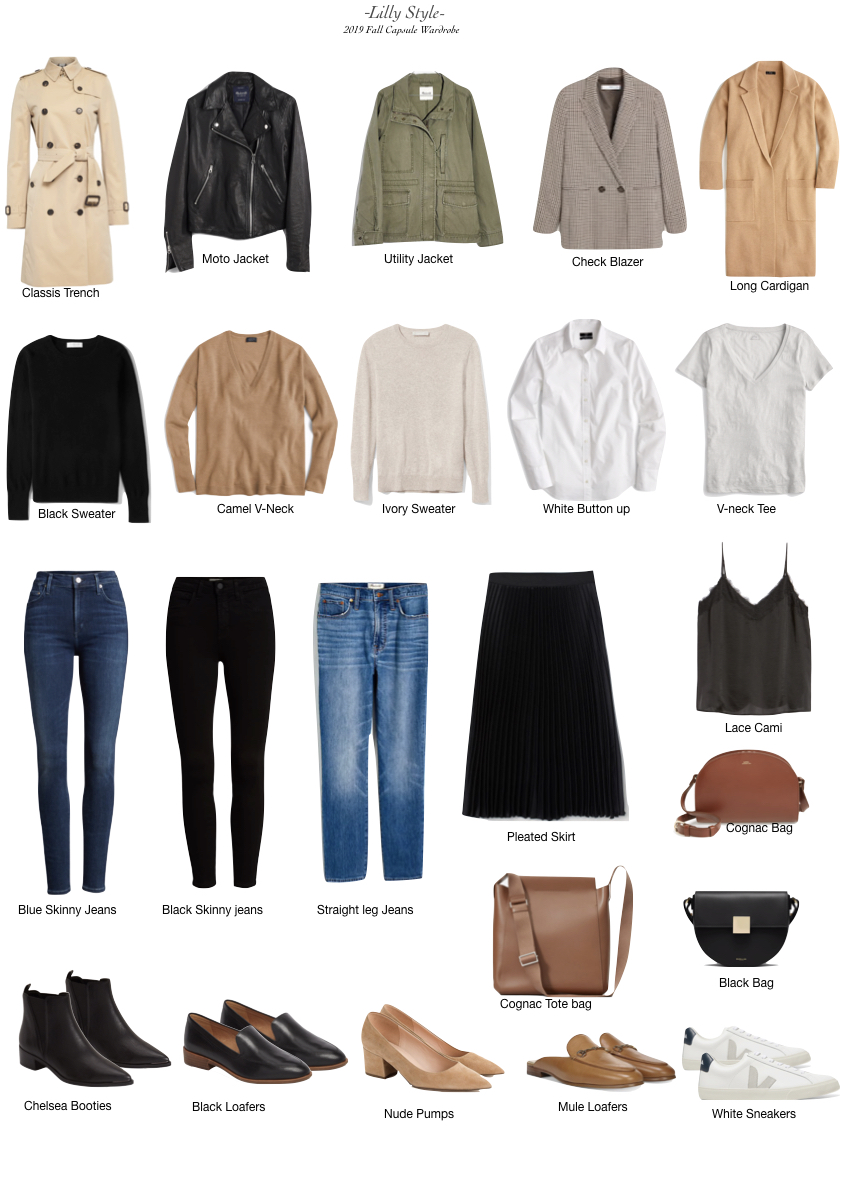 Trench Coat | Moto Jacket | Utility Jacket | Blazer – you can go with a classic black blazer | Cardigan | Black Sweater | Cashmere V-Neck Sweater | Ivory Cashmere Sweater | Button Down | Lace Cami | Dark wash jeans – one of my most comfortable jeans | Black Skinny Jeans – also very comfortable | Cropped Straight Leg Jeans | Pleated Skirt | Small Cognac Bag – also love this one | Black Bag – also love this one | Medium Cognac Bag | Chelsea Booties – my favorites for over 5 years | Black Loafers tts – also added these loafers to my collection and LOVE them. Super soft leather | Nude Block Heels tts | Cognac Mules | White Sneakers
Like I mentioned, these are my key pieces and not my full Fall wardrobe. But these pieces get the most wear year after year. I have a few favorite booties and they're all 'Chelsea Style' booties. The ones above I've had the longest, starting out with a pair in black suede before I got them in black leather. And year after year they continue to be my favorites. Linking everything below, as well as some additional options for each category.
Jeans (I can't believe I forgot to add my old fave Mother jeans above)
Sweaters
Some great bags that fit different lifestyles…
Shoes
Outwear
These are all my feel-good pieces and they're timeless you guys! Plus it's very hard not to look put together in these items.
One of the stores that has become my favorite is Everlane (my first item from them was over two years ago and each piece I've purchased from them I've loved and still do). They carry so many classic and timeless pieces and I love their transparency. Some other favorite are Madewell, Mango, H&M.
What are some of your Fall must-haves?