While the leaves might have not changed yet (some have), the temps are very much Fall-like. September and October are my absolute favorite months here in Michigan (and not only because I was married in one and born in the other 😉
I'm trying to embrace every season, even though I might have slightly complained about the cooler temps end of August haha. But at this point, I'm enjoying it fully and soon all my sweaters will have to come out of hiding.
Speaking of sweaters, the long sweater cardigan below is the latest addition in my closet and I could not happier with it. Long cardigans are a must-have for Fall. There are a lot of options and styles out there, just get what best suits you.
I've purchased two long cardigans/coatigans from Madewell (one last year one the year before) and have gotten so much wear out of them that getting this one below was no brainer (didn't have this color). It's more of a coatigan as it is heavier than most cardigans but not as heavy as a coat. Perfect for the transitioning temps.
While I do like slightly oversized pieces, I sized down in this one to xxs (I go the xs as well to try and it was just too roomy for my liking). It's just oversized enough, it drapes nicely and it has nice weight to it.
Long Cardigan in xxs | Madewell tee in xs, also here from Nordstrom | AG jeans tts | Block heel pumps tts | Mansur Gavriel Bucket Bag | Necklace set, Bar necklace
Current J.Crew promo is up to 40% off w/code SHOPMORE
Some of these pieces I'm sharing here can be found from multiple retailers (same price unless someone is running a promo) but since I prefer fast shipping, Shopbop has the fastest shipping (it always drives me crazy when I have to wait 10 days to receive an item that's coming from a few States away. I guess I'm not patient enough when it comes to waiting my packages hah).
I recently got a new bar necklace as mine is about 6 years old and it's on it's last leg (I don't shower with it on so it lasted a long time, so unless you get a gold or silver necklace, keep it away from water). Gorjana pieces are some of my favorites, including this new bar necklace (hope it will last 5+ years like my old one that I wore almost every day, alone or layered).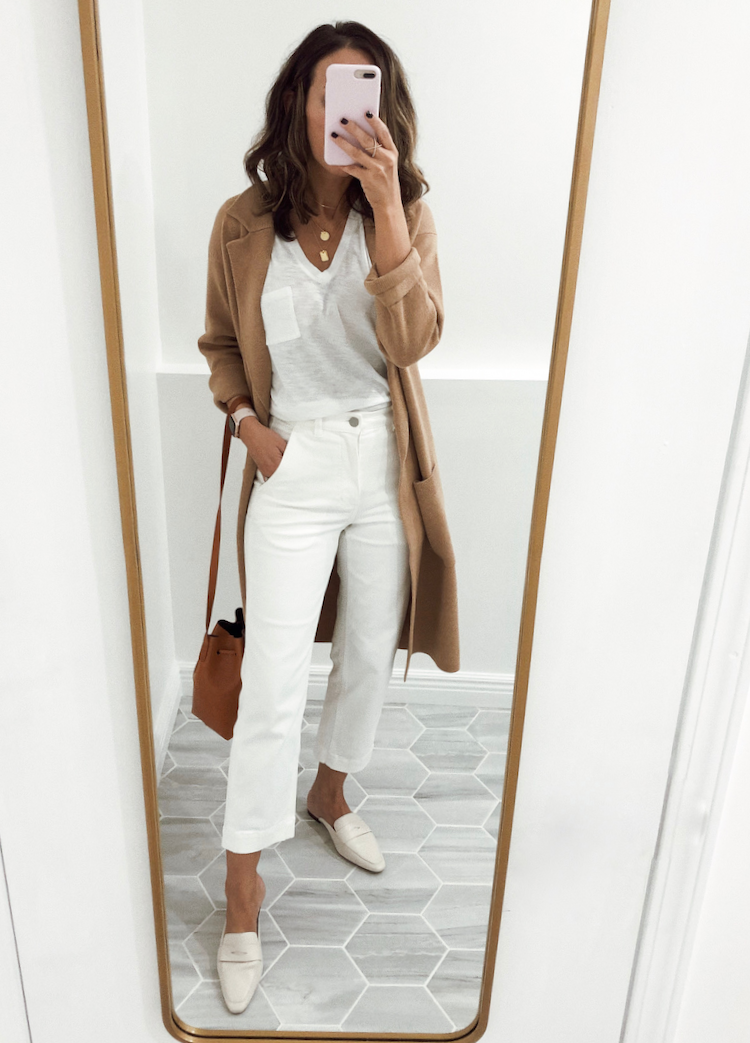 Long Cardigan | Madewell sleeveless tee | Everlane pants in color Bone (avail in more colors) c/o | Old Loafer Mules – great options here, here, here and here | Bucket Bag | Necklace set, Bar Necklace
Below is a closer look at the necklaces…
The next two dresses are…so gorgeous. One of the things I really love about each one is the subtle prints…since both can be very loud prints in many cases. The leopard print especially can be a tad much, but not on this dress. Same with the snake print dress below….both are subtle prints.
The silhouette on this dress in so feminine and beautiful. I'm so glad I got this one as I would have had major regrets if I left it behind. It will transition nicely into Fall and Winter.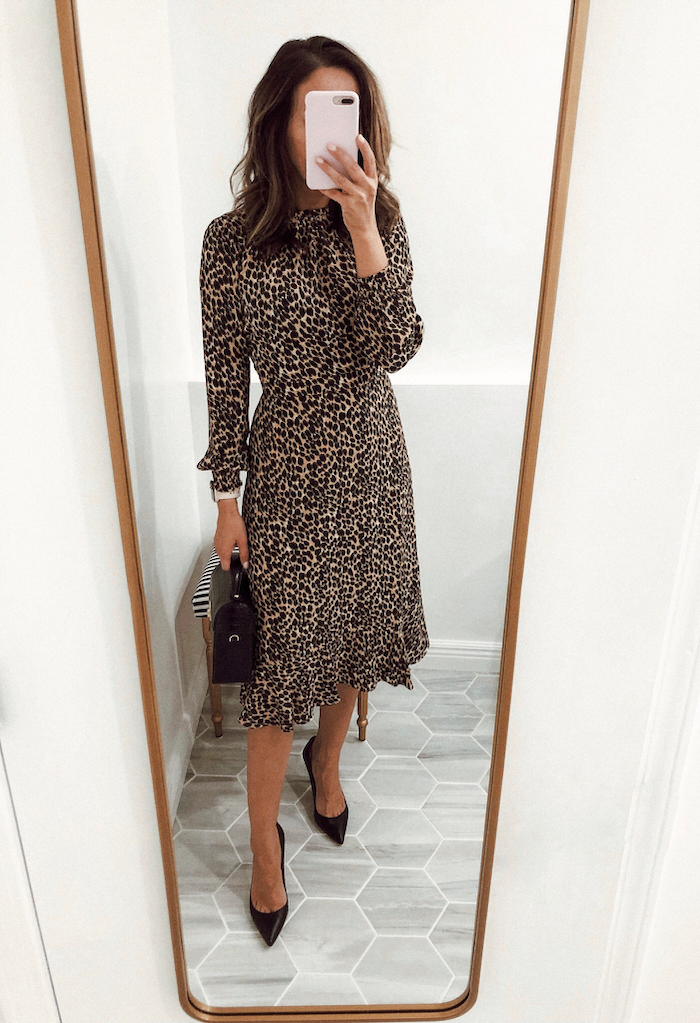 Leopard Print Dress in size 0 – on sale | Pumps tts | Bag Mango (old) – love these new styles here and here
I didn't get this dress the day I tried it on at the store (this one came home with me that day). But I kept looking at the pictures I took (as seen in these fitting room snapshots) and just loved it too much not to add it to my closet as it be worn year round. So I ordered it online (I don't know how this dress is not sold out yet). It's classy, feminine and it drapes in a flattering way (nicer in person). And it's lined and it has pockets…bonus points there. I'm excited to pair it with boots, like these ones that I ordered (now 40% off) and really hope they work out (circumference is always an issue when I shop for boots but these looked promising. I've been looking for this color and style for almost 2 years. They're always too wide around my legs and I don't like that. Will keep you posted).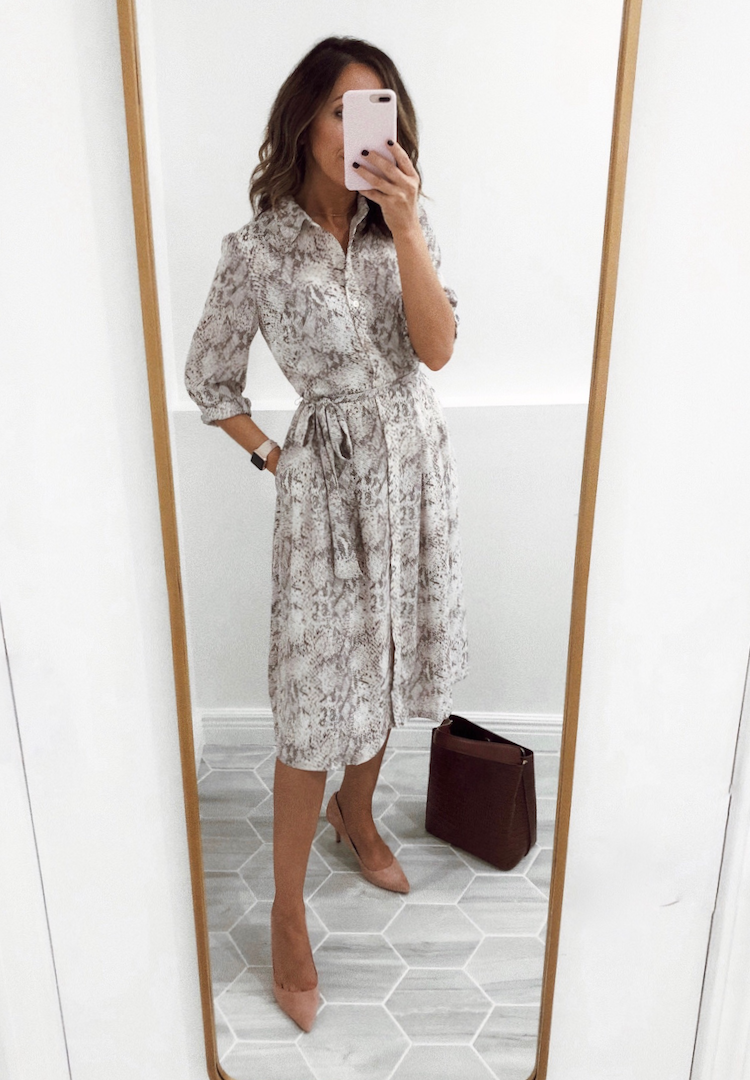 Snake Print Dress LOFT in size 0 – on sale + extra 40% off | Ann Taylor shoes (this color not avail. but the 'spiced chair' or 'baked pecan' colors would be perfect) | Bag via Nordstrom – now 50% off | Bar Necklace
It's September and my "do I really need this?" or " am I going to reach for this over a similar item in my closet? " when shopping has been going pretty well (compared to prior years. Much room for improvement left). This last questions especially has helped me so much. The pieces I did get this year, for the most part, have been pieces that I've reached for over and over again and will/can see myself wear for many years (not counting some pieces that might've been gifted by brands). Simple, classic and timeless pieces is where it is at y'all. And a lot of neutrals that can be paired with a lot of other naturals haha.
Current sales:
Banana Republic – 30% off or 40% off $200+ no code needed (exclusions apply. Extra 10% off for cardmember w/code BRCARD) – latest fitting room snapshots
J.Crew – 30% off full priced styles w/code SHOPNOW
LOFT – 40% off full priced pants and jeans – latest fitting room snapshots
The pieces in the outfits above will be in heavy rotation. Let me know if you would like to see any of them styled in more ways.
As always, thank you for reading! xo