It's been a minute since I've been to a LOFT store, mainly because I haven't been liking much of their stuff, but after seeing some of their new arrivals I made a quick stop. Just heads up – the sale is way better online than in store. Two jacket blazers I really liked are only 30% off in store and 50% off online. I don't know about your local LOFT store, but my local Loft never is never willing to honor the online promo which has been better many times (the only store I shop at that doesn't do it. And I really hate when stores do that. Don't they want people to shop more in stores?). But with current free shipping it's a no brainer. I only got one sweater in store since it was same promo as online.
Almost everything is 40% – 50% off with FREE SHIPPING!
I saw this sweater online and thought was nice, but once I saw it in person I fell in love. It lookS pricer than it is…more like a $$ designer piece. I decided to get size Small in this one for a slightly relaxed fix (which is what I tried on below). Definitely recommend this one, the details are so pretty!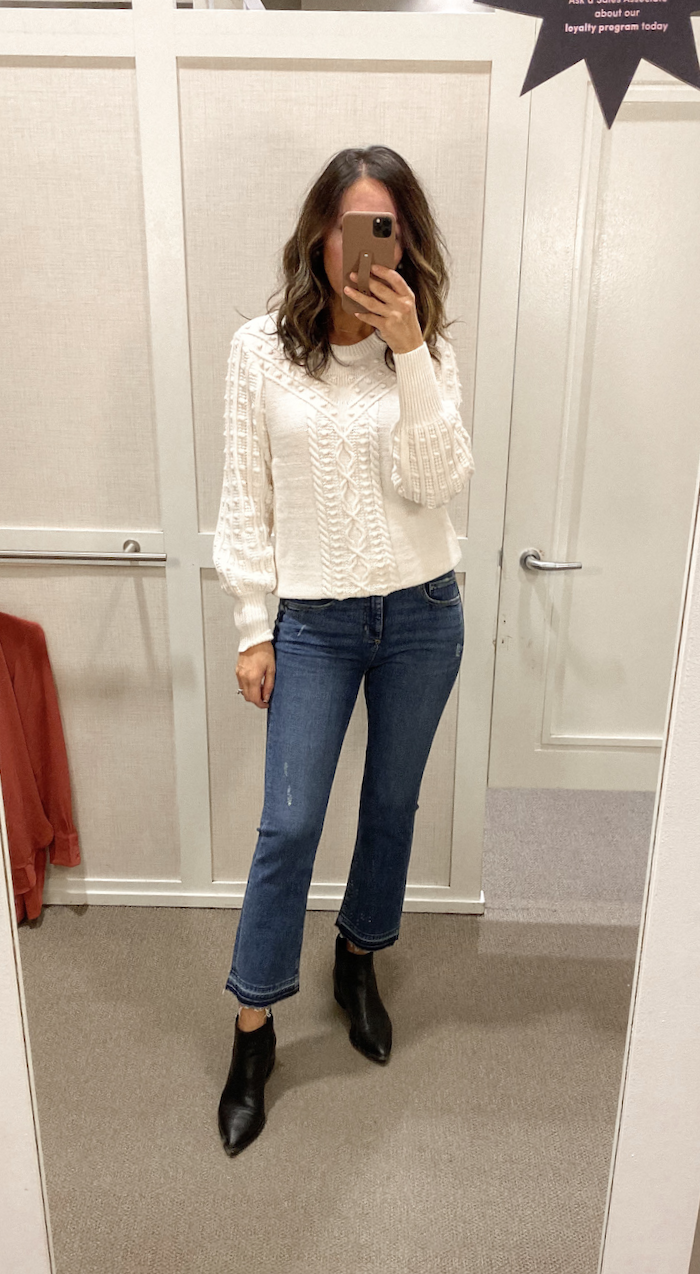 Bobble Cable Sweater in S | Jeans tts | Booties tts
These jeans are so cute and I'm always a fan of raw hem. Tried my usual size 26 and they fit tts.
This is the blazer jacket, one of three, that I love (and it was only 30% off in store but it's 50% off online). It's on the thicker side which would made it a nice jacket for Fall and Spring. You could wear it under coat in Winter but your coat might need to be a tad roomy. I tried size 0 below and it fit tts. It would need to be a size bigger for thicker sweaters underneath. I have something fairly similar to this one, so I made the hard decision not to order it (see that self-control lol). Plaid Tweed Blazer
This was the second blazer jacket I really like. It's similar to one above thickness wise and just as chic. Same on sizing as the one above. Tweed Modern Long Blazer tts
Love this blazer as well, which is 51% wool. The smaller size available in store was size 4 but I had to try it on even if it was too big. Much nicer in person, and quite chic and versatile. I'd get my usual size in this one, 0. Melange Double Breasted Blazer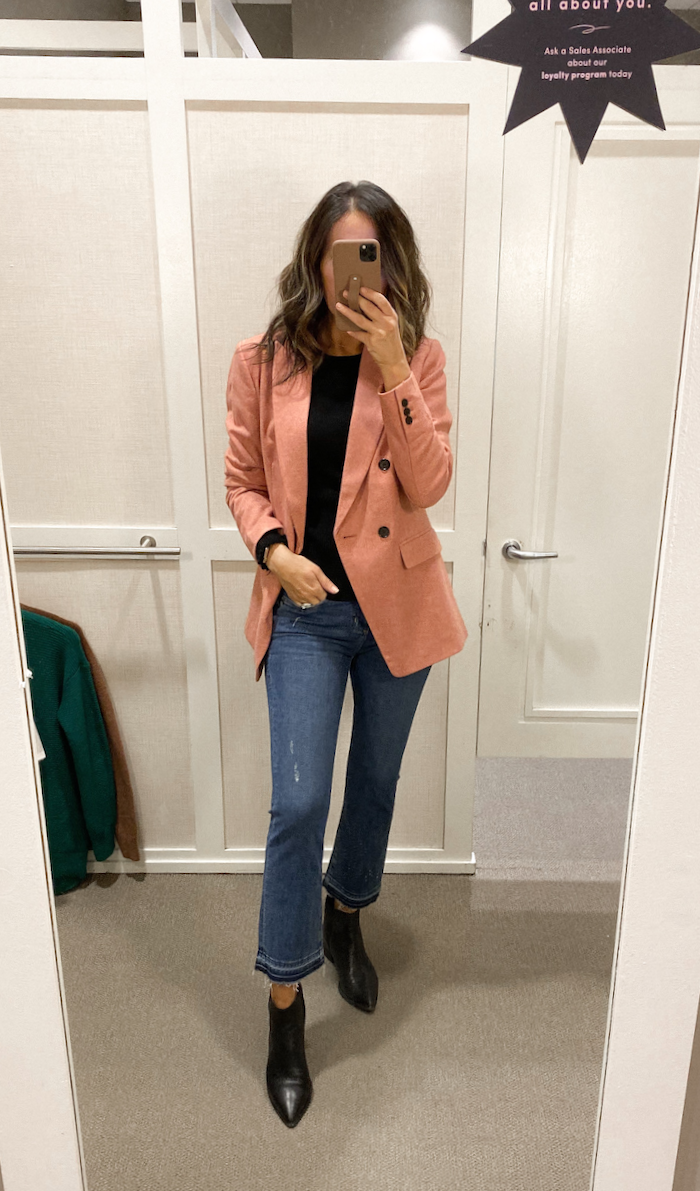 While I personally would wear longer sweaters with leggings I just ended up keeping these faux leather legging on with this sweater….which is kinda cute. I grabbed size xs but I think I would prefer it a size bigger for a more relaxed fit. From some of the leopard sweaters I've seen recently in similar price range, this one is one of my favorites for sure.
Now these leggings…I loved the thickness of these and the way they looked. IF they were high-waist they would be perfect. But they're not sadly. And I just don't love the lower cut bottoms anymore. I was able to wiggle on size xs but I can't say that they felt comfortable (maybe again because the waist, just felt really odd for some reason). Leopard Print Sweater | Faux Leather Leggings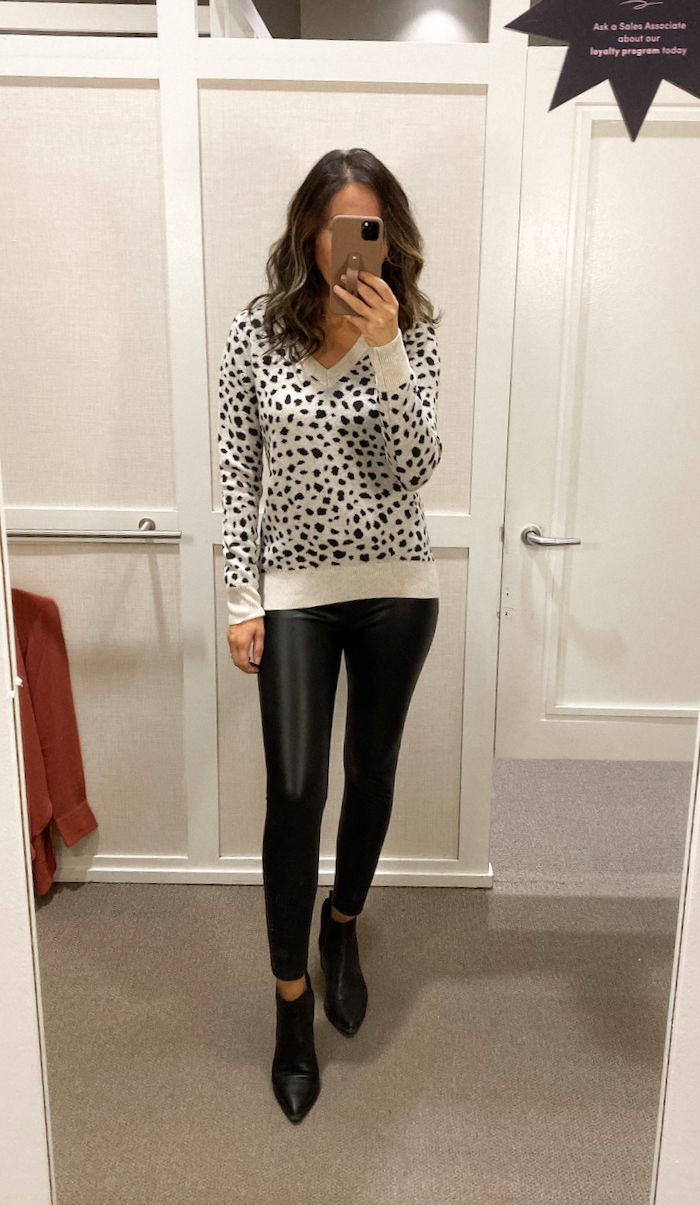 This is the sweater I shared on my Instagram yesterday in the lighter color (I also have it in black). It's a soft and cozy cowl-neck. The green below, which is in size Small, is much more beautiful in person (my black one is small and beige one xs). Size small is just slightly more a relaxed fit. Cowl-neck Sweater
I loved the color of this sweater and decided to try size Small for a relaxed fit. I'd probably do the front tuck with jeans (like with more of my sweaters 🙂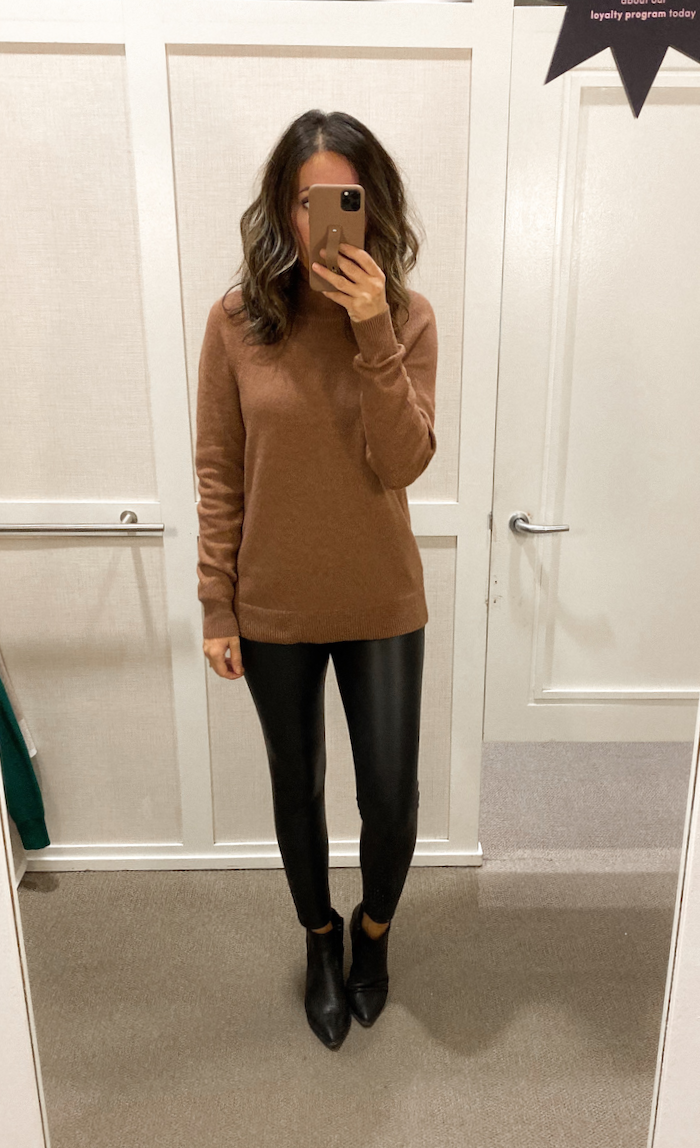 This sweater is much cuter in person (you can see the details better online). It comes in 3 more pretty colors (I didn't see the dark maple online, but all are so pretty). Pointelle Ribbed Sweater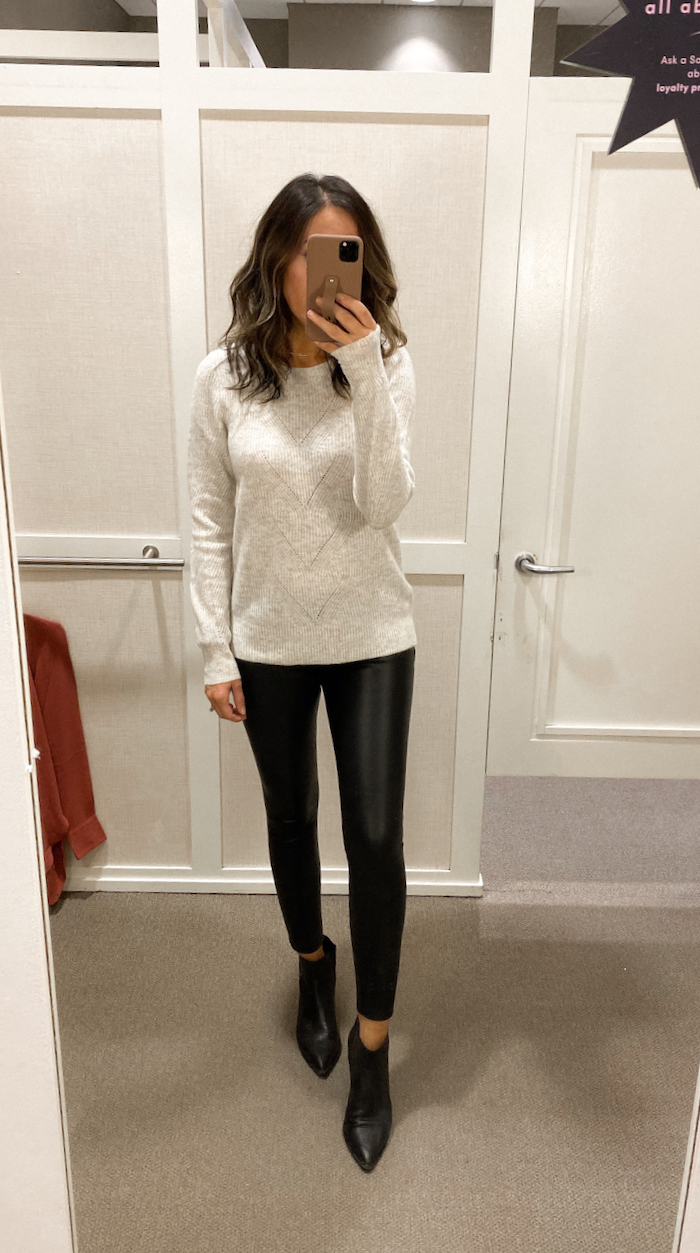 Loved the colors of this poncho wrap! I threw is over what I had on at the moment, but you can really style it with so much. Great for a extra layer of warmth. Poncho Wrap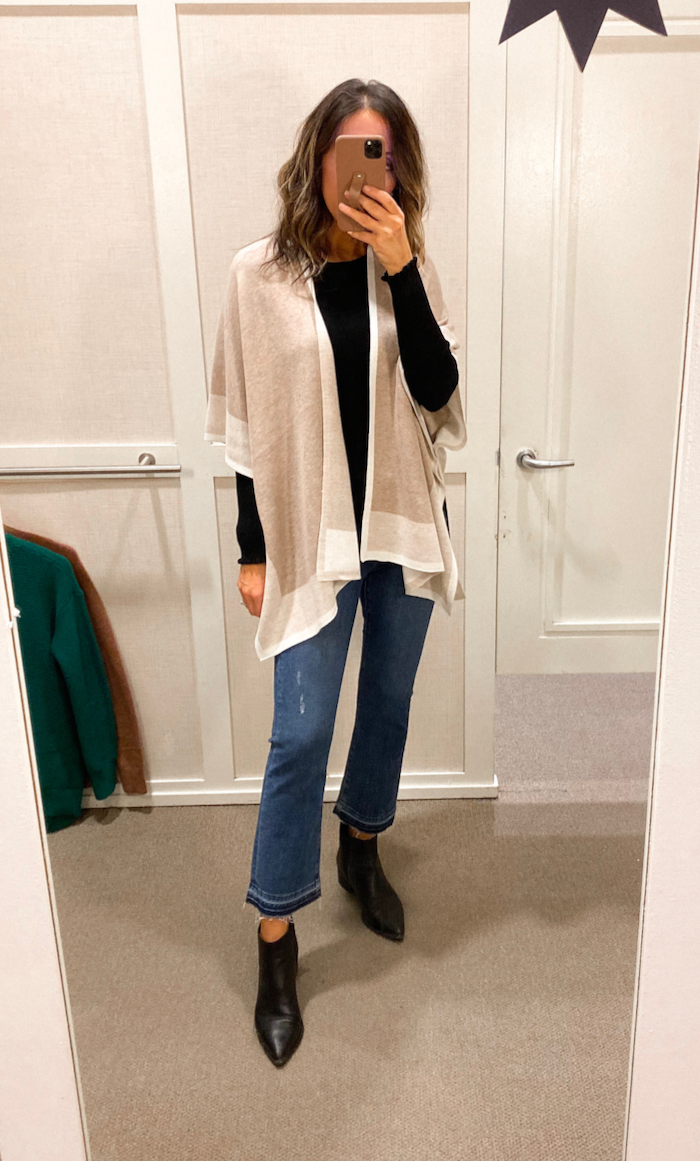 We all know Lou and Grey has soft and cozy lounge wear and these joggers are no exception – they're so soft and cozy. I tried size xs below. Softblend Sweat Pants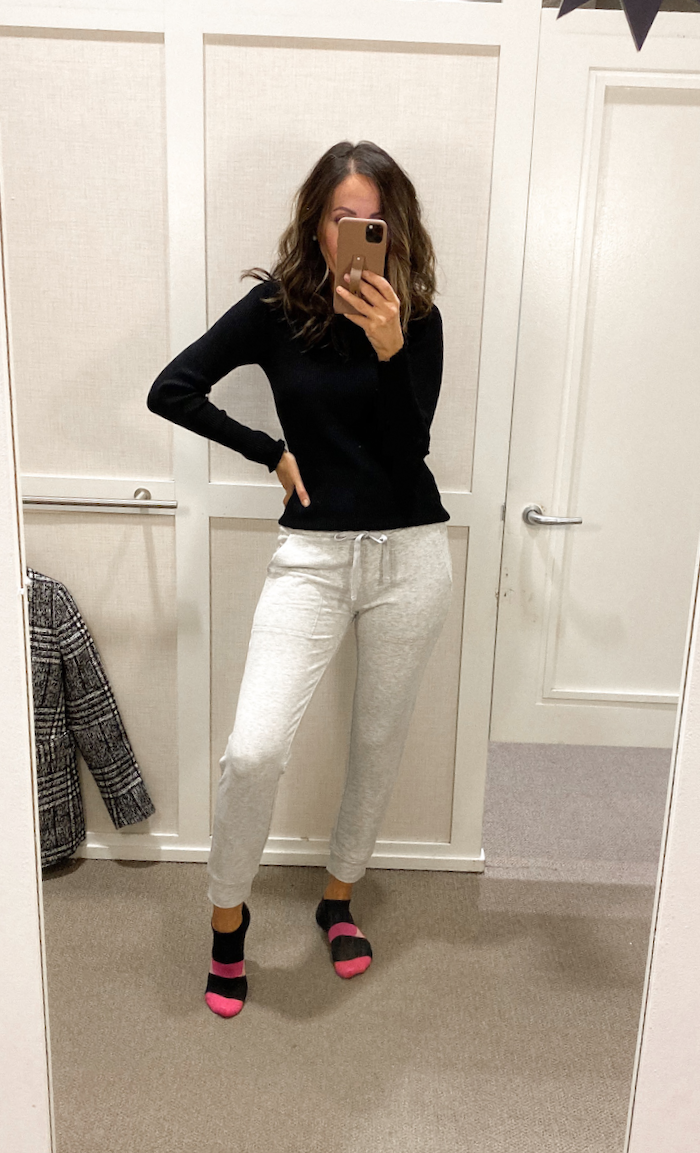 I saw this coat in store (only L and XL were left), but I'm glad I got to see it. It looks really nice but it's fairly thin and not lined. It's great for not so cold Fall days and it would be perfect for Spring. Or if you live where Winters are pretty mild.
My other picks: