Happy Friday!
You might have seen this sweater, which I forgot to take a good picture of, on quite a few bloggers. While I really don't like having pieces that every single blogger has (even though this sweater is not quite one of those pieces), Everlane is one of those retailers that many of us shop at for good reasons.
I loved the stitching and the style so I decided to get one. It's a versatile, classic sweater. I got size XS and love the fit. It's slightly relaxed but not big. If you want it oversized, go up one size.
I got this Burberry jacket a few years ago. Another piece that I'll have until I'm 80 years old (as long as it fits haha). But it is a classic. This color is not available at the moment, but I found another pretty green. There are a few great quilted jacket that I'd totally recommend for a lot less. I love this one, such classic number, but I'm linking a few other amazing options under the last picture.
My booties are also a few years old and I just love them. I've found a pair that looks almost exact (I saw them in person and when I say they look almost exact, they really do).
Ever since I got this bag, it has been my daily go-to bag. I've been wanting this color for years, but finding exactly what I wanted in a certain price range was kinda hard. Until I saw this one. Perfect color, style and size.
There are a few bags that I have been eyeing for over a year. They are all in a similar price range which actually made it hard to decide which one to get. I still would like to get one of them, but this beauty came along and it was a lot cheaper than others so I got it.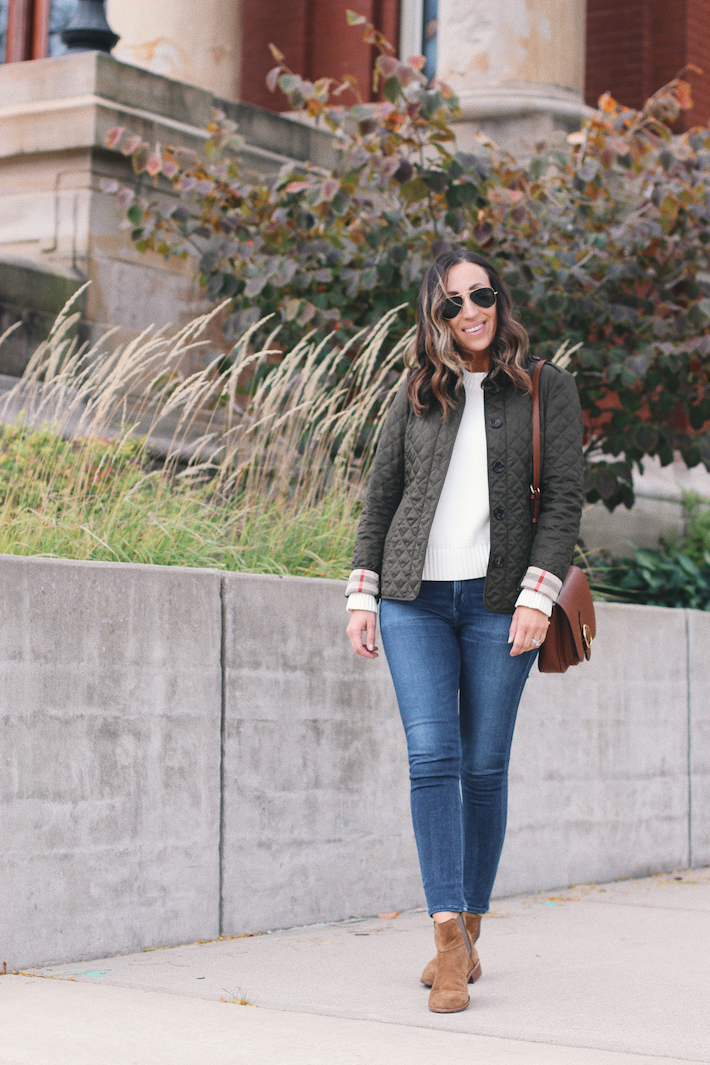 Burberry Quilted Jacket –similar green, similar for less , another great option, love this style | Everlane Sweater in xs | COH jeans | Saddle bag | Suede booties (old) – similar style
Have a great weekend!