It seems like it got cold too fast, but I'm not hating it (I'm going to call these temps "heat wave" come Jan/Feb). It hasn't been really that bad. Whatever the temps, embrace it and stay warm.
There is no shortage of great cold weather pieces. I tend to eye the same ones or very similar styles #IlikewhatIlike. Most of these are currently part of some type of promotion. Mango is having 30% off until 11/11. I love the brown teddy coat below, which is part of the mentioned sale. Number three below is soft and cozy. I got one last year and I got another color recently (it comes in multiple great colors. I got Small).
I'm so happy to see that the Nordic Boots are back (#13). I got them last Winter, after a year of eyeing them. Wish I had purchased them sooner. They're warm and cute!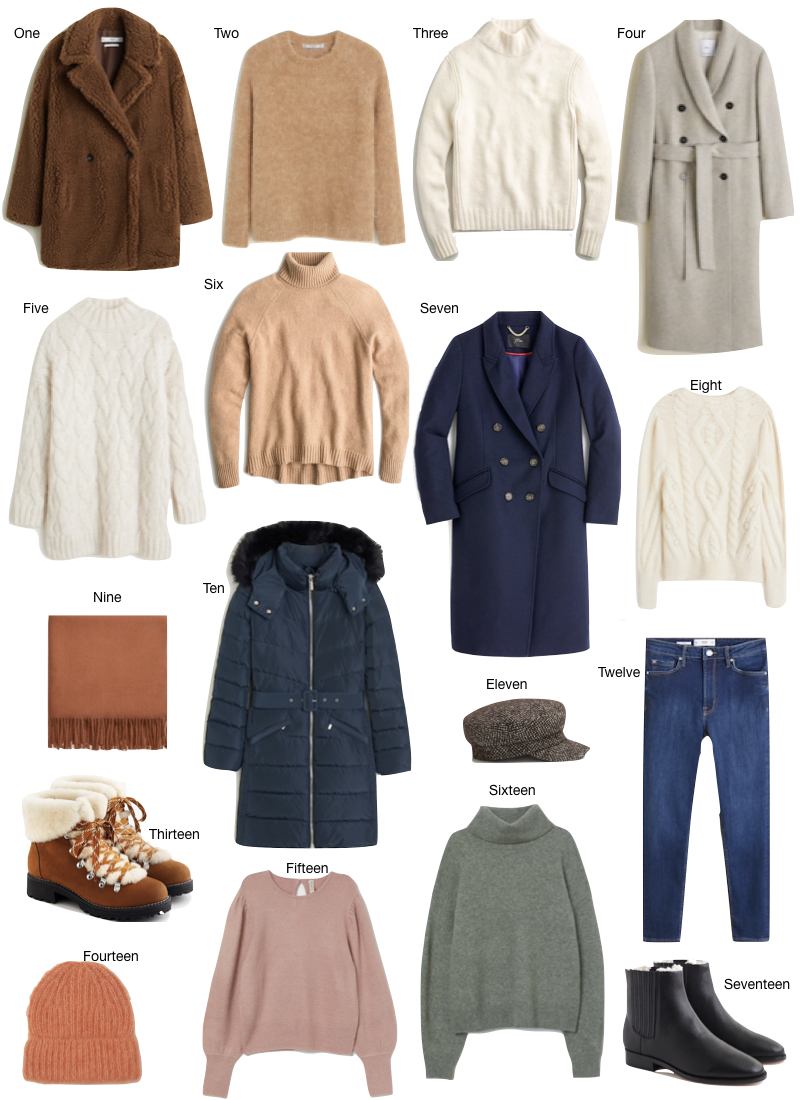 One | Two | Three – I have size Small | Four | Five – I have last years version | Six
Seven | Eight | Nine | Ten | Eleven | Twelve
Thirteen – full sizes only. Size up | Fourteen – I have this one in the light color but want them all. It feels so luxe | Fifteen | Sixteen | Seventeen
J.Crew 40% off w/code FAMILY for Rewards Members (free to sign up. You get free shipping on your orders, earn points and get rewards) otherwise 30% off w/code FRIENDS Exclusions apply.
Mango – 30% off ends 11/11 Code: SHOPPING19
This is not style related, more like home style, but it's such a good sale that I had to share….
World Market – 40% off furniture – such a good sale! I love their furniture!!! I've been on the hunt for a nice office chair and I have had the hardest time finding one. I like a couple but they're $$$. Since I change my mind way to0 often, and tend to be indecisive, I didn't want to spend a lot. World Market has so many great options, especially for the price. I initially ordered this chair, which is so beautiful, but I realized that I didn't want a moveable base. Then I saw this chair, which I love, so I got it. It will be my "temporary "chair, which can mean temporary for a few years. Or months. Who knows. I love the look of it, and if it stops serving as my office chair, it's a nice looking chair that I'll keep for a different location in our house. And at 40% it was a no brainer. I haven't been able to find anything I liked at this price range. I purchased it online for in-store pick up since they had one left (and I have tried it a couple of weeks ago, seems very comfortable).
Below are some pieces I LOVE (I had to narrow it down haha)