Sharing some new Ann Taylor arrivals and there are a few pieces I'm really excited about. I'm also sharing two coupon codes with you at the end of this post, so don't miss that.
Also, check out my previous Ann Taylor try-on post.
Before I start with the try-on pieces, I wanted to share this outfit I wore on Monday. I'm surprised this coat is not sold out by now! It's such a classic and timeless piece and it's easily dressed up or down. Runs tts, I'm wearing xs. This coat made me feel polished on a day when I was a mess hah. But the amazing loafers helped too (seriously guys, they're so comfortable and the leather is very soft). Some of you messaged me saying you have these in multiple colors and I can totally understand why. They're amazing!
Mine are from Shopbop and the color is Saddle. I've noticed that Nordstrom has this color as well but the hardware is different. The hardware on the ones from Shopbop look daintier to me. And I just wanted to show you this coat again haha…but now you know more about the loafers too 😉
Houndstooth Coat in xs | Jeans | Loafers | Bag
Everyone loves the Spanx Faux Leather leggings and they look great on everyone…except me. The last time I wore mine was in this post and I have not worn them since. I did try them on the other day again to see if by a miracle I might love them on me…but no. I added them to my "Sell" pile. I think I wore them less than 2h total (I did like them with Hunter boots in the post linked).
These, that I'm quite pleased with, are a bit different – they're faux leather in the front but not in the back. Which I kinda love! They remind me more of Ponte Pants than Leggings. There is also a side zipper. They are just thick enough and to me don't look like regular leggings. Thinking about getting the burgundy color that's available….but knowing myself I'd probably just keep reaching for black ones. With that said, most likely I'll just stick to black ones. I tried size 2 below and it fits comfortably. UPDATE: I had ordered size 0 in these and I'm able to fit in size 0 as well. If you are usually size 0 in Ann Taylor Pants I'd suggest getting size 0 (the SA said to keep size 0 if I fit as they'll give in a bit). I mainly feel the tightest on the faux let leather on my knees but I imagine with some wear they'll get more comfortable. Other than that, size 0 seems to fit fine.
Faux Leather Leggings in size 2 | Sweater in size Small | My everyday earrings
I must admit that I liked this sweater better in person…but only once I tried it on. I saw it online and it was nice. Saw it in store and almost didn't try it on but I'm glad I did. I can't pinpoint what I really like about it…but I really like it (and still nicer in person haha). XS was sold out in store, tried Small above and I liked the fit. These types of sweaters I like oversized anyway.
If you're fan on ponchos, you'll like this one. I kinda liked the oversized turtleneck. Wearing xs/s. I really liked these high-waisted jeans (and they got some great reviews). I tried size 2 and first thought I wasn't going to be able to squeeze in them but I did and they fit great. They also some in this dark wash. Probably my favorite fit of Ann Taylor jeans yet.
Poncho in xs/s | Jeans in size 2 |
I like the boatneck on this sweater but I've realized I'm not a huge fan of wide sleeves. At least they're not super long so it's not awkward. Wearing xs below. It fits tts.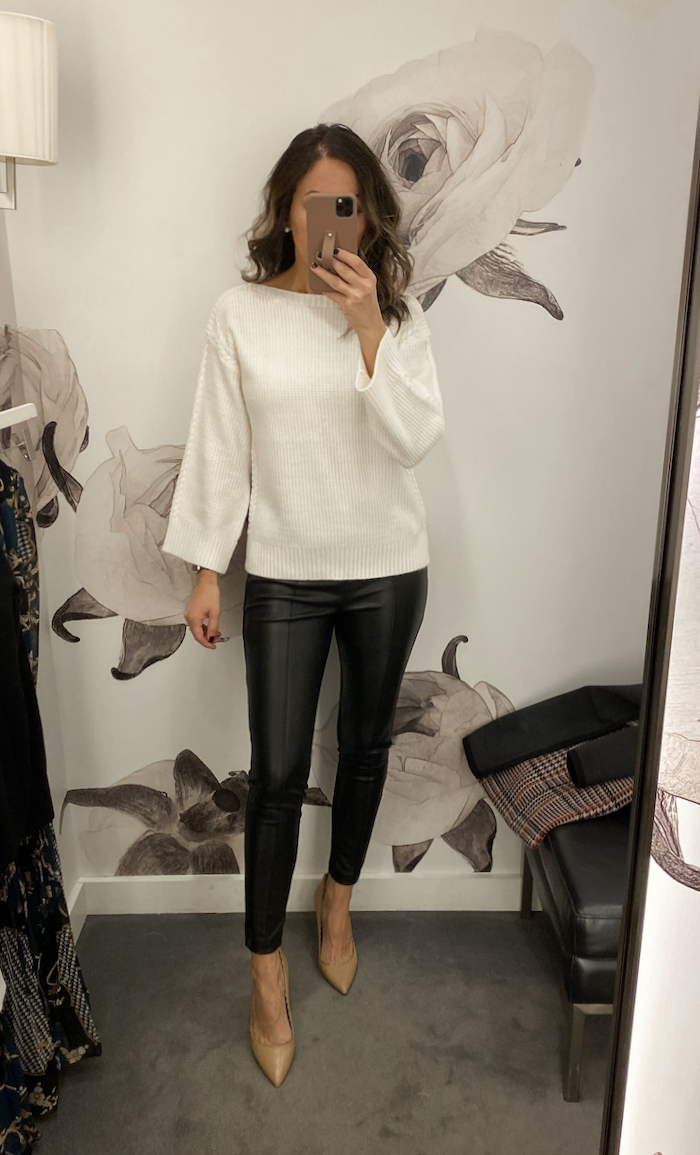 Cable Stitch Sweater in xs
This sweater below with the ruffle collar runs tts. The ruffle collar is such a cute details. Closer look below this picture. I like that the collar didn't feel tight around the neck.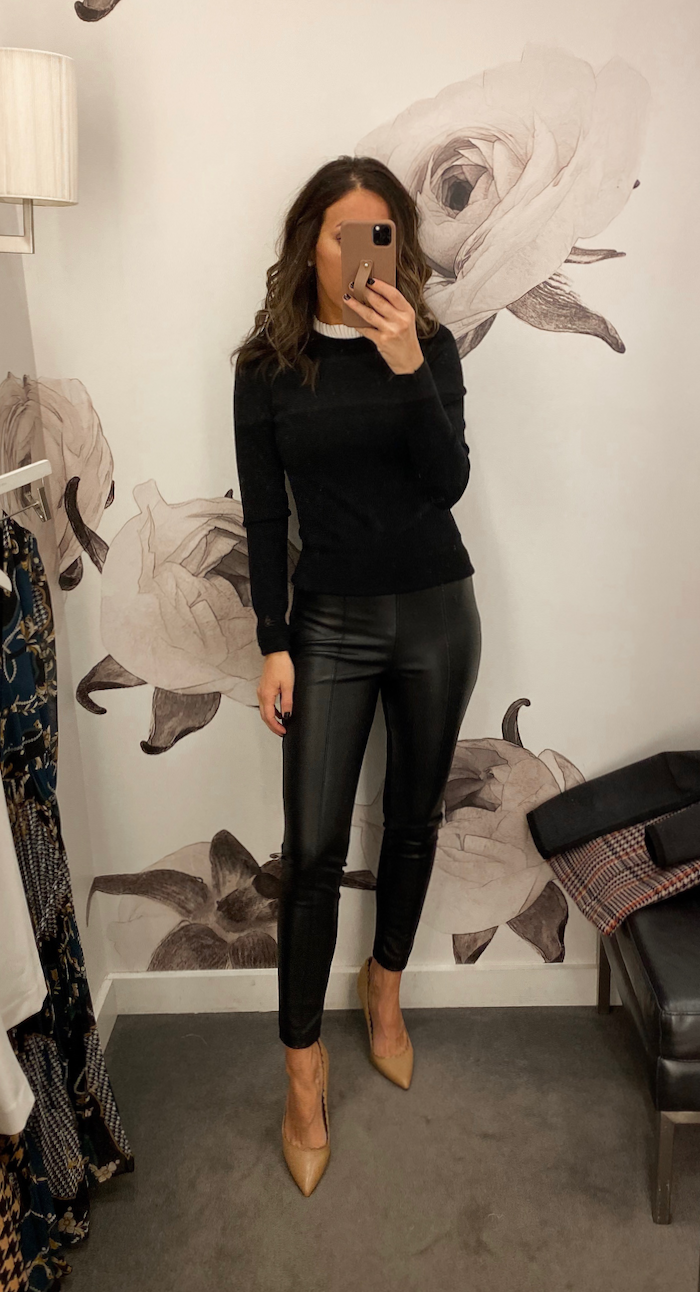 Sweater in xs | Leggings in size 2
Adorable sweater but I didn't like it on me (there is something about collars that looks funny on me).
Skirt below is in size 4. I tend to have trouble in pencil skirts sizing – size 2 a lot of times tends to be too tight around the booty (it fits but not modest) but great on the waist but size 4 fits great on the hips/rear end but it's usually roomier in the waist since I like to wear it high-waisted. If I was getting this skirt I would have purchased size 4. This particular one wasn't too bad in the waist.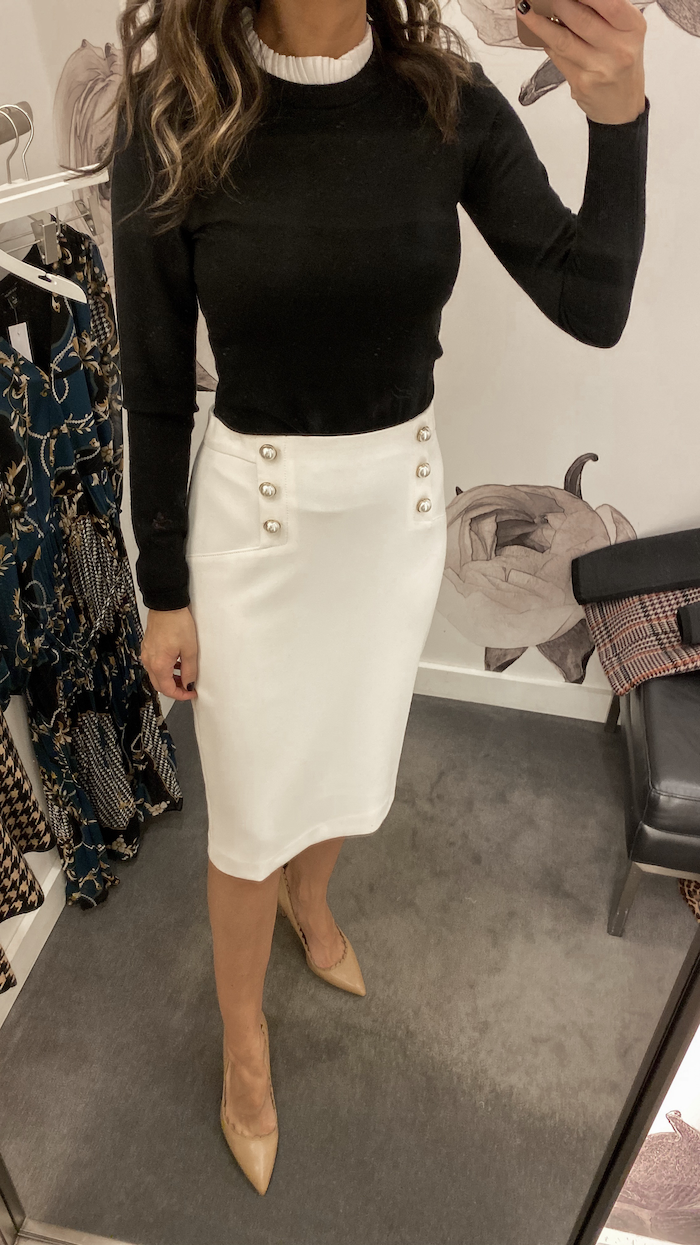 Pearl sailor pencil Skirt in size 4 | Sweater in xs
I loved the style of this sweater! Xs was not available, wearing small below. I think in this one I'd stick to my usual size, xs. It comes in multiple colors.
Sweater | Jeans in size 2
Same sweater as above in a different color. Comes in two more colors. This one is also in sizes Small.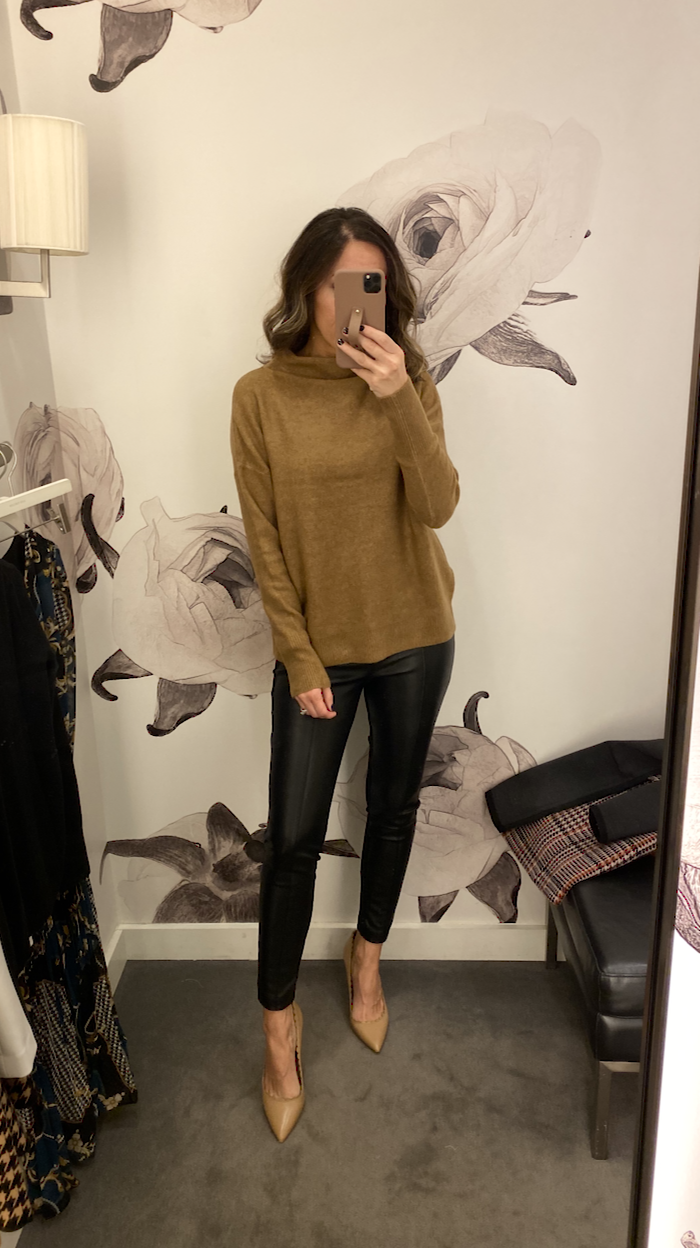 This sweater is also in Small which was too big for this style (a lot of xs sweaters were sold out). It doesn't look like anything special but this one is meant to be more fitted (xs was not available). It actually looks quite cute on the model as it is more fitted on her. So I'd definitely need xs in this one.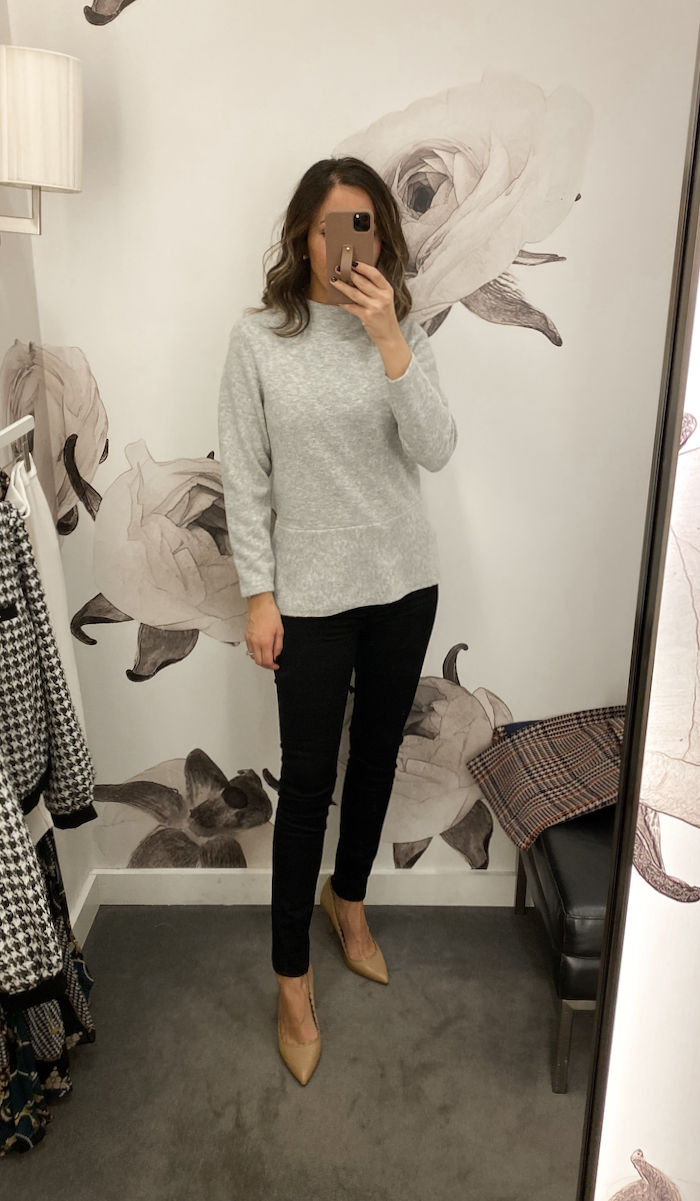 Mock neck Peplum Sweater in small
This long sweater tunic didn't photogram well haha. I'm definitely not doing it any justice. Much nicer in person (and on the model too). Comes in two more colors and it has nice weight to it. Wearing xs below.
Turtleneck Tunic Sweater
This cardigan was on the thicker side, it felt nice. Wearing xs below. A also forgot to take a picture of the short sleeve mock-neck sweater. Great "basic" that looks great and chic on it's own but also layered under cardigans, jackets etc. Runs tts.
Cardigan in xs | Mock-neck light sweater in xs | Jeans in size 2
There was only size Medium available and I had to try it on. I loved the black + white. I didn't grab a tank…hence me holding it closed. It was on the thicker side which I liked…almost feels like a sweater jacket. And at the moment only available in XL online. Cardigan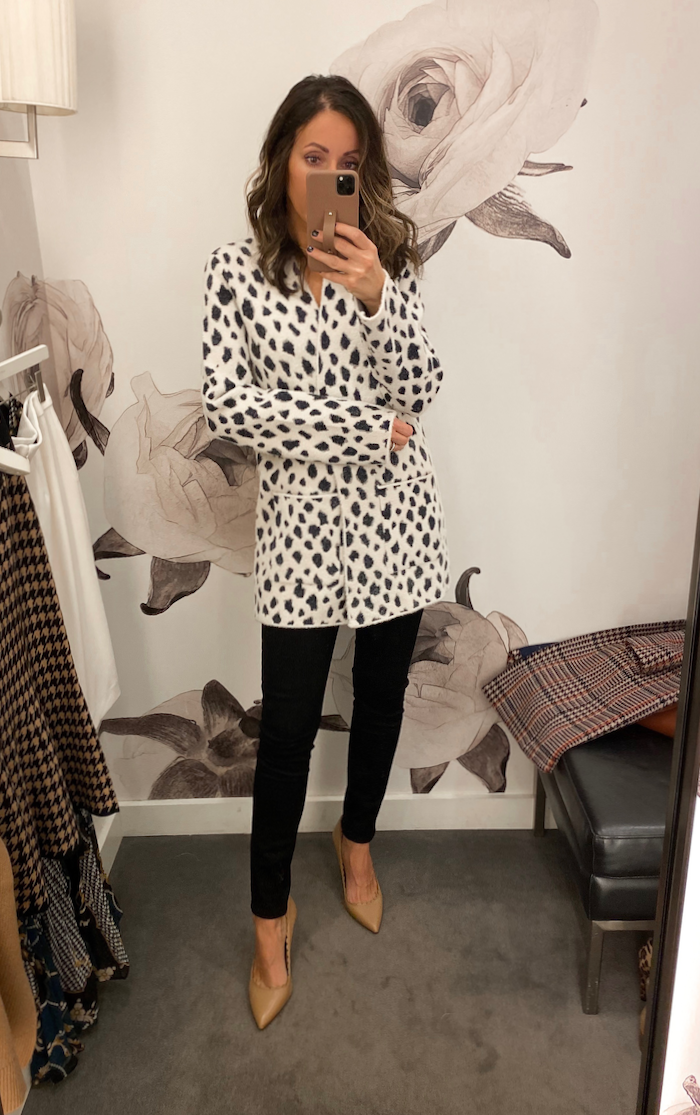 The famous camp shirt in chain print. Easily dressed up or down. Runs tts.
I was happy to see this coat in store. I saw it online when it arrived and really liked the look of it. I'm wearing xs below and it felt a tad roomy but not really too big (if that makes sense). With a thick sweater it would be perfect (I only had the thin, short sleeve mock-neck sweater underneath). Funnel neck is so chic but it doesn't really work well if you wear foundation…I'd have this baby dirty in no time. But worn away from the face (or if you do wear foundation) it's fine. Also adding a scarf underneath would work great. It's quite pretty though and classic.
Funnel Neck Coat in xs
I was glad to see xs in this coat as well…but the xs fit more like Small. It was very roomy (I think it's quite noticeable below).
Chesterfield coat
The smallest size available in this dress was size 4…but I had to try it on. While the print could appear somewhat busy I don't think it's busy in a bad way. I definitely liked it. I would just need a smaller size.
Scroll Pleated Faux wrap dress
Shoe Picks
Misc picks