It's been a while since I shared fitting room snapshots from Nordstrom. A few times I forgot to shareried some things on, so this time I'm sharing a few pieces I I've mentioned before that I'm not a fan of the lighting in their fitting rooms (at least at this particular Nordstrom). It's beyond unflattering. There are ones that are even worse that this one and one that's better
This cardigan was one of my favorite pieces I tried on! It was soft and cozy. The style is pretty oversized, I'm wearing xs below. You can definitely size down. I liked it better buttoned with front tucked in, it looked more polished…and less oversized. It's too low cut to wear alone but a lace cami looks really cute underneath (lace cami is in xs). My jeans are tts and my go-to Booties are now 25% off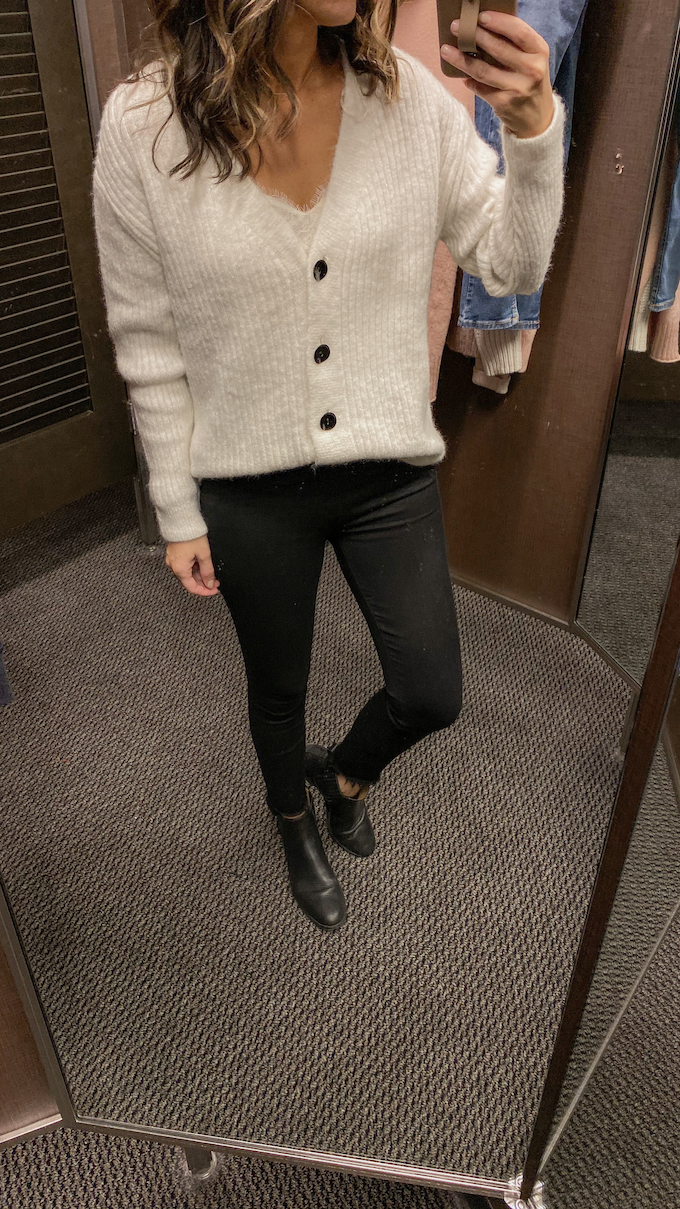 This sweater was cute and soft. For $39 is pretty nice, nothing extraordinary, but just nice. I'm wearing xs below and it's a nice relaxed fit. Jeans are topshop – I have two pairs in this style that I got years ago (still the them and wear them) and Topshop sizing is different. I'm size normally size 26 in jeans and in topshop jeans I'm 28. These felt a little stiffer than my other ones and I have to wiggle my way in. I'd say they're not as comfy as my black pair or the other blue pair I have. I know mine have gotten better with wear, perhaps this might be the case with these as well…they need to be worn it. Sweater | Jeans
I liked the side button details on this sweater. XS was not available, tried Small below. I think you can stick to your size in this one. It comes in three more colors. Mock-neck side button Sweater
This turtleneck tunic sweater was quite soft. TTS. Quality as excepted for the price-point.
While not everybody is a fan of ballon sleeves, I like them. Most of the time. I loved this green color (I've been into deep green big time since last year). This sweater runs small, I tried size Small below, so I'd suggest sizing up. Comes in 3 more colors. Sweater in size Small
Cable Crop Sweater in xs It was cute, not mind-blowing (I'm not impressed with a lot lately).
I thought if I try these pieces on maybe I'll instantly get in shape….! I was draw to green, again, but they do come in more colors. These were soft but, while I like Zella leggings, I didn't like these on me for some reason (I mean they have 6.3K reviews so they're very popular). I think they're the Live-in Leggings, which I have in black and absolutely love, but these didn't seem like those..they were a bit thinner. Unless I didn't grab Zella leggings lol The full zip up jacket was cute…I tried size Small as xs looked tiny. Mixed feeling about this one and it way it fit me. I don't think I'd like xs but small is…just meh.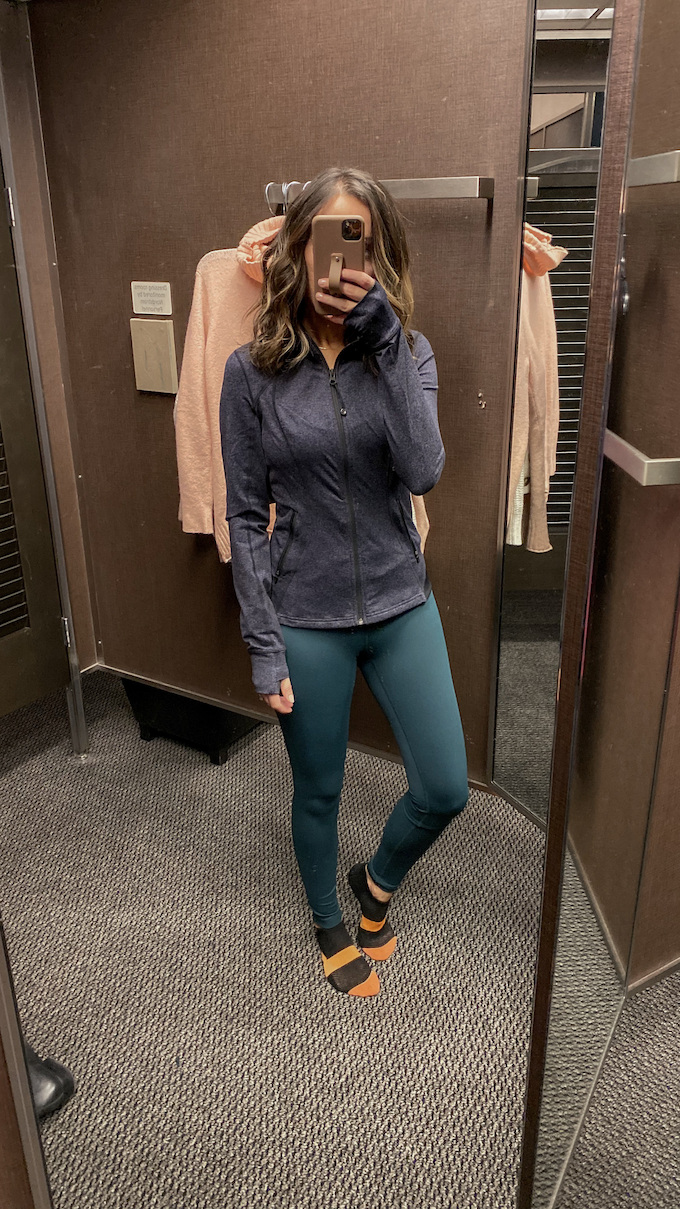 This midi, almost maxi, faux leather plated skirt was quite nice. Looks more like a maxi because it was too big (my size was not avail) so it saw lower which I usually don't like. I like my skirts to sit high on waist. I think this was US6 I tried and it was very room in waist. Otherwise chic skirt. I didn't do it much justice with my pale legs and nail-polish free toe nails (I like to give my toenails a break/let them breath during colder months since I always have socks on). Pleated skrit | Sweater
A few more cute sweaters I didn't see in store..
---
Club Monaco – the store I usually go in to just so I can drool over their stuff. Everything is so chic and classic but a lot of pieces are pretty price. If they were in my budget I'd be shopping there more. But they do have extra 30% off sale items right now and there are some amazing pieces on sale. I don't mind spending a bit more/investing in certain pieces that are good quality and well made and I know I'll wear for years and years. Sometimes you just have to think how often you'll wear something and what the CPW (cost per wear) might end up being. I only walked out with one item.
This midi dress below is such a pretty deep green in person (greens never photograph well when I try them on). It's so Megan Markle lol but seriously, it's classic and timeless. I tried size 2 below and it was very roomy on top. It doesn't appear to be the case, but there quite a bit of room. If you're busty and usually have problem finding dresses that are not too tight on top, this dress might be for you. Midi dress in size 2
below is size 0 which was so tight around waist I could barely breath but it looked better. I was very bummed about the sizing on this one as I really loved this dress.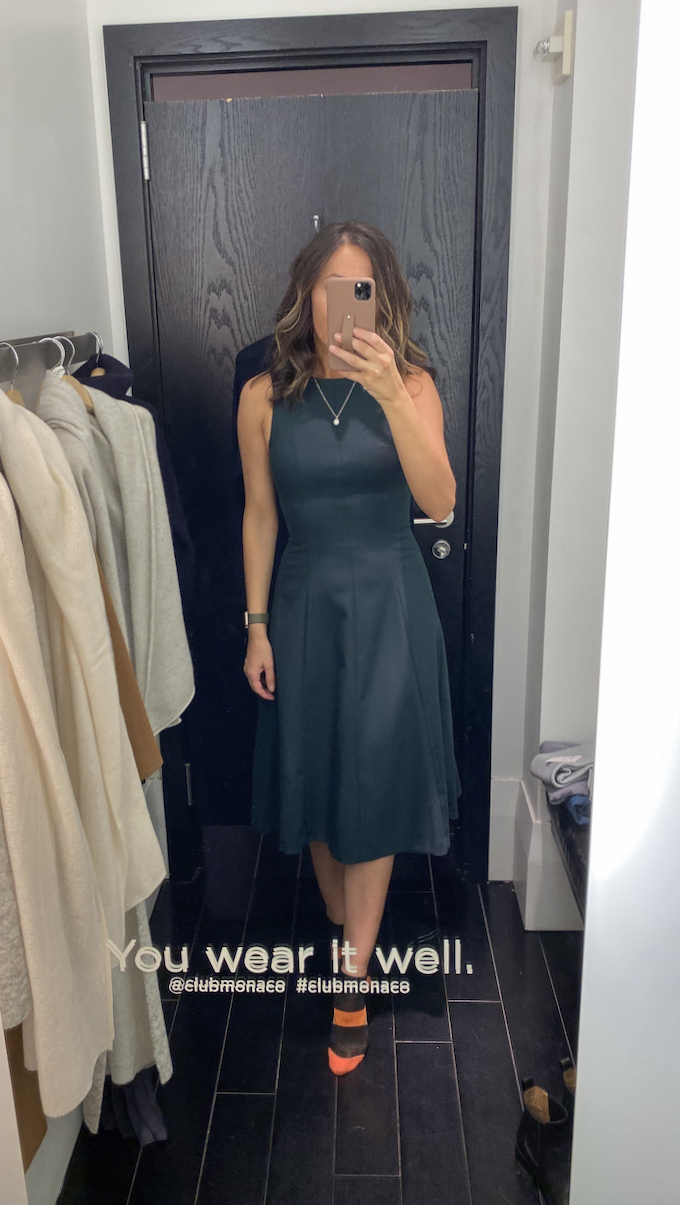 I only brought three items to the fitting room with me, all on sale + extra 30% off but the SA snuck in a few other pieces while I looked around. But I did like everything…go figure haha.
I loved this sweater! It looks and feels…polished (if that makes any sense). Feels well made. And by now you might know that I love pleated skirts and they're definitely having a major moment right now. I was debating on this one because I've accumulated quite a few…but at the end I left it behind. The more I look at it the more I wonder if I should have brought it home with me. And I love these two pieces paired together.
Sweater | Pleated Skirt in size 0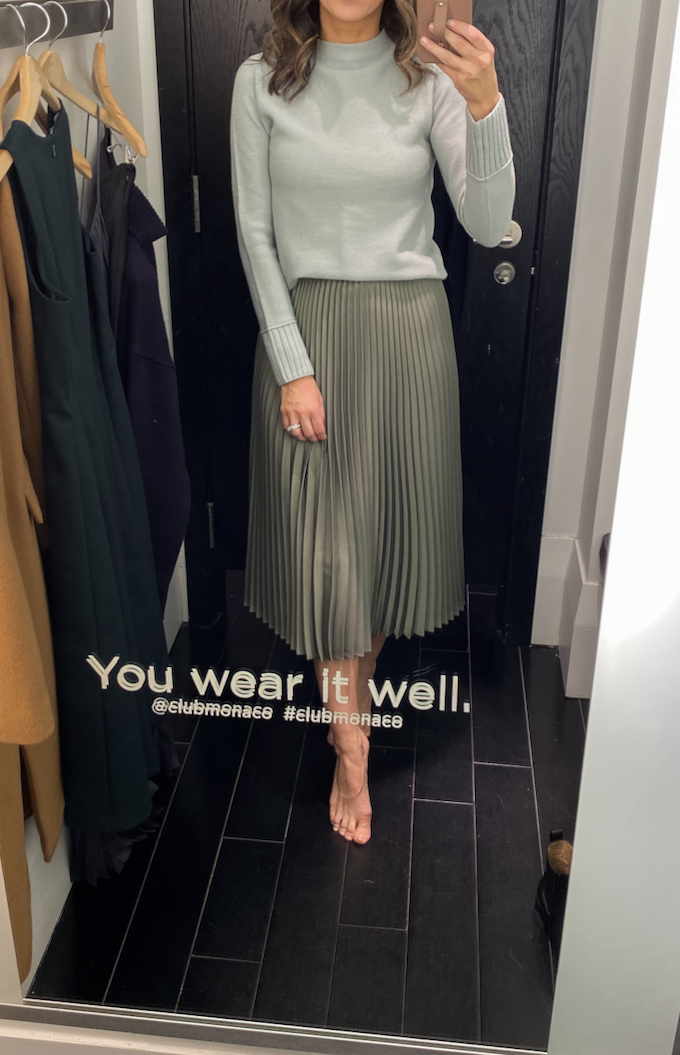 The jeans were another piece the SA snuck in – I tried them on but didn't love them on me.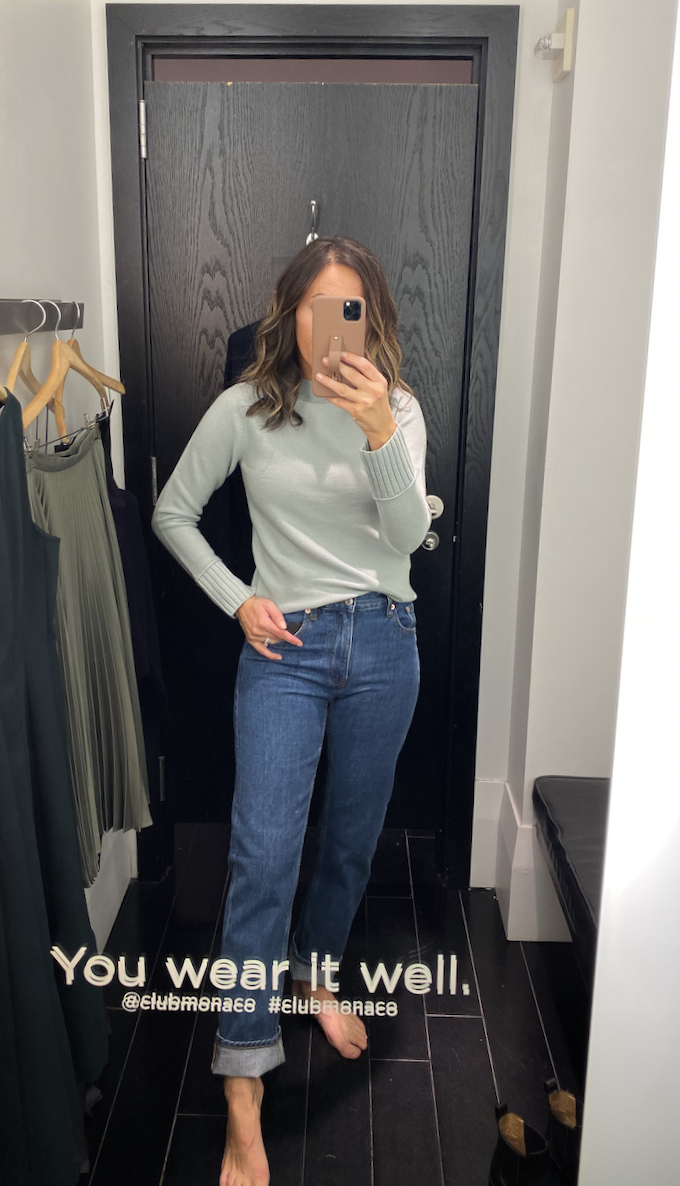 I didn't think I was going to like this skirt but I loved it. It wasn't super thin like some slip skirt but I'd say a smoothing spanx wouldn't hurt. And I love the way it looks paired with sweaters.
Same skirt as above with a cropped sweater. These two pieces look great together.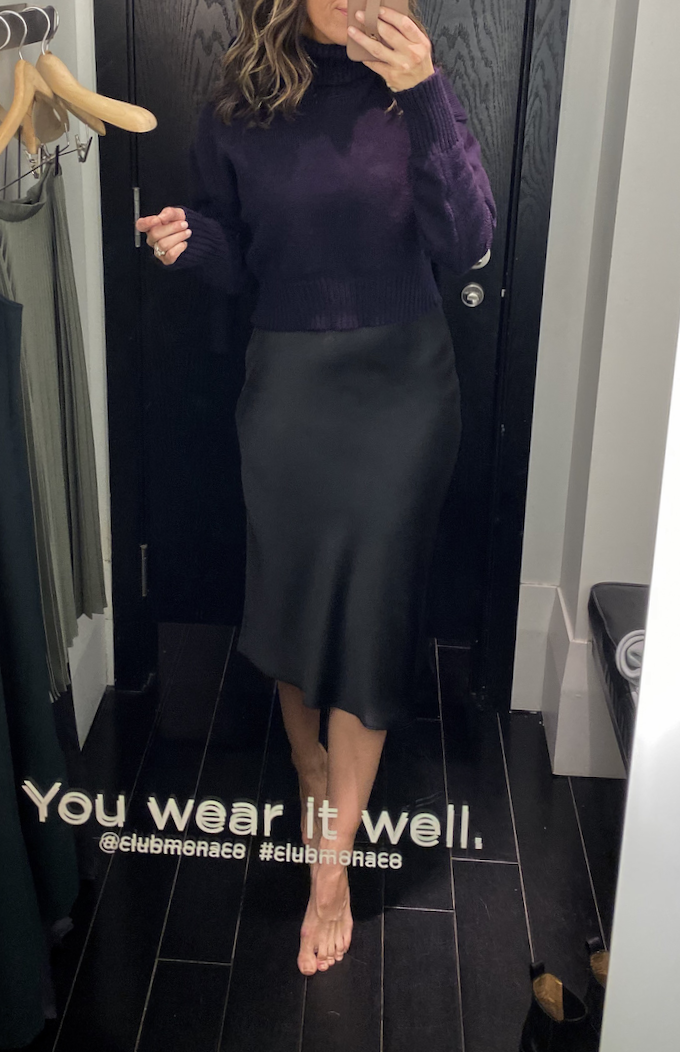 I mentioned in my previous post how much I love their coats. They're on the pricier side, but on sale price not bad for good quality and well made coats. This Camel Coat was in size Small but I think I'd prefer xs.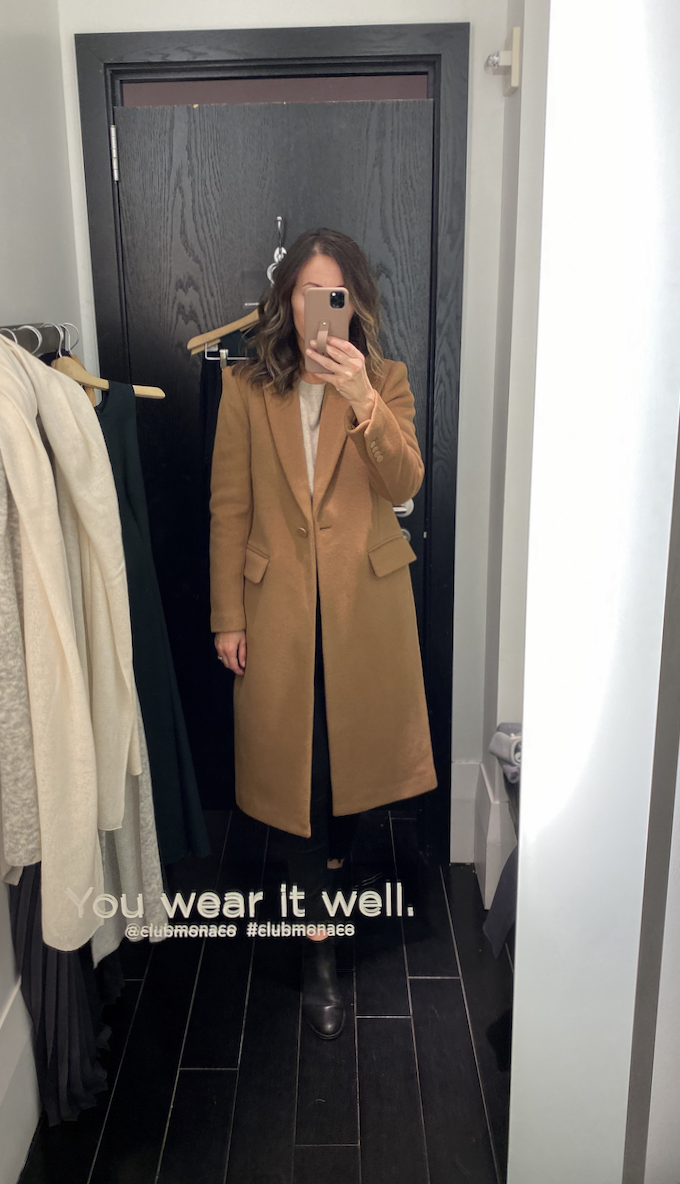 Fell in love with this one!!! It's so beautiful in person (update: ended up getting this timeless beauty). Plaid Coat in xs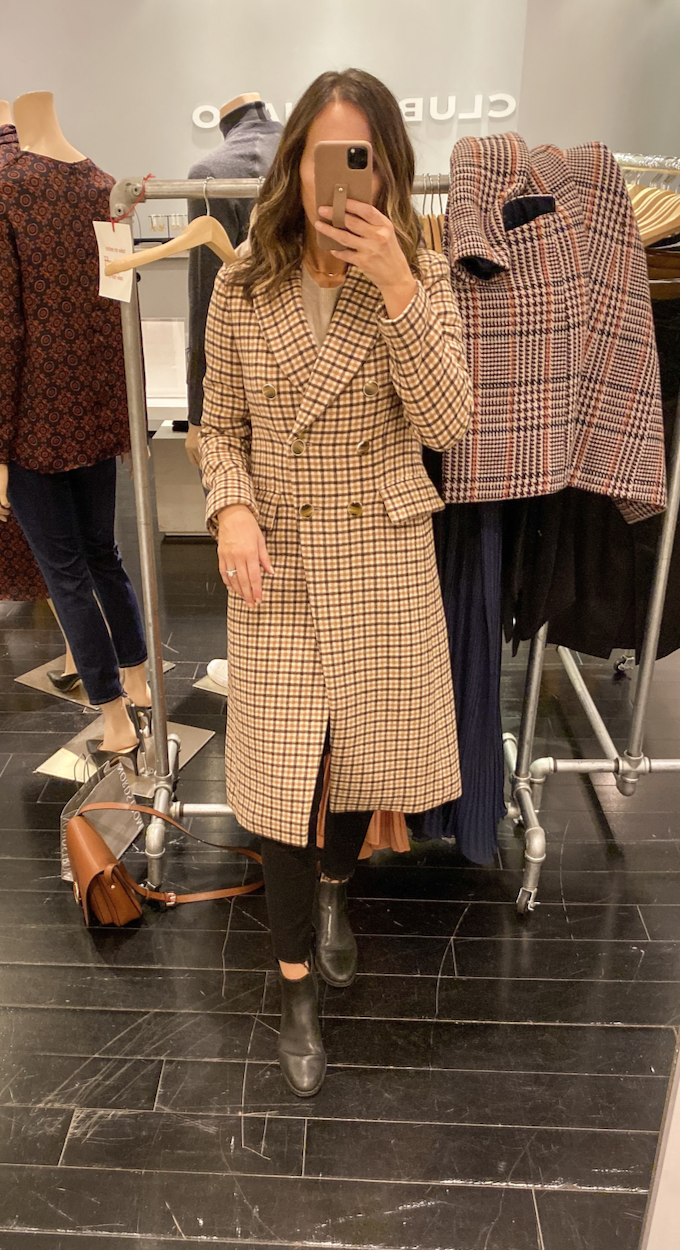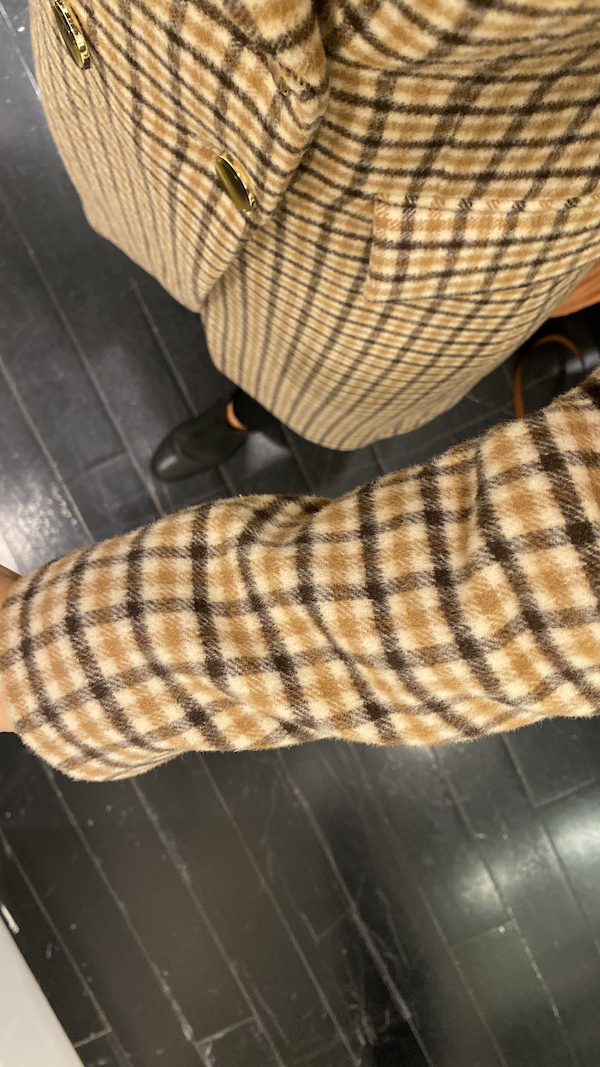 You might remember this coat from my previous post. I saw it in store and had to try it on but put it back…until the SA told me it was on sale + extra 30% off. It's has nice weight to it (80% wool) which makes it great for winter. It's classic, versatile and warm. One thing about all three coats I tried on – they fit tts, but if I wanted to wear a pretty thick sweater underneath it might be too tight in shoulders. I was going back and forth on which size to get in this one but ultimately I liked the fit on xs way better on me. I figured I have other coats I can wear thick sweaters under but for this particular coat I can add layers without adding bulk…which I talked about in this post. Basically a cashmere sweater with a heat-tech long sleeve tee perfect to keep me warm. But the coat itself it very warm so I should be good.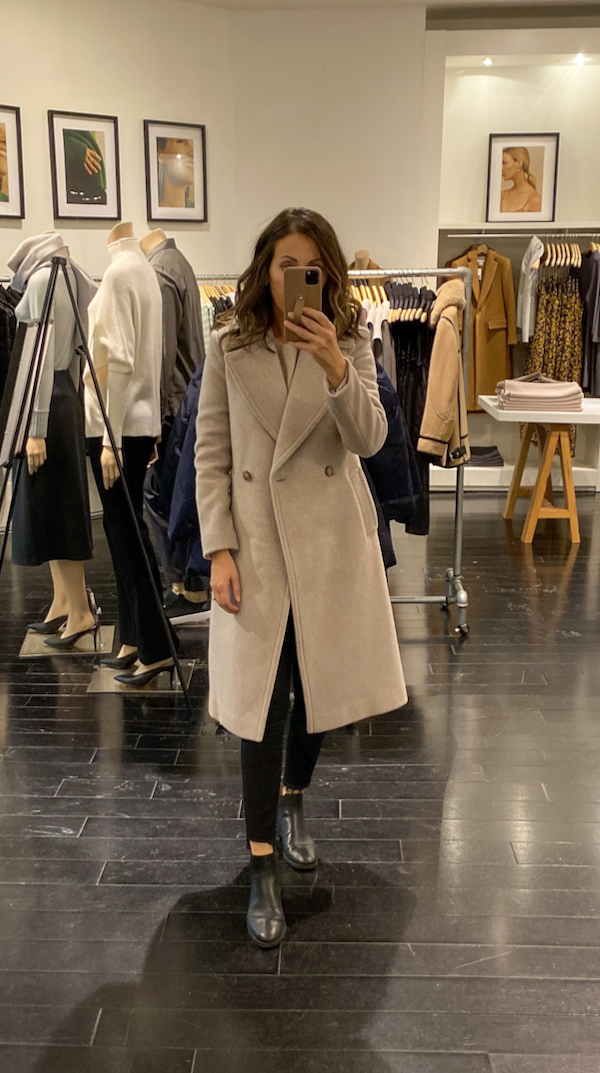 That's it for this time!