Happy Friday!
Rounding up some outfits I recently wore with a few new pieces I ordered. Update: I think pretty much everything I'm wearing in the pictures below is now on sale.
J.Crew lady coat (50% off for the Black Friday week) – year after year it's one my favorite (my pink one is about 7-8 years old and still in great shape). I decided to get another one this year (it comes in multiple colors). One of the reason I like this coat is because of its warmth (double cloth wool with Thinsulate). It's hard to find a nice, chic coat that is cute and warm, but not a down coat. From all my coats that are similar style, this one is the warmest one I currently own. For now 😉 If you want a "lady-like" coat (again, one that's not a down coat or similar), I recommend this one (and you can always read the reviews, there are quite a few). Most of the time it's excluded from promotions (since it arrived I think it was only part of one promo so far and that's when I took advantage of it). Well made, timeless coats that last for years and year and are great investment. I'm really hoping it will be part of the Black Friday sale..it was last year. I'll share all the best sale with my top pics so make sure you visit back. My old one is size 0 so I ordered this one in size 0 as well. But it felt a tad tight (especially with thick sweaters). I returned size 0 and ordered size 2 instead. Now my only issue is that I don't know how I feel about this color on me… The color itself is nice, I'm just not 100% convinced it's for me (you got to love something on you – color and style wise, and I'm not sure I feel amazing in this color).
Coat | Sweater | Jeans | Booties | Bag
I got one of these mock neck sweaters last year and grabbed another one this year. It's so soft and cozy. I got size small for just a slightly relaxed fit (last year I got one in Medium. I suggest going up one size unless you prefer it a tad fitted). Great sweater that I definitely would recommend. Jeans are Topshop, old, but still available. Their sizing is different..I'm 26 in jeans but 28 in topshop jeans. Love that these are super skinny through the ankle too (makes it easier to wear with booties or tucked into boots). These J.Crew booties are so pretty! The color is stunning. This was an impulse purchase after I've been eyeing them since they arrived. TTS. Since I have so many booties I decided to return these because I have a pair in this color (not the same style and not chic at these but I had to be reasonable. This time 😉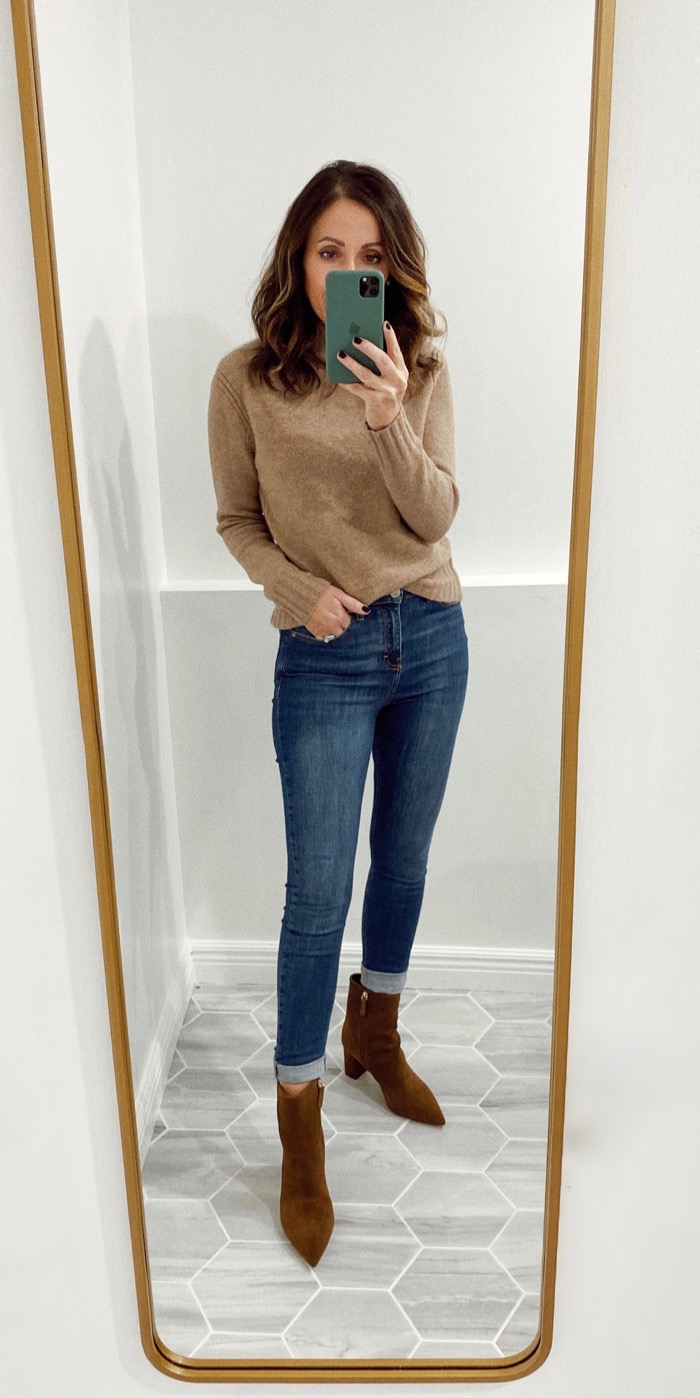 This J. Crew Chateau Parka is back year after and year and I think everyone and their dog has it by now. Because it's that good. It's been a couple of years since they had it in blue but they brought it back this year. It does come in more colors. Happy to report it's part of the black friday sale – 50% off (you need to be a reward member to get 50% off. It's free to sign up. Use code SHOPFIRST to get 50% off.
This sherpa lined parka caught my eye over a year ago (I shared it last year in one of my collage posts but can't find the post right now). The arms are not sherpa lined thought. It's warm but I'm not sure how warm it is for those really cold winter days…but I do know it's not down-coat kinda warm (what is anyway?). I got size small and it fits great! When I wore this turtleneck sweater below it felt comfortable. The turtleneck sweater – I ordered xs in cream and one in small (you'll see the xs below). I like the fit of the Small better for this type of sweater.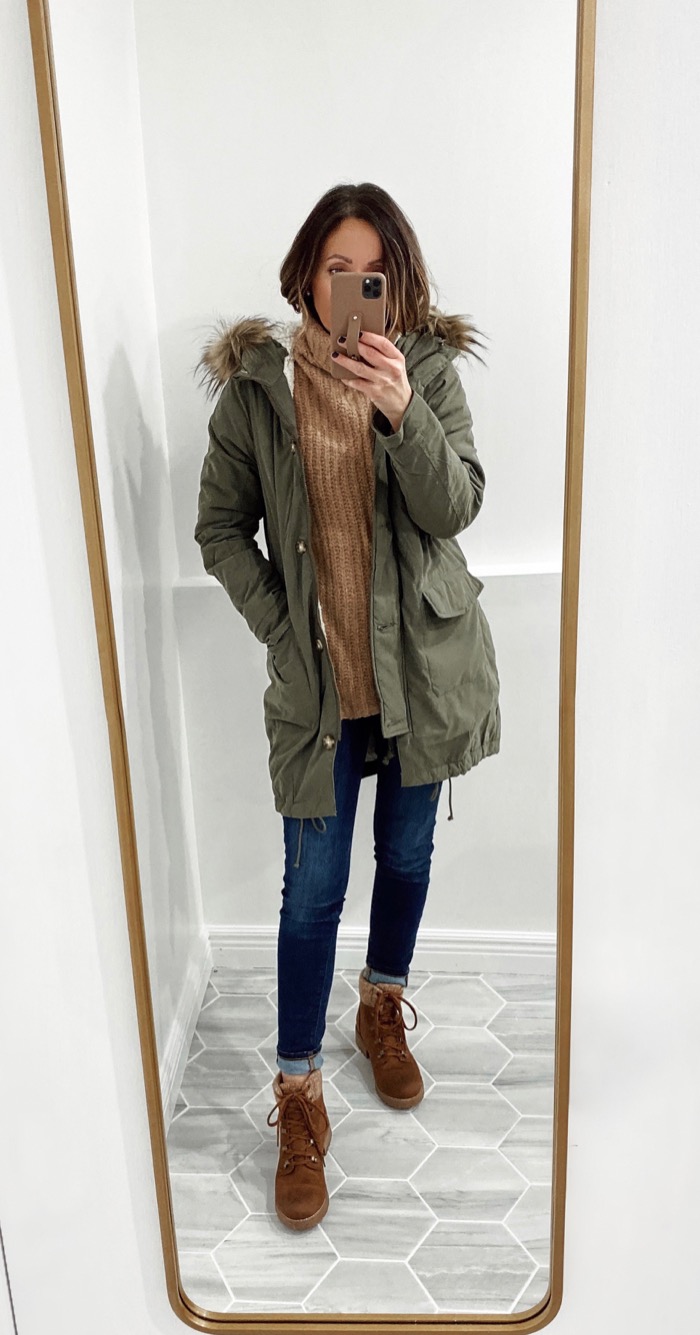 Sherpa Lined Parka in size Small | Sweater in Small | Jeans tts | Booties
I got these Target booties last year, more for Fall than anything. They have the exact style back in just a slightly different color.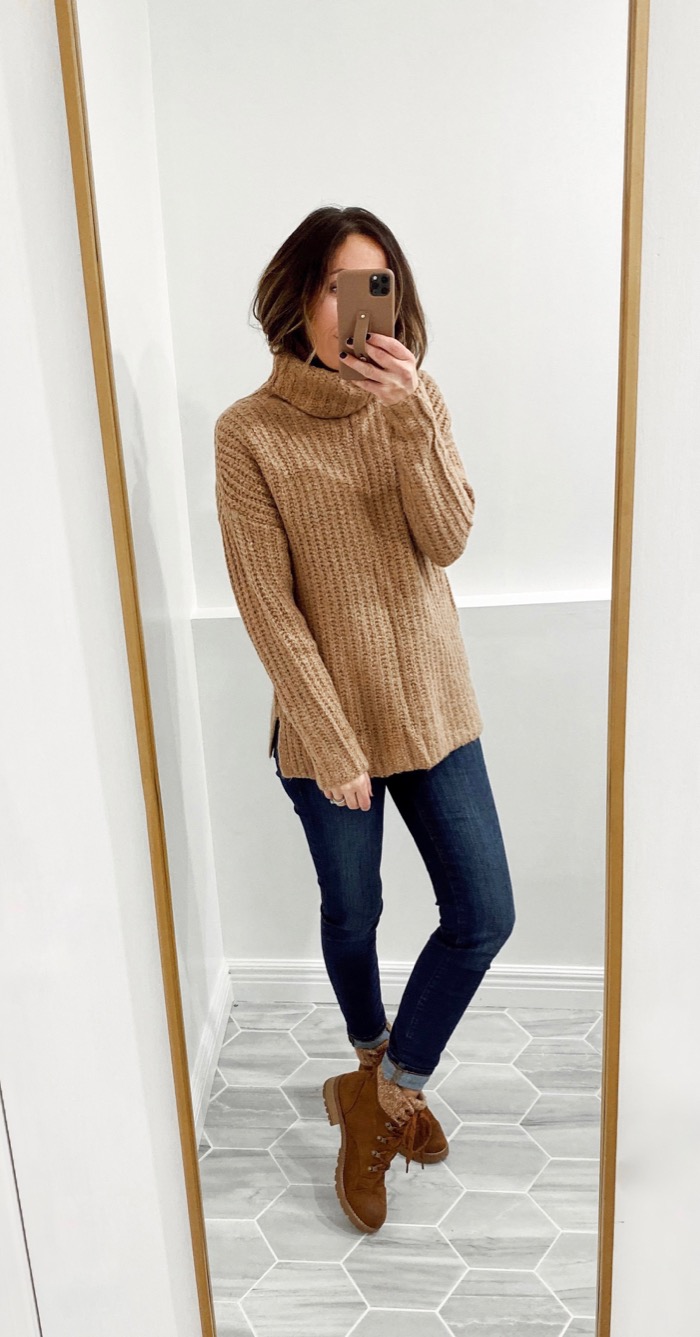 Third Winter with this teddy coat and I'm still in love with it. It's so warm! Sadly, no longer available, but don't worry….there are SO many options out there. I like the slightly oversized fit (personal preference) which allows me to wear thicker sweaters underneath. If you like where it gets really cold, I'd recommend getting a thicker teddy coat (which sometimes it's hard to know how thick they are unless you feel them). Sharing some options below this picture.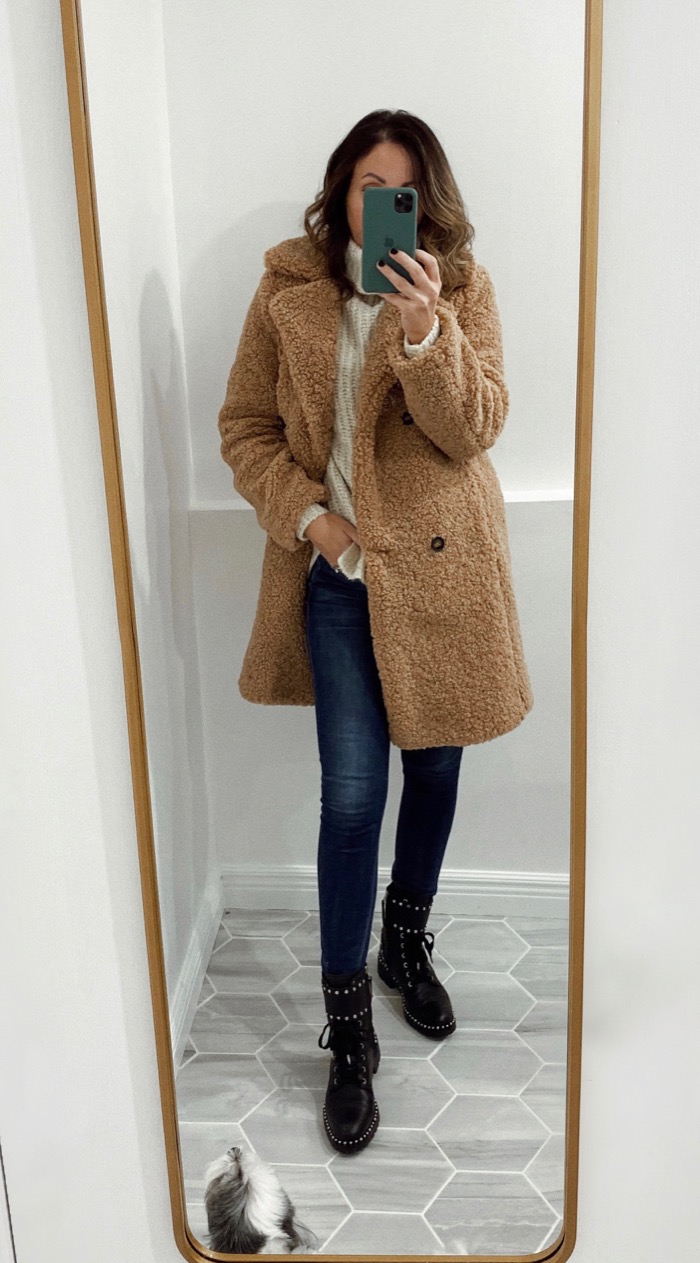 Sweater in xs | Boots tts | Jeans | Teddy coat (old) – similar here and here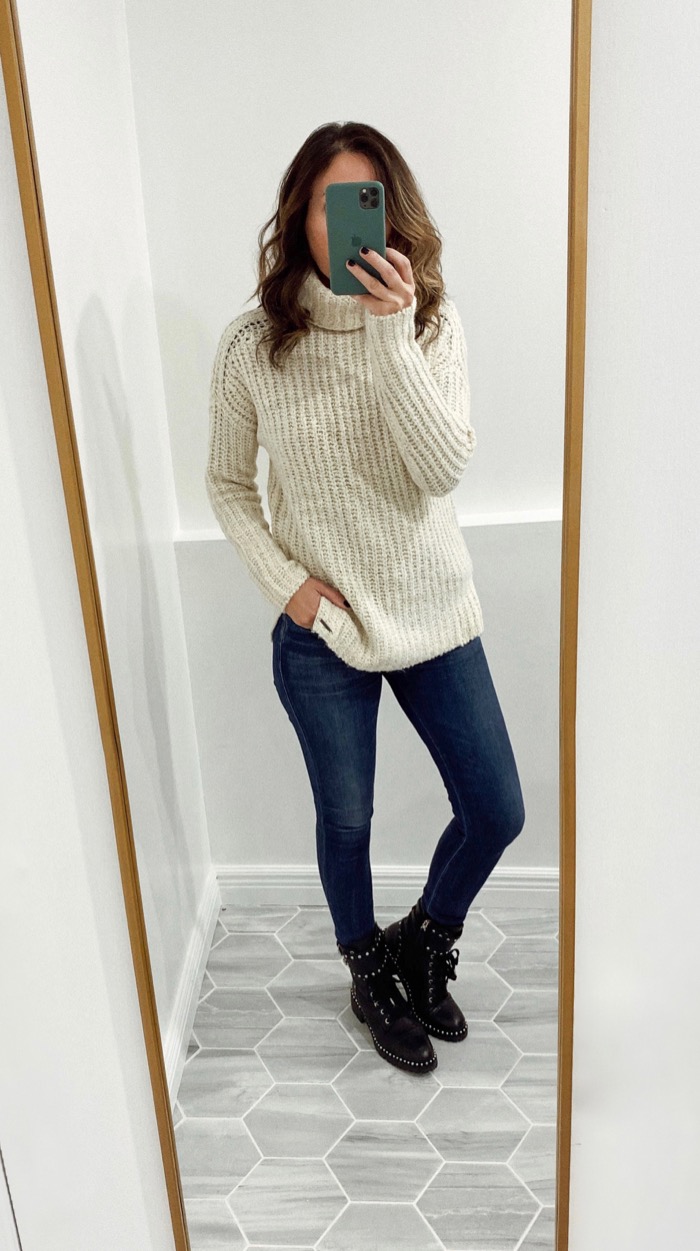 I've been wanting a pair of "combat" boots since last year and been eyeing these for months. I love the studded details (they have over 100 reviews)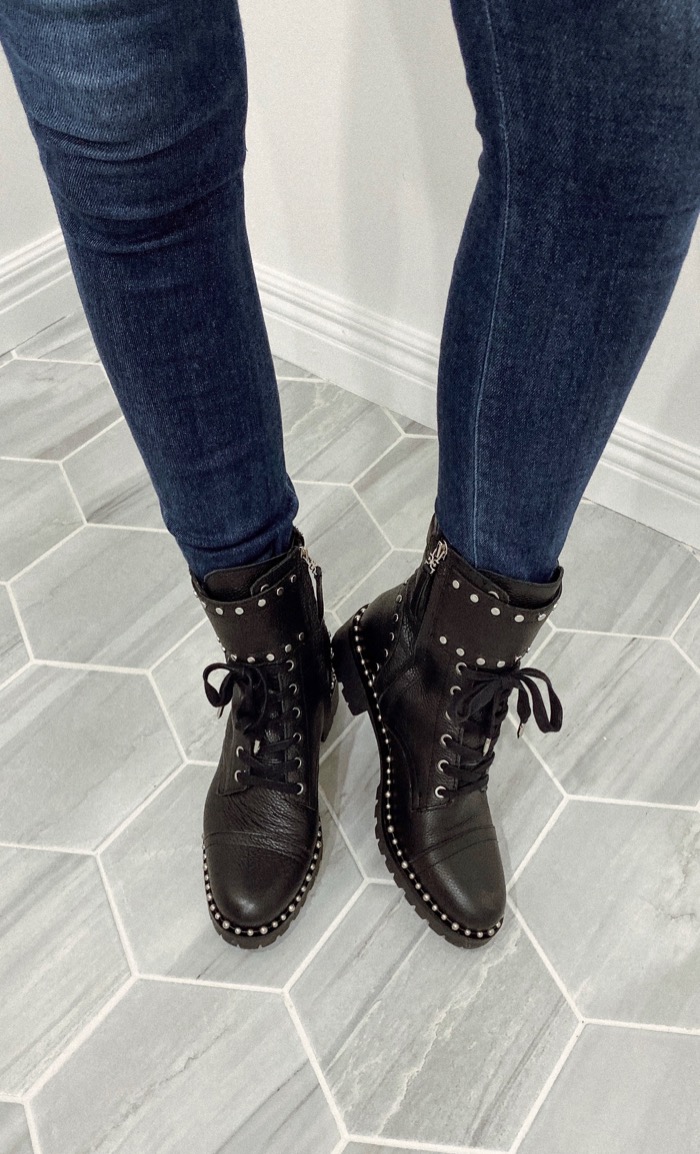 I recently shared this tweed blazer/jacket on my Instagram. It's a beautiful and timeless piece. It's not structured fyi. The ends might need some trimming here and there haha, it's a tad 'fringy'. But I think the price point is not bad for this classy tweed blazer. Easily dressed up or down. I'm wearing size Small below and it's roomy but not big (if that makes sense).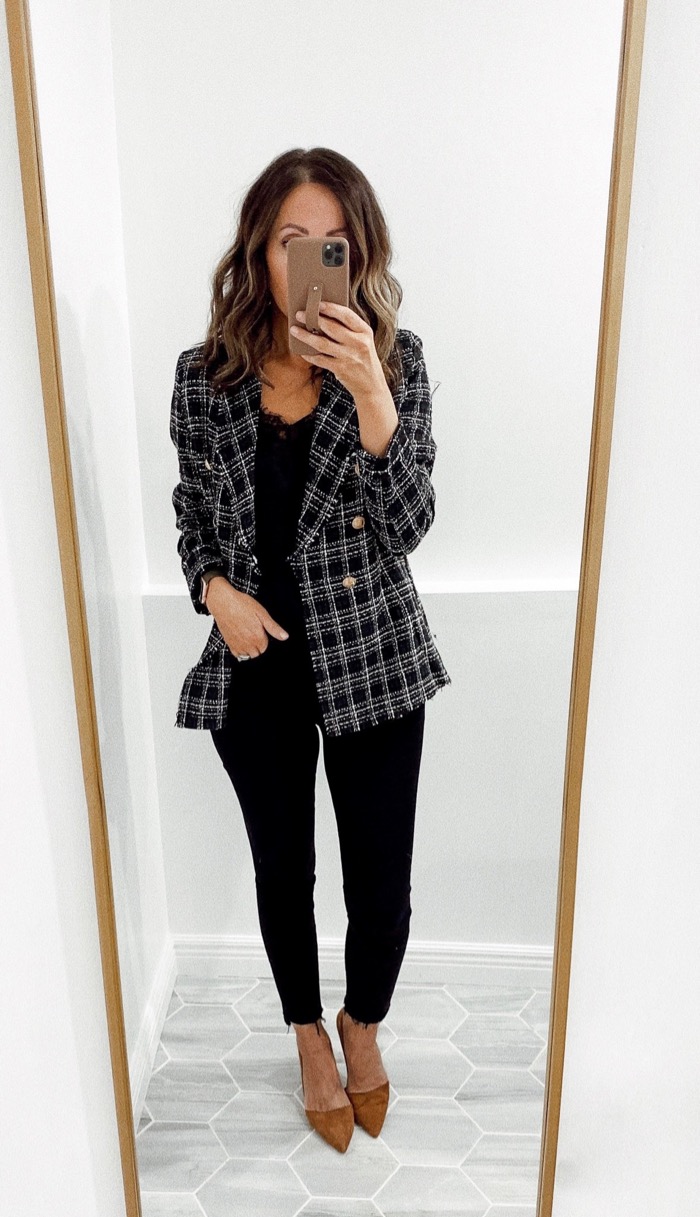 Jacket | Cami in xs | Jeans tts – similar style for less | Shoes – 50% off w/code THANKS1 (unofficial AT code)
My favorite loungewear….
I've talked about these lounge joggers for a few years in a row now, but in case you're new here let me tell you about them… They are my favorites, especially for the price with the 40% off…like right now w/code CHILL and if you're card member extra 20% off (I had pairs but gave one pair to my sis that were size small. I didn't like how loose they were on me, at least not this style). I have two pairs in gray and they're my faves. While all colors are soft, I've noticed the fabric is slightly different based on color (at least that was the case in the past). They're not thick but also not really thin (if that makes sense). I think I'm going to purchase this pair next that I got a chance to try in store. They're also soft and comfy but the fabric is a tad thicker…for when I want extra warmth (these are just strictly my lounge joggers).
On to the sherpa top – my all time favorite, I want to live in it during cold months! You guys – it's 60% off + extra 15% off with code THESKIMM (I have never seen the price this low). I've had the one below…I think this is the third winter (this version was shorter, the new version is same style with different color zipper but longer). It's the softest and warmest sherpa top I own or have tried on. I think you can feel the quality and difference by just touching it. It's on the pricer side but IMO worth it…when on sale, of course 😉 Slippers – Each year I get a new pair of slippers because I wear them SO much over cold months that they get pretty worn out. This pair in only $20 and it's genuine suede. These would make a great gift (who wouldn't be excited about anything warm and cozy).
Sherpa top in xs (new version) – getting this one next, it's SOO amazing | Soft Joggers in xs | Slippers (if in between sizes, size up)
That's it for today!
Wishing you a great weekend! xo