Hope everyone had a lovely weekend!
I feel like there is a lot going on in today post…but it's really just an outfit with a few Black Friday sales that have already started (along with my picks). If you've liked any outfits I've posted lately, chances are it's on sale right now. So definitely check out end of this post for some amazing deals!
When a coat is called 'Sleeping Bag Puffer' you know it is going to be amazing! There are a few things I love about this coat but mainly the fact that it was made from recycled materials. It's feels light on but keeps you warm (I wore just this cashmere sweater underneath and I was nice and toasty in low 30 degree weather). I absolutely love the length and I wouldn't even mind if it was a bit longer (I'm 5'6″) because during the cold months the longer the coat the better. And it has an adjustable hoodie.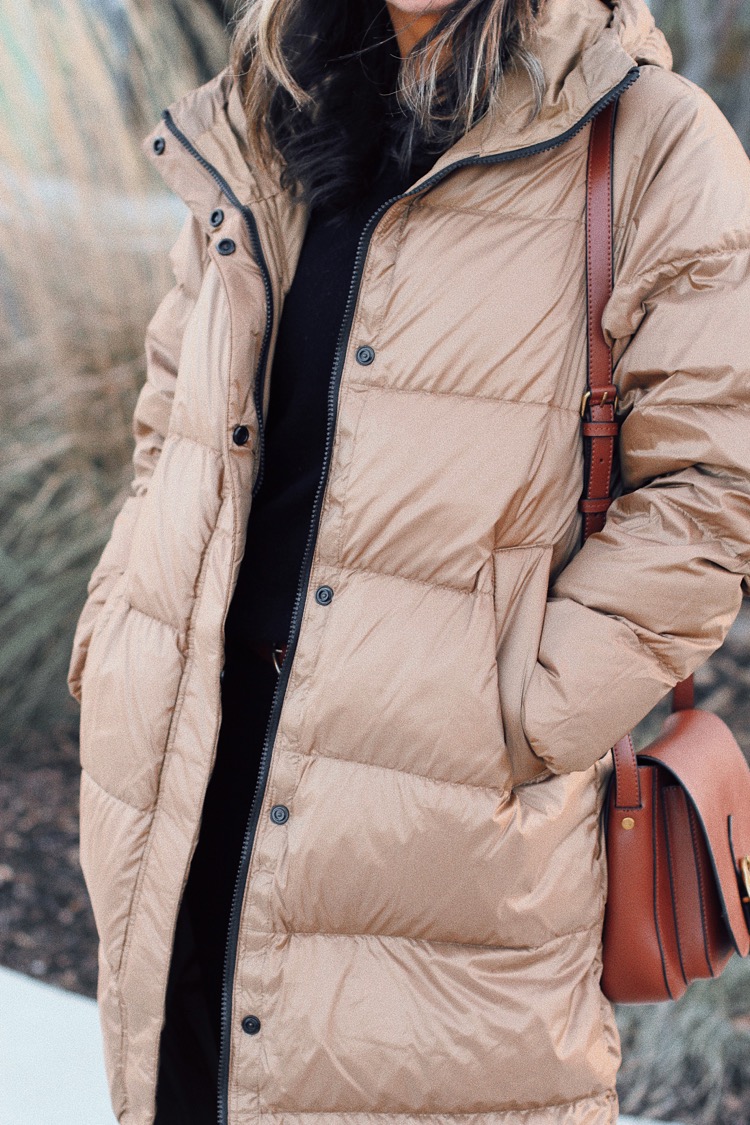 The color difference in my pictures is mainly due to the lighting. But the color shown on their sites is true to what it looks in real life (and I love the black hardware). I was nervous about the coat looking shiny in person and it is not. It has a beautiful sheen to it without it being over the top…it's like a cool gold (It does come in two more colors). It's prettier in person than I thought it would be (always a pleasant surprise when a piece exceeds your expectations).
I got size xs and it fits slightly oversized, but not in a bad way. I personally love the fit, and while I could have probably sized down, I like that I'm able to add chunky layers too if necessary. I also love the range of movements in this coat, so comfortable. While the coat doesn't have shape to it, it still manages to look super chic. I'm truly in love with it (my mom actually said if it was a size bigger she would steal it from me haha. She probably could fit in this one, but I don't need to tell her that lol).
And quick thoughts on these booties (like over 1K reviews online on these beauties isn't enough). The leather is butter soft (100% Italian leather)! I got my usual size 8.5. They're snug but the soft leather makes them not hurt my feet at all (they should stretch out a bit too though). I probably could have gotten away with sizing up 1/2 size. If you have wide feet, I suggest sizing up. They're extremely comfortable. While do not wear any type of shoe with heel just out and about for no reason, these are a different story…I'd wear these even grocery shopping haha. They're just so comfortable…and of course the low heel contributes to that as well. This is the type of bootie I'd actually have in 2 colors just because I would wear them all.the.time. They're definitely a splurge, but if you're on the hunt for a well made, chic yet comfortable for all day wear type of bootie, you will love these (definitely check out all the reviews too).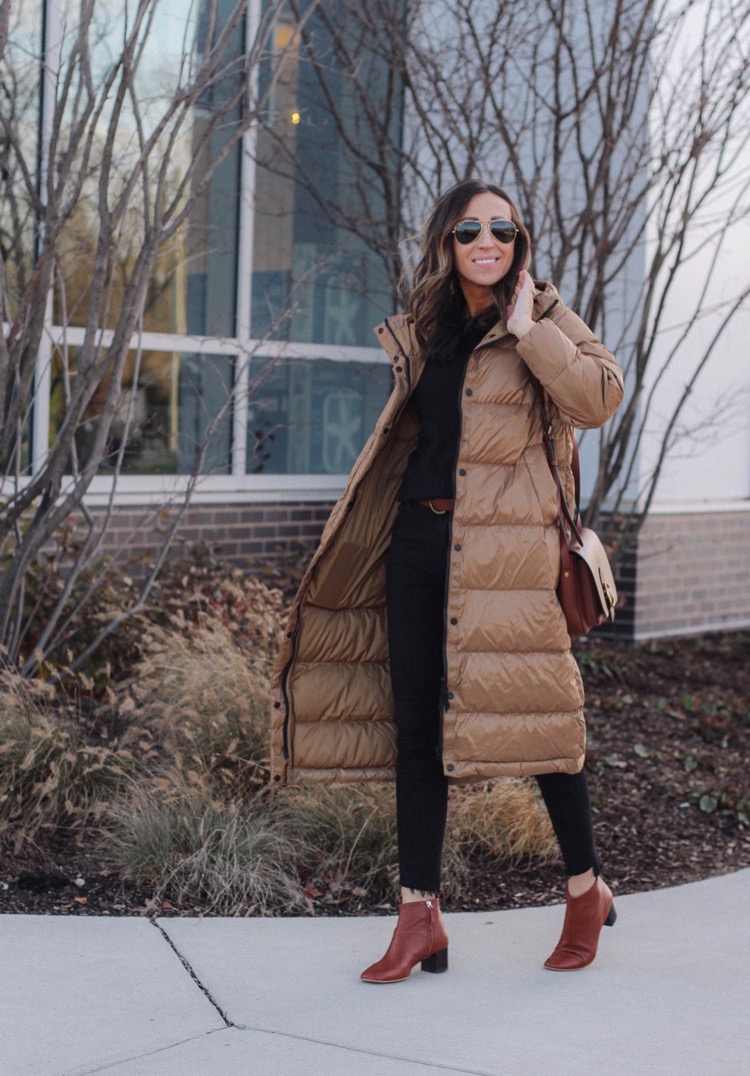 I hope you were able to get one or five of these cashmere sweaters that are 71% off (the black one I'm wearing is from a couple of years ago but they sell them each year and keep adding more colors). The sale came a lot sooner than expected and it has lasted for a few days. In the past the deal was for Black Frida only…but so many stores are starting the Black Friday deals earlier and earlier each year. I ordered the turtleneck in ivory and the crewneck style in toasted ginger. I think three years ago I got one in Heather Mocha and Ice Grey Heather. I love how warm they are for a thin sweater. And like I mentioned in some previous post, I wear this tee underneath for extra warmth without bulk.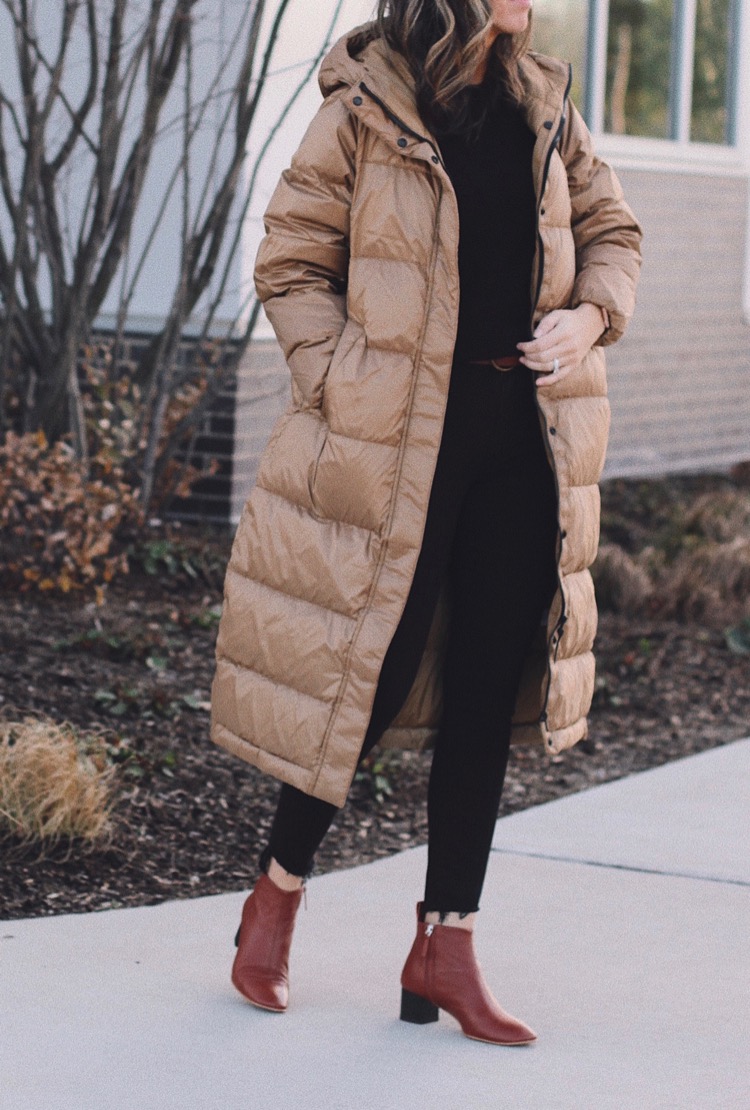 Puffer Coat Everlane c/o | Cashmere Sweater in Small – comes in 23 colors | Mother Jeans tts – similar style for $45 | Booties Everlane c/o | Bag: Banana Republic | Belt (old) – similar
And not that it really matters (because I always disclose it when this is the case), but this post was NOT sponsored! I was not paid to tell you guys about the Everlane coat and booties (they were gifted to me without any expectations of me telling you about them). I just truly love them both, and actually was going to purchase this coat before Everlane so generously gifted me these pieces. And if I didn't love them, I wouldn't even bother sharing them or telling you all. Just being real with you guys! And you all know I love Everlane (who doesn't?!)
On a different note, some Black Friday sales have started. Sharing below my favorites…
Abercrombie – 50% 0ff + free shipping (for members. Just sign up for free)
Ann Taylor – 50% off w/code BLACKFRIDAY (my last try on post)
J.Crew – 40% off w/code WHYWAIT ends 12/1 BUT if you're a rewards member it's 50% off w/code SHOPFIRST (it's free to sign up). The Lady Coat (as seen in this post is part of the sale, as well as the Chateau Parka
SSense – designer sale. I was mainly eyeing Golden Goose sneakers. There are a ton of styles 20%-30% off
Have an awesome Monday!