Made a quick stop at LOFT to pick up these soft sweatpants and tried a few other pieces that caught my eye.
Update 1/6 – 60% off select styles until tonight. Here are my picks:
Before I start, I know someone will ask about my boots…:) I've been wanting these for 2 years (no joke). I got mine from Shopbop where they're on sale. Also here from Zappos with more reviews. I went up 1/2 size (they didn't have my size) but I figured I can wear thick socks with them. I'm actually glad I went up a 1/2 size. They're a tad narrow (not super narrow for me feet). Loosening the laces helps though if needed. They're a good sturdy boot, some might say they're heavy, but I don't mind it. Overall, super happy with them.
Also, I rounded up some of my favorite Cyber sales in this post along with my top picks.
This semi-cropped cable knit sweater was one of my favorites. Perfect with high-rise jeans (in the picture I'm wearing mid-rise) and the length is also perfect to wear with skirts. It's soft and cozy. Runs tts. Waring xs below. This one came home with me. Cable knit Sweater in xs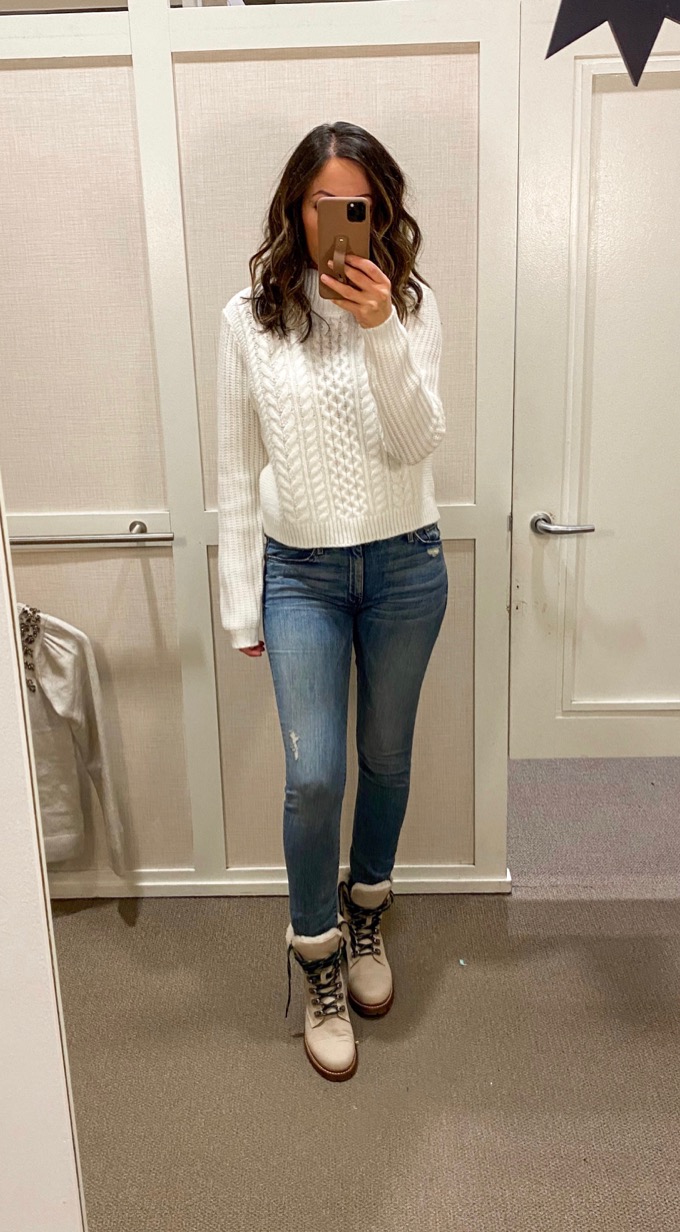 Initially it was a tossup between these first two sweaters. The one below is a tad thicker and cozy too. Super nice but I liked the one above a tad better on me. I'd recommend both really. Wearing xs below. Fuzzy Chenille Sweater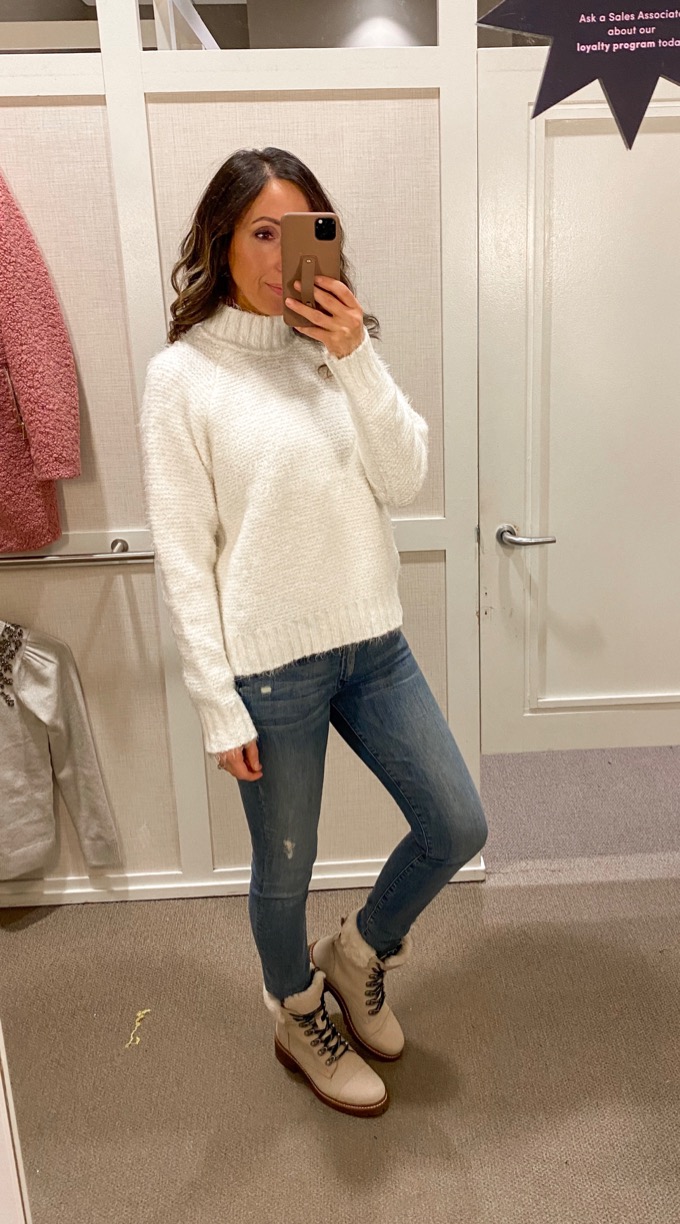 This striped sweater is so soft! Wearing xs below. I feel this is the most color I've purchase in a long time haha. I noticed online it comes in solid colors too.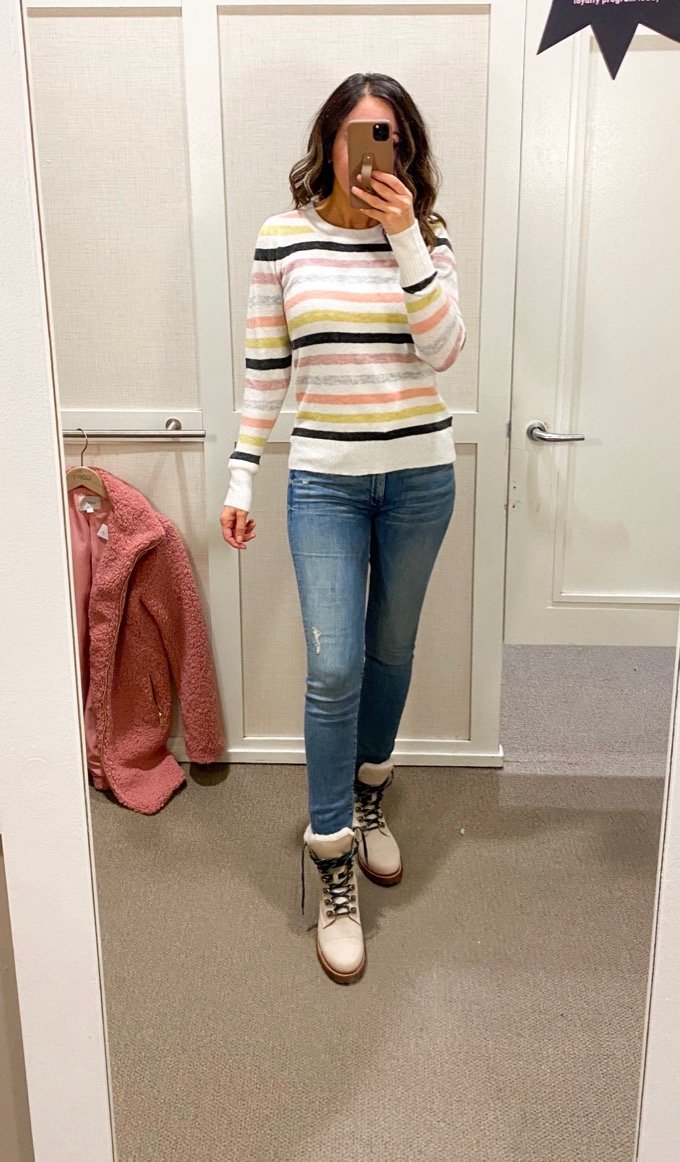 I loved the length of this sweater and the light mock-neck. It's also quite soft. While it was available in store, it's under "Preview" online which means is excluded from the sale. Wearing xs below.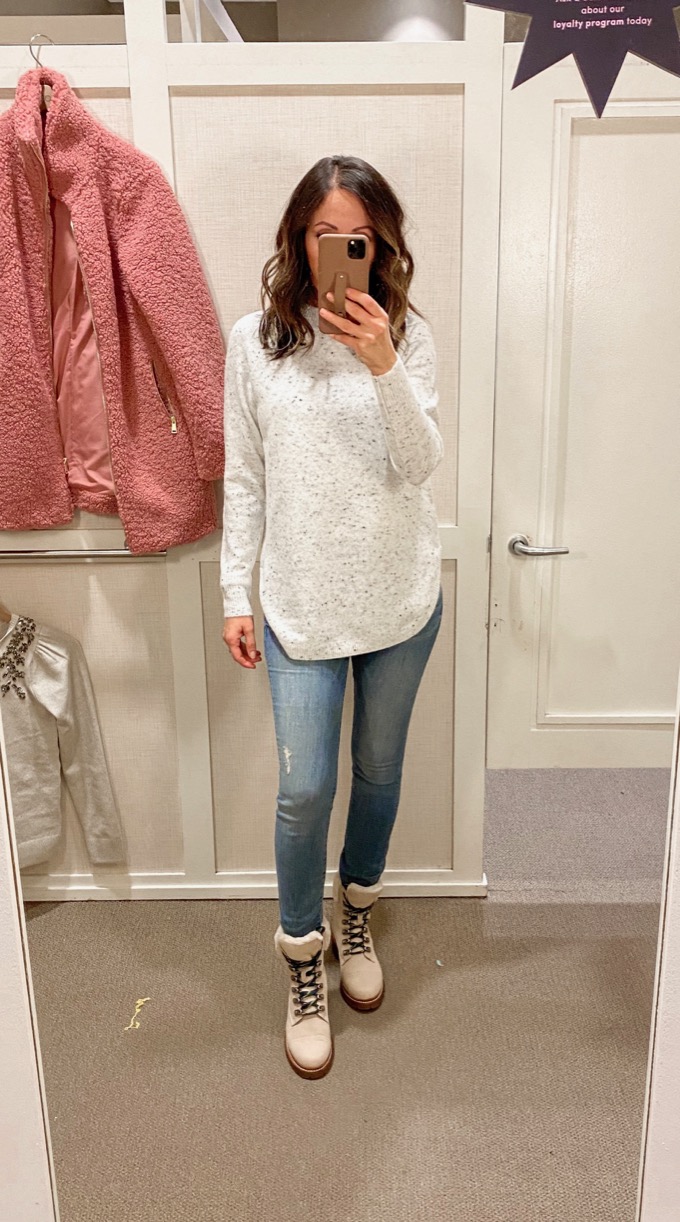 Another cute tunic sweater that works great over leggings (it's part of today's deal – only $20). Xs was not available, tried small below. I liked the relaxed fit.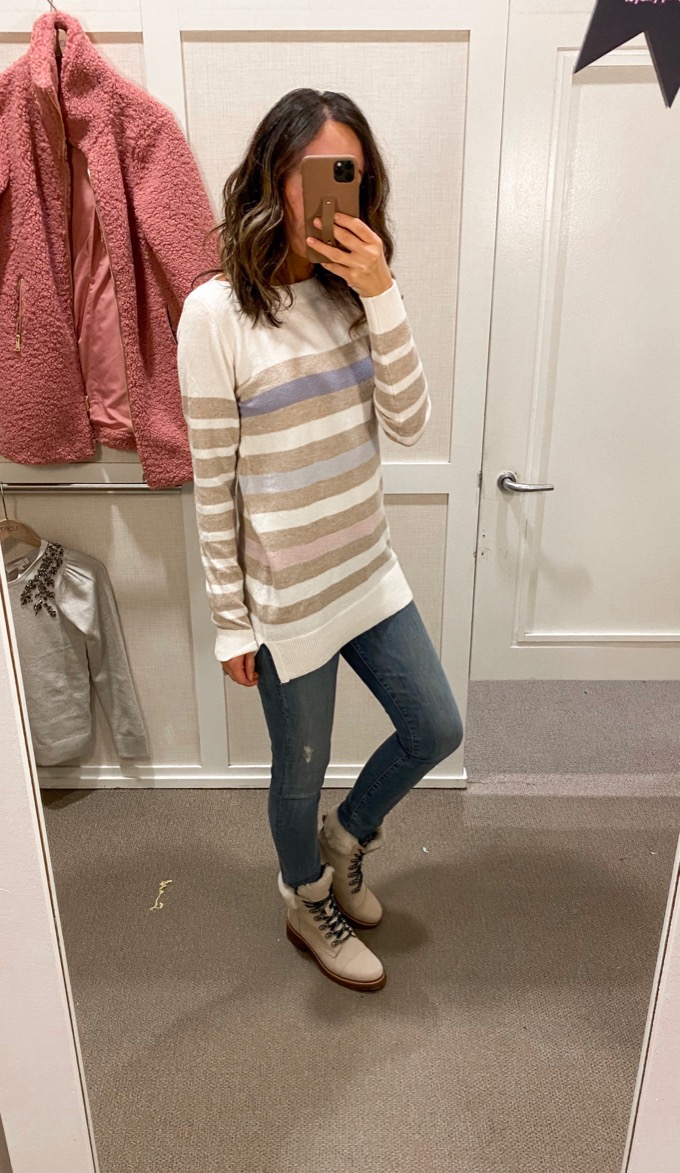 I'd take this adorable sweater on a skiing trip (except I don't ski). Wearing xs below.
Loved the color of this ribbed cardigan (the blue heather color is also very pretty). It's not a thick cardigan but it's great for layering or for warmer months. It was pretty nice. I'm wearing xs below and it fits tts.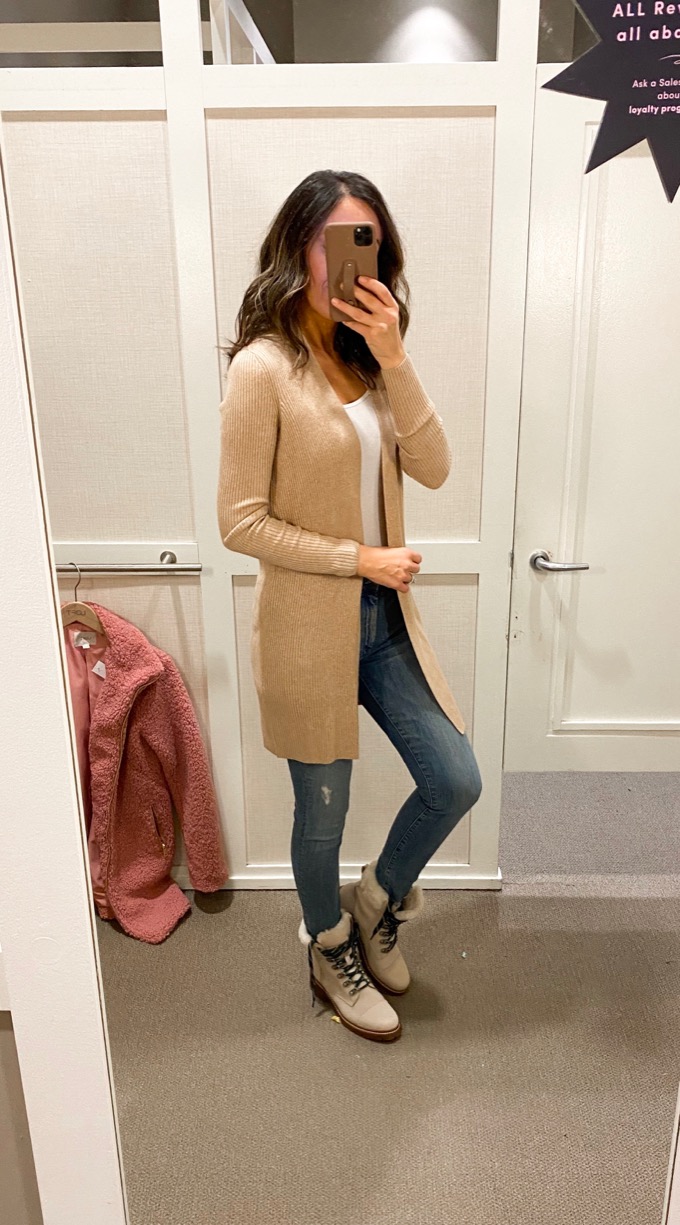 Tried the coated jeans but you can't really tell in this picture. While I was able to get them on all the way somehow and zip them up, but they were a tad tight in the waist (I did have lunch just before these pictures). But still, I would like more room..so they were nothing special. Sweater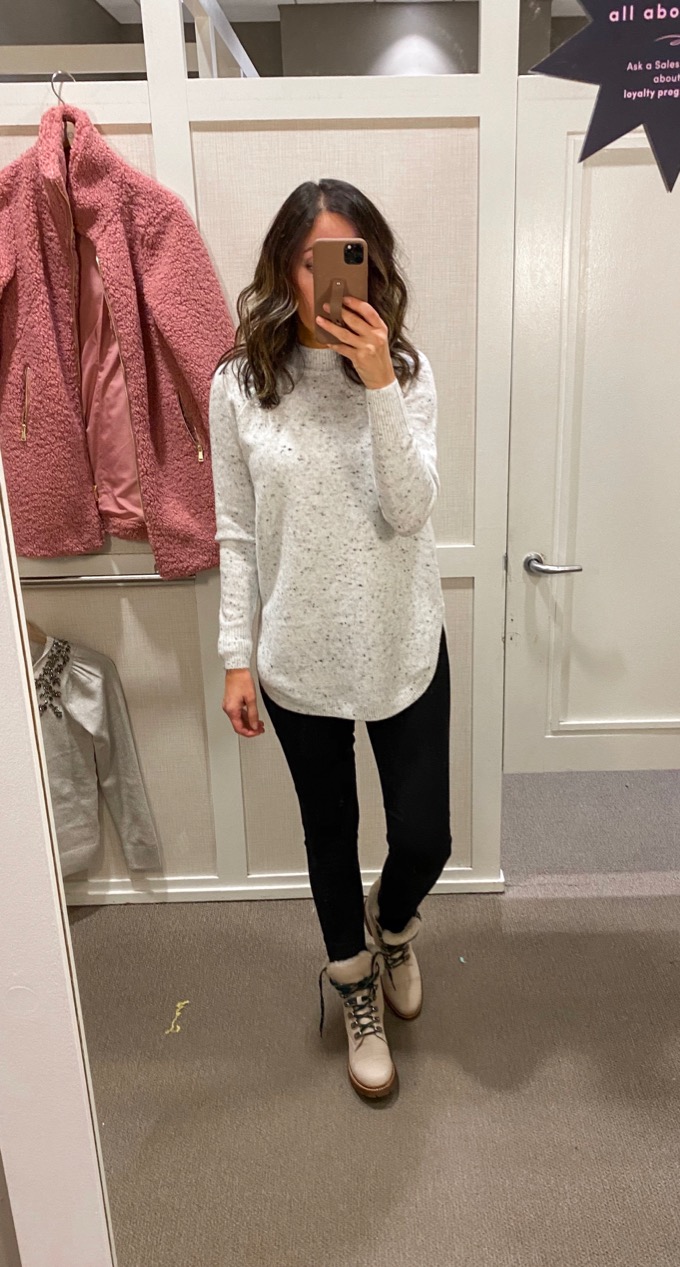 This fleece top was soo soft and cozy! Loved it! Wearing xs below, fits tts. I noticed some reviewers said it shrunk. Not sure what the washing directions are but I personally would wash this on gentle cycle and hang dry (I do with all my fleece/sherpa tops).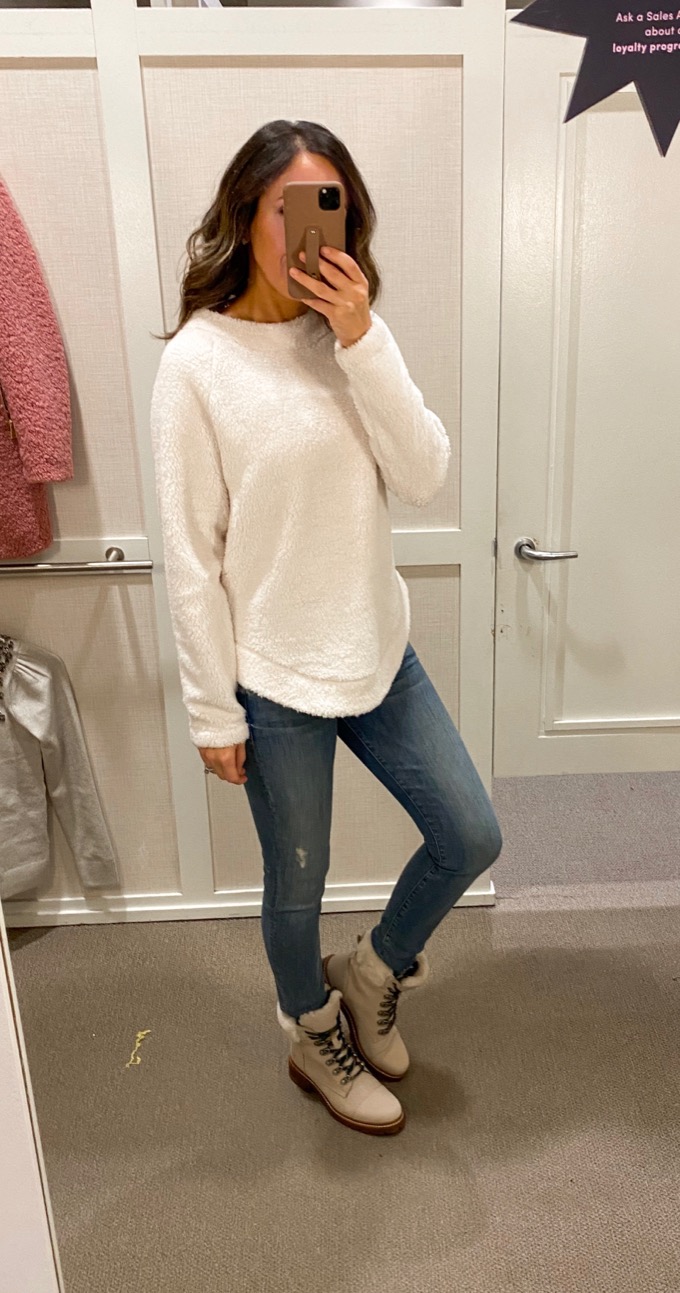 Same top as above with the soft Lou and Grey joggers. I got xs in the joggers. They come in more colors and have ton of great reviews. My socks below are from last year but they're back this year in different prints. I got them again as they're nice and warm (I got the "elegant blue). These make great gifts too. I got some last year for my mom and MIL and they both love them.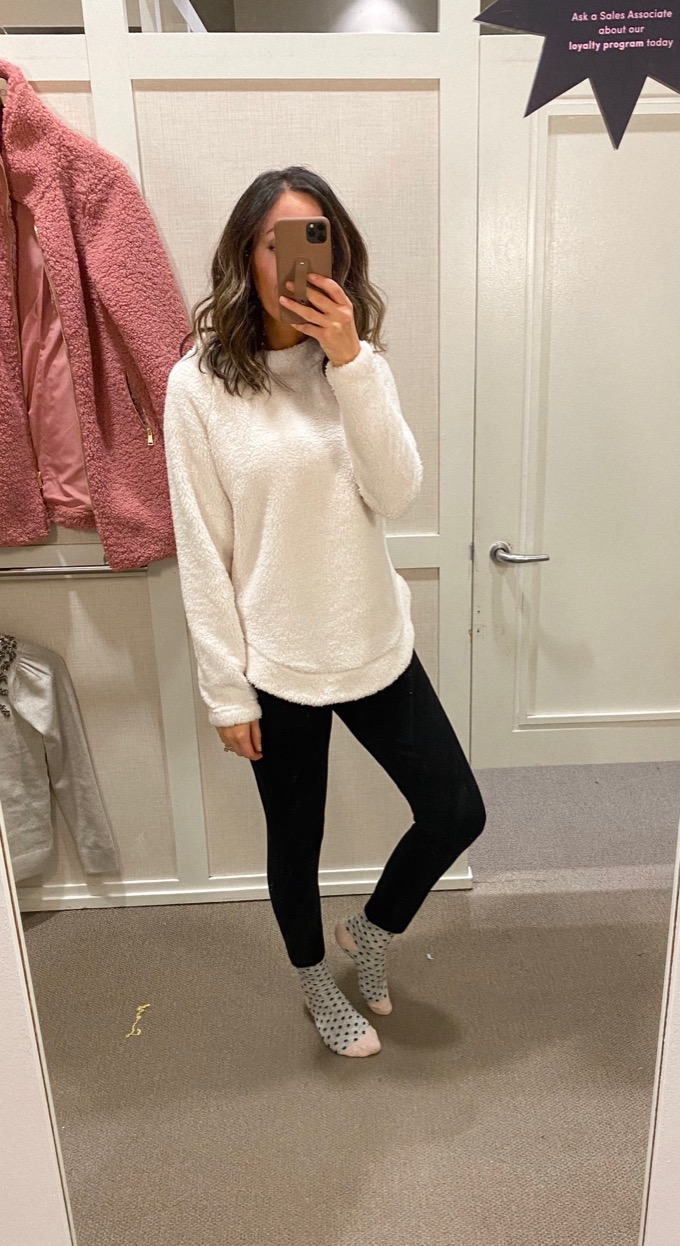 This cute teddy coat...it almost came home with me (all coats are $89 today). I was really debating if I should get it or not. While I like this color, I also like the lighter version (which they didn't have in xs in store). Maybe I would have preferred it more, not sure…both are really pretty. I decided to leave it behind for now as I have a lot of coats. This reasoning. however, didn't keep me from buying 2 sweaters today…. Teddy Coat in xs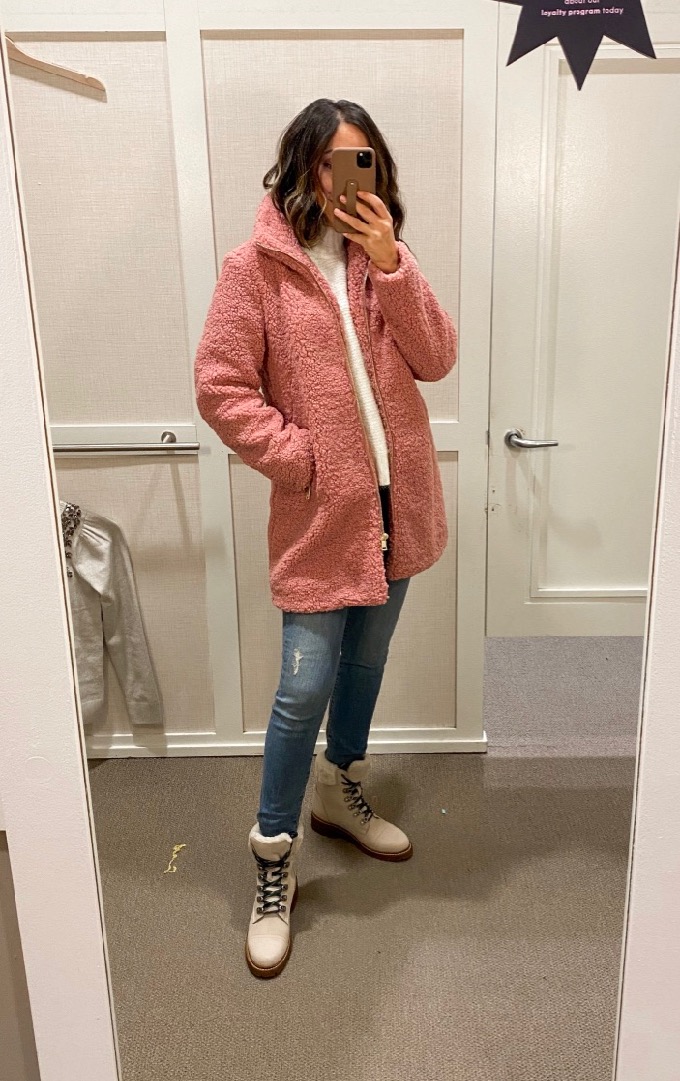 Another cute coat. It's not a heavy freezing winter coat but you can always layer. Wearing xs below, fits tts. Funnel neck coat
All coats below are $89 + Free Shipping
---
Cold weather accessories picks
---
Another cyber sale that has started today is Ann Taylor – everything is 50% off + free shipping. See my last fitting room snapshots. Also, the entire outfit from this post is part of the sale.