I'm back with some home picks I'm absolutely loving right now!
Gifts for your home 😉 I like to give gifts year-round…I mean doesn't our home deserve it haha. Kidding aside, I think I've been enjoying a lot more looking at home stuff than clothing lately. And it would be selfish not to share these pretty finds with you all. And I'll take one of each please (I do have the mugs which I'm in love with). But I definitely need to upgrade some other items too. Long overdo. Some of these items will sell out fast, so I hope I don't miss out by the time I finish this post (happens to me more than it should).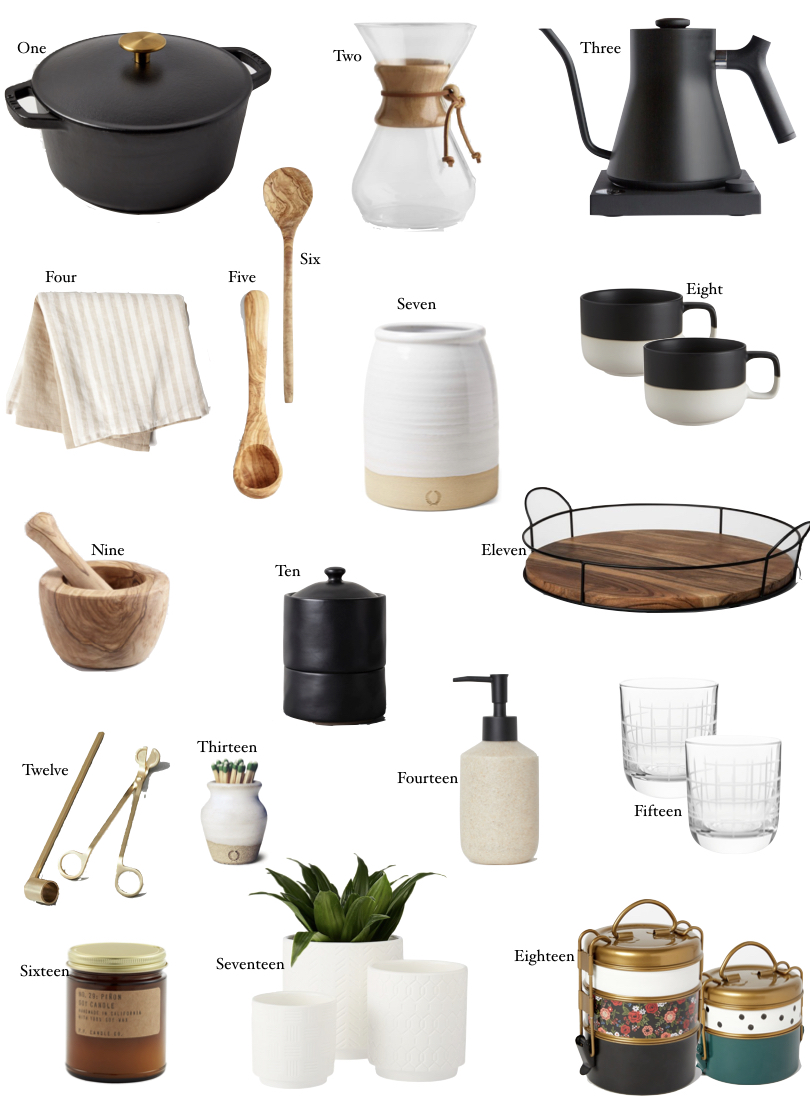 1 – I love this black matte dutch oven with the gold hardware SO much (it's not cast iron though, but this one is) ! I think I'd just have it sit on top my stove at all times because it's so pretty.
2 – For all the coffee lovers. This little pretty coffee maker is the price of a few cups of drip coffee at a coffee shop. This one would look pretty in any kitchen.
3 – While I love my Smeg water kettle (I use it very single day), I do love the look of this black sleek water kettle one. It's currently 20% off.
4- I love a good simple linen kitchen towel set (comes in two other colors).
5 & 6 – Some of our wooden utensils need upgradingbut didn't want to settle just for any (or spend too much $). I wanted ones with pretty grain and wood variations. This olive-wood cooking spoon and ladle are so pretty. Also love this serving spoon
7 – I'm such a fan of farm house pottery. So simple and elegant. (make sure you look at the dimensions too).
8 – I've mentioned these two-tone mugs in one of my previous posts. It took me a while to find ones I really love but the patience paid off. They arrived and I love them!!!
9 – This mortar and pestle set caught my eye and the wood variations and grain is beautiful.
10 – I love this Bath Banister Set that can easily be used for different things as well.
11- Love this wood serving tray also available with brass wire.
12 – I have an almost identical candle trimmer and snuffer set and they're pretty just even sitting on the coffee table.
13 – Another pieces that would look nice just sitting on the coffee table, love this little holder for matches.
14 – Love this soap dispenser. I got a very similar one (this one is a new arrival and even a tad prettier).
15 – Love these etched glasses. Simple with a touch of interest.
16 – The scent of this hand crafted soy candle sounds so cozy. And the amber glass is easy on the eyes too. Free shipping right now!
17- I love this planter set! So simple and minimalistic and the price is amazing.
18 – I saw these stacked tiffins and my first thought was "I don't know what they're really for, but I love them and need them" (one) lol. They can be used for so many different things (even Zoey's treats when we travel with her hehe). Love them!!!
Which items are your favorite?