Today I'm rounding up some outfits from the last couple of months of 2019 that I haven't shared before.
Before I go on to outfits, I wanted to say THANK YOU – thank you so much for following along, for every like and comment on my Instagram and other platforms (which in this business matters a lot but it means more to me). Thank you for shopping via my links. Your love and support mean so much! This industry comes with so many frustrations but even one kind comment always brightens my day!
While I don't believe we need the start of a new year to make positive changes, it can be a good starting point. In the beginning of 2019 I decided to step away from social media, sometimes not posting for a whole week (not good for the business but great for my well being). I really disliked the pressure of having to post to keep up. It takes such a mental toll. I'm hoping to do the same in 2020 – less social media and more being present/mindful, and grateful. And intentional. Among other things…
I'm also very grateful to my husband and my sister for taking my pictures all these years – the only two photographers that ever took my blog pictures (they might be amateurs, but they're very good amateurs 😉 ). And they put up with my fussiness and my never-liking-any-pictures (not because they can't take pictures, but because I'm so darn picky).
There is a lot more I'm grateful for but that could be full post in-itself.
* * * * * * * * * * * * * * * * * * * * * * * * * * * * * * * * * * * * * * *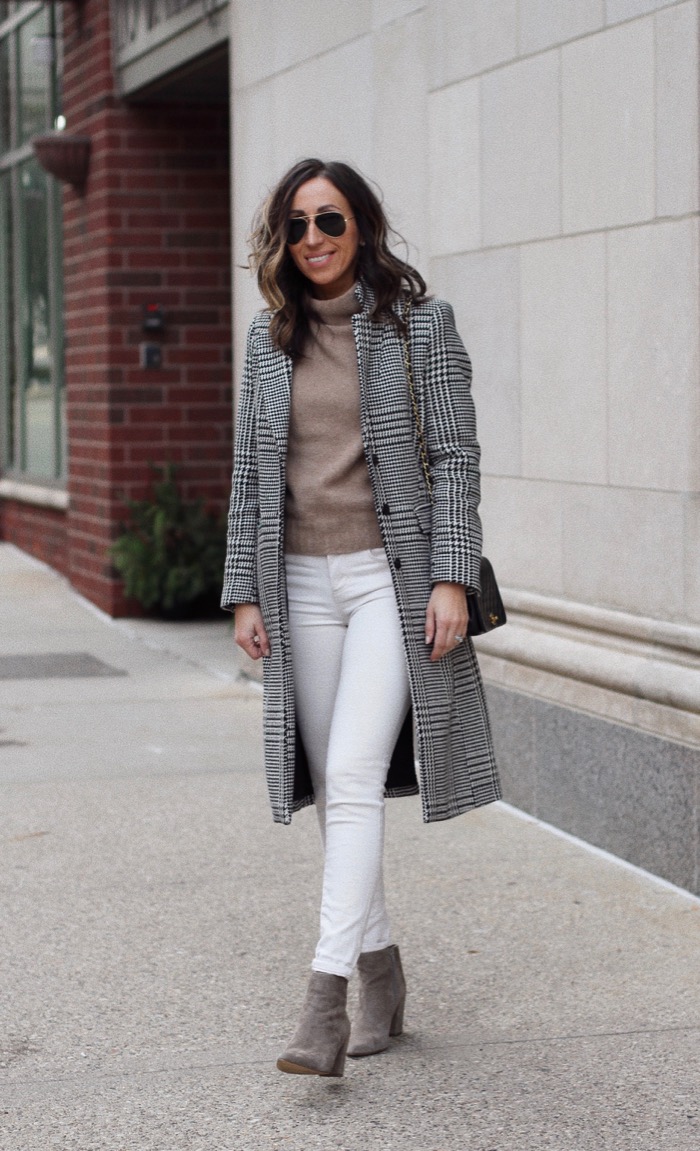 I got this coat a few years ago on major sale. It was a little big but it didn't look bad or sloppy. This one is perfect for chunky sweaters since a bigger coat is usually needed for that. And it fits my sister lol (
Coat (H&M old) – nice alternatives here, here and here | J.Crew Sweater in Small (comes in a ton of colors) | Jeans (Ann Taylor old) – current style | Booties (Steve Madden old) – similar here and here – under $40
This J.Crew coat is from last season and I love just as much as I did when I got it back in 2018.
I've talked about these amazingly comfortable booties in this post (softest leather ever, no kidding).
Coat: J.Crew (last season) – great options here, here, love this one too | Sweater (old) – almost exact here and here | Abercrombie Jeans – great option in more sizes | Everlane Booties c/o | Banana Republic Bag
Besides my Marc Fisher booties, these were the most popular amongst LS readers.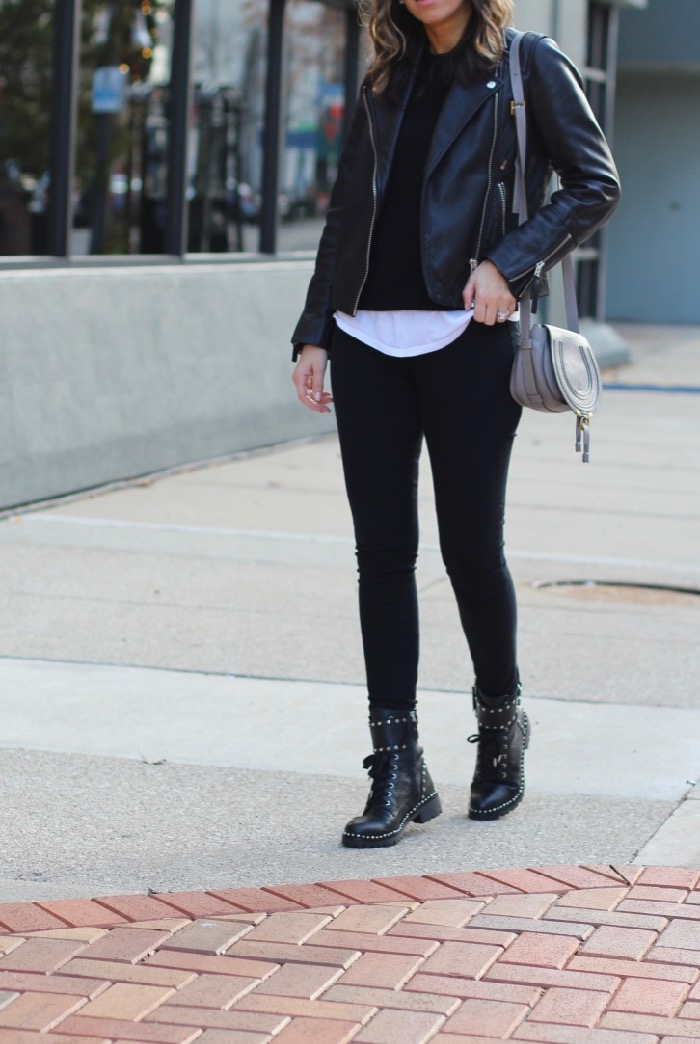 Leather Jacket (old) – similar, here too, here in faux leather | Sweater (old) – similar here and here $20 | Jeans – size up | Boots | Bag
This coat is on such a good sale right now. It's wool and quite warm. It has crossed my mind getting it in black (I know I don't need anymore coats) but thankfully it sold out in black haha.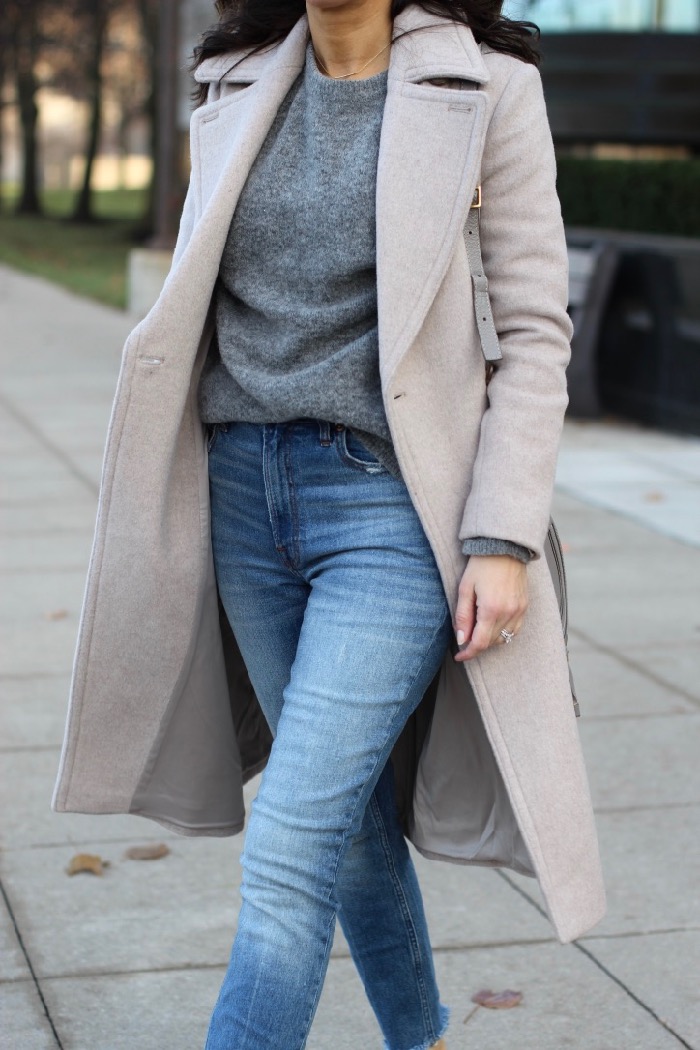 Wool Coat in xs – in color Almond | Sweater (H&M old) similar here and here in xs | Jeans (I sized up) | Sneakers tts – more sizes | Bar Necklace |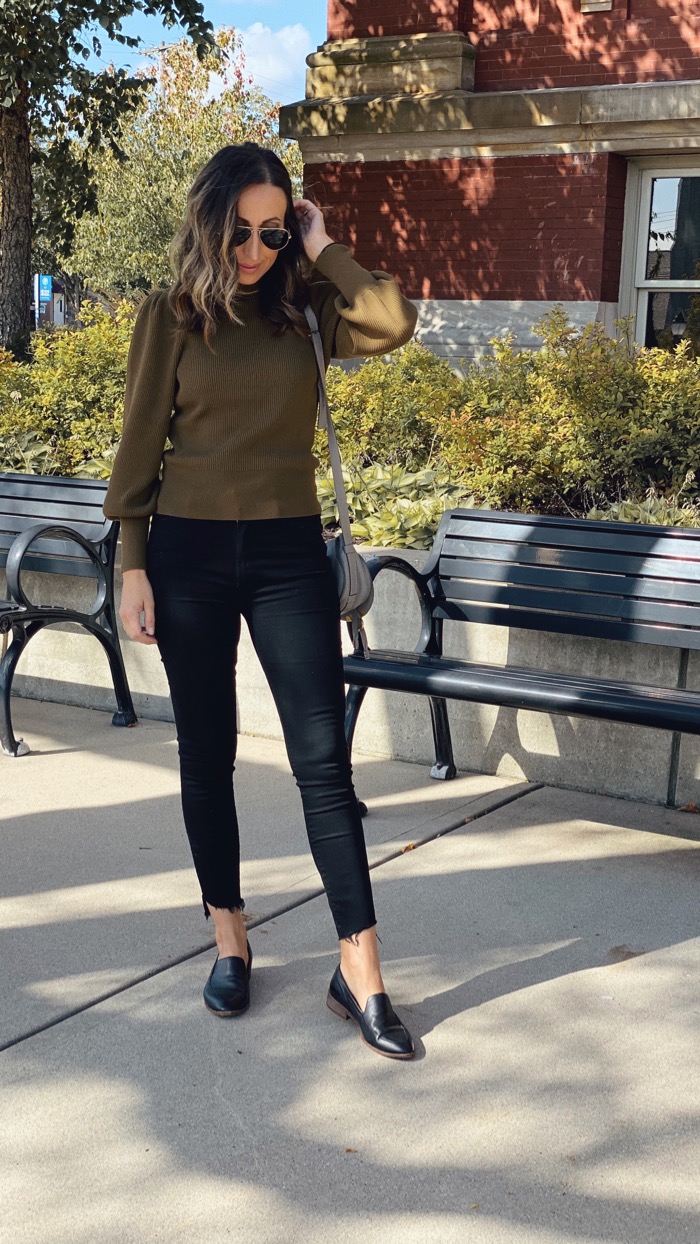 Puff Sleeve Sweater | Jeans | Loafers
This suede moto jacket – it's SO popular yet I hardly ever wear mine. And honestly, I didn't wear it here…it was just for pictures. It's in new-like conditions and maybe has been worn 5 hours total (but I had to have it. Ugh). While it's amazing, I think I will be selling it just because there is no point in it collecting dust and I can put that $ towards something I'd actually wear a lot.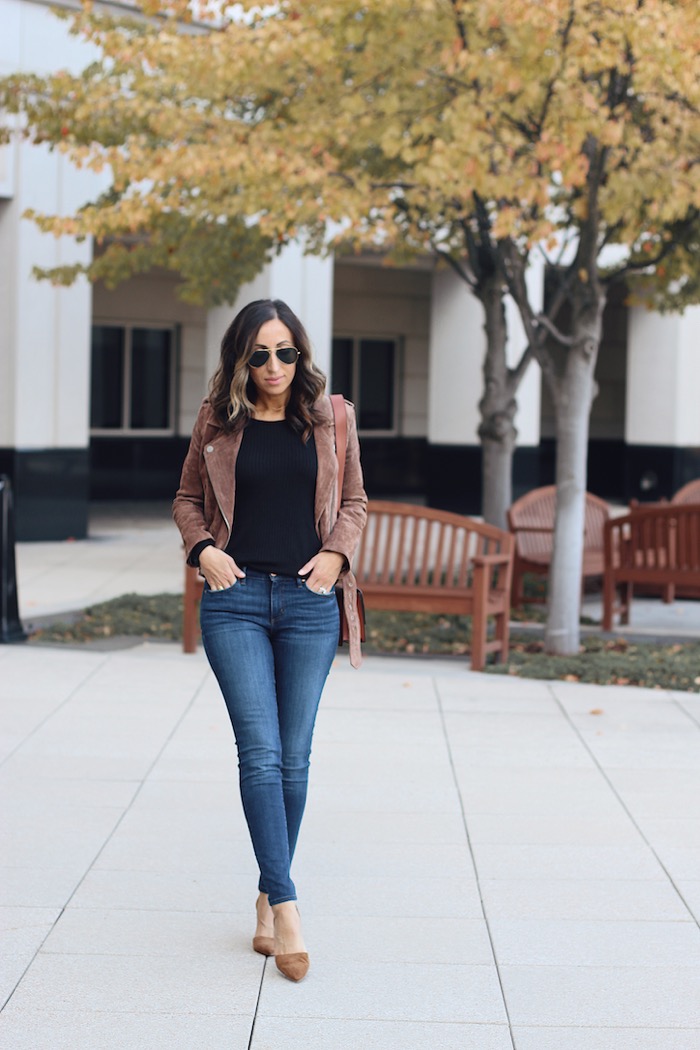 Jacket in size Small | LOFT long sleeve tee in xs | LOFT jeans tts | Pumps (Ann Taylor c/o no longer available)
As always, thank you for taking time to visit Lilly Style blog! xo