It feels like forever since I tried on clothes at any store.
There are so many pretty new arrivals at Ann Taylor and I actually thought that all of the pieces I tried on were really nice. Nothing was meh and that doesn't happen very often. These are not only great work-wear pieces, but each can be incorporated into more casual outfits as well.
Everything is currently 40% off at Ann Taylor (card holders get 50% off). Extra 60% off sale styles.
I love the clean and polished look of this cardigan (and not because it's white lol). The black piping makes it look luxe. And this is one of those pieces that never goes out of style. I'm wearing xs below and it fits tts.
And for sizing reference – I'm 5'6″ 125lbs mostly xs in tops, size 26 in jeans.
Pants – these are ponte style and I love the button details, such nice touch. They have a side zipper. I tried navy below but they also come in black. I tried size 2 and they fit me tts.
I didn't take a good picture of this blouse, which I'm in love with, but I did take a video to show it better (I'll share it at the end of this post). I'm so glad I saw in and tried it on in store as it is such a nice and flattering blouse. Totally recommend this one. tts. And I just grabbed these shoes, as they were my size, to try on with everything (rather than standing barefoot the whole time or in my socks…might distract from rest of the pieces hah).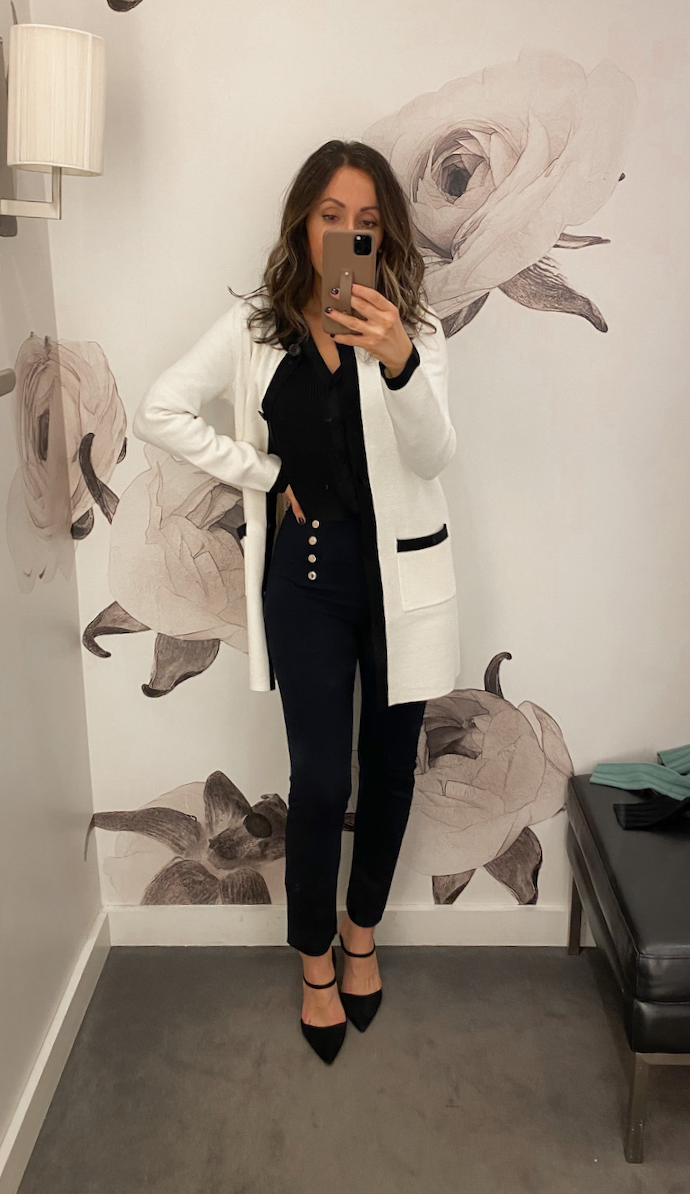 Cardigan | Blouse | Pants | Shoes
How fab is the coatigan below?! (yes, coatigan). Love the oatmeal/white color combo and that it can be belted (optional). You can also tie the belt in the back and create more of a shape to the coatigan (that's what I do with all my coats that come with a belt). Tried on xs below, fits tts.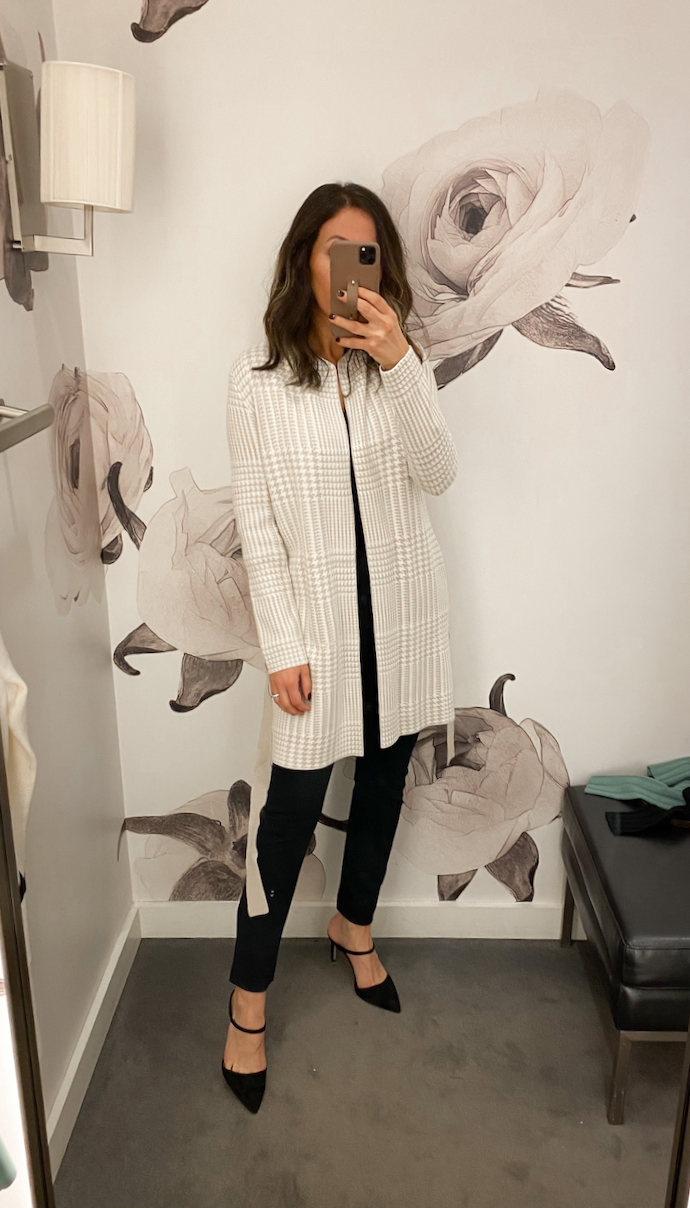 Coatigan in xs | Pants size 2 | Shoes tts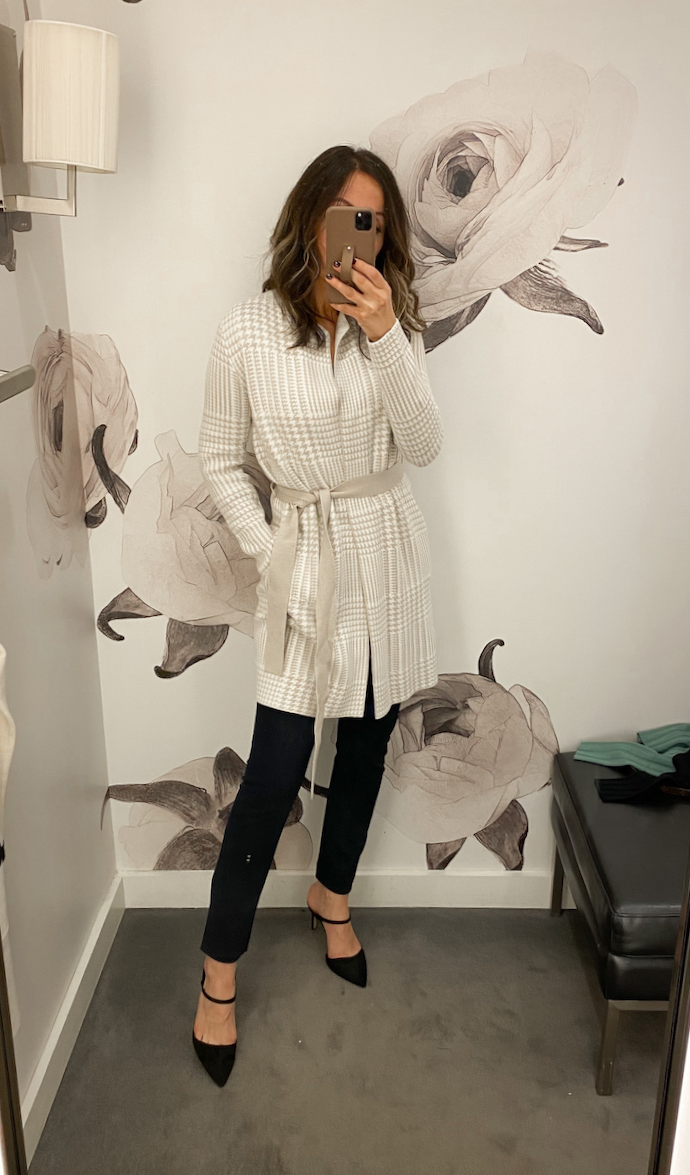 I have this sweater and black and absolutely love the wider mock neck. Tempted to get this color as well (comes in multiple colors). Runs tts.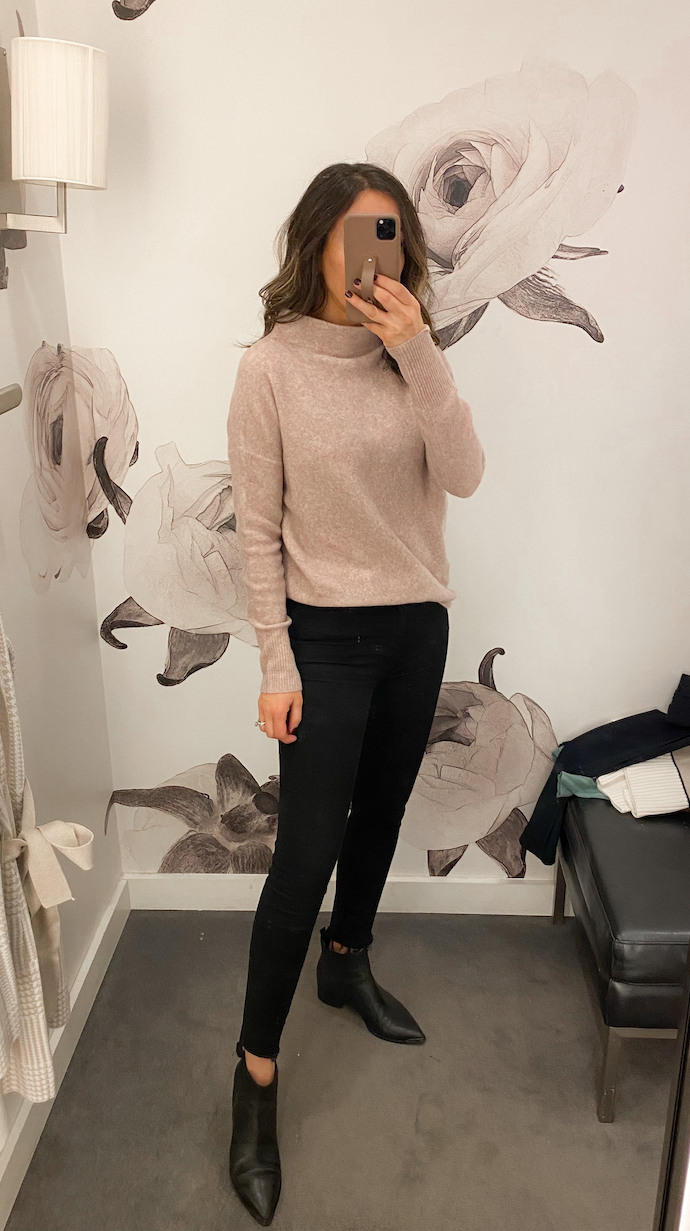 My jeans are Mother tts and my oldie but goodies booties (still available tts).
This sweater (inserts heart eyes). I love the color black and it's boatneck (my favorite neckline). Xs was already sold out in store, tried small below which fits just fine too. Comes in black as well.
I'm a huge fan of ribbed sweaters (I've mentioned in the past that they're my absolute favorites to wear with skirts). I had to try both color below. These ankle pants with button hem are on sale + extra 60% off. I tried size 2 below and they fit tts.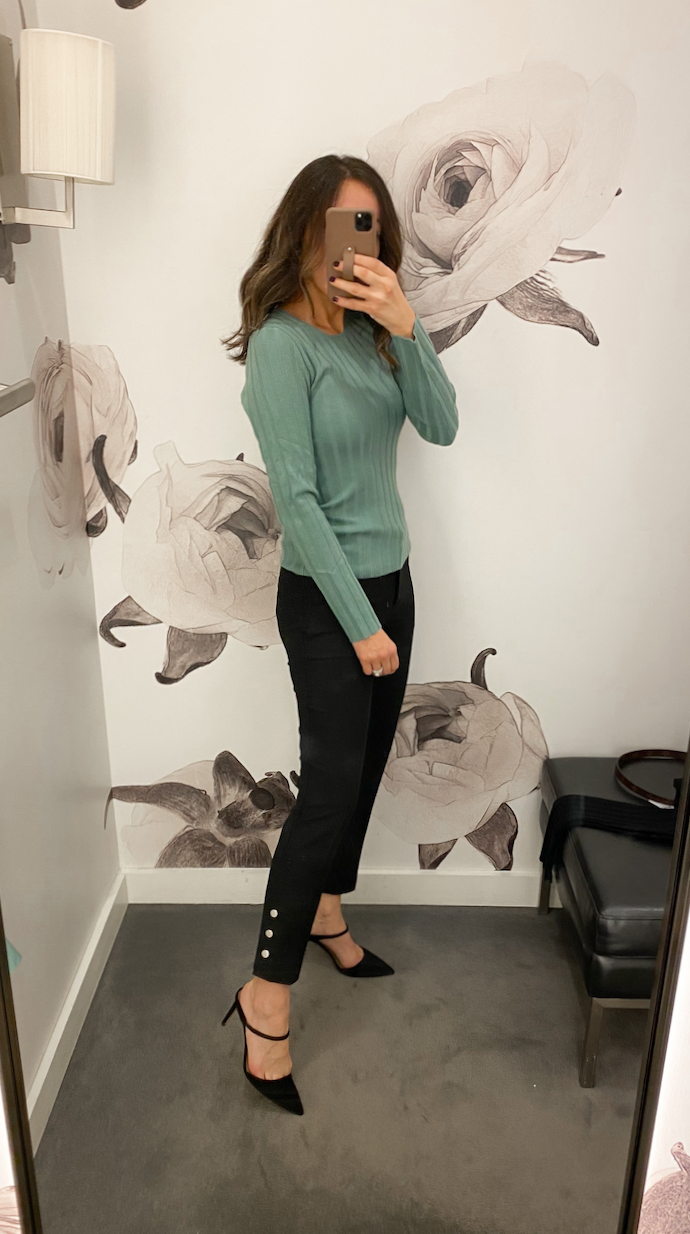 Ribbed Stitch Sweater | Ankle Pants
Same ribbed sweater as above just in black. These are great to wear under blazers too.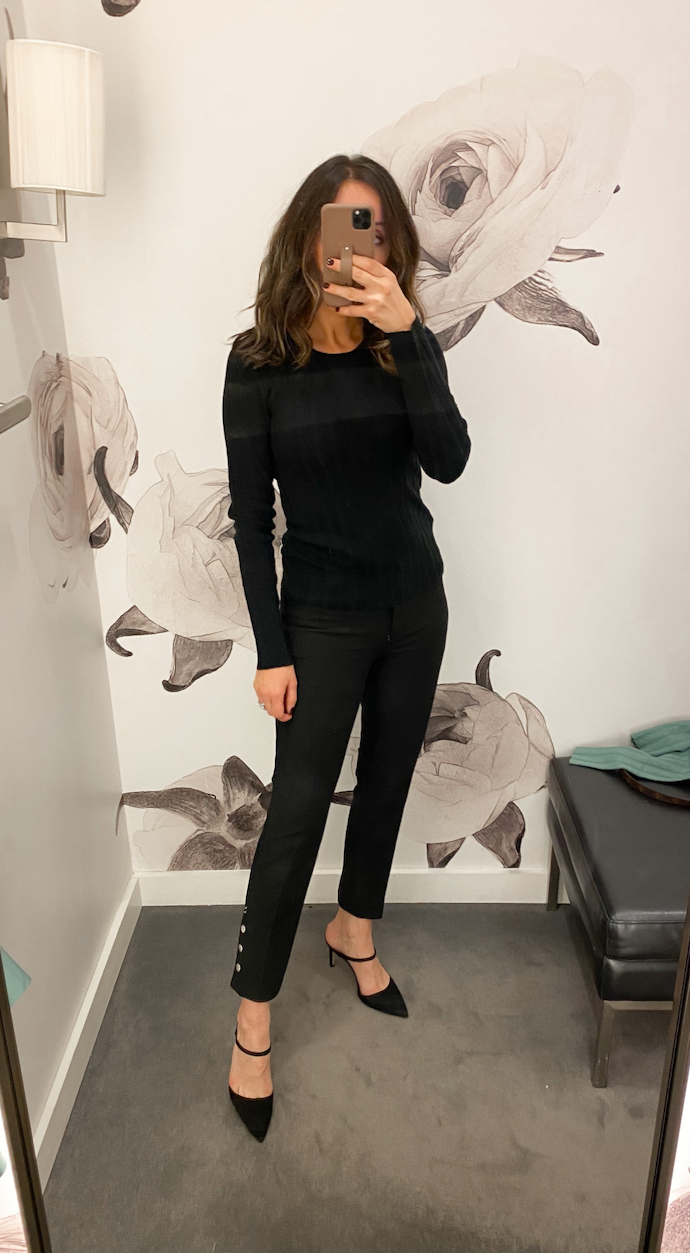 Loved style and color of this blouse. Tried xs below, fit tts. Comes also in black.
Blouse | Ankle pants in size 2
I already have a coat problem…so why stop now right haha. I have a very similar coat to the one below, mine is just black and white. As you might know, or not know, Ann Taylor coats tend to ran a tad big and sleeves are a tad longer than most coats. I'm wearing xs regular. This actually works great with thick and chunky sweaters. This style below doesn't have much shape to it but that doesn't look bad IMO.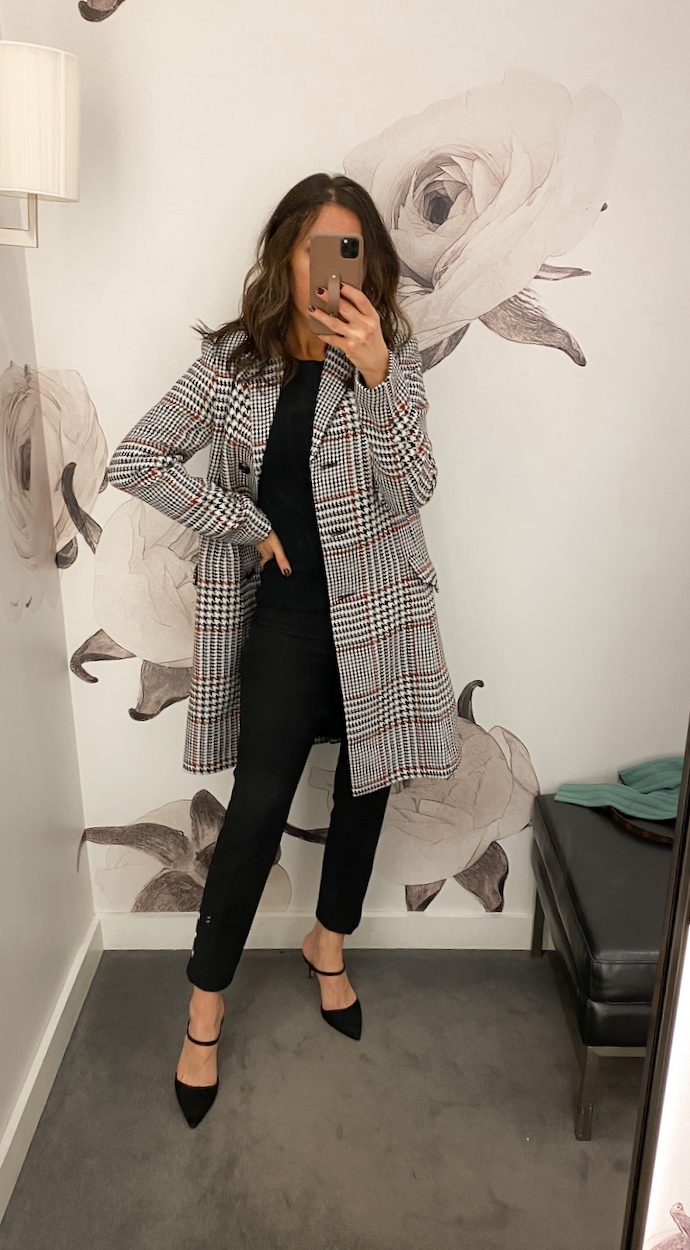 Coat in size 2
Tried on this sweater dress in size Small. I think the xs would have been too tight (it was already sold out in store) but I think xs would have been too tight.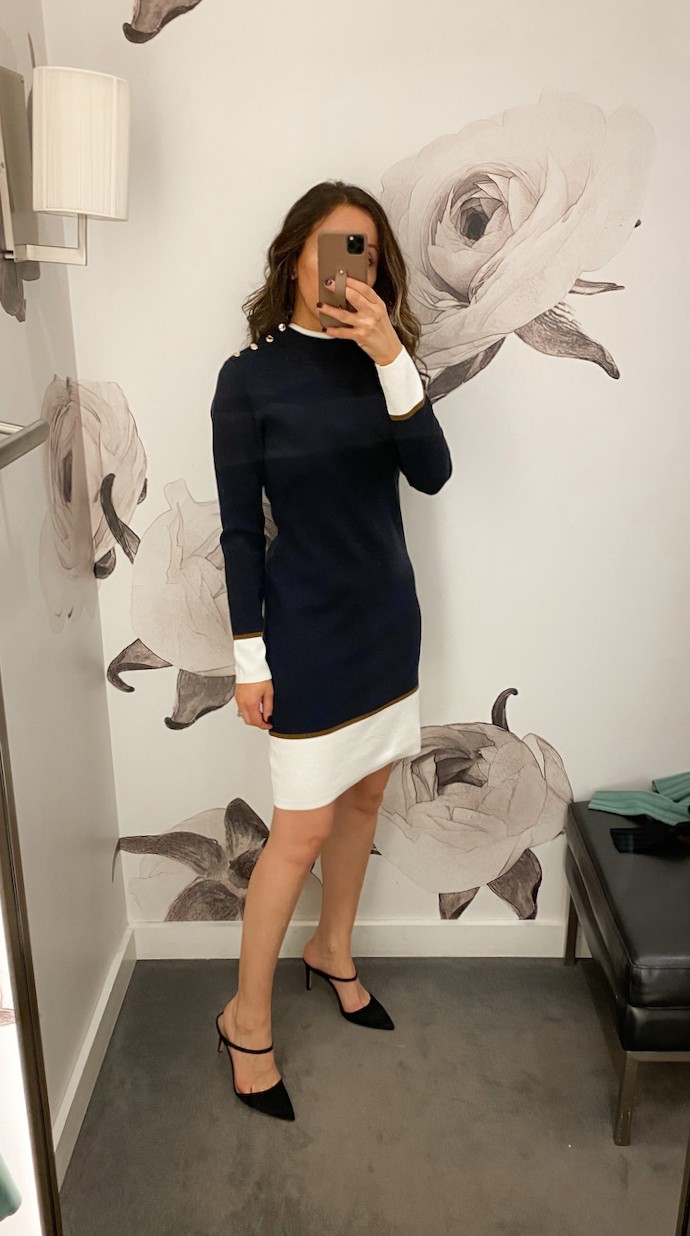 Sweater Dress
A few more picks I didn't see in store…
This is the blouse I mentioned at the beginning of the post. Love it! Wearing xs below.
I hope my half tanned skin wasn't to distracting lol jk But my legs are lacking some self-tanning lotion compared to the rest of my body haha. Which just remind me that I totally forgot to do my self-tanning post. I'll make a note this time and try to get on that asap.