Tried on some pretty pieces recently and most are on sale. I've been on the hunt for a pair of straight leg jeans and there are a lot of options out there at different price points. Jeans are my weakness – I love a good pair of jeans. And with so many different styles out-there, I'm always searching for the next best pair. I've tried a few styles below from J.Crew, and while all were nice, one pair was my absolute favorite (probably because it's pretty much what I've been looking for).
Loved this outfit! The wash and style of these jeans is amazing. Love, love these! They fit tts. This was the only pair I tried that was not on sale. Figures. I'm wearing size 2 in the button down. Flats seem to fit tts but at the same time the right one seemed a tad small (it actually bothers my "funny heel bone").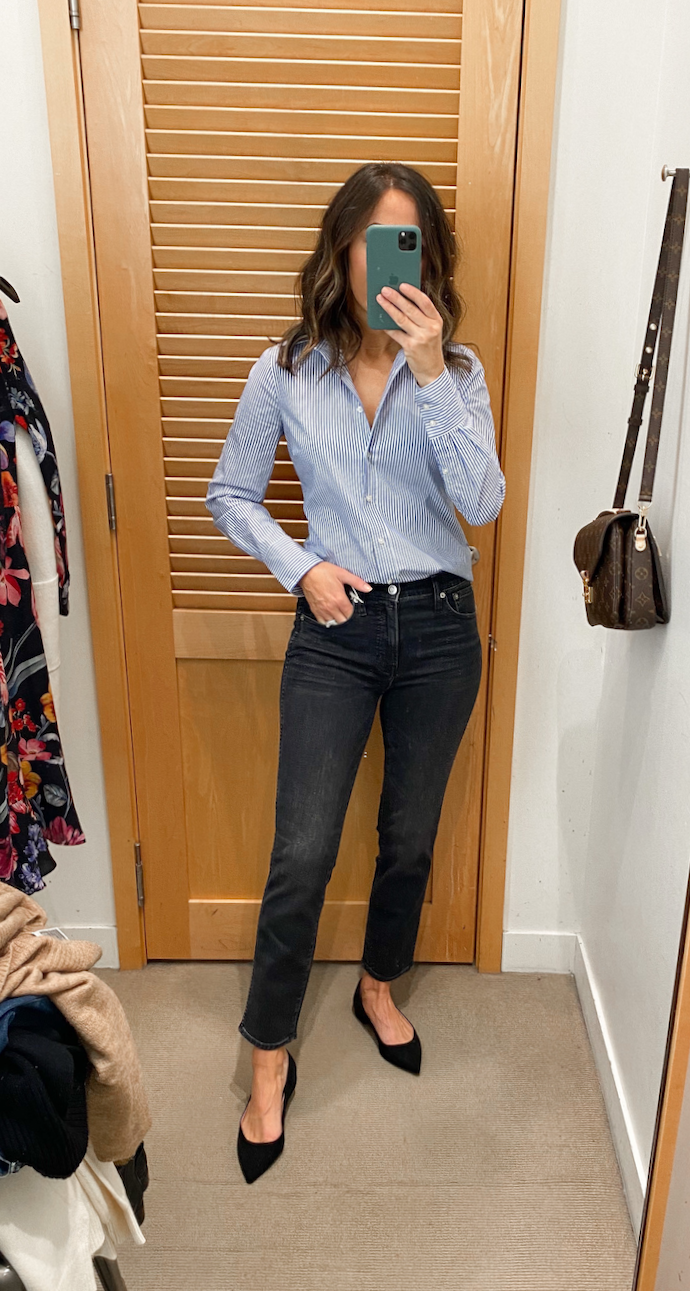 Jeans | Button-down | Flats
I've mentioned quite a few times throughout different posts how much I like J.Crew toothpick jeans. And I'm so happy to see that they finally added more colors and styles. I wanted to try more styles and colors they had in store but most were sold out in my size already. In the ones below I grabbed my size and thought there is no way I'll fit in these, they looked tiny. But they fit just fine, as you can see.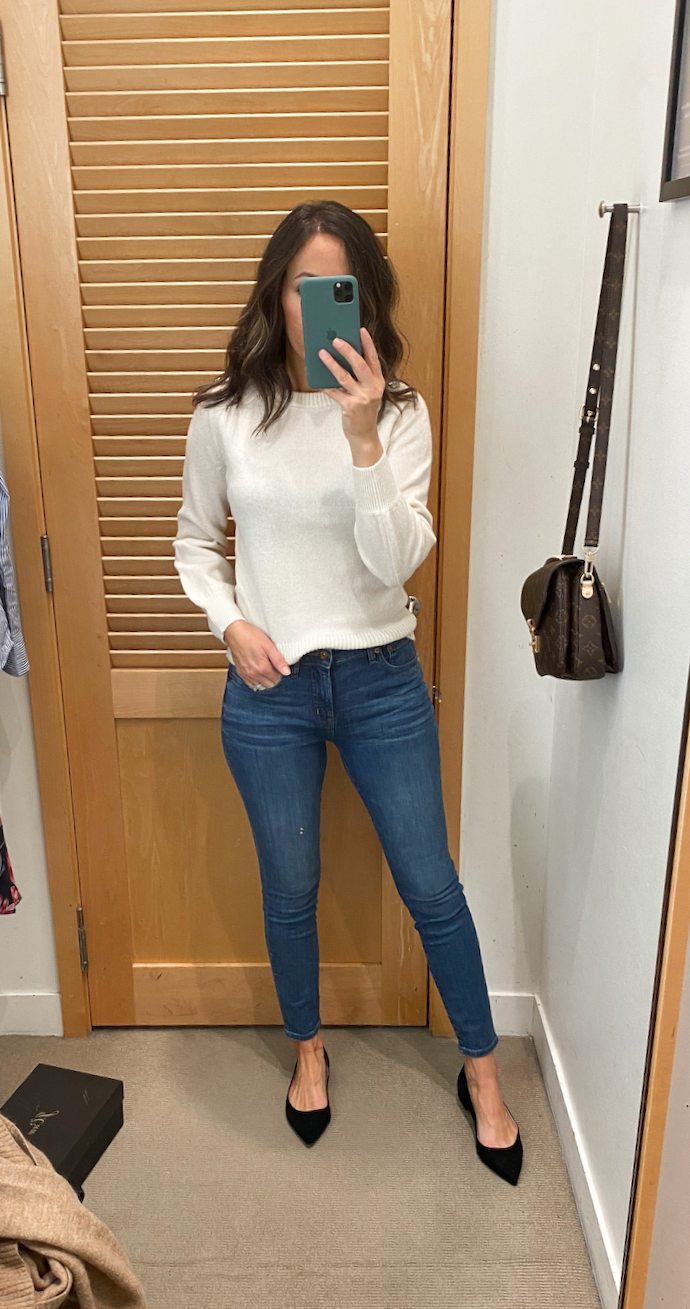 Sweater in xs | Jeans and this color (I actually don't know which color I tried on, they're similar)
The prettiest details on this sweater. It's on sale + extra 60% off. I tried size xs and I think I would have preferred small, maybe. Hard to tell since they didn't have small in store. But it's tts I'd for this style I'd say. It comes in more colors. Looking at it more, I repeat not getting it…might have to order this one.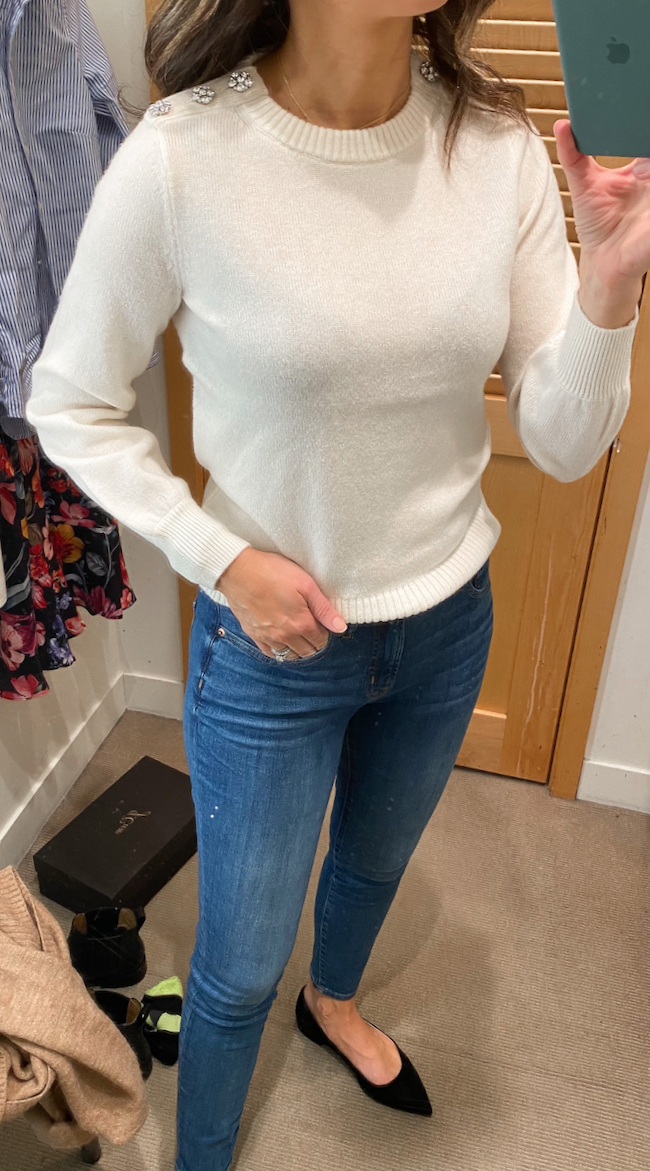 Also linked these vintage straight jeans below. These are 30% online but were not on sale in store (sale ends 1/27). I think I actually sized down in these, I'm wearing size 25. They didn't have my size 26 so I grabbed 25 as they looked roomy.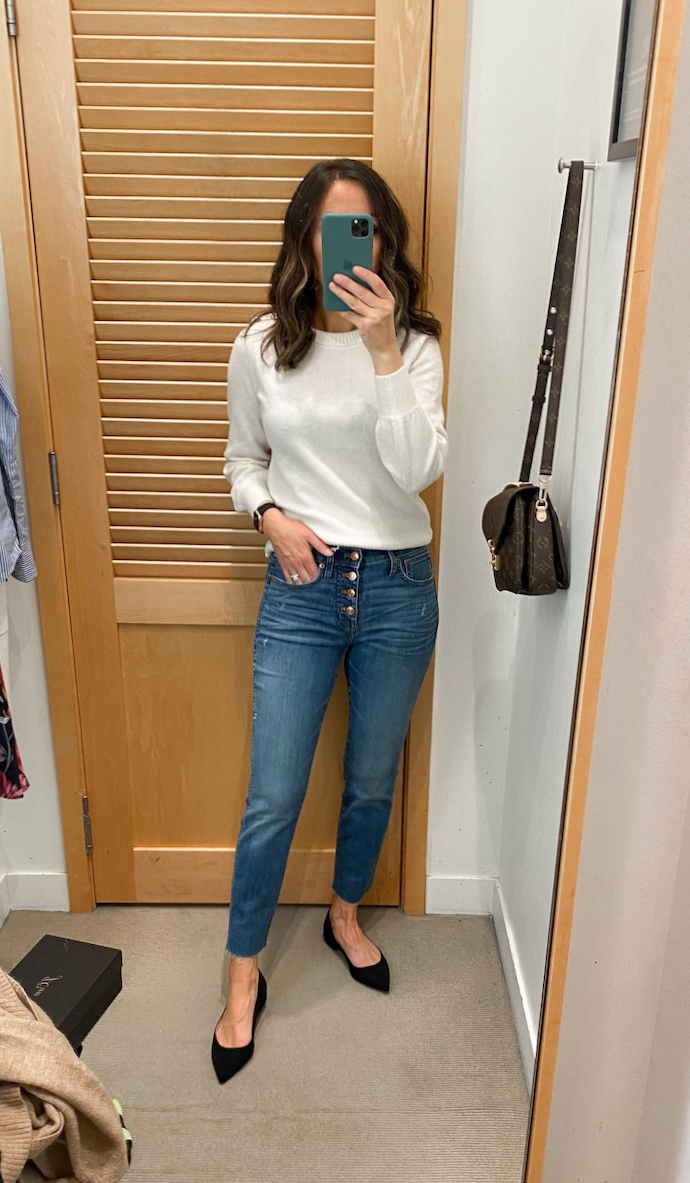 Jeans | Sweater same as above
This sweater dress was sooo soft! Very comfortable. Tried on xs below and I liked that it's not super tight. It would look great with knee high boots. Sneakers too. You can also just add black opaque tights and wear it with booties, heels or flats during freezig months.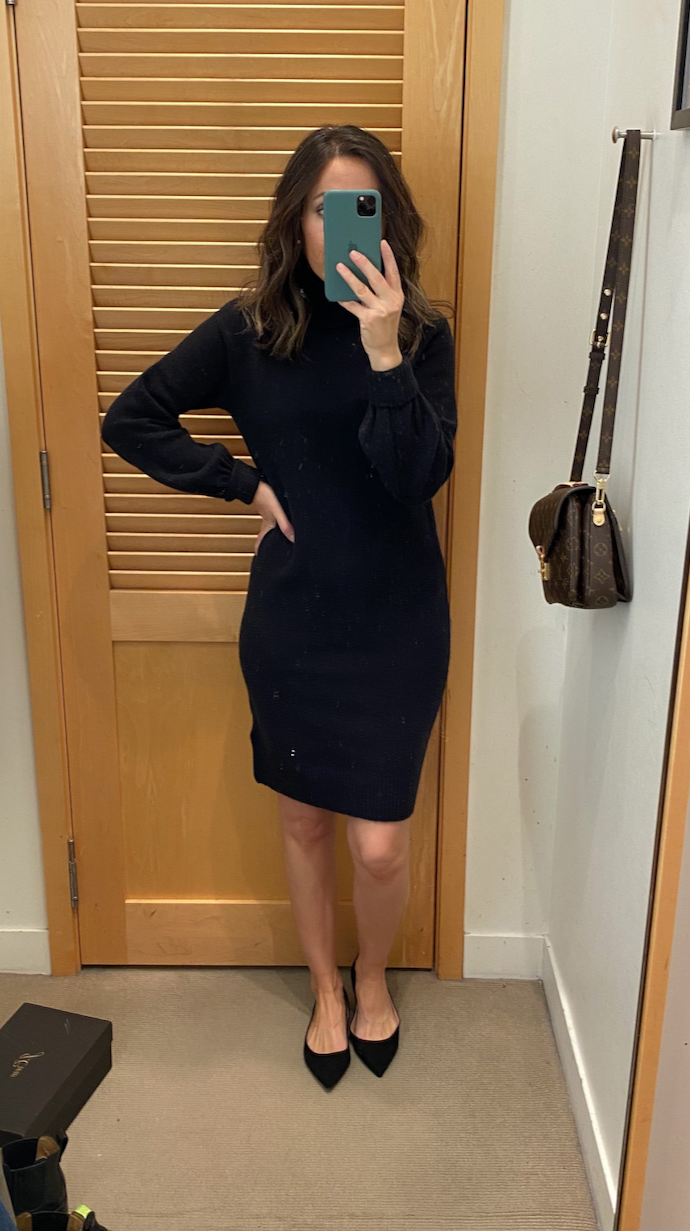 Sweater dress in xs
Such a cute skirt! It's pull on and I tried size xs, fits ok. It gets great reviews. I forgot to take a better picture of the sweater, mainly the ruffle neck detail. I've tried the white one months ago. I almost got this one and it was so nice and the ruffle neck was such a great detail without being over-the-top! XS fit good.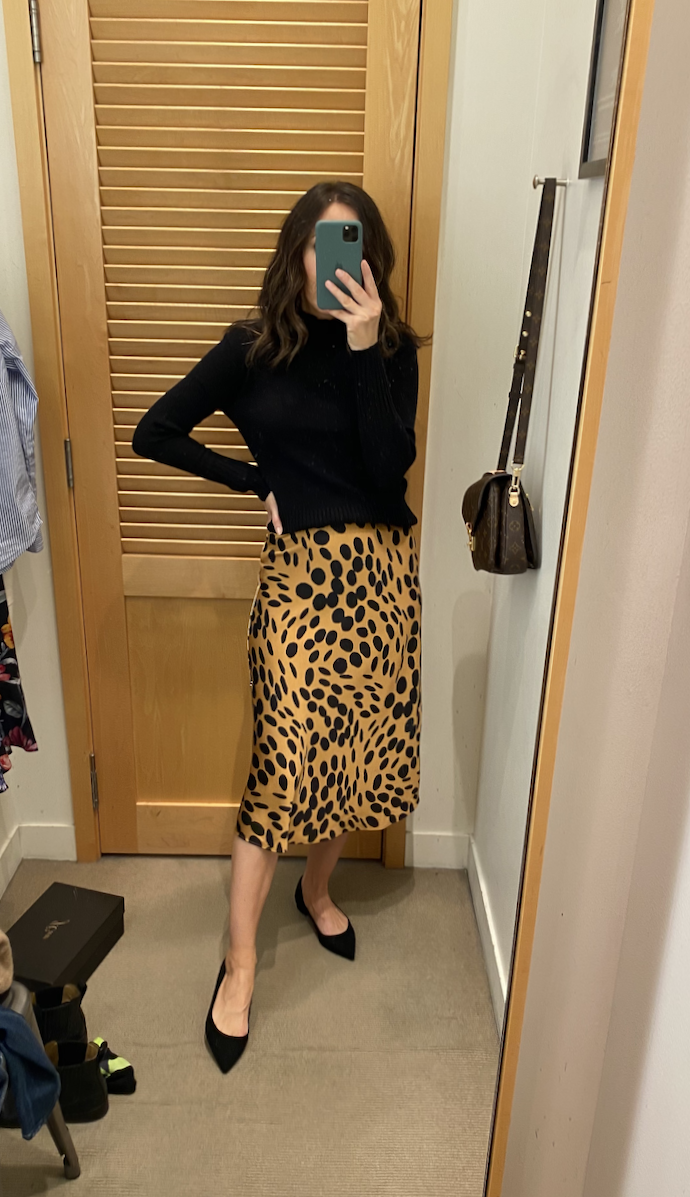 Skirt in xs | Sweater in xs
I've been eyeing this cardigan for a while. I love the pretty buttons and the fact that it look so cute on its own (comes in more colors). This was final sale in store (I think all sale items were final sale in store). I ended up getting this one because of its versatility. Wearing xs below.
Cardigan in xs on sale + extra 60% off | My jeans tts | My booties tts – similar style in more sizes
I have this sweater jacket in black and love it. It comes in more colors but I've been eyeing this one. I can't decided if I like the ivory or light gray better (they didn't have gray in store). It's also 30% off right now. Wearing xs below and my black one is also xs.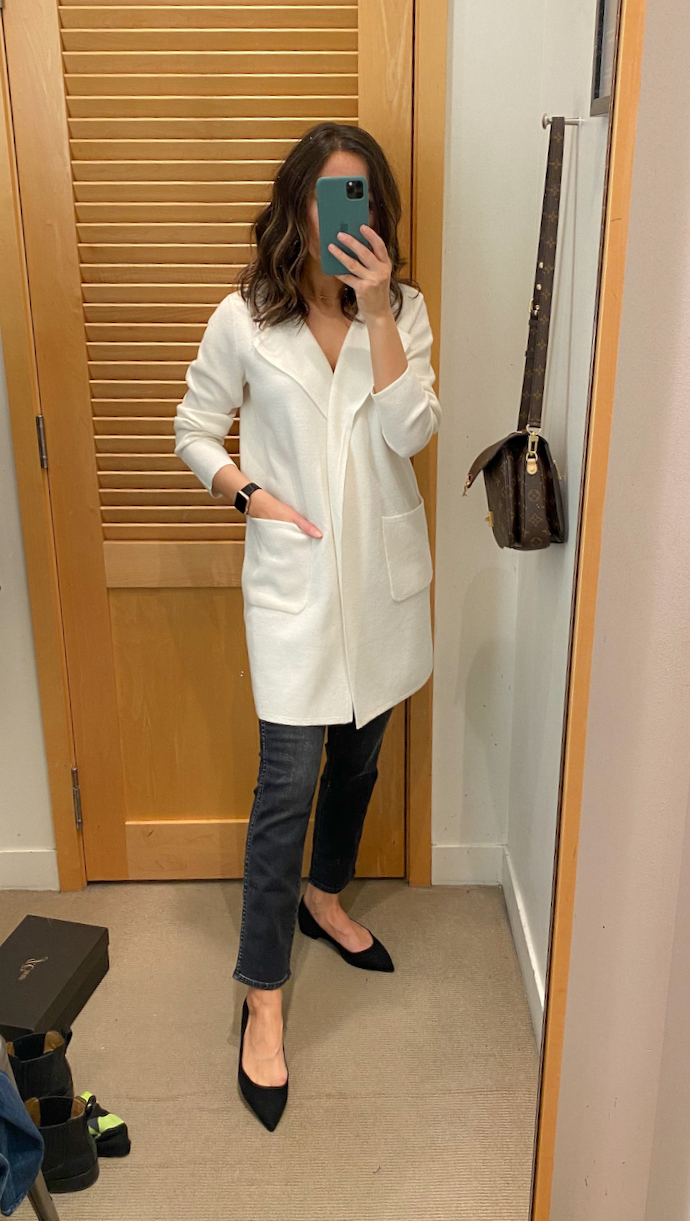 Sweater jacket in xs | Jeans tts
This drapey faux wrap top looked nice and polished. It didn't have a claps to keep the girls/bra from being exposed at it is a tad loose around there. But it's not super low cut though. I was able to get into size 0.
Faux wrap top in size 0
I've seen these mules before and ignored them. They had again my size so I have them a try. The leather is SO soft. My sweater below in only $20. It's oversized fyi – I'm wearing xs below. You can size down though if you don't want it too oversized.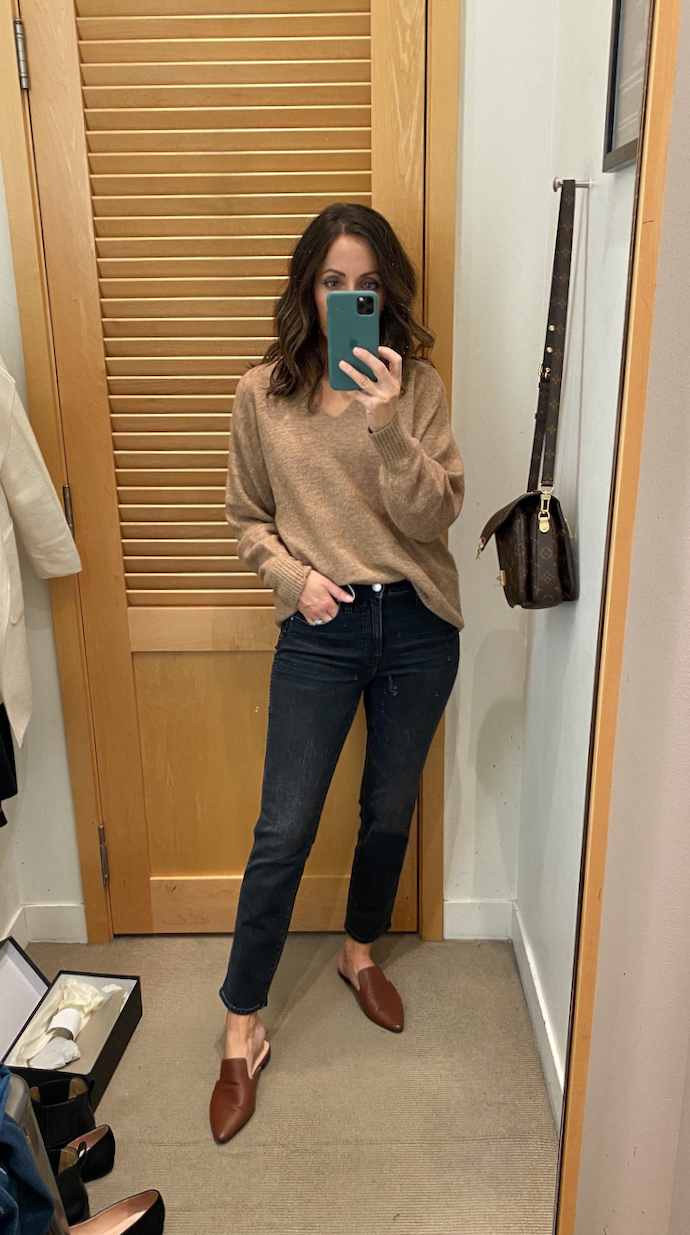 Mules | Jeans | Sweater
Also, one of my favorite items in my closet has been finally restocked in all sizes – the amazing long coatigan below! Finally! It sold out fast first time around. The style is oversized, I sized down to xxs…just depends how you like it to fit, but you can easily size down.
Long Coatigan | Pumps tts – 30% off
The coatigan above, the sweater blazer below and the ivory one I tried earlier are all same fabric. And have all three lengths and absolutely love them. The sweater blazer below is currently 30% off.
Sweater blazer in xs – comes in 9 colors | Cami in xs – 30% off | My jeans tts
My other J.Crew picks:
Have a great weekend!