Have a few Madewell and LOFT fitting room snapshots, not too many. Madewell is running extra 30% off sale styles and LOFT is running some great promos as well.
Most Madewell jeans just don't fit my body well for some reason but I keep trying them on as I really like the styles they carry. I do have a pair that fits well and I love them. I had ordered these jeans below a while back because they're curvy style (I always have hard time zipping up jeans in my true size). I ordered my usual size 26 and when I tried them on I didn't think there was anything curvy about them. They were so tight on the tush, flattened my butt basically. So while in store, I wanted to try them again and sized up to 27 and they fit a lot better. Just heads up that sizing might be off on these. At least it was for me.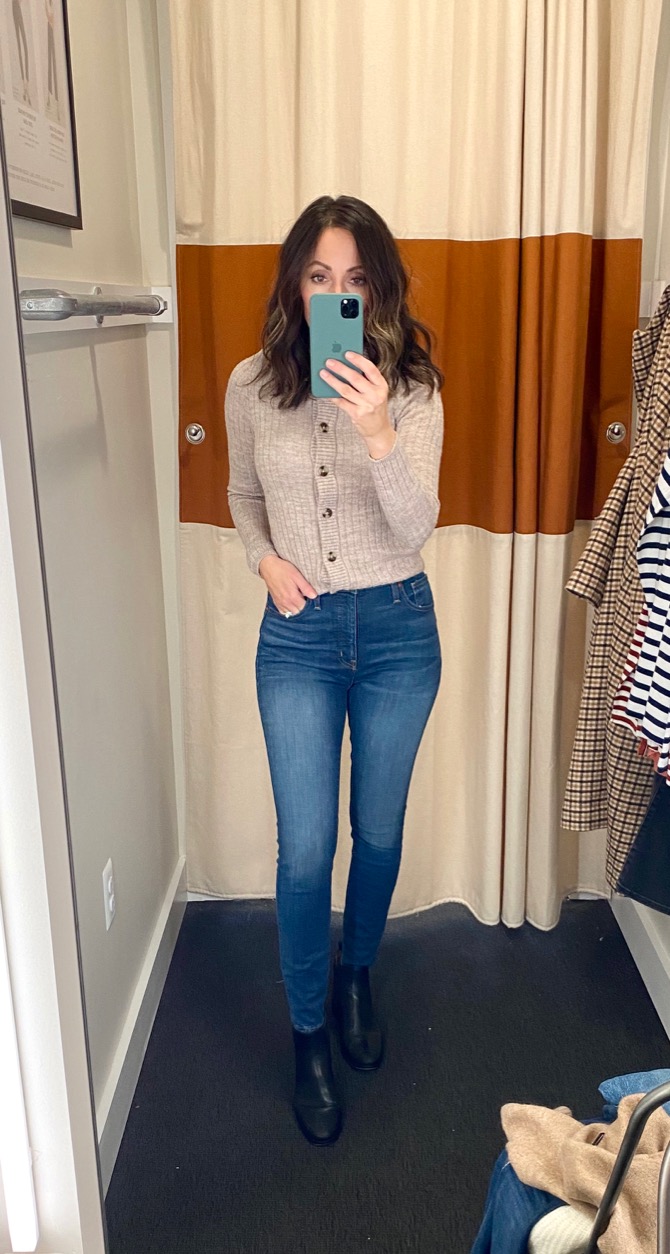 Sweater on sale + extra 30% off | Jeans | Booties
I've been eyeing this cozy sweater for so long and finally got it since and it's on sale too. Wearing xs below. Jeans are similar style to the ones I already have but these ran small, I couldn't zip them up.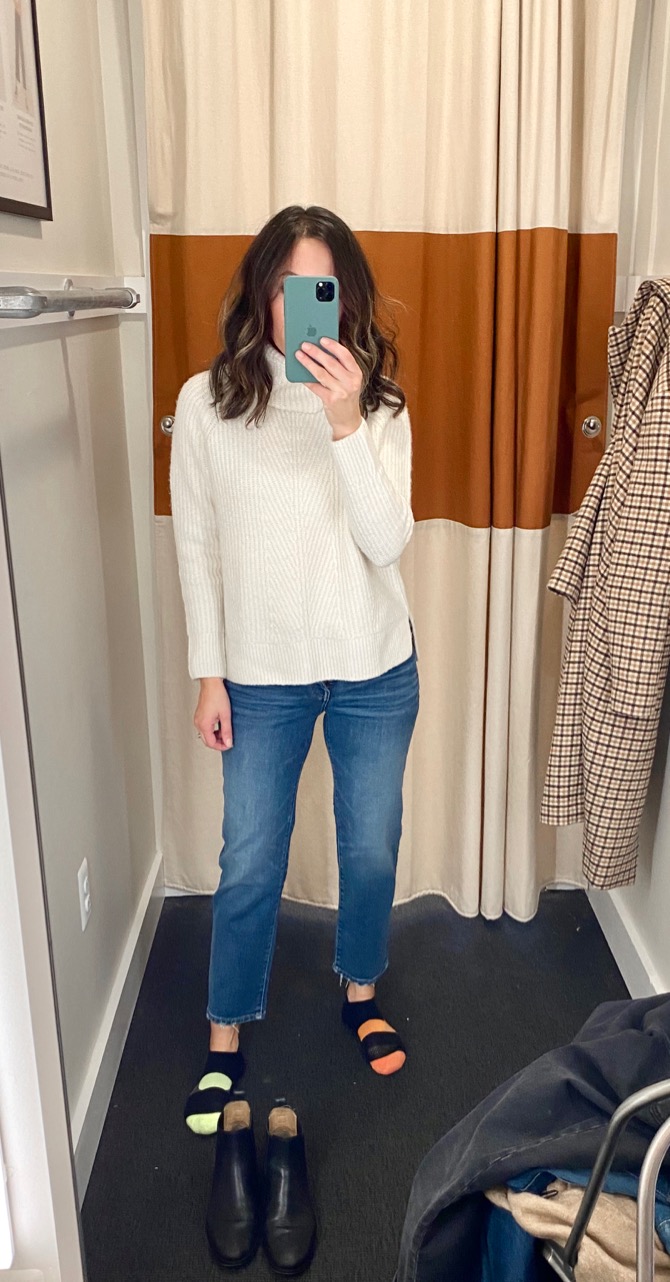 Turtleneck sweater in cozy year xs | Jeans
Nice straight leg jeans but I liked the J.Crew ones better on me. These ran tts for me.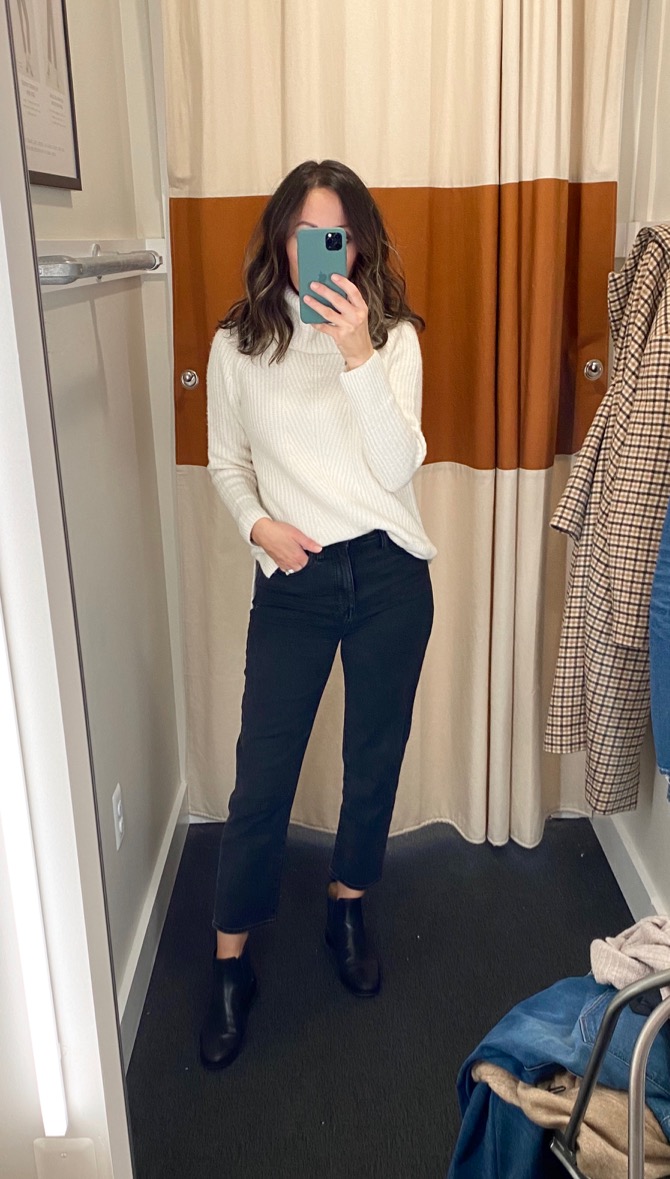 Jeans | Sweater in xs
I always love seeing this style of jeans on others but never seem to like them on me. These were the softest and comfiest ones I've tried at Madewell during this try-on. TTS. They get great reviews! Loved this cardigan. I grabbed xs but should have tried small. Xs fits ok too, just depends how one would wear it. Chic cardi though.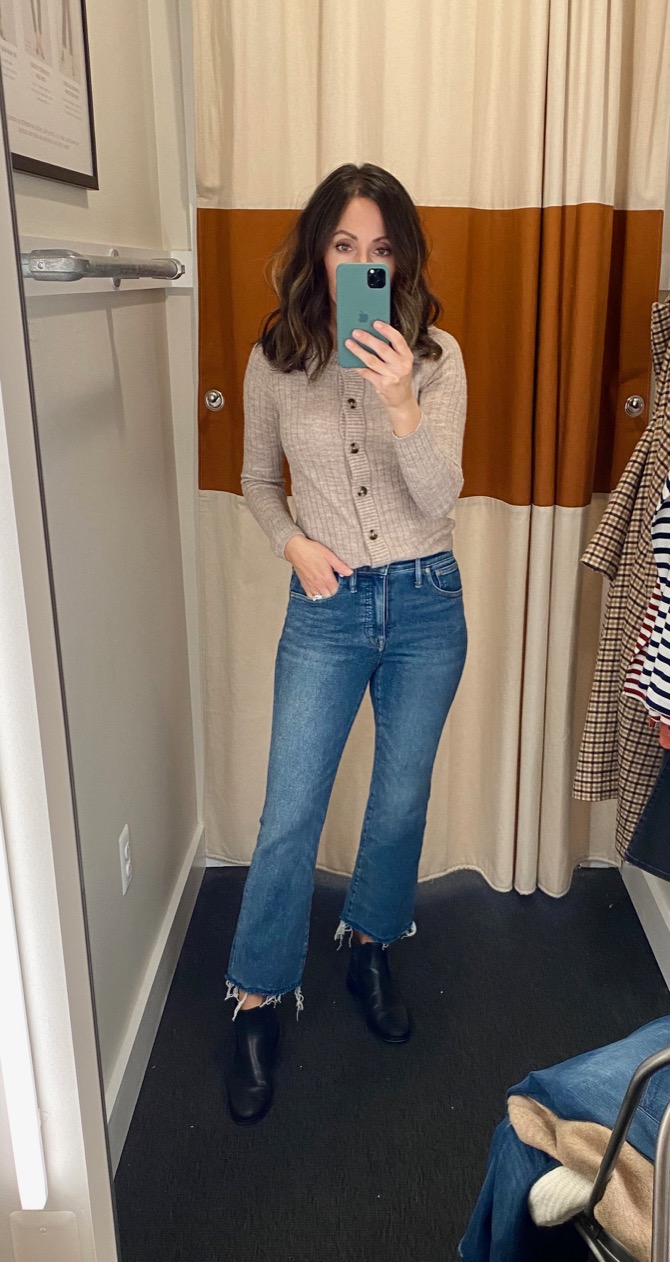 Demi-Boot Jeans tts
Really like these ones below, but they're almost identical to what I already have. Love the cut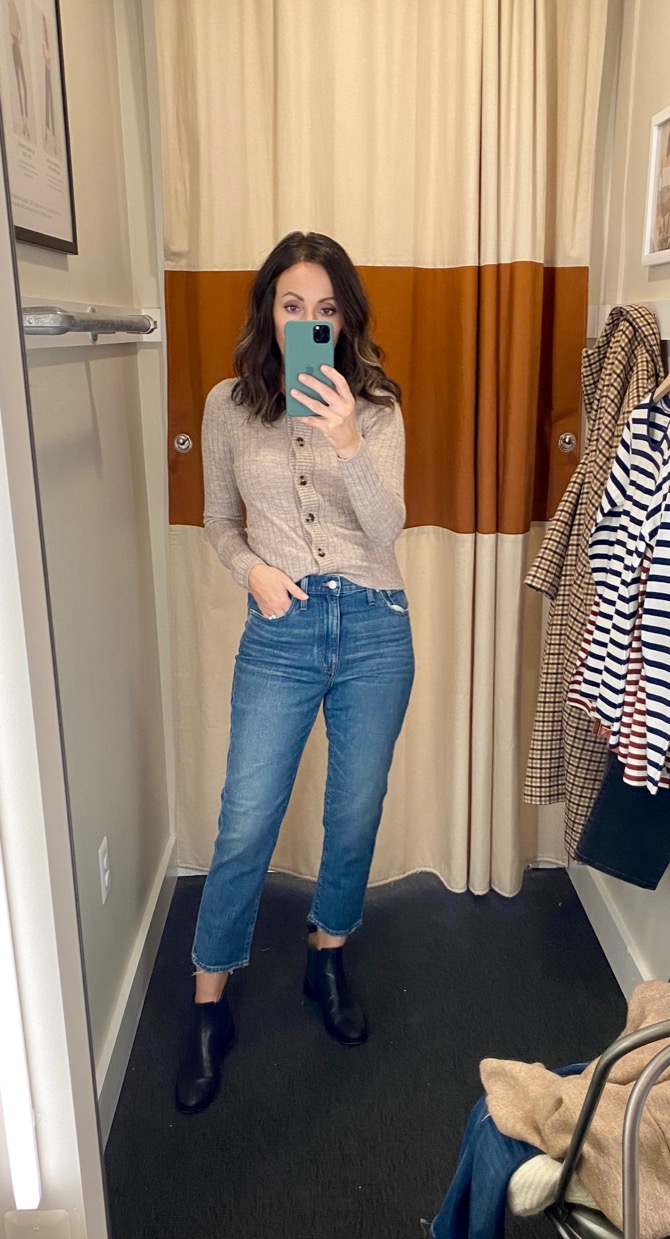 Jeans | Cardigan
I love striped tops! I'm embarrassed to amid how many I have accumulated over the years. And yet, I always navigate towards them when I see them in store. I loved the one below and it's on sale. This style runs a tad small IMO. I tried two colors, one in xs and small. XS was tight in arms. Small was a good, comfy fit.
Striped tee in small | My jeans tts
This one below is in xs and too tight in arms.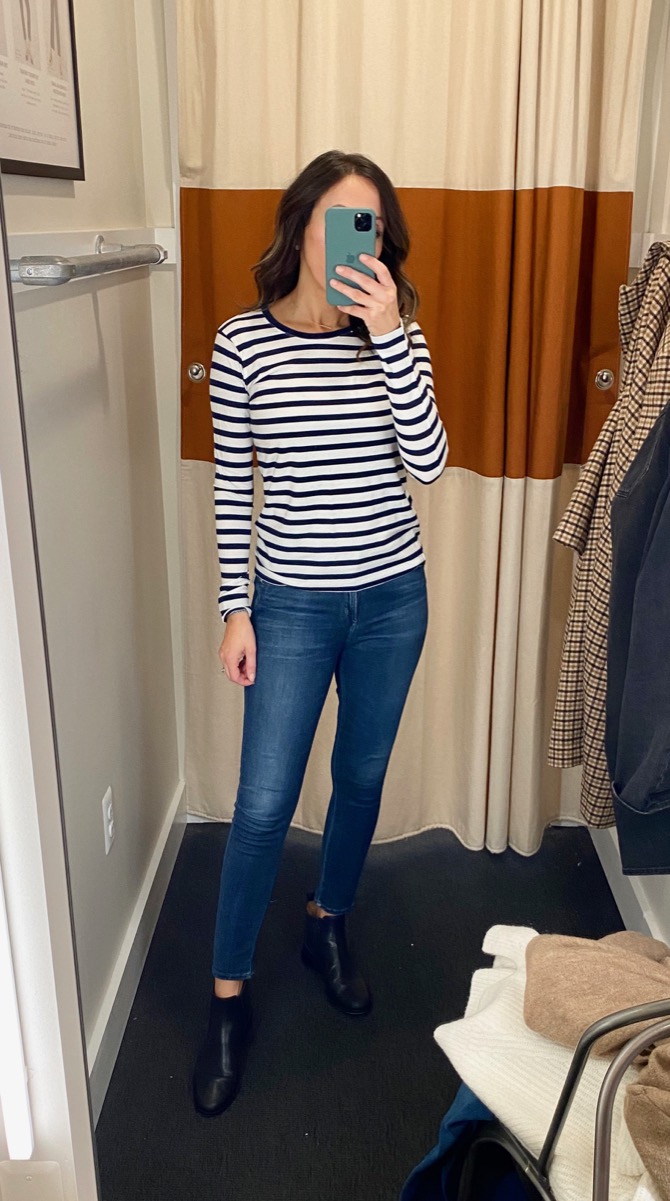 Striped tee in xs
Also, this amazing oversized button down is on amazing sale! Not only is it chic, but its very comfortable. You can easily size down. Also, here are links for jeans and slides.
---
LOFT – 40% off full priced styles (exclusions apply)
This sweater below – so soft! I tried size small below and it's a relaxed fit. I'd say it runs tts but if you want a more relaxed fit size up. I liked the wash of these jeans but they didn't have my size. I was able to squeeze into size 25 but wouldn't say it was overly comfy zipping them up.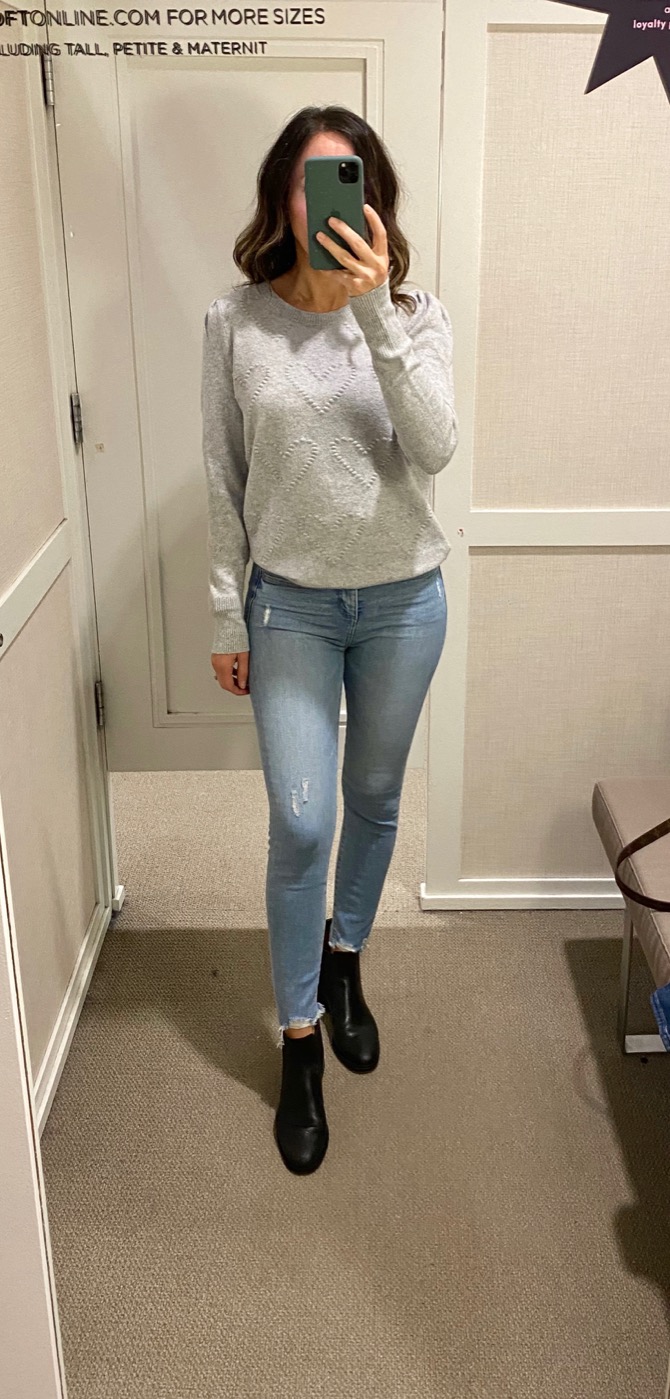 Sweater | Jeans
I love, love this sweater. I don't get the negative reviews but I guess it depends what you like…and I like relaxed and oversized sweaters. It's a tad boxy but I wanted it a tad more oversized and tried size Small (I'm usually xs). Love the stitching and the style. Fell in love and it came home with me. I wore this sweater part of the day on Sunday and shared it on my LTK account (I share more of my daily outfits on there). But you can also catch all those looks on the Insta Shop tab on my blog.
Sweater in size Small | Jeans
Such a cute top but they didn't have my size. Still had to try it on as it's adorable. Definitely need a smaller size.
Floral embroidered Bell Sleeve Blouse
I liked this top and the simplicity of it. Very versatile and can be worn year-round.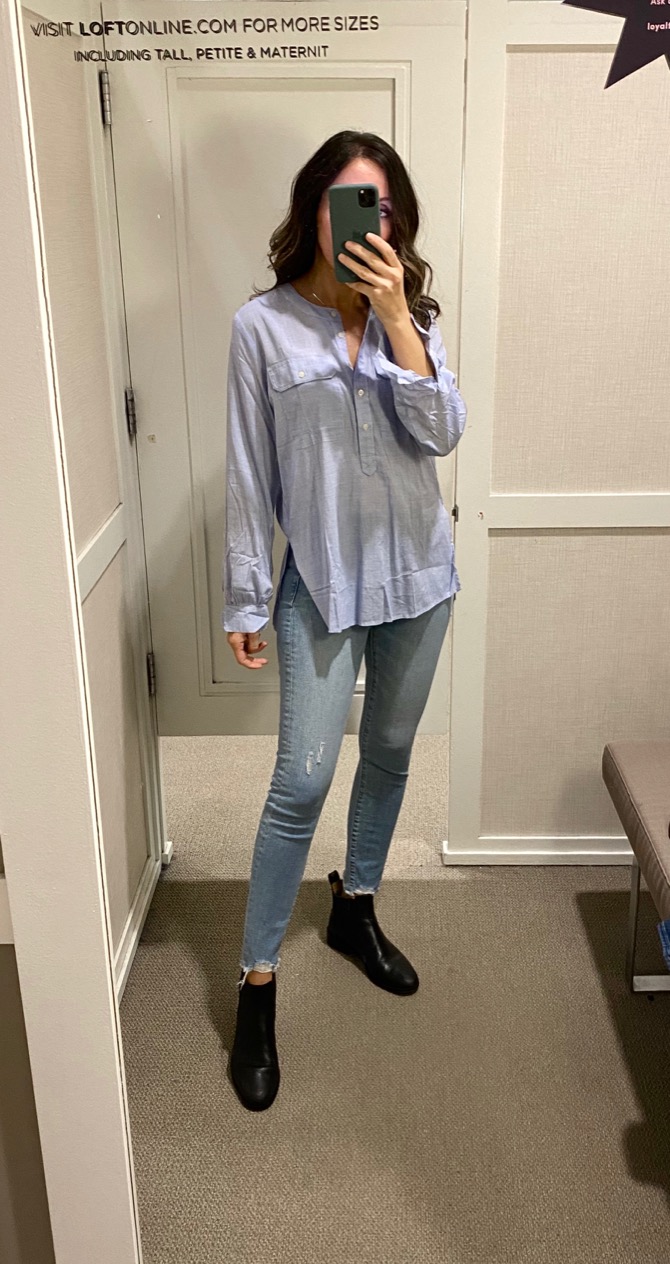 Henley Utility Blouse in xs
Love the cutout details on this blouse. Easily dressed up or down. Tried on xs below.
Cutout Lace Yoke Blouse
Adorable pull on slip skirt. Wearing xs below, tts.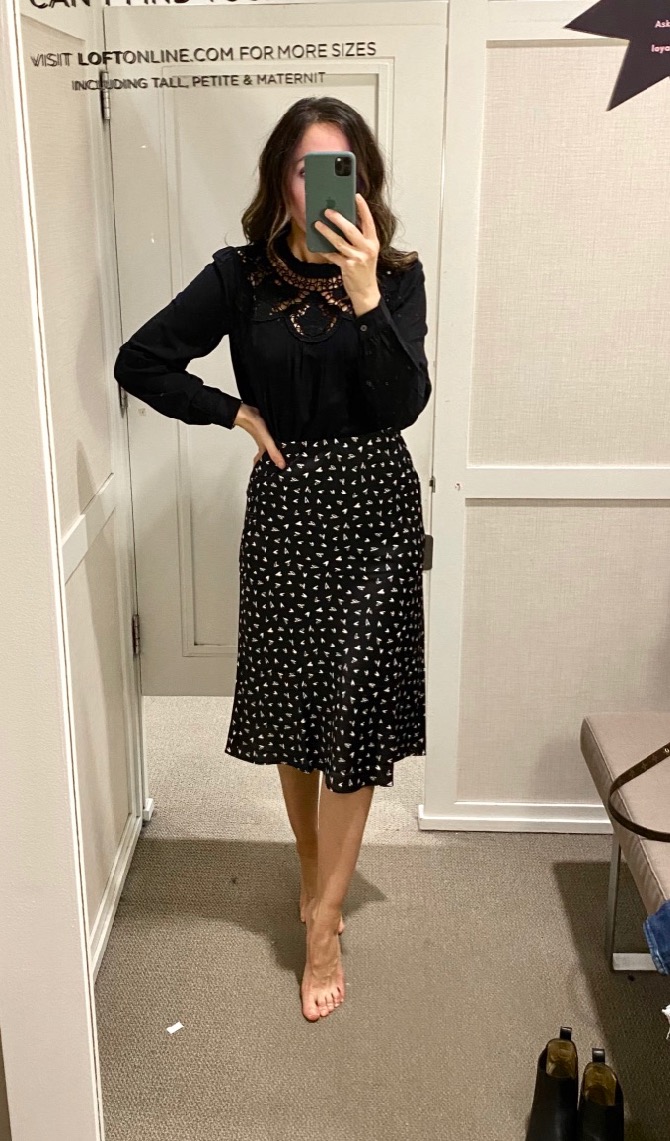 Heart pull on midi skirt
I was a little surprised how nice this coat felt. I'm kinda glad it didn't fit me as I really shouldn't be allowed to buy more coat. I tried xs but it seemed to ran a tad big.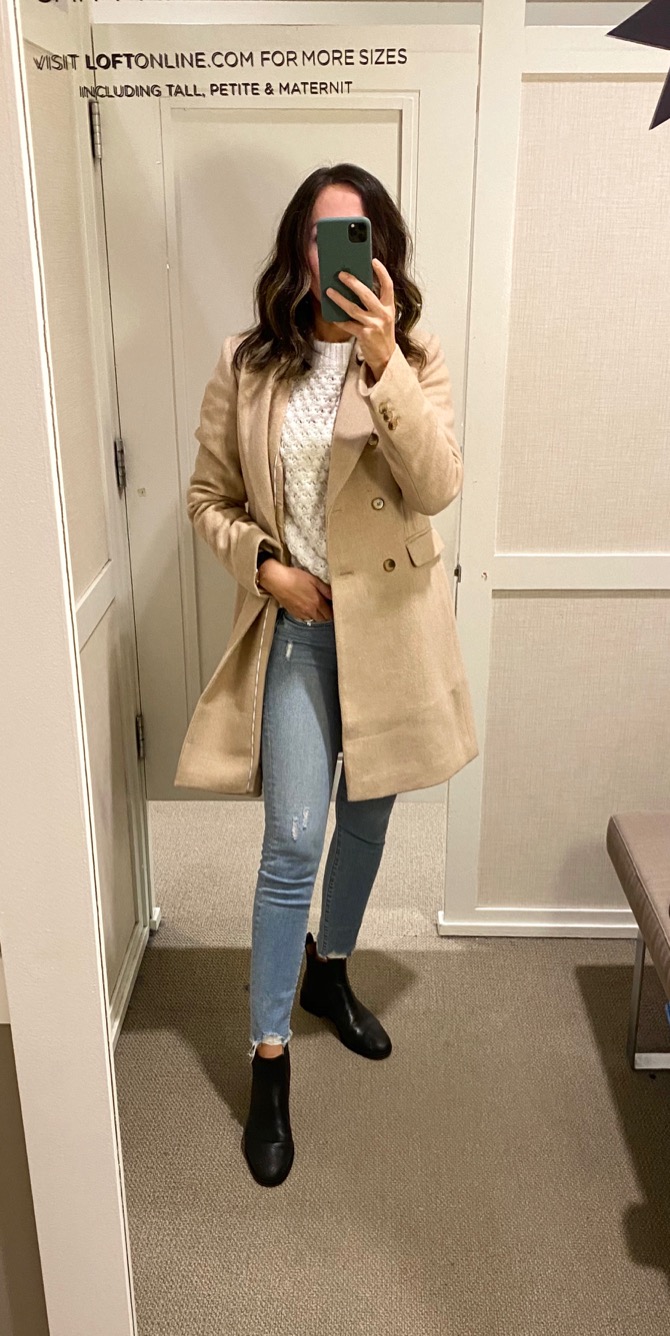 Wool Twill Double Coat
As you can see in the pic below, it looks almost like size small not xs. Super cute though but the fit seems off. And while I usually don't mind extra room in a coat, this just looked weird on me.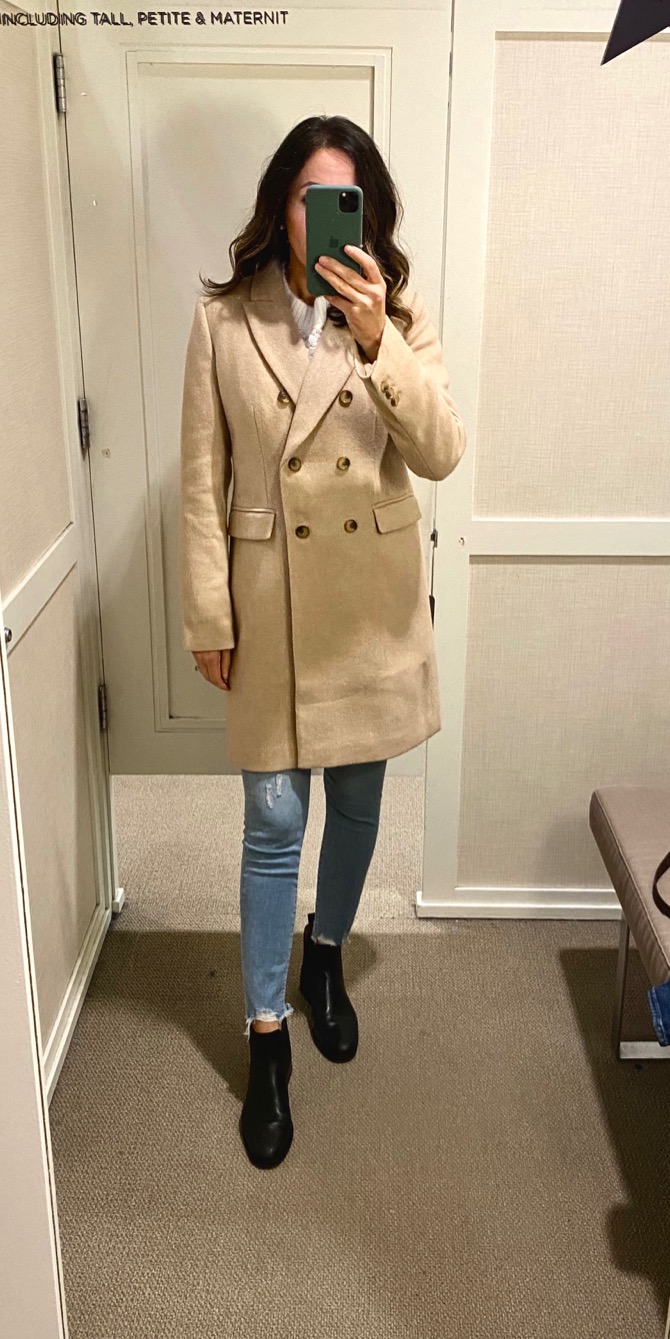 My other picks: