It's no secret that I'm a huge fan of classic pieces. And this tweed blazer is just that – classic and timeless! It is so chic and I love that it can easily be dressed up or dressed down. And one of the best parts is that this blazer is machine washable! Yes!!!My entire outfit is currently 40% off! I also shared some fitting room snapshots in yesterday's blog post….so many pretty new arrivals!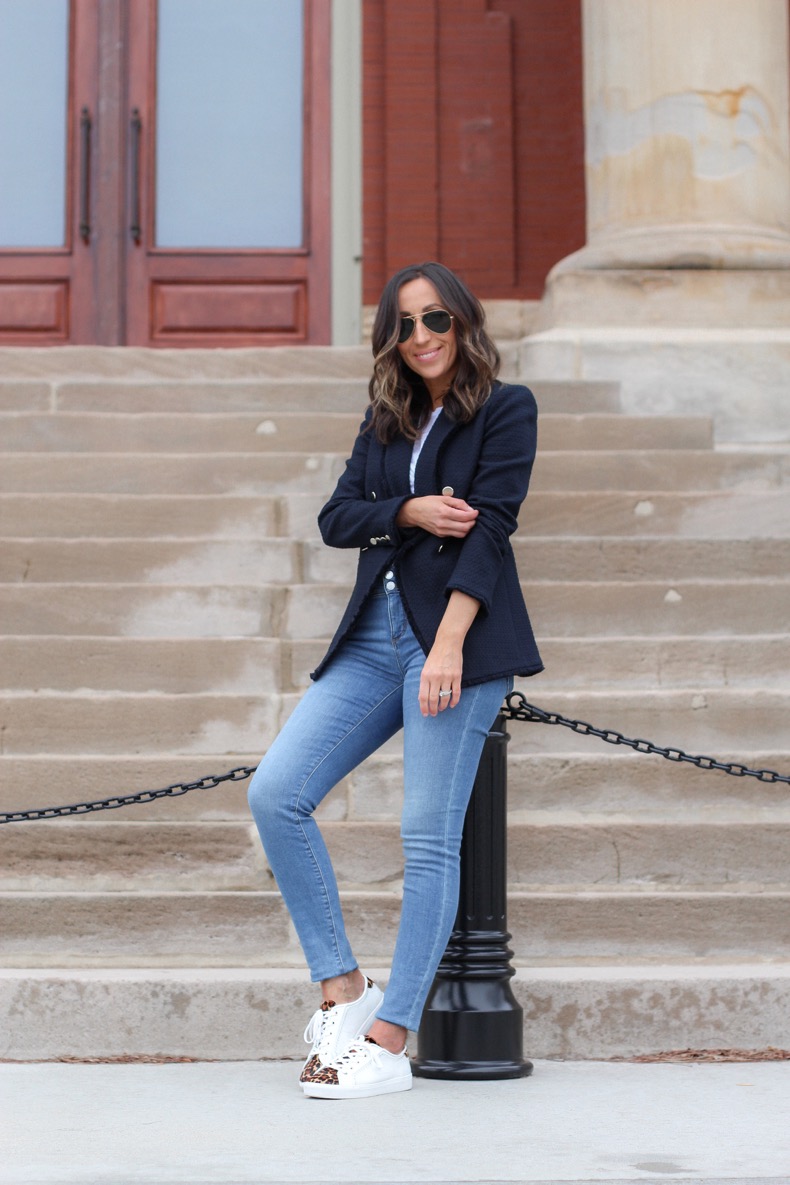 Blazers paired with sneakers are one of my favorite combos…and it has been for years. It's one of the easiest way to instantly look put together. For a very long time sneakers + blazers was my go-to outfit for traveling.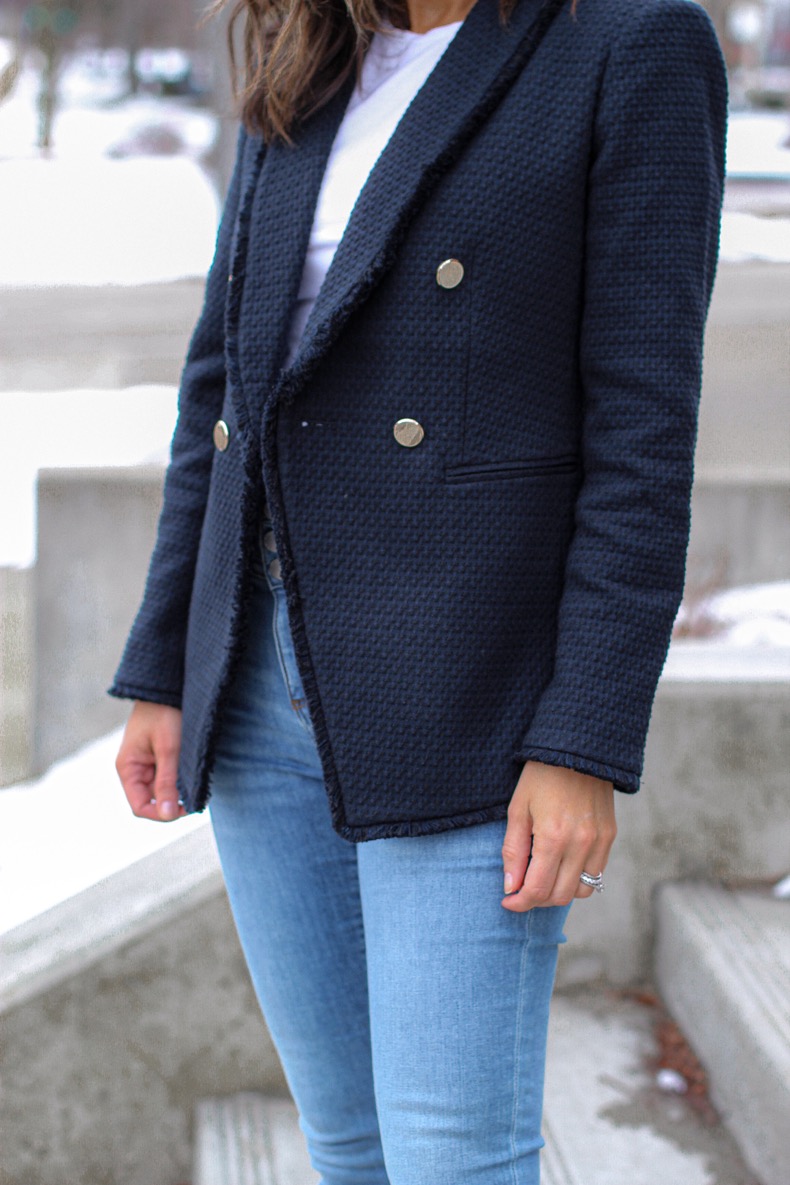 I'm wearing size 0 in this chic blazer and it fits tts. I still could wear a cashmere sweater underneath and be comfortable.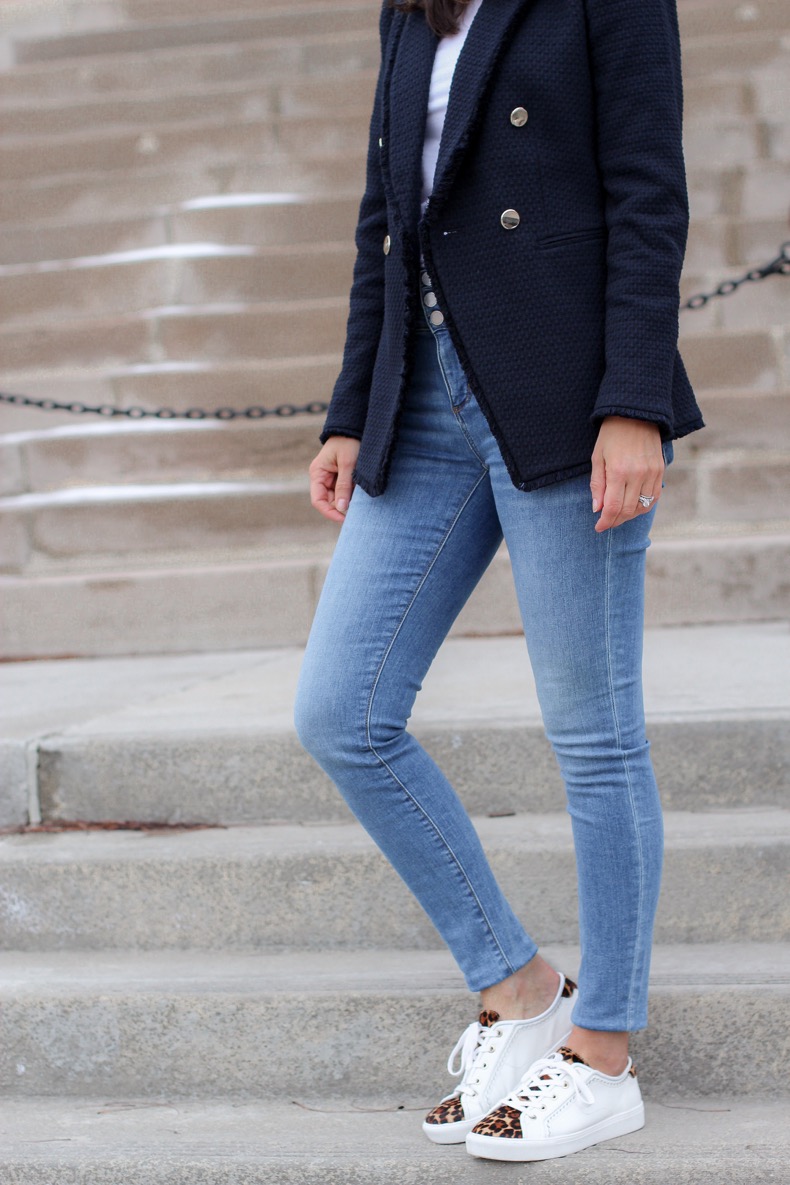 These sneakers with leopard details are so chic! I initially ordered my usual size, 8.5. My heel was slipping out when I wore socks with them. Little less without socks. Then I ordered 1/2 down, size 8. They felt a tiny but snug but not uncomfortable (if that makes sense). All feet are obviously different but sizing down 1/2 size worked for me this time. And I usually don't wear socks with this style sneakers most of the time.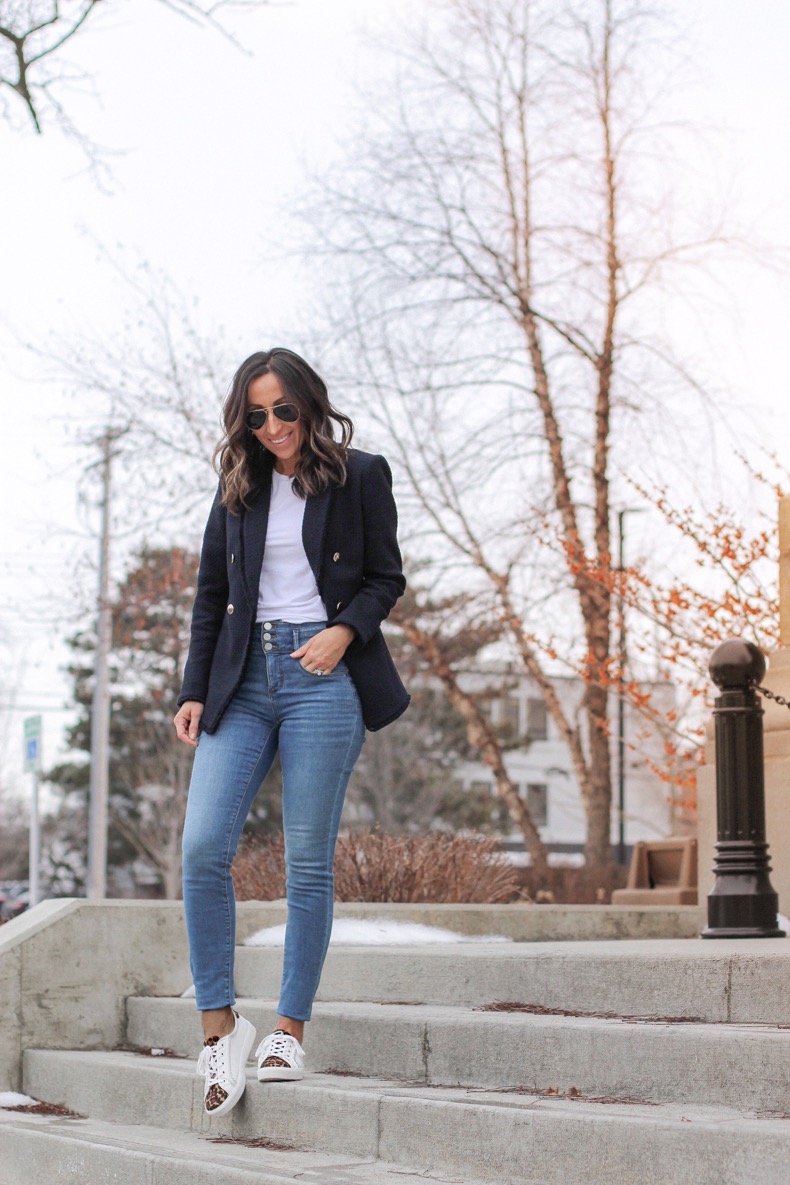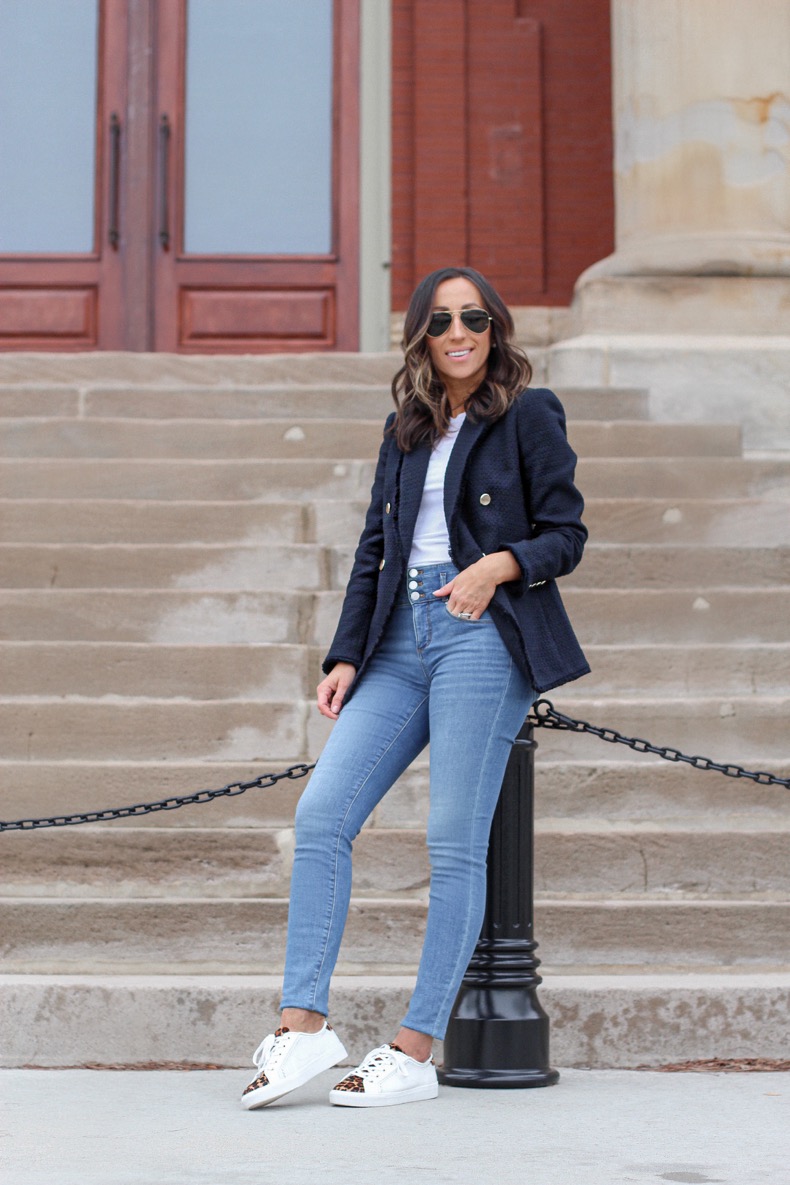 You might have seen these jeans in yesterday's blog post where I also talked about sizing. I fluctuate between size 0 and 2 in Ann Taylor bottoms and was able to fit into 0 in these. These are in regular length (I'm 5'6″) is actually the perfect length (as you might have noticed in yesterday's try-on outfits) but with sneakers I like them just a tad shorter. So I just folded the hem under (you can fold up too. Neither way is wrong, it just comes down to personal preference).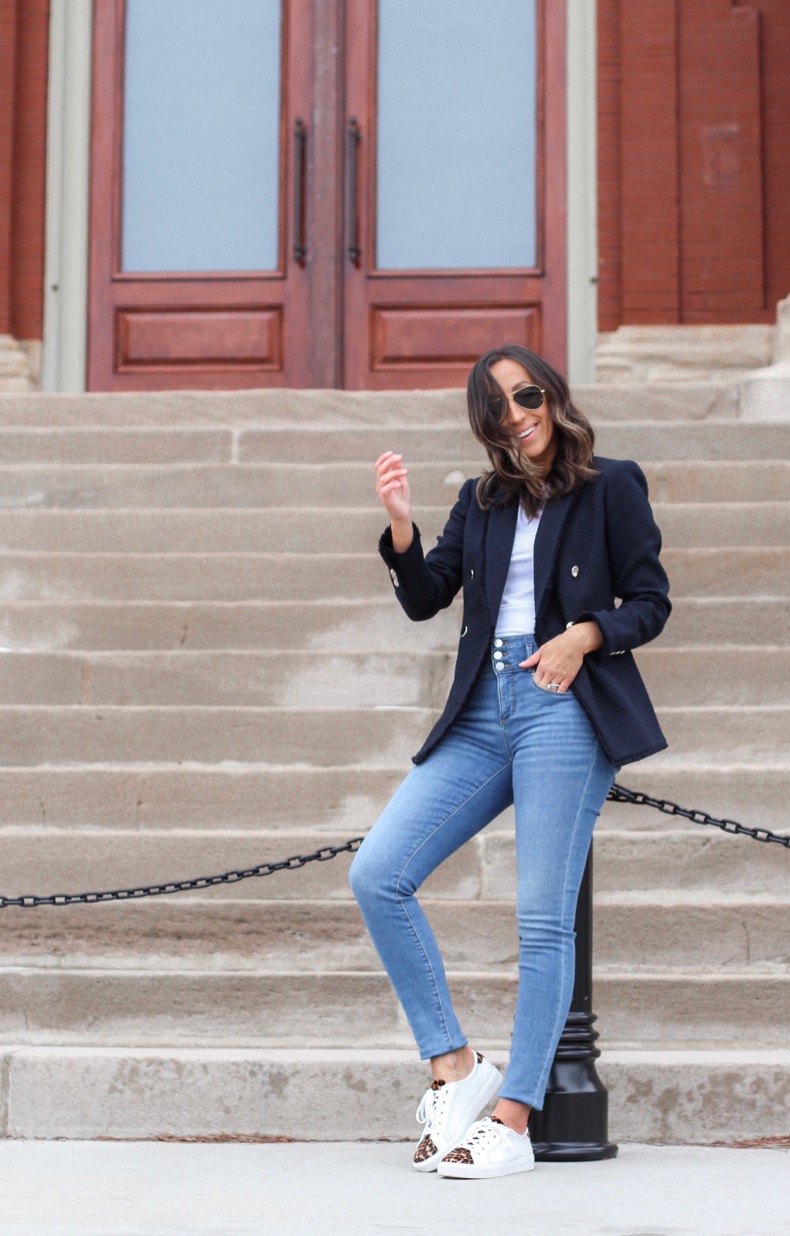 Tweed Blazer Ann Taylor | Skinny Jeans Ann Taylor | Sneakers Ann Taylor | White Tee
There are so many beautiful pieces out right now but below are just a few more I'm really loving…
Thank you Ann Taylor for partnering on this post!