Ann Taylor just started a great sale – 40% off your purchase and there are SO many pretty new arrivals! Everything I tried on will be linked below.
Most of you know I'm a huge fan of long cardigans. This one caught my eye online and I'm glad my local store had one, yes just one left, and and it was my size. It's well made and has slits on both sides. Fits tts. I had tried these jeans in size 2 originally as 0 looked tiny. Size 2 fit well but the only issue was a tad much fabric in the crotch area and it looked weird. I was able to wiggle my way into size 0 but most importantly I was able to button them comfortably (I'm fluctuate between 0 and 2 in AT pants/jeans). I love the wash on these jeans! I'm wearing them in Regular (I'm 5'6″ for reference).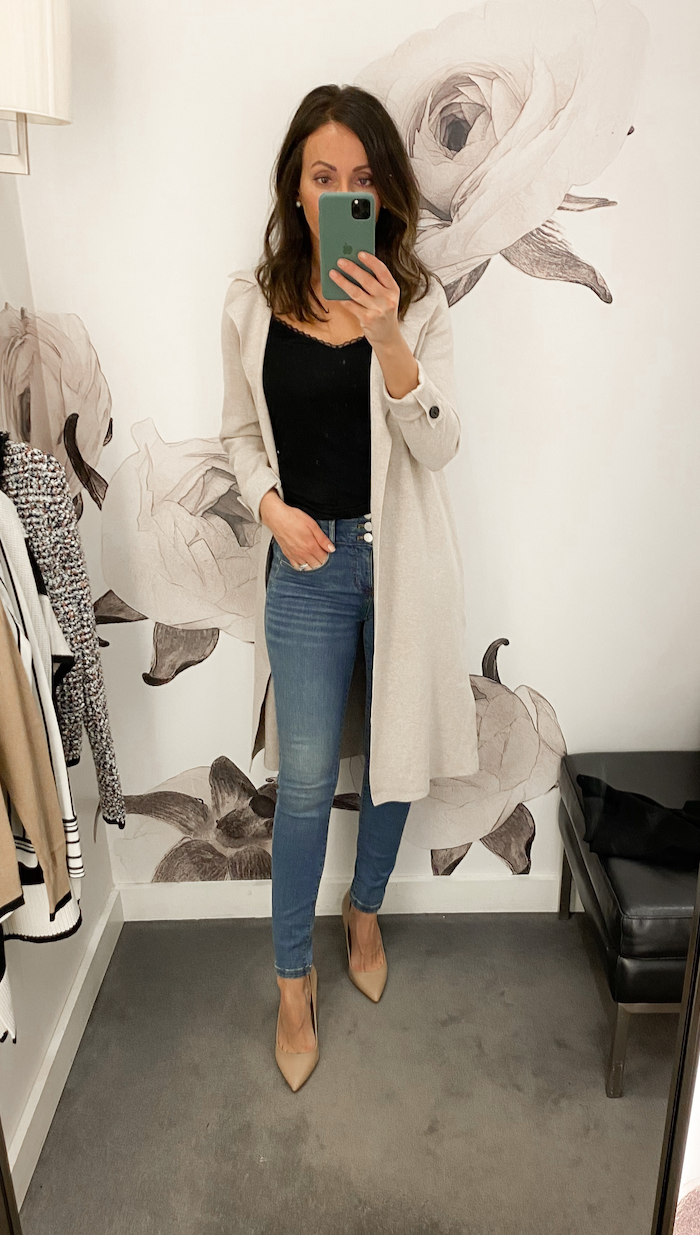 Cardigan in xs | High-waisted Skinny Jeans in size 0 | Pumps tts
This sweater is on the cropped side. It works great with high-waisted pants and skirts. Comes in one more color. Fit tts.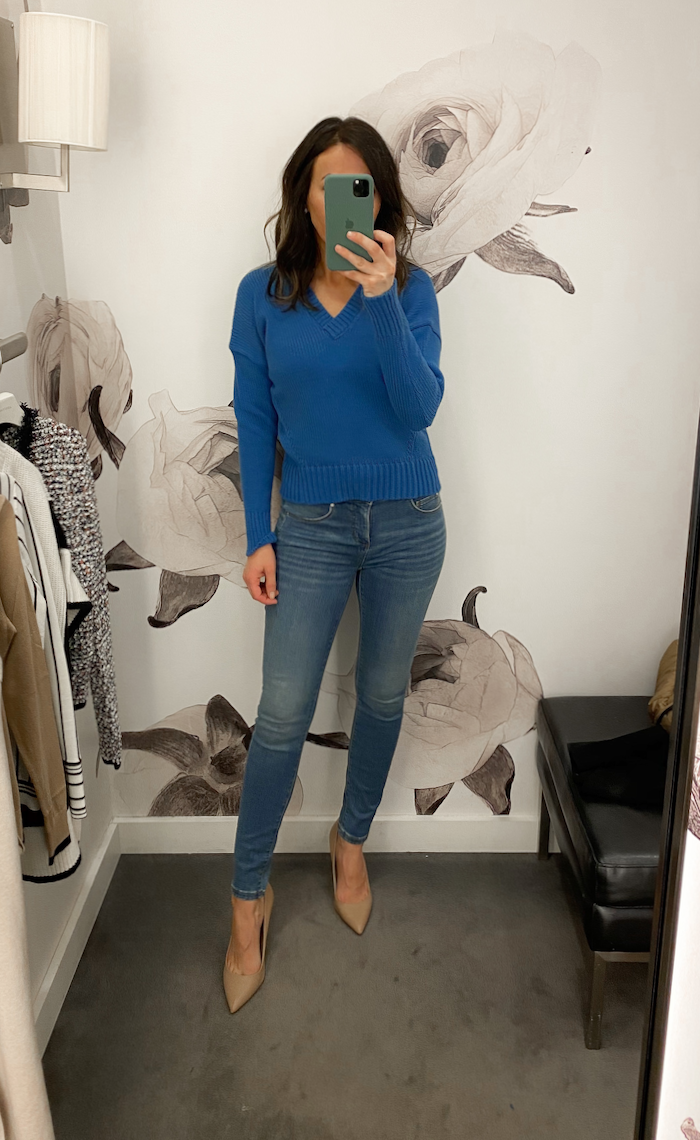 Sweater in xs | Skinny jeans | Pumps
Upgraded tee with cuff sleeves and it's nice and soft. Wearing xs below.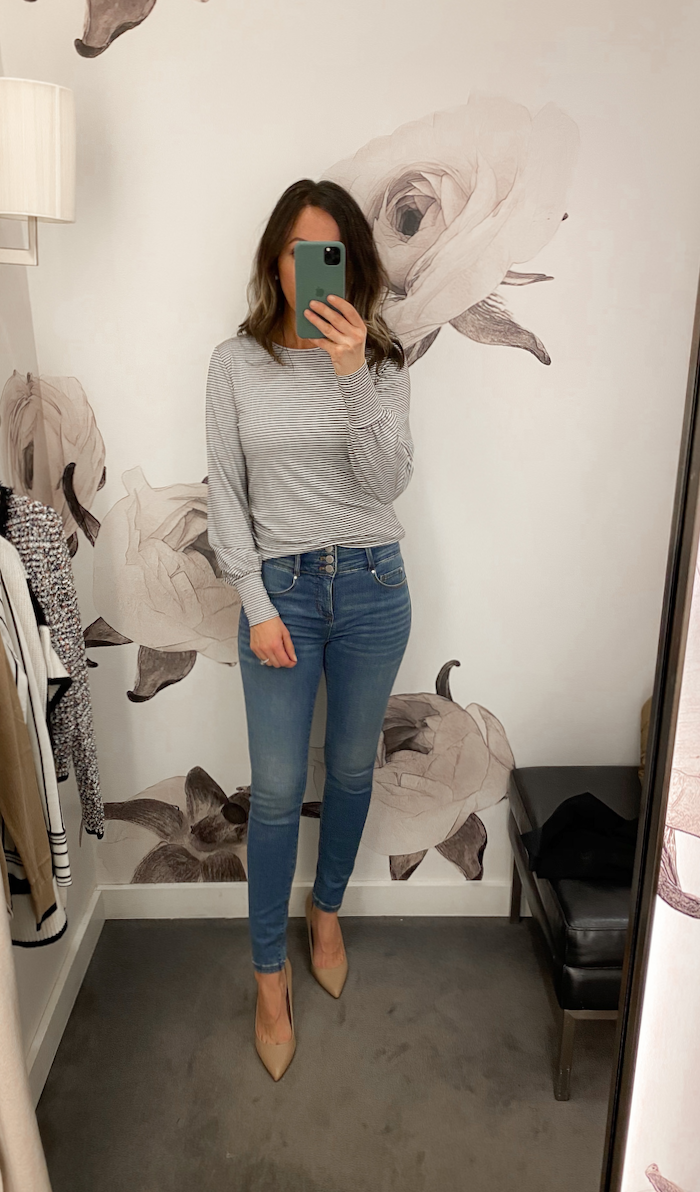 Striped Cuff Top in xs | Skinny Jeans
While I love ponchos and have a few, I hardly ever wear them. I always love seeing them on others but I just don't love them on me for some reason. Jeans are the same style as above but the black pair runs smaller IMO. The size 2 in black fits like size 0 in the blue.
Color-block Poncho in xs/s | Jeans in size 2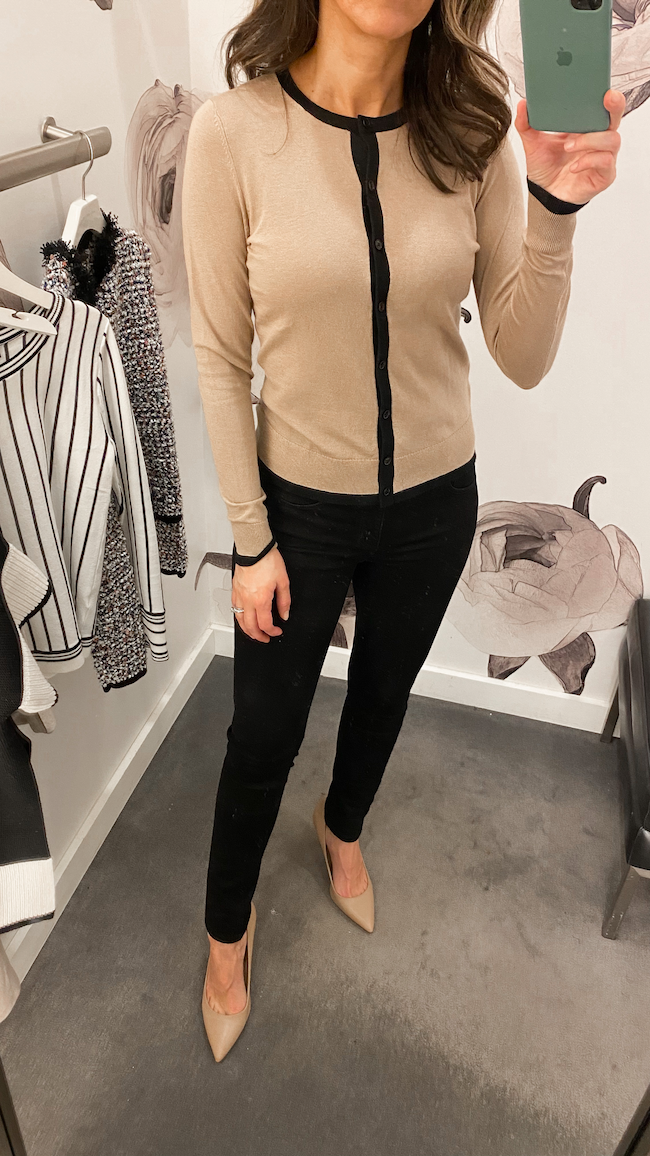 Tipped Cardigan | Jeans | Pumps
This black puff sleeve sweater comes in grey as well. Runs tts, wearing xs below.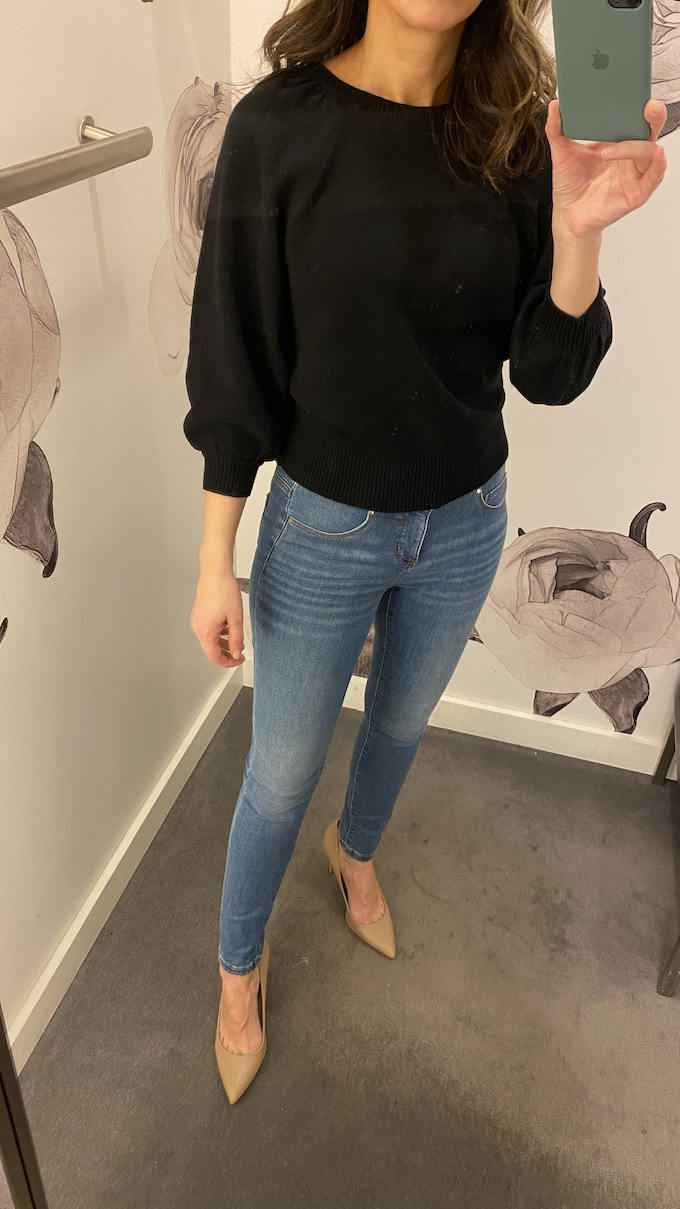 Sweater in xs | Skinny Jeans
Love this pretty tweed sweater jacket. So chic and classic! I'm wearing xs below and it fits tts.
Fringe Tweed Jacket in xs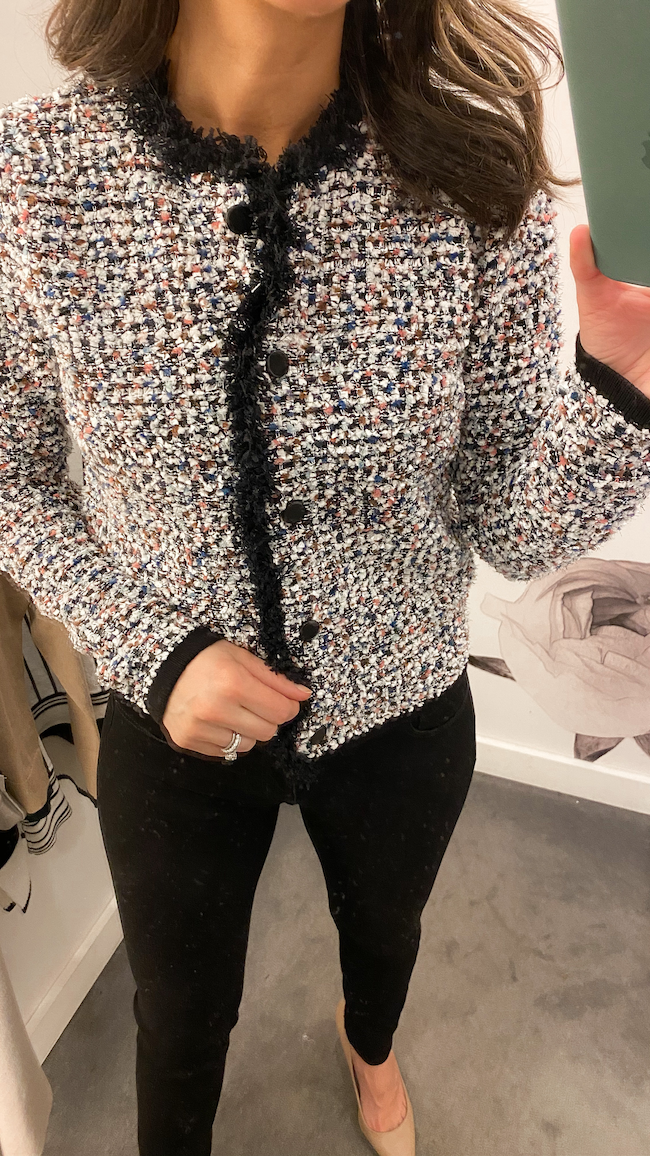 I'm already a fan of pleated skirts and I'm loving this color-block one. Wearing size 2 below.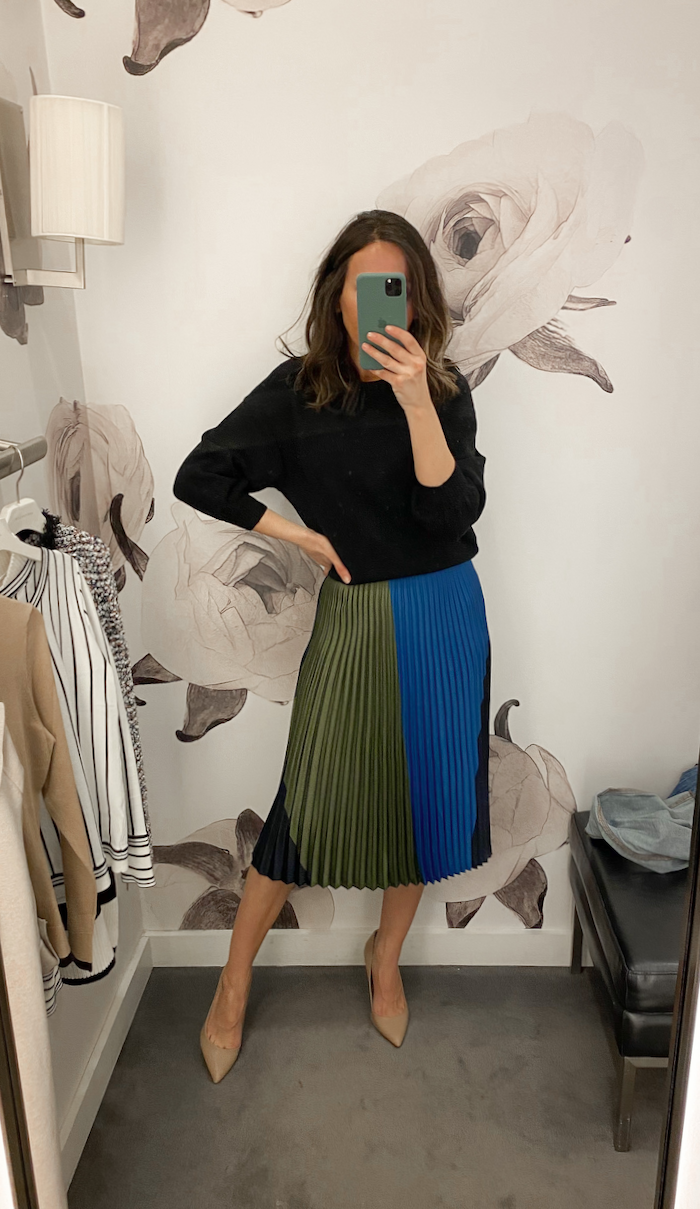 Skirt in size 2 | Sweater in size xs |
A lot of times pictures online don't do much justice to certain pieces and I think that's the case with the next two dresses. This one is so chic and while I tend to look ridiculous in puff sleeves this one is not over the top. Love it! I initially ordered size 2 but it was too big in the waist. I tried size 0 in store and it fits much better.
Textured Grid Puff Sleeve Dress | Pumps
This dress is so pretty in person you guys and I 100% think pictures don't do it justice. It's flattering, feminine and perfect for Spring. I'm wearing size 0 below. Fits tts.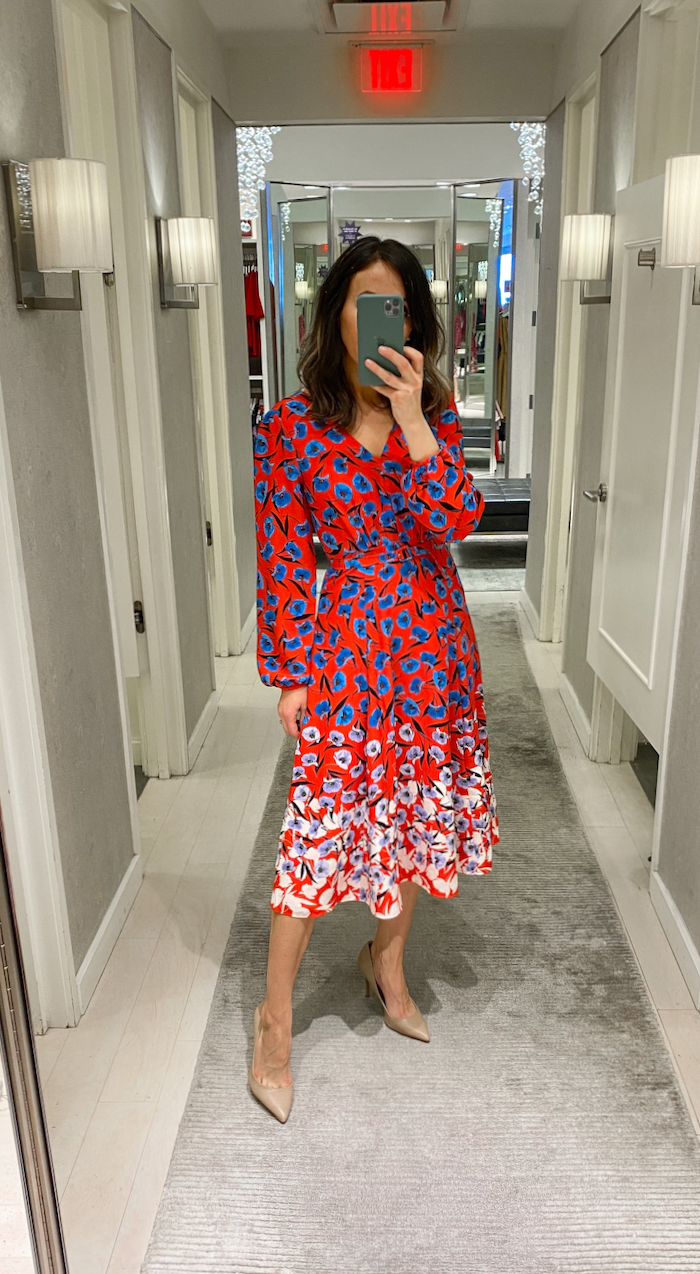 Floral Midi Dress in size 0 | Pumps
How pretty is this cardigan!?!?! Love! The style is on the boxier side so keep that in mind. I'm wearing xs below.
Cardigan in xs | Jeans | Heels tts
How chic is this jacket/blazer?! Such a classic piece that can be dressed up or down. It has nice weight to it. I'm wearing size xs below, runs tts.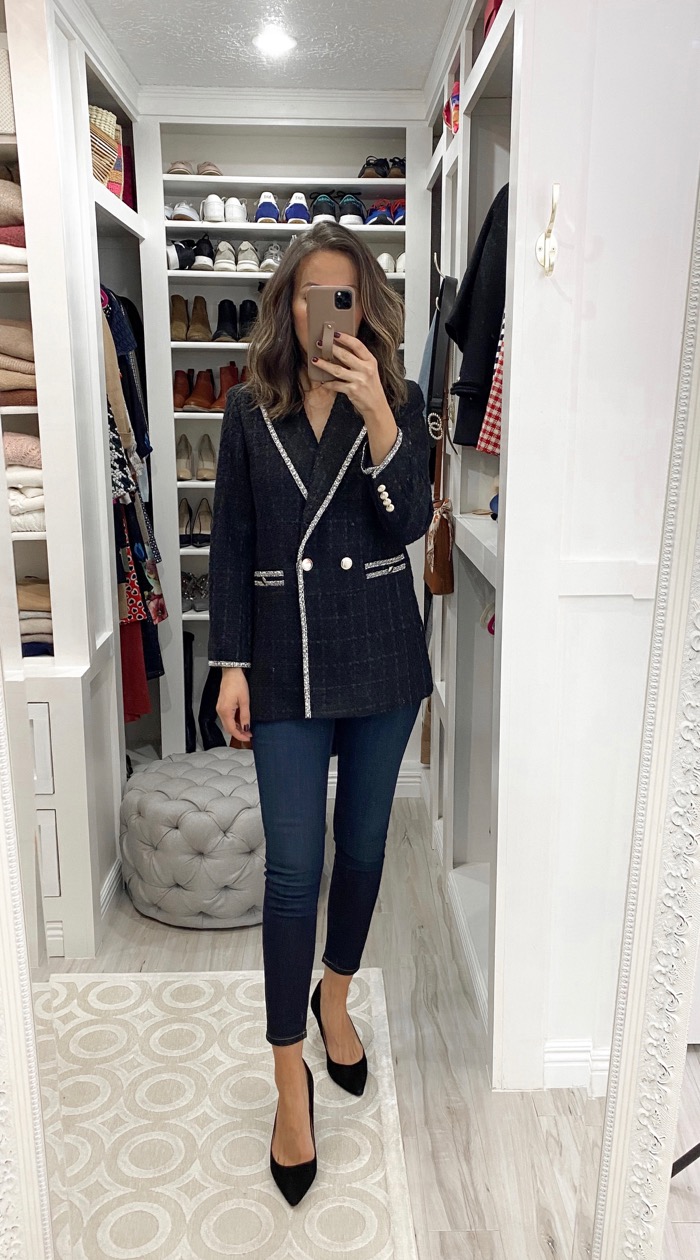 Tweed Jacket in xs | Pumps | Jeans
I love the style of these pumps and have them in darker camel from last year. The style is so chic and they're pretty comfortable. They're back in this versatile color (posh camel) and black. TTS Wearing xs below and it fits tts. It has slits on both sides. I didn't like this one on me.
Shirt Dress | Pumps
This sweater dress is really comfy but I didn't like it on me at all. Wearing xs below, fits tts.
Sweater dress | Pumps
I have a few more pieces to show you so I'll try to add those later today to this post.
Which pieces are your favorite?