Hope everyone had a great weekend!
I'll start with the most recent outfit – from Saturday (rest is not going to be in order worn).
We got a bit snow the last couple of days and I've loved it. I fell in love with this long puffer coat the minute I saw it, but love it more and more each time I wear it. It's very light yet quite warm and it's very comfortable. The length is perfect for cold months (the longer the coat, the warmer you'll be). The hoodie is adjustable (this would be a perfect coat especially for someone who lives in the city and has to commute). I'm wearing xs and love the ever so slightly oversized fit. It also comes in black and white.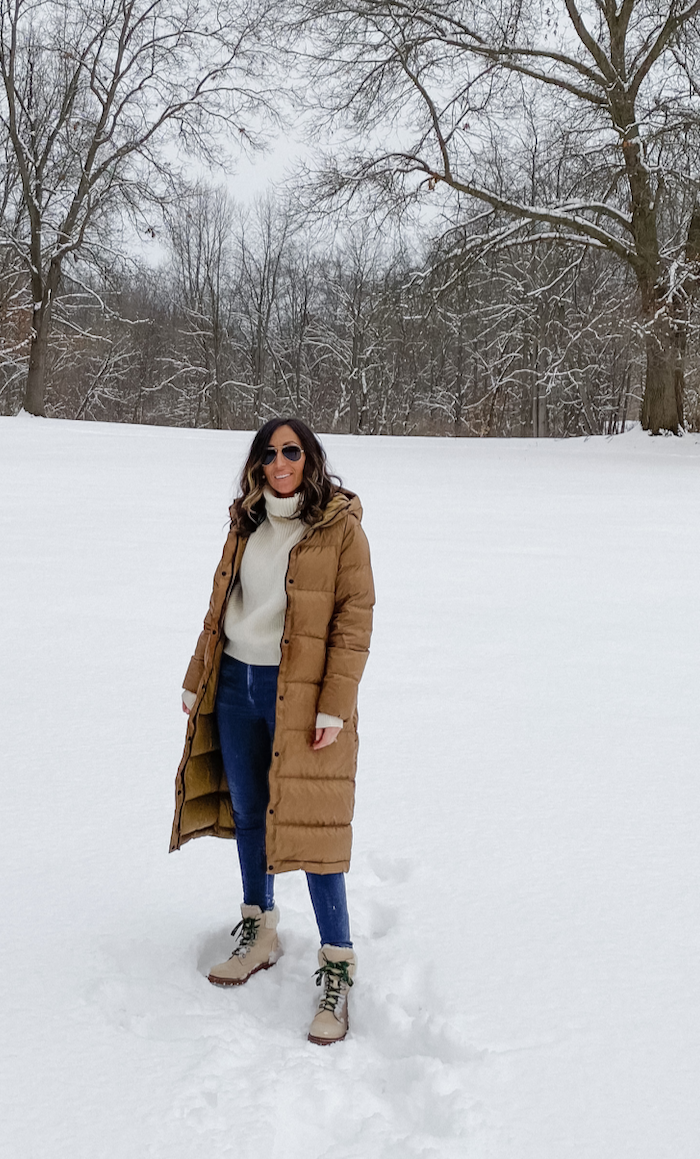 Everlane puffer coat in xs c/o | Jeans – more Citizen of Humanity Styles | Boots – on sale! | Sweater (no longer available) – great options here (only $40) here, here and here
I'm a big fan of pleated skirts. Especially with boots…and I can't get enough of these boots, still. They're on major sale right now (tts). I saw this skirt at Zara while in Chicago two months ago and didn't feel like trying it on but kept thinking about it so I ordered it a while back. I got size Small and it fit tts.
Cognac Boots | Boatneck Tee (old) – similar here and here | Skirt in Small – also love this one
The jeans below are my 2nd pair of Everlane jeans I purchased in the last few months (the other pair I realized after one wear I just don't love on me. Will be selling them). I'm currently eyeing this pair (they have over 4K reviews). I loved the look and dark wash on these skinny below, they look very polished. I decided to try the curvy style. My experience with curvy style jeans has been all over the place so I didn't really know what to expect. I've tried curvy styles before that fit just like every other pair of jeans. I purchased size 26 in these, which is my usual size and they fit great. They also some in non-curvy style. Love these jeans…and you might just have to try them for yourself.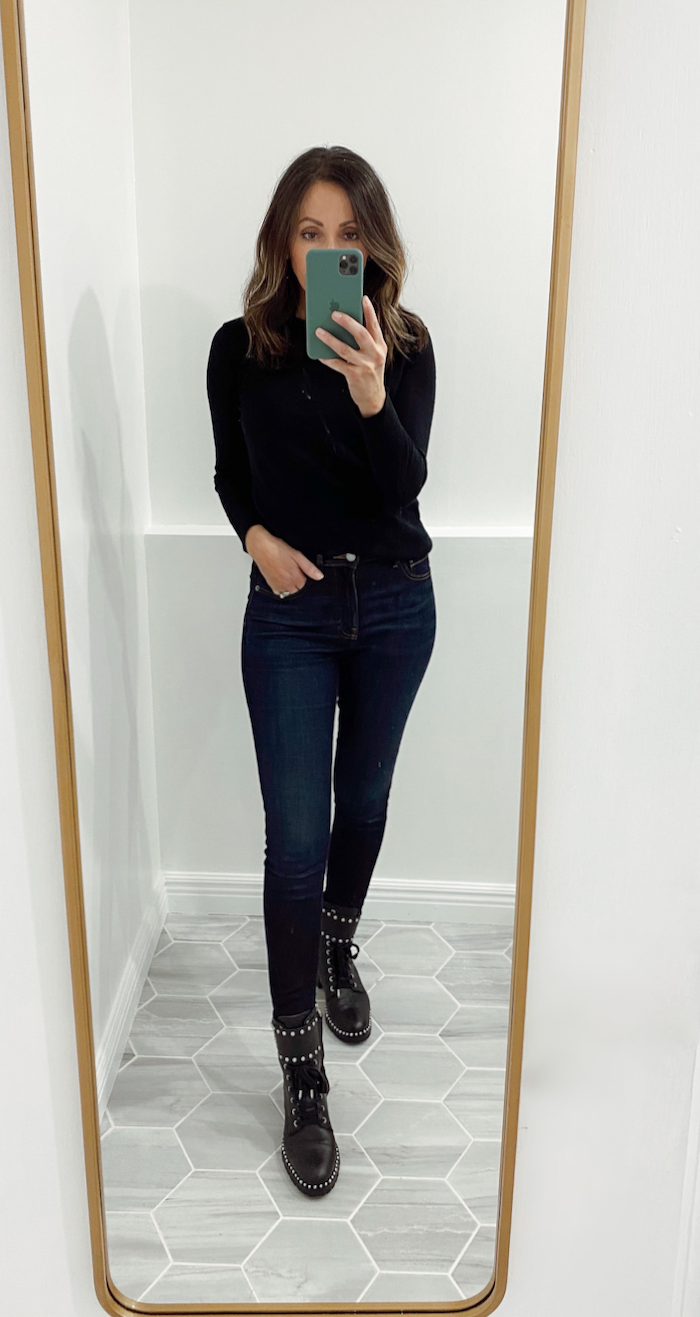 Outift Details: Jeans tts | Sweater tts – another similar style | Boots tts | Coat
I've been wearing these boots a lot lately (wore them yesterday and most likely will again today). I haven't had any issues with the studs coming off..not even one (and I got these end of October 2019).
Just an outfit I wore around the house. I haven't worn these sneakers outside yet as it has been cold and most days wet. I've mentioned before that the tounge on these is initially stiff, which I think it's the biggest complaint about these sneakers (otherwise the sneakers themselves have been comfortable for me immediately). Obviously wearing short socks is one way to make sure the tongue doesn't dig into your foot, but there is a way to soften the tongue a bit too (google it. Mine is softening with wear but I also googled how to soften it faster). I'm size 8.5 or 39.5 and got 39 in these as they don't come in 1/2 sizes (size 40 was way too big previously).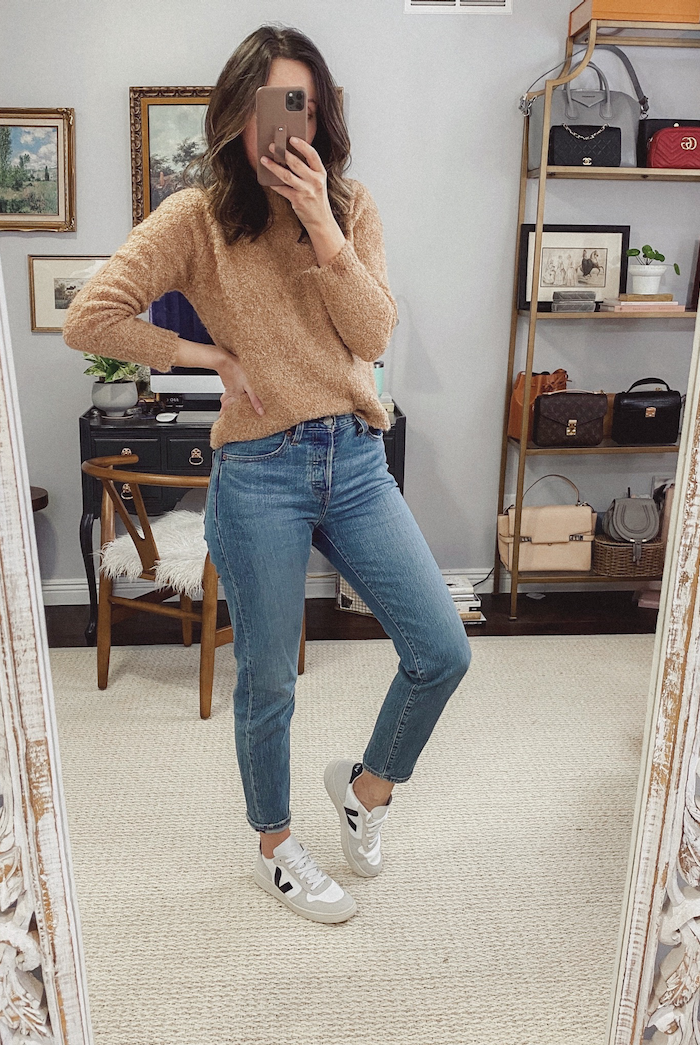 Faux Shearling Knit Sweater in Small | Levi's Jeans tts – more Levi's jeans styles | Veja Sneakers (size down if in-between sizes) – also more Veja styles | Rug
I don't know why this sweater has bad reviews – I seriously love it! But I guess it depends what type of fit you like. I like most of my sweaters sightly relaxed or oversized. This one is a tad box to begin with but I ended up going up one size as I wanted it a tad oversized (I got size Small). It's soft and cozy. And on major sale right now! These exact pair of Levi's is no longer available, but I'm linking a almost exact style with raw hem below.
Sweater in size Small | Jeans (old) – almost exact ones just with raw hem | Booties – similar here and here
Another outfit I wore around the house.
Cardigan in xs | Sneakers | Jeans
I mean…how nice is this Target cardigan!?! And those buttons? Love! This outfit below I haven't worn yet…I just wanted to style this cardigan a few different ways.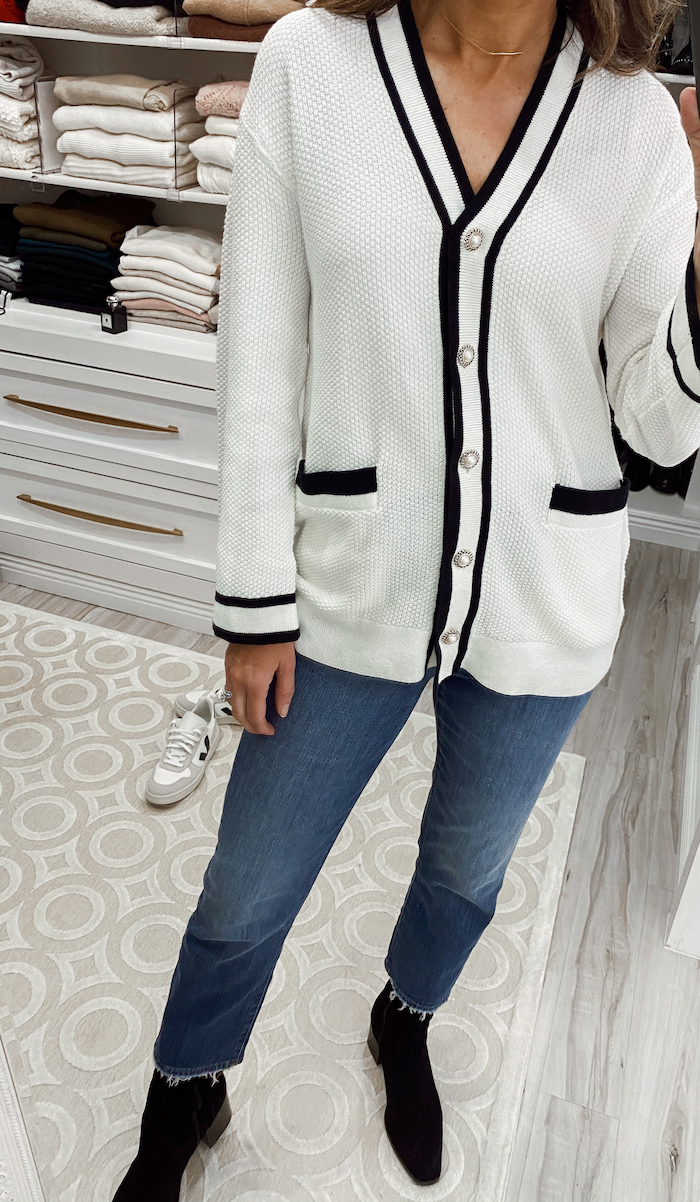 Jeans (these exact ones no longer available) but new straight leg styles are out here and here | Aquatalia Booties – sold out but a few sizes pop back up once in a while. Similar styles here and here
Another way to wear this cute cardigan… with faux leather leggings (wearing size 0)
I've shared this dress a couple of months ago in my Ann Taylor fitting room snapshots. Such a great piece! I purchased size 0 and it fit tts. Belt is old, also from Ann Taylor.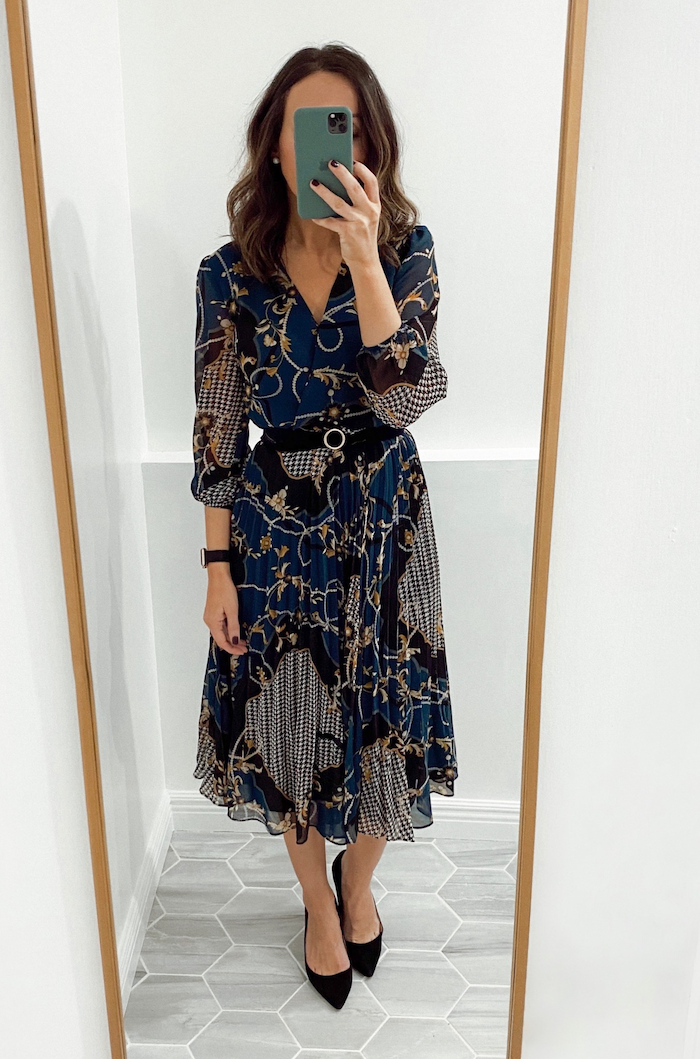 Dress in size 0 | Shoes tts
Another look from earlier this month. My coat is a few years old (from Banana Republic).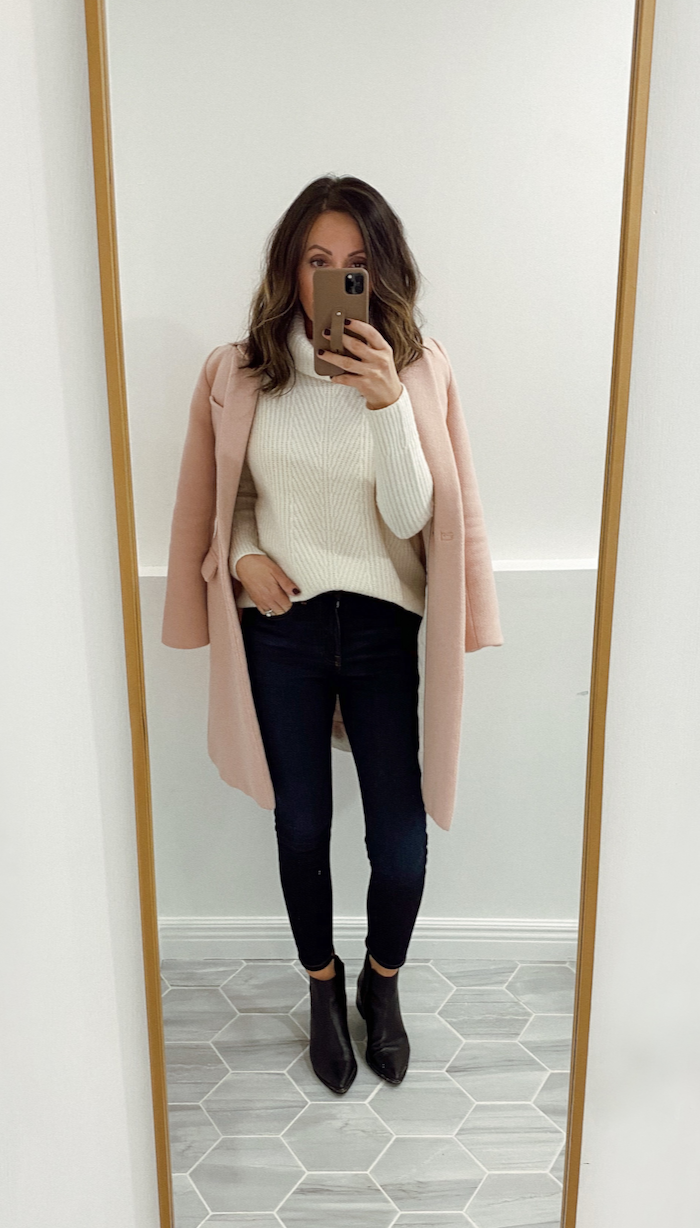 Jeans – curvy style tts | Booties tts | Sweater tts – similar styles in more sizes here (LOVE it in Camel too), here, here, this one is so soft and pretty | Coat (super old)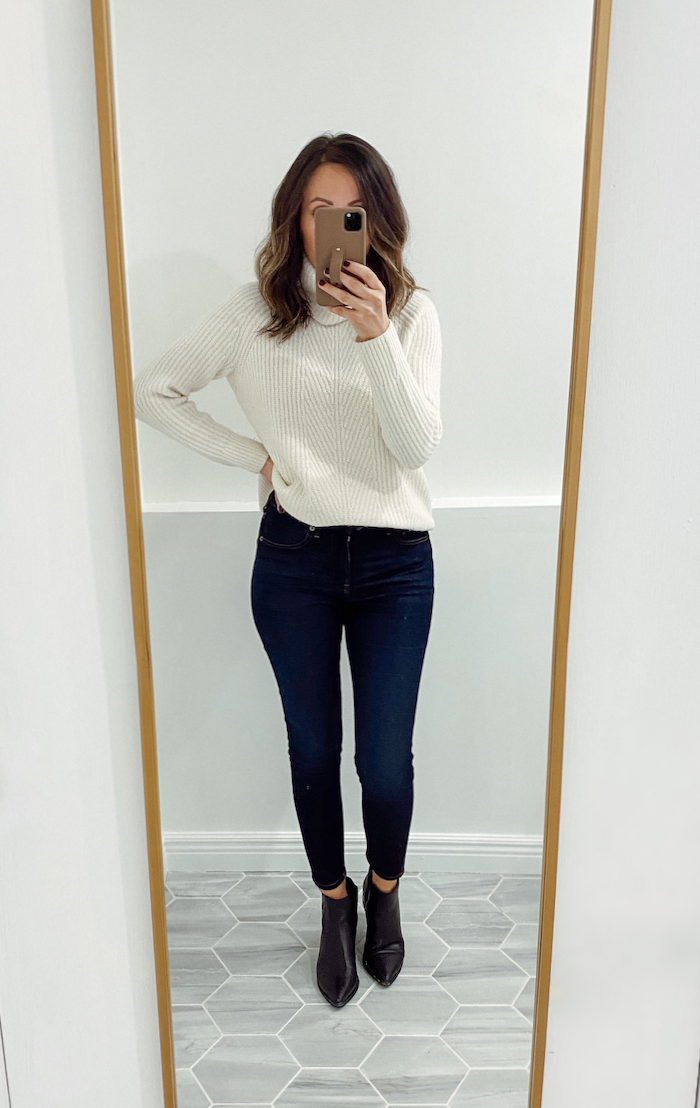 This heart sweatshirt is not your typical sweatshirt – it's nicer…fancier sweatshirt if you will. I got xs and thought about going up a few sizes but since it's a nicer sweatshirt I wasn't sure it was going to look better oversized so I stuck to my size. This one can be easily dressed up too.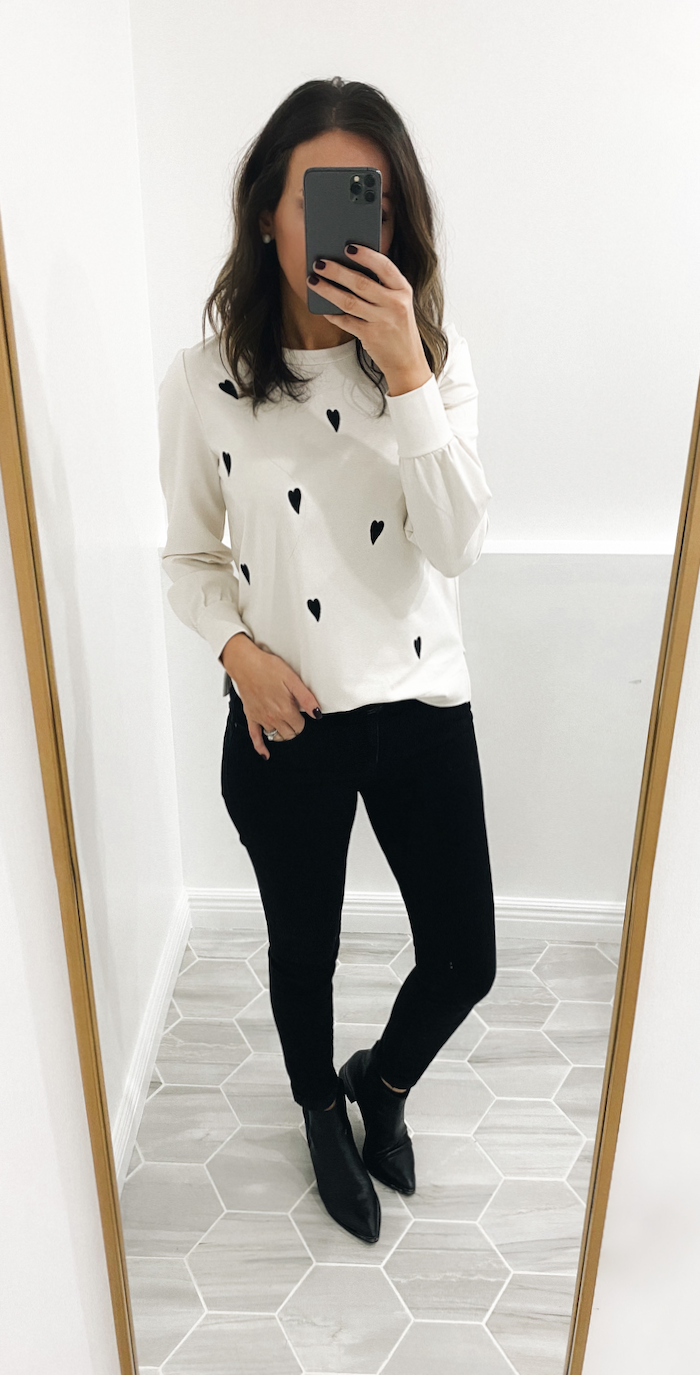 Sweatshirt Ann Taylor c/0 | Jeans tts | Booties tts
I also decided to order these leggings that Everlane just came out with recently. They're so light and comfortable, and I LOVE the high waist, so flattering. And the price is on point! While I need to find some type of workout I enjoy, I find that I'm more prone to even do a little something…even "stretching" when I wear workout leggings. It works! I purchased size Small and they fit great. I got them in Ink Grey in size small Regular (I'm 5'6″). I think I'd like to get one more pair, but I want to try Ankle next time. Have you tried these yet?
As always, thank you for reading!