Rounding up a few outfits I recently wore.
When you wear the exact same outfit two Sunday's in a row…but this past Sunday I wore it with these loafers that I'm still so in love. I re-wear my favorite pieces so much and these pieces below are all my favorite. I absolutely love these jeans, they fit so well and are very comfortable for high-rise jeans. They do stretch out a bit, just fyi. Unfortunately, my coat is a few years old and it's still one of my favorites (originally from Ann Taylor).
Jeans tts (love these!) – also here in more sizes | V-Neck cashmere sweater (old) – pretty much exact style | Sneakers – | Coat (a few years old) |
I should probably stop talking about these sneakers…but I seriously love them. The tongue goes to the side on its own which I kinda like, but that also makes it not dig into the skin as the tongue is stiff at first. Mine is not anymore as it has softened. If you give these a chance, you'll love them! I wore these yesterday again.
I'm so in love with this dress. Most of the time I can't do size 0 in Ann Taylor sheath dresses because size 0 is too tight around hips (when a pencil skirt or dress pulls around the hips that's a sign it's too tight. I prefer them a little more modest). But this one is a winner – it's fitted but not tight. I've mentioned these heels before, one of my favorites because they're so comfortable. Perfect heel height.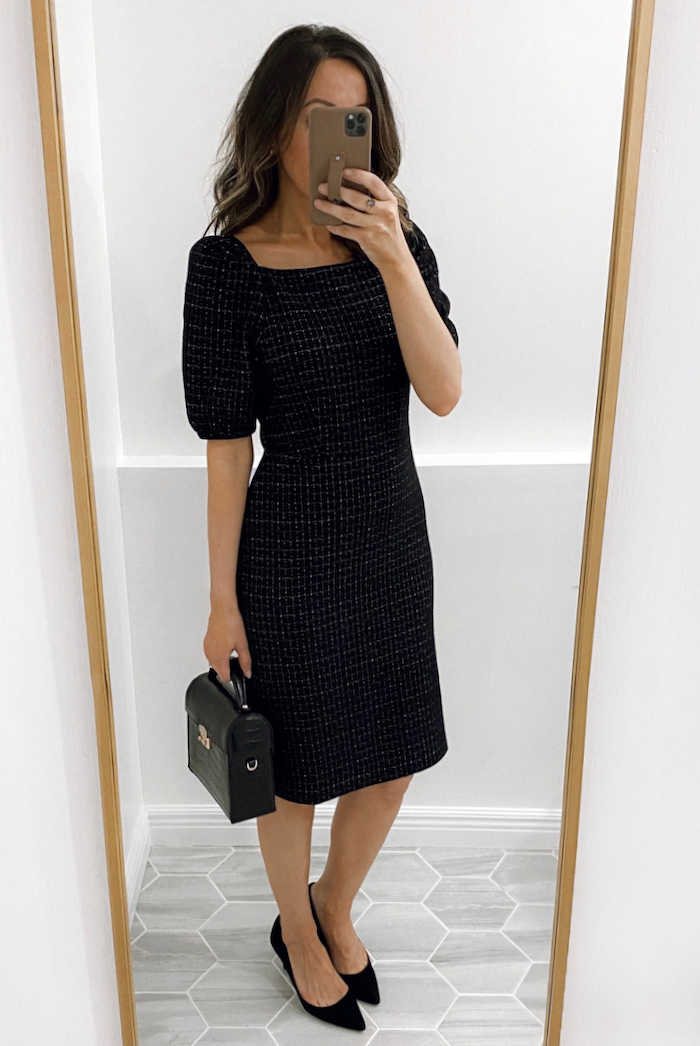 Dress in size 0 (c/o Ann Taylor) | Black Heels tts | Bag (old Mango) – amazing options here and here
The jeans below are the ones I loved from my latest J.Crew fitting room snapshots. I didn't get them at the store when I initially tried them on but I ended up ordering them online. These almost feel a tad longer than the ones I tried in store…still love them thought. They're very comfortable and tts for me. These are one of those jeans I'd travel in as they have a nice amount of stretch to them.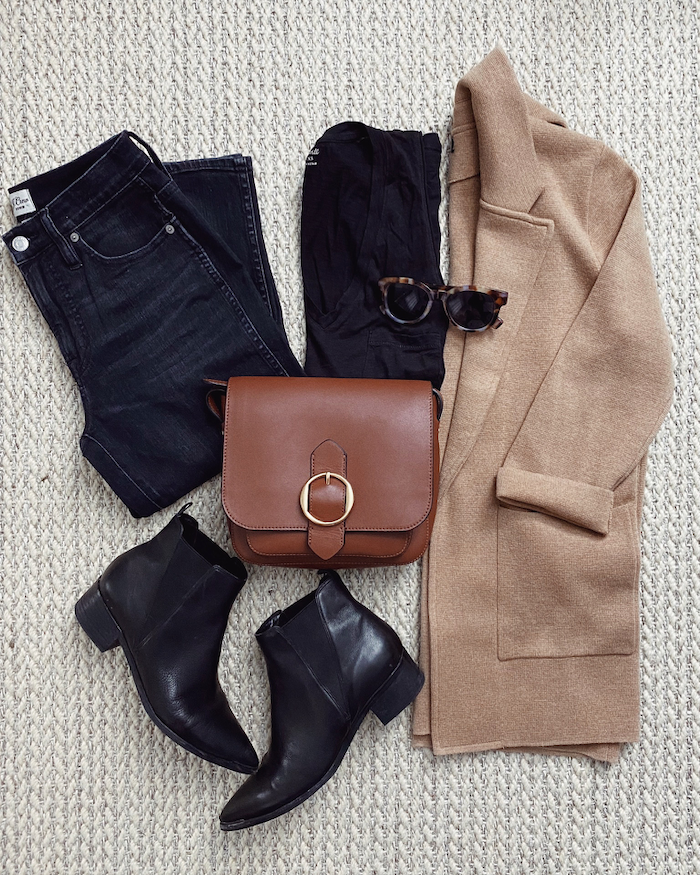 Sweater Blazer in xs | Jeans tts | Sleeveless tee tts – great for layering or alone | Black Booties tts | Bag
I was so happy to find this dress as I absolutely love the style (I have it in leopard print from last year). The leopard one I have is size 0 and the belt part around the waist feels just a tad tight, so I decide to get size 2 in this one and it fits very comfortable. It's such a great dress for the price! Definitely recommend this one.
Ruffle-neck midi dress | Heels tts | Bag old (from Banana Republic)
You might have already seen this sweater trench multiple times…it's such nice, versatile piece. I love the side slits! Everything else I'm wearing is old. Well, booties are not very old…just no longer available. But I'm linking some almost identical options below this picture.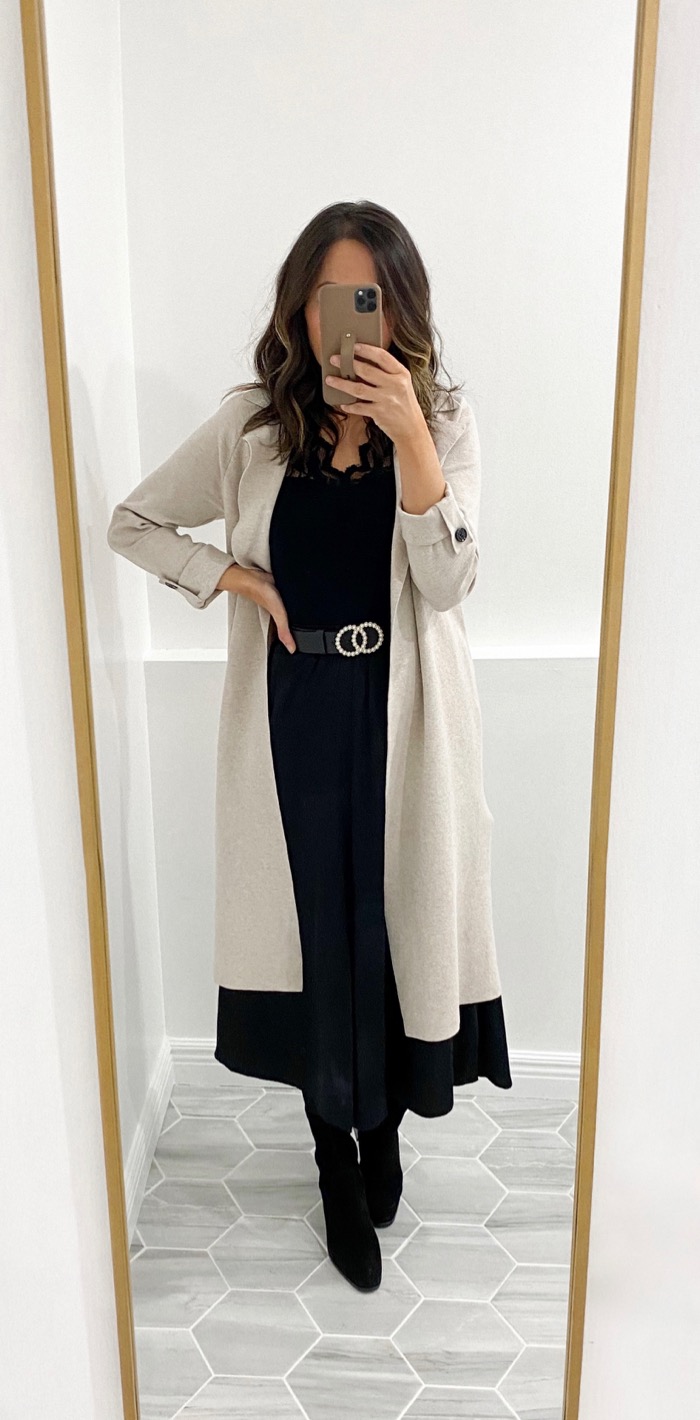 Sweater Trench/Cardigan in xs| Skirt (old Loft) – similar | Lace top (old H&M) | Booties Aquatalia – similar here and here | Belt (H&M no longer avai.) – similar here and here
This is not an outfit I actually wore, yet, but I recently got this skirt and took a pic to decide if I should keep it or not. It's so pretty…it's a keeper. Mango sizing can be so confusing just because I don't find it consistent with certain items of clothing. Like coats – each time I had ordered size XS I got size Small which supposedly is a European size XS and US small (since when?). I ordered this skirt in xs thinking it's going to be Small but it actually is xs. I did struggle just a little to pull it over my hips which is usually the case if a skirt is elastic (just for sizing reference, the widest part of my hips is 38 or 39 inches). I feel like if I sized up to small it will be easily to pull over hips but might be big in waist as I like it to sit on the smallest part of my waist. Keeping the xs.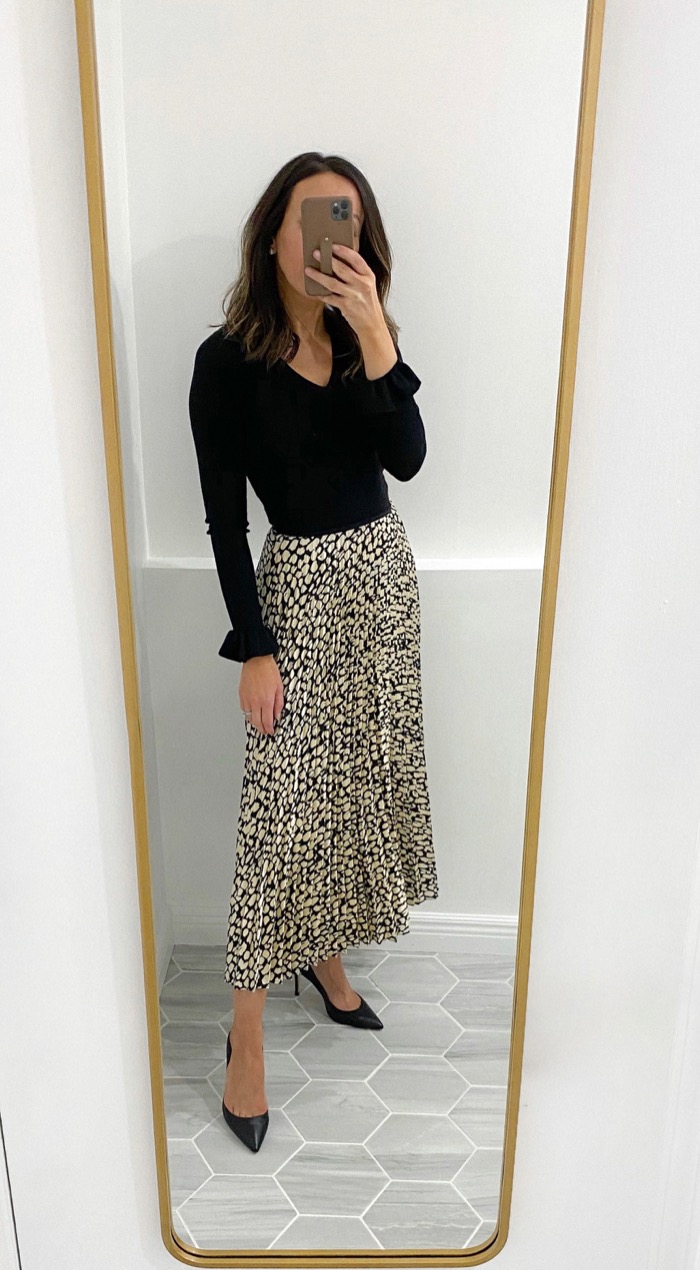 Skirt in size xs | Black pumps | Sweater (old)
(someone asked me once if Mango is a safe/legit store to purchase from. It is! It's basically like Zara and H&M. I used to shop at Mango over 20 years ago when I lived in Germany. So don't be nervous to order from them. Shipping is free on orders over $49 and returns are free).
Which outfit is your favorite?