A ton of new pretty arrivals! Early sale access for All Rewards credit cardmembers – 40% off with code FRIENDS40.
Since I'm short on time, I won't share much info about each item but if you have any questions about any item I tried on, please leave me a comment below and I'll get back to you. I'll share what size I tried on and direct link to each item. Loving quite a few pieces…
In love with these pants even though they're a size too big, wearing size 2 below but I ended up getting size 0 in Smooth Stone color (size 0 fits great). They run big for me hence the size 0. I'll be sharing the ones I got next week on here. Another piece I'm in love with is the pretty 'popcorn stitch puff sleeve sweater below- so pretty and it looks quite luxe. Definitely recommend it as it's quite versatile. And did I say pretty?! Wearing xs, runs tts.
High-waist Belted Pants | Short Sleeve Sweater in xs
The pretty top below runs a tad big in my opinion. Depends how you like it to fit but I would size down. When tucked-in there is just a tad too much fabric around…which you might notice below. But really cute top otherwise. Love the sleeve details.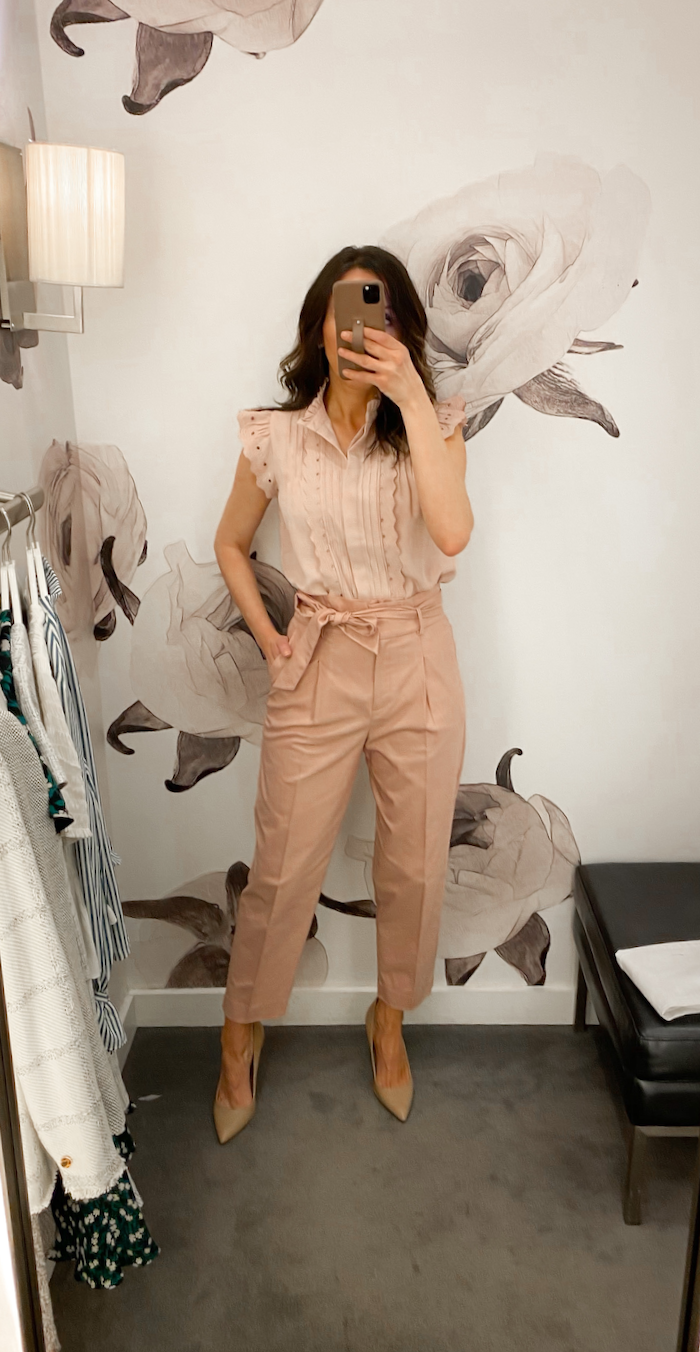 Pleated Ruffle neck shell in xs | Pants
Cropped ruffle sweater. This one works great with skirts (no need to tuck-in) or high-waisted bottoms. Otherwise it might be a tad too short.
Ruffle Sweater in xs | High-waist Sailor Jeans size 2
If I didn't have multiple gray blazers, I'd get this one. So versatile!
Blazer in size 0 | Jeans size 2
While this blazer is pretty, I'm just not a huge fan of double breasted blazers on me. Even though I do own one or two.
Windowpane Tweed Double breasted blazer in size 0 | Jeans size 2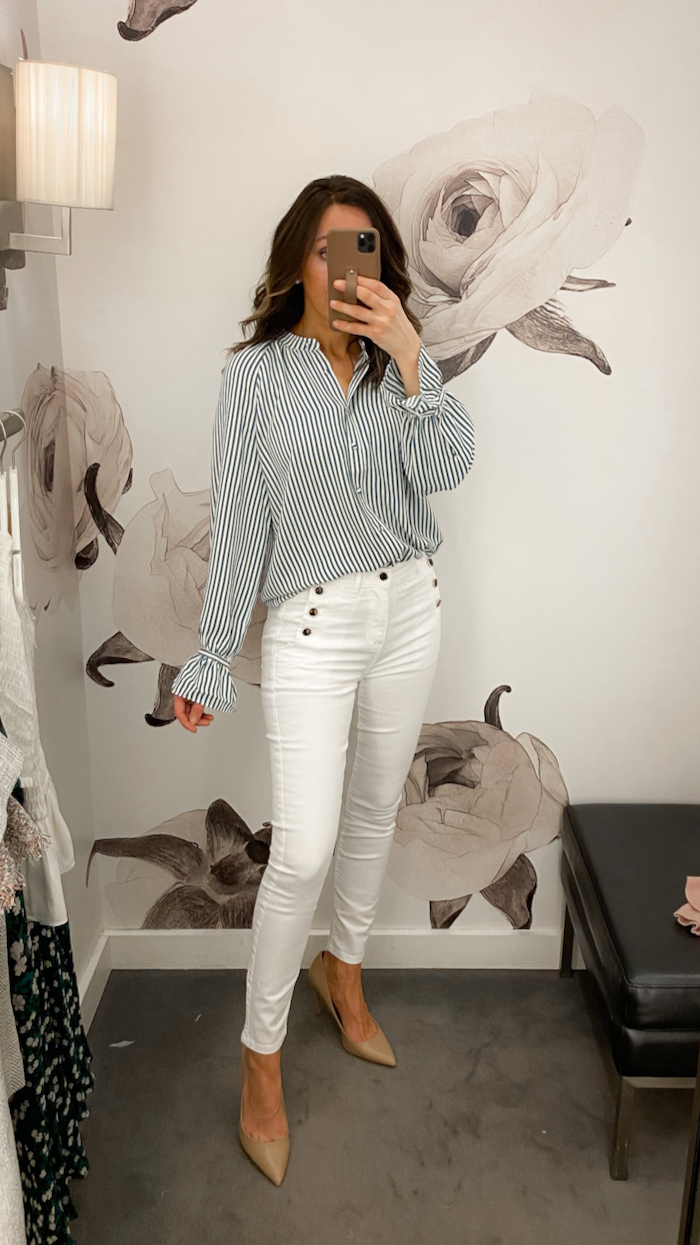 Striped Blouse in xs | Jeans size 2
I really liked the fabric of this top, it felt soft and comfortable.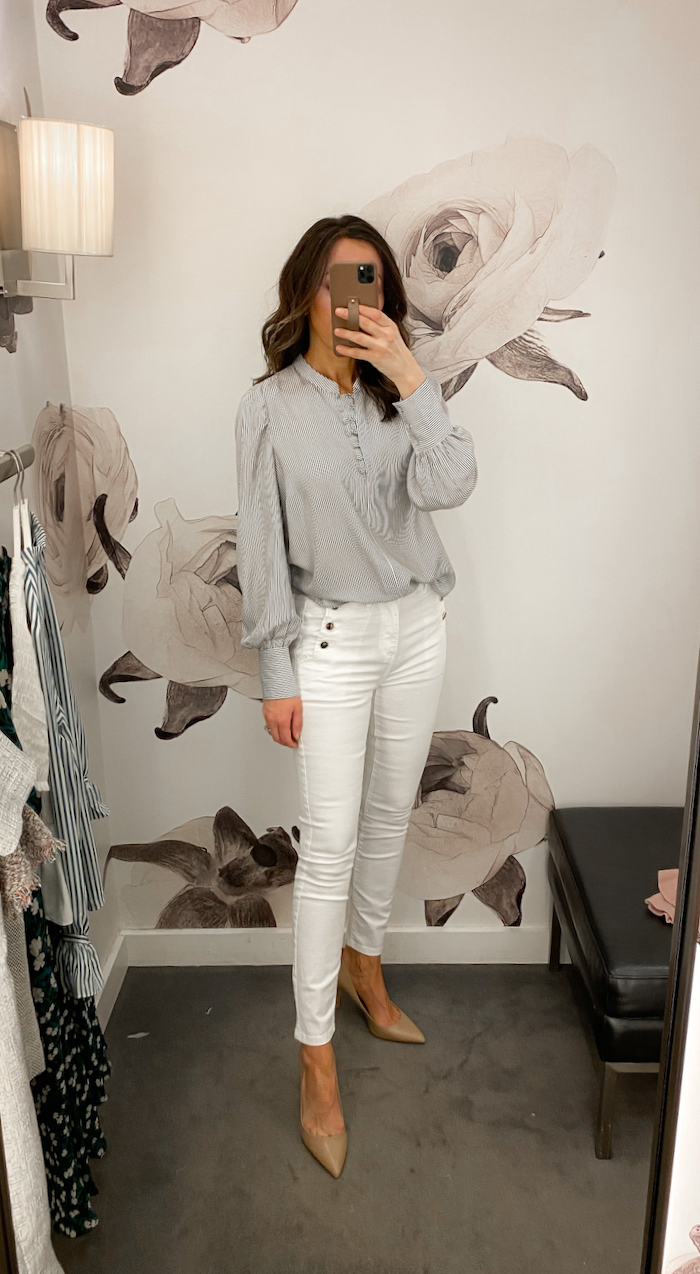 Blouse in xs | Jeans in size 2
Cute sleeve details. I always love seeing these types of tops but never feel me in them. I just can't rock them.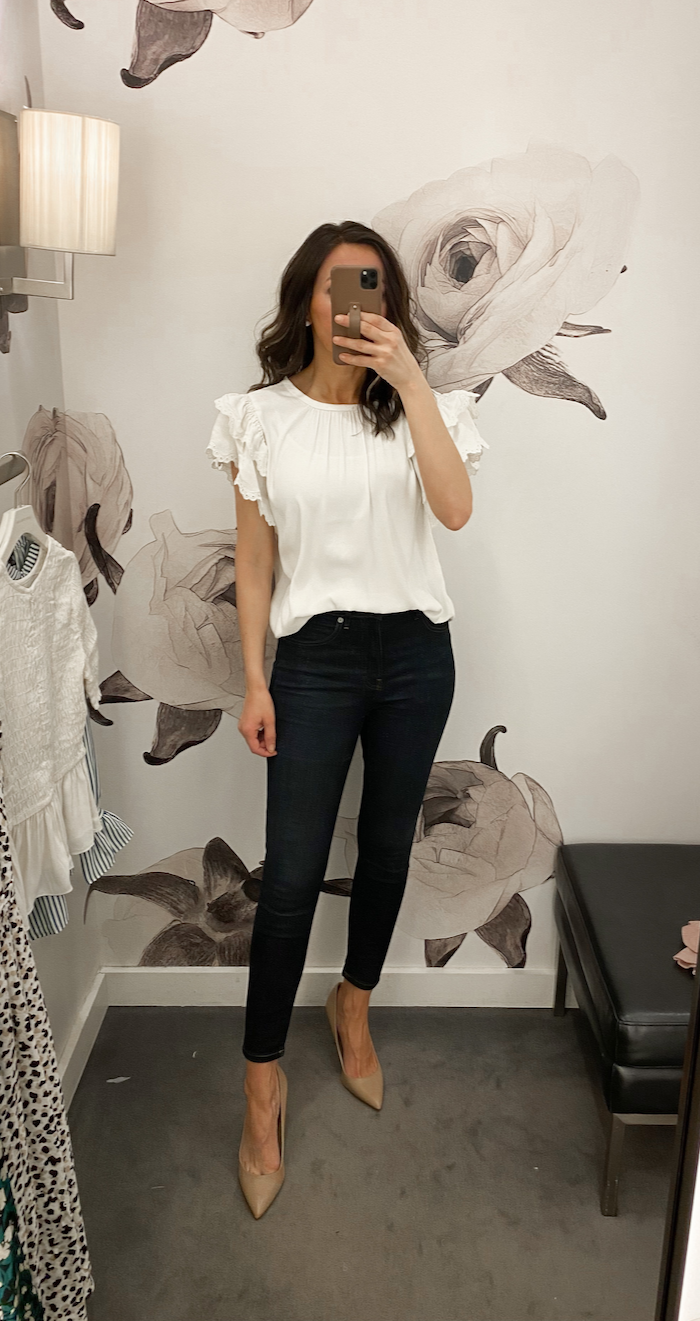 Embroidered Ruffle Sleeve Tee in xs | Jeans tts – also in non-curvy style
Smocked Peplum Top in xs | Jeans tts (I've been wearing these so much)
I couldn't really zip up the pants below in size 0, hence me oddly holding the blouse. Size 2 fit great (which you'll see below). These were pretty nice though.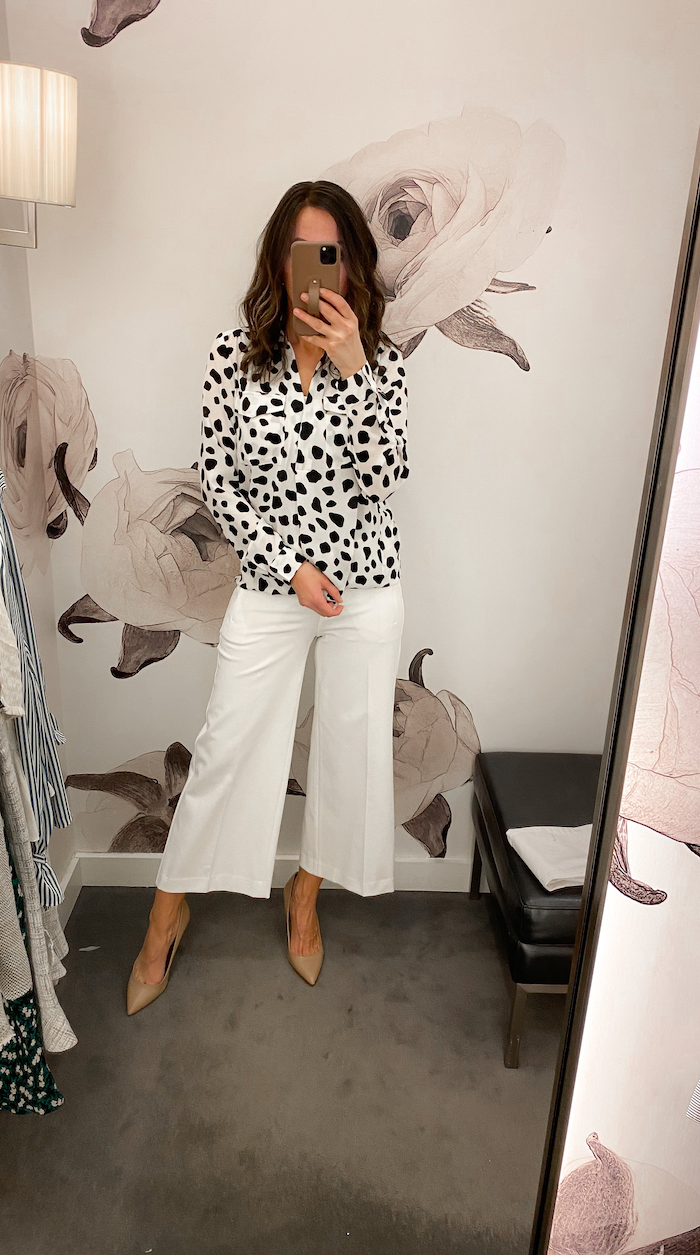 Wide Leg Pants | Blouse in xs
This dress was really comfortable and cute. I didn't really like it on me that much, mainly because of neckline (just personal preference).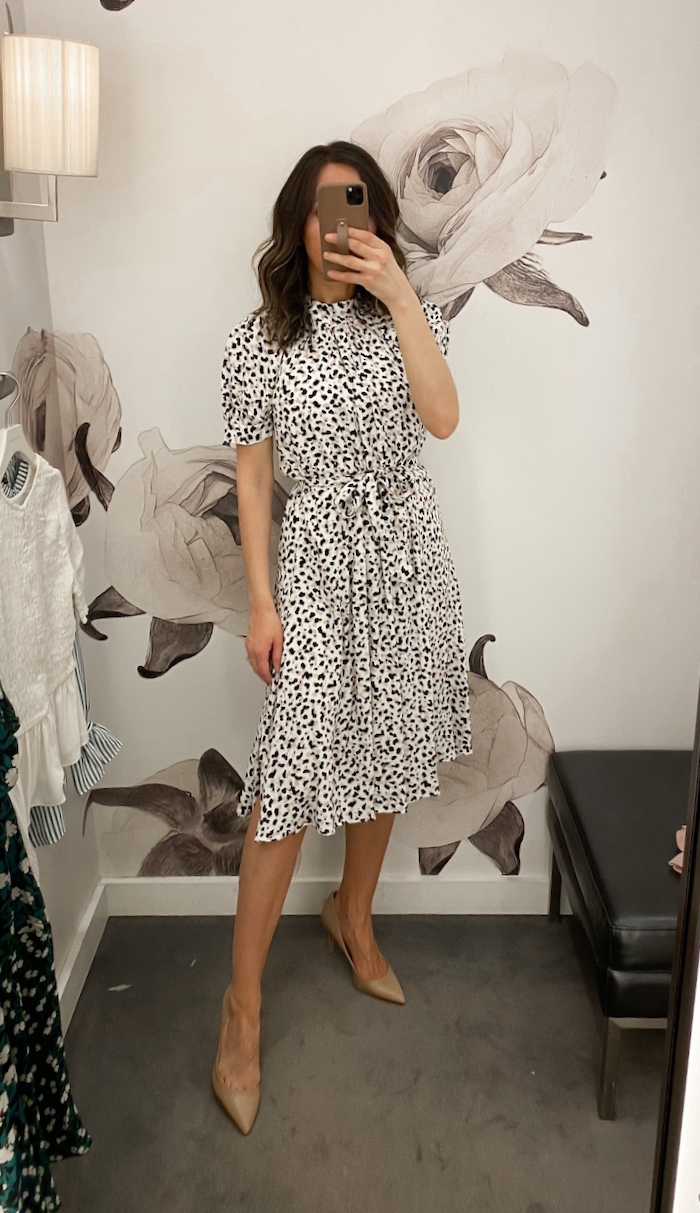 Spot Belted Midi Dress in size 0
Mixed Floral Dress in size 0
This dress was so pretty but short. The 0 fit but it hugged the body too much.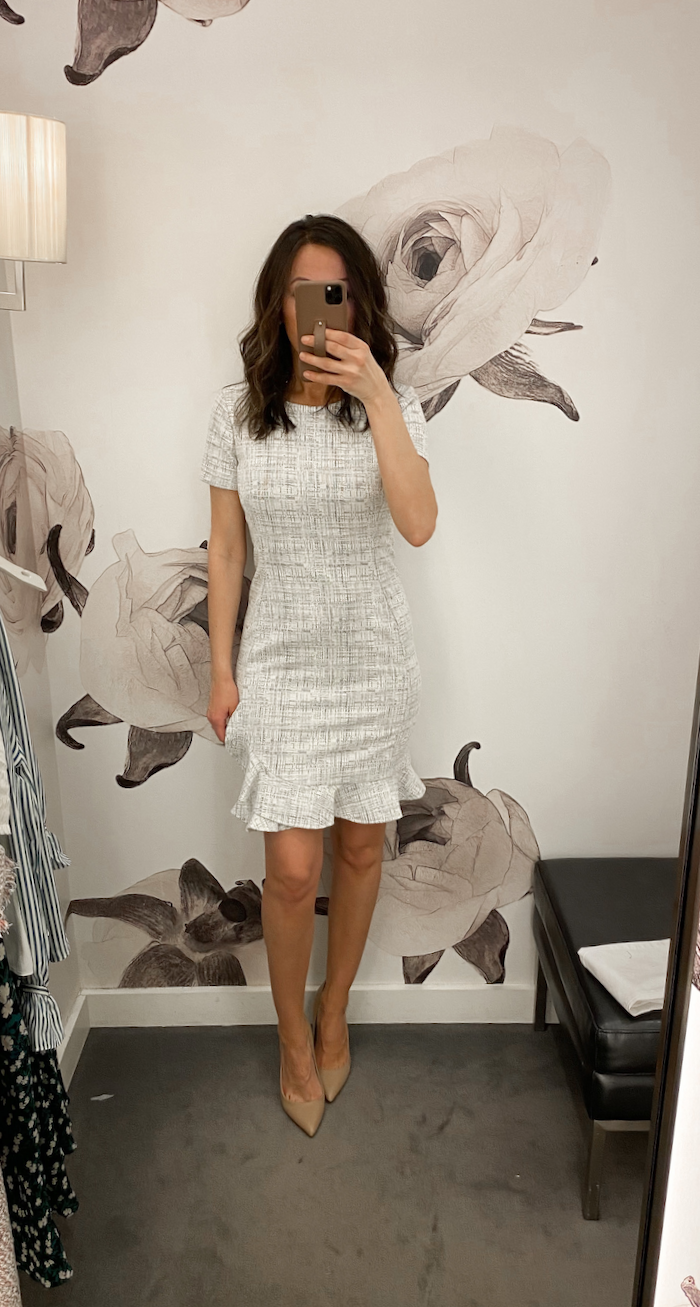 Tweed Ruffle Hem Dress in size 0
This dress felt SO comfortable! Whatever the fabric, it's really nice. This one would look so cute dressed down with sneakers too.
Fringe Tweed Sweater Dress in xs
Didn't think I was going to love these pants but I do love them! The print and colors are subtle for a print pant, which makes the easy to wear. So so cute and comfy and can easily be dressed up or down. Wearing xs below, fit tts. I didn't take a better pic of this top – it's roomy/flowy but it was just too much for these pants, hence me holding the top funny. I wanted to try this top, so pretty, but my size was already sold out.
Pants in xs | Top in xs | Sandals tts
This blazer is even prettier in person. Runs tts. Wearing 0 below.
Blazer in size 0
Adorable dress but way too short (it's shorter in person).
Dress in size 0
Cute skirt, fits tts. Very light, great for hotter months. Tank runs tts. how cute are these flats you guys?! So stinking adorable. They run tts.
Skirt | Tank | Strappy Leather slides