Sharing some outfit inspiration and pretty much everything is on sale for a limited time. Most of the pieces below are the same but worn a few different ways. I know that these outfits will be in heavy rotation as soon as the warm weather decides to stick around.
Love this combination. These white jeans are probably the best white pair I've tried in a long time. The fabric is great and doesn't show any imperfections. The length is perfect and love the straight leg. I got my usual size and they fit perfectly everywhere except they're a tad tight in waist for me (I've been eating way too many carbs lately and it's all going straight to my mid-section, no joke). And because of that, at the moment they're not working out in the waist (which makes me sad). I can button them all the way but it's not comfortable. At all. You might have to try them for yourself as they're truly amazing. These will be my motivation to start working out lol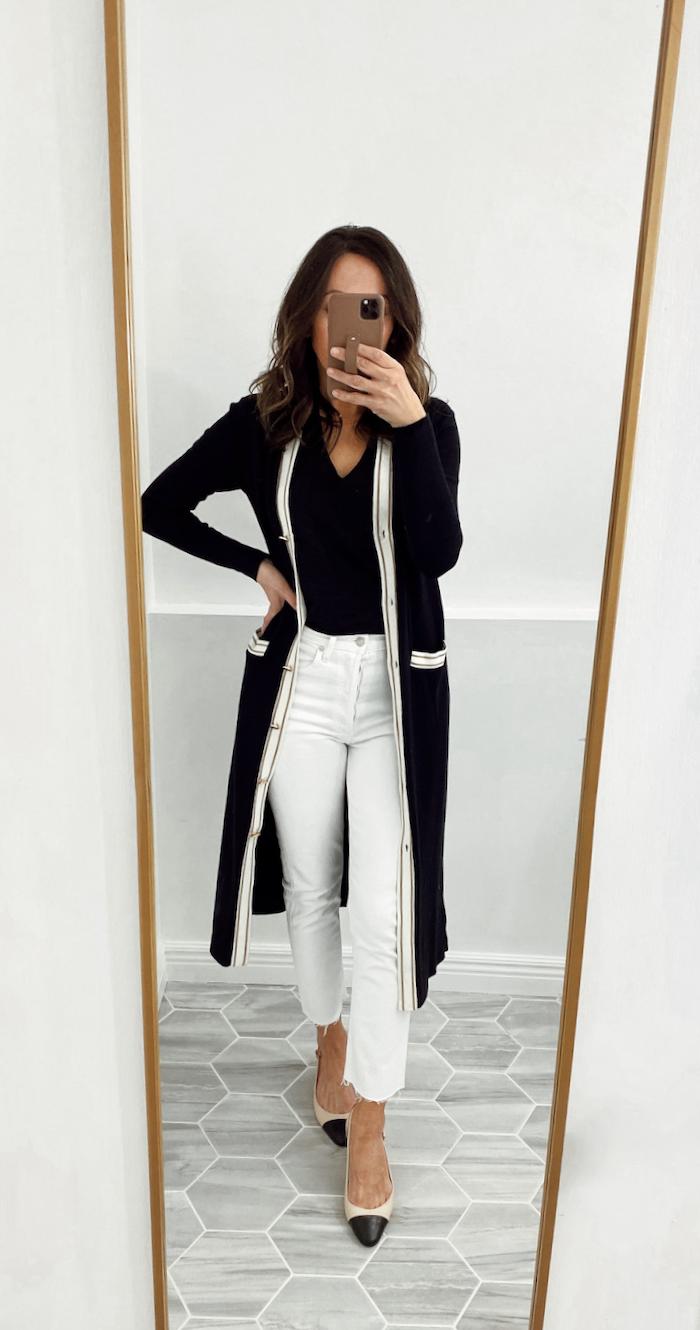 Cardigan in xs | V-Neck tee in xs | Jeans | Shoes – reviews are very mixed on these. These are another item you'll just have to try for yourself. Everyone's foot is different (I have this color)
The super versatile sweater blazer (comes in more colors). My favorite tees – short sleeve and sleeveless (great for layering but also perfect for hot months because they're SO light) and jeans are now only $50 (they come in more colors). I also ordered these in Bone and Sky blue (both ankle, I'm 5'6″) since they're also $50 right now. All these pieces are my wardrobe essentials.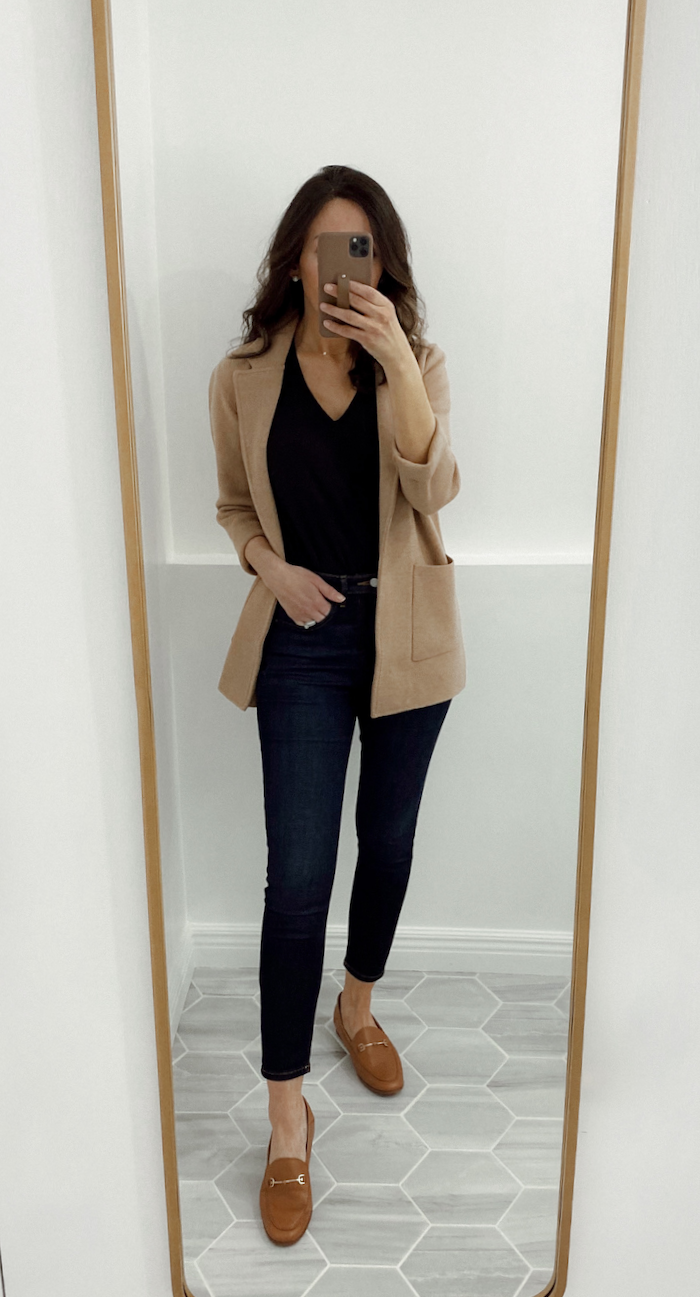 Sweater Blazer in xs | Jeans (love them) tts – now only $50 | Loafers tts | Tee in xs
This is the tweed blazer from this post. It's such an amazing and versatile piece. Well made and timeless. Runs tts.
Blazer tts | Tee tts – here from Shopbop | Jeans tts – curvy style | Shoes
Same pieces as the first outfit just with different cardigan (which sold out once, but got fully restocked).
Sweater trench/Cardigan | Tee | Jeans | Shoes
Same outfit as above but with sneakers (more similar/can't-go-wrong styles: here, here, here). Shoes alone can make such a big difference.
This outfit below is what I thought I'd travel in…which I pretty much did except I wore these jeans and not the linen-blend joggers below (I've actually never traveled in joggers but select ones I totally would on a long flight). I bought these linen blend joggers over a year ago but totally forgot about them.
Cardigan – very similar option | Joggers old – great options here and here | Sneakers – similar fab options here, here
I loved the look of these slides (almost sold out) and really wanted to take them with me on vacation. But I had to narrow it which slides I'd wear most so sadly these were left behind. But I can't wait to wear them. I sized up (full sizes only).