Daily outfits these days look a little different for most of us, but I've stepped out of sweats/legging quite a few days (usually when it's sunny out. Sun is definitely a motivator). And any day I feel like wearing something nicer, I'll actually do it even if it's only for a few hours. It makes such a big difference in my mood. Until my mood tells me it's time for sweatpants. Then I happily oblige.
A lot to pieces I'm wearing are on sale. Some are no longer available, but I'll link either similar items or some just a good/or better options.
I love the color of this cropped cardigan (it does come in two more colors). It pairs perfectly with high-waisted bottoms (otherwise it might be too short on its own). The sweatpants are one of my faves – amazingly soft! I have them in navy as well and the navy style is a tad longer. I think I'm also getting these in another color as they're beyond comfy! They run true to size (xs for me).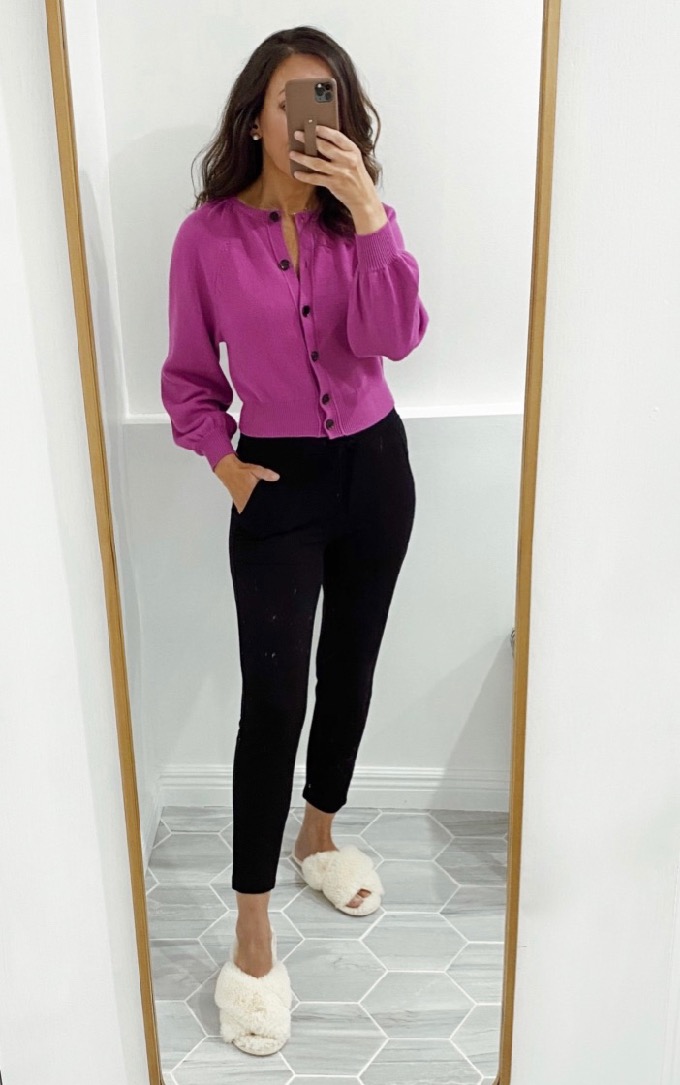 Sweater in xs c/o Ann Taylor | Sweatpants in xs – on sale! | Slippers – similar here, here, also love these now on sale! (blush color got restocked)
These jeans have quickly become one of my favorites (I think top in 5. I'll need to get on that 'favorite jeans' post). For being quite high-waisted they're very comfortable (and get better with wear). THey're slim but not super skinny. I've worn these a ton since I got them a few months ago (or maybe last year). This top… I almost put in right back in the return bag after I looked at it. It looked tiny and I mean tiny. I did put it back in the return bag but a few hours later decided to try it on. I'm SO glad I did. It obviously has stretch to it and it stays put (reminds me of a bodysuit). I absolutely love it!!! It can also be worn off-shoulder. Perfect on its own but also great for layering.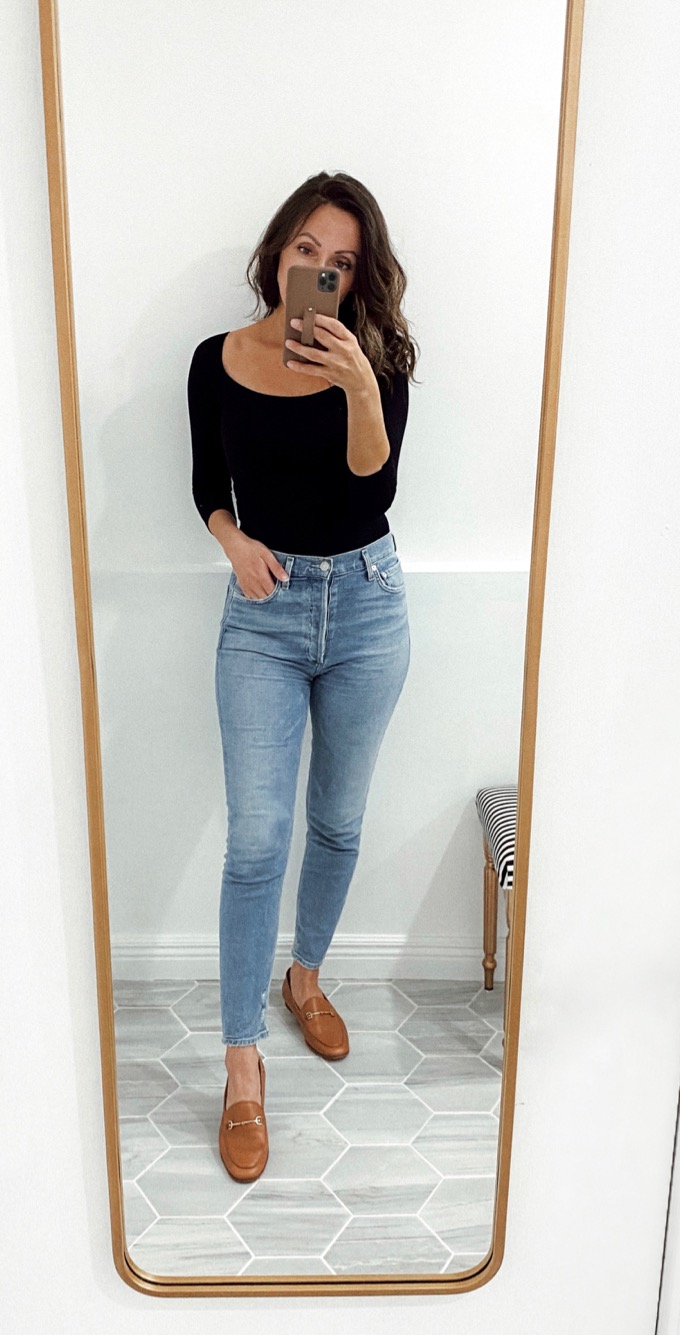 AGolde Jeans tts – also here from Revolve | Loafter tts – also from Nordstrom (same color, different hardware) | Square neck top in xs/s
I'm going to start with my Yeti cups which I use every.single.day (I have three different size which I purchased overtime). With that I'll say this – get yourself the a cup (or cups) you love and will use over and over again. Something you're excited to use. That's how I feel about my Yeti cups which keep my coffee or tea warm. And my water warm too haha. Yes, I love warm water during colder months. Fun fact – I hate ice in my water. Even on the hottest day…just give me cold water. Without ice (it's a European thing I guess).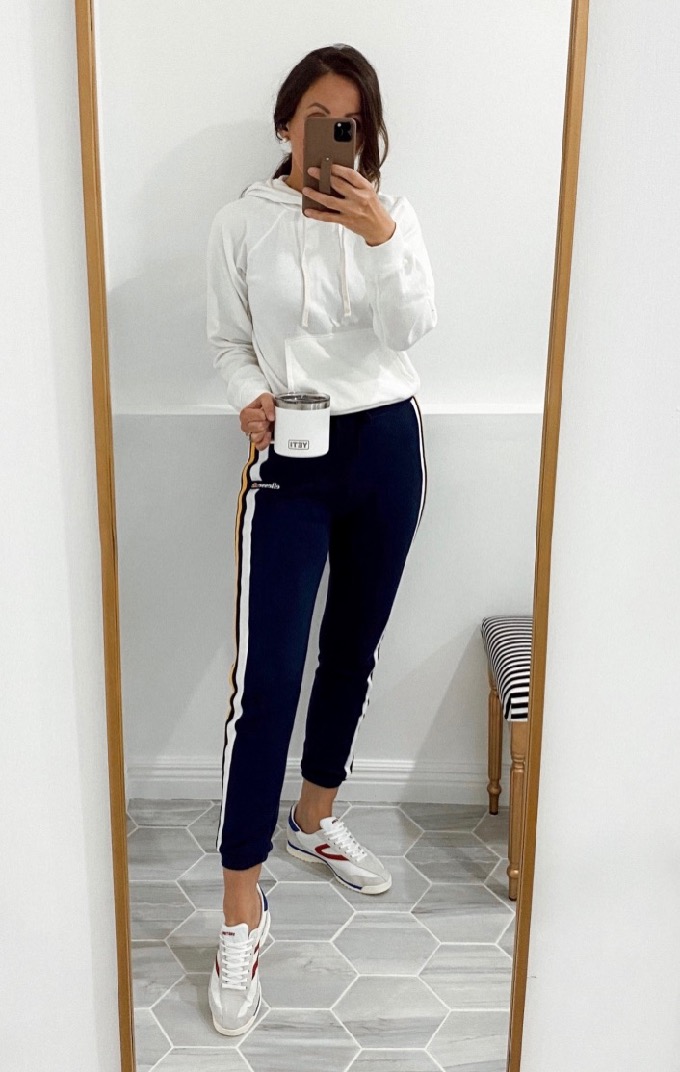 Sneaker – tts | Hoodie old – almost exact style here on sale!, here a longer option | Joggers (sold out) – similar style from the same brand (I'm wearing size small) | Mug (I have this size in Navy and this one in Seafoam along with the straw lid)
This zip up is hands down the most worn top. It's currently on sale (comes in more colors). There are a ton of great Patagonia pieces on sale right now.
Leggings in size Small (over 1K reviews) | Patagonia zip up hoodie on sale and no-hoodie Patagonia zip-up (I wear small in Patagonia) | Tretorn Sneakers tts
I think this was the day it got up to 73 degrees, which was amazing, and sleeveless tee and slides came out (around the house of course).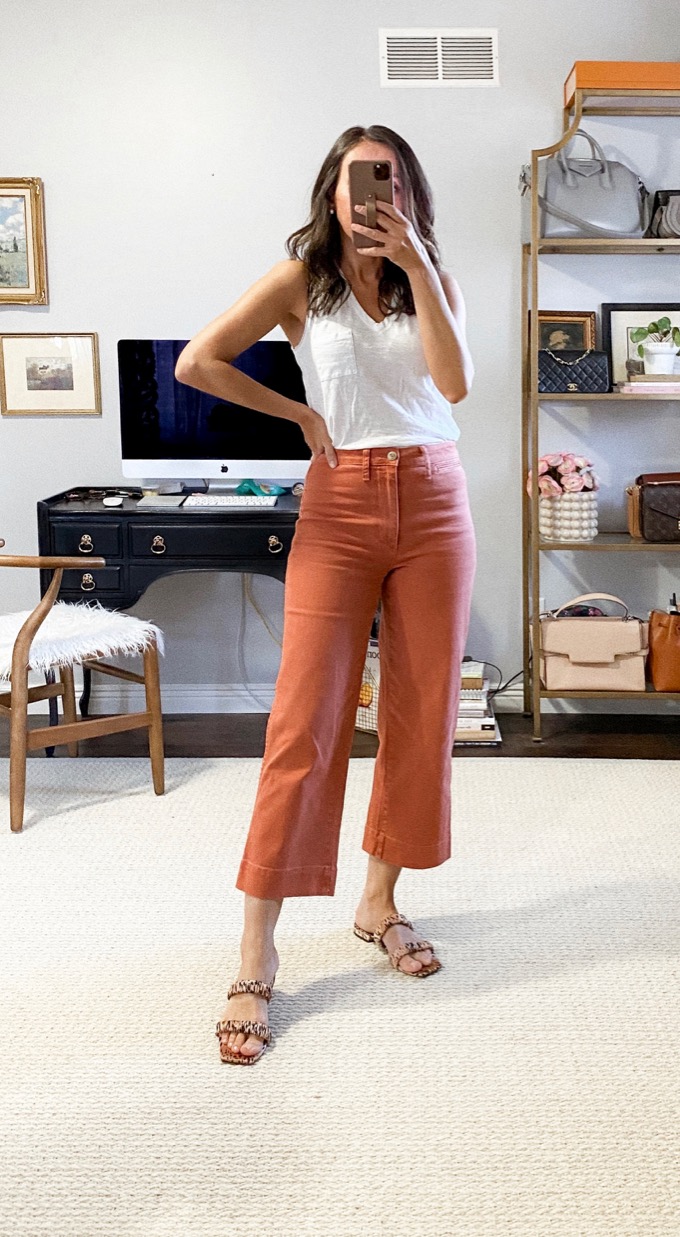 Sleeveless Tee in xs – 40% off | Print Slides tts | Pants (from last season, new color is similar) – an almost exact styles here (I have them in white as seen in this post)
I've raved about this sweater jacket a lot last year and it's still a piece I'd recommend. I got my usual size xs and love the fit (I know some have said to size down but I personally didn't like the smaller size on me, xxs that is, so I got xs. It comes in more colors and I also LOVE it in Natural. The gray tee is one I've had for years (have it in multiple color and sleeveless style too) and it's still available – great wardrobe basic.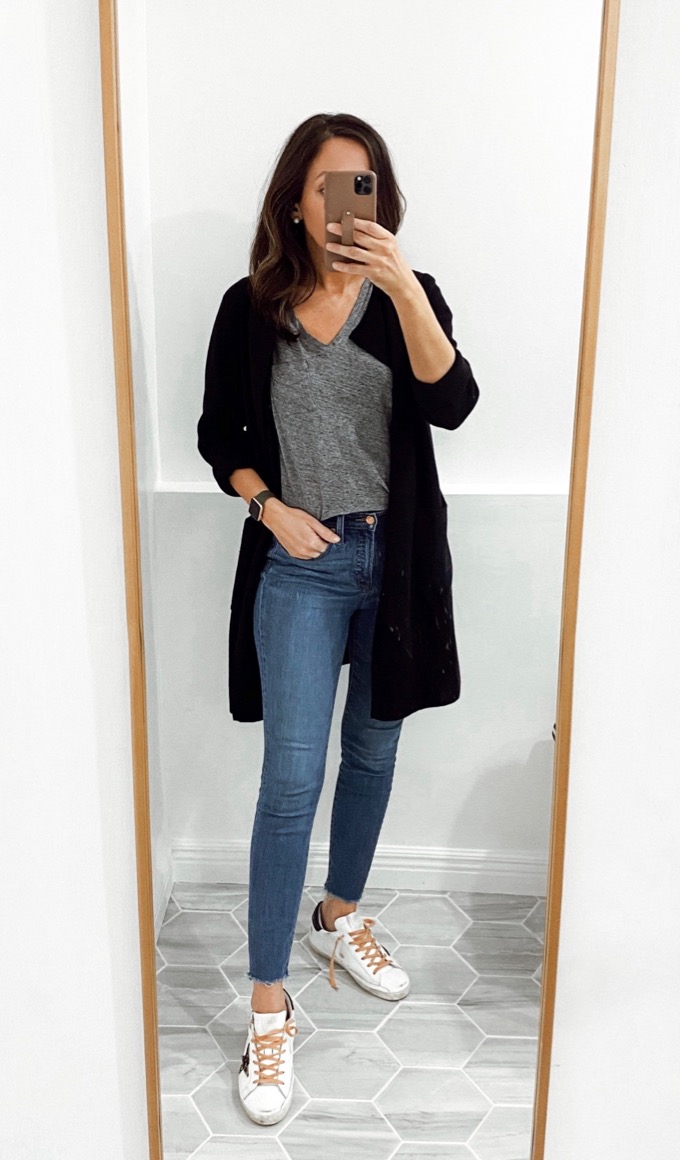 Sweater jacket/cardigan in xs | Short sleeve Tee in xs – 40% off | Jeans (J.Crew old) – great options here and here | Golden goose sneakers (exact style sold out) – similar styles here and here and option for less, another dupe option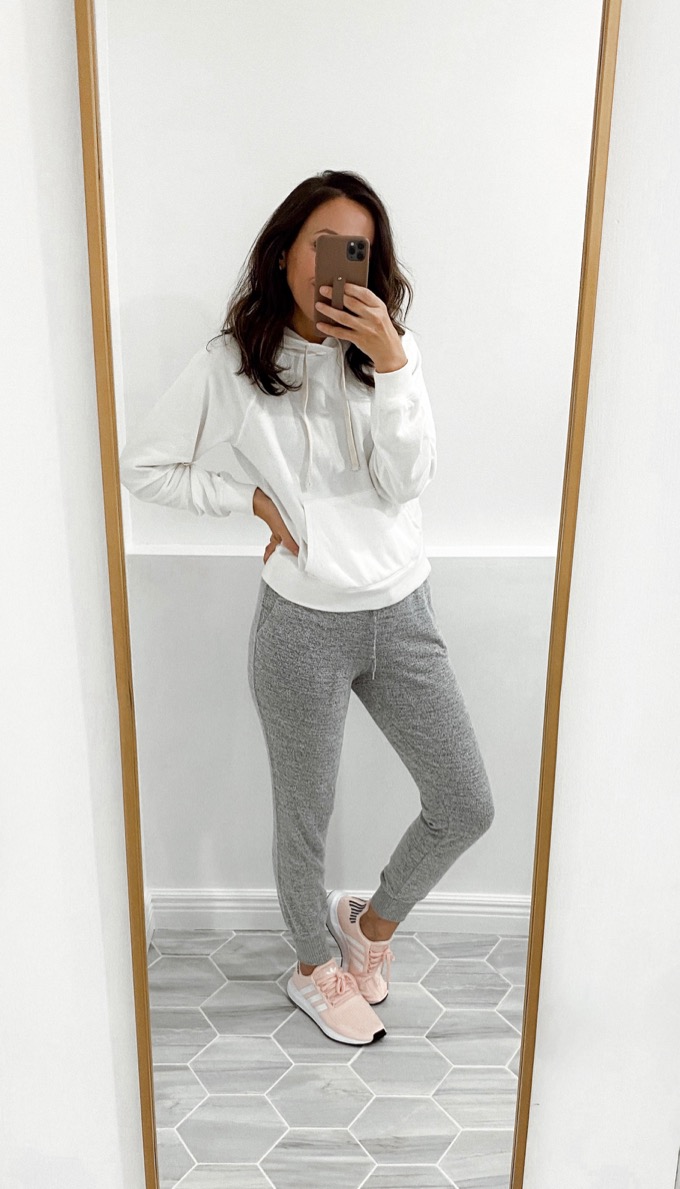 Joggers (Gap – sold out) – similar here, love these $$ | Hoodie (old) – almost exact style here on sale! and here a longer option | Sneakers (tts for me) – also here in more sizes. LOVE these!
I have a few more but I'll share that in the next roundup.
What have you been doing more of during the quarantine?
Me? A lot more cooking 🙂 Finally purchased a 1000 piece puzzle. Will share my favorites.
Hope everyone is staying healthy!