Hello everyone!
How is everyone holding up?
It's been a while since I posted anything on here…but I'm back with some recent outfits I wore.
And apparently I have a lot of say haha. Sharing a quick office update at the end of this post.
I've said before how much better I feel when I wear normal clothes, even if it's just for half a day. I'm a firm believer that we don't need to be going somewhere to actually wear "normal" clothes. I'm also very inspired when I scroll through IG feed or stories and see some ladies dressed nicely every single day (Julia from Gal Meets Glam is one of them). Seriously inspiring but I'd also love to own just 1/4 of her collection of dresses.
Below is an example of me wearing this outfit for a few hours and then switching to joggers.
My button down is a few years old but they bring it back each year in multiple colors and it's so cheap you guys. Washes great and I usually dry it on low heat. Jeans are one of my old favorites (had these for so long but they're still available). They're tts for me but depending on your body type you might be able to size down (check out the reviews).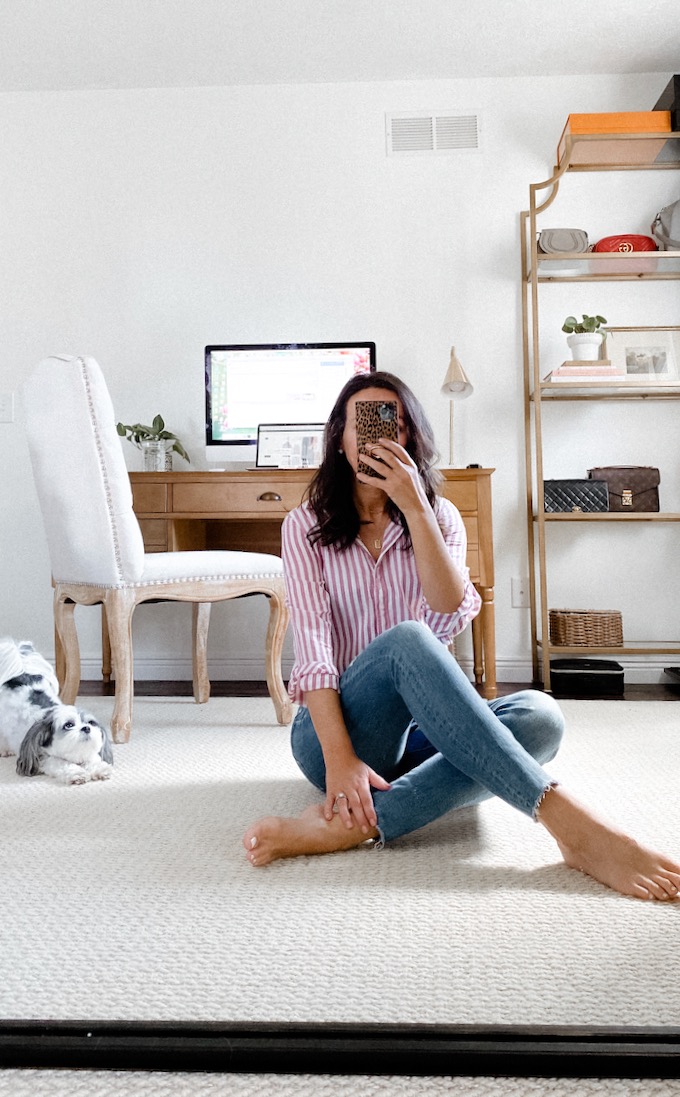 Jeans tts for me | Button down (comes in more colors)
I shared these super affordable joggers in this post so I hope some of you got them before they sold out in most sizes (they come in ton of colors). I'm not sure why I ordered them in XS but that's what I got in two colors. They look tight because of the way I'm sitting but they're more fitted, not leggings tight though. I guess it just depends how you want them to fit. And they don't look bunched up like on the model (I'm 5'6″ for ref).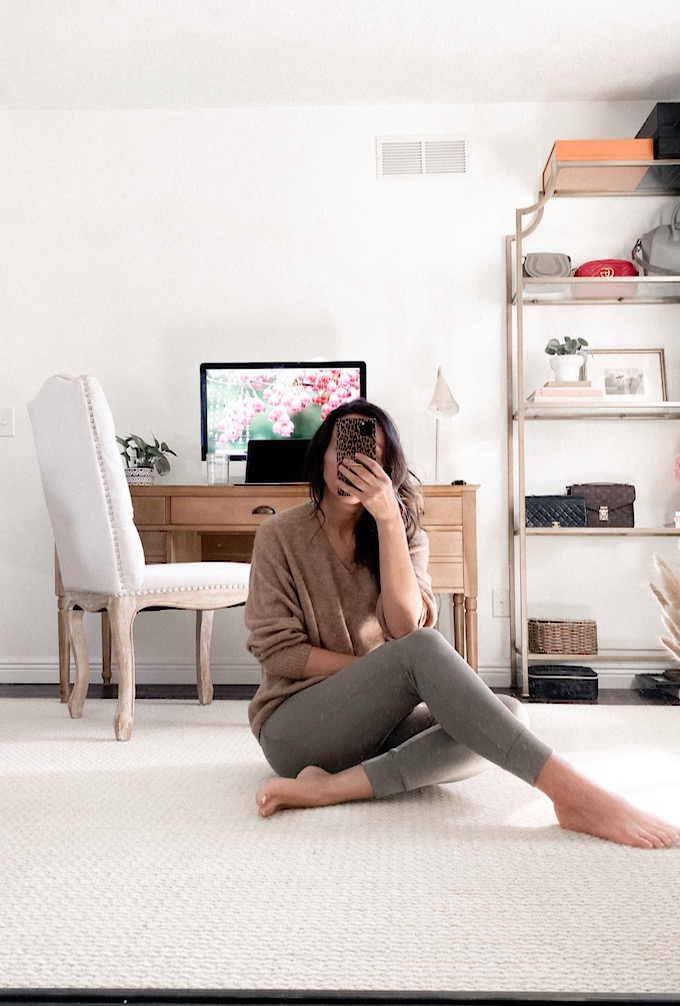 Joggers in XS | Sweater in XS – this one is almost identical and both are oversized style, you can size down if you want it a tad less oversized (I have both in a few colors)
Did you guys know I have curly hair? I actually don't remember the last time I wore it curly…I just don't feel me when I do (because I'm not used to it). But I love seeing others with curly hair especially when they have a lot of hair. The parts that have been bleached don't curl much, but now that most of my hair is natural color it curls a lot better. Plus I finally got some products that I think worked wonders for me.
I've had these jeans on my wish-list for so long and finally got them (now 25% off). Ever since I got them I have worn them more times than I'd like to admit (getting my $$ worth already hah). I love the style and fit of these so much! I'm going to share in a different post my fave jeans and why I splurge on most.
LOVE these slides so much that I ended up getting them in white too (they come in ton of colors and prints). I've been wearing the white ones around the house every single day and these olive ones are now for the outside. My sister has them in black and loves them too.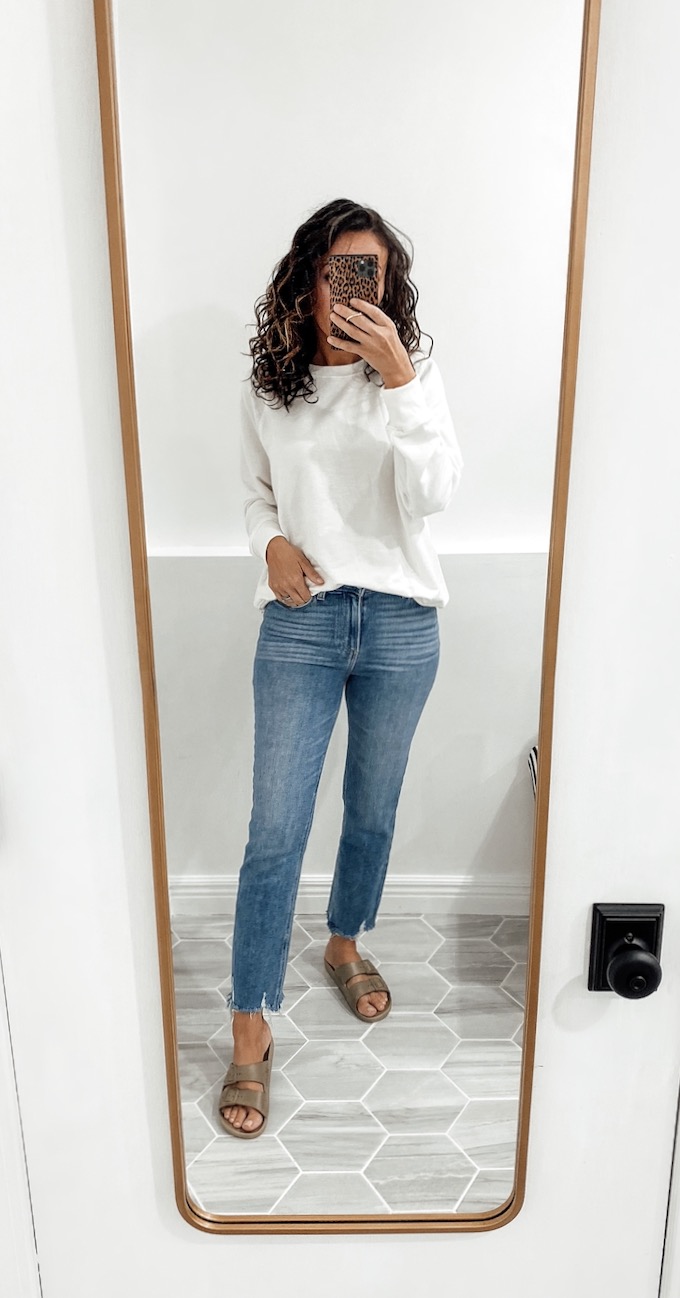 Jeans size 26 (tts for me) | Sweatshirt only $18 wearing Small (comes in more colors) | Slides (love these)
While this set below is labeled "pajamas" I see it differently lol. I mean I don't own any pajamas with pockets so this if officially a lounge set ;). It's thin and soft, perfect for current weather and into summer when the A/C is on blast indoors (but great for year-round really). I got size Small and like the fit. So even though this is a loungewear set, I somehow feel semi-put-together and not super blah. And my coffee Yeti has become a must-have.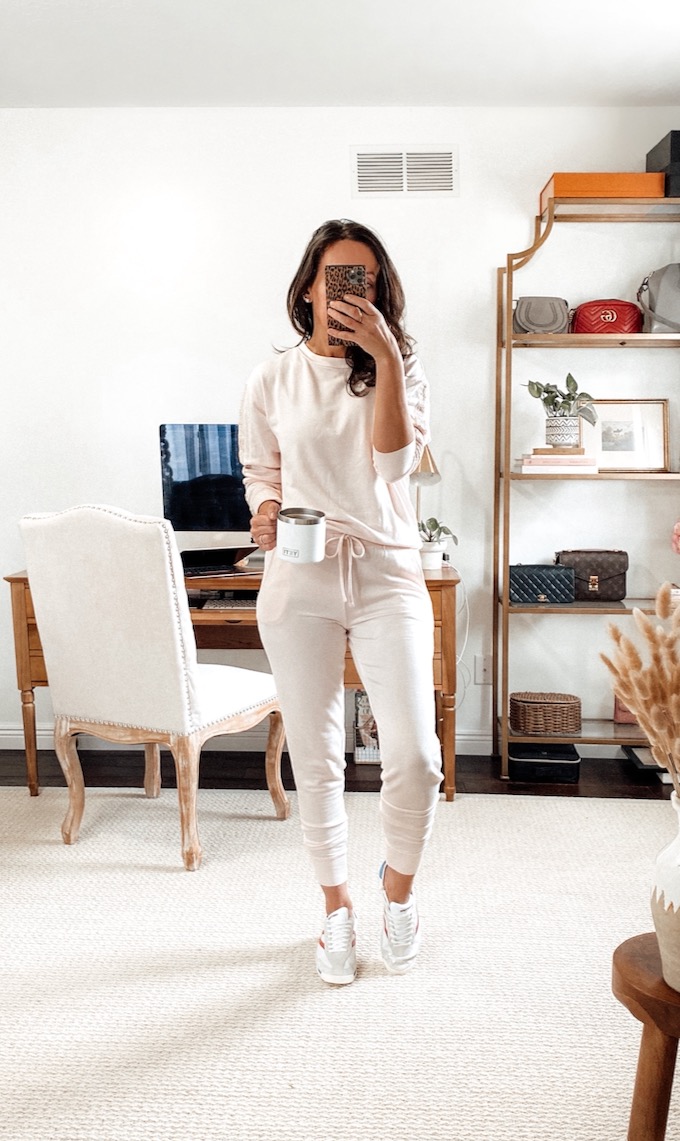 Loungewear set (now 25% off) in size Small | Tretorn sneakers tts (I just wear these around the house for now) – also here from Nordstrom in limited sizes | Yeti
This type of outfit has been one of my go-to's for years….weather permitting – jeans, tee, cardigan!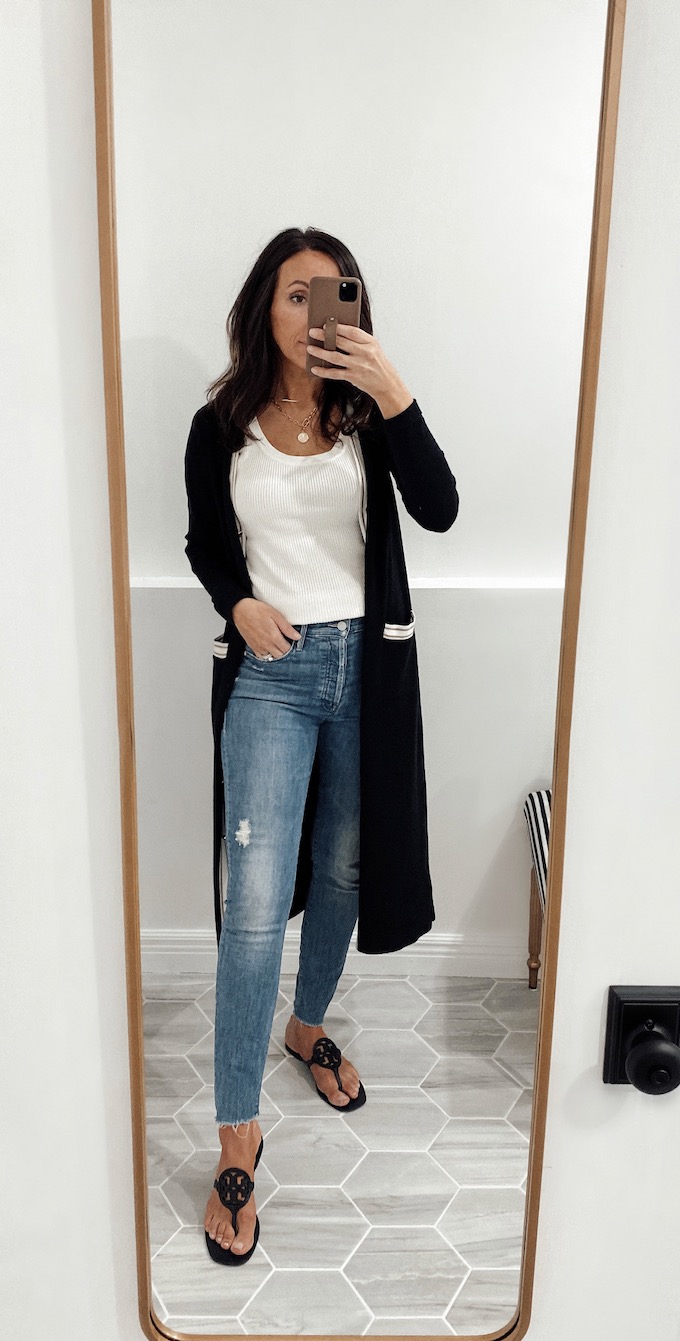 Cardigan in XS –no sale! | Jeans tts | Top (sold out) – similar here and here | Tory Burch sandals – similar for less | Bar Necklace, Similar Pendant Necklace, another similar style
The overpriced shorts that took me years to actually splurge on but I am glad I did. I did size up as I didn't want them tight in any way. I've noticed that some were able to stick to their size… I'd say if you have more of a straight figure you can probably stick to your size. If you're hippy at all I'd suggest sizing up. Tee is one of my faves (super light, perfect for hot months. I have it in 5 colors…between short-sleeves and sleeveless).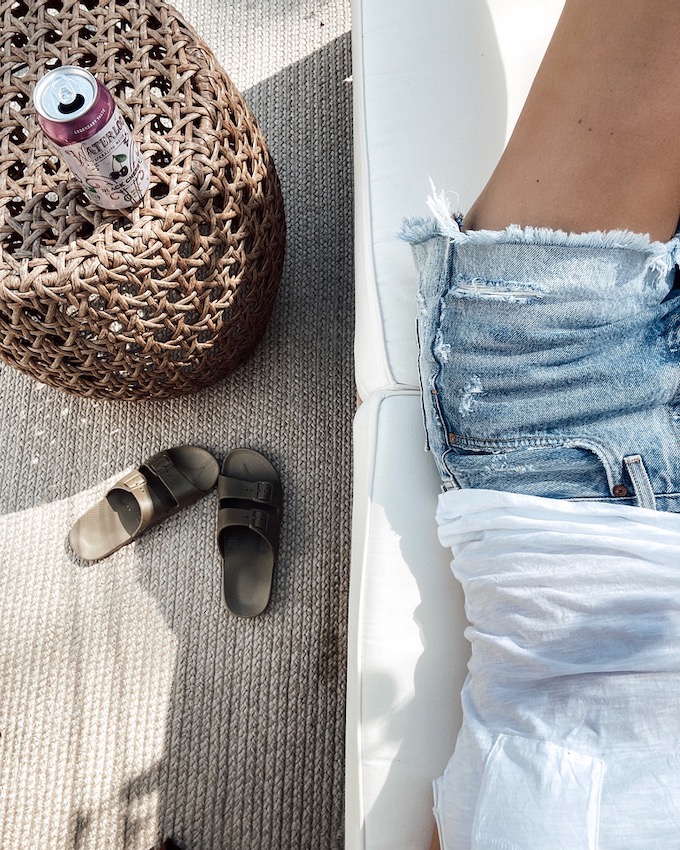 Shorts, also here from Shopbop | Tee in XS | Slides |. Outdoor Rug (got it last year and still LOVE it) Outdoor Bench (got it last year on sale. currently sold out) – similar
This was my Costco run outfit (mask not pictured) with all my favorite pieces. This is something I wear around the house to feel like a human (as I'd like to call it). Obsessed with this top…that looks like it's for a 5 yr old but it has a lot of stretch to it (it fits like a bodysuit)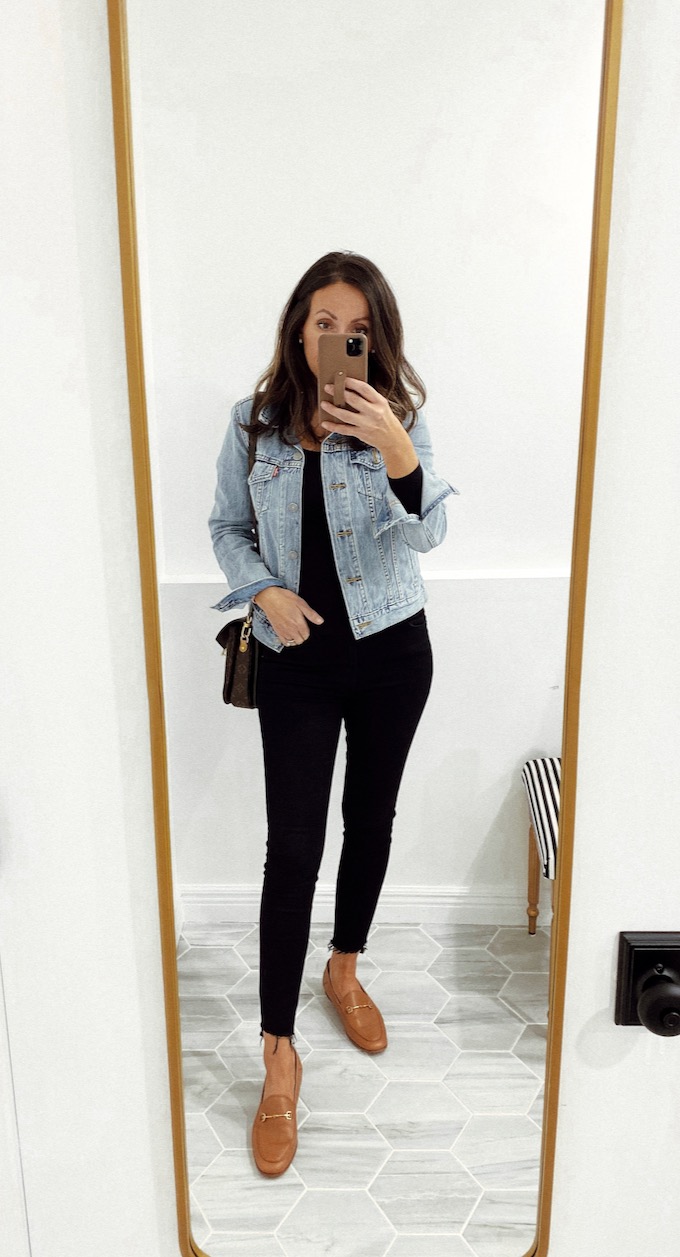 Denim jacket – similar for less | Jeans tts – similar style for less | Top in XS/S | Loafers (the best) tts – also here from Nordstorm (the hardware is different)
I wore almost the exact outfit in my previous outfit roundup…just different bottoms. These joggers are old and while they're really cute they're not great lounge bottoms. They don't have any stretch to them (actually quite a few of my jeans are way more comfortable than these joggers. Just an example that jeans are not always uncomfortable. You just got to get the good ones 😉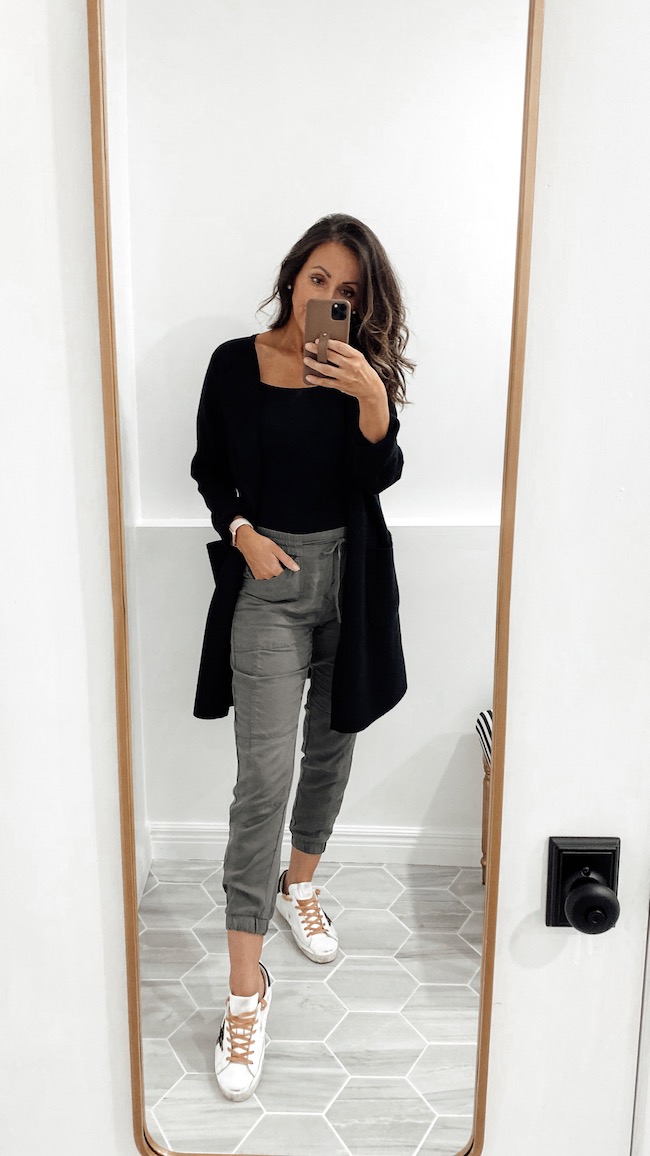 Top (I wear it so much) | Cardigan – great option for only $30 (comes in multiple colors) | GG sneakers (exact sold out) – here a ton of options, here similar for less and here too | Joggers old – great alternatives here (for $40), here (mine are size 0), here and here, another Golden Goose dupe under $40
If you want to look put together but still be super comfy then you need these wide leg pants. SO comfortable ( I have a pair from last year in black. The fabric is a tad different but not any less comfy). I got XS. Get almost identical cardigan now on major sale!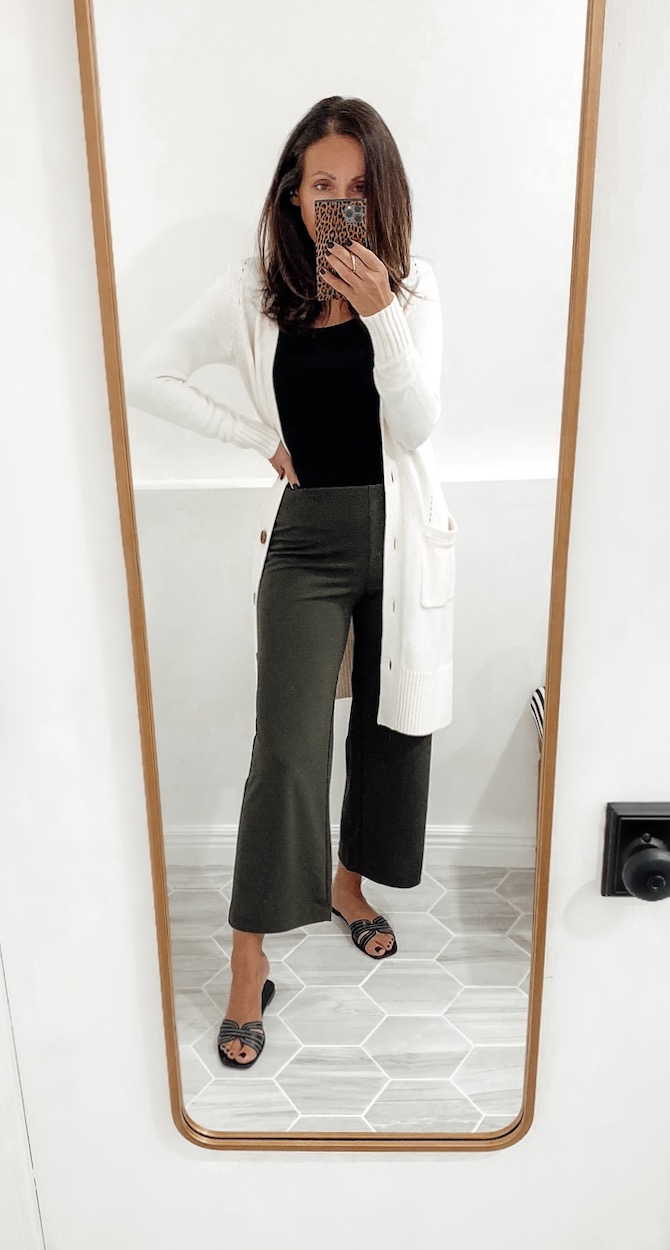 Wide leg pants in XS | Cardigan (similar) | Top | Slides (old from Mango) – similar style, LOVE these, another great option
Below are my picks from the current LOFT promo – $35 dresses and jumpsuits:
Quick office update as you might have noticed in the pictures above it looks a tad different now… Finally picked a color for the walls. And after months and months of searching for a new desk finally found one that I call my 'grown up' desk lol. If you're looking for a desk for your home office, I got so many great ones rounded up at different price points. And different sizes for different spaces. A separate post with some office inspiration, and all details on mine, is coming up this week.
If you're in need of some cute lounge pieces, below are some options…
Would love to hear how you are doing?