Rounding up some outfits I recently wore that include a few very cute, perfect summer dresses! So make sure you scroll all the day down….
I'd like to think that I've become a lot less impulsive when it comes to purchasing clothes, but as soon as I saw this white dress I ordered it immediately. It definitely did not disappoint once it arrived! And it's 100% organically grown cotton! Perfect summer dress – light, breezy and effortless. Fully lined too. And the price is great! I ordered my usual size and it fits tts. I love how flowy it is (it's really quite roomy but not on top), not clingy what-so-ever. When I ordered mine, about a month ago, it was only left in a few sizes. But it looks like it fully restocked. I've worn it a couple of weeks ago but forgot to take pictures. This outfit is from yesterday.
White Dress in size 0 | Everlane slides (soft as buttaaahhhhh) | Floppy Hat
The dress below is a newer arrivals but it's almost sold out!! It comes in a few more colors. I hope they restock it as it's such a great dress. I'm wearing size 0 and while the top past is stretchy, I feel like size 2 would have been a good fit too (just more breathing room on top). It's lined up to knees, it's light and breezy. And it has pockets!
Everlane Smock Dress in size 0 (gifted)
I've mentioned before how much I love this hat! The wide brim offers great protection from the sun. And it's adjustable to fit all head sizes.
It cooled down a couple of days last week, so I thought it was the perfect time for this combo. A classic white button down is something everyone should own. Mine is about five years old but I found pretty much an identical option (mine is also boyfriend style). These shirts are beyond versatile. My sandals are from last year (or year before, I don't remember) but they don't make this exact color anymore. They do come in a few other pretty colors.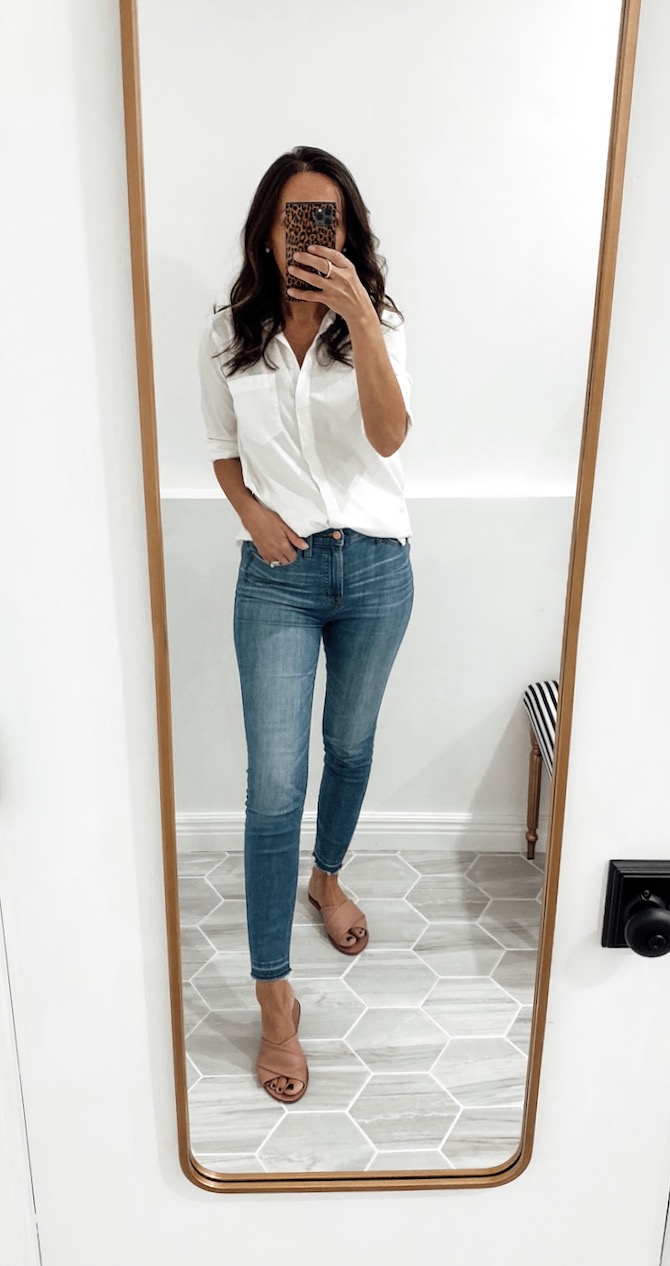 Button Down | Slides | Jeans (old) – same toothpick style, another similar style
I saw this dress while browsing for something else and fell in love immediately. I ordered it and it was supposed to arrive end of July – early August. I was surprised when it arrived after a couple of weeks. It does say it ships within 2-3 days so I'm guessing they're just giving the latest arrival dates possible. Super cute and great price. It is not lined. It looks like they restocked it in other colors too.
Dress in size Small | Slides I wore with this dress are old but these are a great alternative
This is not a recent shot, but when you rewear the same outfit, no need for a new picture lol. I've worn these shorts a ton. They're very pricey, that's why it took me a year or two to bite the bullet and get them. But I think this is the only pair I'll need. And I'm sure you have heard others on IG say the same thing – pricey but so worth it. I did size up as I did not want them tight in any way (but I also don't think I would have been able to comfortably button my usual size). I think most people size up but if you have a straight figure/are not hip-py, your usual size might be ok. I think it really just depends on your body-type. Check out all the reviews…even though sometimes they can confuse one even more.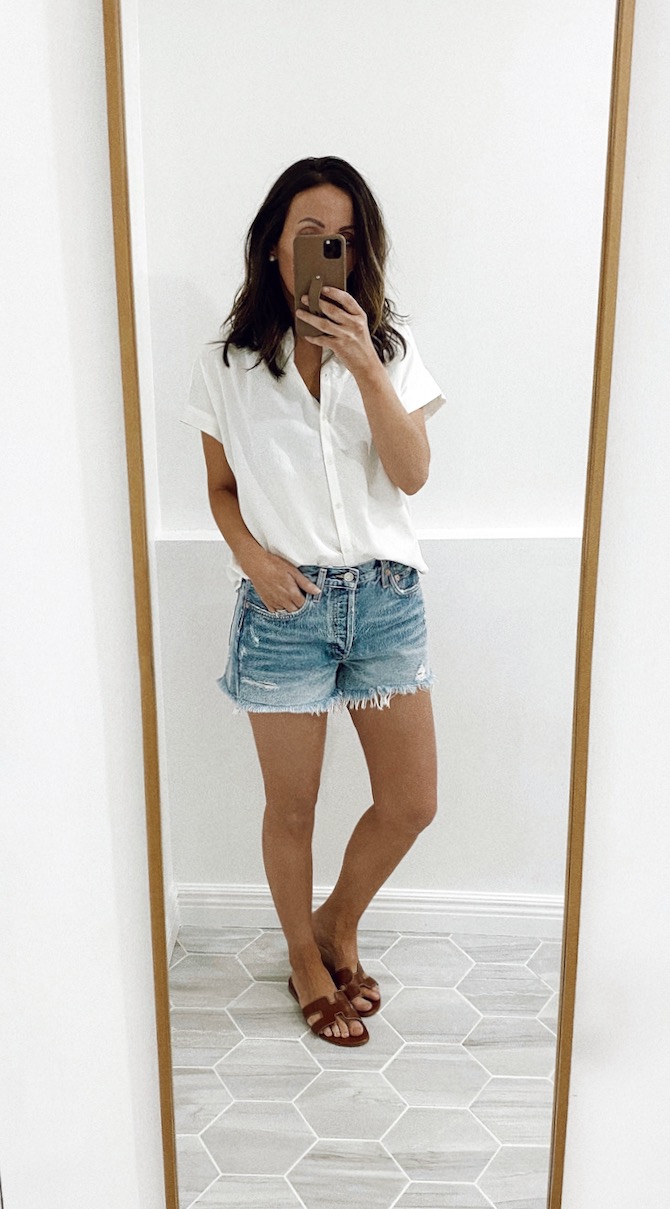 AGolde shorts in size 27 –here from Revolve, here from Shopbop (and a good amount of reviews), here from Revolve, | Madewell top (oversized) –another similar style, similarly great options here, here, here | Leather Slides, love them in white too size up 1/2 size (they'll be super comfy after a few wears) – great option for $25
As always, thank you for reading!