This summer I've been wearing dresses more than ever before. Pretty much every single day. At least at some point in the day. Nothing easier to throw on than a dress. So I thought I'd share a some of my favorite casual, everyday dresses. All under $30.
While I have accumulated a decent amount of dresses in my wardrobe, most are not every day dresses (like a Sheath Dress for example). Most of the dresses below will be on the casual side, but could also be easily dressed up if necessary. I'll share sizing info on each dress. And while you might have already seen some of these, I'd thought I'd round them up all in one post for easier access.
For sizing reference – I'm 5'6″ around 125 lbs and usually size XS/0 in most dress. Depending on style or brand, sometimes size small/2.
I purchased this dress back in February before our Mexico vacation. It comes in multiple colors and I recently saw it in a pretty winter white on a quick trip to Target (I think it's a newer arrival). I had to talk myself out of getting it. I think I might like it in winter white even more. It's cotton, partially lined, light and perfect for summer. I'm wearing XS below and it fits tts.
Sleeveless Tiered Dress in XS – another similar version | Slides now only $30 (I sized up 1/2 size) Slides are very light and I'm glad I sized up (do read the reviews though). Affordable and they come in two more colors. Great price for such well made sandals.
If you have ever purchased dresses from Walmart, specifically their own brand Time and Tru, you might know they tend to run just a tad big, at least for me. I have a few in XS but they have been on the bigger side of XS. Not too big thought where it is a deal breaker, but just a roomier XS. I purchased two same style dresses as the one below last year. Both in XS but one was definitely more like size Small so I gave it to my sister. The dress below is in XS, and while it fits fine, it does have a tad room on top (again, not noticeable). If you tend to be in between XS/small I'd say you can get away with XS in this dress. It's 100% cotton, lined and straps are adjustable. It also comes in two more colors.
Front button dress in XS | Bow Slides tts
I purchased this dress below, which is under $14, in black and once I received and realized it's the prefect lounge dress I ordered two more (comes in multiple colors). And it's 100% cotton! It's basically a t-shirt dress and it's amazingly comfortable. I got XS and love that it's not tight or clingy at all. The hem is raw as well as the V-neck part (which I didn't notice on the black one. It wasn't until I got the other two colors is when I noticed). It doesn't bother me at all since it is a t-shirt dress/lounge dress. Perfect for days for when you don't feel like even getting dresses (what, you don't have such days? 😉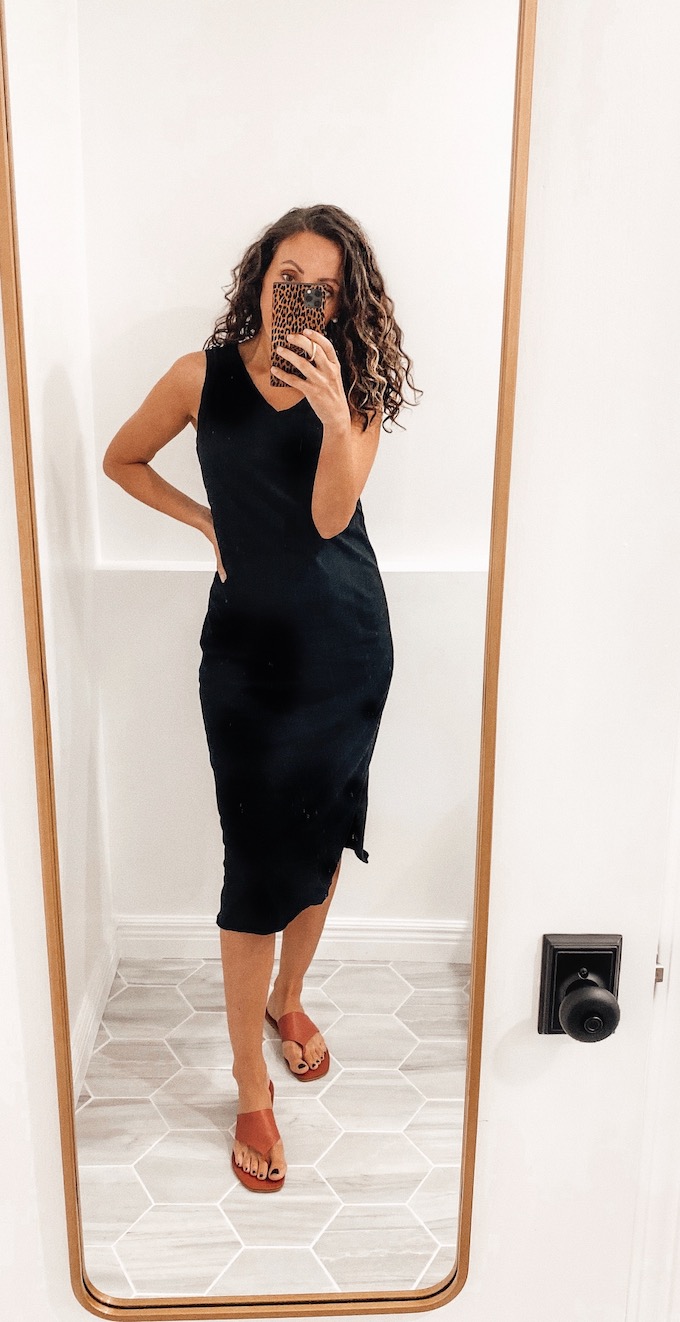 Black tee dress in XS | Leather thong sandals (softest leather) tts c/o Everlane
Same dress as above, just in black/white stripes. Also in XS.
Striped dress in XS | Slides (I sized up 1/2 size)
and got it also in olive. Just a extremely comfortable every day dress that's also very affordable.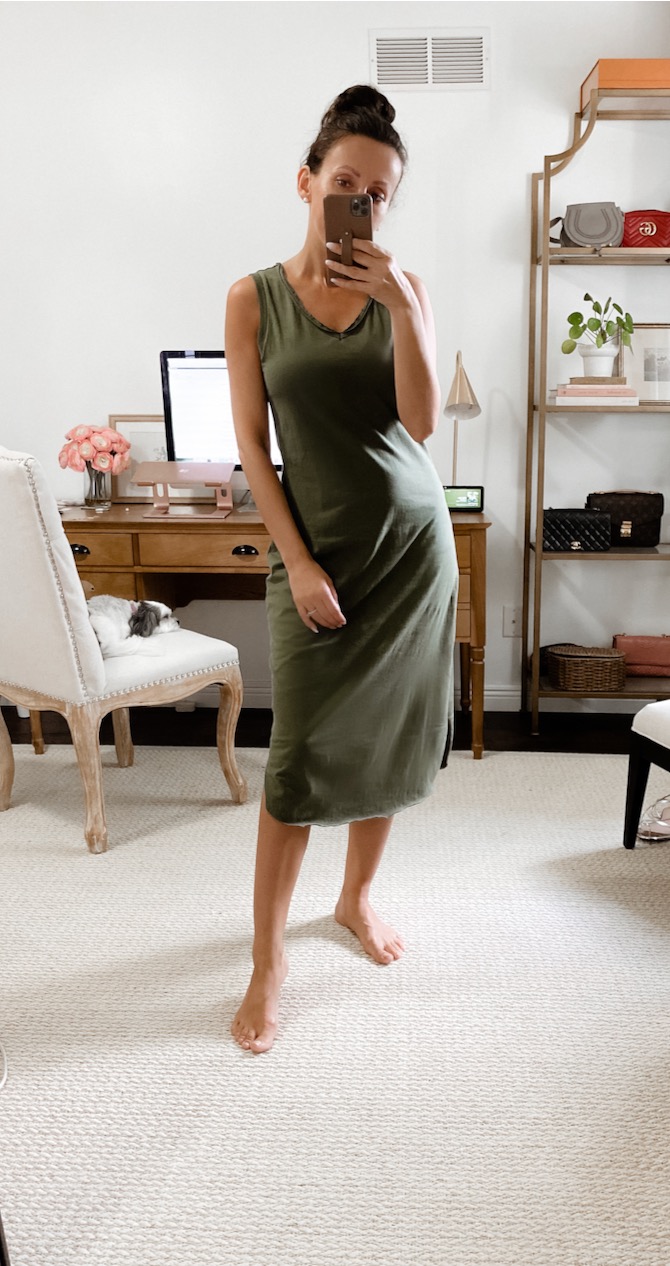 This was one of my favorite dressed I purchased under $30. It is so beautiful and probably my favorite Target dress ever (can you believe it's from target?!). Beautiful eyelet detailing. I purchased XS and it fits tts. Just the slight amount of extra room on top which is not even noticeable (have you noticed the "just a tad room on top" seems to a trend over here? lol I think it's all about your body build and where you carry your weight too). Definitely recommend this one!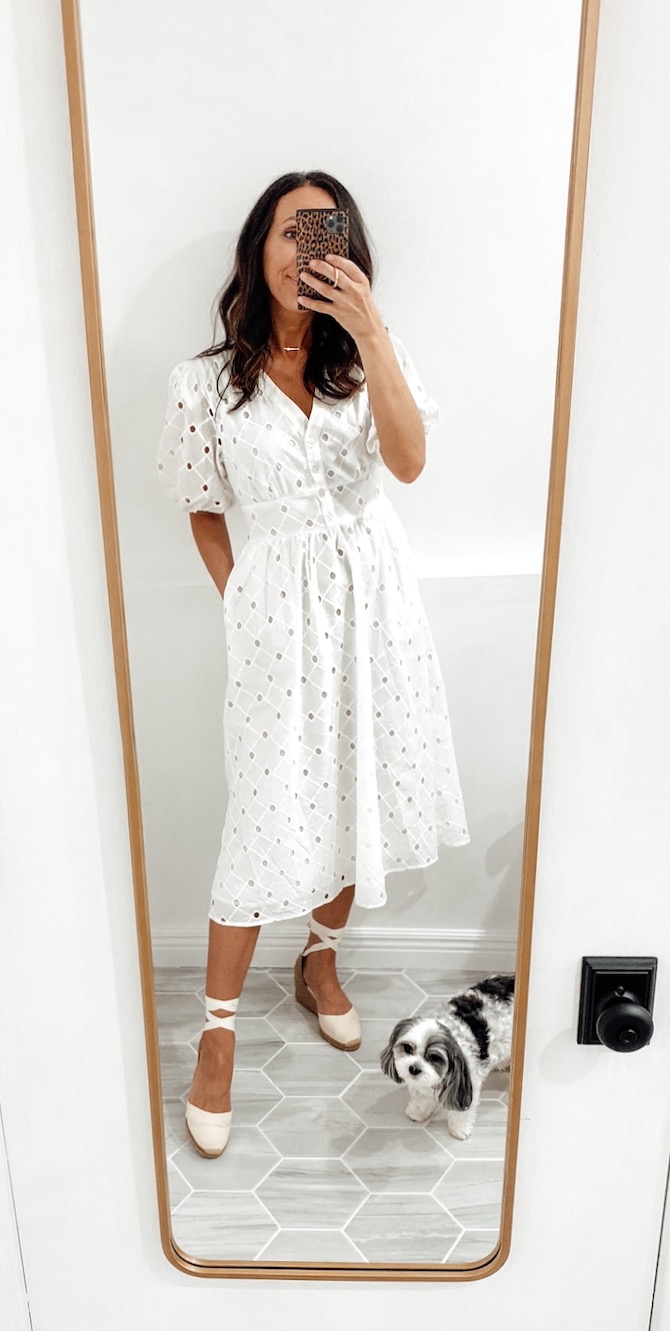 Short sleeve eyelet Dress in XS
Huge fan of this dress, which I ended up purchasing in black as well. It looks so cute paired with a denim jacket and sneakers like these (which everyone should own) or these. Purchased my usual size and it fits tts.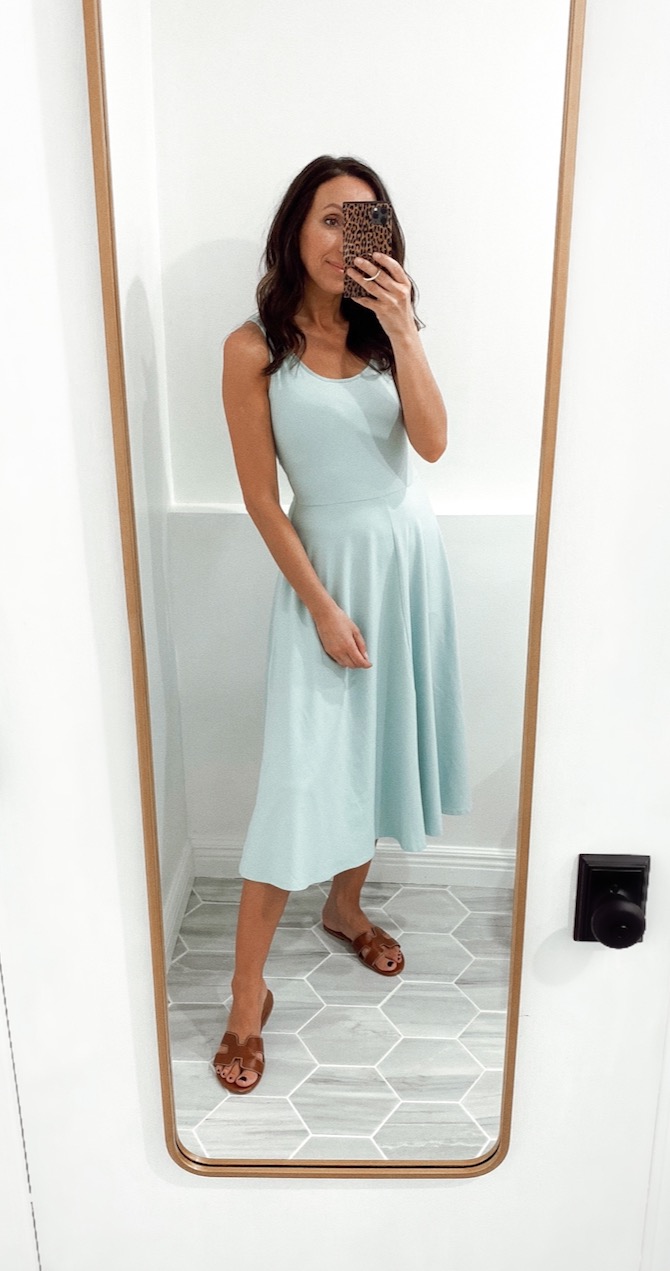 Dress in XS | Slides – similar for less
Another tee dress with a crew neckline. Runs tts. Slides are from last year and still going strong. Great price, well made and very comfortable. They have over 500 reviews. Also available in more colors.
Sleeveless Dress in XS | Slides tts
I've mentioned this dress on multiple occasions but in case you missed it…. Mine arrived way before estimated arrival date (I think within a couple of weeks). I love the length, style and overall look of it. It is not lined. Wearing size Small. Comes in more colors.
Dot Dress in size Small
I'm also throwing in this perfect summer dress because it's only $31.50 right now (looks way more expensive. Use code THANKS at checkout). It's such a great dress. 100% organic cotton. Size 0 is tts for me. If you're very busty you might have to size up. Check out the reviews too. Some of you that purchased this dress DM'd me saying how much you love it. And I love that you love it as well 🙂
Organic cotton tiered midi dress | Soft leather slides tts (this color is from last year, new pretty color available now)
Hope you're having a great weekend so far!