Rounding up some outfits I recently wore. I know I'm already going to miss the warm, sunny days…because those are the only days I feel, and actually look forward to, getting dressing normally.
This tank top has quickly become one of my favorites. Great quality and under $20. Wearing size Small.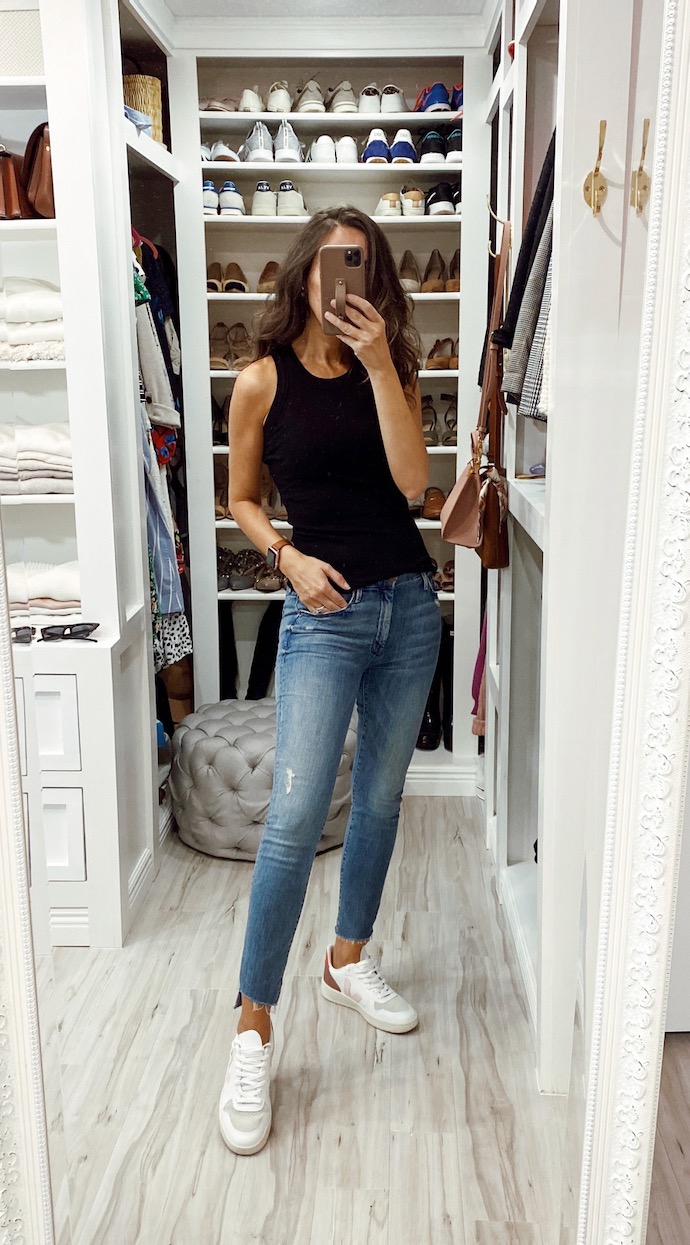 Tank top – avail. in more colors | Jeans old – here same fit/style | Veja Sneakers
It was 57 degrees when I left the house for an appointment hence the light layers. This sweater blazer is one of my wardrobe favorites.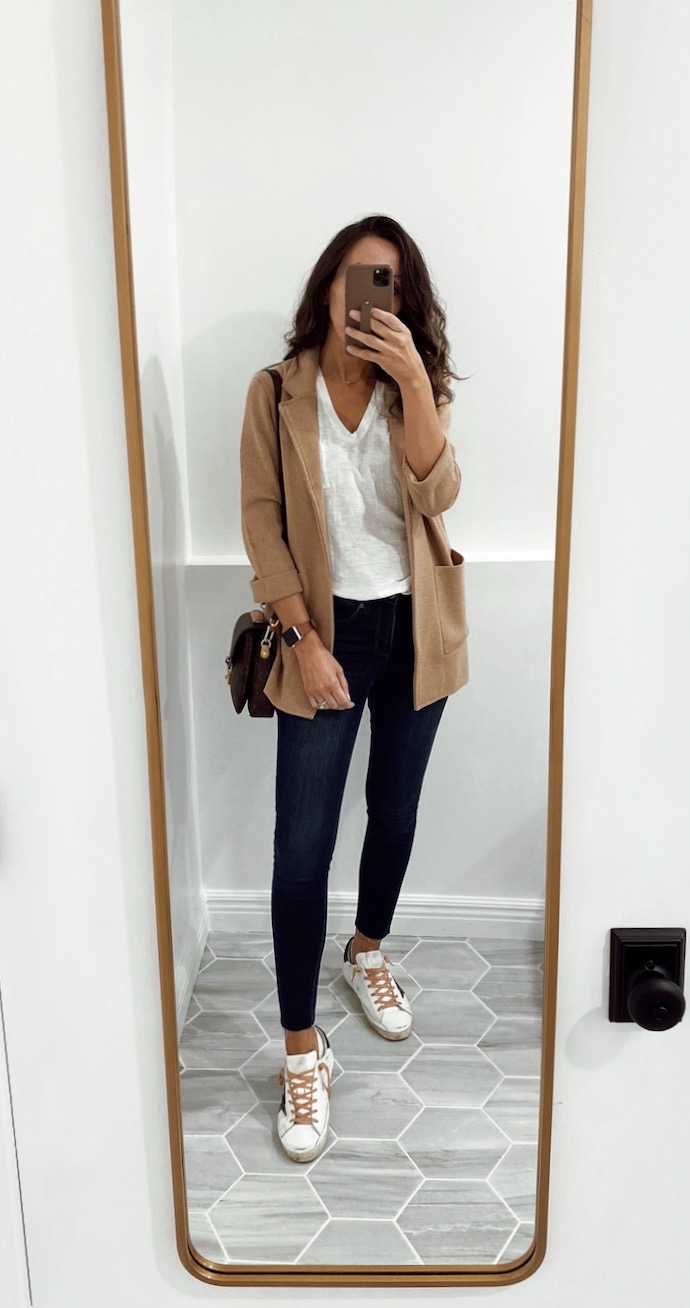 Sweater Blazer in XS | Whisper Tee in XS | Skinny jeans tts | Golden Goose (exact ones sold out) – a ton of fab option here, similar for less
I stumbled across this smocked floral top (I've been stumbling upon too much on Amazon apparently. Blame the prime shipping). I couldn't decided which color I liked better – the navy floral or the white floral. I figured I'll order both and see which one I like better in person. Well, turns out I really love both! They're $15 each, very comfortable and I like that that they look cute under a denim jacket and cardigans too for cooler days.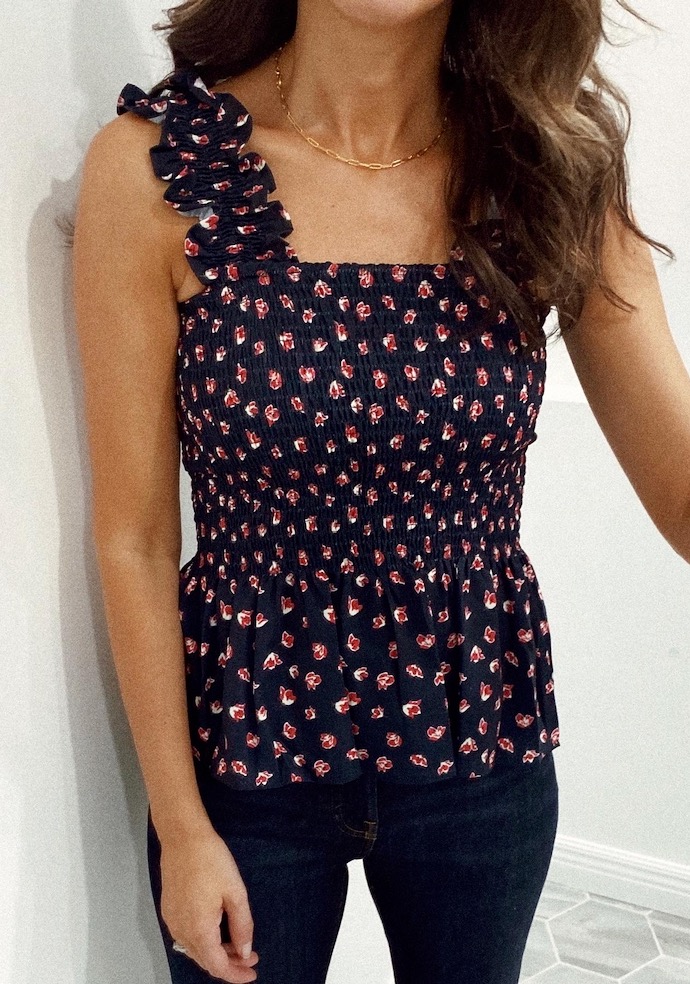 Top in size Small | Everlane Jeans tts
My necklace is from Oma The Label and I love it. It has lobster claw clasp but the part it clasps on it's a tad small that I find it a bit hard to put on. Other than that, the necklace is really pretty, alone or layered. I've paired it some of my favorites, like this set, this dainty Gorjana one which is my most worn necklace.
I wore the white top with denim shorts the other day and it pairs just as well with shorts.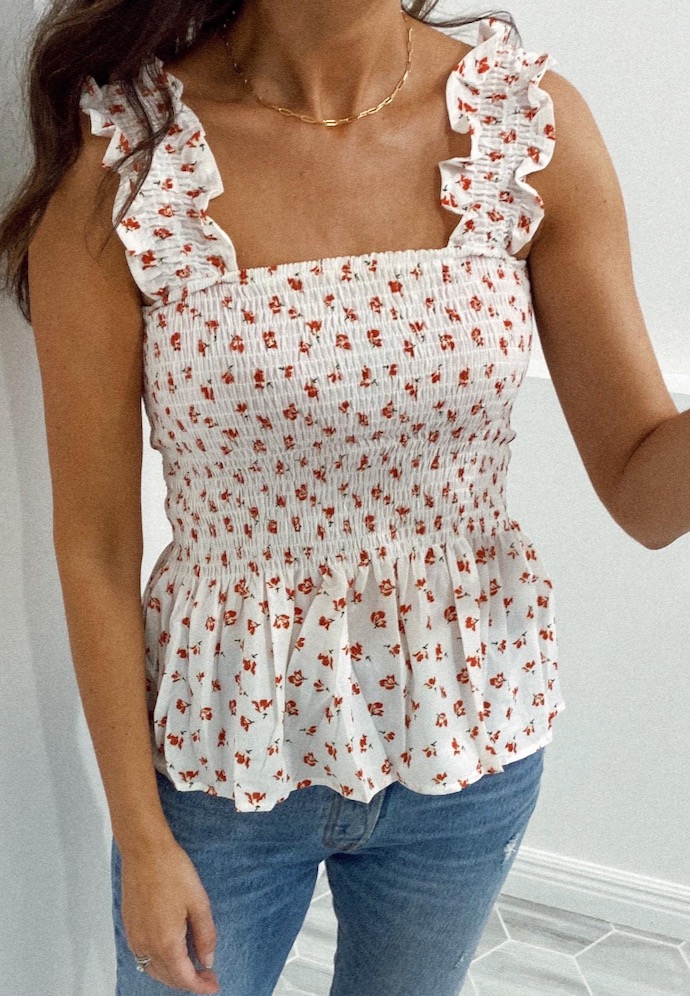 I got this pair of Veja sneakers last year I think and love them. When I saw this color combo I fell in love (Veja is know for their Fare Trade Sourcing, Transparency, Organically Sourced Materials, 100% Vegan). I'm size 8.5 in shoes and I size down to 39 and they fit perfectly. If you get a pair, make sure to put the tongue to the side a bit…that way it won't dig into your ankle as some tend to do (the tongue does soften overtime).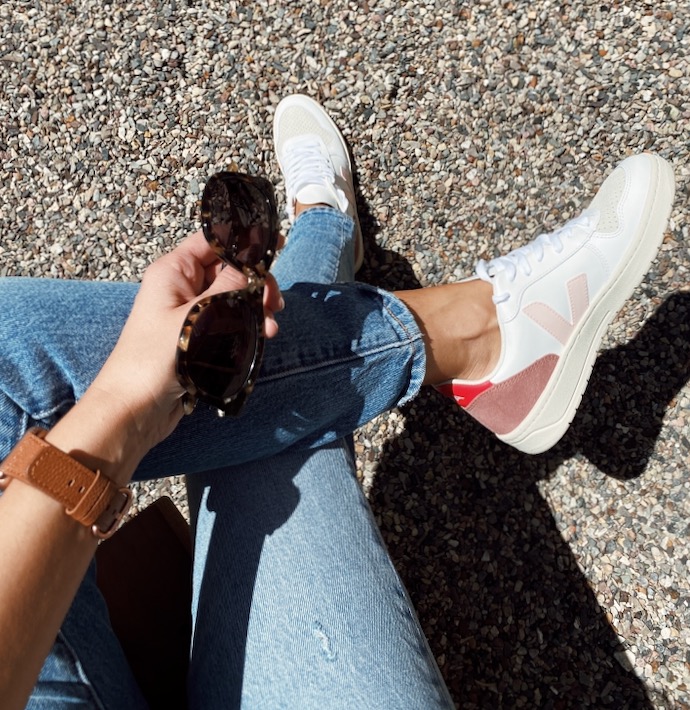 Veja Sneakers – from Shopbop (their shipping is fast) | Madewell sunnies | Apple Watch band | Levi's Jeans
Post shower pj selfie… I talked briefly about this pj set months ago but in case you missed it, they're super soft and comfortable (and I'm picking about my pj's if I'm actually going to sleep in them. They have to be really soft). I got size small in this one (seems to run a tad small IMO, but I don't like tight pj's though). It comes in a few solid colors too. There is also the long sleeve option.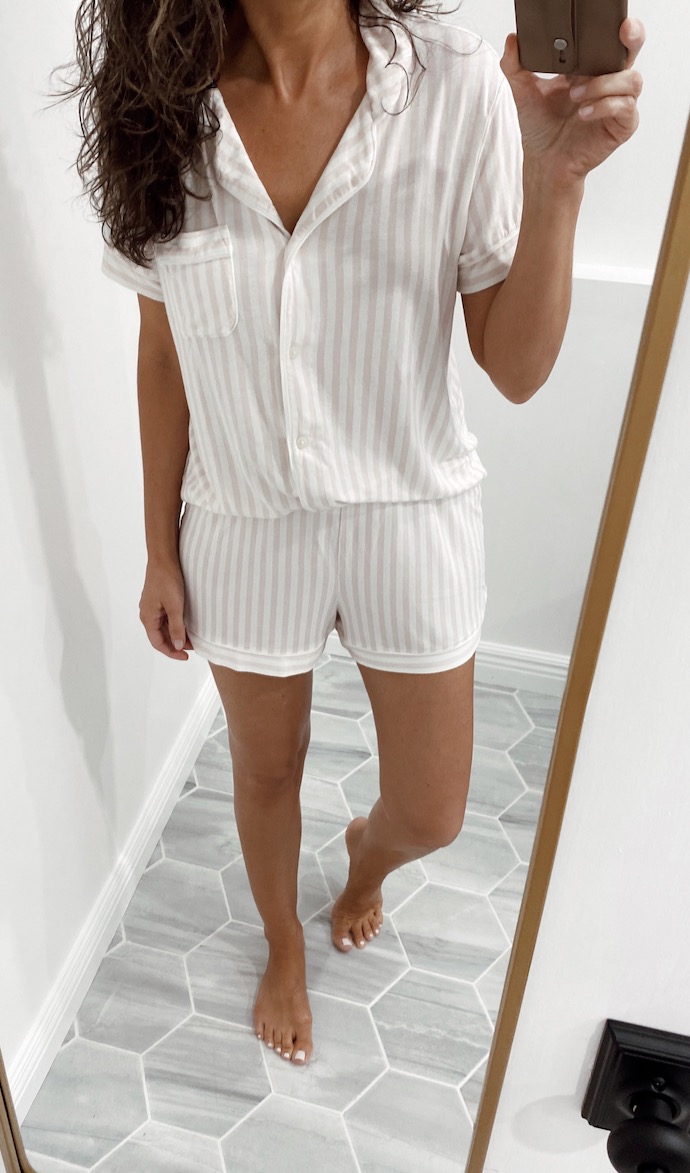 Striped Short Sleeve pajama set in size Small
I have to admit that I wasn't very much into tie dye and there are still select ones I'm not liking. This one seemed pretty subtle and the set was a good price (available in more colors). Come colder days, I'll probably start living in lounge wear. I'm wearing size small and love the relaxed fit. I'm loving the shorts sets too and there are quite a few nice ones.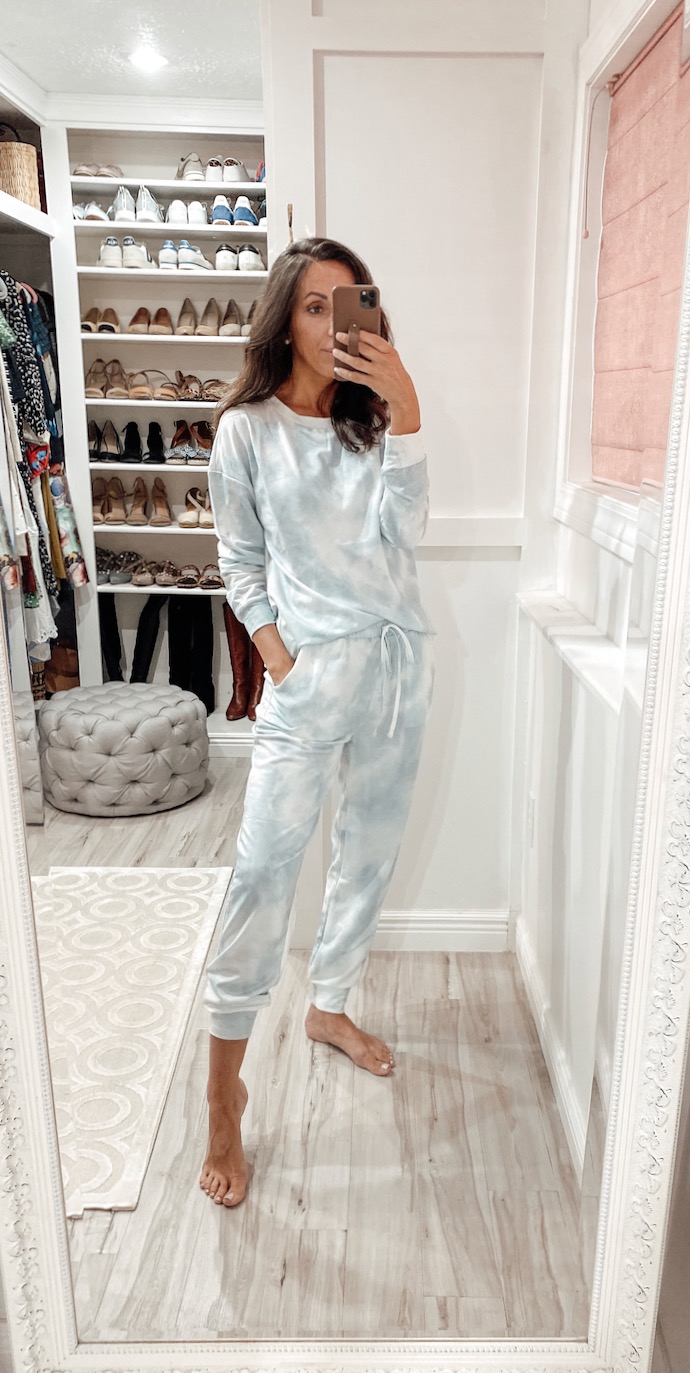 Tie Dye Lounge Set in Green (small)
I've gotten quite a bit of wear out of this skirt this summer. It might be sold out online in most colors, but check your local store.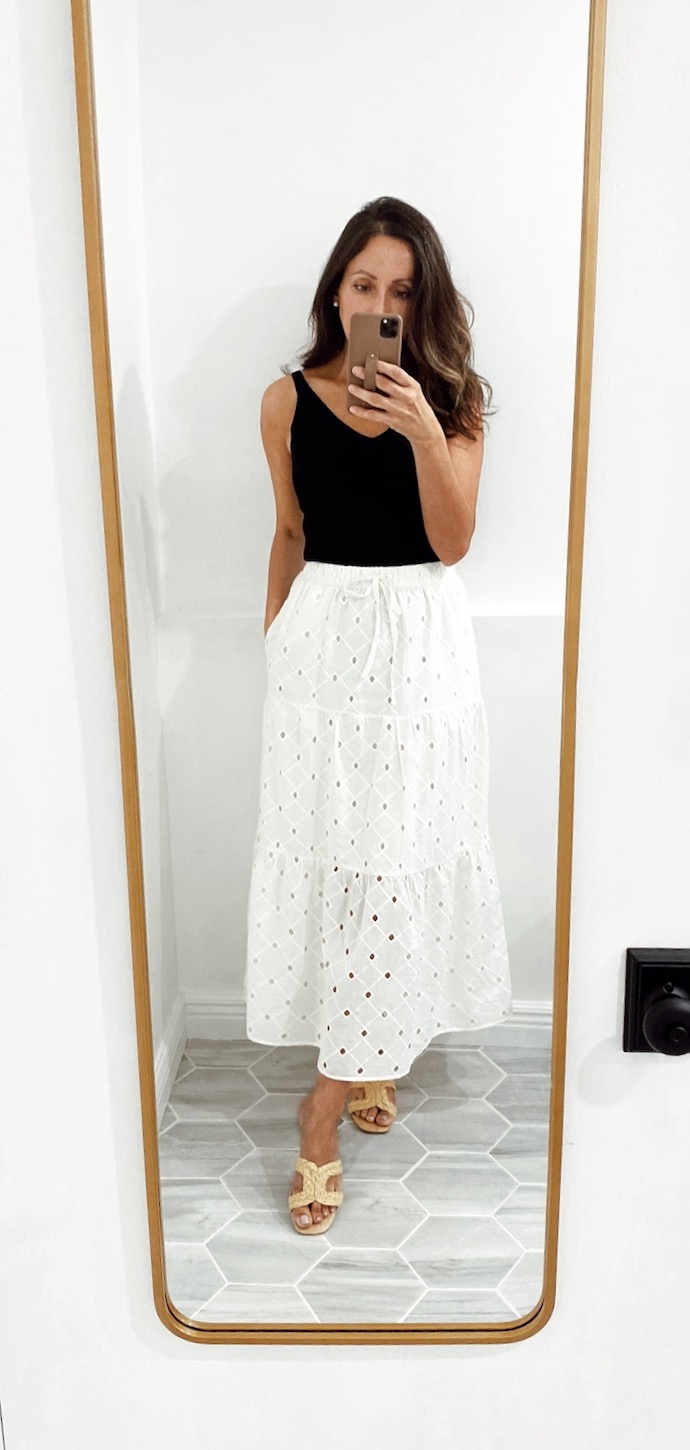 Raffia Slides tts – 50% off | Eyelet Skirt in XS | Tank old – similar
I purchased this Everlane tee beginning of the year and kinda forgot about it. Always quite exciting I rediscover some items in my wardrobe (clearly it's time for another closet clean-out if a tee is getting lost). It's not a long tee but it's not cropped either…good length imo. Available in multiple colors and it's made from organic cotton.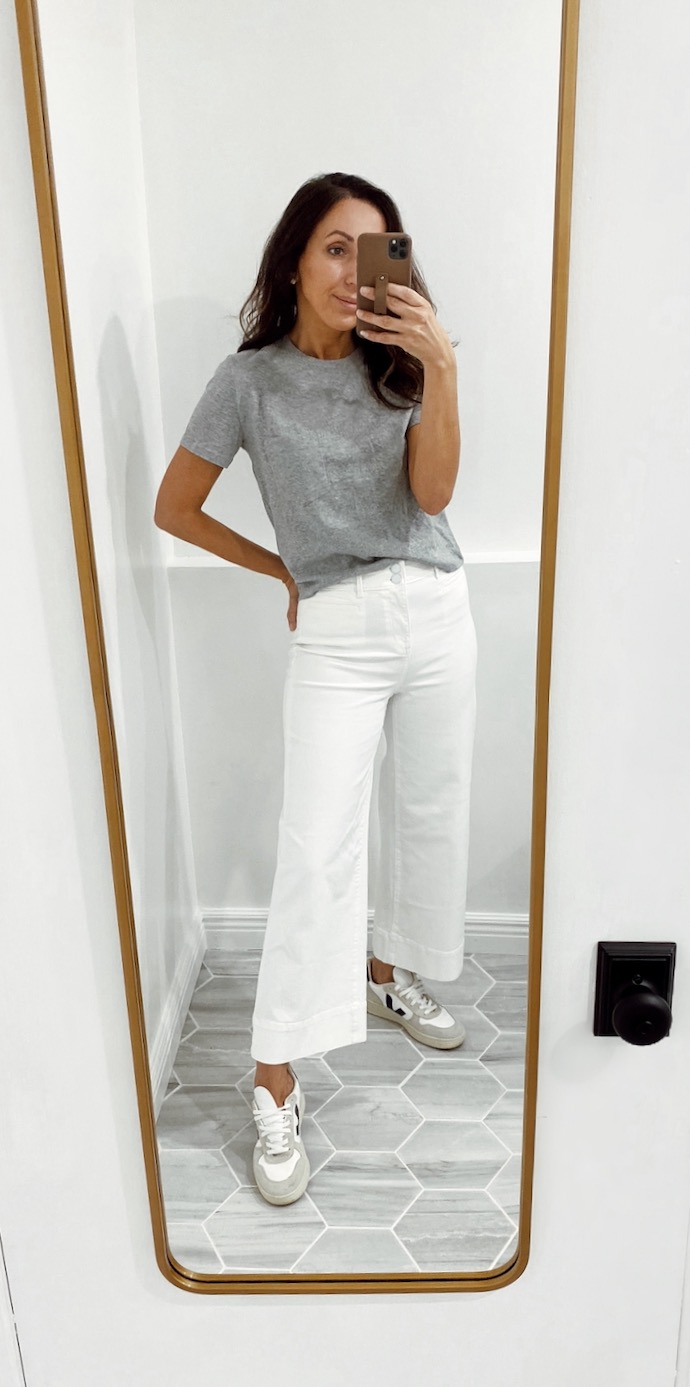 Organic Cotton Box Tee | Veja Sneakers | Wide leg ankle jeans (sold out in white) – similar here, here and here
Love the oversized sleeves on this soft sweatshirt. It comes in more colors. I'm wearing XS below and I sized in in jeans. Both are on sale right now.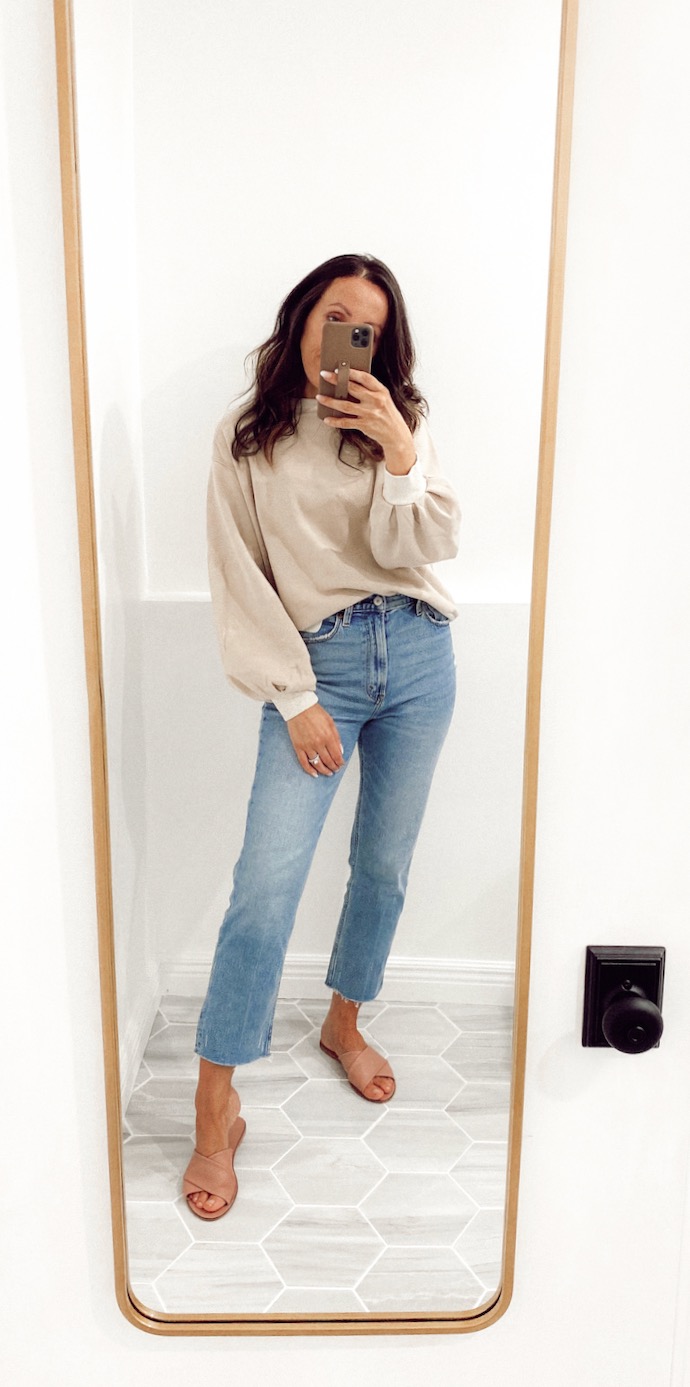 Sweatshirt in XS | Jeans | Soft Leather Slides tts
As always, thank you for visiting!