Rounding up some outfits I recently wore…in no particular order.
Linking all items below each picture, as always.
Cardigans and cami or tees are some of my favorite early Autumn combinations. So easy to pair and I actually look like I put some thought into my outfit…except I didn't. FYI on the mules – make sure you actually select your size when the link below takes you the the retailers site (it shows out of stock but they're not, just a few sizes are).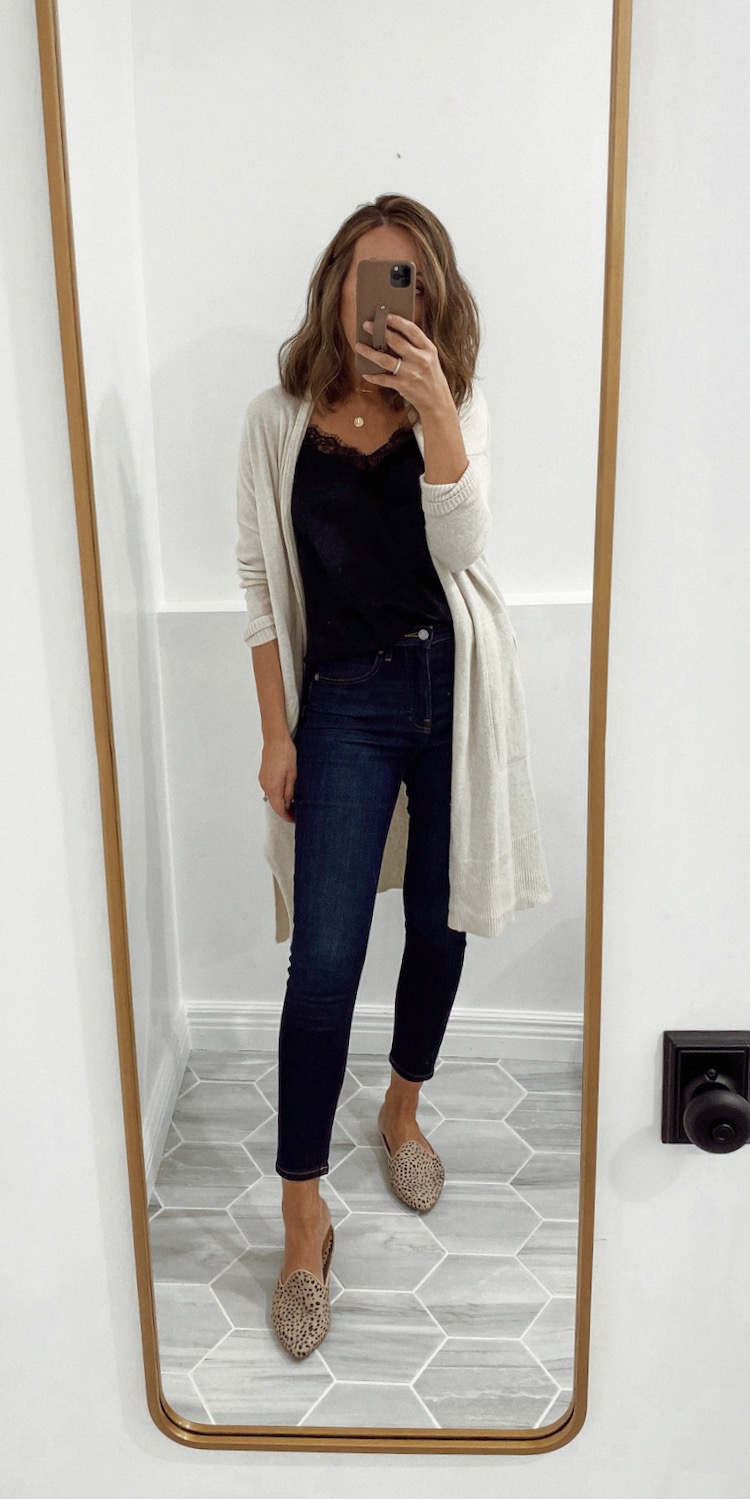 Cardigan (old Madewell) – similar styles here, here and here | Everlane jeans tts – also in curvy style (which is what I got and they fit me better than regular) | Black Lace Cami tts – on sale! | Mules tts – only $25 (available in almost all sizes) | Bar Necklace, Pendant Necklace (comes as set of two)
I've had this anorak for over four years and I still get excited each time I get to wear it. Makes the rainy days a tad more exciting. They did change the color a bit…it's just a bit deeper green (my sister has the newer version and it's just as good) and the hardware is black. Still 100% recommend it. I have it in XS and it fits tts (just ever so slightly oversized). This is one of those pieces that I don't see myself ever getting rid of.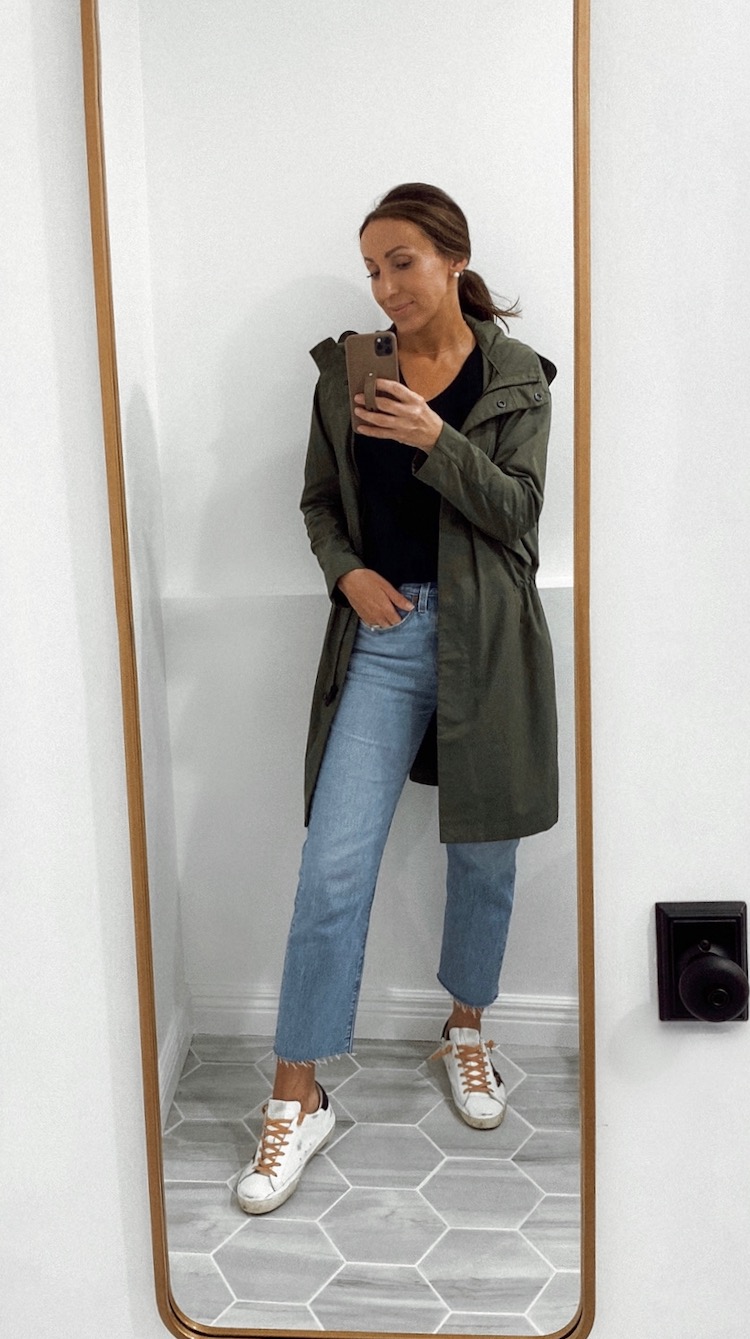 Everlane anorak in XS | Cashmere sweater (0ld) – almost exact here and here | Levi's jeans (I sized up) | Golden Goose (exact no longer avail.) – can't go wrong with any of these
Another jacket I love! I have size small as size xs was oddly tight in upper arms. Jeans are still one of my favorites (quite a few years old) but they still sell them and they get great reviews. Soft and comfy (they're definitely the opposite denim of the Levi's above). Both comfortable in their own way.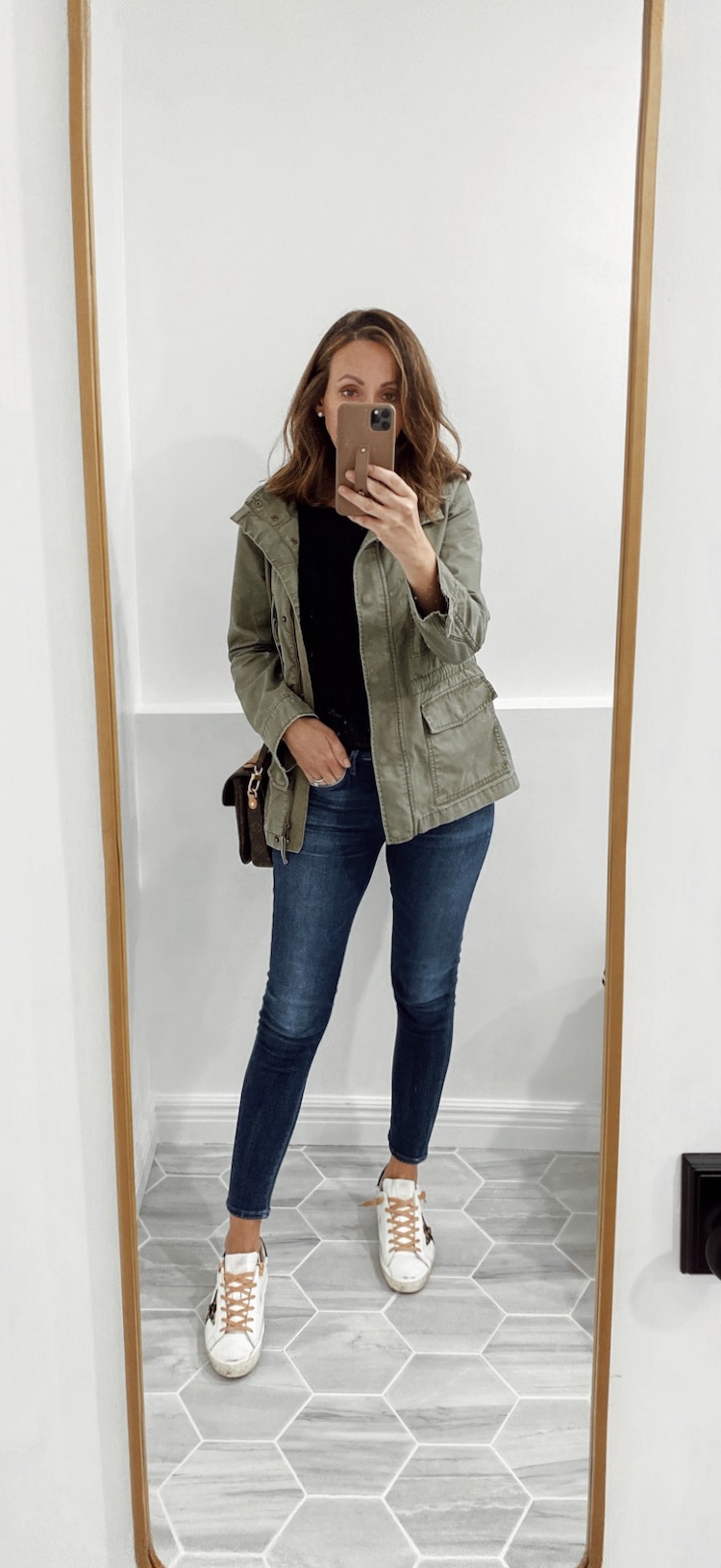 Madewell Utility Jacket in size Small | Black Tee in XS | Skinny Jeans tts | Golden Goose sneakers (exact ones sold out) – love these and these |
I was trying to remember how long I've had this cashmere sweater….but it's been quite a few years and I've definitely gotten my $$ worth out if it (not that it was pricey for a cashmere sweater). There are great, affordable cashmere options (and when I say affordable, remember I'm talking about cashmere). I only have one that is on the pricer side and the difference in quality is definitely noticeable. It's a thicker cashmere than any other sweater I own (it's by Naadam). I noticed on their site $75 cashmere sweaters in TON of great colors and I ordered one. Curious to compare their pricier one to the more affordable one. It gets amazing reviews (over 1K) so I might be ordering a couple more colors (and then my collection should be complete lol).
Mother Jeans tts – similar for less | Golden Goose Sneakers | Cashmere sweater (old) – similar here | Necklace set
Just a simple outfit for some errands. No fuss outfits are my favorite.
Dark wash jeans – tts | Loafers – exact, and here from Nordstrom with just different hardware | Cashmere sweater (old) – pretty much exact for a great price (I ordered one) |
I've shared my love for this $20 cardigan last year and this year (glad they keep brining it back each year). I have it in 3 colors and love it! The sleeves are slightly oversized but not in a bad way. I have to in XS and one in size Small (it runs tts). I grabbed two of these $5 cotton tees, both in XS. Loved the relaxed fit and the quality seems quite nice for being so affordable (white does require a nice, nude bra….like pretty much all white tees).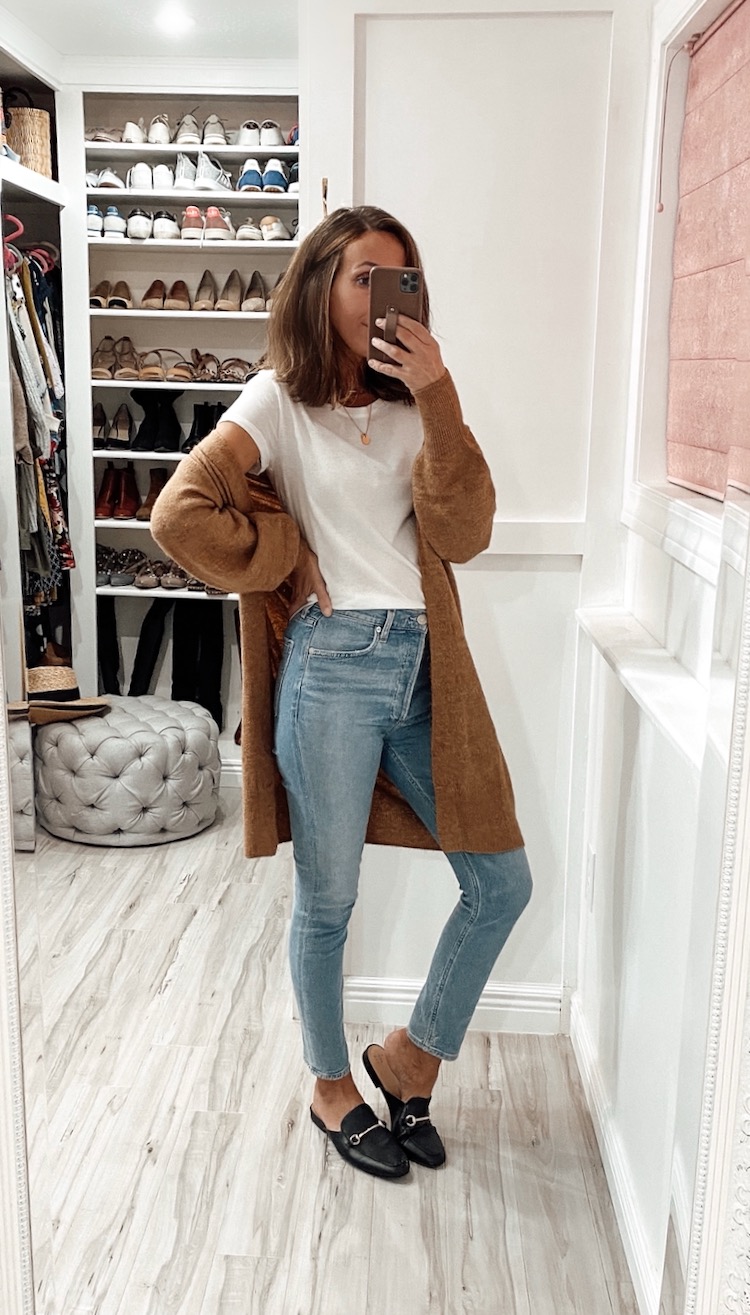 Cardigan in XS | Cotton tee in XS | AGolde jeans tts – | Mules (current style. super comfy) – more fab options here, here
I've accumulated a few more daily outfits, as it has been a while since I shared them last, but I'll post those in a different blog post.
Which look is your favorite?