Sharing just a few pieces I recently purchased….
I've been on the hunt for a nice, short cardigan for a while now (and when I say 'nice' I couldn't describe it if someone asked me. It's one of those things you know is IT when you see it) . You'd think it would be easy to find one. Not so much! But when I saw the one below I fell in love. The color is perfect, the black buttons add a nice contrast and it's alpaca blend = warm. If you have sensitive skin it might be itchy for you. I noticed the itchiness just when I first put it on, but 30 seconds later I no longer noticed it being itchy. Even though I knew it was cropped I decided to still order it and hope for the best as I was going to wear it with high-waist jeans (which most of mine are) and skirts (I wear all mine high-waist).
The color did not disappoint – it's perfect in person (just want I wanted). Unfortunately, it's more cropped than I thought it would be and I'm a tad sad. Too cropped for me to wear on its own. BUT over something it would be just perfect – like tees, tanks, dresses. Update: I keep going back and forth about keeping it. I initially decided not to keep it because it's just a tad cropped and on the pricer side but I also need to think how I would wear it majority of the time. I thought I had decided that I'm returning it but now I'm not sure. I need to try it with multiple outfits to truly make up my mind!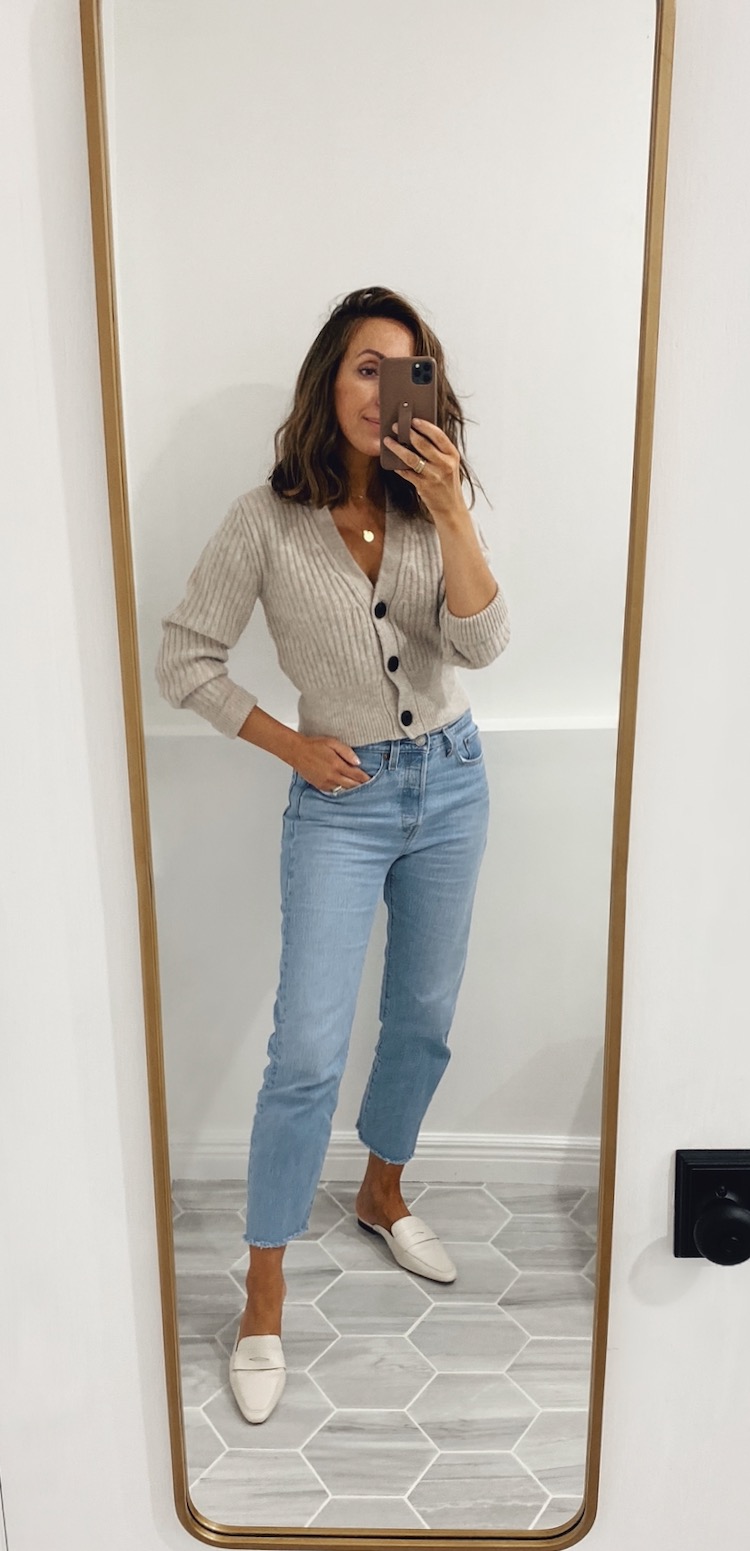 Cardigan in XS – also love this one (might give it a try) – use code WELCOME for 10% off | Levi's Wedgie straight (I sized up) | Mules (old) – love these even more | Bar Necklace, pendant necklace (comes as set of two)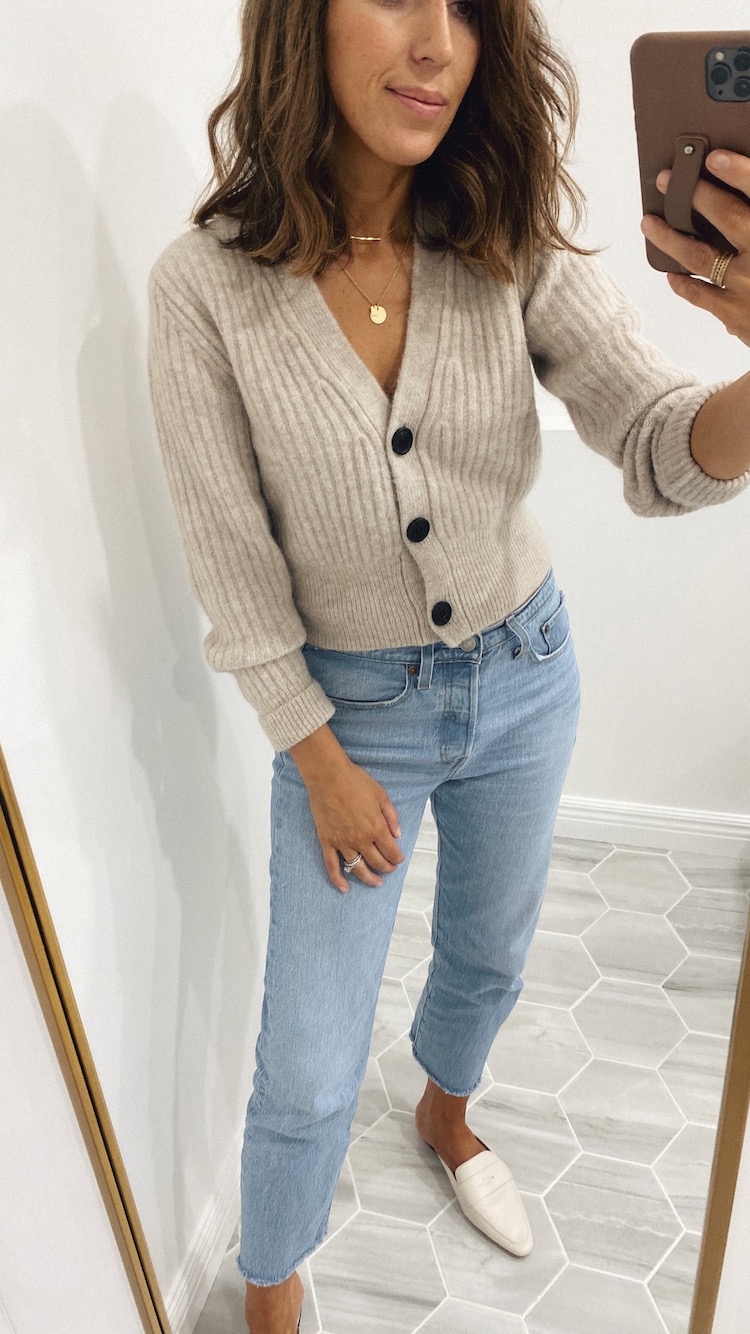 I ordered this dress in size 4 (which is my size in Mango dresses) but once I got it, the tag says size Small (their sizing is not always consistent. I've mentioned this in the past as well…sometimes a US xs is supposedly EU size small. But this dressed shows as US small and EU small. I'm so confused!!!!). Anywho, the dress below is a size small and I did get xs as well which I just got and haven't taken out of the package yet. XS (or size 2 on their site) will be a better fit as the small below is roomy. I haven't decided if I'm keeping it but the more I look at it, the more I like it. I just have to check my closet and make sure I don't have something similar already. It's a great dress that would look so cute with booties or heel knee boots for colder weather.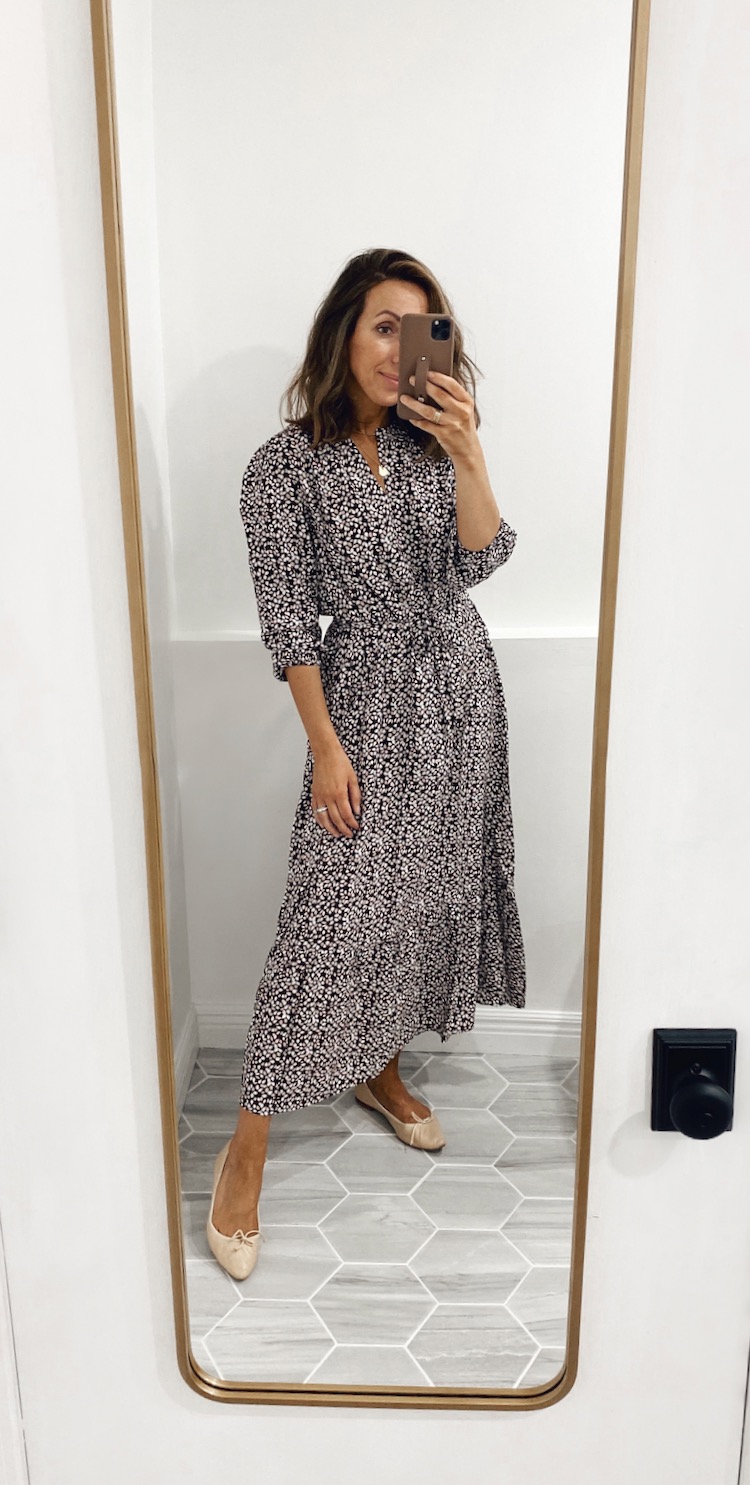 Floral Print Dress in size Small (size 2/XS is a better fit) | Flats (super old) – these flats would look great with this dress
H&M has great, affordable lounge wear. I purchased a couple of lounge joggers from H&M earlier this year in XS and they were pretty tight, kinda like leggings (not sure why I got XS) and not much stretch. I recently ordered these which are only $13 and are more comfortable then the previously purchased ones. If you want them roomier size up. Some colors are already sold out…they never stay in stock for long. So if you want a pair, get them before they're gone. I got size small and the fit is much better. Not tight or overly loose (I'm 26 in jeans for ref.).
Tee – I shared this tee in my Mango picks in this post. I ordered two (they're 100% organic cotton and only $10). I got size small for a slightly relaxed fit. Love these tee! They come in multiple colors.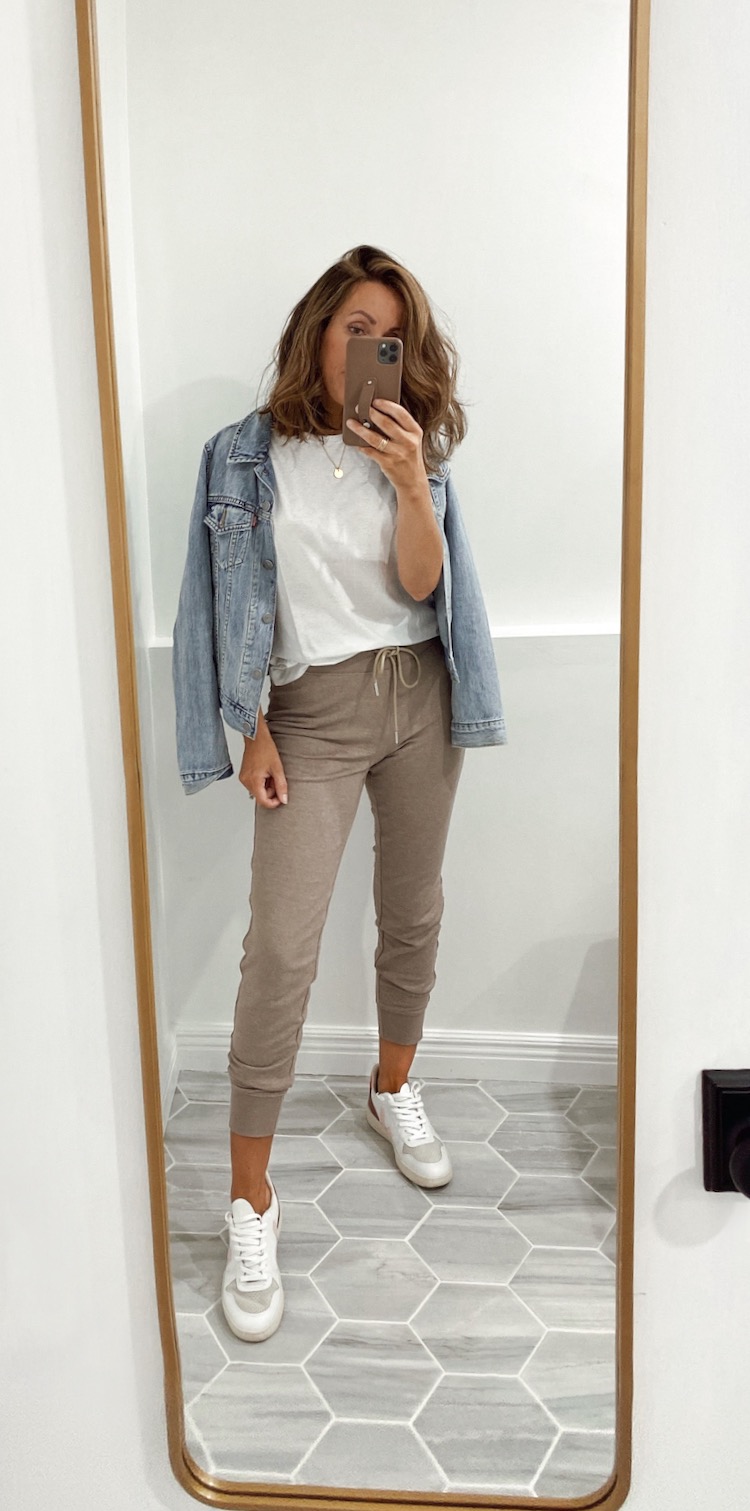 Levi's Jacket in size Small | Cotton Tee in Small | Joggers in Small – avail. in more color | Veja Sneakers – (size down if in-between sizes)
I've been eyeing this jacket since it arrived and decided to give it a try. Figured if I don't love it, it's going back. I got XS and I'd say it runs a tad big (slightly oversized style). Sleeves are very roomy and I'm not a fan of them on this jacket. While I usually don't mind oversized anything, I didn't like this jacket on me mainly because of the sleeves (I guess in my mind I was picturing them being fairly normal. I should have pulled them all the way down so you can see them fully). While it is a chic and affordable jacket I'm retuning mine since I don't love it on me. If you get it, I'd suggest sizing down unless you do prefer oversized jackets.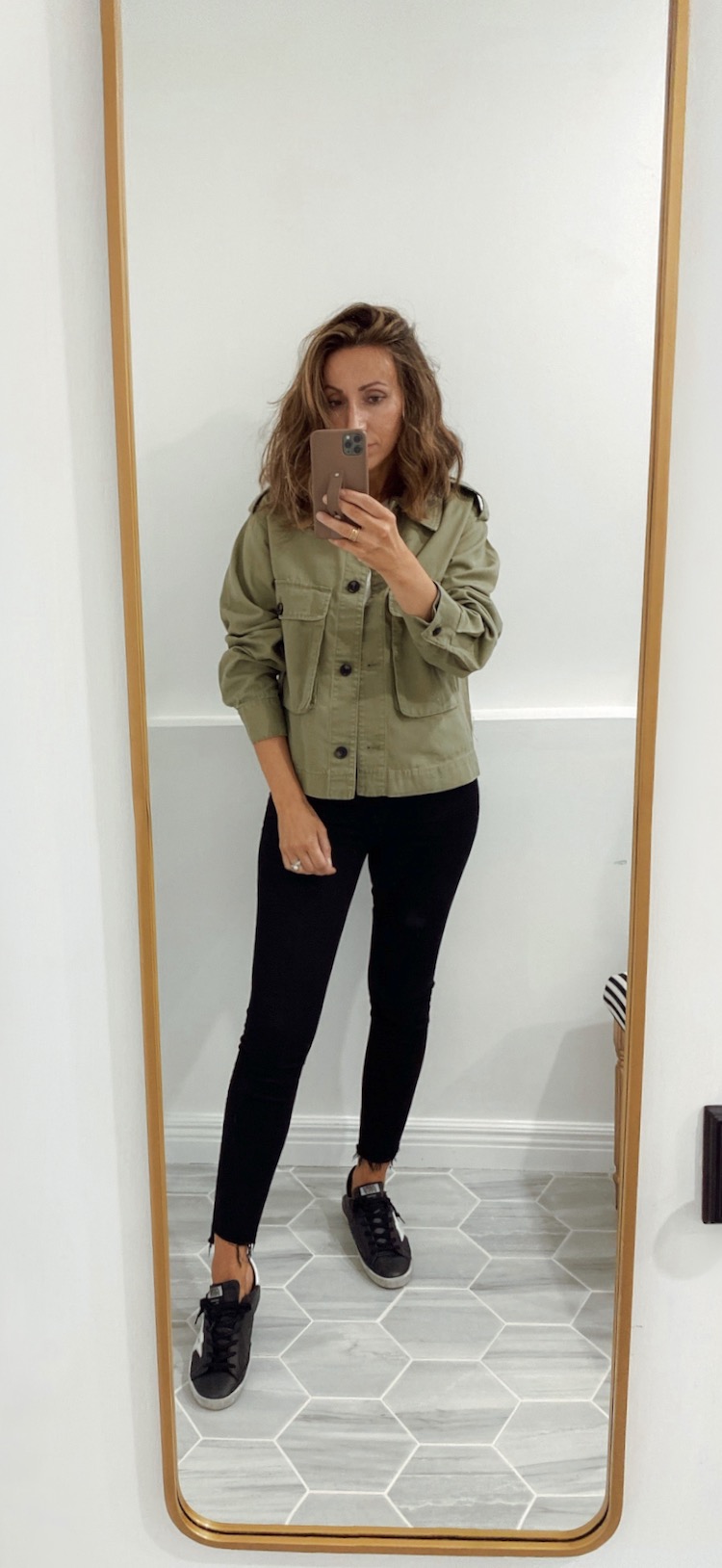 Straight Cut Jacket in size Small (comes in two more colors) | Mother jeans – similar style for less | Black Golden Goose Sneakers
I also ordered this striped sweater in both colors to see which one I like better in person. Waiting for it to arrive…will keep you posted. Below are some of my cozy favorites, all great affordable options: