Happy almost Friday!
This year we have been enjoying the outdoors a lot more. Over the summer it has been the backyard everyday and once it cooled down we have been going on trails near our house. This particular one where we snapped these pics is just over mile from our house, and while we have been to the park many times, we never explored the actual trails until a month ago (when we really needed to get out of the house after we lost Zoey). It has been really good and healing for the soul to be in the nature.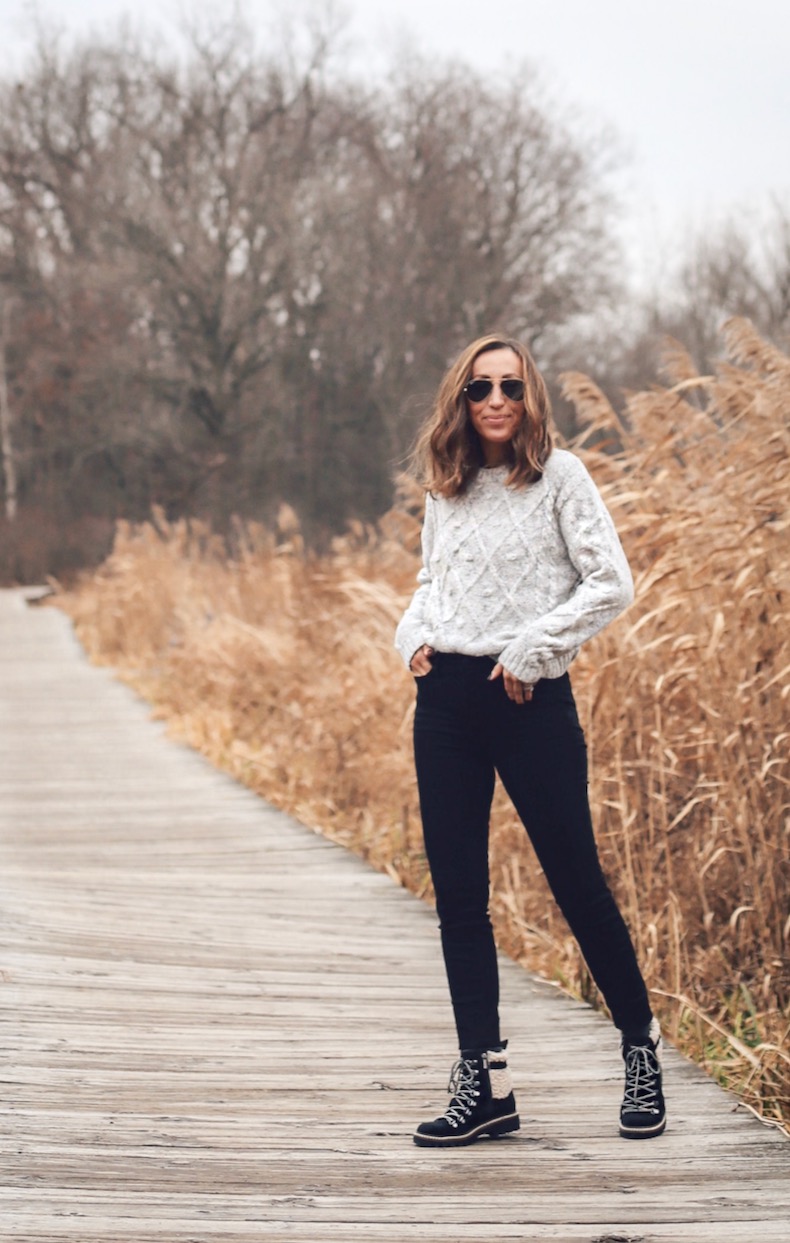 I have a things for sweaters (don't most of us?). I loved the details on this one and it's only $17 (available in two more colors). I'm wearing size Small and it's a nice relaxed, somewhat boxy fit, which I personally love because once I do a slight front tuck it looks more flattering.
I've raved about the Sofia Vergara jeans before and how well they fit (and I consider myself somewhat a jeans snob. Jeans are my thing). I was so impressed with these jeans, which is a new brand, I believe, in the Walmart Fashion dept. The jeans are 90% organic cotton and fit so well with just the right amount of stretch. I love that they're affordable and the brand is committed to sustainability. They come in three more colors…I'm eyeing the light indigo color.
I wanted an affordable pair of hiking boots but also cute and comfortable…since we have become a tad more outdoorsy. I love the look of these but I didn't know what to expect. I was pleasantly surprised how well they're made. They're light, which my feet are thankful for. I wore them for the first time here for our walk, which this time was shorter than usual…just around 2 miles and my feet were very comfortable and toasty (it was not super cold though…41 degrees). I got my usual size and they're a tad roomy which is good because I can wear thick sock in the winter and still be comfortable. If you don't plan on wearing thick socks you can size down a half size.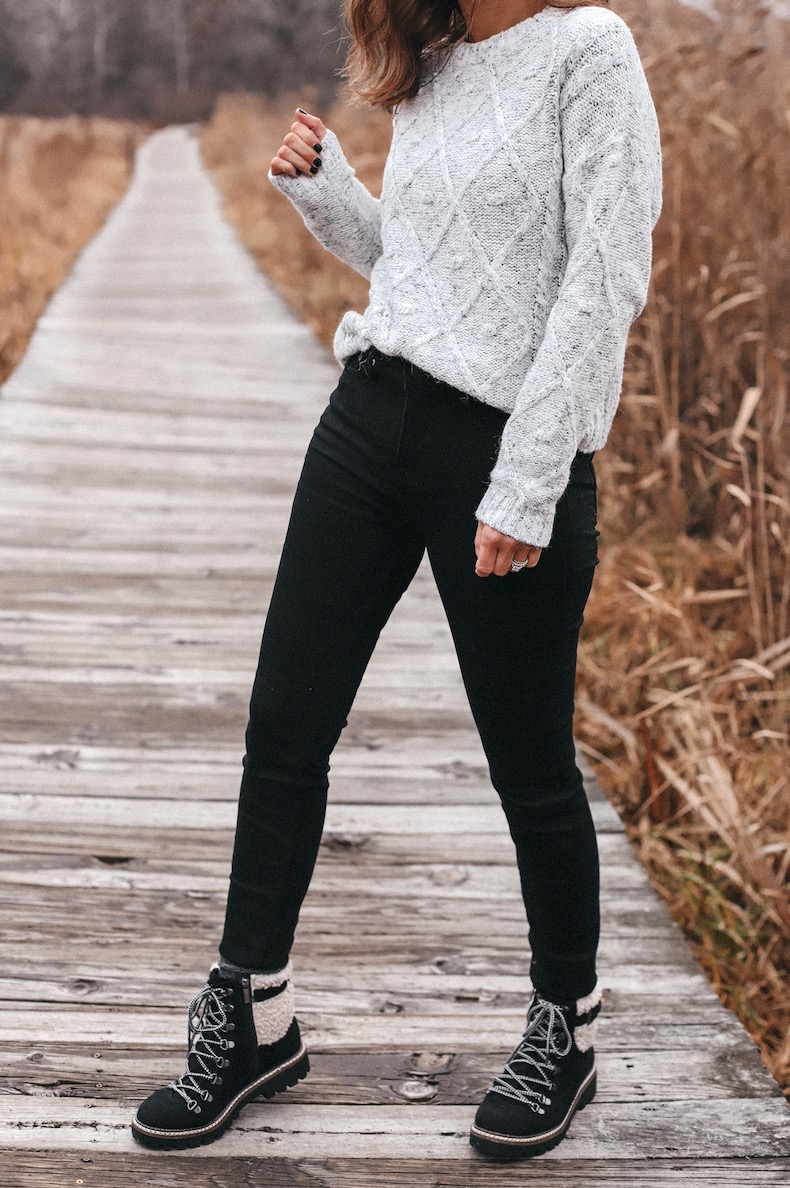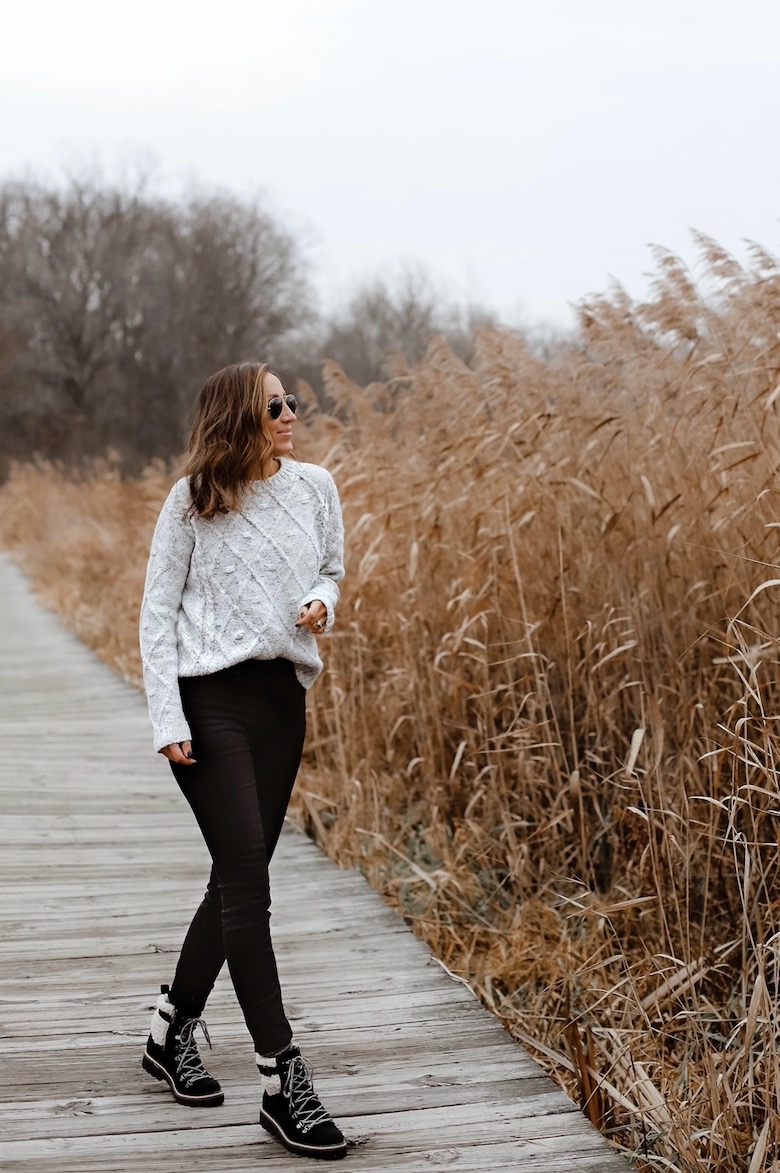 Cable Knit Sweater in size Small | Black Skinny Jeans in size 2 | Black hiker boots | Sunglasses
A few more noteworthy pieces…
As always, thank you for reading!
Thank you to Walmart for partnering on this post!