I've been on the hunt for a pair of lace up boots (combat boots). Nothing to chunky, nothing too "tall" on the leg etc. There are a lot of options out there but it took me quite a while to find the pair. I wanted leather but still on the affordable side. I love this pair and this one. They're definitely an investment. But I'll also share more options at different price points at the end of this post…starting at $35.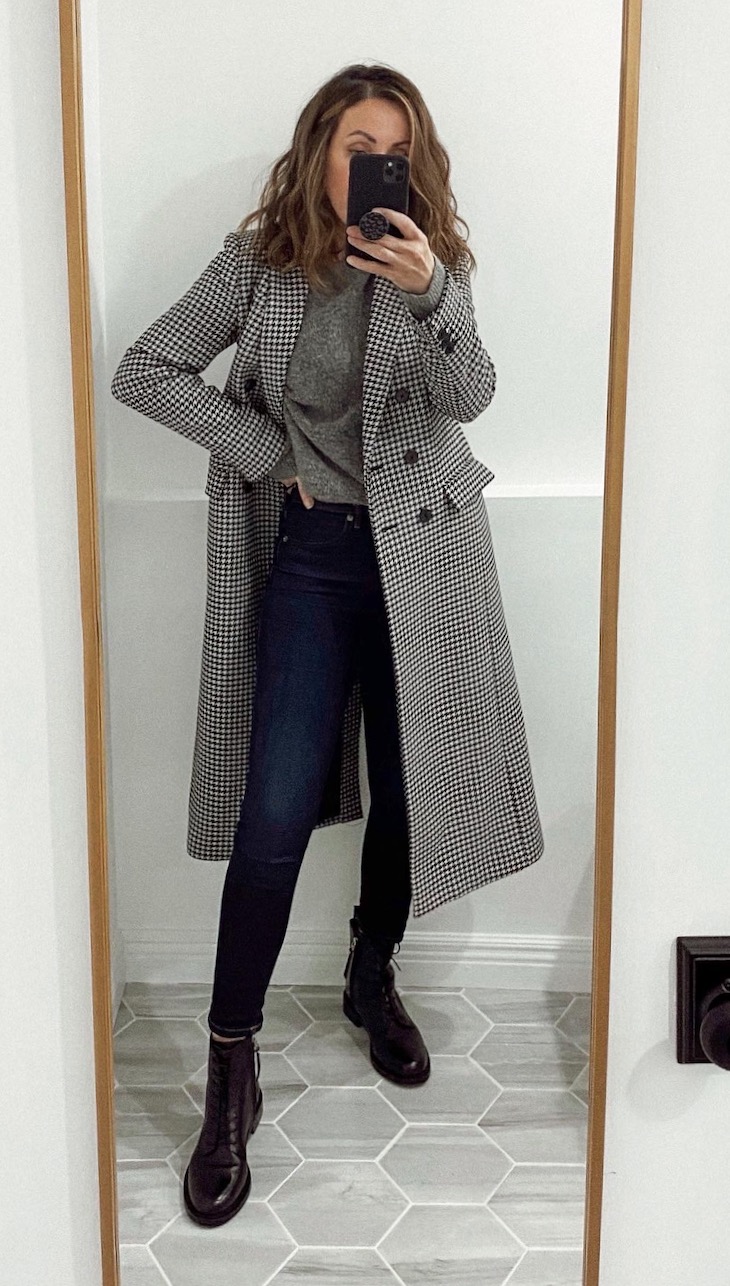 Coat (last year from Banana Republic) – similar houndstooth coat | Everlane jeans tts (wearing ankle length. I'm 5'6) | H&M sweater (old) – pretty much identical style here (I have it in two other colors) | Lace up Boots (I sized up) – also here from Shopbop
I saw these and they're pretty fab (which BTW are a great dupe for these Fendi boots) but they reminded me of a pair I had in high school…
Stumbled upon these boots online and they are almost perfect (I say almost because minor details are missing but that part is not a deal breaker and I' not willing wot pay $$ for minor details). While I most definitely didn't need another pair of boots, all is justified with a gift certificate. Once I received these I tried them on, with my unattractive joggers, and then proceeded to put them back in the box. Back they go I thought. A few days later I tried them on with jeans and wow…the unattractive joggers almost ruined a great pair of boots. Hence the importance of NOT trying stuff on with your pajamas, ugly sweatpants or anything you wouldn't wear in public.
Per reviews I decided to go up a 1/2 size and I'm so glad I did. I'm able to wear thickener socks without that feeling like my feet are suffocating (what, you don't get that feeling in your feet?!). They felt a tad tight but loosening the laces did the trick. I would suggest sizing up.
They felt a little stiff at first, and while I haven't worn them a ton, it seems they're getting better with each wear (as they should since they're leather). With that said – leather is not soft on there, just fyi. There is a side zipper so you don't have to use the laces each time you put them on/take them off which is amazing. I would, however, suggest loosening up the laces initially to make sure your feet fit comfortably. They won't feel as narrow.
So far I've only worn them with these dark wash jeans and black jeans, but I want to try them on with certain dresses or skirts for an edgier look. Around the house for now, ha!
Overall I'm really happy with these boots and how chic they look. They're like a daintier version of the combat boots. In case you're on the hunt for pair, I do recommend these. I'm also liking other fab options below at different price points.
xo